Here is a list of itinerary for our 4 Days 3 Nights tour in Macau. Click on the links to read the articles for more travel details.
Day 1 – Coloane village, City of Dreams entertainment resort, Macao Science Center, Macau Tower
Day 2 – Grand Prix Museum, Wine Museum, Handover Gifts Museum, Antonio's Portuguese restaurant, Taipa Houses-Museum, Venetian Macao entertainment resort
Day 3 – Senado Square, Ruins of St Paul's, sightseeing around Macau peninsula.
Day 4 – Michael Jackson Gallery at Ponte 16, Mandarin's House
Others: Where to eat in Macau
Travelling around Macau
Free hotel shuttle buses – A way to get free rides and walk less is to catch one of those free hotel shuttle buses from ferry terminals and drop off at the hotel that is nearest to your destination so that you can walk from there.
If you are not near any ferry terminal, consider flagging for a cab as it won't cost you alot since Macau is tiny – less than 30km2 – so usually the distance to your destination will only take about 10 – 15 mins at most (based on my own experience without unforeseen circumstances like traffic jam).
We set off from Sofitel hotel to explore Macau on foot. The peninsula is easy to navigate as long as you are ready to walk!
You will never miss this prominent landmark looming over the city skyline. The Grand Lisboa (新葡京) was built like a lotus flower with an exterior featuring the world's largest LED dome. Like most of the hotels in Macau, it's a casino hotel and is owned by Stanley Ho.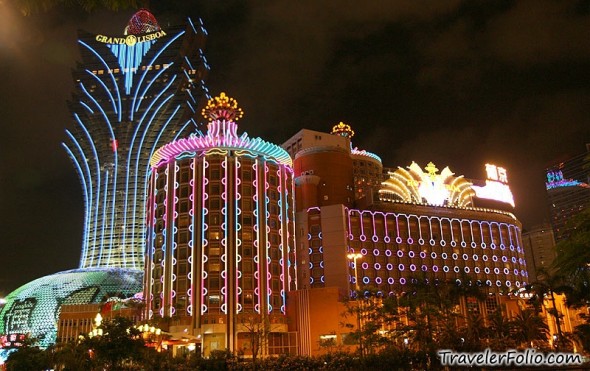 The world's largest LED dome.
Pop in the hotel lobby to check out the precious bronze horse head that was looted by the British and French troops from the old Summer Palace which was destroyed by the troops during the Qing dynasty. Stanley Ho – the gaming tycoon of Macau – bought the cultural relic at HK69.1 million in 2007 – a world record price for any Qing dynasty sculpture. He donated the bronze horse head to China.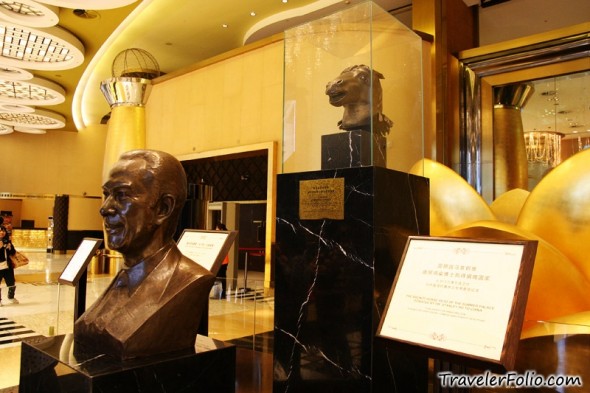 The world's largest flawless diamond – The Star of Stanley Ho, 218 carats graded by GIA.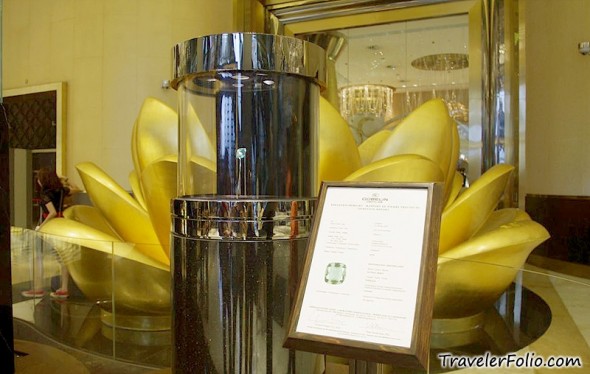 The older Casino Lisboa is just opposite Grand Lisboa which is the new extension of the complex.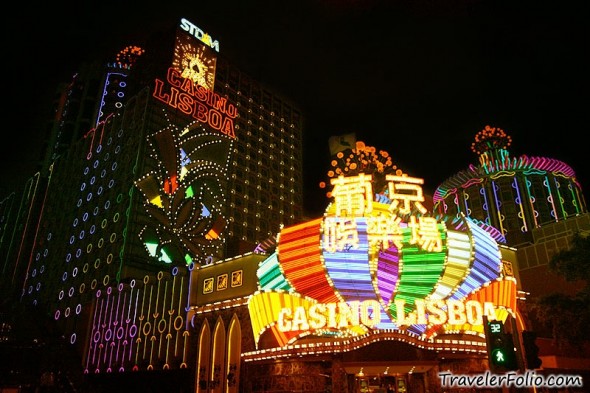 This is a common question from tourists: How many hotels operate a casino in Macau?
In fact, it would be easier if you ask: How many hotels do not have a casino in Macau?
Answer: Only a few hotels (not more than five!) do not run a casino, the rest are casino-entertainment hotels.
Wynn Macau – a Las Vegas-style integrated resort. We entered Wynn to check out the Tree of Prosperity performance.
The centrepiece at the atrium depicts the twelve Chinese zodiac animals. It will open up to give way for a very big chandelier to be lowered from the top when the show starts.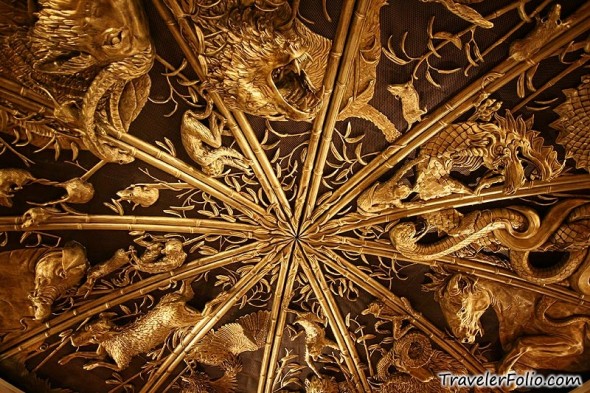 The zodiac animals appear to be rather fierce-looking, including the rabbit!
The Tree of Prosperity performance – it's an auspicious golden tree comprises of 24-karat gold leaves and bronze leaves. Accompanied by light, music and video, the golden tree rises from below.
The show "culminated" when many spectators threw coins at the golden tree; perhaps at this point, it's a wishing tree to some! Anyway, the Tree of Prosperity is scheduled to perform a few times in a day. It's a free performance.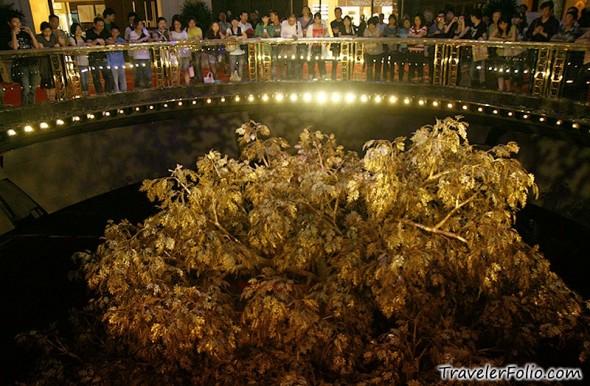 MGM Macau resort hotel.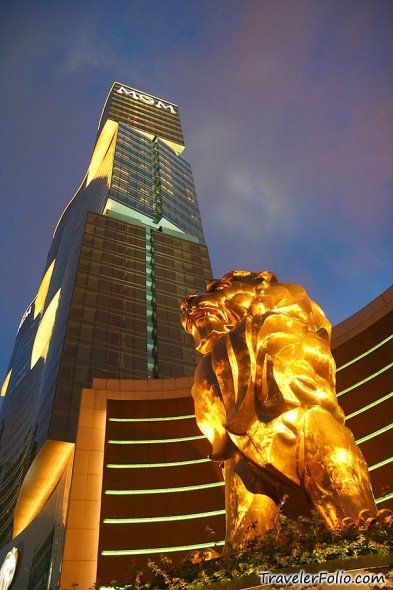 The atrium at MGM Macau – Lovebirds kissing in the cage, colourful flowers and LED trees decorating the area, and the ever-changing vivid lighting shining on the gothic-styled facades exude a sense of surrealism.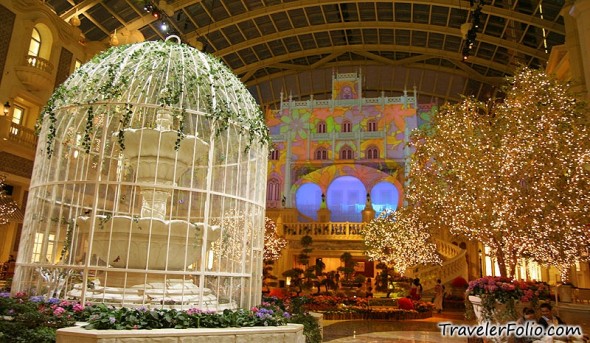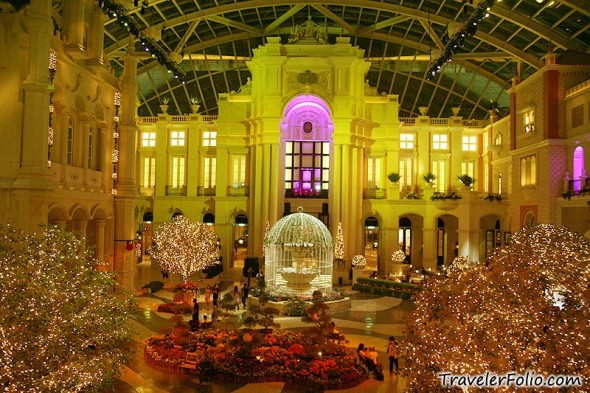 While exploring the streets of the old city, we came across a jewellery shop displaying some gold designs that fascinated me – golden poker cards! Are they selling a deck of 52 golden cards??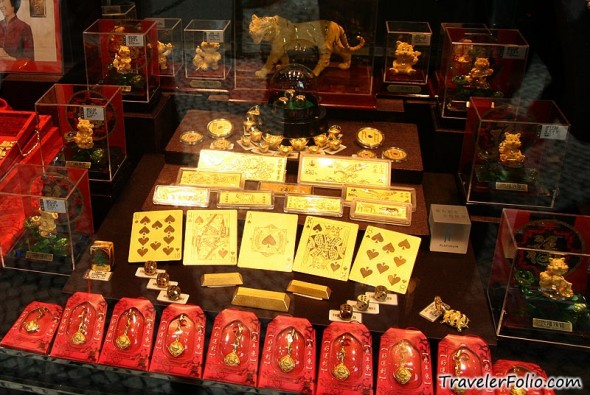 There are shoppings all over Macau and I thought some of you might be interested to hunt for branded garments at good bargains in factory outlets. Located right smack at the city centre of Macau, this factory outlet (garment shop) is tucked away in an alley and you need to walk up the stairs to the 2nd floor to get in there. See below for the locality map.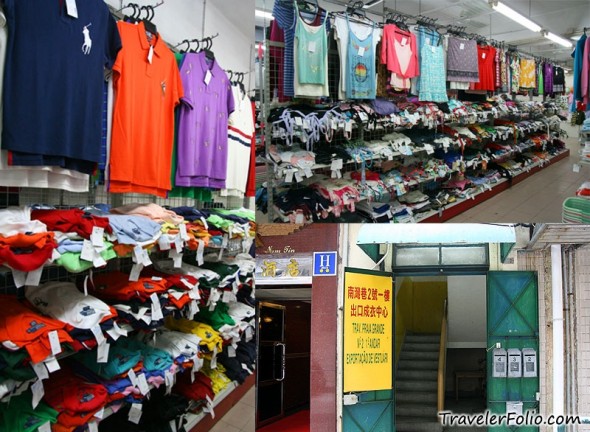 A small locality map to help you get to the garment shop. Click on the image for a larger view.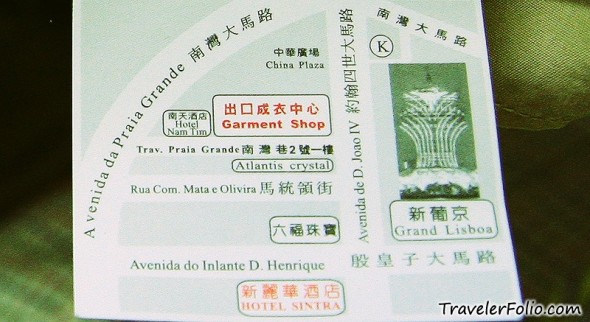 WIN a trip to Macau!

Remember to join Marvelous Macau Contest and win a S$1000 Travel Voucher to Macau, sponsored by Macau Government Tourist Office! Simply answer all six questions related to my blog on Macau to win the prize… Easy peasy!!

Click on the Facebook link to enter the contest -> Marvelous Macau Contest
P.S: Contest ends on 6 August 2010.