Indian Railways is one of the largest railway networks in the world, transporting billions of passengers yearly. To many parts of India, it's a convenient form of transport; though not our best train experience but a fascinating one.
The busy train station in Delhi where we couldn't find the way to meet our driver. It's huge with many platforms and people.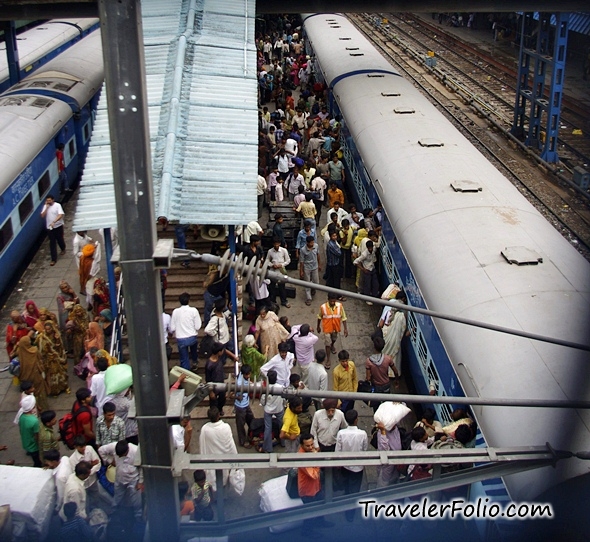 Passengers getting into the Chair Class compartment on the train.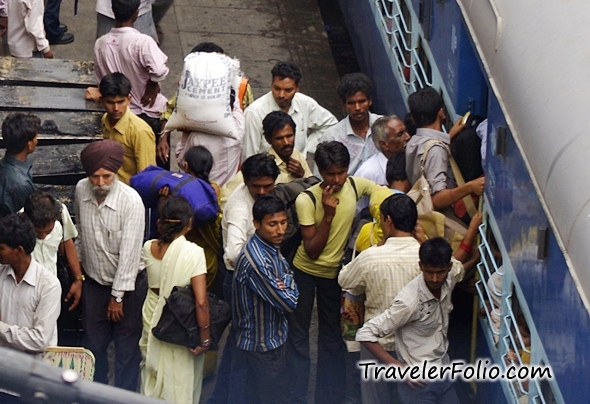 We took two trains in India – from Jaipur to Agra, from Agra to Delhi. Each trip takes 4-hour, stopping at various stations along the way. There are many types of trains to book online, do it well in advance so that you can choose the faster train with less stops.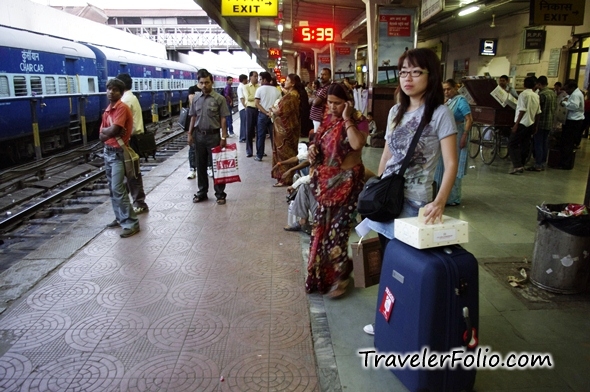 At Jaipur station, passengers were waiting at the platform for the train to arrive at around 6 am.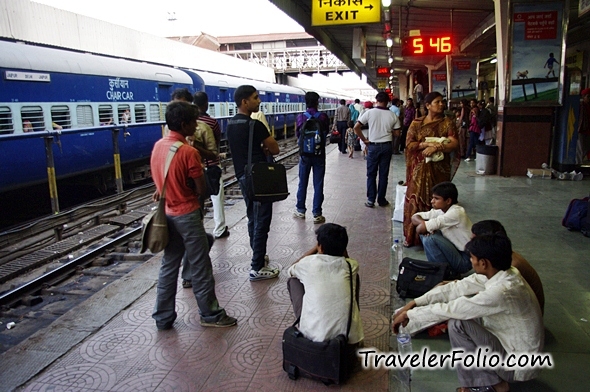 While overseas, I can be quite a skeptic when some random people approach me to offer services (eg. accommodation, transport). It was the first time we paid a porter to carry our luggage all the way into the train carriage. He was a great help as he could communicate with the train staff and knew the right platform for us to board the train amidst the crowd. We were not assigned with any seat numbers so we had to look for the notice board that listed all passengers' names. As we got the First Class tickets, we need to go to the office to retrieve our seat numbers with the help of the staff.
It didn't cost much to pay the porter with the service that he rendered. Afterall, it's not easy to make a living.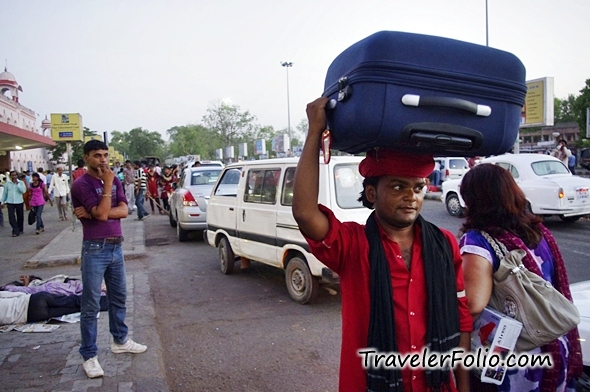 This put aside, there are many types of touts and swindlers targeting tourists,you have to learn to deal with it. Usually, I choose to ignore and continue walking.
Once, a little girl as young as 6 years old came right to the car window, tears rolling down her eyes while she looked at me. I think she was begging for money. How would you react? Sad to say, I looked away and did nothing 'cos I wasn't sure what would happen if I wind down the window.
At the train office with the porter to get our seat numbers.
There are 8 classes of seat and sleeper on Indian Railways.
First class Air-Conditioned (AC)
AC 2-tier sleeper
First class
AC 3 Tier
3 E – AC 3 Tier Economy
AC Chair Car — all chairs
Sleeper Class
Second Sitting
If you want more comfort and privacy, book as early as one month before departure and get a First Class (Air-Conditioned) compartment which can accommodate two to four passengers. I booked through IRCTC for all the train tickets in India. Due to their massive rail network, the booking site might be a bit slow sometimes.
Don't be surprised to see a mouse or two. A small one scurried into our compartment twice! I almost freaked out and became paranoid for a while, looking over my shoulder occasionally in case there was another one sneaking behind me.
Take a peek at our First Class (AC) compartment for two passengers. It comes with two foldable beds – one folded above me. There are some First Class (AC) compartments for four passengers as well, and you can request for it while booking online.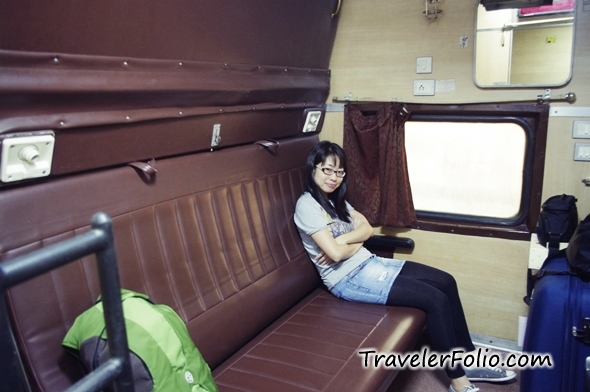 If you are not used to train travel, I highly recommend you to book the First Class (AC) on Indian Railways! The compartment has a door to close. Overall, it was quite a safe and pleasant experience for us. We even left a nice souvenir on the train and retrieved it within hours!
Luxury or shoestring travel, both are equally enjoyable with an open mind. For a fussy person like me, I choose not to look into details at certain situations. *cough*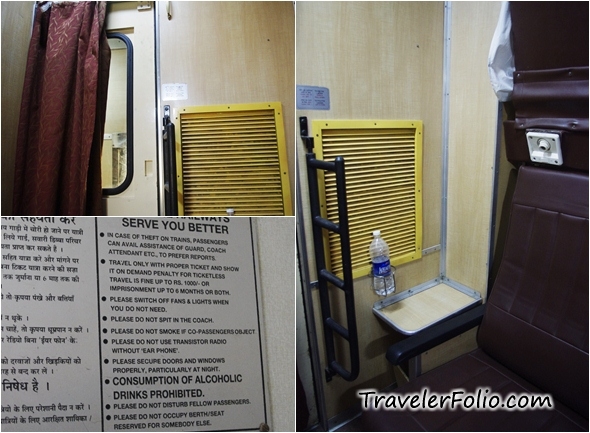 Switches and pull chain for emergency in the First Class (AC) compartment.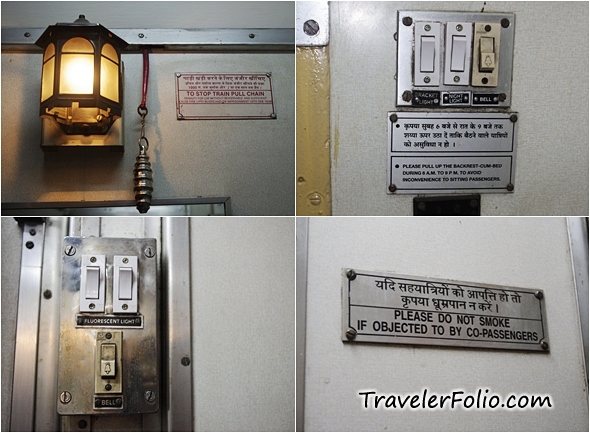 How to fix a broken window glass.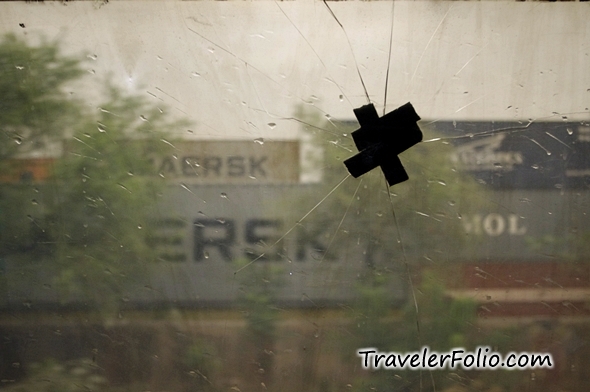 Here is another First Class (AC) for four passengers. Pillows and blankets are provided.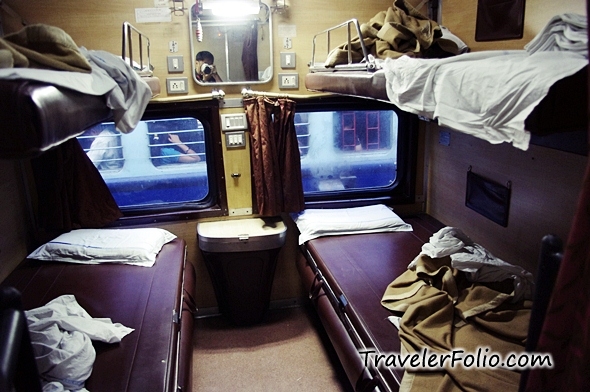 We popped into the AC 2-tier sleeper compartment for a peek. Curtains are drawn for privacy. I think it can accommodate 16 passengers here.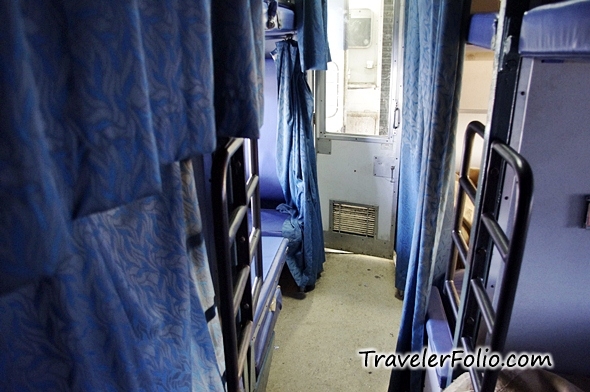 Jacky snapped a candid shot of the guy selling 'chai' (tea) on the train. The guy later demanded money for taking his photo. We should have bought some tea from him, and I felt quite bad for being defensive because it's not easy to earn a living. Nevertheless, most of the people we came across in India were happy to pose for photos.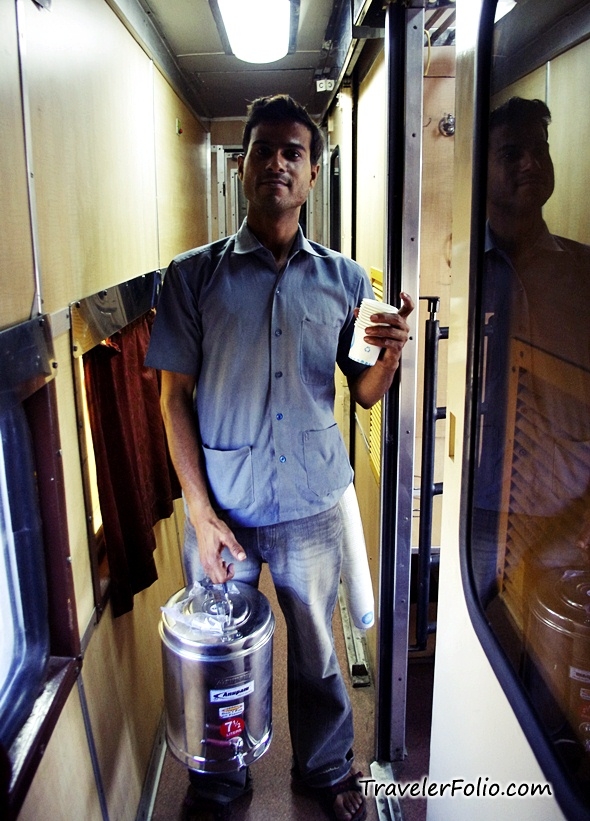 A peek into the toilet cubicles. Sometimes, Tiger Balm is useful to mask any unpleasant smell.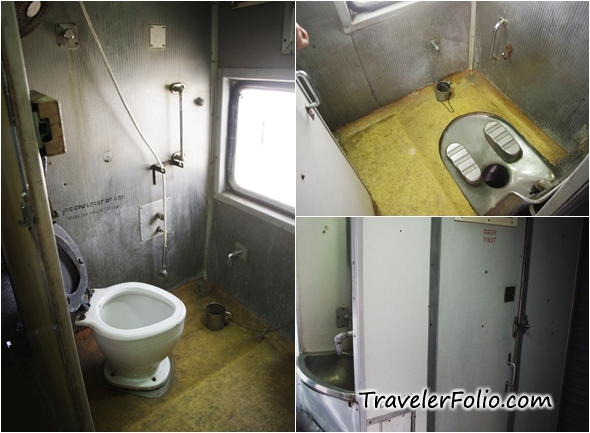 You know what, initially I booked Chair Class (I wasn't sure about Chair Class) as there wasn't any First Class seat left for the journey from Jaipur to Agra which takes 4-hour. Fortunately, two weeks before our departure, someone gave up First Class (AC) and we managed to grab the tickets and refunded Chair Class tickets.
This is Chair Class without air-conditioning. It was very hot summer – 45 Degree Celsius!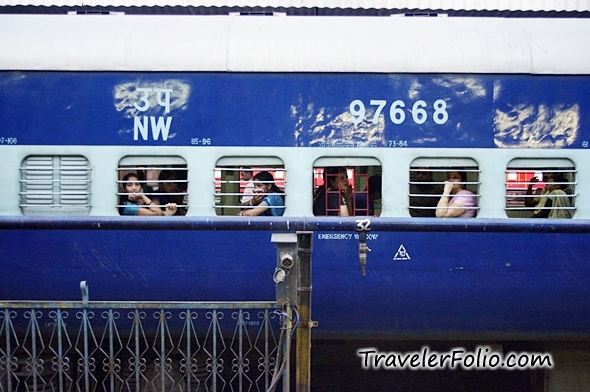 Men peeing on the track. And other men went to the same spots to pee again!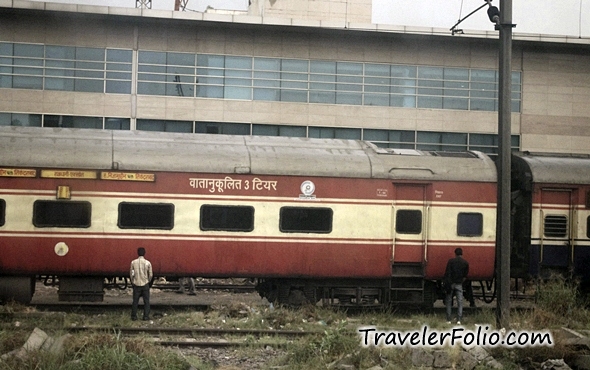 The railway line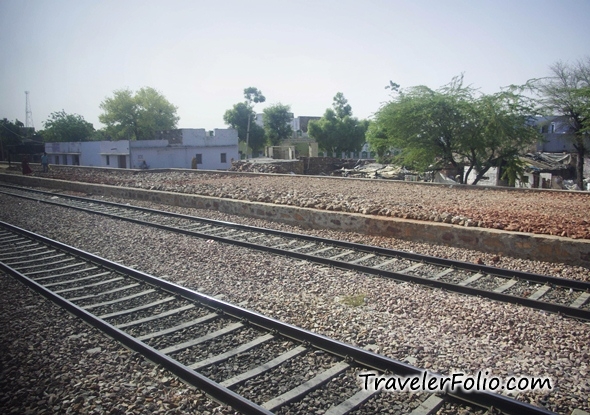 Scenes of the countryside from our passing train – an interesting experience.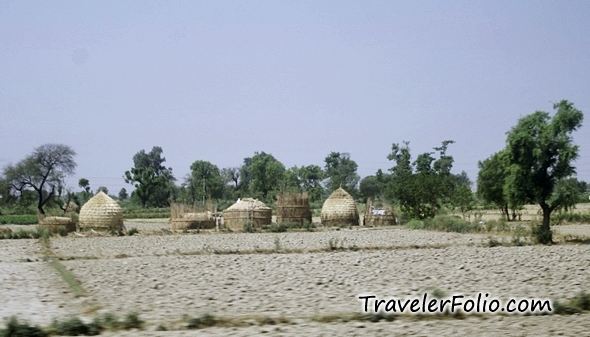 Small shops alongside the railway line.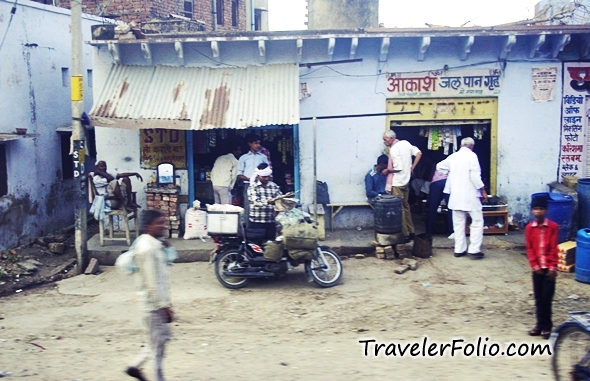 Children and a mother staying near the railway.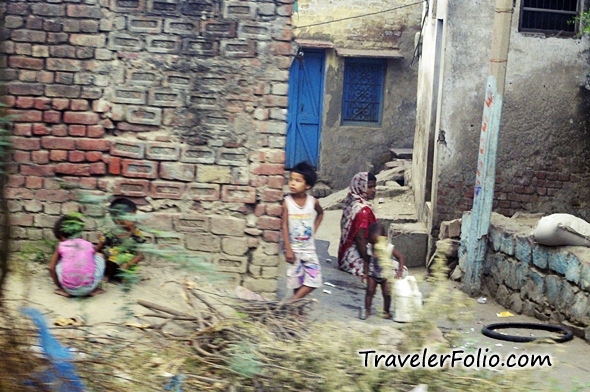 Indian ladies draped in colourful sarees.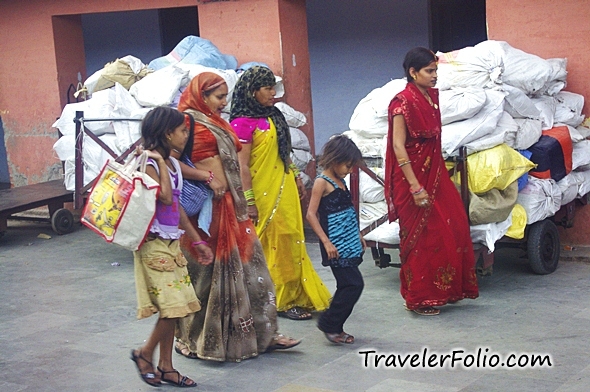 Read all posts on India.