It's been a while since my last staycation two years ago. With a baby tagging along, I did hope that our hotel stay on homeground was not merely just a change of location…
Why Capri by Fraser? The hotel residences is tucked away from the city crowd, yet conveniently located right next to Changi City Point with retail outlets and a good choice of dining. It's just a stone's throw away from Singapore Expo and Expo MRT station.
Plus, Frasers Hospitality is well known for its quality accommodation and services. We wanted to kick back and relax over the weekend staycation, enjoy mouth-watering buffets, and make good use of the leisure facilities. A little indulgence goes a long way!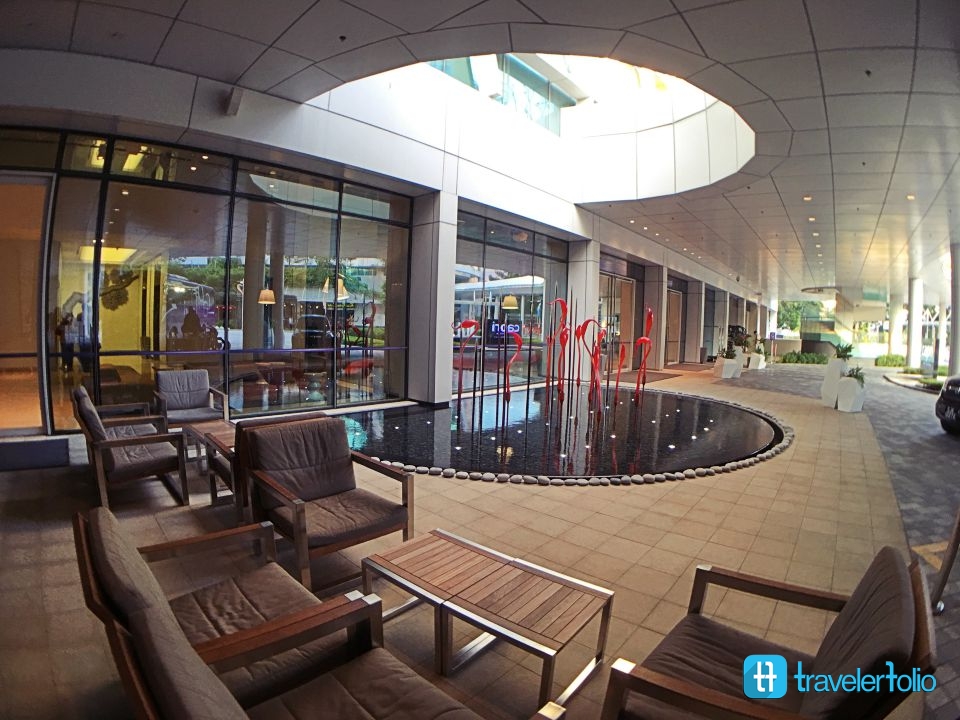 Capri by Fraser embraces a new hospitality concept – it's neither a hotel nor a service residence; it comprises of the facilities of a smart hotel and the space and amenities of a serviced apartment to suit the modern lifestyle of tech-savvy travellers who work smart, socialize and enjoy life.
Walk around the hotel residences and you will find interesting contemporary art installations from large-scale works to small sculptures displaying expressions of movement and connectivity.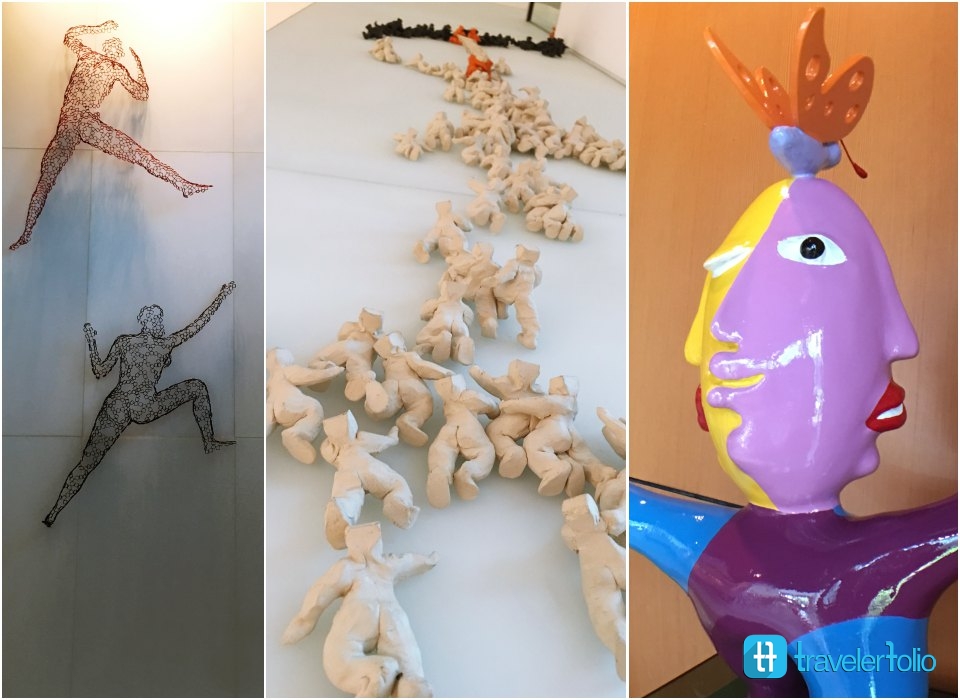 Capri by Fraser at Changi boasts 313 studios appointed with fully-equipped kitchenettes, free WiFi, iPod docking sound system and home entertainment system. For two adults and a baby, the Studio Deluxe is just right for us, even with a baby cot.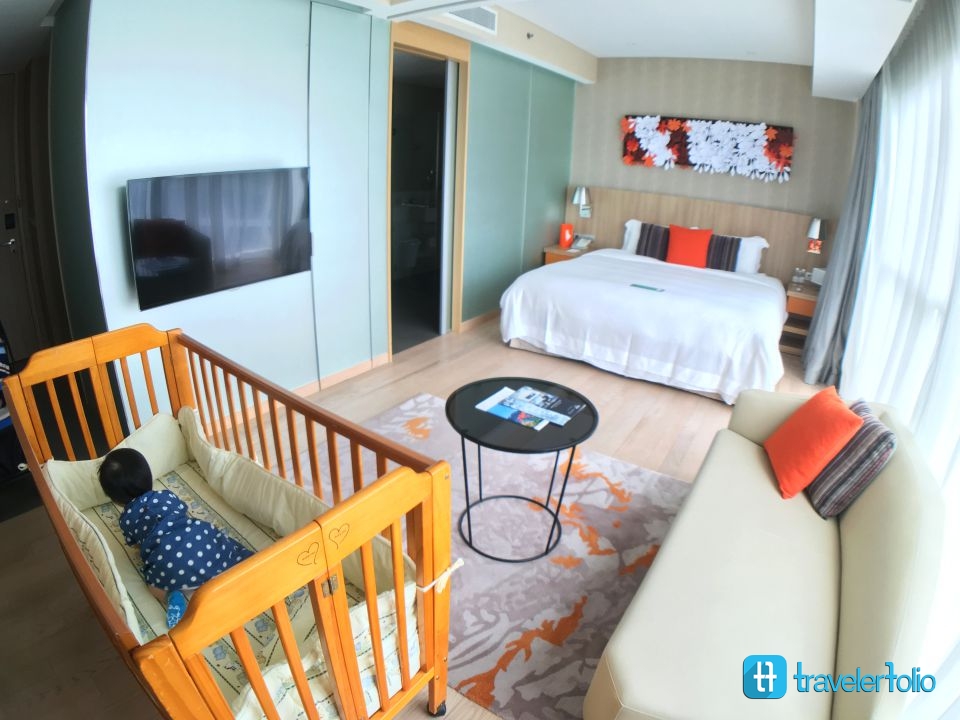 The Studio Deluxe has a good layout with a bedroom and living area that can be partitioned by an automated screen, a spacious bathroom and a "walk-in wardrobe" that's big enough to keep the baggage and stuff neatly and out of sight from the living room. The bathroom features a rain shower and Malin-Goetz toiletries.
The fully-equipped kitchenette is compact and comes with two induction cooktops and a premium filtered water dispenser that provides clear tasting water straight from the tap, so I know it's safe and clean for preparing baby food.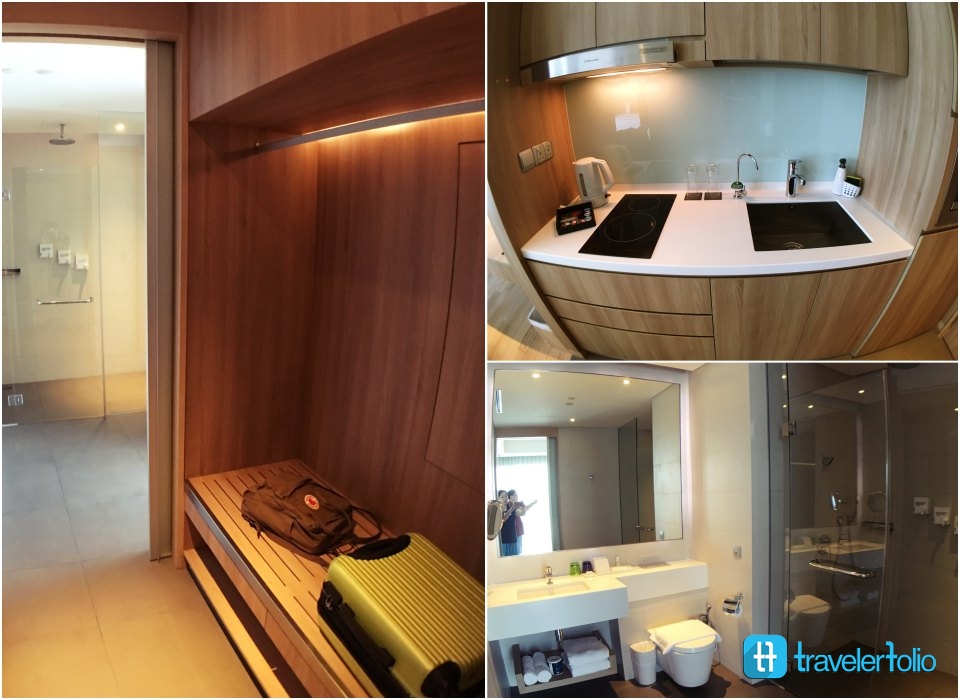 The cozy King bed for us to snuggle in for two nights.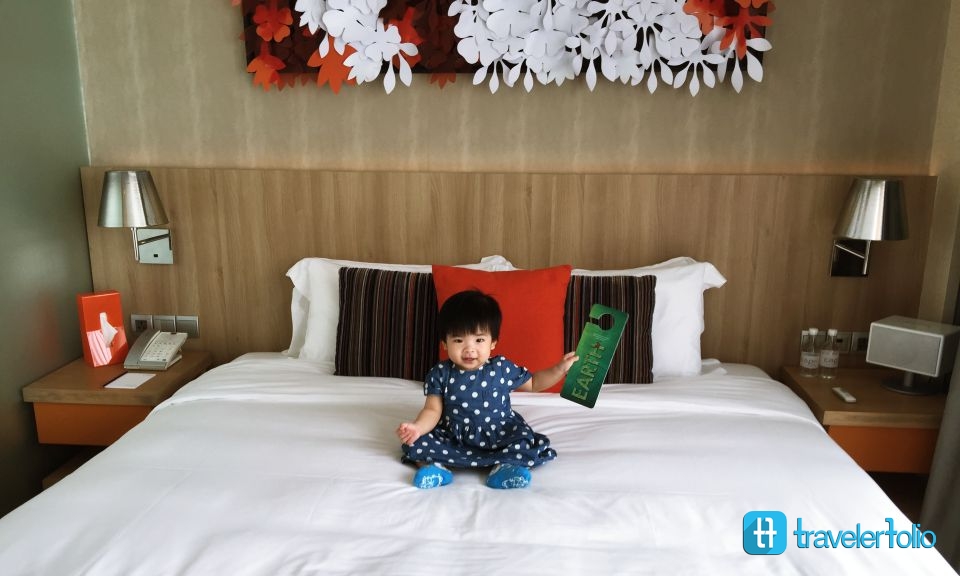 Back to the baby cot you little one. Well, at least we could keep her in it for a while if we needed a break!
To couples looking for a themed hotel stay with a distinctive in design, multi-sensory residential living experience, Frasers Hospitality and Mercedes-Benz have collaborated to bring Mercedes-Benz Living @ Fraser to Capri by Fraser at Changi City. The themed terrace suites are not suitable for young children that's why we chose to stay in Studio Deluxe instead. Check out my earlier post on Mercedes-Benz Living @ Fraser.
Caprilicious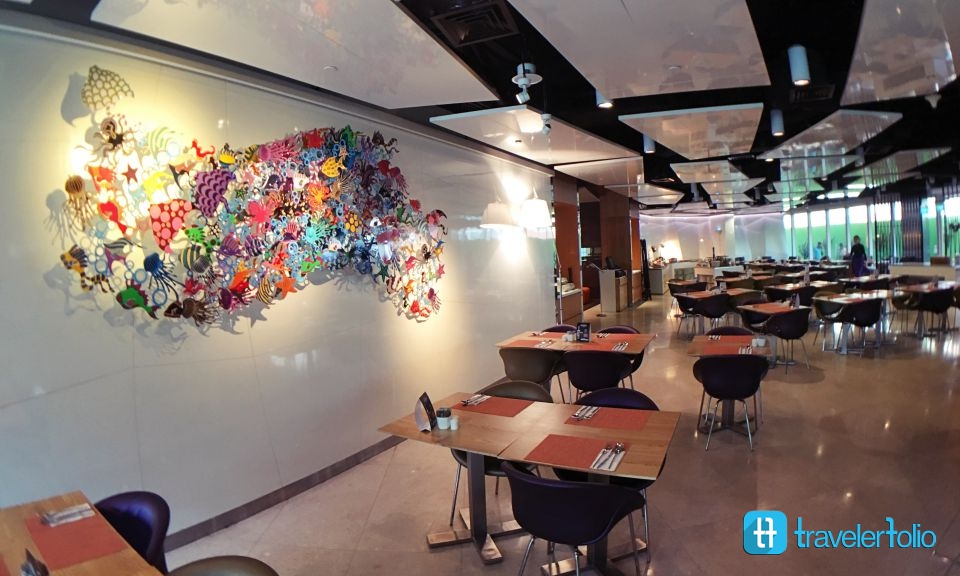 For buffet lovers, Caprilicious is an all-day dining restaurant offering weekday lunch buffet, seafood buffet on Sat and Sun evenings, and Sunday brunch. It also serves local and international food on à la carte menu. Not forgetting that the wait staff were very attentive and friendly!
Breakfast buffet at Caprilicious is a delicious spread of western food and local delights such as our beloved roti prata and har gao (shrimp dumpling) to power up the day.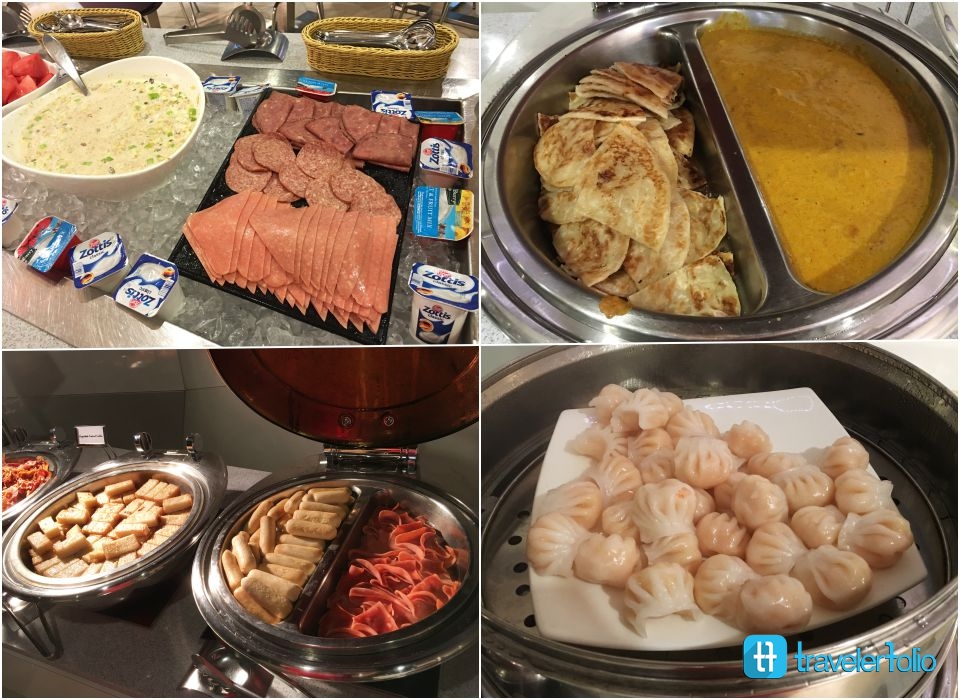 Like I say, staycation is all about a having a short retreat at a nice place near home, to chillax and 'nuah' … and feed ourselves well! We spent a lot of time at the hotel and had lunch and seafood buffet as well.
The à la carte menu for lunch at Caprilicious features a wide selection of local and international dishes to suit every palate.
Starting with appetisers ($11~15) on the menu, some of the recommended ones are Beetroot & Apple Salad, Char-grilled Portobello Mushroom and Warm Tomato Bruschetta with melted goat cheese champignon slivers.
I had Smoked Duck Angel Hair with toasted walnut, spinach mimosa and mango vinaigrette. Definitely appetising and want more food after this dish!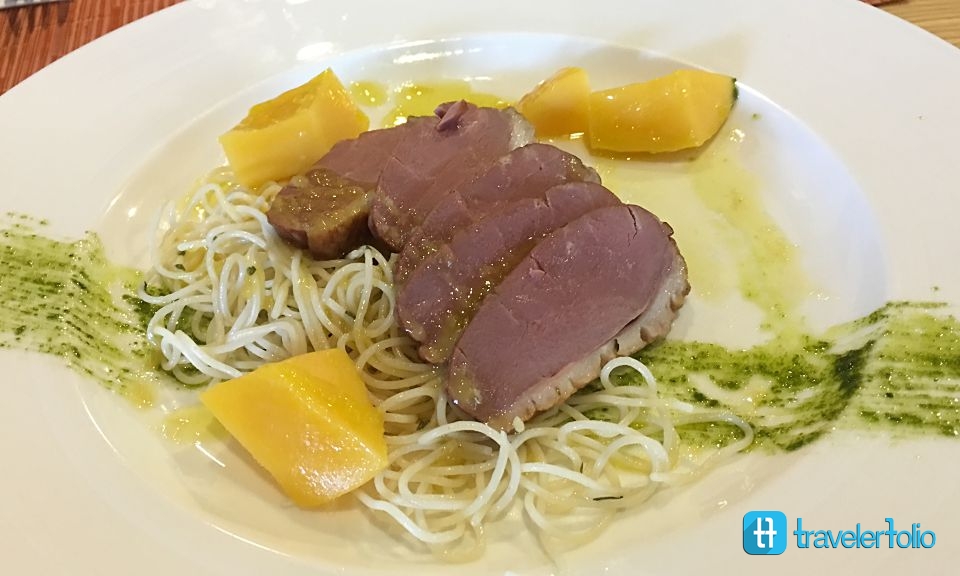 Hot velvety soup to warm the soul, we had Rock Lobster Bisque, our all-time favourite. For Hot Soups ($12~$14) on the menu, you can also find Mushroom Cappuccino (not coffee!) with truffle oil and sauteed mushroom, Seafood Tom Yum spicy broth and Doubled Boiled Chicken Soup.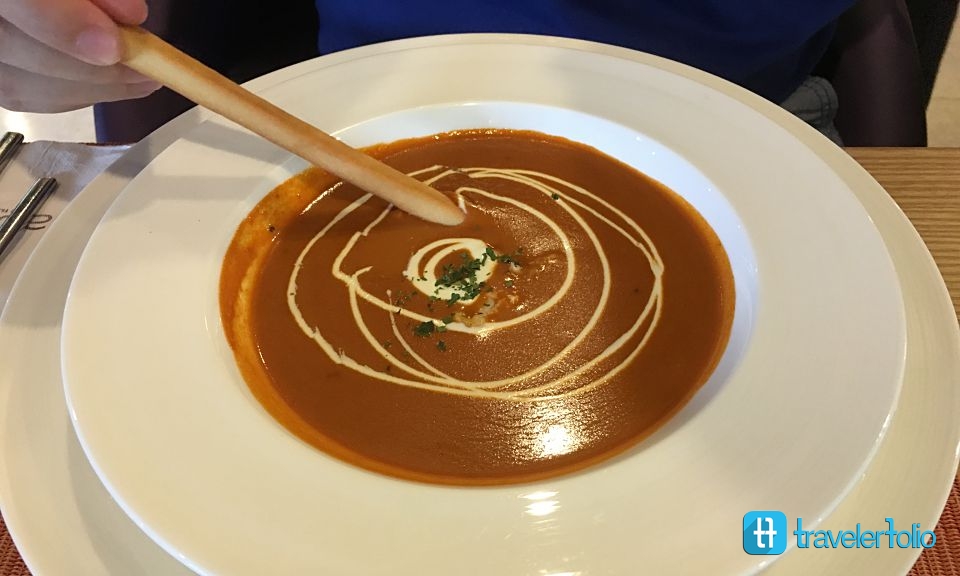 If you choose fish for the main ($24~$37), the restaurant serves Oven-Baked Chilean Sea Bass, Grill Salmon & King Scallop, Pan Fried Barramundi and Golden Battered Seafood Mezze that comes with scallop, dory, tiger prawn, squid, veg and fries, tartar sauce and sambal mayonnaise to dip.
My salmon and King scallops were grilled to perfection, moist and succulent, yet not greasy.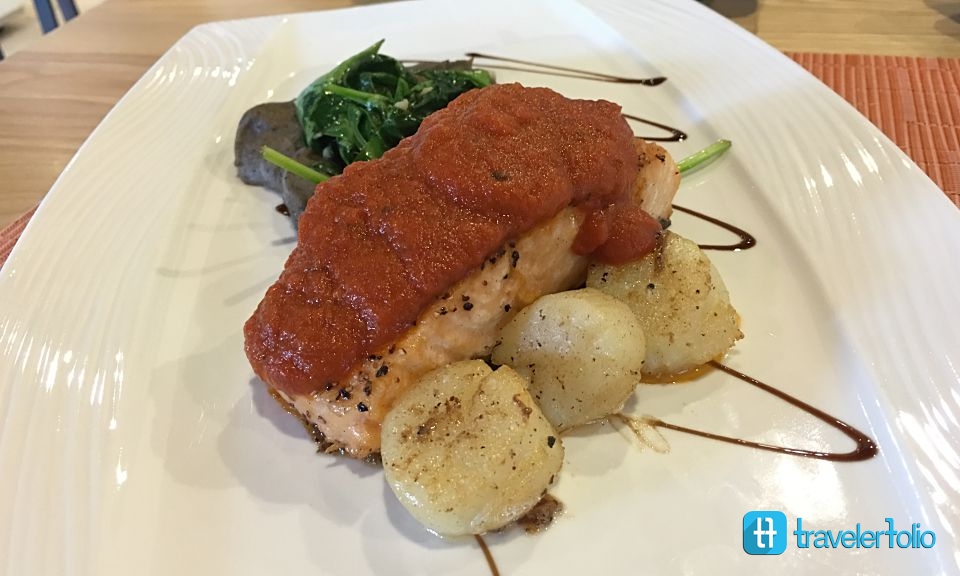 For meat as main ($26~$40), Jacky had char grilled ribeye steak laced with herb roasted potatoes, glazed parsnips, sweet potato chips and perigourdine sauce. A flavourful dish, the steak was tender and juicy.
Other meat dishes include Grill Prime Baby Lamb Rack, Broiled Fillet Mignon and Roasted Farmhouse Spring Chicken.
For local flavours, the kitchen whips up a variety of Singapore's favourites such as Hainanese Chicken Rice, Seafood Hor Fun, Laksa, Char Kway Teow and Nasi Goreng. To spice it up, go for the Indian dishes like Chicken Tikka Masala, Chana Masala (braised chick pea) and Palak Paneer (vegetarian, with cottage cheese and pureed spinach), and Naan to go along with.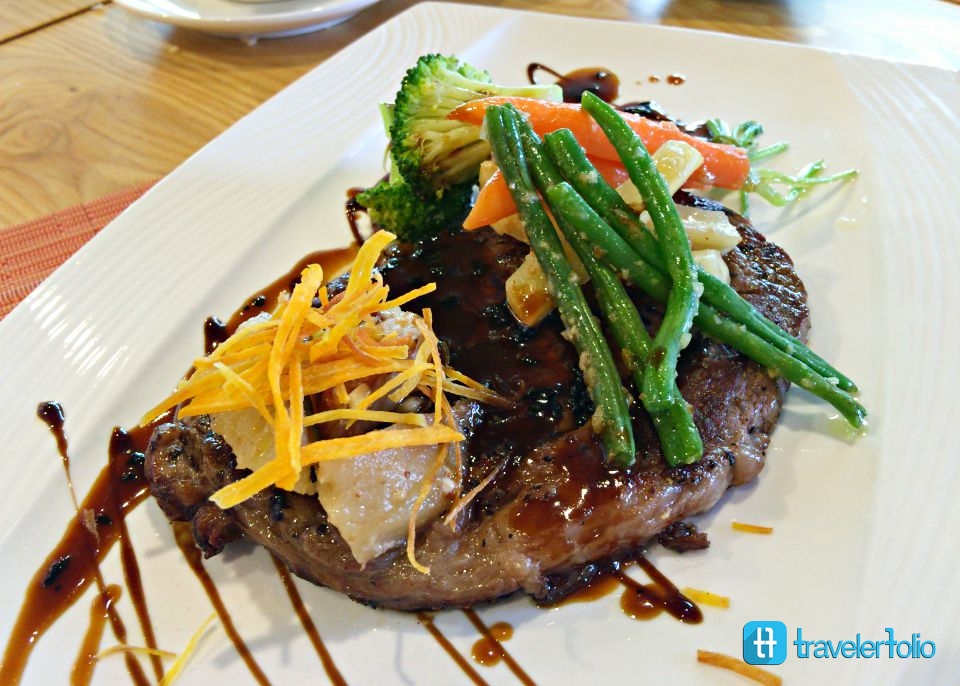 Our all time favourite mouth-watering golden crisp truffle fries!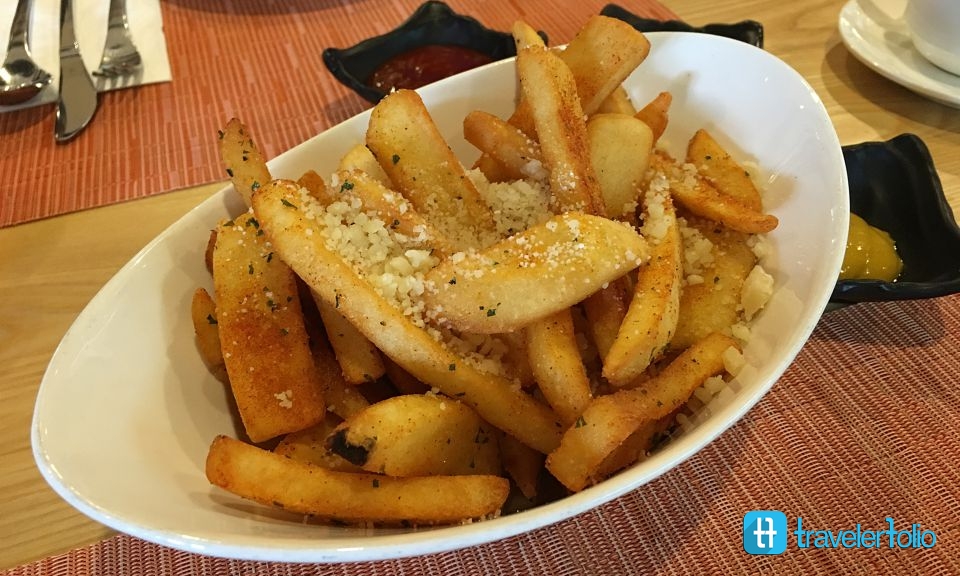 Every meal should end with dessert. So we happily chowed down some vanilla ice cream with chilled mango pomelo sago and molten chocolate lava cake.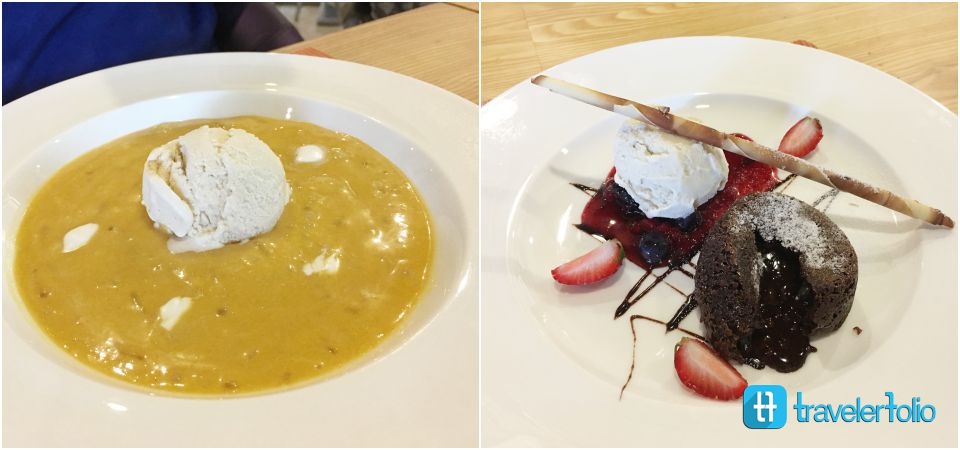 Caprilicious "Sea"-cret Affair
We were so looking forward to have Secret Affair … "Sea"-cret Affair at Caprilicious – the seafood buffet serves a plethora of mouth-watering umami flavours such as chilli crabs, snow crabs, sambal stingray, scallops on the half shell, cajun grilled prawns, mussels in spicy bean paste, clams, baked salmon and cod fish (my girl's favourite), and Tandoori squid. There's also lamb rack, calamari and other finger food, as well as desserts with free flow of coffee or tea. Did I mention seafood dessert?
One of my favourites was the snow crab legs. The delicious crab meat was so sweet and succulent, simply irresistible and I kept going back to the buffet counter for more.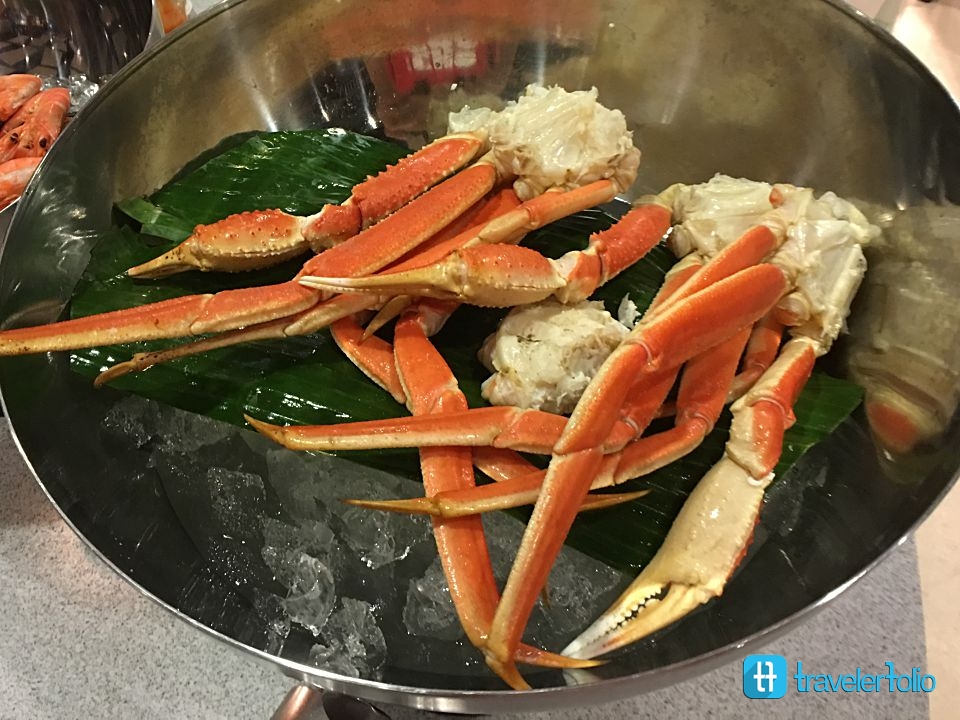 Big prawns and scallops on half shell, all the seafood goodness so fresh and delish.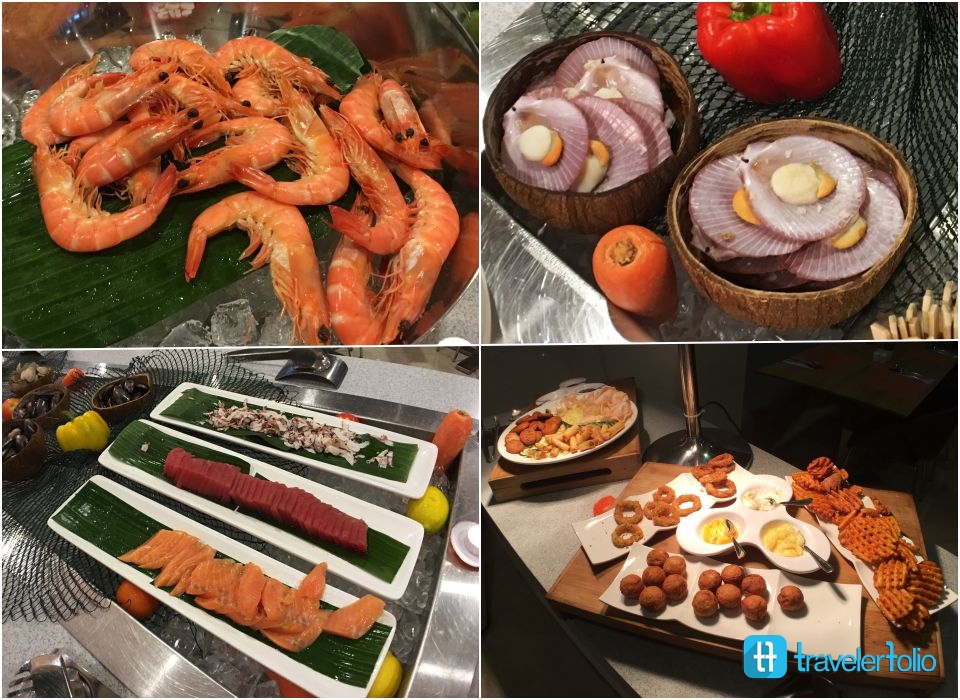 Fried rice with prawns, tasty and satisfying.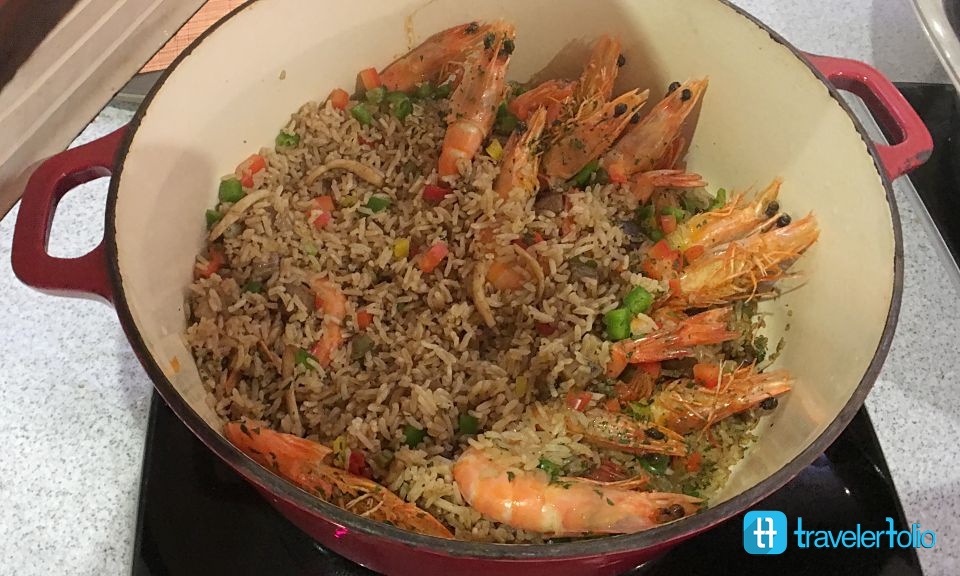 The "Sea"-cret Affair has got a wide spread of cakes and desserts for the sweet tooth. Remember to try the seafood dessert, it's quite unique. We also liked the durian mousse but it ran out fast!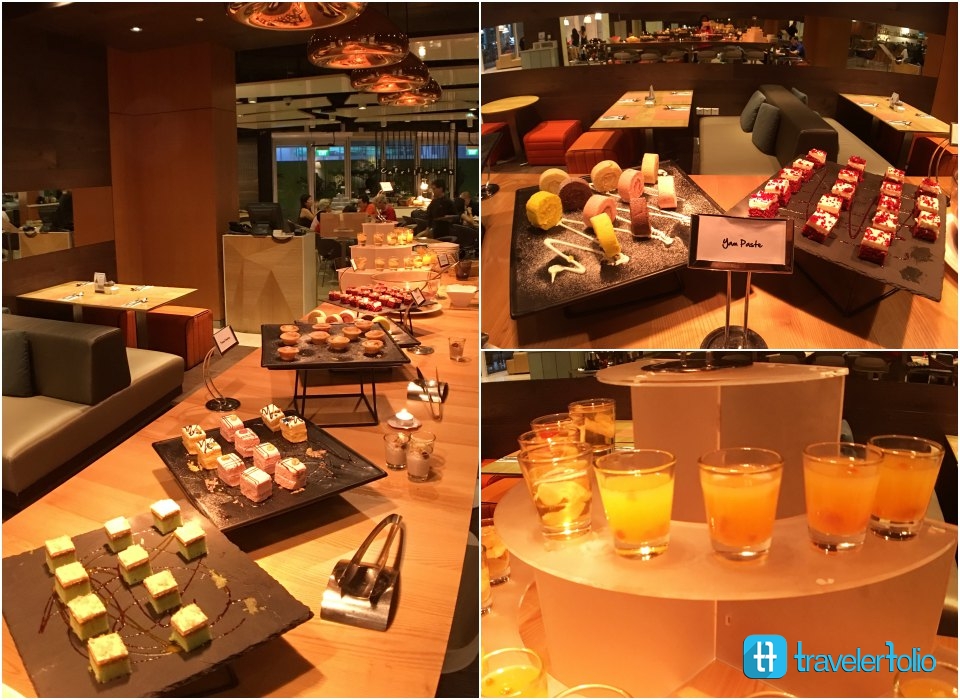 Surprise, surprise! The waitstaff sang birthday song to our girl who just turned one! She had a lovely birthday cake from Caprilicious. Thank you for the wonderful birthday celebration!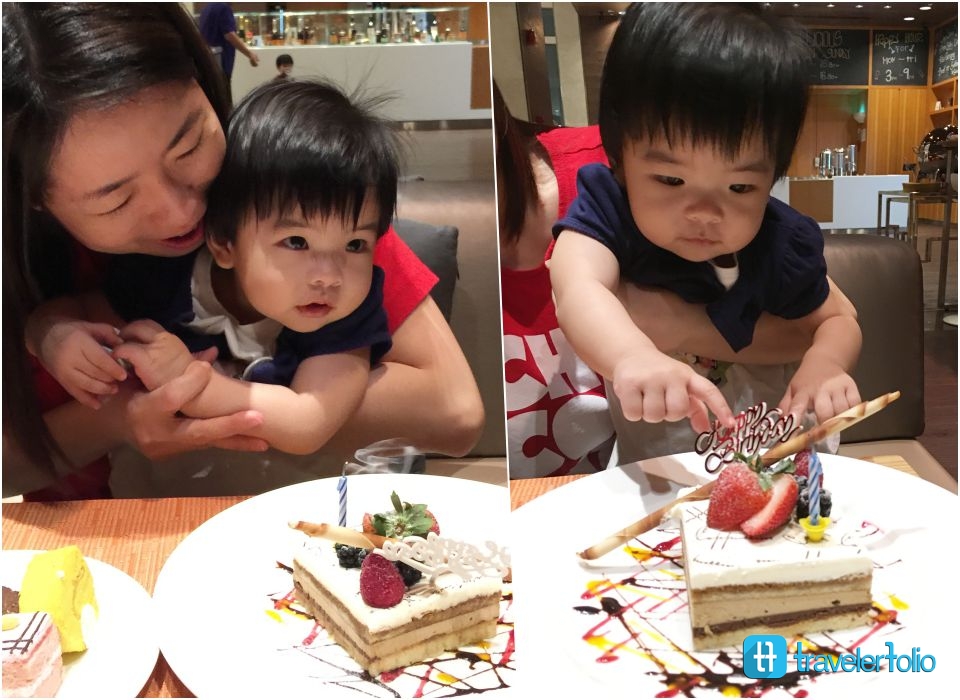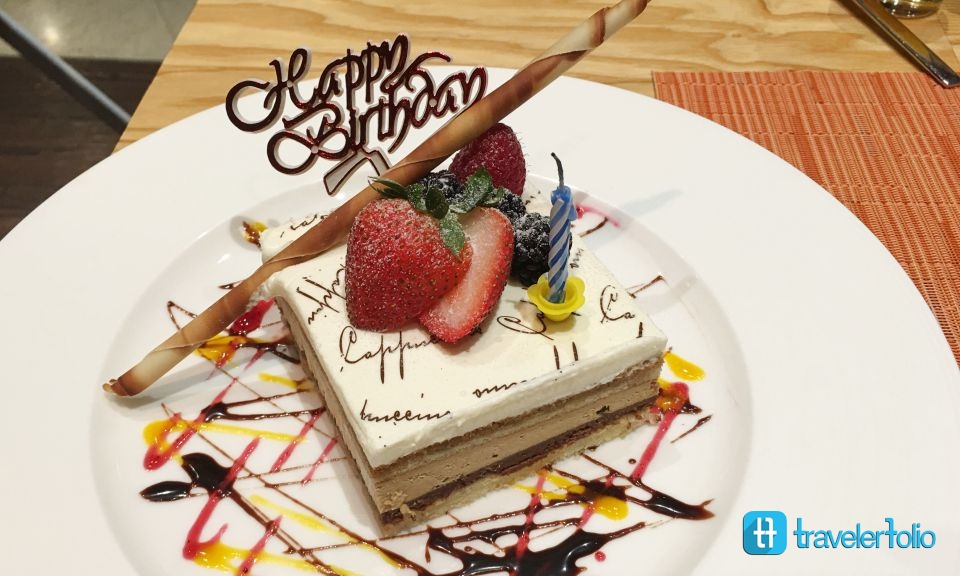 Caprilicious "Sea"-cret Affair is available on every Sat and Sun evenings from 6pm to 10pm. S$58.80++ per adult / S$28.80++ per child (6-11 years old)
So much indulgence, it's time for some serious work out. Hotel guests can rent a trek bike and explore the East Coast. If you are staying over on weekdays, you can join the hotel General Manager for two hours of cycling on Tuesday or Thursday at 5pm. How exclusive!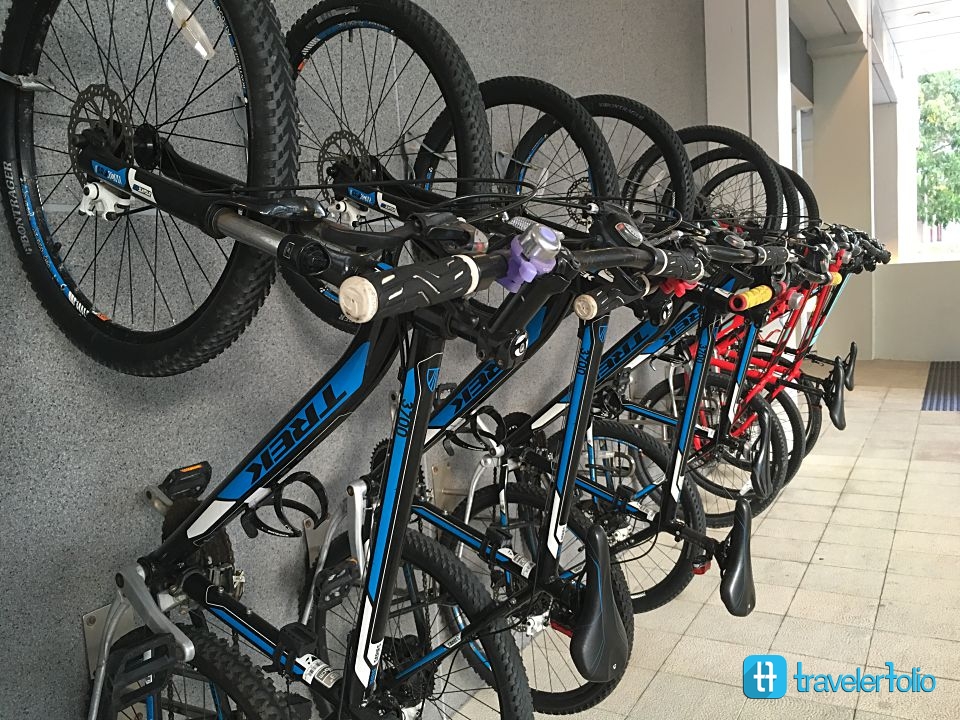 The swimming pool is popular with families and the gym is right next to it.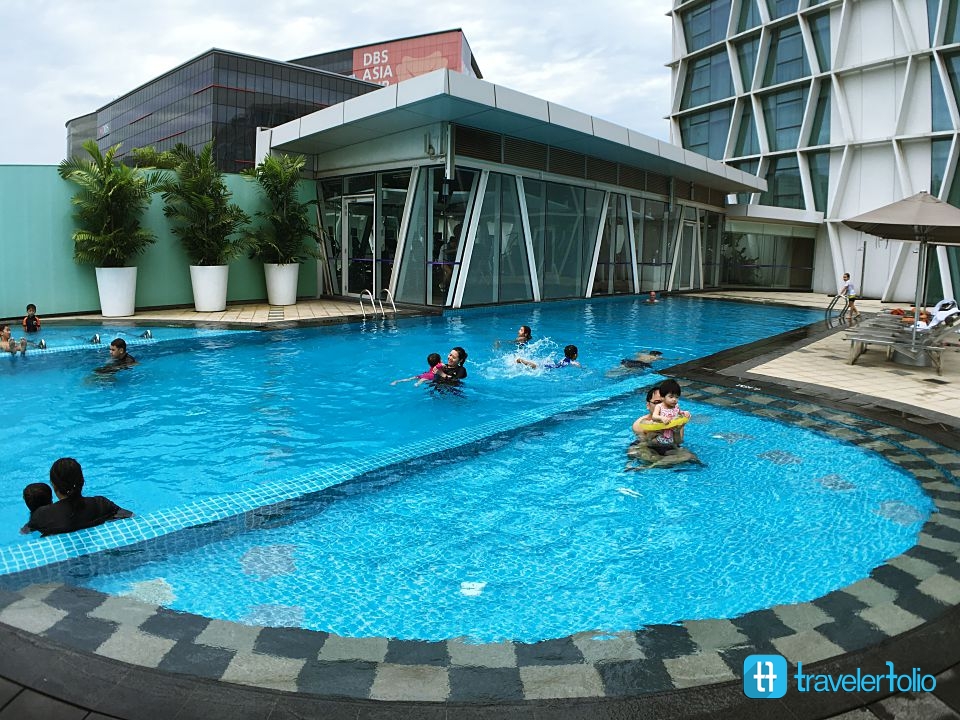 This is a pretty interesting concept at the hotel's laundromat. It's created to make laundry experience fun! The Spin & Play rooms feature different games and entertainment including a foosball table, a boxing bag, an X-box and massage chairs.
(image credit: Capri by Fraser)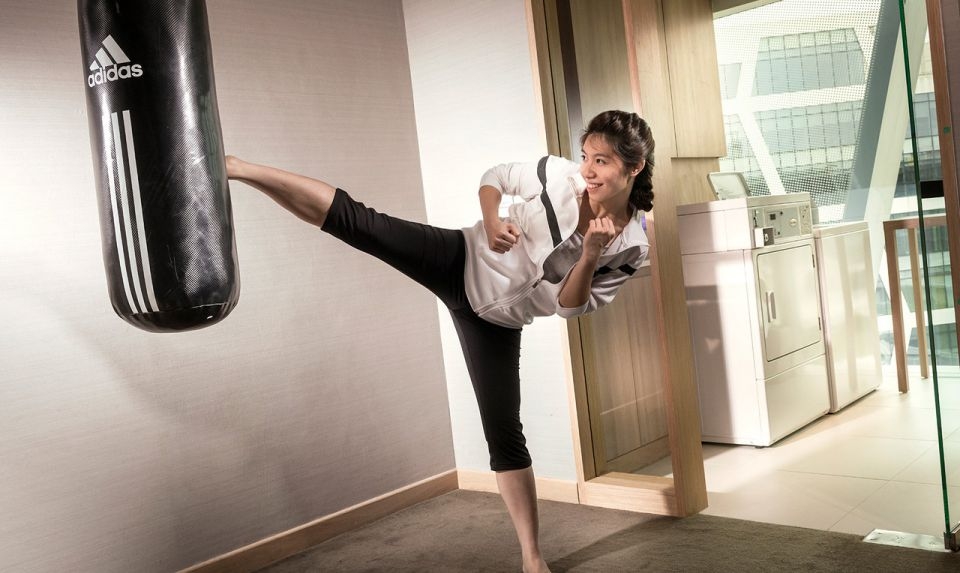 (image credit: Capri by Fraser)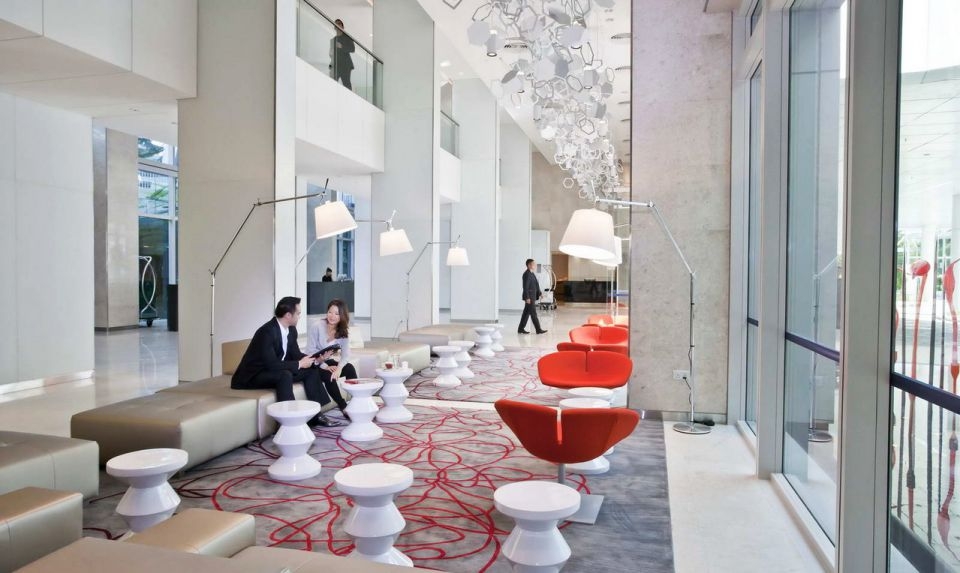 Capri by Fraser provides free shuttle bus service for guests between Changi Airport and the hotel.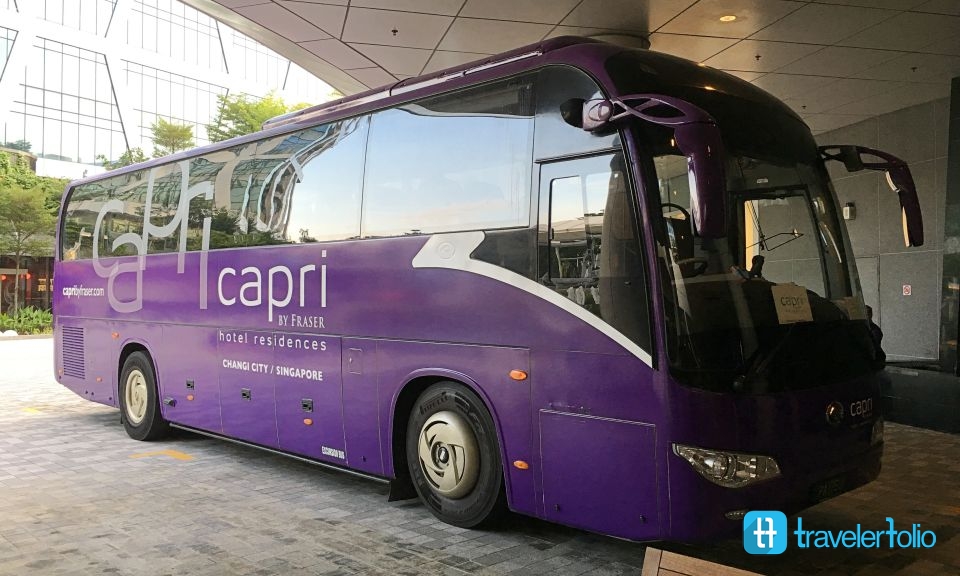 Recharged and rejuvenated! We had a fantastic weekend at Capri by Fraser at Changi. If you are looking for a short break, check out Capri by Fraser for special offers.
Capri by Fraser, Changi City / Singapore

Tel.: +65 6338 0800
Singapore Toll-Free: 1800 338 0800
Email: reservations.singapore@capribyfraser.com