After much strange incidents at Prague station, we finally reached the Old Town Square safely. Well, the next problem was, we were confused with the street numbers and couldn't find Youth Hostel TYN. The night was falling and yet we were still looking for the hostel and tried not to wander into quiet lanes.
It didn't take us too long to locate our hostel at last. Youth Hostel TYN is strategically located at the Old Town Square. Our room had two beds and a communal toilet and bathroom on a level. We had a pleasant stay there.
Time to satisfy our appetite after a tiring. We walked to a Czech restaurant nearby to have dinner. The service of this restaurant was bad, but the food was quite good and most importantly – CHEAP! Rice is a common dish and we ordered rice again. It was like eating in an average restaurant in Singapore! We ate like a King the first time in Europe! Imagine how we felt after using so much Euros which was twice as much as Singapore dollar.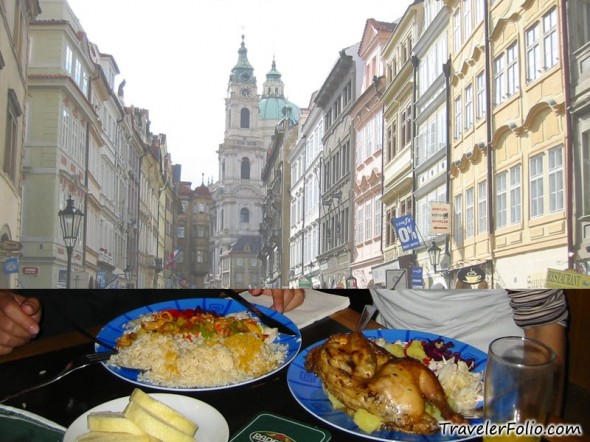 No matter how prudent we were, we got cheated. This time, it was the waiter that overcharged us. When we asked for bill, the waiter just wrote down all the prices on a piece of paper and charged an extra 22% of tax! Actually, we had read about waiters who cheated on tourists in Prague by writing the bill on pieces on paper to confuse the tourists, yet we happily footed the bill as it was really cheap!!! So you can imagine how cheap the food was, even being over-charged! We realised this scam when we asked the hostel keeper about tax stuff in the restaurants and he told us there was no such thing as an extra tax.