A couple of months ago, Jacky was on board Angry Birds Finnair for their longest ever flight from Helsinki to Singapore.
Recently, I had the travel opportunity to fly to Barcelona, Spain and layover in Helsinki via Finnair. The daily direct flight from Singapore to Helsinki only takes 11 hr 30 min – the fastest and shortest connecting route to Northern Europe via Helsinki-Vantaa Airport. The overnight flight departs at 11:30pm and arrives at 6:35am in the capital city of Finland.
Fyi, after our Barcelona trip, we stopped over for a night in Helsinki and had two long days exploring the city before flying back to Singapore. Finnair departure timing: from Barcelona to Helsinki, the 3.5-hr flight departs at 10:15am; from Helsinki to Singapore, the flight departs at 11:30pm. That's how it's possible for us to spend sometime soaking in the Christmas atmosphere in Helsinki.
Surprisingly, we flew with the blue Angry Bird on Finnair AY82 from Singapore to Helsinki!
Spectacular aerial views of snow-capped mountains in the region of France/Spain.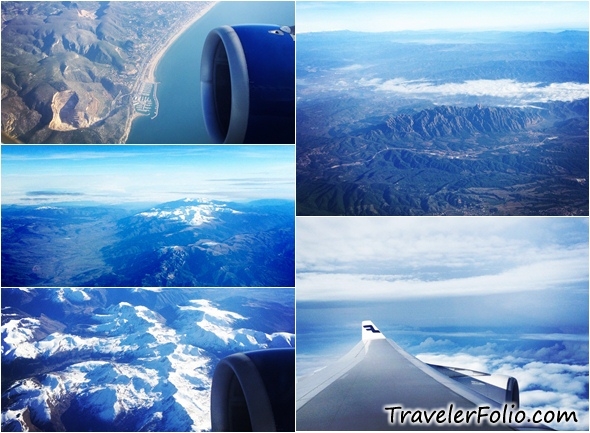 Finnair Business Class features angled lie-flat seats that can be well-adjusted to suit the sleeping posture by simply pressing a few buttons on the sophisticated controller at the arm rest.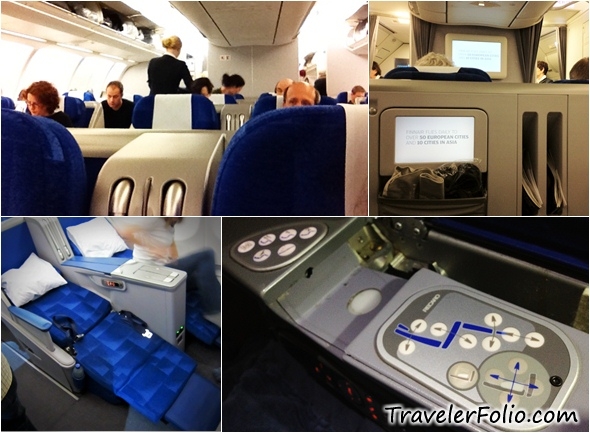 The inflight meals tasted good. I liked the fried rice, noodles and frittata as well. Delicious and light. I won't want to miss a meal during the overnight flight.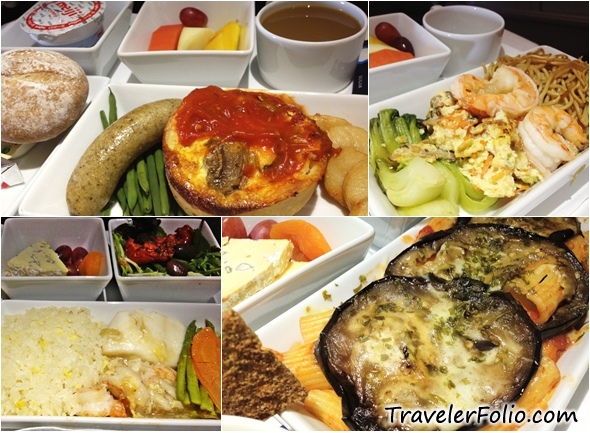 Helsinki-Vantaa Airport
Helsinki-Vantaa Airport is a major transit airport for flights to Europe and Asia. It connects to 50 destinations in Europe. What I like most is the Free Wi-Fi high speed internet access at the airport.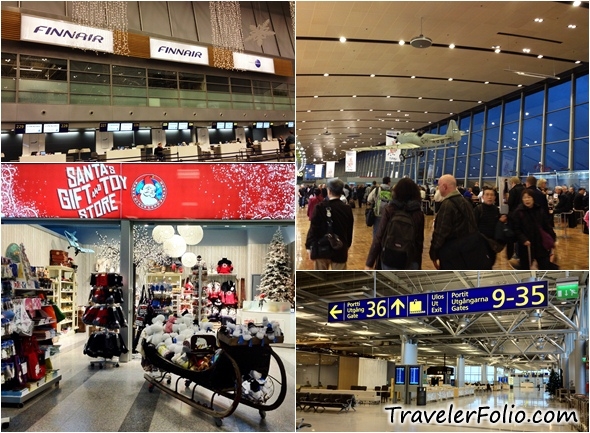 Award winning Finnair Lounge and Spa & Saunas
Since the connecting flight to Barcelona from Helsinki airport departs in the evening, we tried out the authentic Finnish Saunas at Finnair Spa and Saunas at Helsinki airport after the overnight flight, get rejuvenated and recharged, before heading out to the city centre on a whirlwind jaunt.
The unique and stylish Finnair Spa & Saunas, occupying 600 square meters, includes a mineral water pool, a cold water paddle pool and 4 different saunas:
Stonebath – hot mineral stones are dipped in a cauldron of water, thereby, billowing steam and filling the sauna room making a pleasant perspiration for skin.
Brechelbath – an old farmer cottage surrounded by cozy heat and breath in the scent of fir trees and mixed herbs.
Finnish Sauna – traditional Finnish sauna, but the heat is higher than normal saunas.
Steam Bath – modern version of genuine eastern steam bath.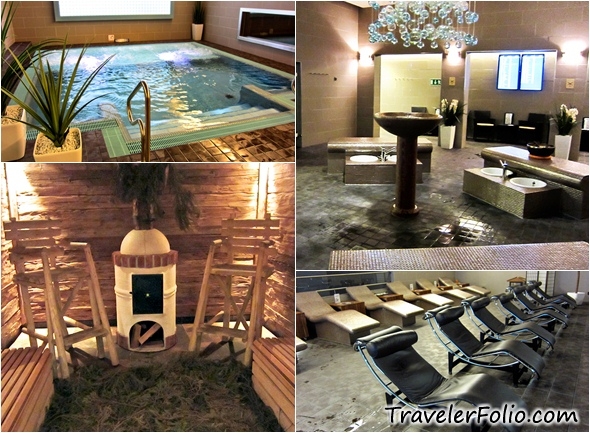 Notes: Lounge access is free for oneworld Emerald, Finnair Plus Platinum, Finnair Plus Gold and Finnair Plus Silver and Business Class passenger. Access to Spa & Saunas is free for Finnair Plus Platinum members and oneworld Emerald card holders when travelling on a Finnair flight. All other passengers may enter for a fee. All treatments are payable. Swimsuits are available to rent. Please check your eligibility http://finnair.com

Finnair Lounge
Next to Finnair Spa & Saunas, Finnair Lounge is pretty huge and offers some peace and quiet for Finnair Plus Platinum, Gold and Silver members, and Business Class passengers with the Finnair AY airline code on their ticket. There are newspapers, magazines, refreshments and snacks as well as power outlets and working desks.
Finnair City Bus (airport – city)
If you have a few hours while waiting for your connecting flight at Helsinki-Vantaa Airport, consider taking Finnair City Bus ( 6.20 €/ trip) from the airport to the city centre for sightseeing, shopping and food. The frequency of the bus is approximately once every 20-min and the bus journey to the city is less than 30-min. It's comfortable and convenient. However, do try to avoid peak hours in case of traffic congestion. You won't want to miss your flight!
More info on transportation to and from Helsinki-Vantaa Airport: http://www.finnair.com/finnaircom/wps/portal/Transportation/en_INT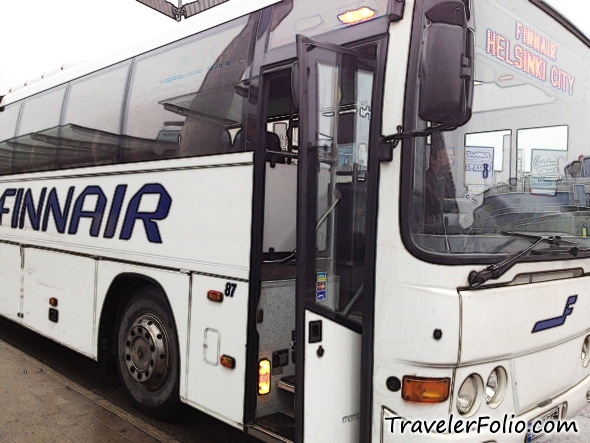 We didn't travel to Santa Claus' Village in Lapland in Finland but we could still catch the Christmas mood in Helsinki. The capital is also the largest city in Finland with a population of over half a million. It's very easy to explore the city centre on foot. Finns speak good English and it's hard to get lost in the city centre. From there, we walked to the attractions including the white Helsinki Cathedral, the unique Rock Church and the Port of Helsinki.
Both children and adults like the Christmas diorama.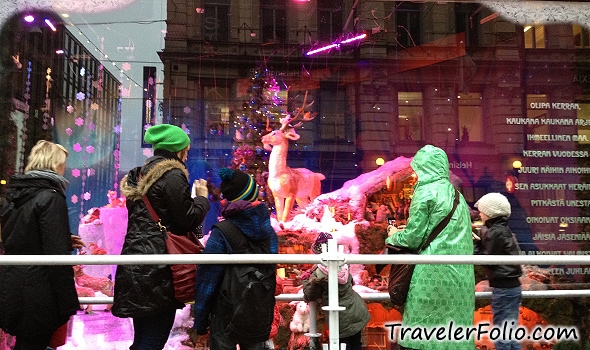 Kids delighted by the moving characters in the huge diorama.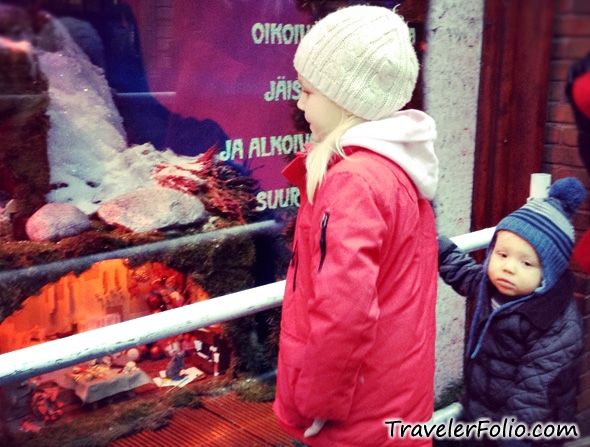 Mice store food for winter!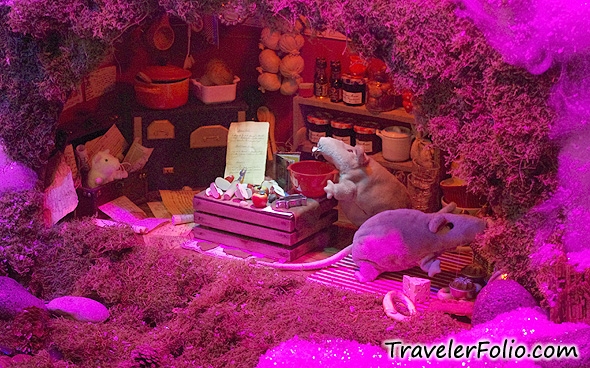 A reindeer display outside a souvenir shop.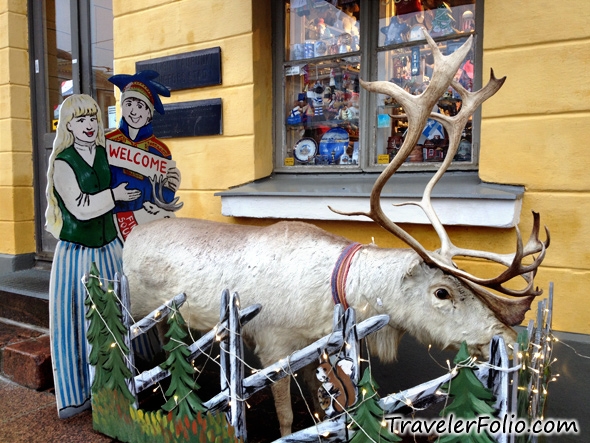 Santa Claus and Mrs. Claus.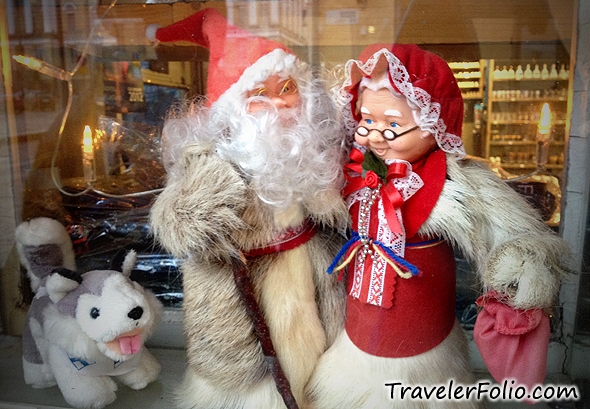 I couldn't help but take a photo of it. I've no idea about the Moomins before the trip. They are really popular in Finland and you can easily find these white and roundish hippo-look-alike plush toys at souvenir shops and Helsinki Airport.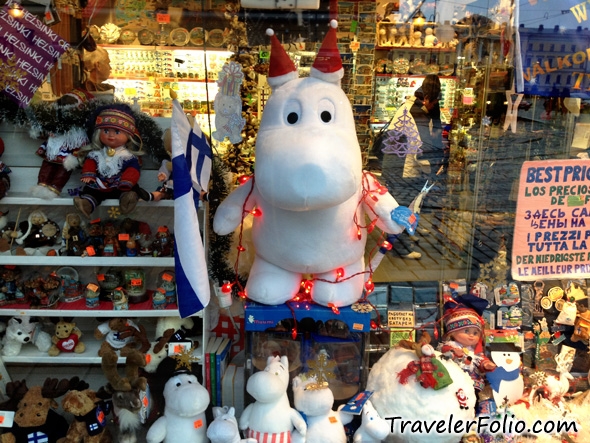 Helsinki Cathedral
The green-domed white Helsinki Cathedral is probably the most photographed and distinct landmark at the city centre.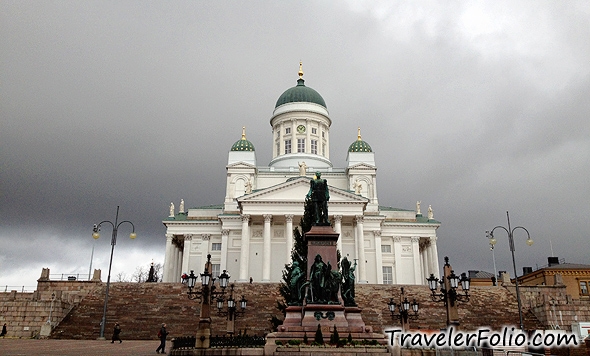 A very huge Christmas tree is displayed in front of the Helsinki Cathedral.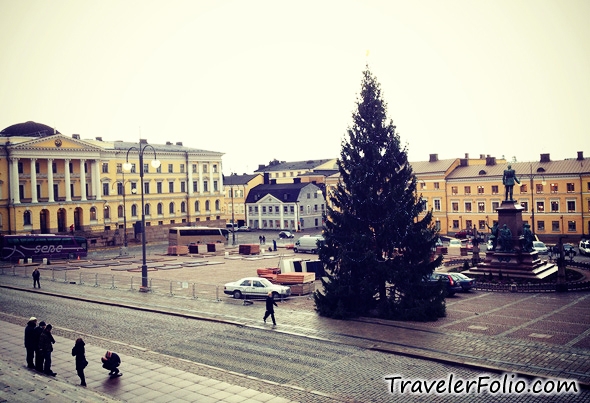 I found a few really tall Christmas trees in the city. It was cold and windy at 4-5°C.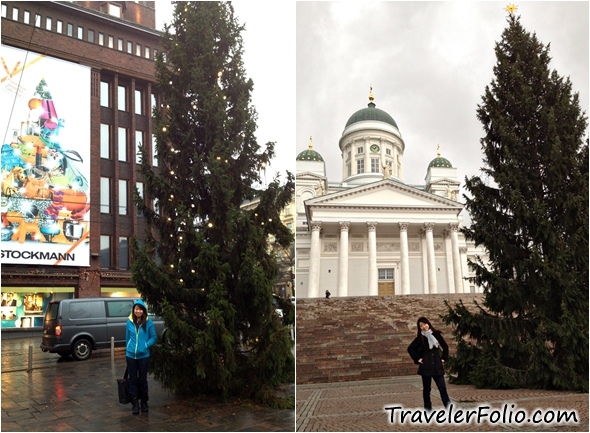 From Finland with Love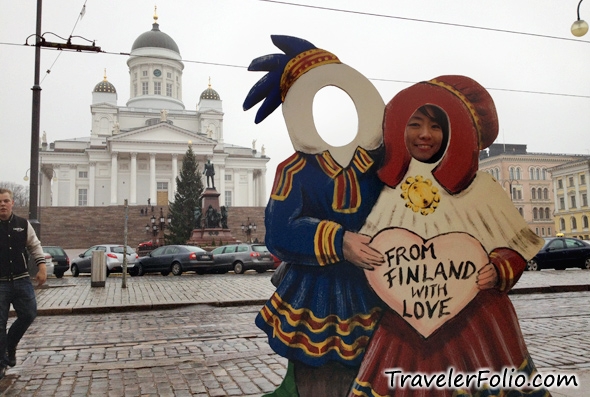 Rock Church
The Rock Church (Temppeliaukio Kirkko) is one of the most amazing and unique churches we've ever seen. From aerial view, it looks like a flying saucer. At one glance of the entrance, the Rock Church looks like a museum and gallery. As you enter, you'll notice that the circular underground church is literally hewn out of rocks and looks like a cave with natural light beaming through the window panes.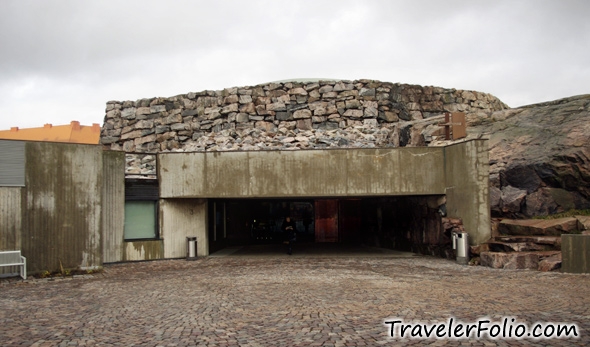 The round ceiling seems like it was woven out of straw but in fact, it was made of copper wire. The modern architecture was built in 1969.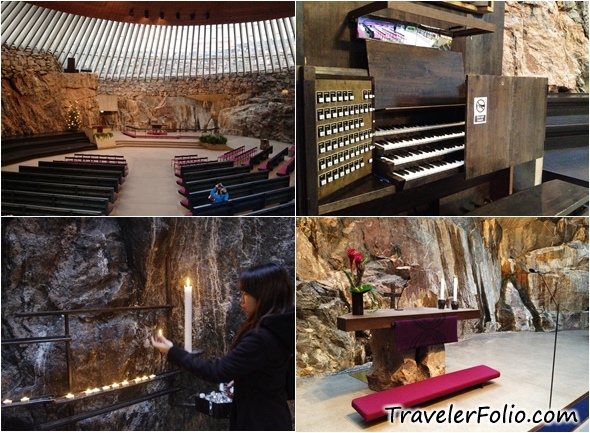 Poser crossing the road in the cold.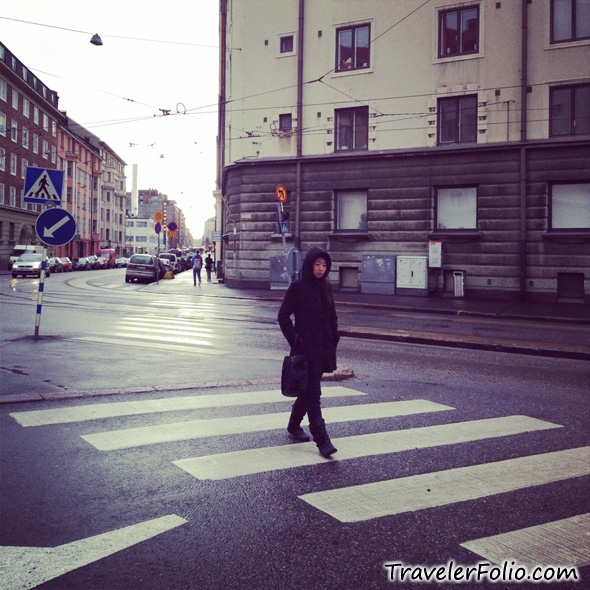 The beautiful Uspenski Cathedral.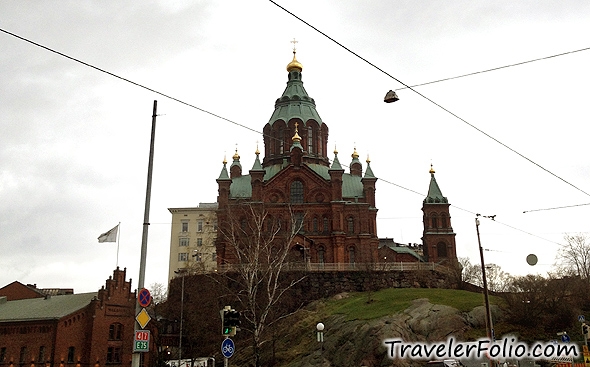 Port of Helsinki
Head down to the Port of Helsinki at the city centre for a stroll along the port lined with vendors selling fresh produce, fur products and food.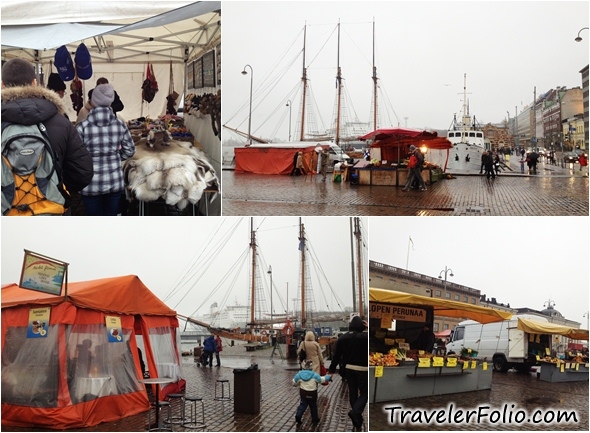 Cold, wet and rainy. A unique experience staying away from the hustle and bustle in winter. Too bad it hasn't snowed when we were in Helsinki.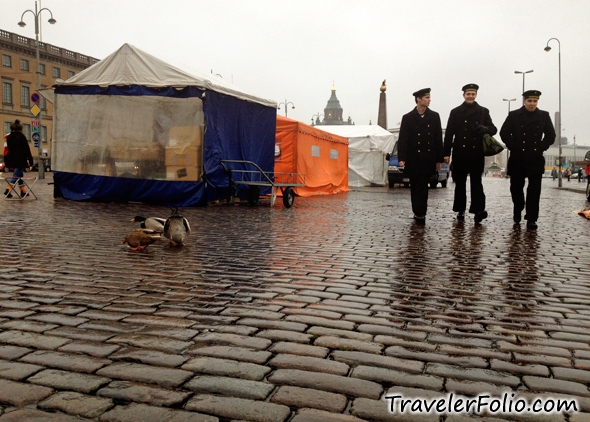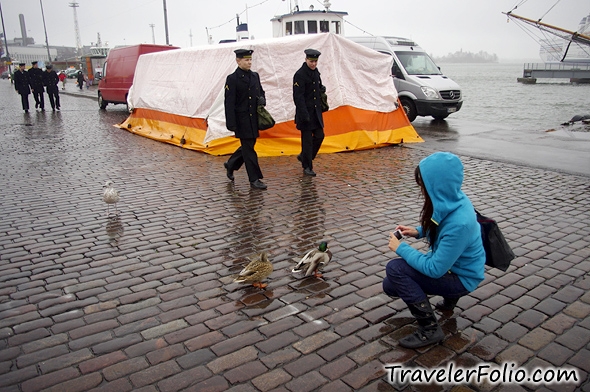 The gorgeous architecture in the middle is the Finnish National Theatre, the world's oldest theatre for Finnish performances. The open square in front of the theatre is the Rautatientori square where it hosts an ice park for skating during winter.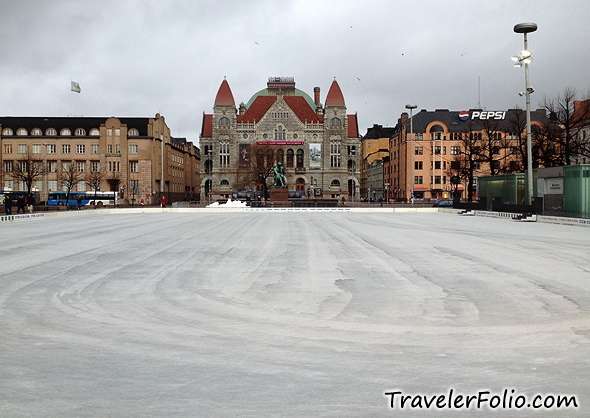 Nice shot of water reflection by Jacky.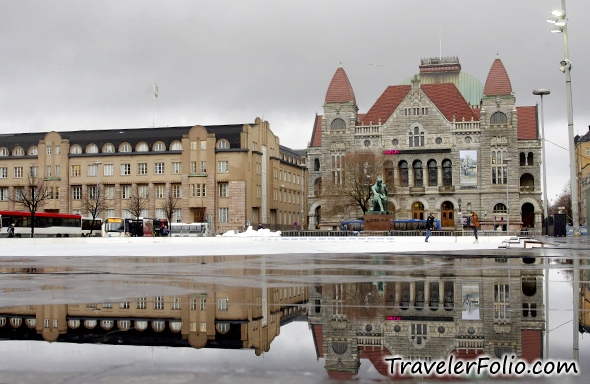 There wasn't anyone at the skating rink until a couple entered the rink and started to skate. I think I only tried ice skating once, to be exact, I could only walk on the ice, not skate!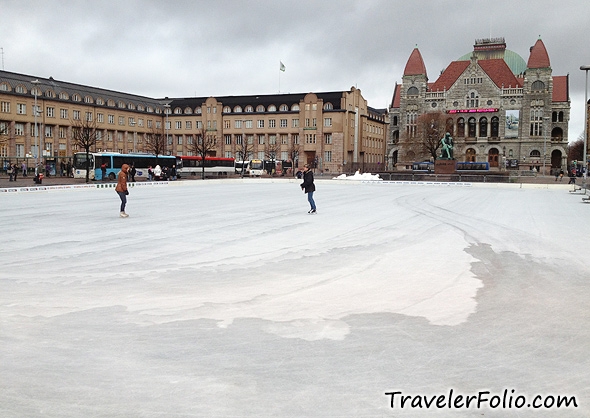 Helsinki Central Railway Station. Rautatientori square is also Helsinki Central Railway Station Square.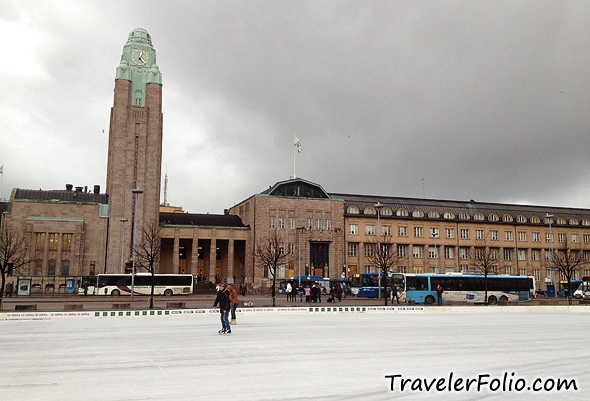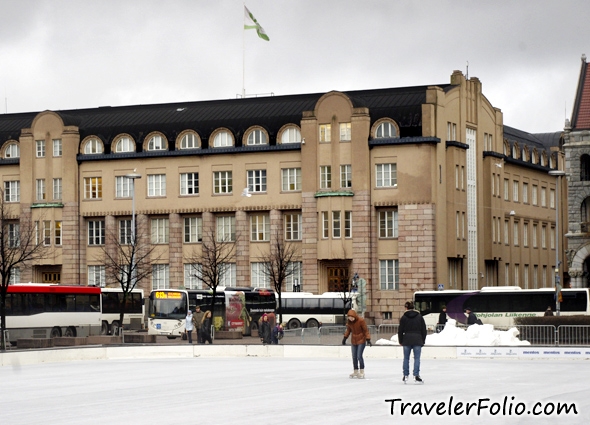 Couple skating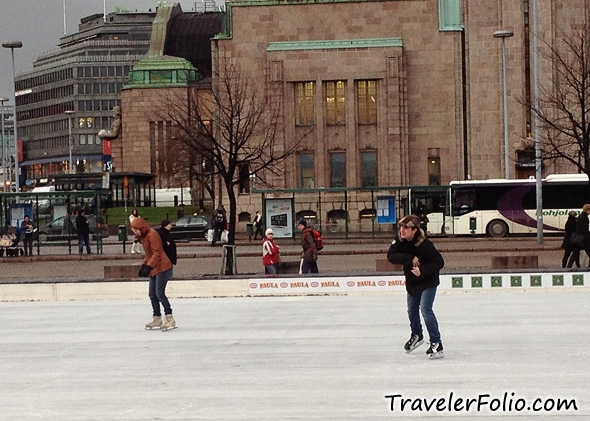 A kid playing at the pile of crushed ice disposed near the rink.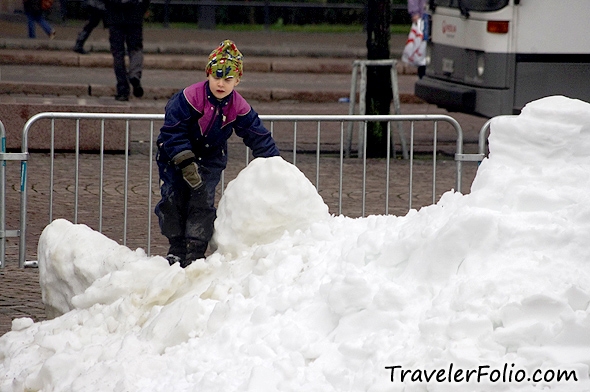 Helsinki Central Railway Station Square surrounded with tree skeletons.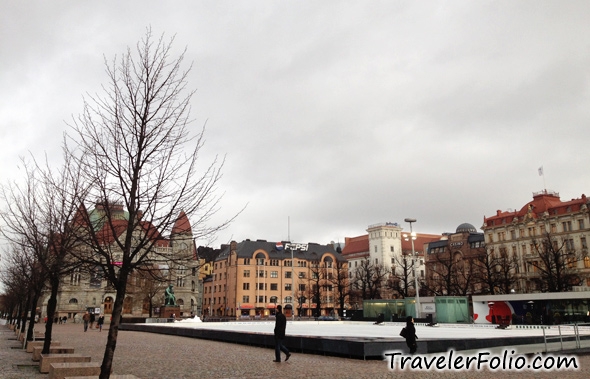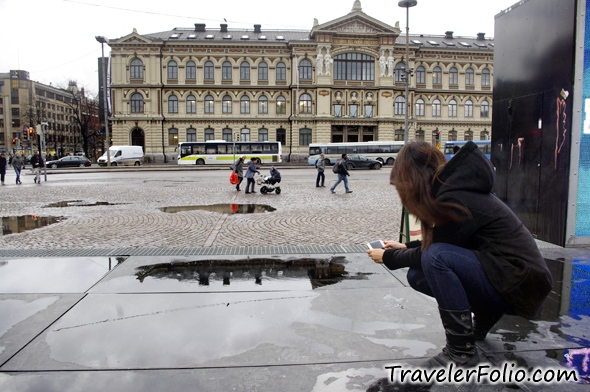 The sky was covered by a massive blanket of stormy clouds. But there was no storm amidst occasional drizzles.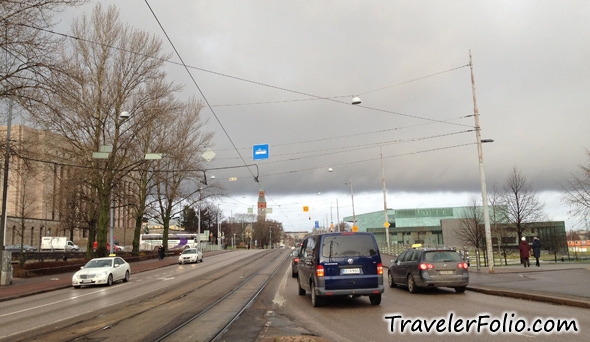 Trams passing through the city centre.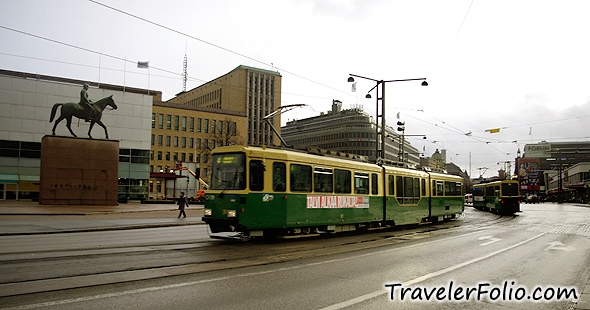 Helsinki to St. Petersburg
If we had the time, we would have taken the new high-speed train Allegro from Helsinki Central Railway Station to St. Petersburg! It only takes 3-hr 36-min to reach the second largest city of Russia.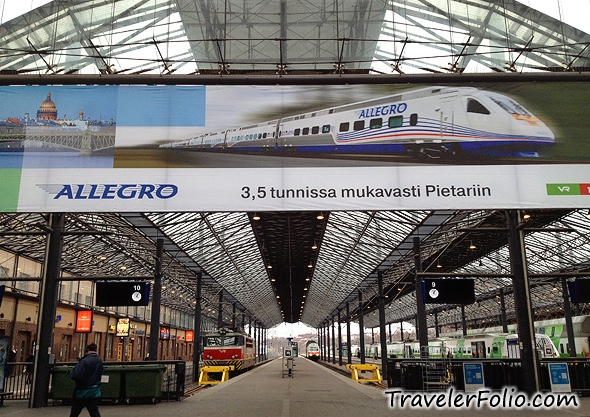 At Posti Helsinki, the main post office at the city centre, buying stamps and sending out Christmas postcards from Finland, the Santaland.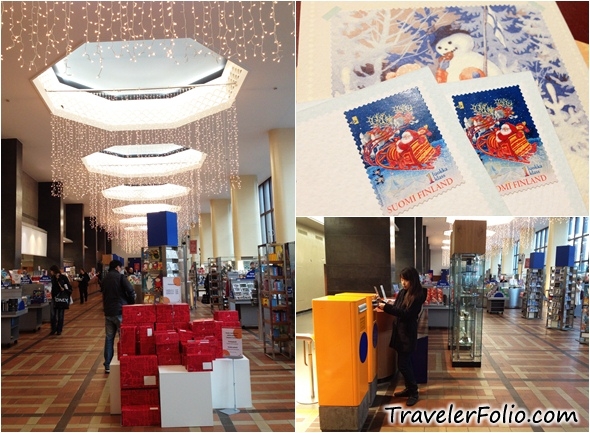 Christmas Lights & Decorations
Christmas decorations and flickering lights brightened up the festive mood in Helsinki.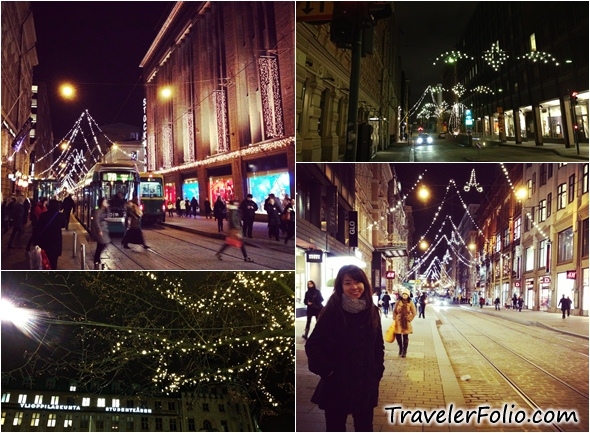 Mesmerized by the many tall and decorated Christmas trees dotting all over the city.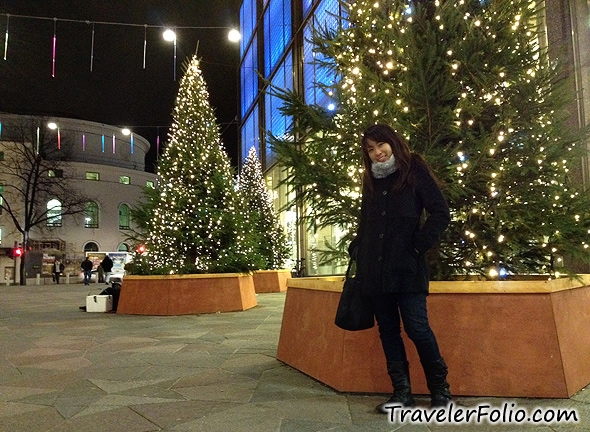 Christmas lights and decorations at shopping streets.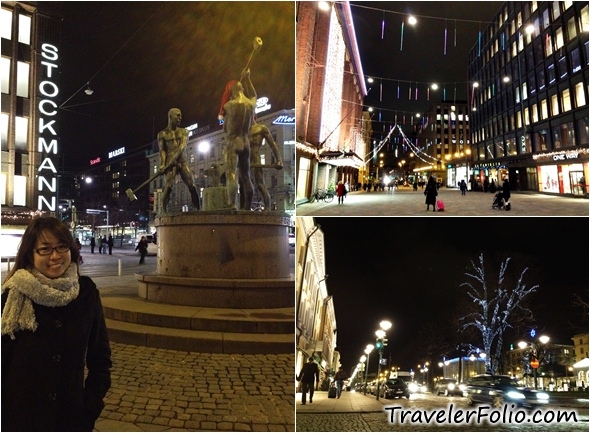 For a night in Helsinki, we stayed at Scandic Simonkenttä. The hotel is centralised with convenience to shopping malls, restaurants and attractions. It saves us a lot of time given that we only had two days to explore the city area. The hotel restaurant serves good breakfast and you can enjoy the city view while tucking away.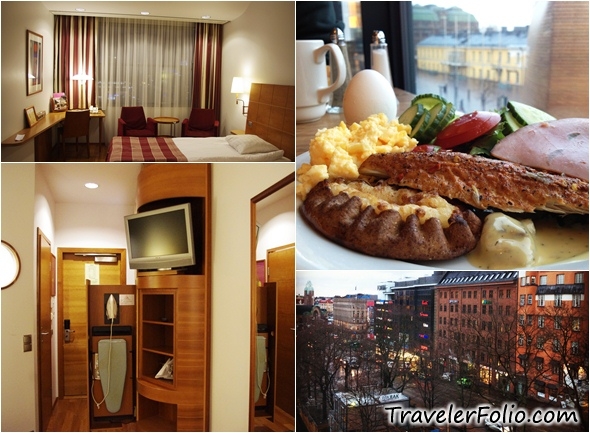 Have fun in this festive season. Merry Christmas!