Owing to its history as the starting point of the ancient Silk Road, traders and students from the Arabic countries arrived in Xi'an 1,000 years ago. Locally known as the Hui ethnic people, they settled down on the present Moslem Street aka Huimin Street (回民街) or Muslim Quarter – now a must-visit of Xi'an for an explosion of sights, sounds and smells. Nearby attractions include the Drum Tower, Bell Tower and the Great Mosque.
Popular street eats at the Muslim Quarter include Ruo Jia Mo (肉夹馍), a popular 'Chinese hamburger' in Shaanxi region made of marinated meat stuffed in pita bread; roast lamb, northwestern style noodles and Yang Ruo Pao Mo (羊肉泡馍), pieces of crumbled flat bread soaked in mutton broth. For the sweet tooth, there are fruit cakes, rice cake topped with sweet dates (桂花糕), hand-pulled candies, and fried persimmon (柿子饼). Though touristy, the place is also a food street patronized by the locals, so you can find many stores selling authentic handmade food.
Amidst the hustle and bustle, here you will be pleased to find a variety of exotic Muslim food, plenty of souvenirs such as Terracotta Warrior display set, local handicrafts and interesting people.
Muslim Street Eats
Here you can find authentic local Muslim food and snacks handmade and cooked on the spot.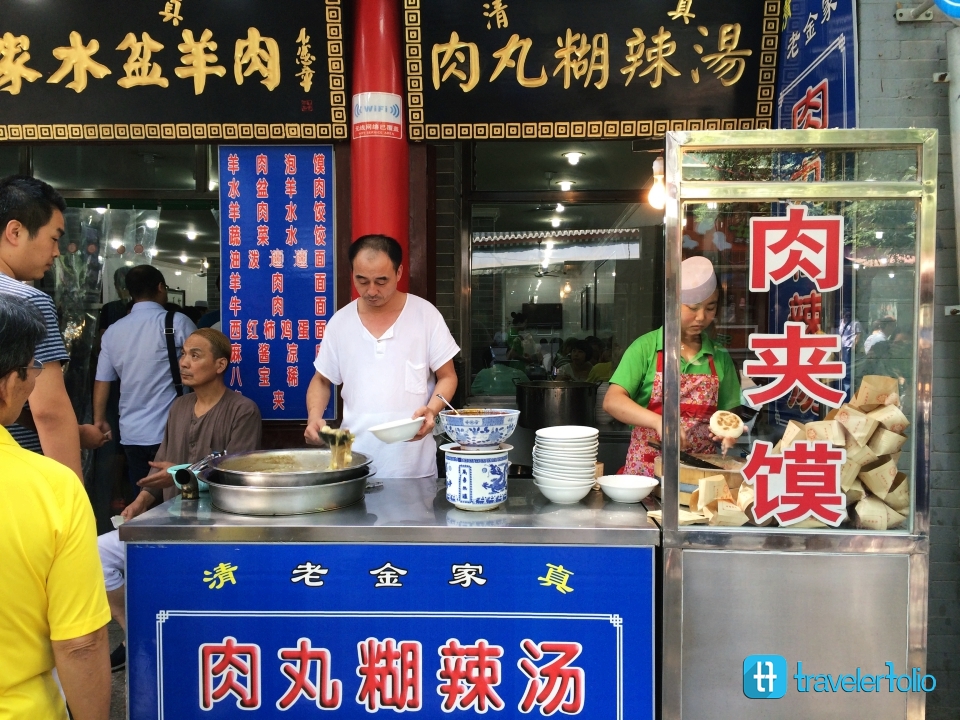 Rou Jia Mo 肉夹馍 – the Chinese hamburger!
It's fascinating to watch the men hand pulling and twisting a lump of dough to make candies.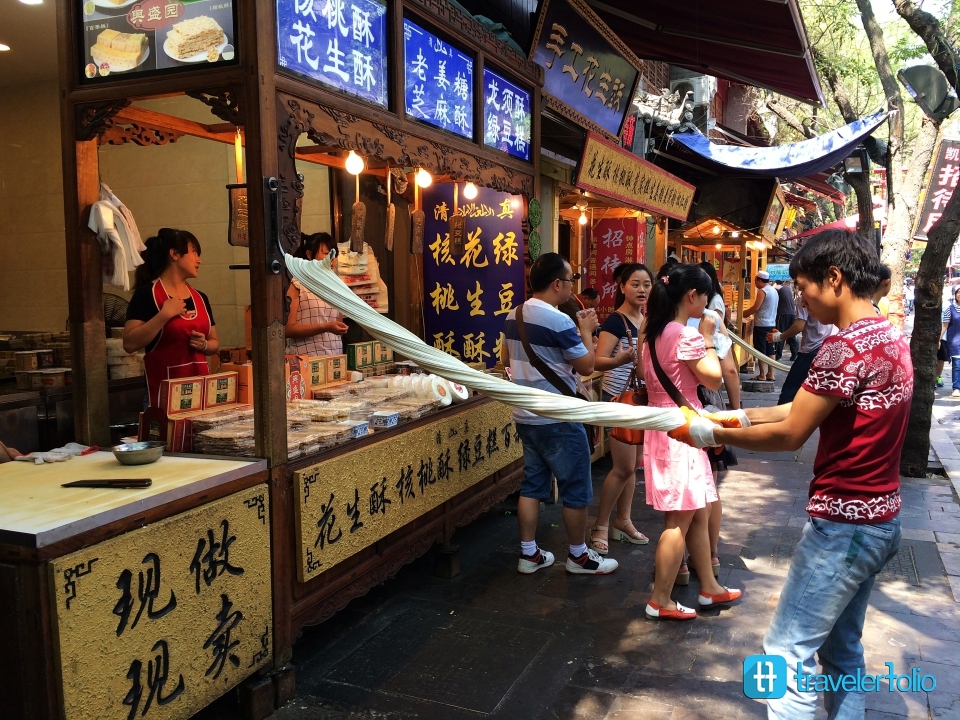 BBQ cuttlefish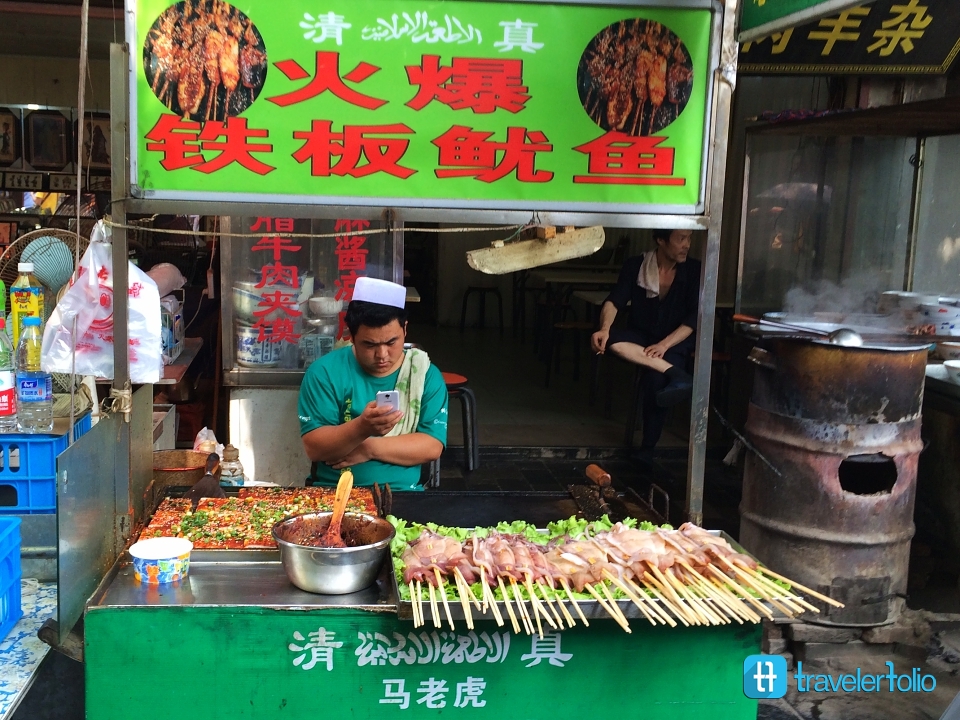 Sweet and sticky fried persimmon (柿子饼) stuffed with fillings such as sesame or bean paste.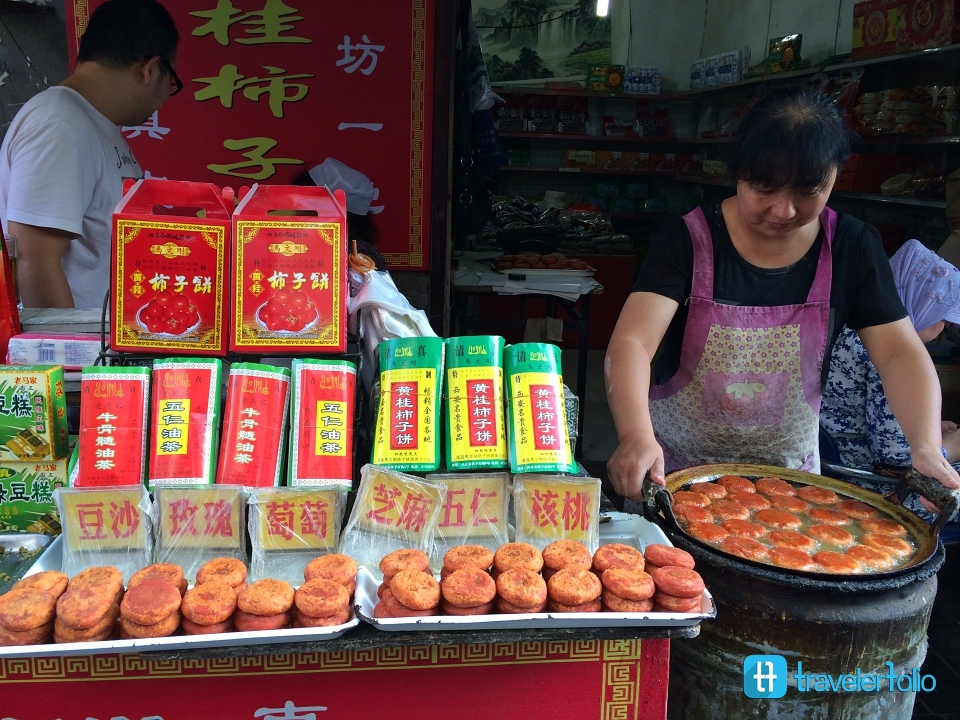 A cute Muslim girl pan-frying bean curd.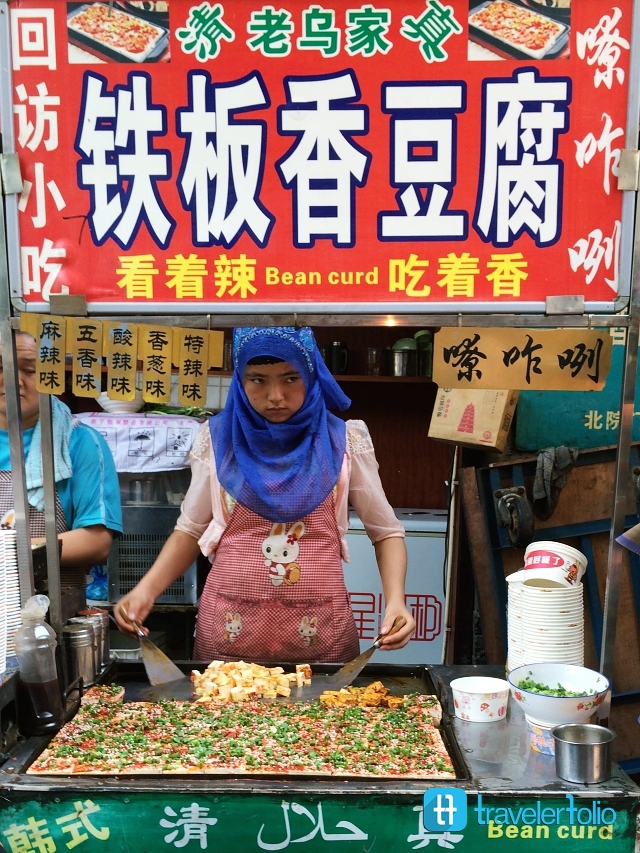 A stall selling snow pear juice.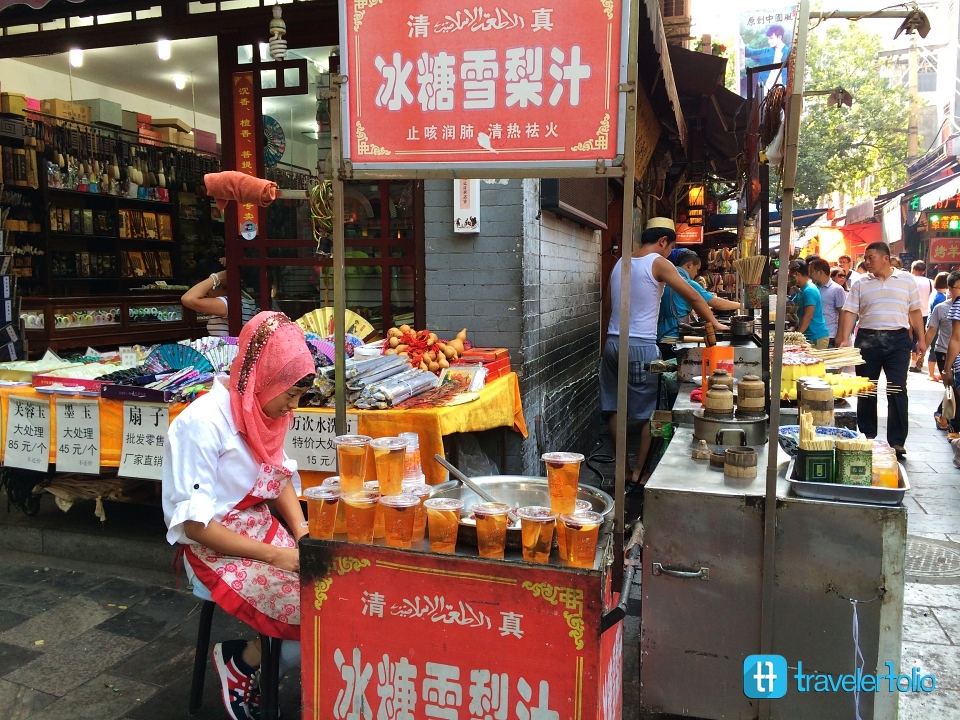 Stalls lined alongside narrow streets thronged with shoppers.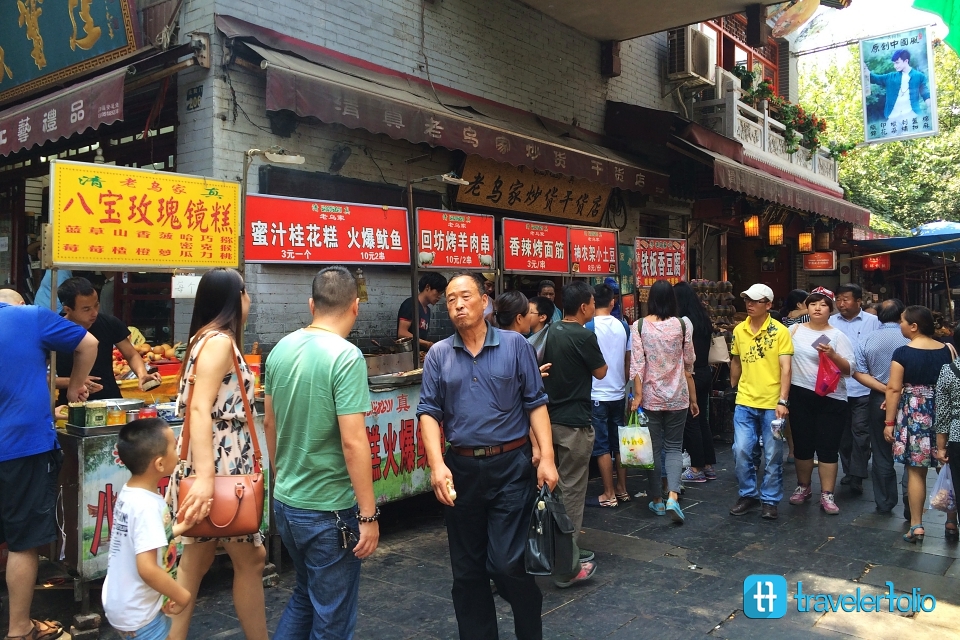 Fruit cake with sweet red dates.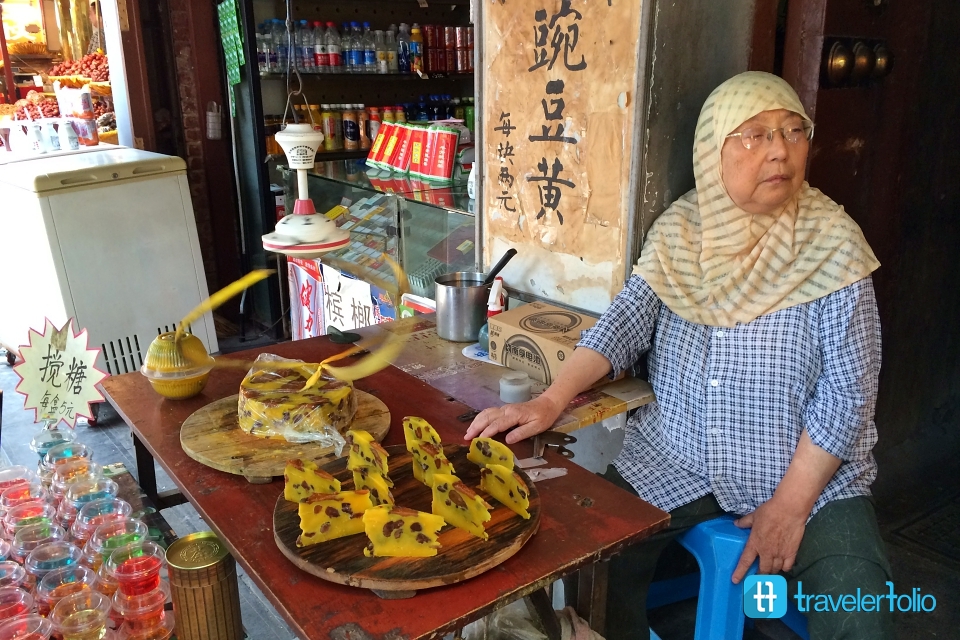 FYI, 清真 (Qing zhen) as written here means 'Halal'.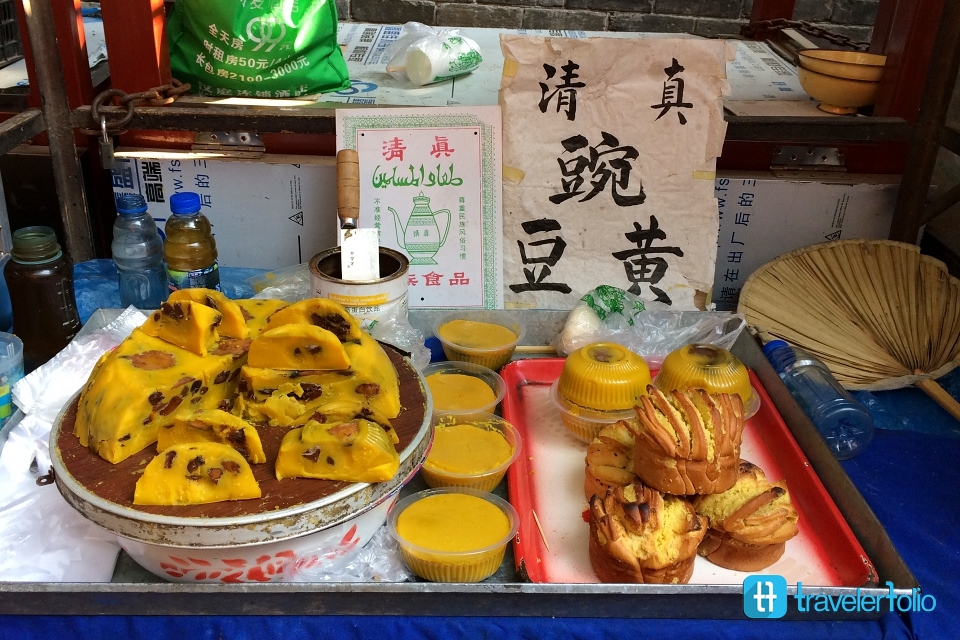 A store selling big red dates, chest nuts and other dried goods.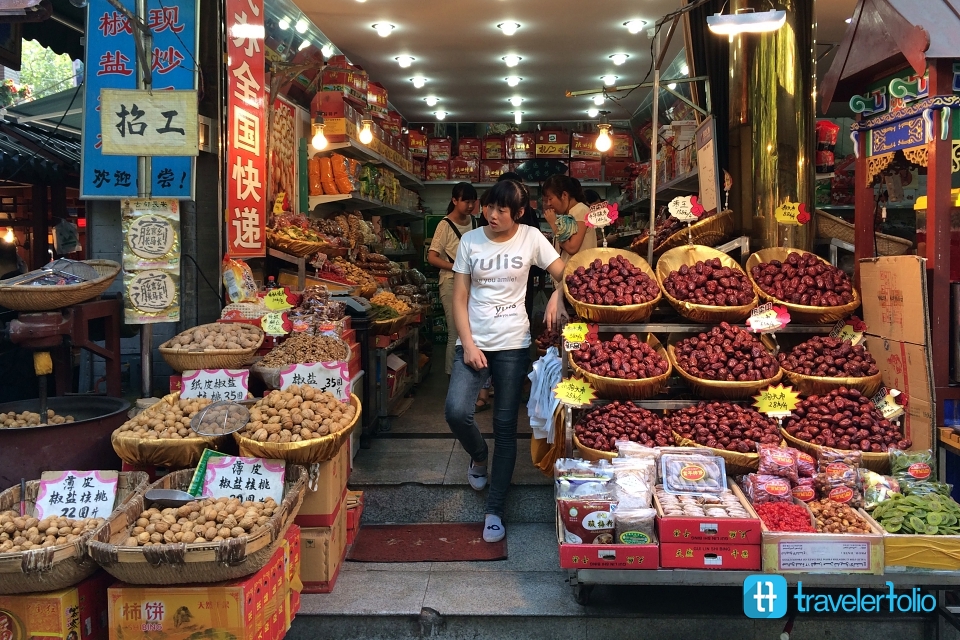 The 'wok lid' (锅盔) flat bread.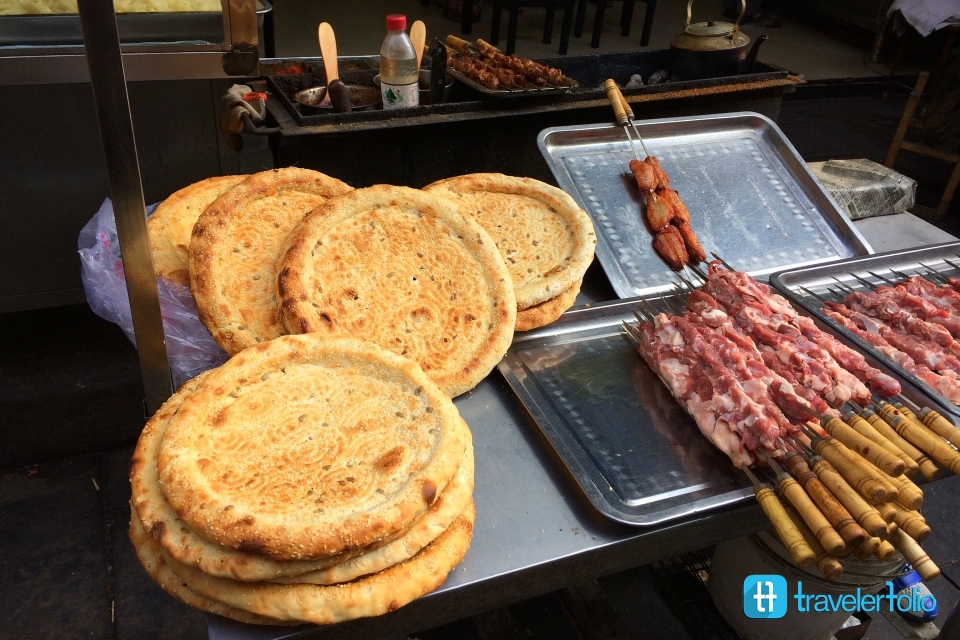 A huge cake topped with red dates.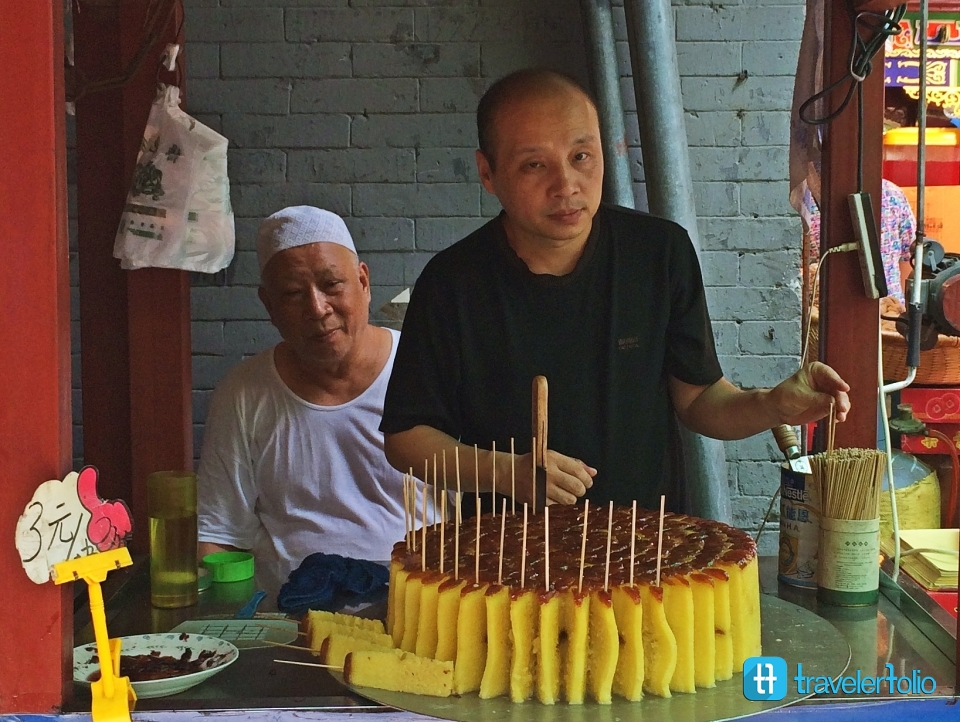 The Great Mosque of Xi'an
It's worth visiting the Great Mosque of Xi'an, located around the corner of the shopping street near the Drum Tower. Founded in 742, it's the oldest in China and still a place of worship by the Hui ethnic people. You might be surprised to see that the Great Mosque is actually built in Chinese architectural style with a traditional pagoda. There are no domes or minarets except for some carved Arabic letters and decorations.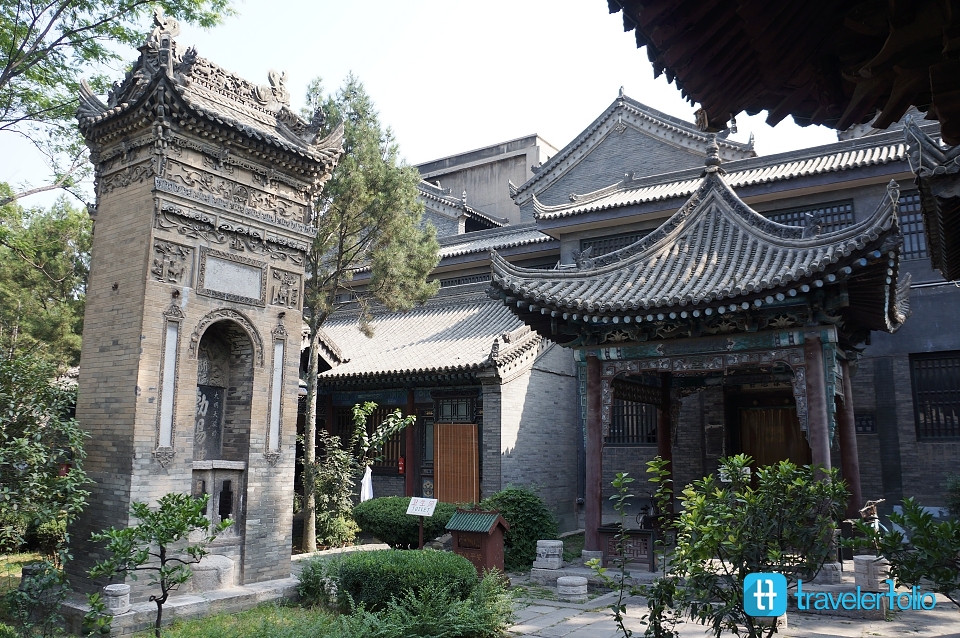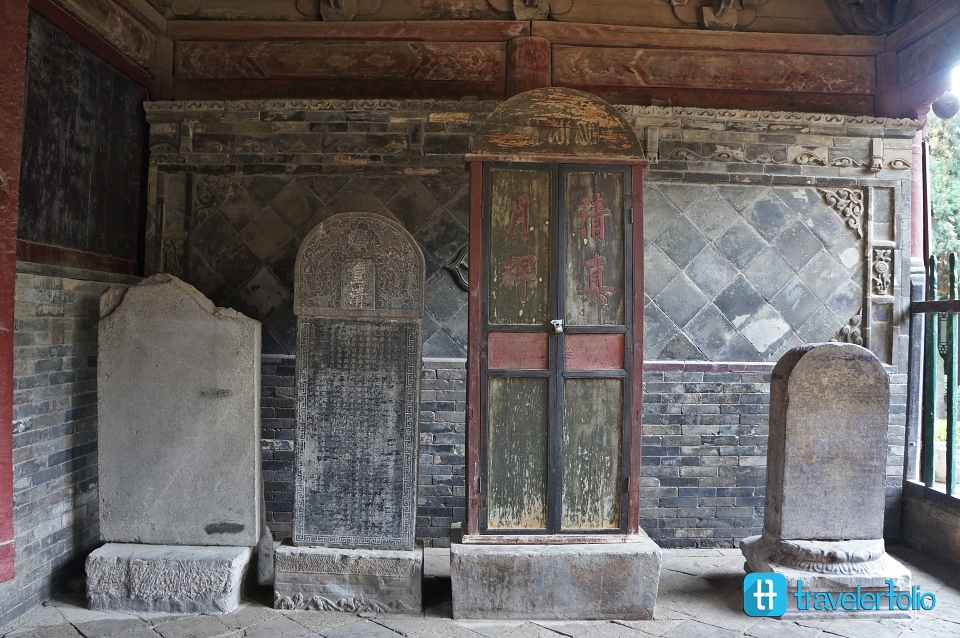 This friendly Muslim guy came all the way from Qingdao, Shandong to visit the Great Mosque and posed for photos to show us how he prays.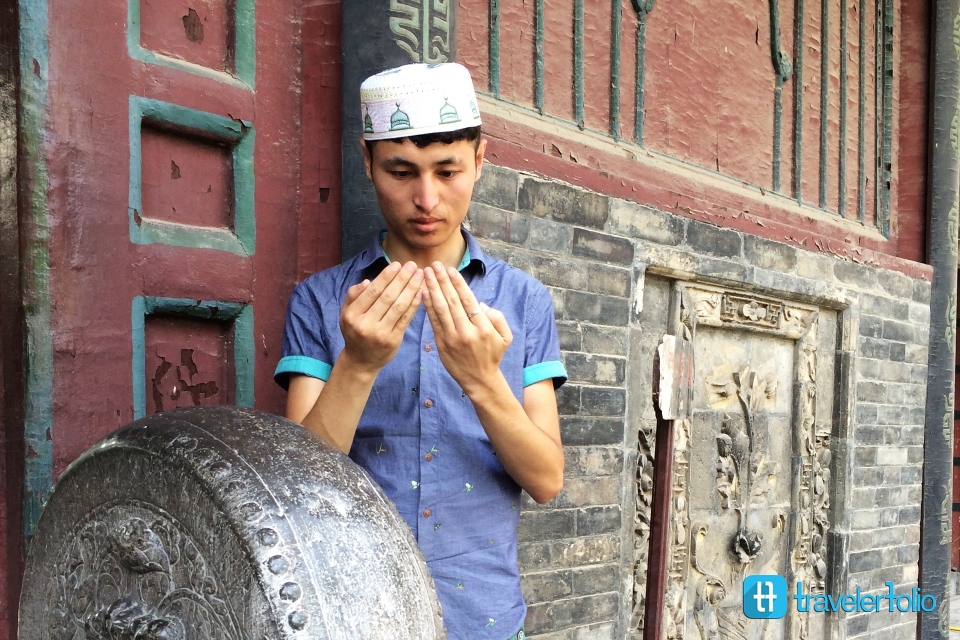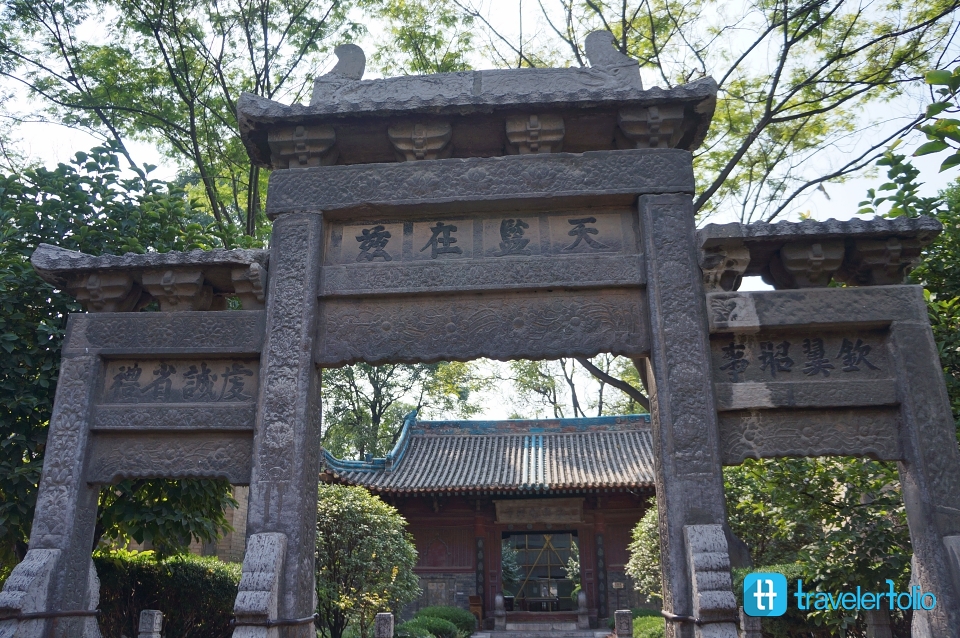 Dumpling Banquet
Dumpling lovers, do check out De Fa Chang Jiao Zi Guan 德发长 (Chinese restaurant) at the Drum Tower square (outside the Muslim Quarter) for dumpling banquet, popular among tourists as well. Here you can feast on a rich assortment of dumplings in varied shapes and sizes. It's a fun experience to taste different flavours of dumplings that we don't normally find elsewhere. They even touted to have made some of the smallest dumplings that broke the Guinness World Record!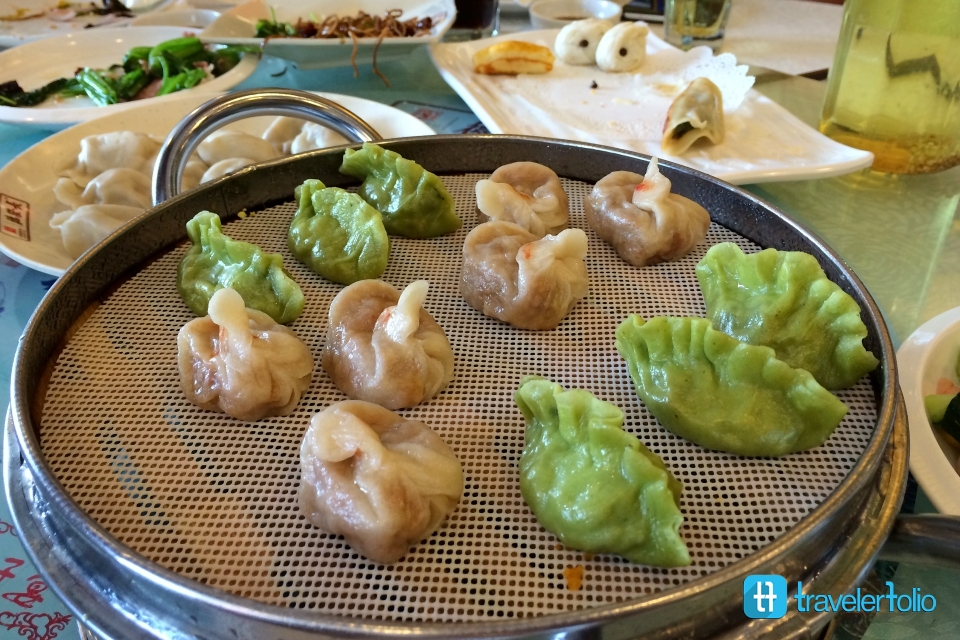 Here we have dumplings stuffed with flavourful juicy meat and vegetables, a mix of savoury and spicy.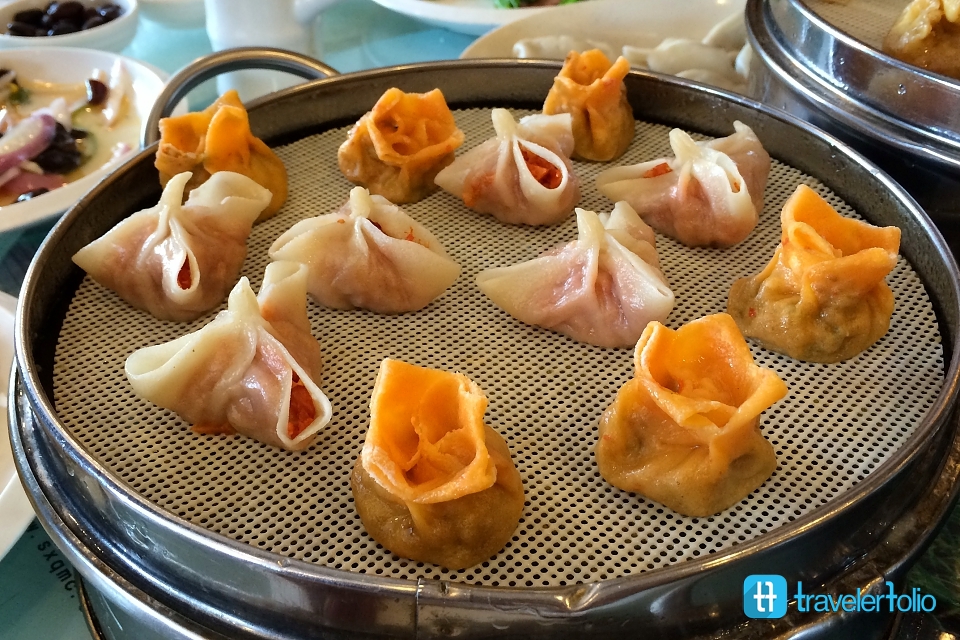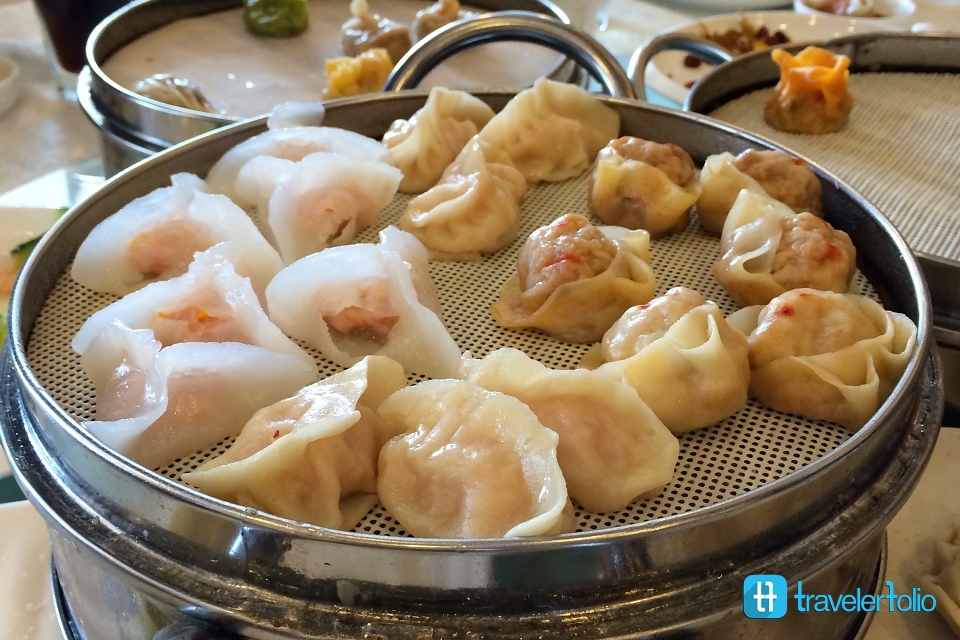 Can you see some rabbits in the background?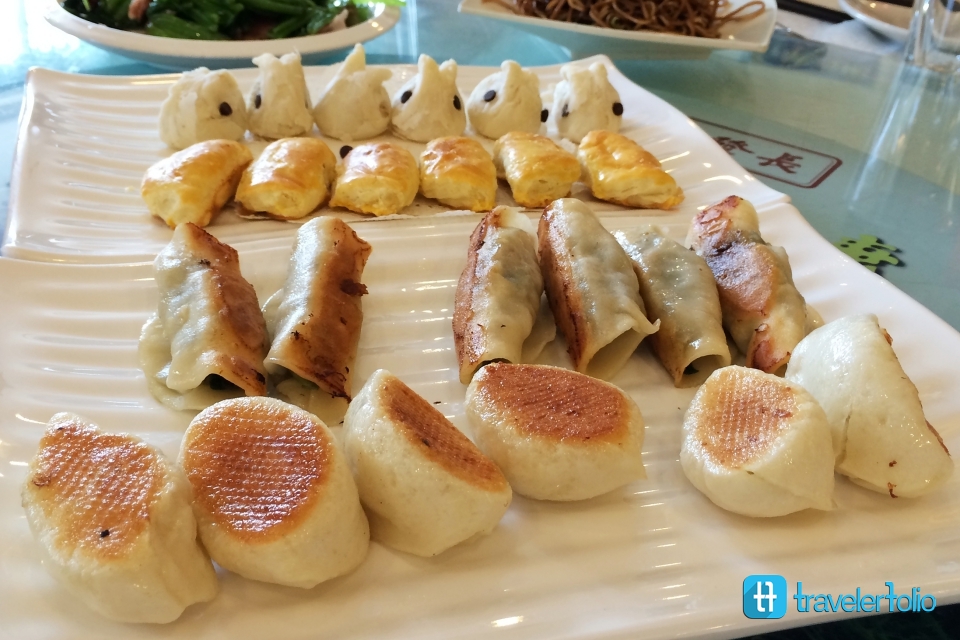 The final dish served was a big hot pot used for boiling small dumplings on the spot.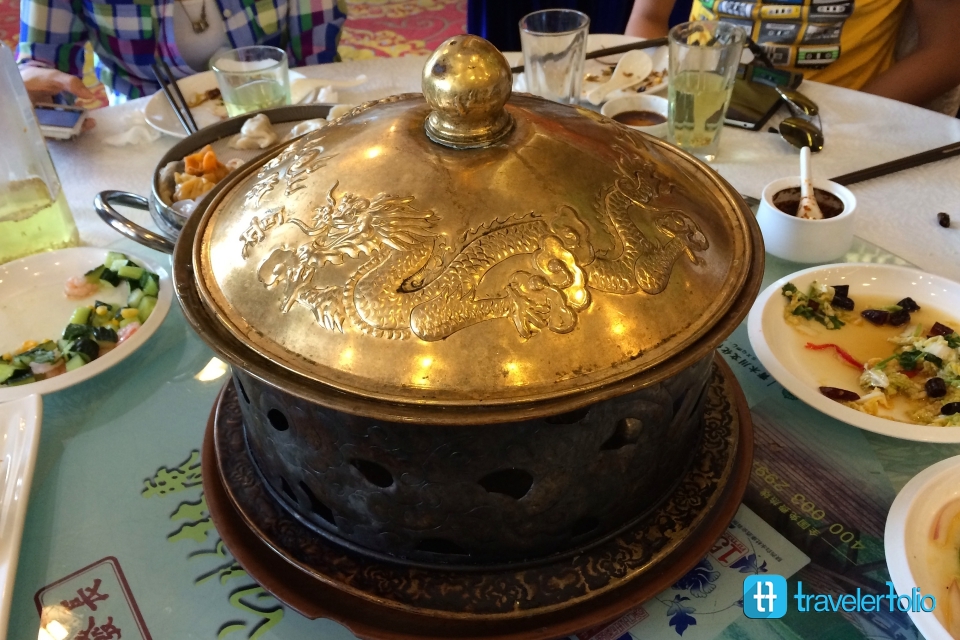 My tiny dumpling in hot soup.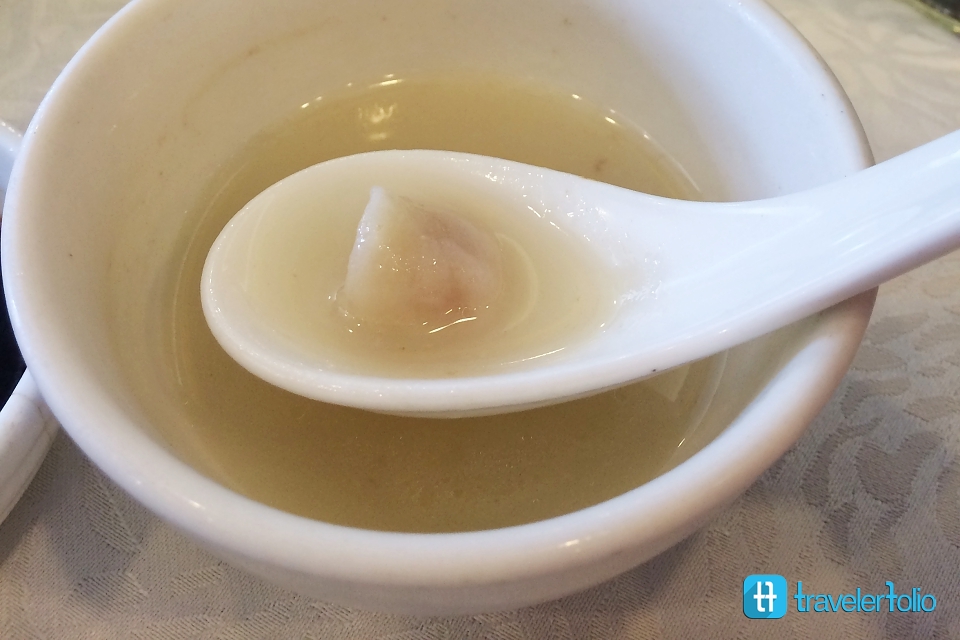 Tip: Operating 3 times weekly, the 5.5 hour Tigerair direct flight from Singapore takes you back 3,000 years to Xi'an, China's oldest city!
Read 'Come Face to Face with the Terracotta Warriors' and all posts on Xi'an.