The weekend staycation at Pan Pacific Singapore was well spent with great company and indulging on quality food. As fans of Cantonese cuisine, we had a sumptuous lunch at Hai Tien Lo (海天楼). The award-winning restaurant serves exquisite dim sum, Peking duck, traditional braised dishes, double boiled soups as well as contemporary dishes such as 'Braised Classic Whole Abalone with Pan-fried Foie Gras in Abalone Sauce' and 'Homemade Bean Curd with Crab Meat and Aubergine in Supreme Stock'.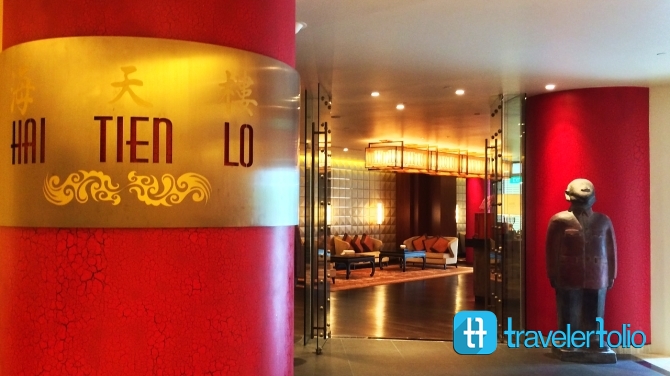 To mark his 10th anniversary with Hai Tien Lo, Master Chef Lai Tong Ping curated 'A Glorious Decade' menu – a six-course presenting culinary delicacies to discerning epicureans at Pan Pacific Singapore. Some of these exquisite dishes are crowd pleasers over the years. We were delighted to taste a medley of handcrafted creations in a sophisticated oriental setting decorated with elegant furnishings.
The dining experience commences with a 'Prelude to Gastronomy Discovery' – a troika of Cantonese-style appetizers featuring Sliced Barbecued Duck with Shredded Jelly fish, Braised Homemade Beancurd with Minced Pork and Pine Mushrooms in Chef's Signature XO Chili Sauce, and Crispy Prawn coated with a creamy sesame sauce.
The barbecued duck is prepared by coating the skin with malt sugar for six hours before roasting to crispy-skin perfection, encasing juicy and flavourful duck meat. Made entirely from soy beans, the homemade beancurd is silky smooth and goes very well with the broth that has been simmered with chicken, turkey and bacon for eight long hours!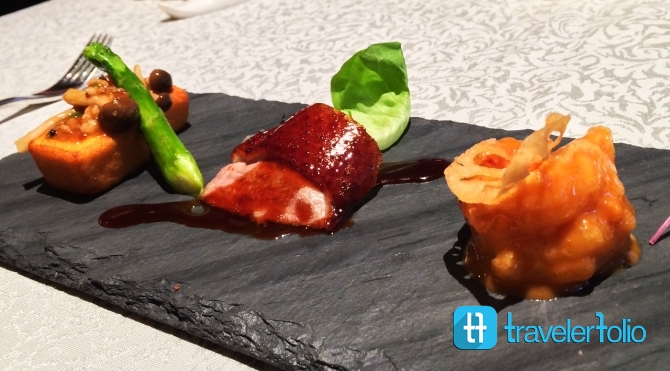 The passion for wholesome soups is deeply rooted in Cantonese cooking. Next up, the 'Soul Food' presents the reminiscent of home-cooked food – Braised Fish Maw with Dried Scallop in Supreme Chicken Stock. This rich and nutritious soup takes two days to prepare! Carrots are boiled with chicken stock for eight hours, giving the soup its natural golden hue while premium dried scallops lend a delicate umami flavour. The preparation method of the fish maw requires skill and dedication, the cleaning and braising of each piece take up to two days!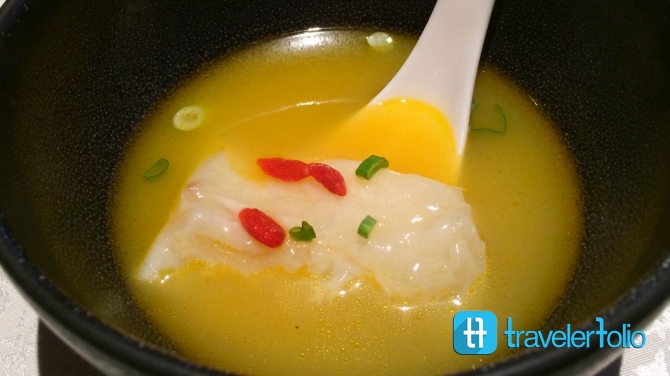 Instead of coming up with traditional steamed fish, Chef Lai creates 'Fresh Sea Perch Fillet Two Ways'. Prepared in two ways, the Perfect Pairing features steamed and deep-fried sea perch. Laced with a green minced onion sauce that is manually pounded with garlic and left to sit for six hours to develop the flavour, the steamed sea perch has a soft texture like tofu, yet firm. Only little seasoning and light homemade sauces are added so as not to mask the natural seafood goodness. The deep-fried sea perch is complemented with signature homemade Champagne sauce that gives it a hint of sweetness.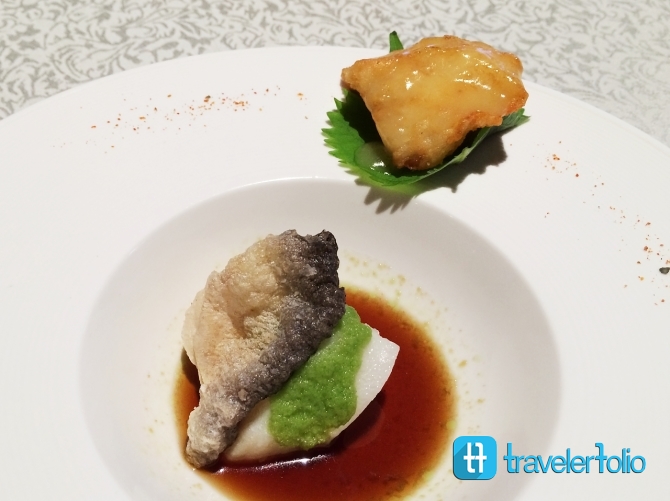 If you like braised meat, you'd appreciate the 'Understated Sophistication' of Braised Pork Ribs with Preserved Vegetables and Deep-fried Buns. The pork ribs are marinated with Chef Lai's special concoction of Chinese herbs for two hours and slow cooked for four hours to yield a robust flavour as the meat melts in the mouth with the aromatic sauce. This dish goes very well with tasty homemade buns that are freshly baked daily.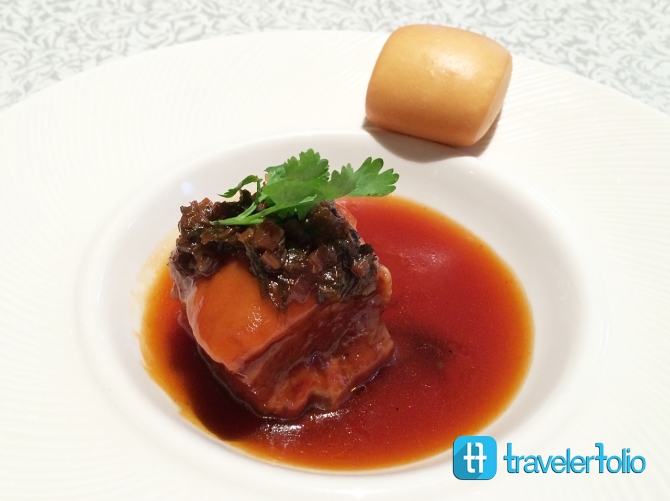 'A Class Act', as unique as the dish name sounds, consists of Wok-fried Fish Noodles with Sea Cucumber and Scallop packed in a paper parcel. Made from fresh fish meat, the al dente noodles are deliciously unforgettable; they are simmered in a rich broth for two hours, then wok-fried to light charred perfection (wok-hei!). The sea cucumber is prepared and braised in stock for over 24 hours, finally baked with the fish noodles and scallops to combine the seafood goodness.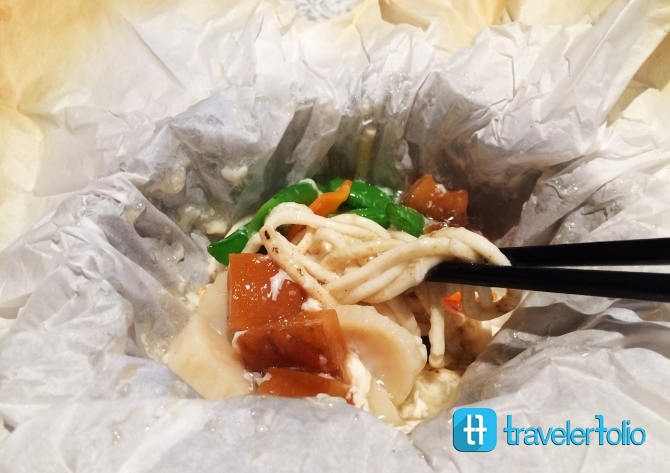 To end with a sweet note, Chef Lai's Signature Dessert makes its grand appearance to conclude the gastronomic experience. Three handcrafted desserts are served to refresh the palate: mango sago, avocado cream and osmanthus jelly with wolfberries – a delicate dessert that is boiled for two hours with osmanthus flowers to bring out a mild and pleasing flavour.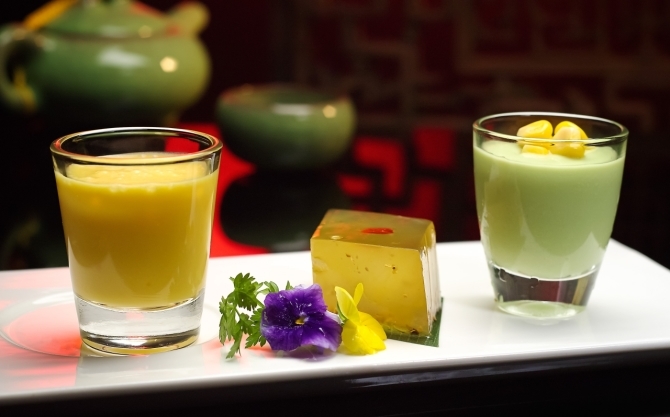 'A Glorious Decade' six-course menu is available now till 31 December 2014 at S$108 per person for lunch or dinner.

Hai Tien Lo, Level 3, Pan Pacific Singapore
Reservations: 68268240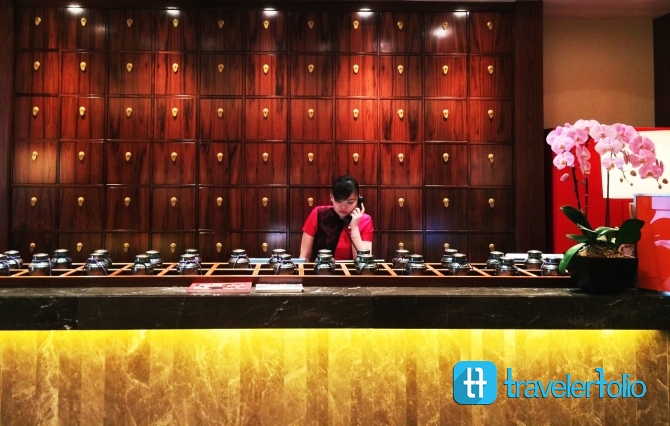 Pan Pacific Singapore
7 Raffles Boulevard
Marina Square
Singapore 039595
panpacific.com