Our magical experience in Hong Kong Disneyland continued to Disney's Hollywood Hotel where we stayed for two nights. It's merely minutes away from the theme park with free Disney buses arriving to pick up passengers every 10-15 minutes. How convenient!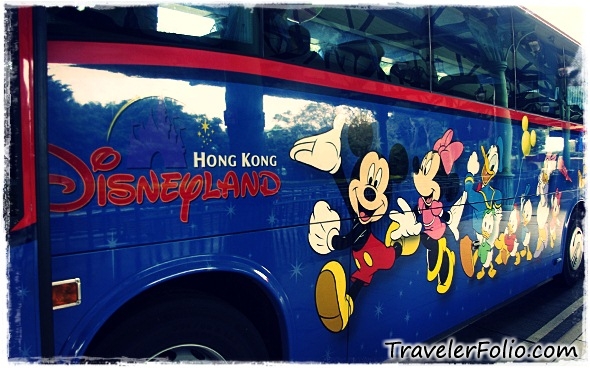 Disney's Hollywood Hotel
The Hollywood-themed hotel decorated to the 1930s 'Gold Age of Motion Pictures' has lush landscaped gardens that overlooks the glistening South China Sea and the city skyline of Hong Kong. You can't miss the world famous Hollywood sign!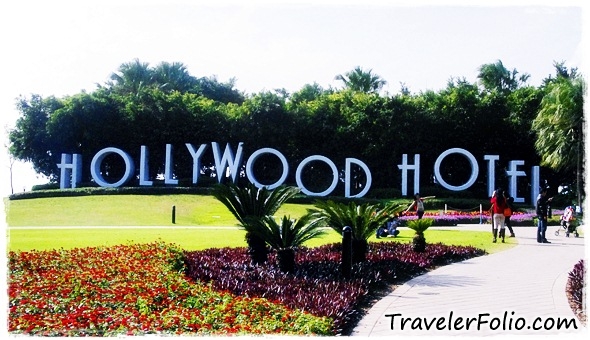 South China Sea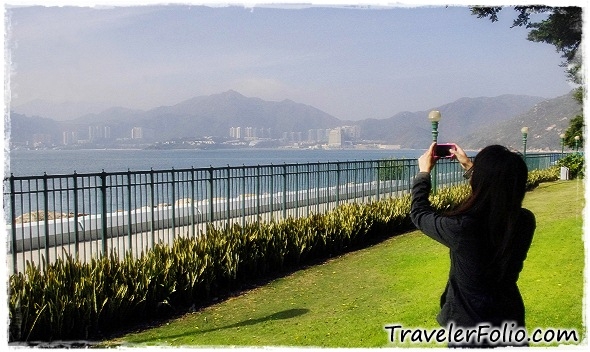 Watch out for cars as you take a stroll in the garden. I mean it! Vintage Californian cars are on displayed to recollect the mood of yesteryears.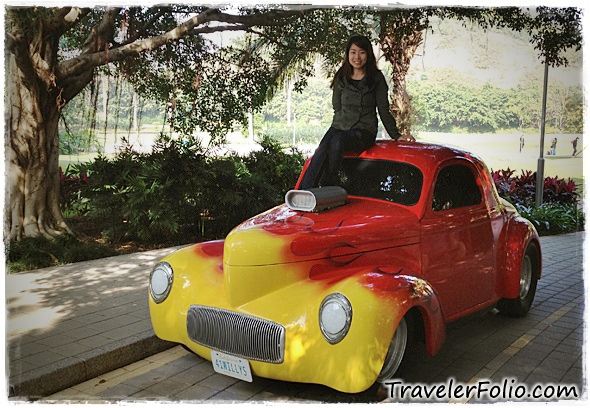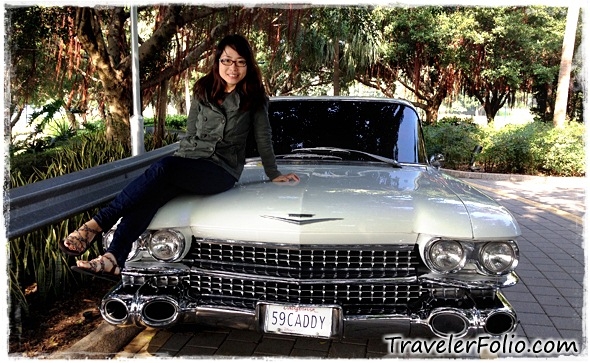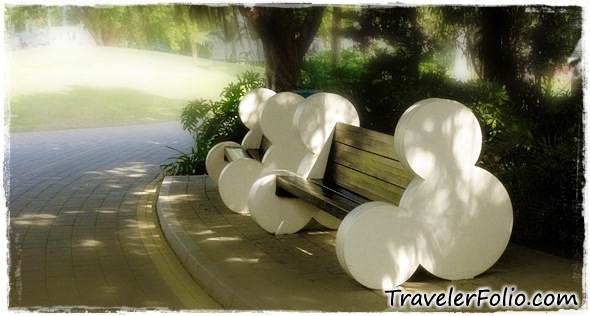 The contemporary Disney-themed hotel room is filled with little surprises. There are cute towel foldings that look like the Little Green Men and other characters all over the room.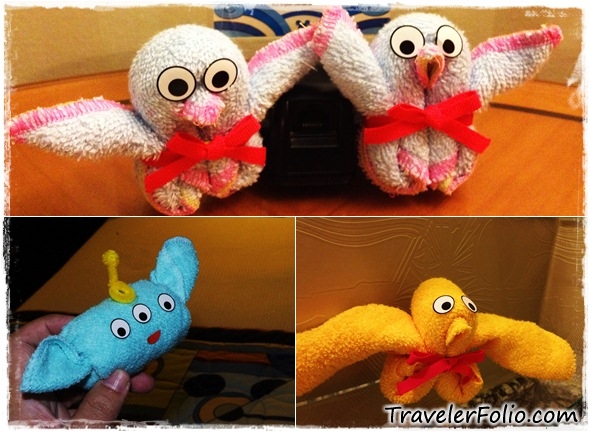 The classic black and white Mickey portrait hanging on the wall tastefully added Disney charm to the room.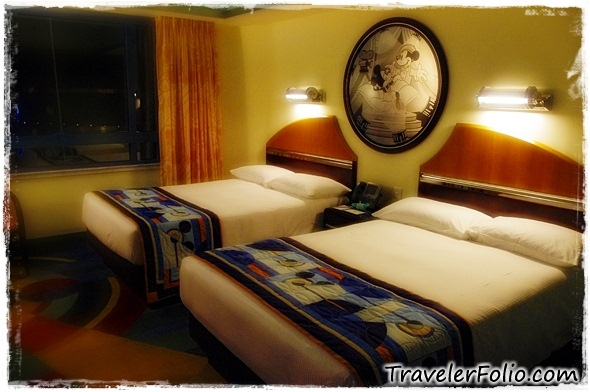 Mickey's shampoo and shower gel. At first I couldn't find the dental kits. They are stored in the Mickey Mouse cup covered with a cute Mickey's cap!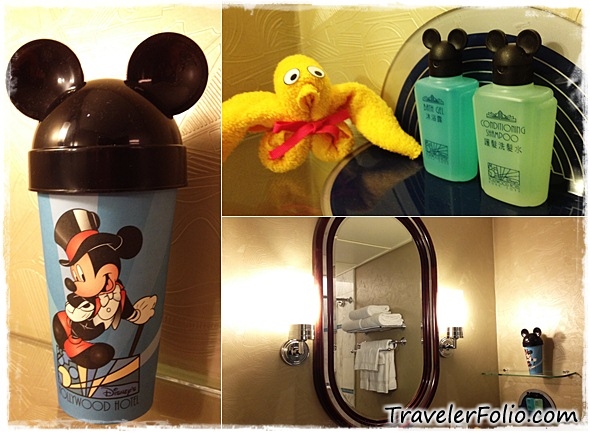 Hong Kong Disneyland Hotel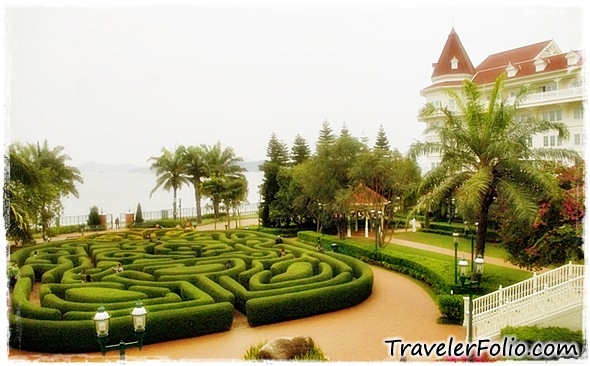 Dining
We are Dim Sum lovers and really looked forward to try the Disney Signature Dim Sum way before the trip! After checked in at Hollywood Hotel, we took the Disney bus to Crystal Lotus Dim Sum Restaurant at Disneyland Hotel nearby.
Crystal Lotus Restaurant
The Crystal Lotus Restaurant (晶荷轩) is nothing like an ordinary Chinese restaurant; it's opulently decorated with huge crystal lotus flowers at the entrance, on the ceilings and all over the place like a palace.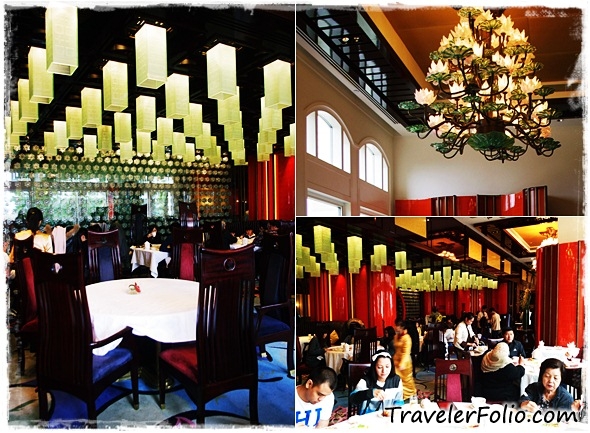 Dining in regal splendour, Char Siew buns are served … er no…it's the 'Three Little Pigs'. Awww look at the delicately crafted 'Little Pig'. Soft and fluffy, the buns filled with flavourful BBQ pork are simply irresistible! The cute-looking Disney-style Dim Sum really whet up the appetite. Here comes the 3-eyed 'Little Green Men' from outer space! These aliens are filled with well-seasoned pork and vegetables. Tasty fellows.
Three Little Pigs Barbecue Pork Bun, Little Green Men Pork and Vegetable Bun and Mickey's Seafood Glutinous Pancake.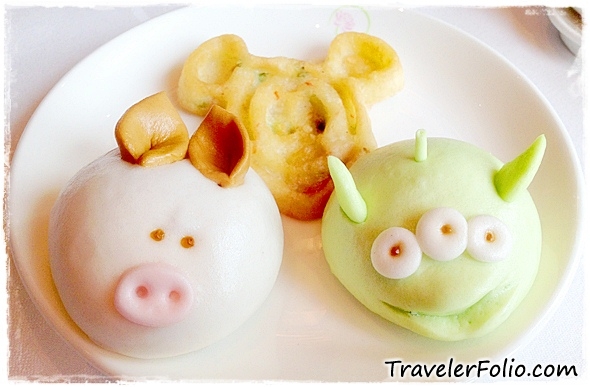 Duffy the Disney Bear with that friendly Mickey-silhouetted face is just too cute for a bite. Everyone at the table was trigger-happy at the lotus red bean puree buns that look good at all angle. Our favourite Disney Dim Sum!
Duffy Steamed Lotus Red Bean Puree Buns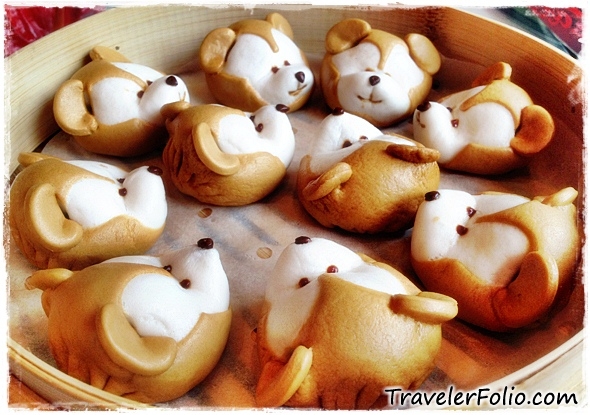 Besides Disney-style Dim Sum, the awarding winning Crystal Lotus Restaurant offers cuisines from Sichuan, Beijing, Shanghai and Guangdong.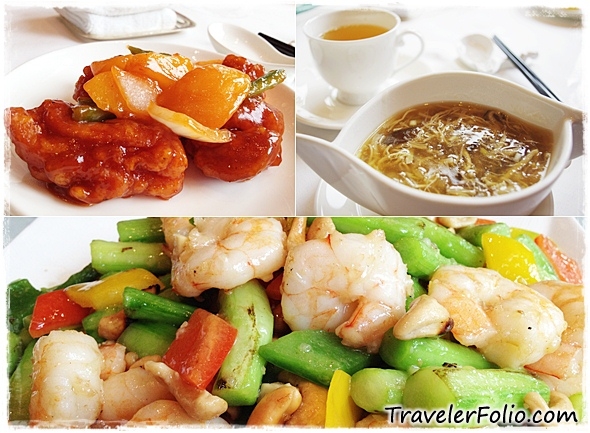 Corner Café
For dinner, we enjoyed a great dining experience at the cosy Victorian-style Corner Café that's located right smack at the Disney theme park. Be there early as it's well-patronized and catch Disney in the Stars nighttime fireworks at the Sleeping Beauty Castle at 8pm or 9pm after dinner.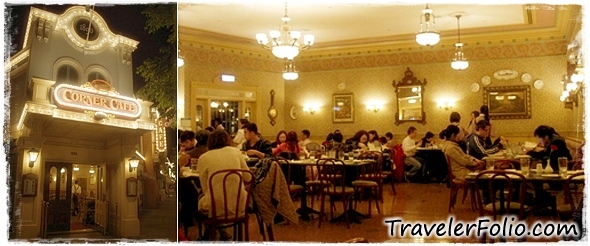 The Corner Café serves American Midwestern food and we ordered a 3-course meal that included a soup-of-the-day, shrimps salad and lobster as the main!
The shrimp salad was light and refreshing, and whet up our appetite for the main course. The lobster was firm and succulent, the kind of quality you can expect in fresh seafood.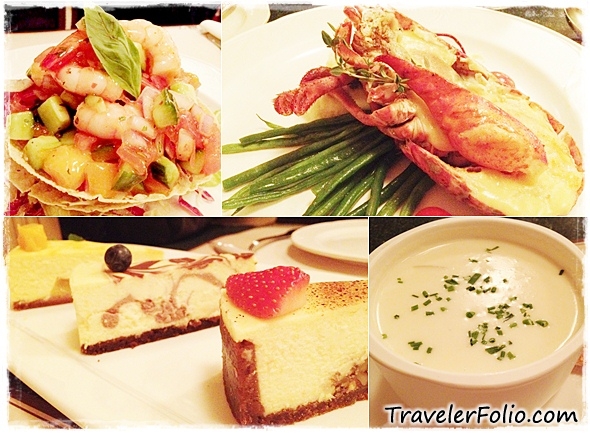 Enchanted Garden Restaurant
This is the place where you don't have to join the long queue at the theme park to take photos with Mickey and Friends. They will come to your table like your long-time friends and camwhore with you! I was lucky to get the chance to pose with Mickey, Pluto and Daisy. You know they are extremely popular with kids so be quick to take a snapshot with them when they come to your table!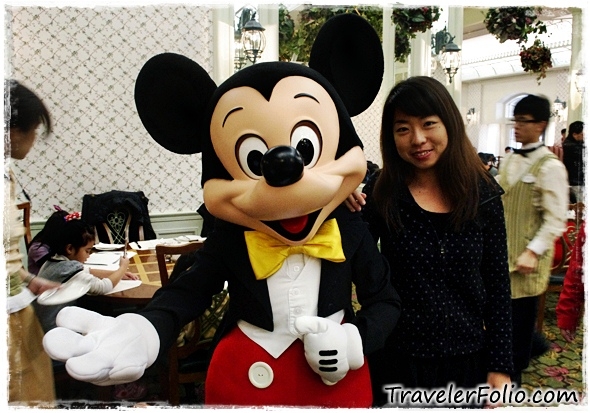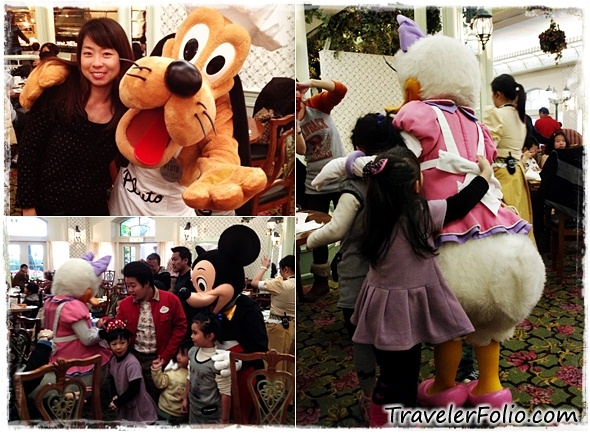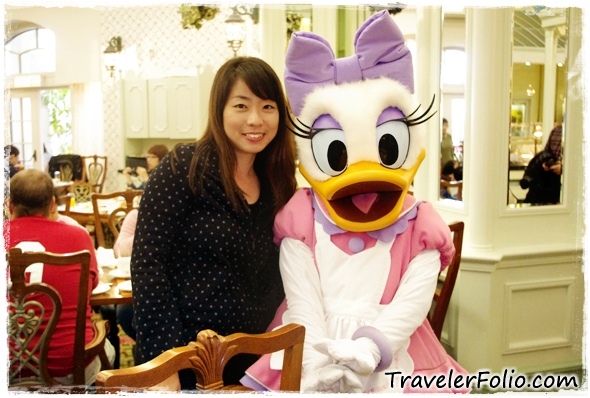 With the company of Mickey and Friends, it really spiced up the experience of having breakfast at the Enchanted Garden Restaurant. We had a hearty meal as the food was pretty good.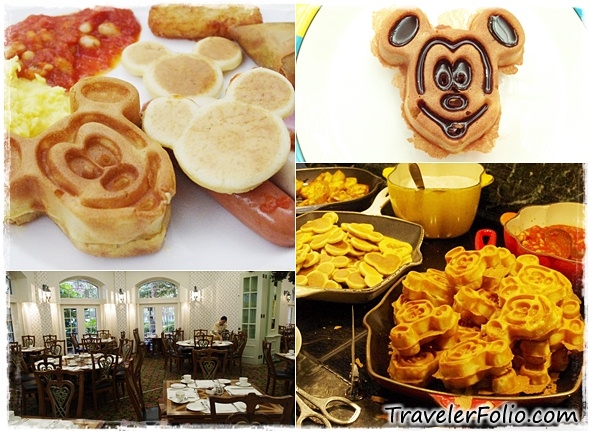 Walt's Cafe
The Walt's Café is yet another great dining spot at Hong Kong Disneyland Hotel that exudes the ambience of a by-gone era, Walt's era, with over 50 images of Walt Disney himself adorning the walls of the cafe.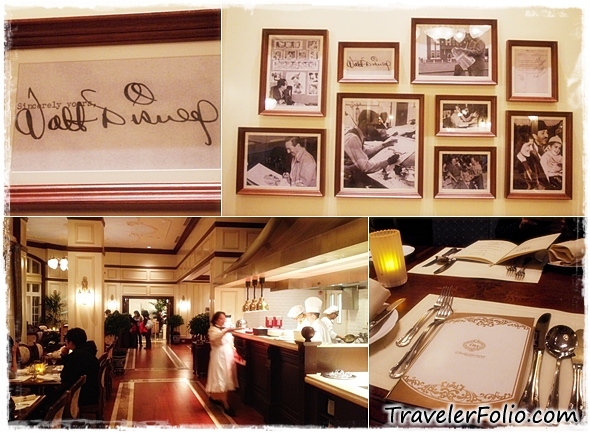 For the main, we had slow-roasted chicken on rosemary sauce and red currant jam with braised savoy cabbage and almond potato; pan fried cod fillet with miso crab roe sauce and foam of Champagne with mini egg plant, cherry tomato and pumpkin puree.
Jacky's share of chicken was juicy and tender, pretty good. As a fish lover, I prefer the cod fillet that was pan-fried to perfection, soft yet not oily.

Marinated scallop and antichoke salad with parmesan shavings, rosemary almond apple tart with crème brulee ice-cream and Porcini mushroom soup with truffle aroma cream.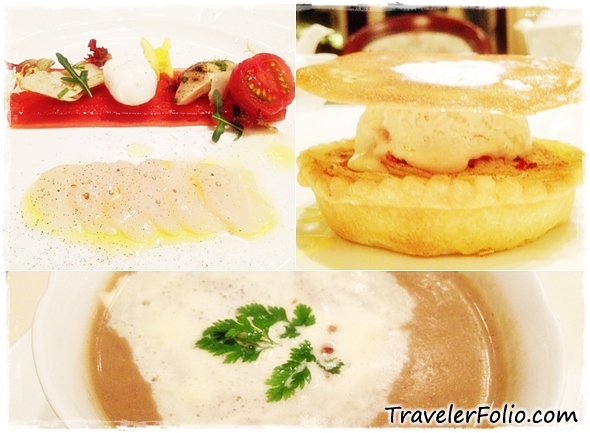 Disney's Hollywood Hotel
Chef Mickey Restaurant
Chef Mickey Restaurant is our favourite venue for breakfast! We had a sumptuous buffet breakfast with a smorgasbord of international and local food. Too bad Mickey and Friends won't join in for breakfast, but Mickey Waffles and yumilicious dim sum such as the 'Three Little Pigs' make up for that!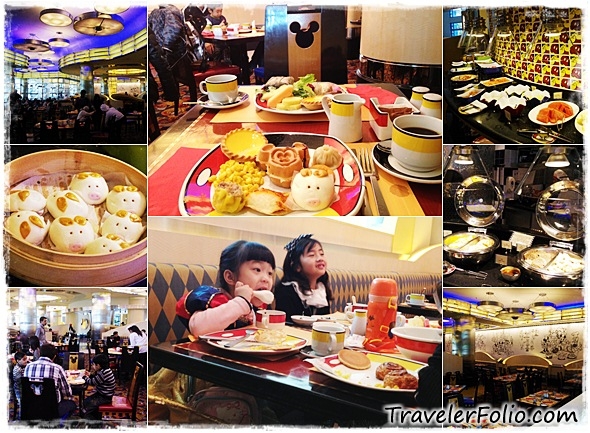 Hong Kong Disneyland is more than a world famous Disney theme park; our Disney experience was taken to the next level with a 3 day 2 night fabulous stay at Disney's Hollywood Hotel nestled in enchanted surroundings and accompanied with great food!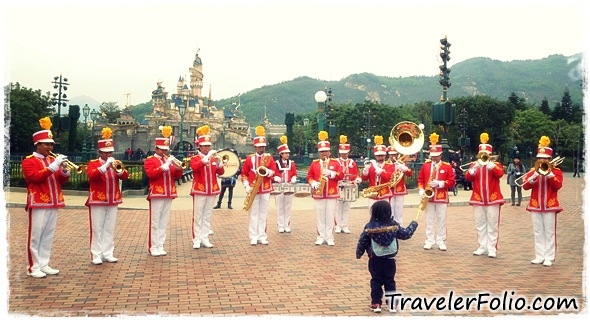 Read previous post on Hong Kong Disneyland attractions.