Ma n'atu sole,
cchiù bello, oje ne'
'O sole mio
sta 'nfronte a te!
'O sole, 'o sole mio
sta 'nfronte a te!
sta 'nfronte a te!
And we glided along the Grand Canal under the romantic blue sky with the gondolier serenading us in his tenor solo…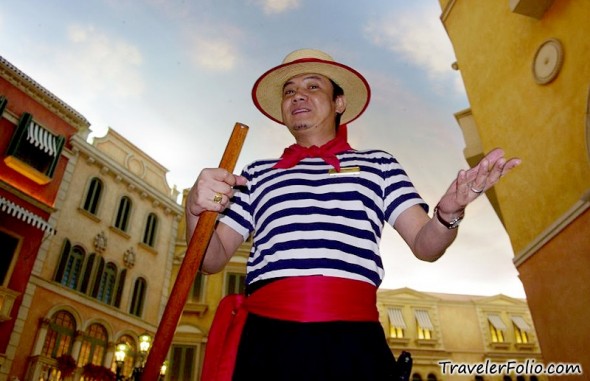 We were immersed in the Venetian atmosphere; we were in Ven-… Venetian Macao!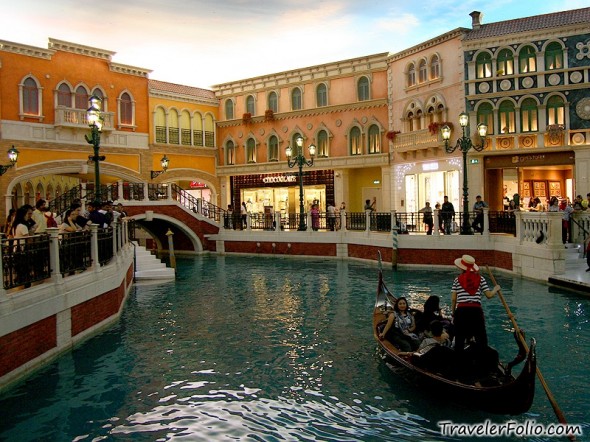 A tourist attraction on its own along Cotai Strip, the Venetian Macao is Asia's largest integrated resort and one of the biggest buildings in the world since 2007. A re-creation of its namesake resort in Las Vegas, the Venetian Macao is even twice bigger than the latter.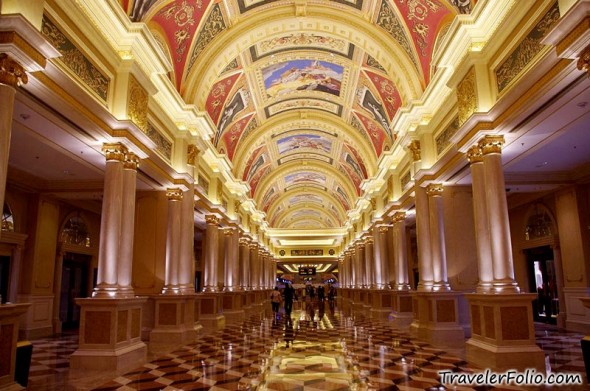 Needless to mention about the over-the-top renaissance Venice-themed casino area, you can easily spend an entertaining day hanging out at the Streetmosphere with a diverse ensemble of talented performers, browsing through more than 330 branded boutiques along the Grand Canal Shoppes and relishing international cuisines. Children and teenagers can venture into the Qube playzone too.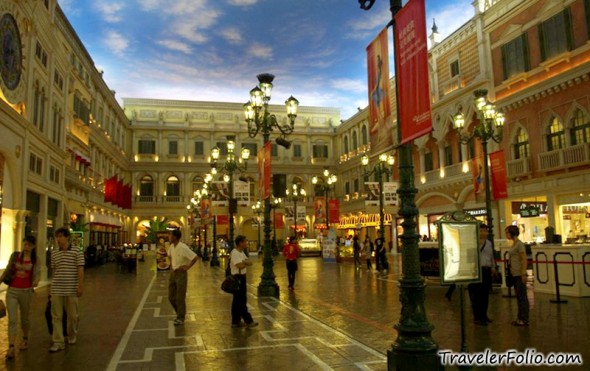 A human statue performer.
ATTENTION, fanboys and fangirls of Manchester United! There is a little Old Trafford in Venetian Macao where you can train with the Red Devils, enter into their locker room (without breaking in!) and be part of the game as you hit the football pitch… without the sound of vuvuzela.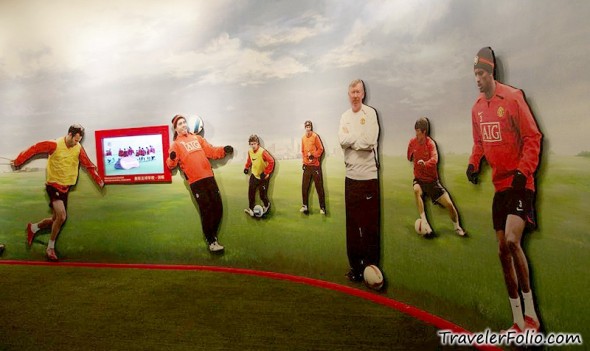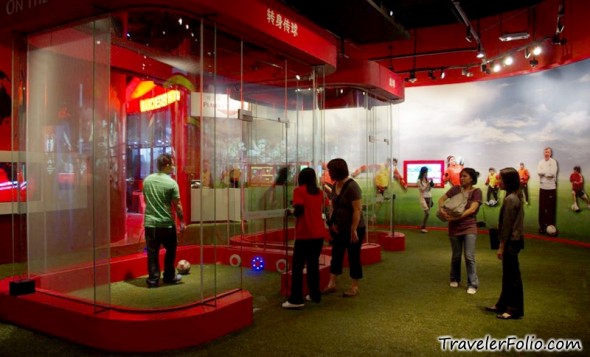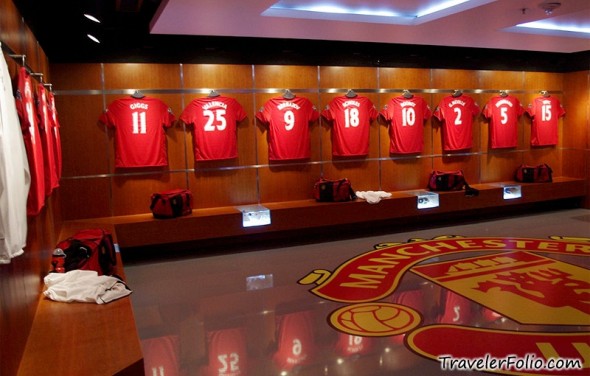 Signatures of Van Der Sar, Ryan Giggs, Wayne Rooney and Paul Scholes!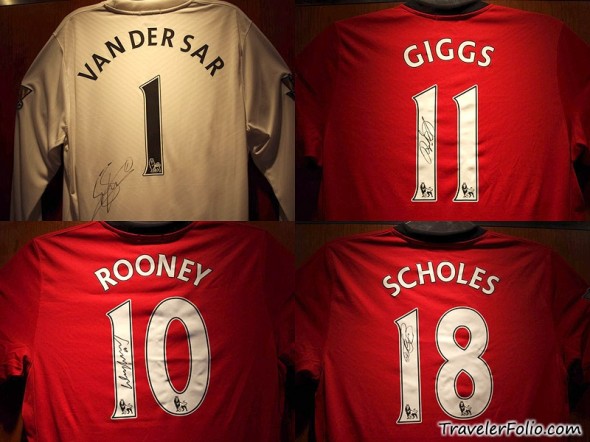 MAN-U Experience is the first of its kind in Asia. Founded in 1878, Manchester United Football Club is currently the richest club in the world. Steeped in history, there is a huge collection of unique memorabilia on the display wall for the fans and visitors alike to learn more about the past and present of the world famous English club.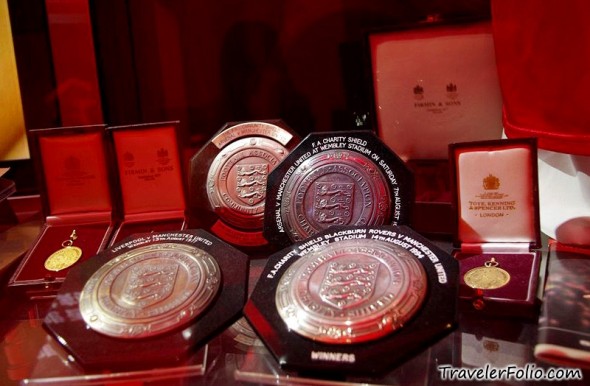 Dribble like the pros; learn goalkeeping like Van der Sar!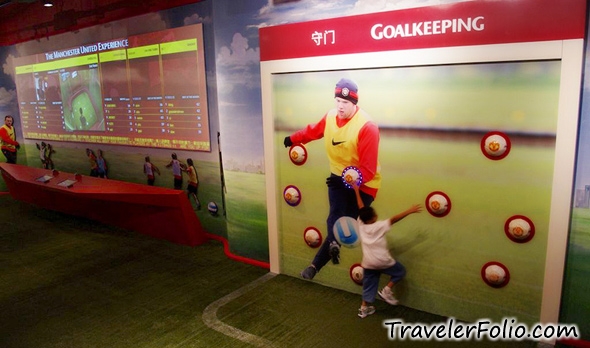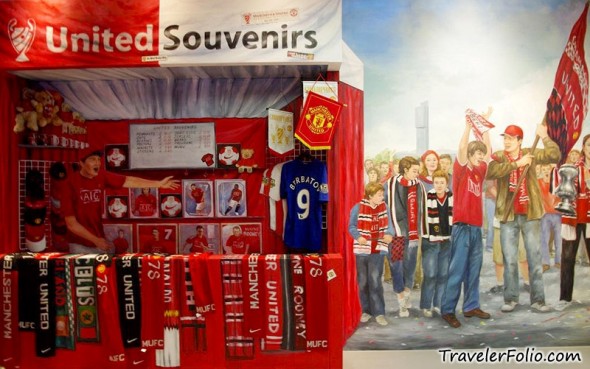 Did I miss out on Spa? MALO CLINIC Spa is one of the world's biggest integrative wellness centre that offers an amazing variety of wellness, spa and beauty treatments for the guests to rejuvenate and revitalize in a relaxing and opulent environment.
A smorgasbord of mouth-watering, palatable, delightful and any adjectives for describing great food is all I can say for dining in Bambu at the Venetian. The café serves excellent Southeast Asian and regional Chinese delicacies including an impressive variety of seafood like snow crab legs, oysters, tuna and salmon, dim sum and other hot dishes. I've a soft spot for desserts and found myself an excuse to expand my waistline with their sumptuous selection of toothsome desserts!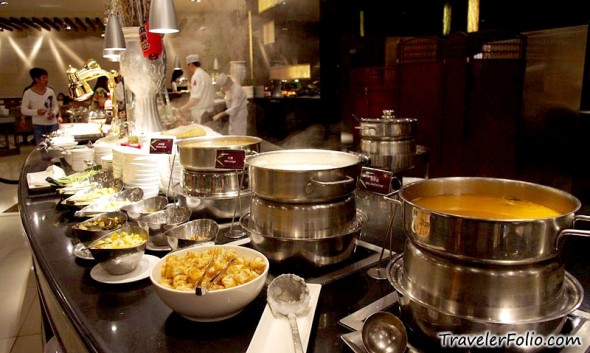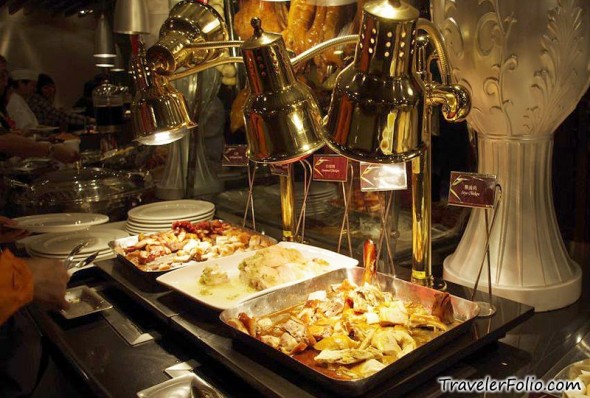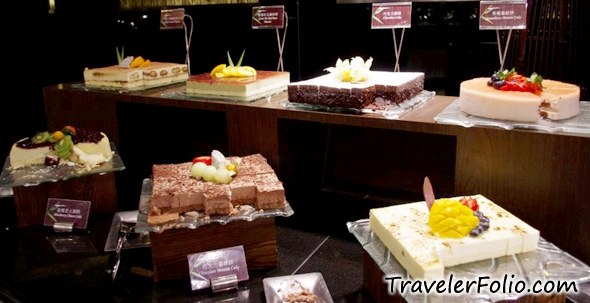 Location of Bambu: Shop 1033 (Next to Starbucks off the gaming floor), Venetian Macau.
After a splendiferous feast of gobble-up-all-you-can buffet, we adjourned to the theatre for a high-quality artistic show with spellbinding effects staged in a state-of-art 1,800-seat theatre that is custom-built for ZAIA™, the first permanent Cirque du Soleil show in Asia at Venetian Macao.
Presented by the world-acclaimed Quebéc-based entertainment company, ZAIA is about a young girl who ventures a voyage into space and encounters the beauty of humanity. ZAIA denotes "life" in Greek as well as a reminiscent of "Gaia" which means the living, the spirit of earth.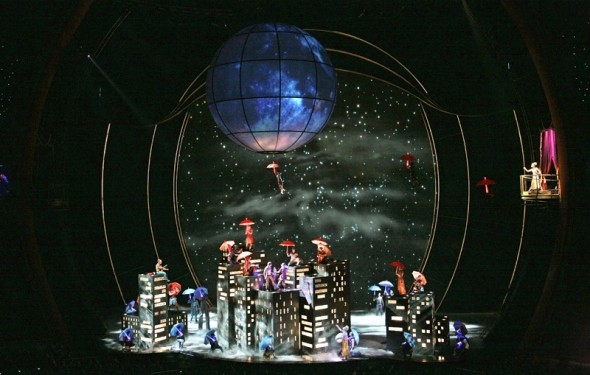 Red Dog Studio © 2008 Cirque du Soleil
The USD150 million production showcases the slick choreography of aerial acrobatics, lively French songs, dramatic dances, exploding pyrotechnics and other stunning effects that outstands itself from the typical kind of acrobatic shows. Not a minute of ZAIA is lifeless; you won't let yourself doze off!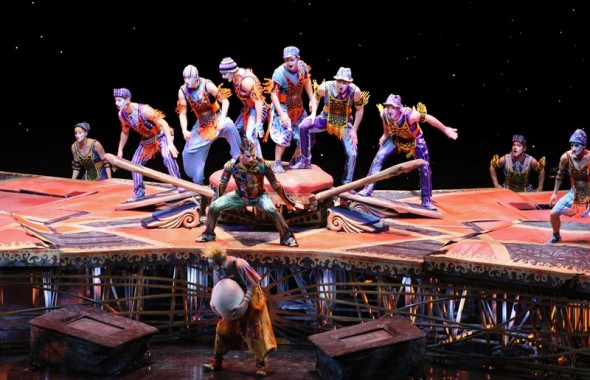 Red Dog Studio © 2008 Cirque du Soleil
We were sitting in Row K (near centre) and happy with the view. Try not to sit too near to the stage as the ostentatiously dressed artistes can be performing near the back of the stage or gliding in the air all over the theatre!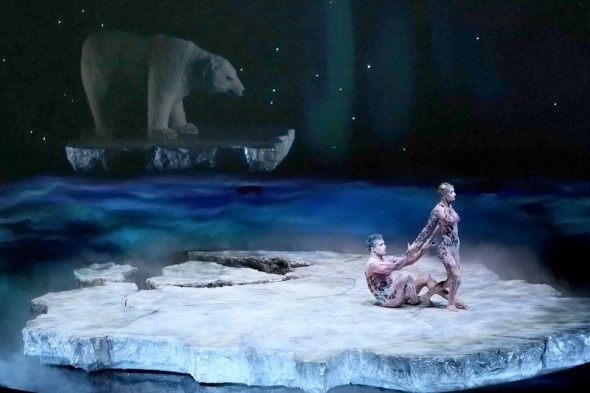 Red Dog Studio © 2008 Cirque du Soleil
I'm lovin' Cirque du Soleil… If you are in Macau, you shouldn't miss ZAIA.
Show Schedule: Everyday except Wednesdays.
Adult ticket: MOP$1288, MOP$788, MOP$588, MOP$388
Children ticket: MOP$394, MOP$294, MOP$194 (Age between 2 and 11)
Night scenes of the Venetian Macao resort hotel.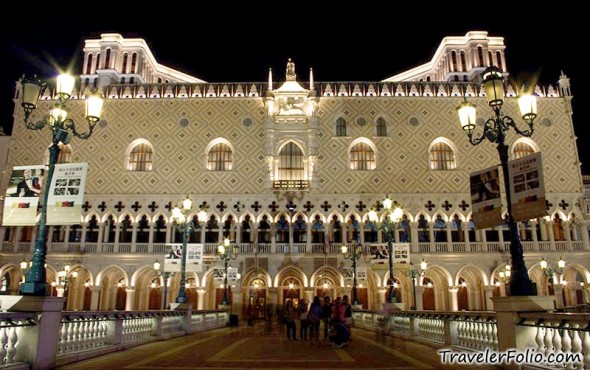 A lovely water reflection of the Venetian.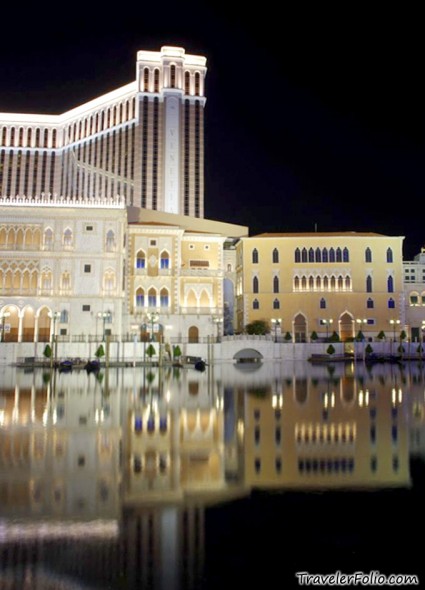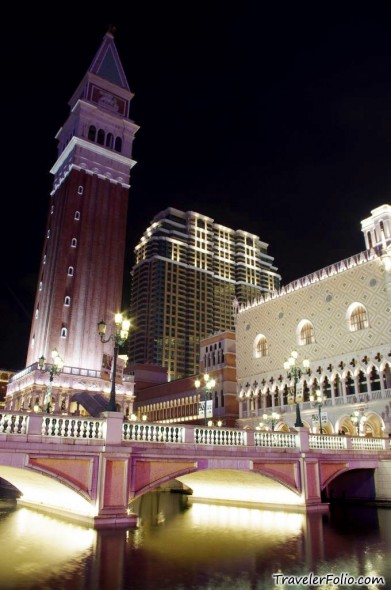 The City of Dreams integrated entertainment resort is just opposite Venetian Macao. We stayed at Hard Rock Hotel for two nights and spent the last night at Sofitel Hotel.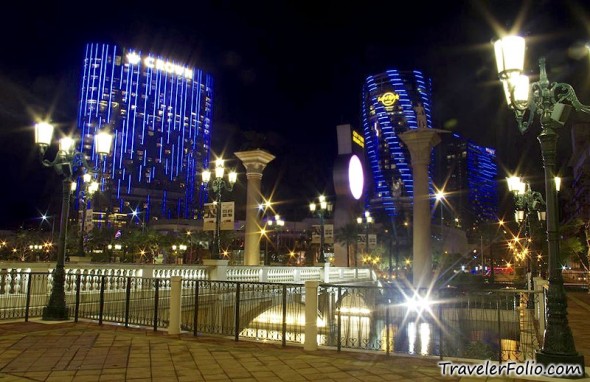 View of the Venetian from the City of Dreams.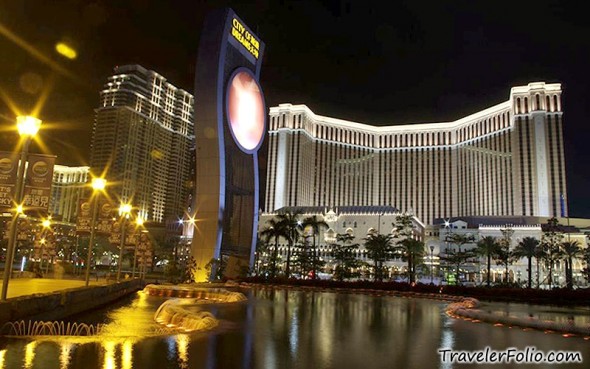 How to get to Venetian Macao?
There are many locations in Macau where you can board the complimentary Venetian shuttle bus to Venetian Macao – Taipai Ferry Terminal (5-min ride); Macau Int'l Airport (5-min ride).
Stay tuned for more updates on Macau!
Read next post: Senado Square (Drunken Dragon Festival)
Read previous post: Macau Grand Prix Museum
Read all posts filed under Macau.