Continuing from Gifu Day 2
Okuhida is the mecca for onsen pilgrimage in the Northern Alps of Gifu. Nestled deep in the mountains, there are 170 open-air hot spring baths across five onsen villages, namely Hirayu, Fukuji, Tochio, Shinhotaka and Shinhirayu where we stayed overnight at Nakadaya onsen ryokan.
Shinhotaka Ropeway
Besides onsen, another must-do in Okuhida is to climb Mount Hotaka, Japan's third highest mountain; literally, take the Shinhotaka Ropeway for a 25-minute joyride up the slopes of the mountain range to the observation deck and relish the 360-degree panoramic vista of the Okuhida Region at above 2156-metre.
We set off early before 8am to board the local bus in front of the ryokan to Shinhotaka Ropeway, 17-minute ride away.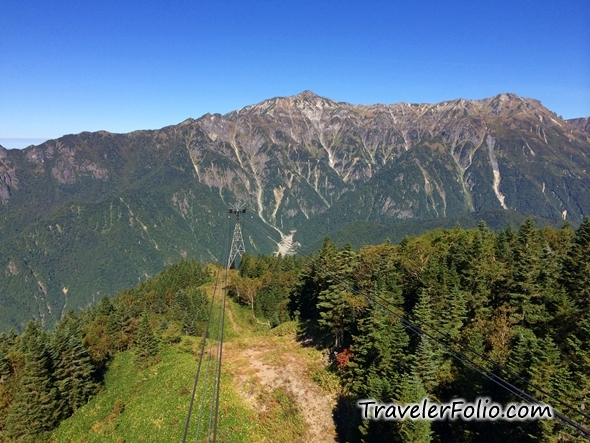 Ascending at 25km/hr over 200-metre to the lower station and 800-metre to the upper station, the Shinhotaka Ropeway offers breathtaking aerial views and is among our most memorable cable car ride experiences. It is the first of its kind in Japan to use double-decker cabins.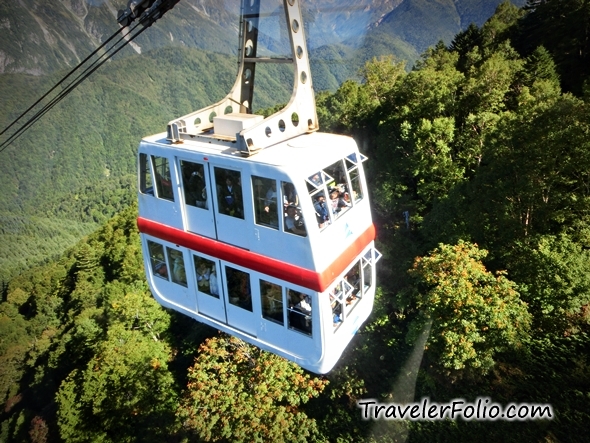 Lady Luck was on our side and we hit a good weather day in the mountains. From the observation deck at Nishihotakaguchi Station, we were awe-struck by the magnificent views of peaks and ridges. On such a clear day, we could even see Mount Haku (Hakusan/ 白山) from afar. It's one of Japan's three holy mountains along with Mount Fuji and Mount Tate.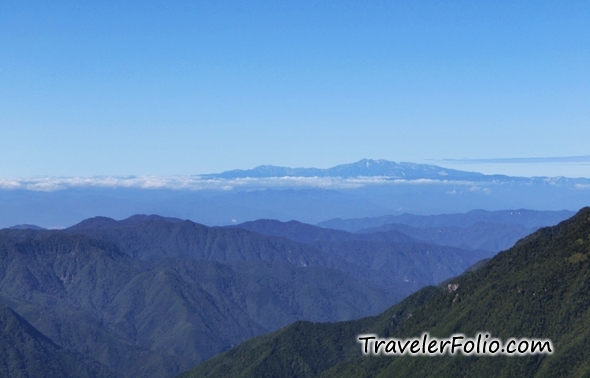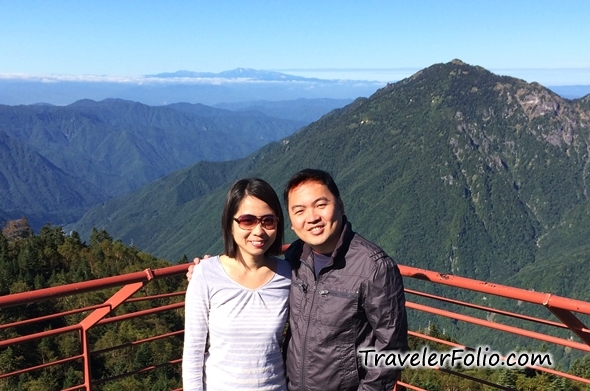 Shinhotaka Ropeway operates all year round so visitors can experience the four seasons of amazing colours from the vantage point of the mountain. The world-class attraction was awarded a 2-star rating from the Michelin Green Guide Japan.
The tourist destination is very popular among locals.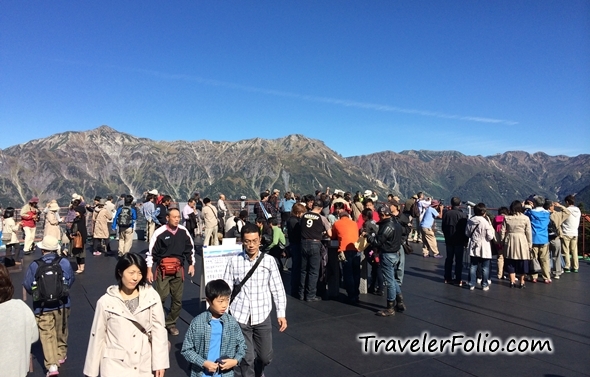 Location of Shinhotaka Ropeway: Shinhotaka Onsen, Okuhida Onsen-go, Takayama City
Open: 8:30am – 4pm (Time may change depending on the season)
Round trip: ¥2800
Web: www.okuhi.jp/rop/english.pdf
Back to the ryokan to collect our luggage,then off we went with the local bus to Takayama Station. Where next? To Shirakawa-go!
You can find out bus information, destinations, fares and special tickets at Takayama Nohi Bus Center. As we would be staying in Gero that night, we stored the luggage at the coin locker (¥500) in front of the bus center before heading to Shiragawa-go. The bus trip takes about 50-minute and the two-way ticket costs ¥4300.
Shirakawa-go
I had long wanted to visit Shirakawa-go (白川郷) in winter even before my first trip to Japan. During winter in deep snow, the fairytale-like village of Ogimachi looks magical with thatched houses resembling chocolate cakes sprinkled with icing sugar! The UNESCO's World Heritage Site is known for its distinctive gassho-zukuri farmhouses capped with grand roofs resembling clasped hands to withstand heavy snowfall and keep the snow off. In fact, Shirakawa is one of the snowiest area in Japan.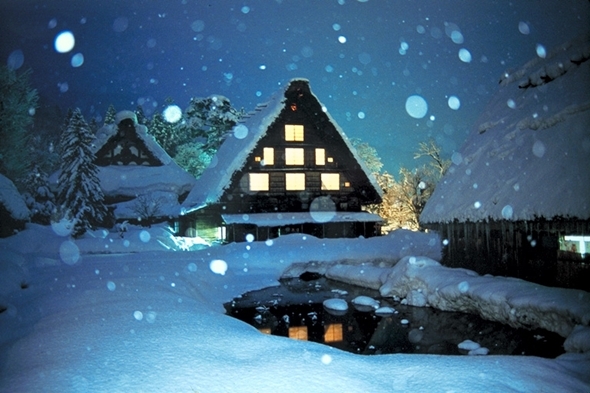 (Image provided by the Gifu Prefecture Tourism Federation)
Lunch first before we explored the village. Irori is conveniently located just 10-min walk from Shirakawa-go bus stop. The traditional gassho-zukuri guest house offers delectable country local food and we had Hooba-miso (¥1,575). It's a hot dish with mountain vegetables like mushrooms and corns, and Hida beef, along with other side dishes such as sweetfish, tofu and soba.
Address of Irori: 374-1, Ogimachi, Shirakawa-mura, Ono-gun (10 min-walk from Shirakawa-go bus stop)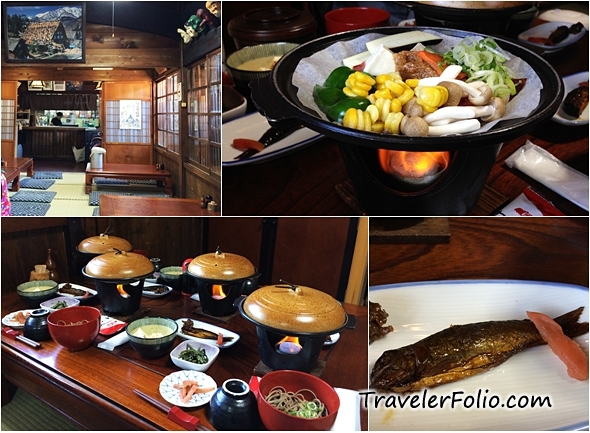 Like a local, you can dine around an irori (sunken hearth). Do you notice there is usually a 'fish' above the irori? Fish symbolizes the water element, so it serves the purpose to 'stop' a fire hazard!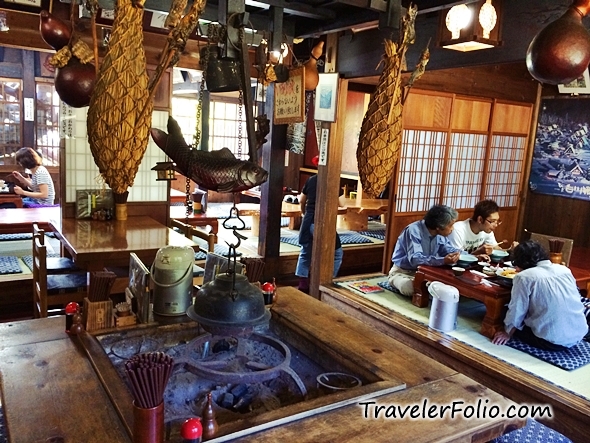 Address of Gensaku: 221, Ogimachi, Shirakawa-mura, Ono-gun (Shirakawa-go bus stop / 5-min walk)
Though this time it was still early autumn, the historic mountain village was very charming with golden paddy fields and pretty cosmos flowers blooming in the unspoilt landscape. Somehow, the scenic atmosphere reminds me of the Swiss Alps.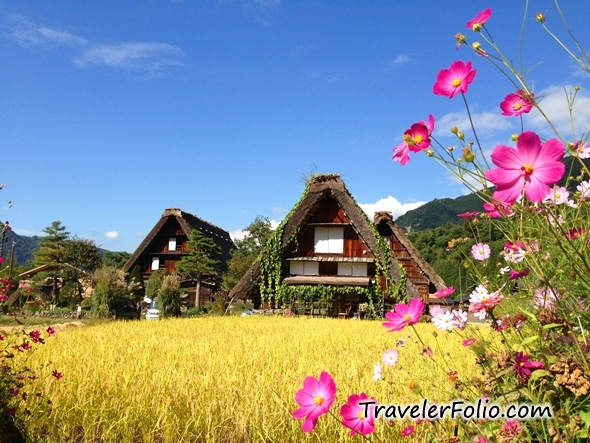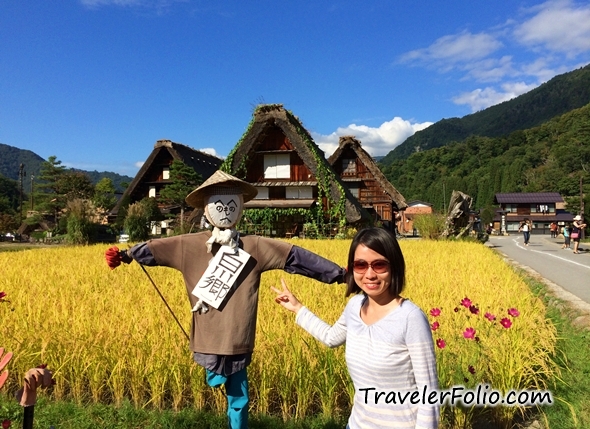 Peace.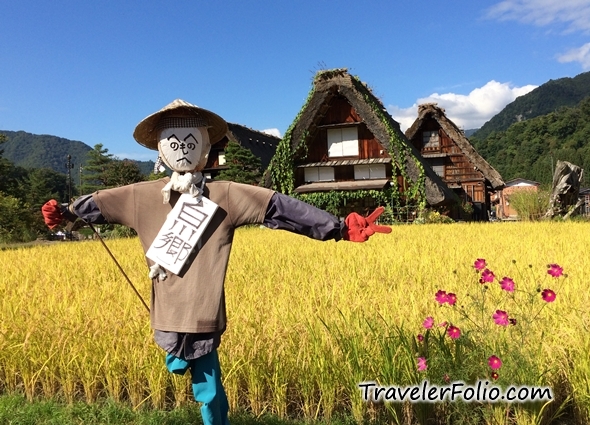 These are the cutest scarecrows we've ever seen. They blend in very well with the quaint surroundings.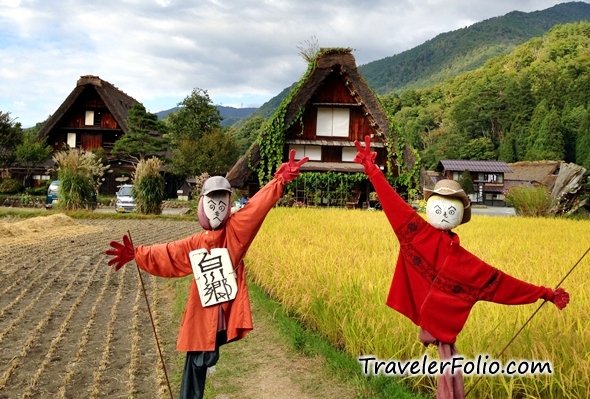 Hey, nice outfit by the way.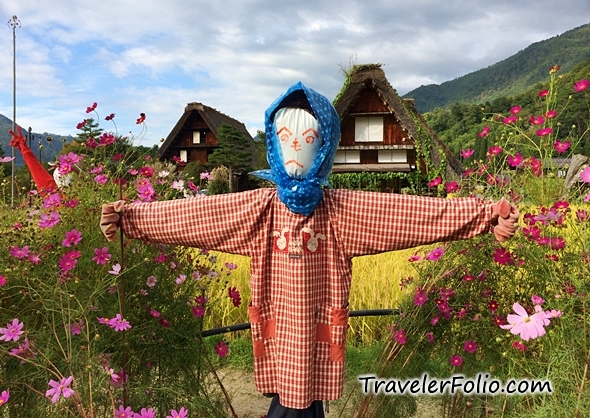 Framing the gassho-zukuri house …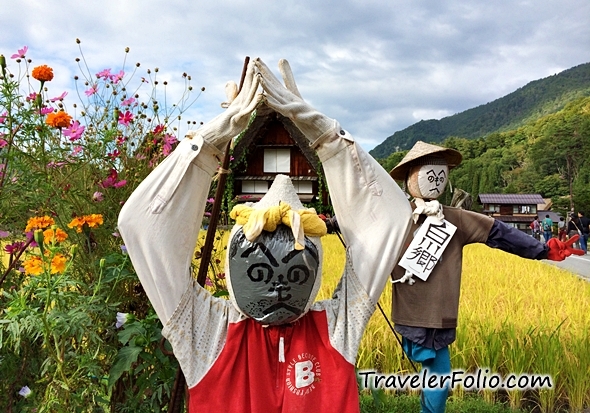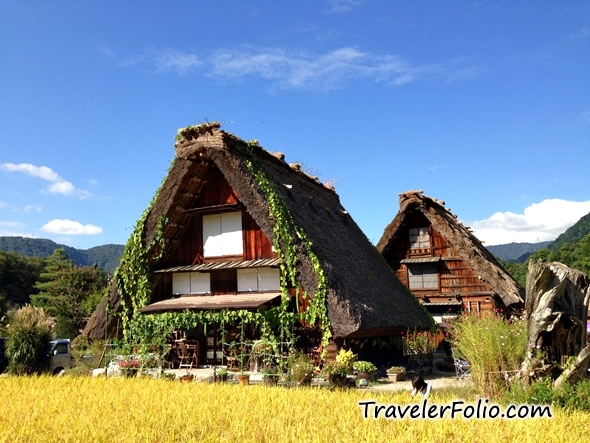 When you are in Shirakawa-go, pay a visit to the 300-year-old Wada House, the oldest and biggest gassho-zukuri house in the village that's been designated as an important cultural property by the Japanese government. The Wada family is still living in this house while part of it is open to the public as a museum.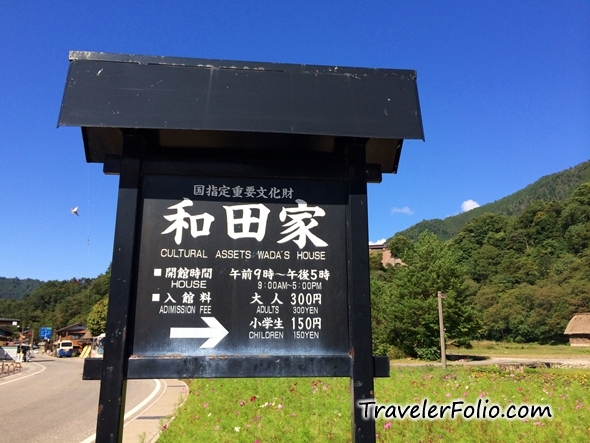 Wada House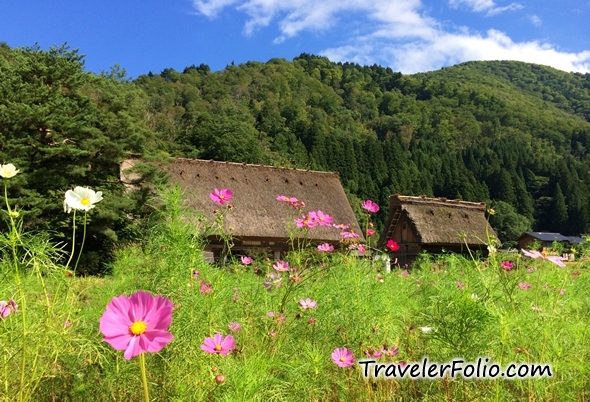 Mr Wada is the 20th generation of the prominent family.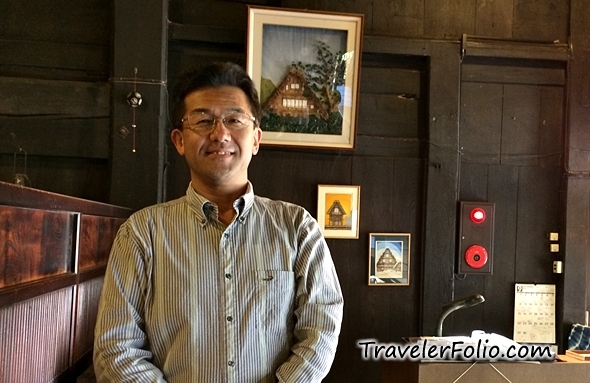 Take a walk through the museum house to observe the fine details of the unique architectural style. We were amazed to learn that no nails and hardly any metal were used in the construction of gassho-zukuri houses. As for the grand thatched roofs, they are inclined at a steep angle to keep off heavy snow in the harsh winter. The thatched roofs used to be re-thatched once every 30 to 50 years.
Ropes are used to hold the beams and thatched roofs together. Look at the giant needle!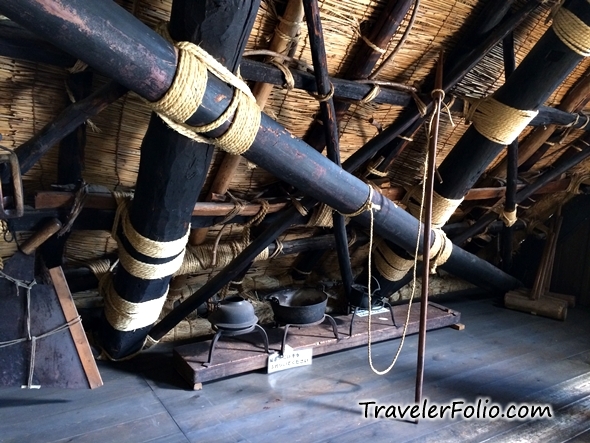 The traditional sunken hearth, irori, is used for cooking and to warm up the house during cold season.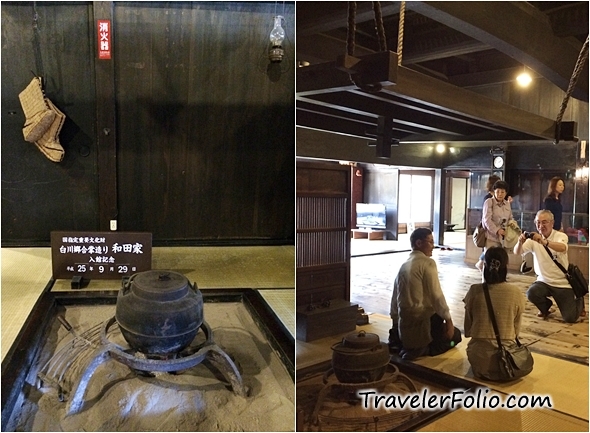 In the past when growing rice wasn't profitable, many households made gunpowder and breed silkworms in the village. On the higher level at Wada House, visitors get the chance to see the tools used for silkworm cultivation and historic artefacts from generations ago.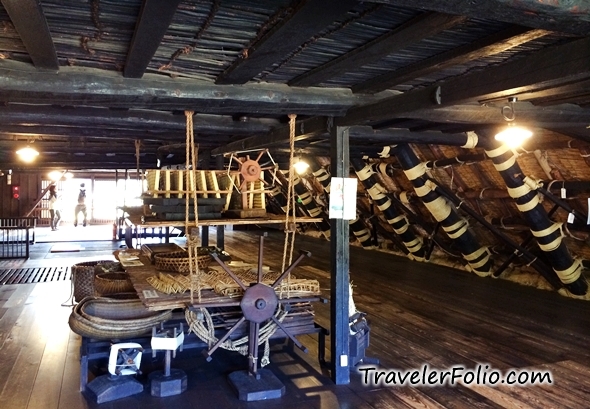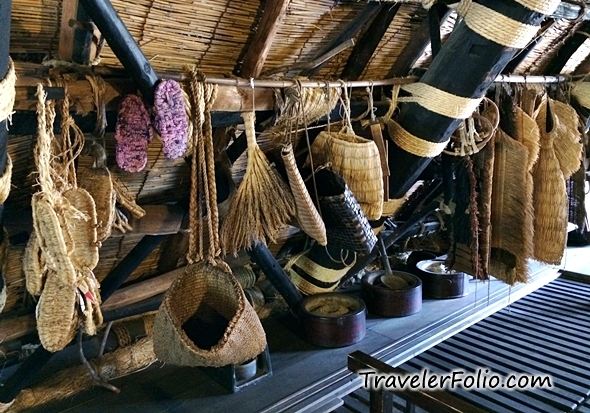 A view of the village from Wada House.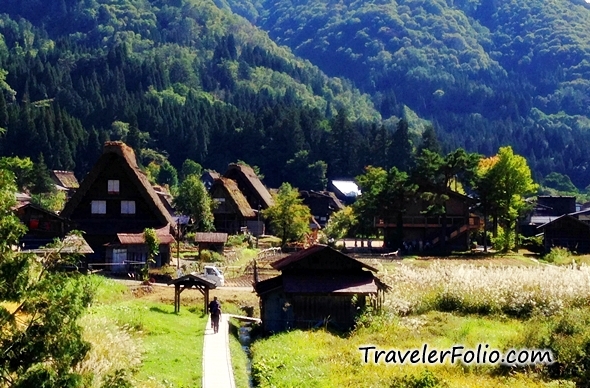 Don't miss the Shiroyama Viewpoint. This is where you take in the whole picture of the fairytale-like Ogimachi village and snap like a pro. If you notice, all gassho-zukuri houses in the village were built facing north-south direction to minimize wind resistance, practical for summer and winter as well.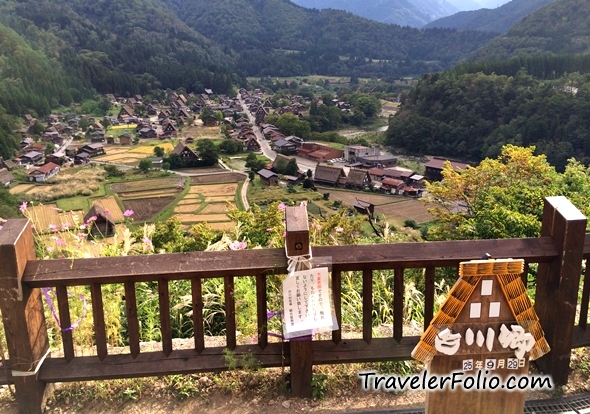 Ogimachi village in early autumn. It would be even more picturesque if only we were a tad early before the paddies were harvested.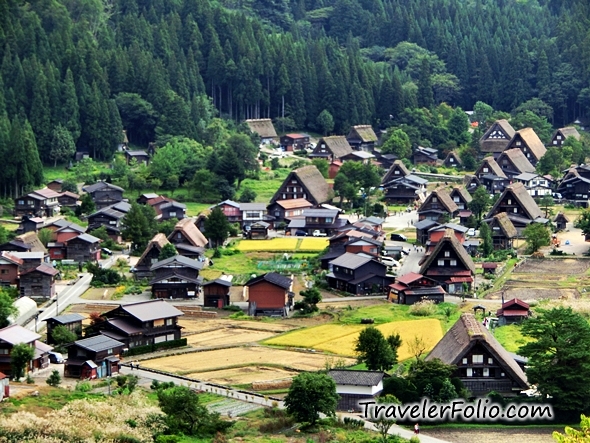 Like miniature houses!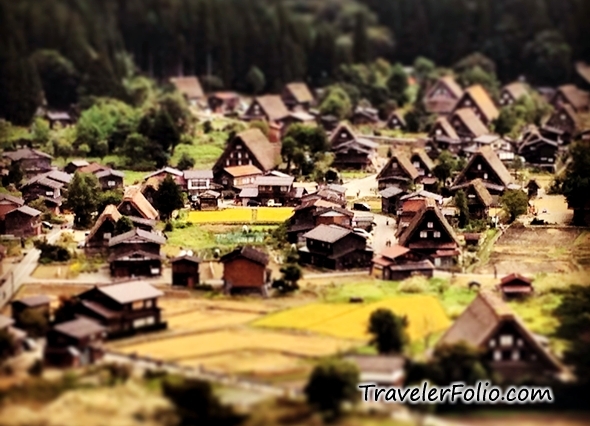 Framed by pretty cosmos flowers.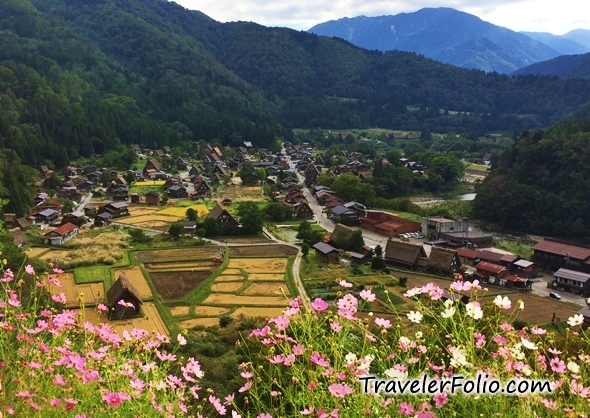 You can take a short bus ride up (¥200) to Shiroyama Viewpoint. We tried walking down the gentle slope and realised it takes just a few minutes easy walk.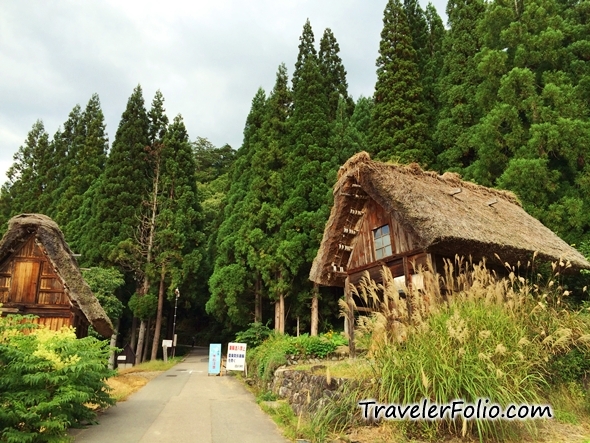 There are guesthouses, souvenir shops and restaurants at the village. Yes, you can stay at the Shirakawa village in winter as well to experience the magical atmosphere.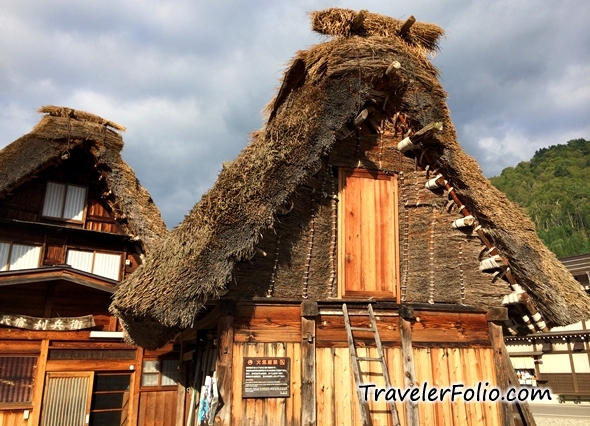 The charming village is just so photo-worthy.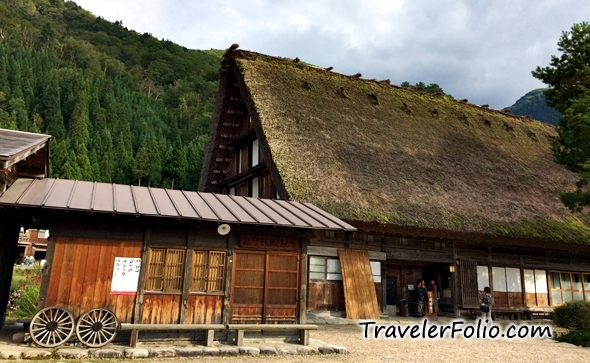 Reflection on the pond.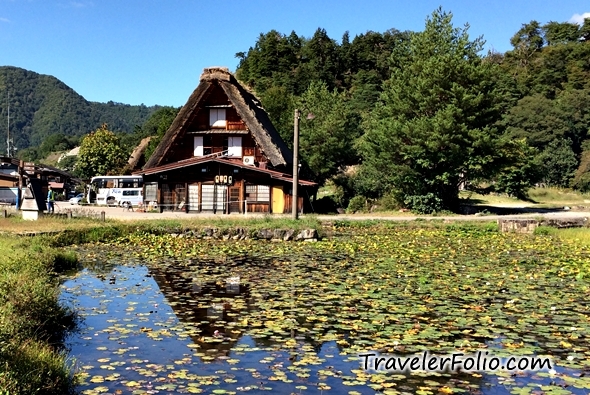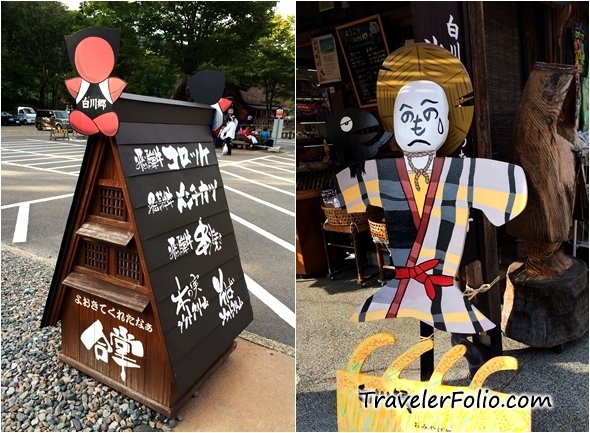 Maybe next time, I shall return to Shirakawa-go in winter! More information on Shirakawa-go: http://shirakawa-go.org/english/
Gero
In the evening, we boarded the bus back to Takayama Nohi Bus Center and took the JR train from Takayama Station to Gero Station. In just 44-minute, we arrived at Gero (下呂), notable as one of Japan's three most famous onsen dating back over 1000-year. There are 40 onsen hotels in the city.
Sumeikan is huge and very popular among the Japanese in Gero. The onsen hotel comprises of four buildings with three onsen spas, including a rocky open-air bath and a bathhouse overlooking the view of the townscape. There is a total of six restaurants and bars serving Japanese, Chinese and Western cuisines using seasonal ingredients, as well as top quality sakes.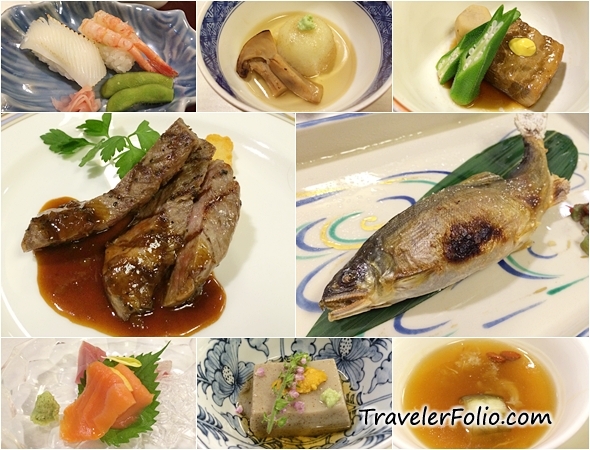 Our cozy Japanese-style washitsu room has attached toilet and bathroom that features a wood-scented pine bathtub for a hot spring soak. Typically, while ryokan guests are having dinner, the room is prepared for the night with futons to be laid on the tatami.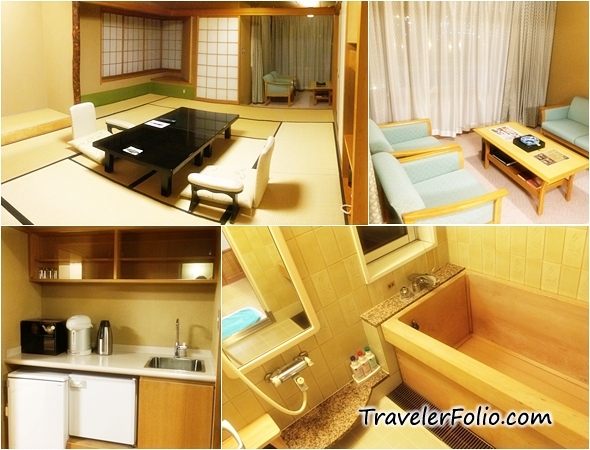 Address of Suimeikan: 1268 Koden, Gero-shi, Gifu, Japan 509-2206
Email: s-reserve@suimeikan.co.jp
On day 4, we visited Gero's Gassho Village before heading to Magome-juku ancient post town and the scenic Ena Valley for a cruise. Come back here again soon to continue on Gifu Free & Easy!
Special thanks to the Tourism Division Gifu Prefectual Government for the invitation to Gifu.
Read all posts on Gifu Free & Easy.