Many Singaporean visitors tend to make a day trip to Macau while holidaying in Hong Kong. After all, it's merely an hour's ferry ride between the two popular destinations. However, one glance at our Macau trip itinerary and you'd agree that a day in Macau is definitely too short a stay!
A little geography about Macau (aka Macao): it's made up of Macau peninsula that borders Zhuhai in Guangdong province of China and two islands namely Taipa and Coloane. With a total area of less than 30 km², this special administrative region of China is the most densely populated region in the world!
Macau has a subtropical climate with hot summers. Humidity can be as high as 90% and the weather is just like the hottest months in Singapore. If you only realise that after the flight captain has announced the weather condition when approaching Macau, it's a bit too late if you didn't pack enough light clothings!
The flight from Singapore departed early in the morning and we reached Macau International Airport in less than 4 hrs. The timing was good for a delicious breakfast to start the day – we had Portuguese egg tarts at the famous Lord Stow's Bakery in Coloane!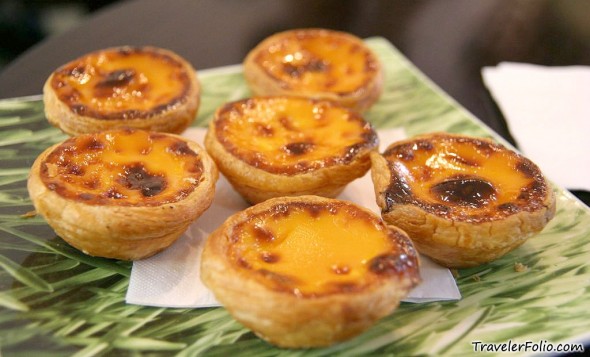 The award-winning creator of Macau's iconic Portuguese egg tart was not a Portuguese but an Englishman named Andrew Stow (dubbed "Lord Stow"). Sadly, he passed away in 2006 due to asthma attack. Lord Stow's tarts are Portuguese style with English-influenced filling. The signature egg tarts have caramelized sugar on top that gives the slightly burnt, golden brown colour. The warm, crispy and fluffy puff pastry containing the not-so-sweet eggy, creamy filling even created a phenomenon of "Egg Tart Wars" with similar Portuguese egg tart shops sprouting up in some parts of Asia like Hong Kong and Taiwan. Seriously, the scrumptious Portuguese egg tarts from Lord Stow's Bakery are the best that we have tasted so far. I miss the egg tarts!
Lord Stow's signature items are handmade without the use of pre-mixes and chemical additives and preservatives that are commonly found in other bakeries.
A Portuguese egg tart costs MOP/HK$7. For your info, MOP$ is the short for Macanese pataca, the currency of Macau. The pataca is pegged to the Hong Kong dollar and Hong Kong dollars are accepted on a 1:1 basis in Macau. We didn't buy any pataca in Singapore as most money changers don't trade patacas; instead, we bought Hong Kong dollars to spend in Macau. Therefore, in case you receive some change in MOP$, try to spend them as it may be hard to find moneychangers to exchange the currency after you leave Macau.
Lord Stow's Bakery Café address: Largo do Matadouro, Coloane Village, Macau. Opening hours: 10am to 6pm
Another Lord Stow's Bakery (not a café) is also located nearby at walking distance and it opens till 9pm.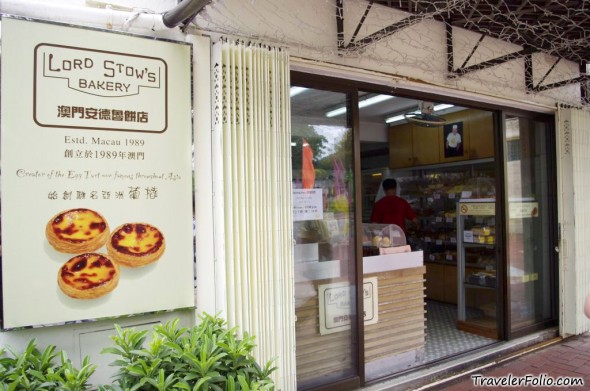 Address: 1 Rua da Tassara, Coloane Town Square, Macau.
How to get there? Take bus no 26, 26A, 15, 21A, 25 to Coloane Town Square.
Coloane island (路环岛) is the rustic countryside of urbanized Macau that still retains much of its old colonial charm. The island is connected to Taipa (氹仔) by Estrada do Istmo Bridge. In fact, it's easy to travel from island to island as Coloane, Taipa and Macau Peninsula are all connected by bridges. Enjoy a relaxing stroll around the quaint little village to soak in the tranquil atmosphere.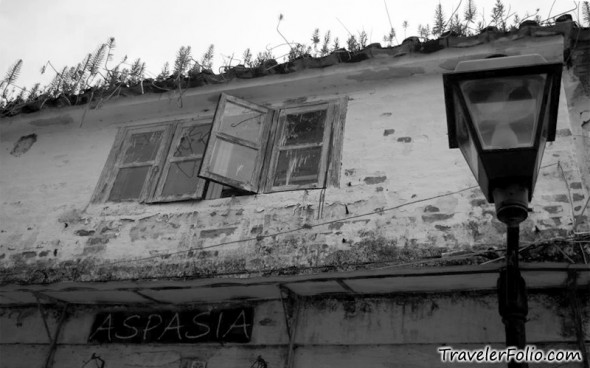 A fruit stall along the narrow street. Notice the road sign on the wall below the windows.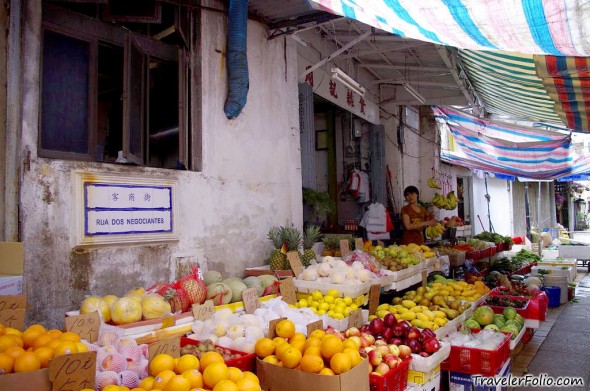 A typical food and drink stall in Coloane.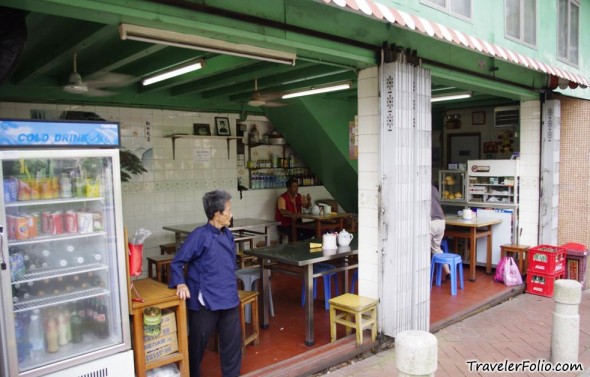 Head down to Eduardo Marques Square for some picturesque shots. Commonly known as the Square of the Church, the Chapel of St. Francis Xavier is located there. Built in 1928, the classic Portuguese baroque-style chapel enshrines some of the most sacred relics of Christian in Asia.
Facing the seaside promenade, the square is paved with distinctive black and white Portuguese cobblestones laid out in a wave pattern.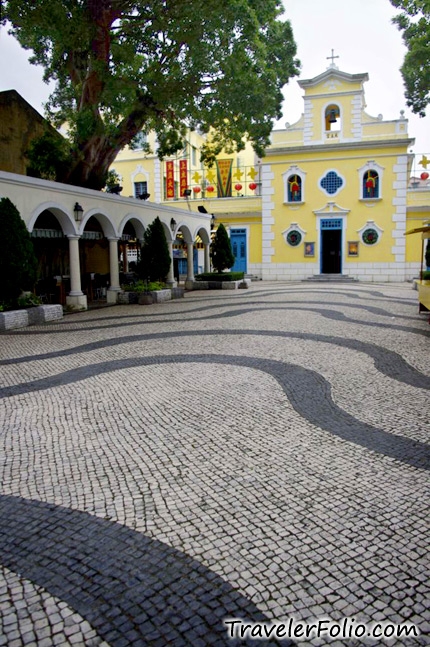 The monument in front of the chapel was erected to commemorate the victory over the pirates in Coloane in 1910.
A cute little stray puppy at the square.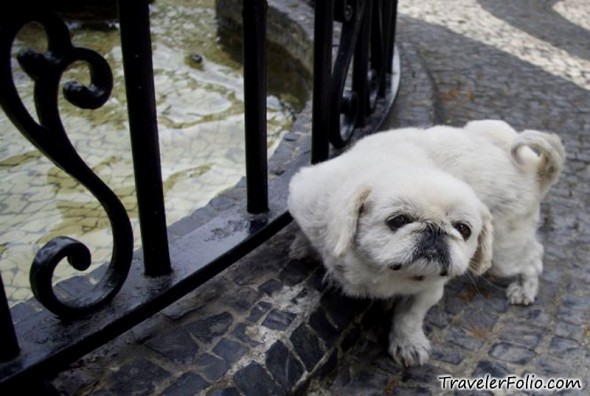 Along the waterfront, you can find seafood delicacies like dried salted fish and scallops at a good price.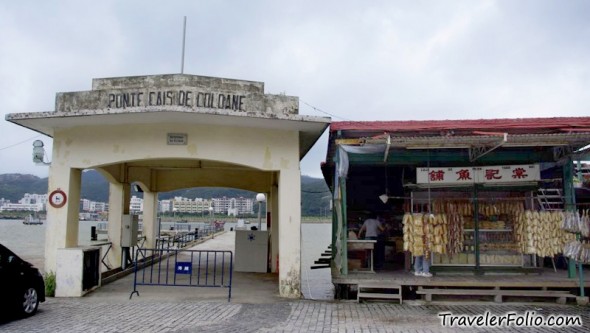 Dried salted fish in the sun.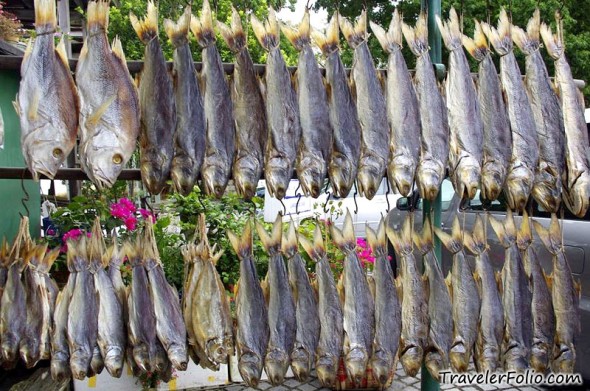 Big dried oysters.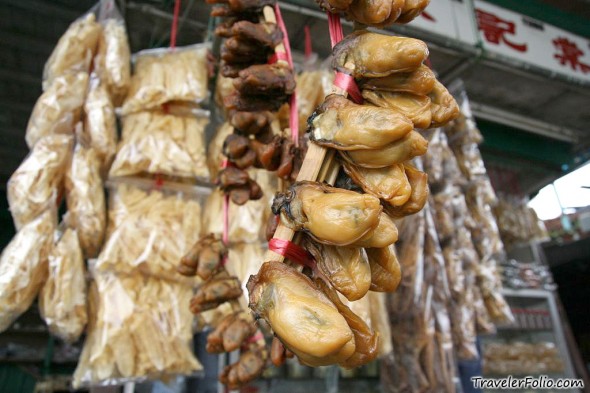 Coloane is so near to Mainland China that both are just separated by a narrow strait.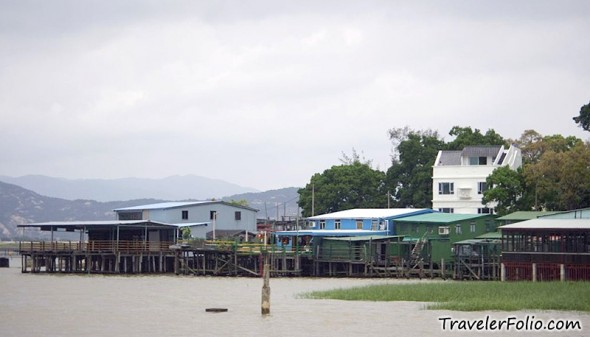 Next: Hard Rock Hotel and the City of Dreams
Read all posts filed under Macau.