Jakarta is one of the world's most populous cities, a melting pot of cultures and ethnicities, celebrating diversity through food! The capital and commercial hub of Indonesia has brought together international cuisines and traditional delicacies from all over Indonesia including Javanese, Sumatran, Surabayan and Chinese, just to name a few.
In less than 2-hr flight time, Jakarta offers a short weekend getaway from Singapore. We stayed at Grand Hyatt, only 40-min by taxi from Soekarno Hatta Int'l Airport. The luxury hotel is conveniently located in the city centre, facing the iconic Hotel Indonesia roundabout, and adjacent to Plaza Indonesia, one of the most comprehensive shopping malls in Indonesia.
We have a relaxing 3-day itinerary to share on places to eat, where to go and shopping in Central Jakarta. For transport, we were told that Bluebird taxi is reliable; a 15-min journey costs Rp 40,000 (~S$4.20). Or rent a taxi for Rp 300,000 ~ Rp 400,000 a day.
To being with, here is a list of dining options recommended by local:
Social House
Social House, aka SoHo, offers one of the most casually sophisticated dining experience in Jakarta. The all-day restaurant serves an extensive menu of Asian and Western favourites, from sushi, sashimi, pizza, pasta, tapas to pork knuckle, Wagyu beef burger and Angus rib eye steak with mediterranean sides.
If you are looking for a cosy and comfortable place for friends and family gathering in the bustling city, the chic yet laid-back restaurant has a dining area, a bar and lounge area, a wine store and a city view of the famous Hotel Indonesia roundabout to boot! SoHo attracts discerning diners such as office workers, an after-work crowd, shoppers and tourists from all over the world, like us!
For drinks to go with your meal, there is a good selection of cocktail, wine and spirits as well as coffee, frappe and the popular Homemade Grandma's Iced Lemon Tea.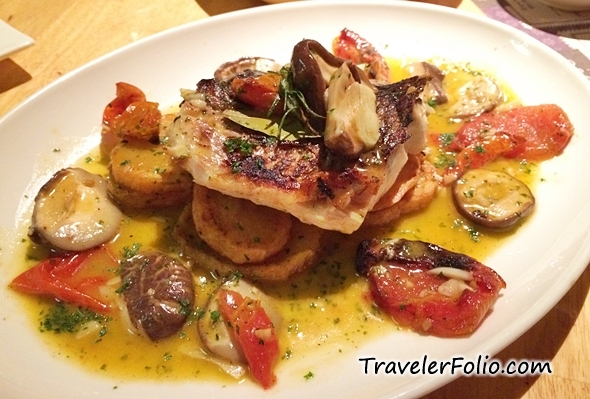 Spanish style, pan seared red snapper fillet with marinated roasted paprika, sautéed chorizo and creamy mash potato (Rp 150,000)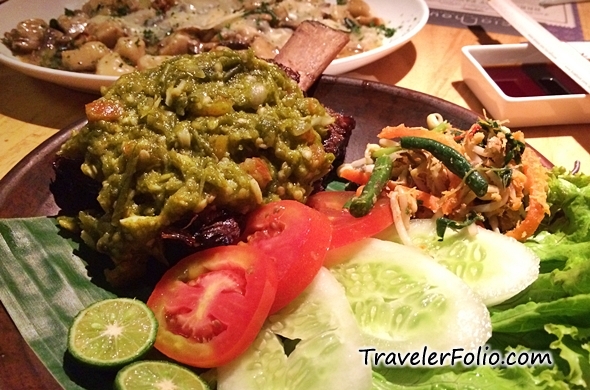 Fork-tender lamb shank dressed with thick red curry sauce on lemongrass and garlic mashed potato (Rp 155,000)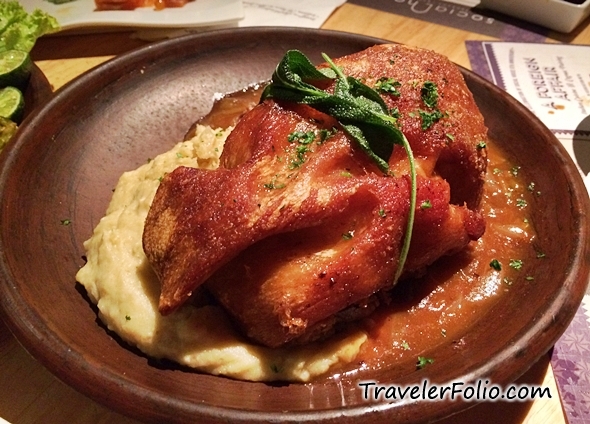 The flavoursome roasted pork knuckle with cumin scented mashed potatoes and caramelized onion sauce (Rp 165,000).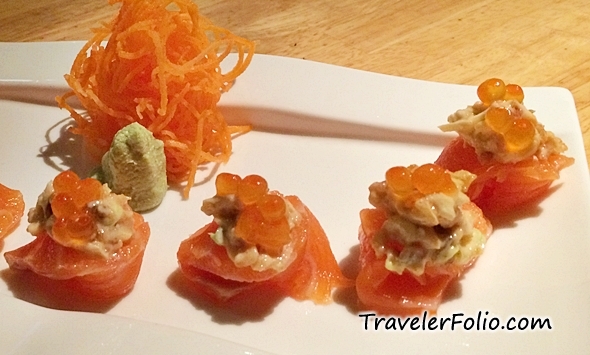 Twisted, salmon-sashimi topped with salmon roe, crispy salmon skin and green onion (Rp 75,000) – refreshing, a favourite on the table.
Al dente gnocchi of burnt butter and sage with green asparagus tips, walnut and grated parmesan cheese (Rp 85,000) – delicate and appetising without feeling too full.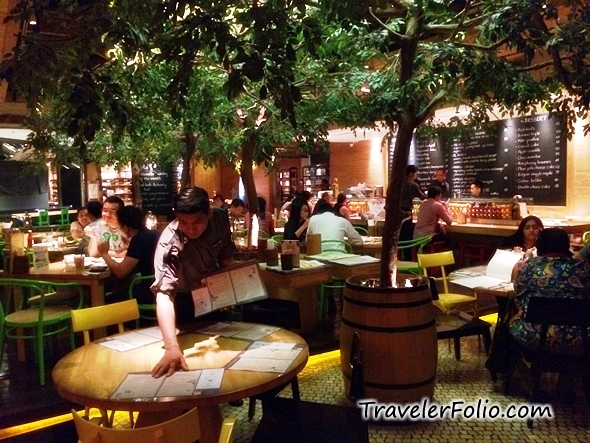 Social House Jakarta
Grand Indonesia, East Mall, 1st Floor
http://www.ismaya.com/micro/read/socialhouse
Grand Hyatt Fountain Lounge
It won't take long for a first time visitor to Indonesia to find out the local favourite snack is none other than banana fritter – pisang goreng. I had pisang goreng at almost every meal while travelling with a group of Indonesians for ten days on the previous trip!
Pisang goreng is often sold by street vendors so you can easily find it. So far, I had some of the best pisang goreng in Indonesia at Grand Hyatt Fountain Lounge. The banana is coated with batter, then deep fried till crispy golden crust with a soft and mushy filling inside, and served warm. Simple yet delish!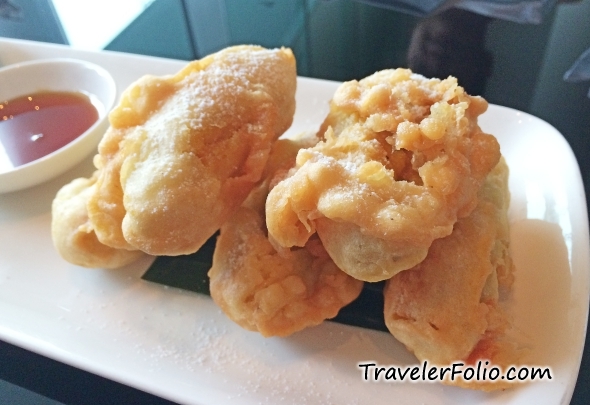 After a day of sightseeing, we returned to the hotel and had afternoon tea at the Fountain Lounge that overlooks the theatrical lobby accompanied with live band music. The fried spring rolls were lip-smacking good as well. I liked the cappuccino.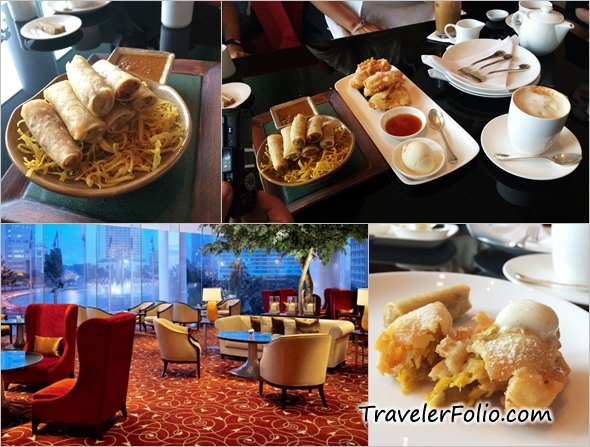 Grand Hyatt Fountain Lounge
Jalan M.H. Thamrin Kav. 28-30, Jakarta 10350
http://jakarta.grand.hyatt.com/
Sari Bundo Masakan Padang
For something different, go for Padang food. Typically, a Padang restaurant would display stacks of plates containing Indonesian food at the counter.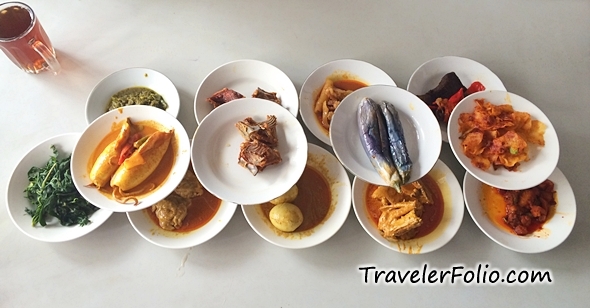 At Sari Bundo (established since 1967), a dine-in hidang (serve) style Padang restaurant, as soon as we were seated, the waiter came to us immediately and readily set the table with dozen of small dishes containing rich flavours of coconut milk and spices such as beef rendang (beef curry), ayam bakar (charcoal-grilled chicken), sate (grilled meat skewers), spicy squid, eggplant and petai goreng (fried green stinky bean). For true offal lovers, Padang dishes also include liver, intestines, tendons, tripe and brain of the cattle!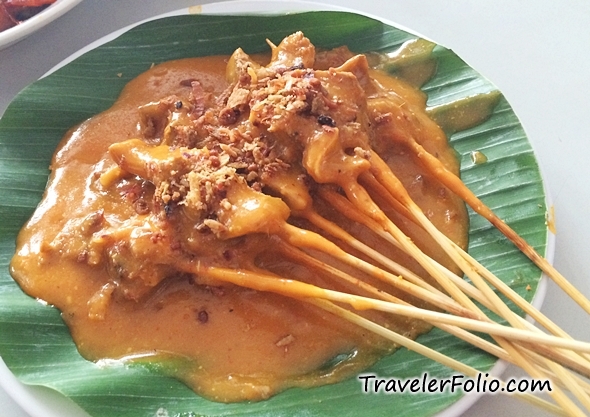 Sate in spicy sauce and curry squids.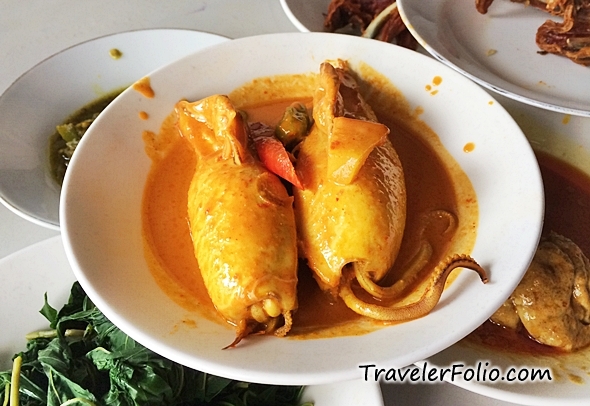 At a Padang restaurant, diners will be charged according to the food consumed from the table. Let's say you can't finish the food on the dish, return that portion so you pay less! The total cost of the meal plus drinks for six of us was Rp 496,650.
(Left) Yummy avocado juice with chocolate.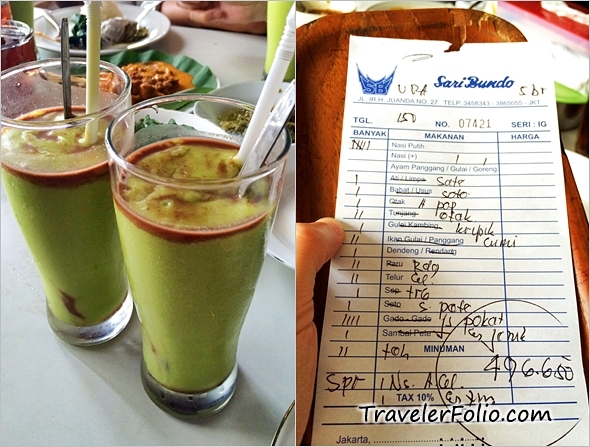 Sari Bundo Masakan Padang
Jl, lr. H Juanda No 27, Jakarta Pusat 10120
http://saribundo.com/
Just outside Sari Bundo, the peddler was selling Kue Ape, an Indonesian pancake resembling a flying saucer. It's crispy at the edges and slightly chewy in the centre, with sweet pandan flavour. Nice. Try some.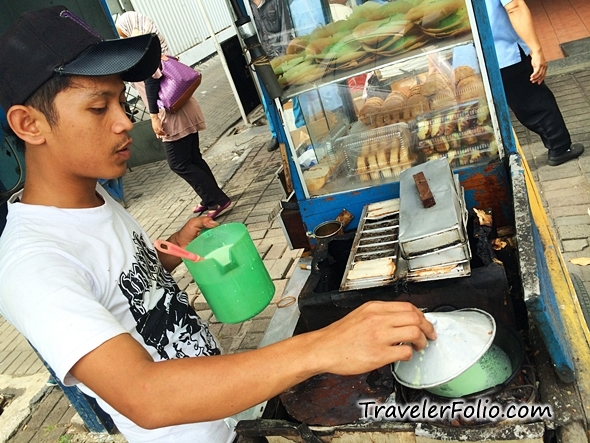 Kue Ape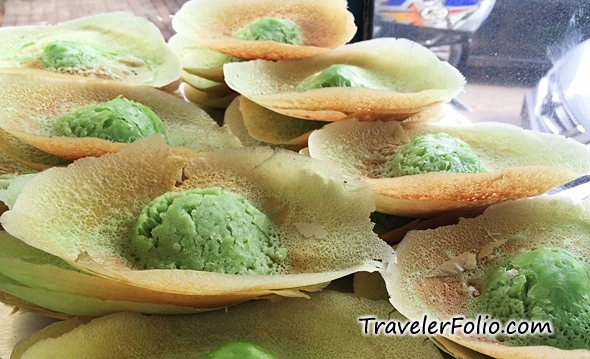 Riung Sari Jakarta
Sate (or satay) is so popular in Indonesia, it's hard to miss this national delicacy from street vendors and local restaurants. After all, sate was originated in Java and it's one of the best dishes in Indonesia.
Marinated sliced meats like mutton, beef and chicken are skewered on sticks, then grilled over charcoal fire until perfection, tender meat with slightly charred bits, and finally served in peanut sauce.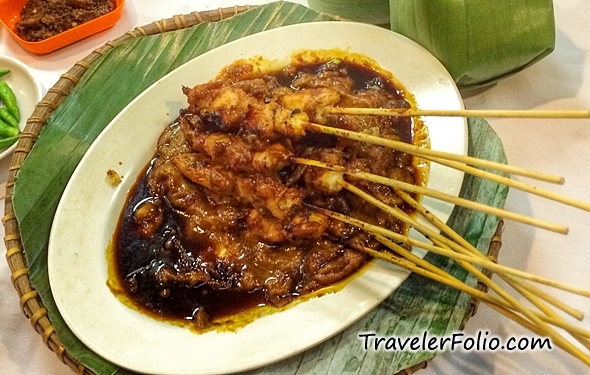 We had dinner at Riung Sari which serves Surabaya dishes. The restaurant has an open kitchen where customers can see how their food is prepared, grilled and cooked. It can be quite smoky.
For something light, try soto ayam with shredded chicken, hard boiled egg and thin noodles.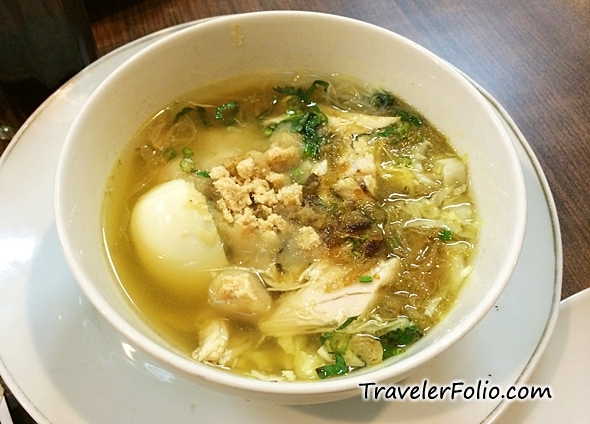 Huge fried fish balls with real fish taste.
Wondering what's the black paste under the shrimp cracker? Served in a sauce made of black fermented shrimp paste, Rujak Cingur contains buffalo lips! Cingur translates to 'mouth' in Javanese, Rujak is 'rojak'. Literally, lip-smacking good! I didn't try it though!
Our favourite crackers on the table.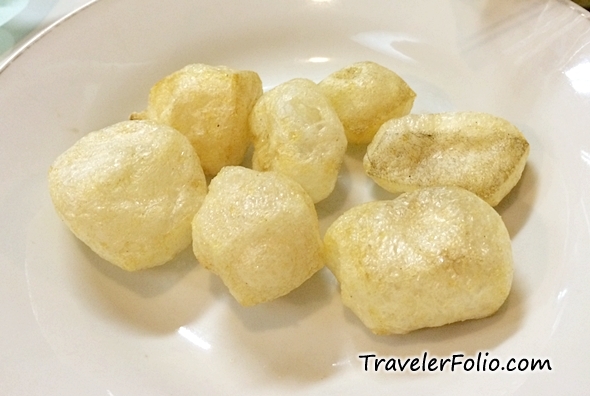 Riung Sari Jakarta
Jl.Ir. Juanda Raya No.6 Jakarta Pusat
http://www.riungsari.com/
Stay tuned for more updates on Jakarta weekend getaway!
**Special thanks to Jakarta Tourism Office and Mr Russell Cheong of Winsemius Consulting for organising this trip.