Continuing from Taiwan Trip 2013 (part 3), here is the itinerary of a relaxing 2-day tour, a brief introduction of Tainan. Also known as the 'Phoenix City' in the south, Tainan is one of Taiwan's oldest cities with a plethora of historic monuments, natural attractions in the Siraya National Scenic Area, picturesque reservoirs, mud springs of Guan Zi Ling and yes, the local delicacies are well known across Taiwan and beyond.
A lushgreen view of Guan Zi Ling (關子嶺) from the Red Leaf Park, a butterfly habitat where 63 species of butterflies can be found and hundreds of them flutter around the park everyday.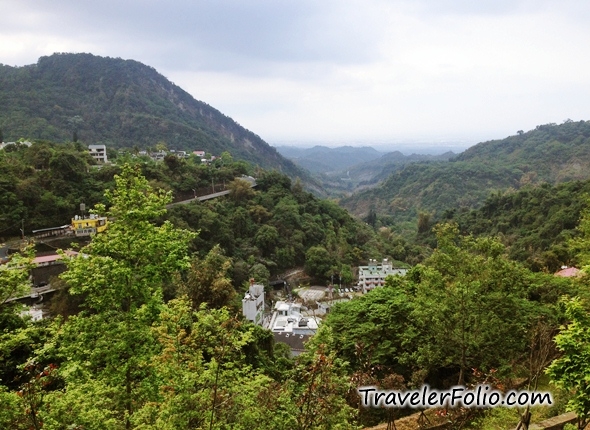 Mud Spring
One of the main draws of Tainan is the famous mud spring area at Guan Zi Ling. Locals and tourists alike flock to the spring resorts for the mud spring that is rich in minerals and believed to heal many kind of skin ailments, a great therapy for the skin.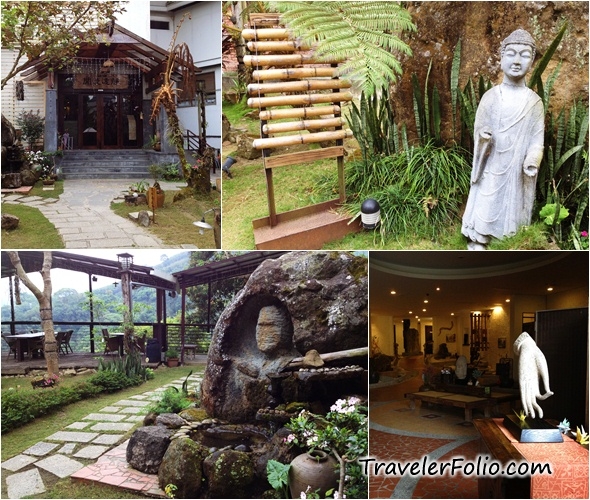 To enjoy the unique mud spring, we stayed at Mu Chun (沐春溫泉養生會館 / 732台南市白河區關嶺里27號) mud spring resort at Guan Zi Ling. The resort style is pretty Zen with dark wood decor and water features, a quiet and relaxing getaway, an oasis from hustle and bustle.
Our guest room comes with a tub to collect the mud spring directly from the hot and cold taps that allow us to adjust to the temperature that we feel relaxed in the soak; it's total privacy in the comfort of our room.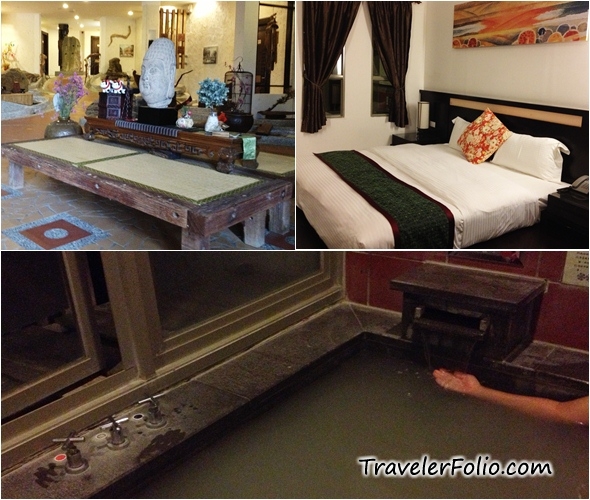 At first, I thought the mud spring could be muddy and sticky, like what I experienced with the Dead Sea mud in Israel. In fact, the mud spring is a little greyish and cloudy, no unpleasant sulphur smell ('cos it's mud spring) and you don't feel any sediment in the spring water.
The nearest High Speed Rail (HSR) station to Guan Zi Ling is Chia Yi (嘉義). From Taipei Main station, it takes about 1.5-hour to reach Chia Yi station. Then take a bus to get to the resort. You may email muspring_booking@hotmail.com to find out the details on how to get there.
What to Eat
At Guan Zi Ling, don't miss the Rocktop restaurant (岩頂自然休閒坊 / 台南市白河區關嶺里65-28號 / 10:00 – 22:00)! We had a sumptuous dinner with creatively delicious concoctions like the speciality soup that is brewed with aromatic coffee beans, claypot tofu, sausages and our favourite of all – the lightly salted roast chicken! The meat was fork-tender, naturally sweet and juicy underneath the crispy skin. A delight in every bite! The whole chicken is specially roasted in a container, that's why they called it '桶子鸡'. A unique dish at Guan Zi Ling.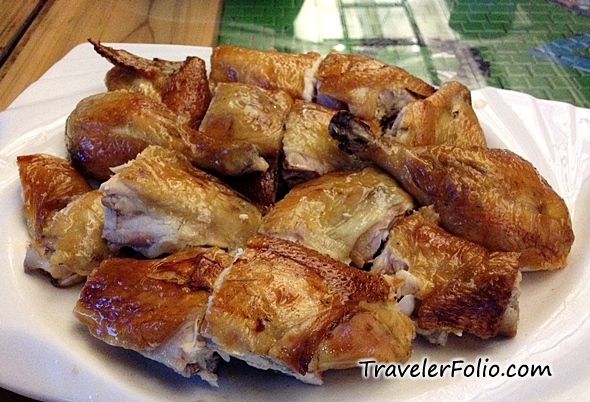 Oh yes, try their special dessert – the silky smooth pudding with a hint of coffee.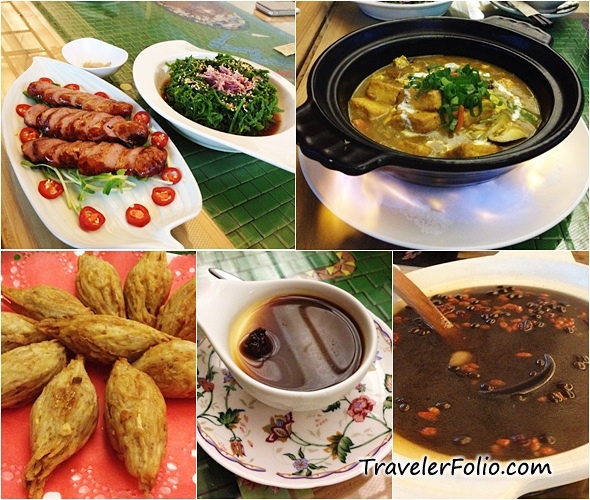 Coffee Time
Do you know that one of Tainan's specialities is coffee? Tungshan township produces high quality, rich coffee. Blessed with volcanic earth and suitable climate for growing coffee beans, Tongshan's coffee is touted as the 'Blue Mountain Coffee' of Taiwan. Thanks to the creativity of shop operators and entrepreneurs, you even get to taste all kind of coffee dishes from coffee chicken, coffee rice pudding to coffee soup!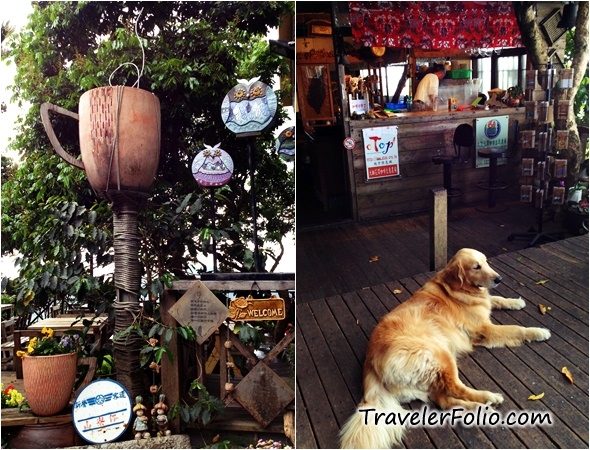 A quaint cafe overlooking the undulating mountain landscape and vast horizon of the sea, HOE Vs. Flowers (大锄花间) is the place to spend a lazy afternoon enjoying a cup of aromatic hot brew, desserts and delights. The rustic property blends in harmoniously into the abundant greenery, one-of-a-kind that reflects the creativity and quirkiness of Mr Kuo Ya-cong, the owner of HOE Vs. Flowers. Together with his wife, the former publisher took a career switch and moved to Tungshan, working diligently to build their dream together, producing homegrown quality coffee beans to serve at their popular cafe in Tainan.
The coffee is so smooth and aromatic, you should taste it without adding milk first. Try their latest recipe, the coffee rice pudding, delicate and addictive enough for a second serving. They also brew longan flower tea – the longan flowers are picked from the surrounding trees at the cafe!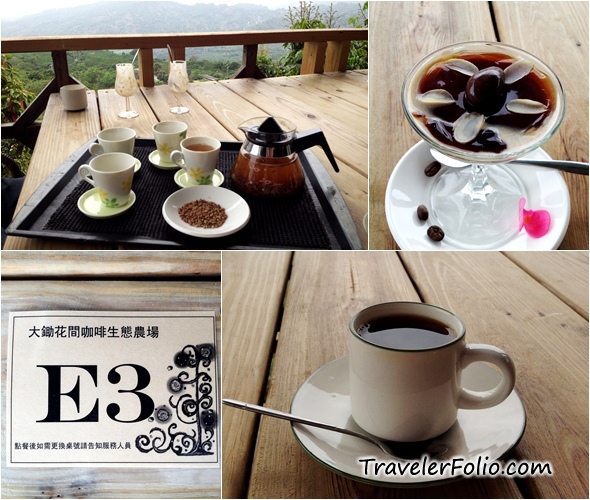 Photo with Mr Kuo, the proud owner of the cafe.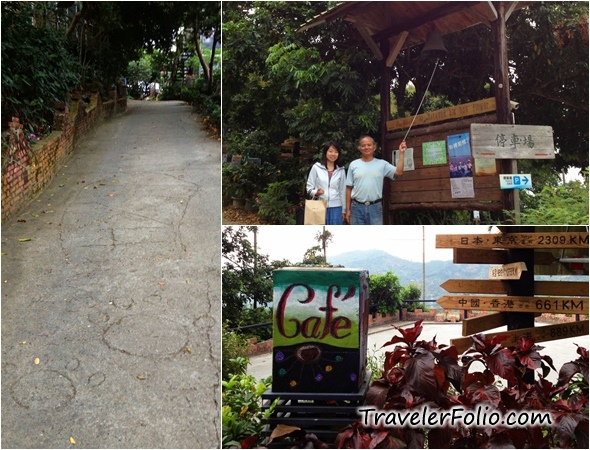 HOE Vs. Flowers: 109-17 Kaoyuan, Kaoyuan Village, Tungshan Township, Tainan County. (Close on every Tuesday.)
Cotton trees
白河林初埤木棉道
In March, the seemingly endless rows of cotton trees are in full bloom near Linchu reservoir at Baihe Township. We headed there in the morning to rent bicycles for cycling around the scenic area, a nice experience to embrace the breeze of spring.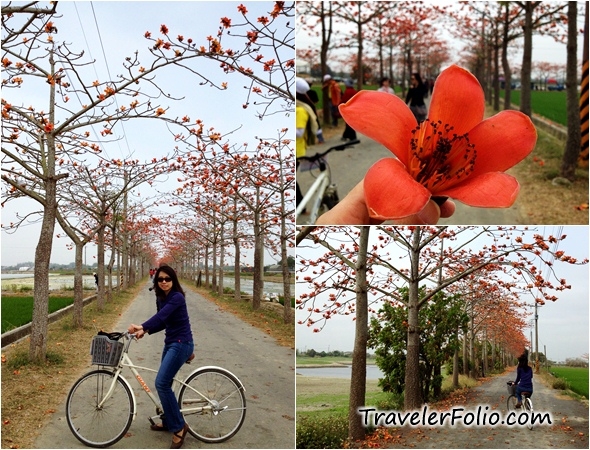 During the morning jaunt, families and friends strolled under the lovely cotton trees, many were excited to see such pretty blossom and happily posing for photos. Some serious photographers were trying to capture the best shots at different angles.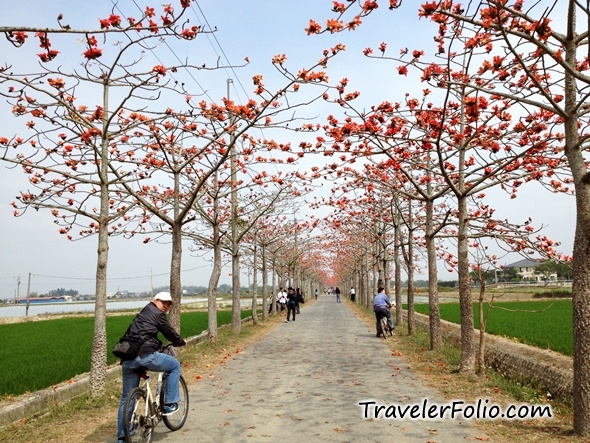 It's easy to cycle around as the ground is quite flat and there is less traffic in nearby area.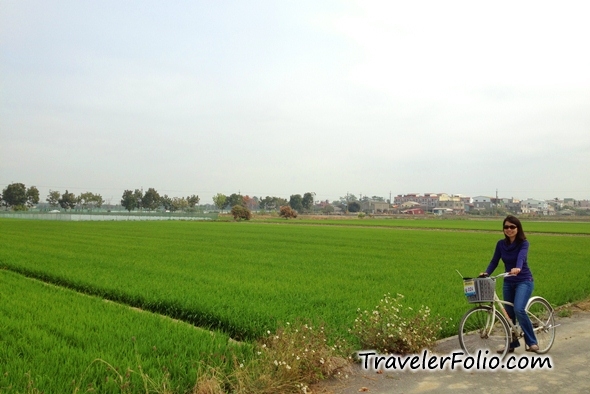 The bicycle rental shop near the cotton trees.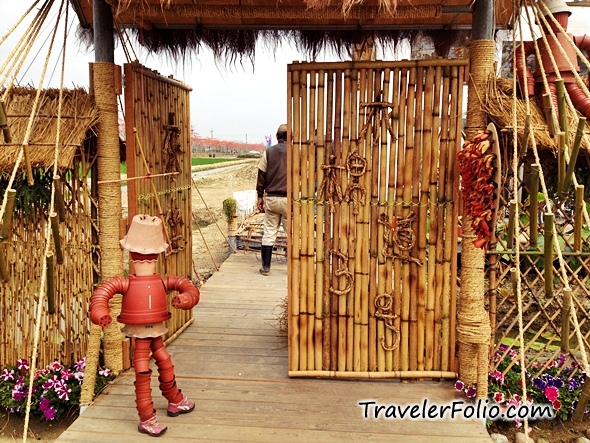 Yoichi Hatta Memorial Park
Enter the past era of the former Japanese colony as you step into the traditional buildings at the memorial park that was constructed to commemorate Yoichi Hatta, a Japanese civil engineer who made significant contributions to Taiwan's agricultural development in south Taiwan. His water management projects involved an irrigation system covering 10,000-km of waterways that has benefited farmlands in Tainan and Chiayi since 1930.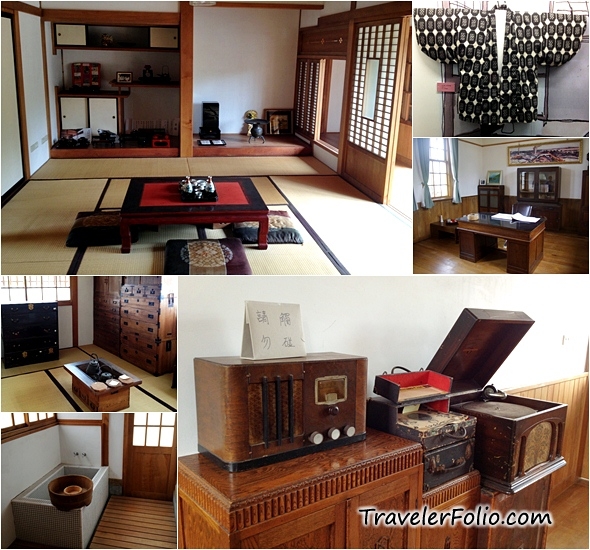 The interior of Yoichi Hatta's office, bathroom and living hall. Also on display are vintage household items such as Japanese style wooden furniture, study table, sewing machine and music player. The rooms are filled with a pleasant smell of wood – Hinoki, I guess.
Walk through the buildings at the park and one of the sections shows documentations of Wusanto Reservoir and Yoichi Hatta.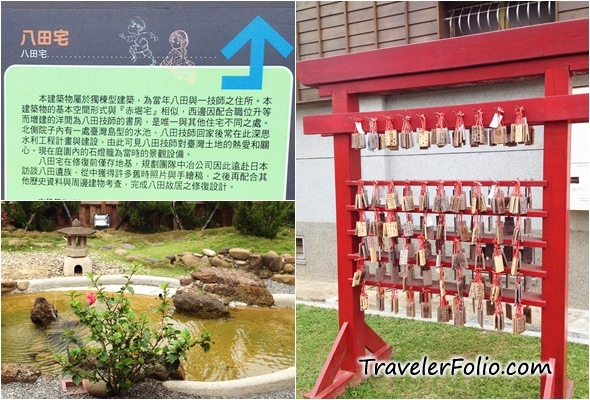 Wusanto Reservoir Scenic Area
Dubbed as the 'Coral Lake' given its shape like a green coral from aerial view, Wusanto reservoir (烏山頭水庫) was an important project spearheaded by Yoichi Hatta; a reservoir that has turned the area into a fertile cropland.
Today, Wusanto Reservoir has become a scenic tourist destination in Tainan. Simply soak in the lush green surroundings or take a boat ride around the reservoir. Yoichi Hatta Memorial Park, Taiwan's version of the Temple of Heaven (the original Tiantan is in Beijing) and other water and outdoor facilities are nearby attractions. The reservoir park is residence to an abundance of floral and fauna.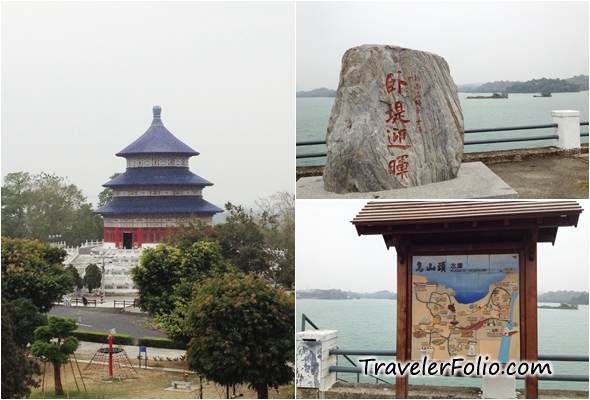 Nan Yuan Garden Resort Farm
This garden resort farm (南元花園休閒農場) is so big that we had to take a buggy ride to explore the area due to limited time. We were surprised to see many kinds of floral and fauna from all over the world as we went deeper into the farm. It all started with health in mind, that's what we heard. The owner wasn't well so he planned and built such a beautiful farm to nurture a healthy living environment. Indeed, now the scenic area is all fresh air and greenery – he feels revitalised.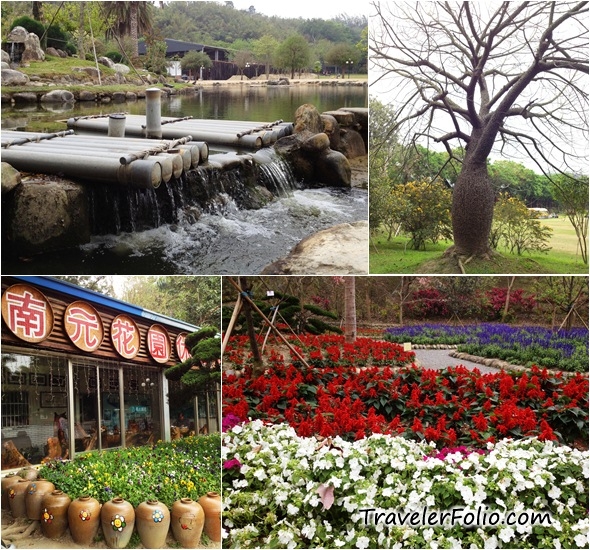 A garden full of lavenders.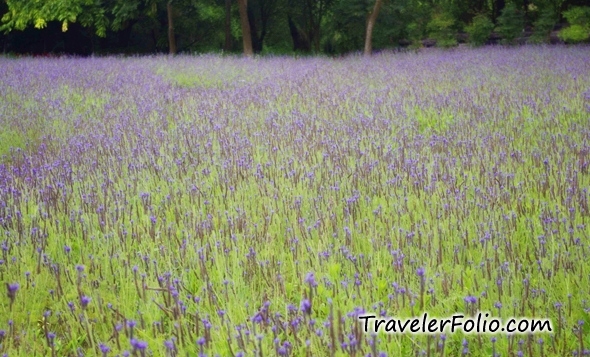 The farm is home to different species of birds and animals as well.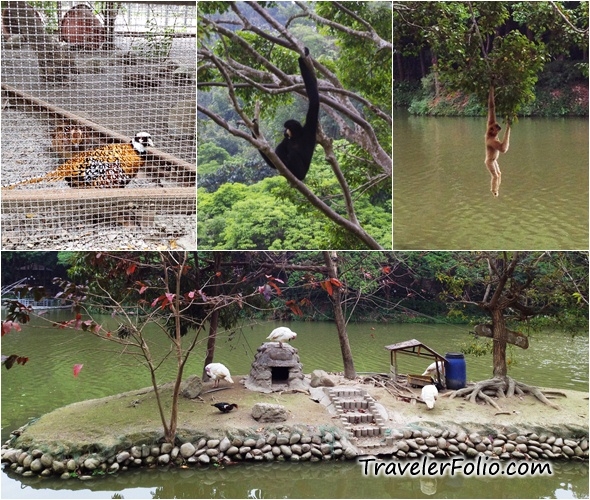 Nan Yuan is one-of-its-kind, not only it boasts the largest forest ecosystem with a picturesque swan lake, waterfall and wildlife observatory area, visitors can take up recreational activities such as golfing, fishing and kite-flying; or rent a vehicle to move around the farm. It provides accommodations as well.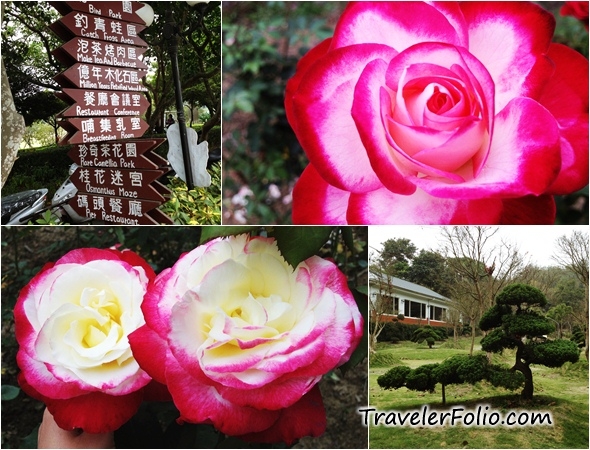 Nan Yuan Garden Resort: No.25 Nanhu, Guoyi Village, Liouying District, Tainan City, Taiwan. / 台南市柳營區果毅里南湖25號. Web: www.nanyuanfarm.com.tw
Mango Dessert in Tainan
The shop is called '有間冰舖' . Yes, it's touted as the best in Tainan, one of the best in Taiwan for mango shaved ice. Mind you, it's not just plain shaved ice topped with slices of mango. They use mango ice block to shave it into very soft and fine powdery ice collected into a bowl, then laden generously with thick slices of mango and topped with a scoop of mango ice cream. Only fresh, indigenous mangoes are used to make the dessert. You can imagine how naturally sweet and juicy the mango shaved ice is. A very refreshing dessert packed with vitamin goodness. Another thing to add on, the shaved ice doesn't melt quickly so it still stays in 'good shape' for quite a long time without turning into liquid too soon.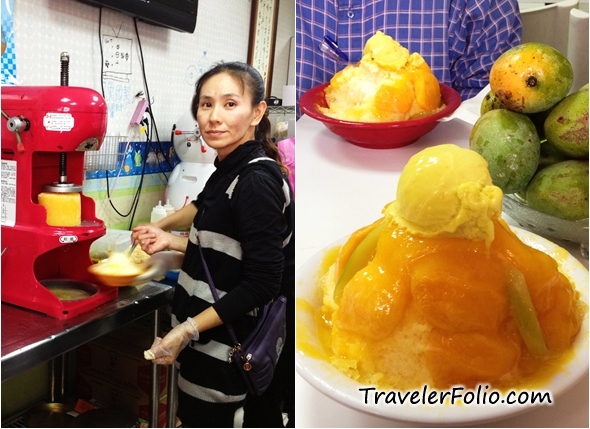 The shop also serves silky smooth pudding and other ice cream flavours such as sesame and banana, the real ingredients.

The lady boss who is into the dessert business for 18 years. The shop has received lot of media attention for their signature mango shaved ice. Look around the shop and you see signatures and well wishes on the walls handwritten by customers. The older shop is just across the road.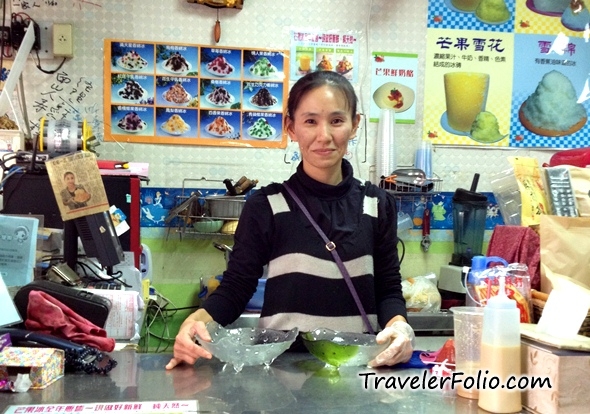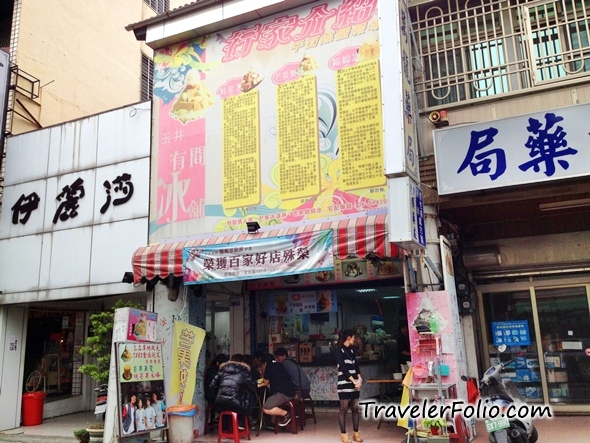 The shop front.

有間冰舖(玉井總店)地址:台南市玉井區玉井村中正路129號(玉井區農會附近) / 8:00~22:00
The last leg of this Taiwan trip ended in Taipei. From Tainan in the south, we took the High Speed Rail at Chia Yi up north to the capital city where we spent a night at Sato Castle (莎多堡奇幻旅館). Sounds like a fairy-tale, eh? This fantasy themed hotel looks like a castle, so prominent you can't miss it from afar. The hotel is within a few minutes walk to MRT Jiannan Road Station and the nearby shopping malls.
Each room at Sato Castle is uniquely designed with a theme. For a night, we immersed ourselves into Popeye's world. The guest room comes with a jacuzzi, a shower room, a sauna room and a private parking space where a jukebox plays 'I'm Popeye the Sailor Man' song to light up the mood! The room walls were painted and decorated with scenes you find from the classic Popeye cartoon. Even the furniture, fittings and bedsheets are thoughtfully themed around Popeye. Way too cute!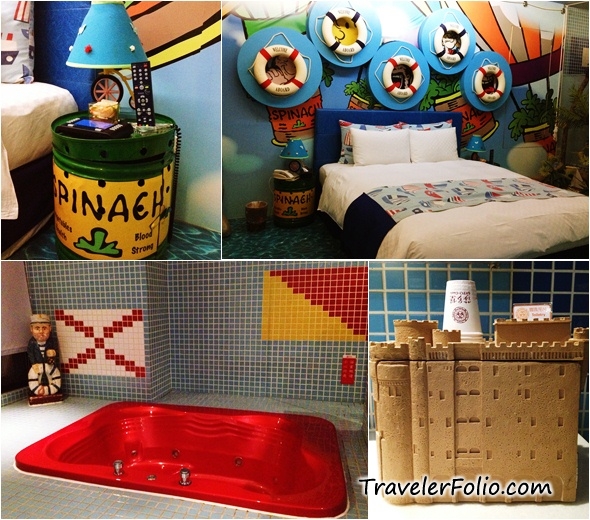 The mini Sato Castle is a cute storage box to keep the bathroom amenities.
See! We even have a light house and a huge anchor in the room!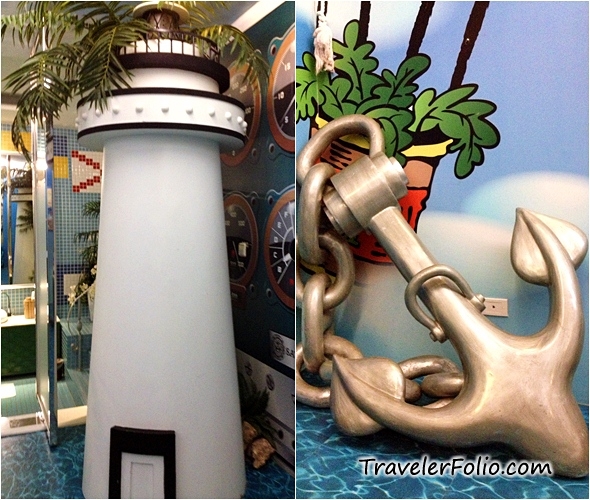 Sato Castle is very popular as hotel guests often request for the specific themed rooms that they want to book. Check out the website and book early if you want a memorable stay at one of the themed rooms.
Address: No. 75, Jìngyè 2nd Road, Zhongshan District, Taipei City, Taiwan
Web: www.sato-castle.com
Read all posts on Taiwan Trip 2013.