As we entered Tapas 1 Ha'am, filming was going on in the kitchen. It wasn't hard to know who the celebrity chef was – Jonathan Roshfeld was clad in black and wearing a bowler hat. He even welcomed us in and we were briefly interviewed in his cooking show!
Roshfeld is indeed famous in Israel and internationally acclaimed . He won the "Promising Chef" title awarded by "Food and Wine" international culinary magazine and is one of the judges of the reality show "Master Chef". The prodigious chef spearheads the group of highly rated restaurants namely Herbert Samuel, Tapas 1 Ha'am and Yavne Montefiore, all of which we were invited for lunch and dinner in Tel Aviv! Thanks to Adi Strauss, the owner of the group restaurants for the invitation. He is from Nahariya, our friend Keren-Or's hometown in the north.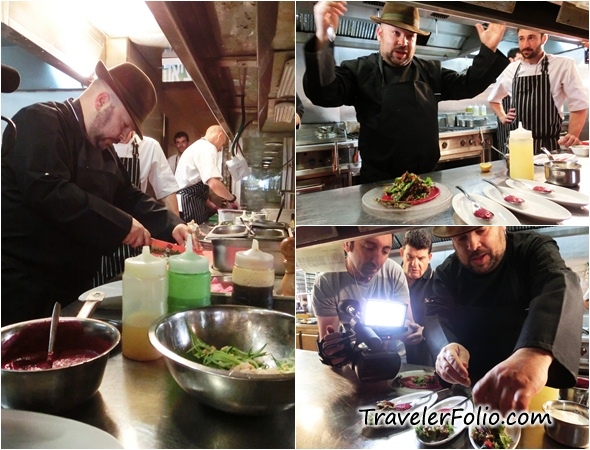 And Roshfeld whipped up some tasty seafood tapas for us to try.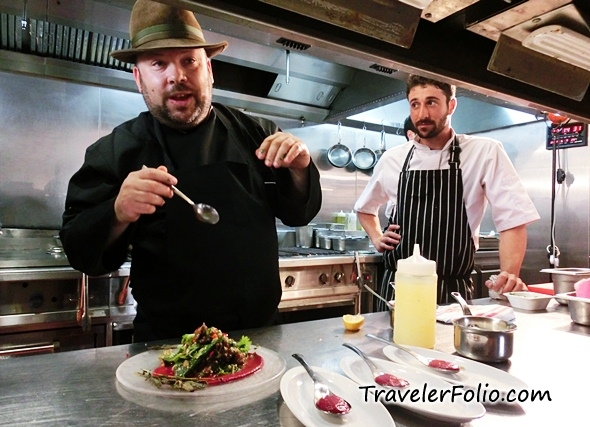 But wait! Flame was set to tease the senses before we indulged in the lip-smacking yummy!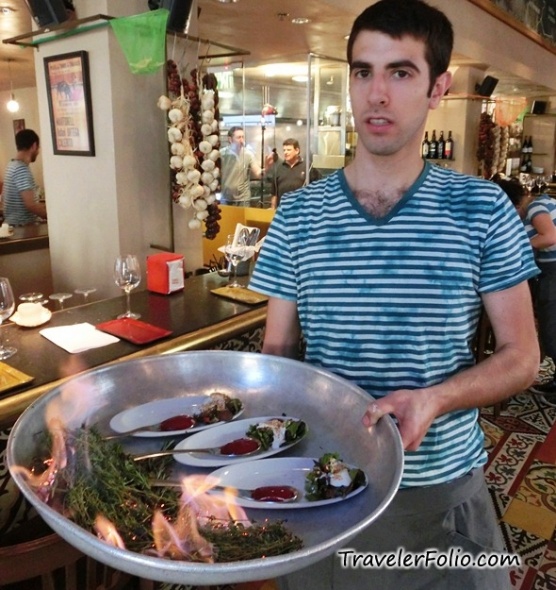 They say Tapas 1 Ha'am is the "happiest place" in Tel Aviv. We had dinner at the hip, mediterranean style tapas bar that was filled with music and laughters. It was almost full house.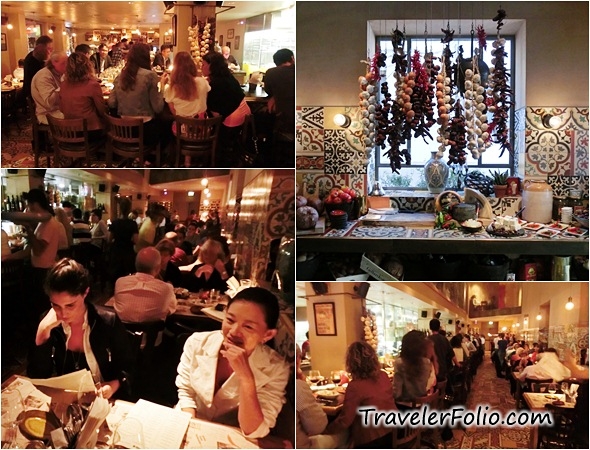 We were served with a good variety of tapas and desserts. You can even find oriental style tapas like sashimi on the menu. I would readily admit that the tapas were even better than those I tried at some recommended tapas restaurants in Barcelona
From the pretty food plating, fresh ingredients and different types of sauces, we could tell that the kitchen endeavours to serve the best food for happy customers. Leave some room for the signature ice cream sundae!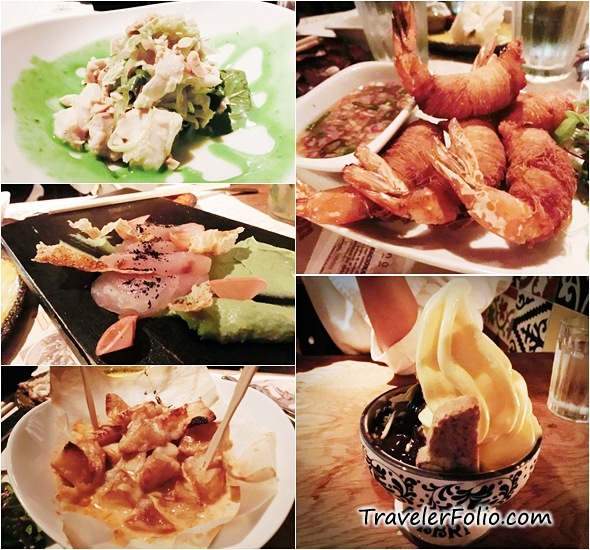 Tapas 1 Haam
Address: 27 Ahad Ha'am St. Tel Aviv
Tel: 03-5666966 | Opening hours: Sun-Thu, 18:30 – 1:00 / Fri 18:00 – 01:00 / Sat 12:30 – 01:00
Web: http://herbertsamuel.co.il/
Bistro Yavne Montefiore
A relaxing dining experience awaits at Yavne Montefiore that is centrally located in Tel Aviv. The bistro served Southern France and International culinary delicacies that will tantalize your taste buds.
Chef Roshfeld was so nice to join us for a small chat at the bistro, amidst his tight schedule.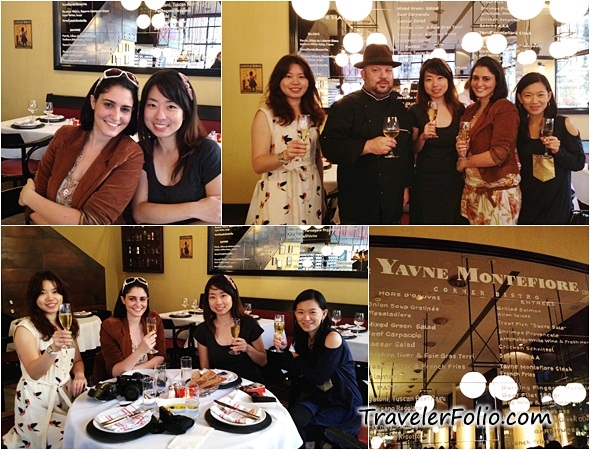 The flavourful, luscious fish and seafood soup with big, succulent prawns, mussels and squids was the highlight on the table. We are light eaters so the helpful waitress recommended grilled asparagus and potato gnocchi. Simple and unpretentious, the grilled asparagus were very juicy; the al dente gnocchi in delicate broth was comforting and appetizing. Besides what we had, one of the signatures is simmered lamb chop which you may want to try.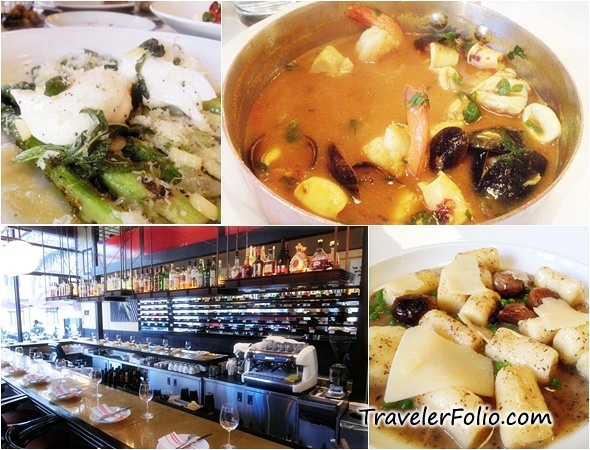 Bistro Yavne Montefiore
Address: 31 Montefiori St. Tel Aviv | Tel: 03-5666189
Opening hours: Sun-Thu, 12:00 – 00:00 / Fri 09:00 – 00:00 / Sat 09:30 – 00:00 / Brunch on Fri & Sat.
Web: http://herbertsamuel.co.il/
Herbert Samuel
Thumbs up for Herbert Samuel. Undoubtedly, we had the best food in Tel Aviv here. After a breezy stroll along the beach, we arrived at the fine dining restaurant that's located on the promenade just opposite the sea. This is the restaurant that offers high quality food and a breathtaking view of the Mediterranean Sea.
The extensive menu of Chef Jonathan Roshfeld features refreshing appetizers, seafood and grilled meats all presented in the most appealing ways. That set me thinking: cooking is fun!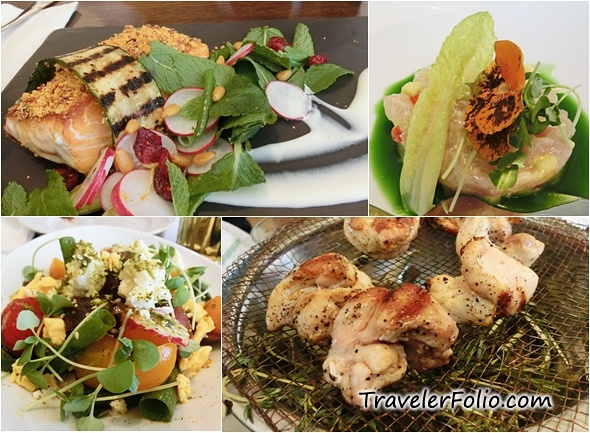 Grilled salmon, 'salad garden' and grilled chicken. / The chocolate and fruit sorbet desserts are our favourites too.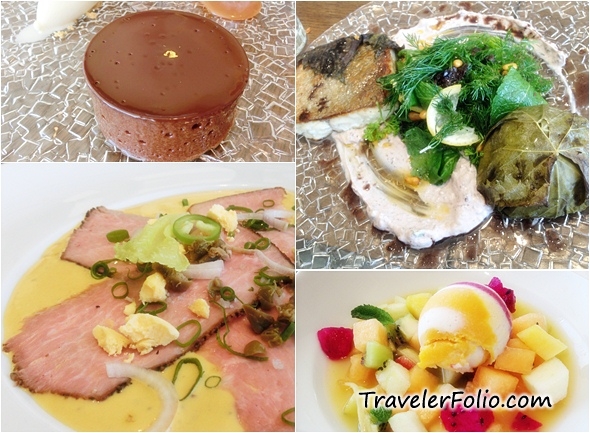 There's a wine bar where you can find a selection of wines from local and overseas brands.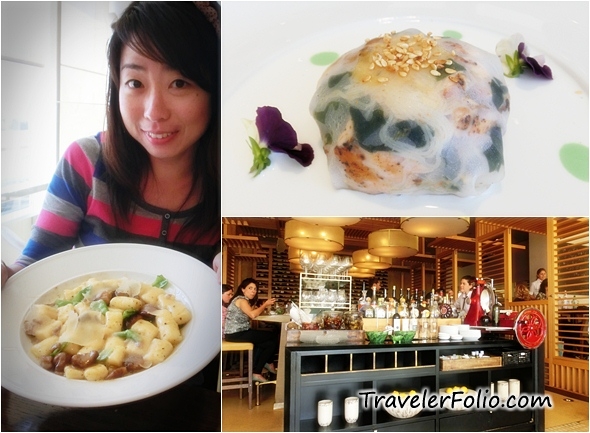 Herbert Samuel
Address: 6 Koifman St., Gaon House, Tel Aviv. | Tel: 03-5166516 | Opening Hours: Sun-Sat, 12:30 – 00:00 / Sun-Wed, Closed between 16:00 – 18:00
Web: http://herbertsamuel.co.il/
Chat over lunch with Keren-Or, Wendy, Laytin and Yuval Abramovich.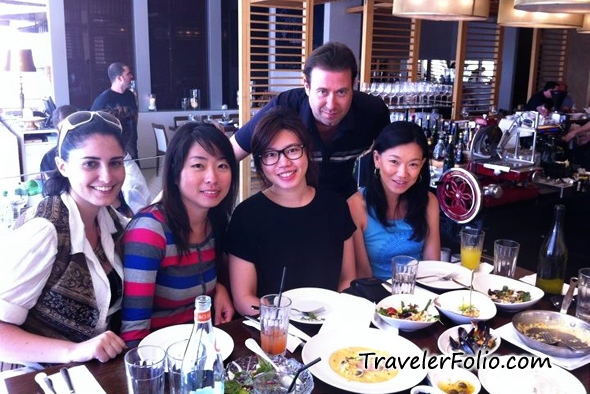 Made in TLV
We found a new friend in Tel Aviv! Yuval Abramovich is an Israeli TV star, a journalist and an author. He also doubles as the 'Tel Aviv Ambassador' as he owns a very unique souvenir shop named 'Made in TLV', which is a way to project Tel Aviv as a fun, entertaining and a tourist-friendly place to visit in the world.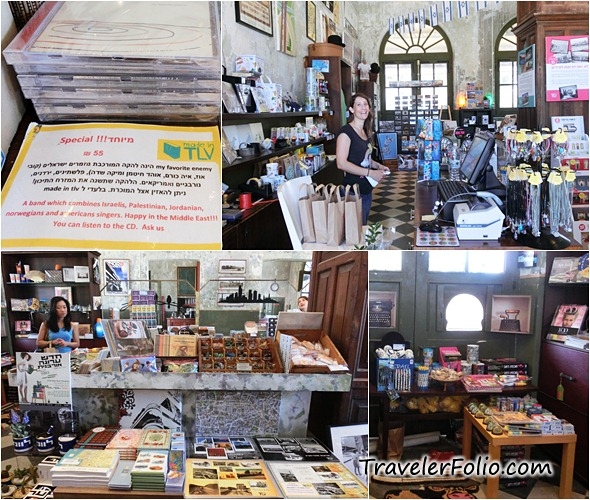 We were amazed at the interesting array of products on displayed at 'Made in TLV' souvenir shop. You can find lot of beautiful photos that depicts the past and present of Tel Aviv, T-shirts and bags among others mostly designed and made by Israeli artists.
'Made in TLV' souvenir shop is located at the old Jaffa Railway Station that's between the Tel Aviv Beach and Neve Tzedek.
Read all posts on Tel Aviv, the White City of Israel.