What do Finnair and Angry Birds have in common? For sure, many would know Finnair is the largest airline of Finland, but few would know that Angry Birds, the most popular iOS game ever, is developed by a Finnish company, Rovio Mobile. Thanks to Finnair, TravelerFolio (Jacky) is honored to be onboard the historical Finnair flight to fly with Angry Birds for their longest ever flight from Helsinki to Singapore.
Angry Birds Face-off Challenge
It all started with the Angry Birds Face-off Challenge, in the search for biggest Angry Birds fan in Singapore. The event was held in Terminal 3 of Changi Airport, where 8 challengers would battle their Angry Birds skills against each other to win the first ever Angry Birds Finnair return flight to Helsinki. Karen emerged as the winner for being the best player and also the biggest fan, and she represented Singapore to compete in the Angry Birds Asian Challenge to be played at an altitude of 10,000 meters on the way back from Helsinki.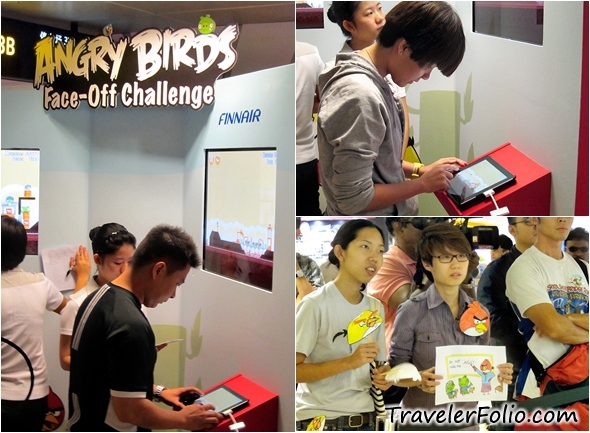 The Angry Birds challengers.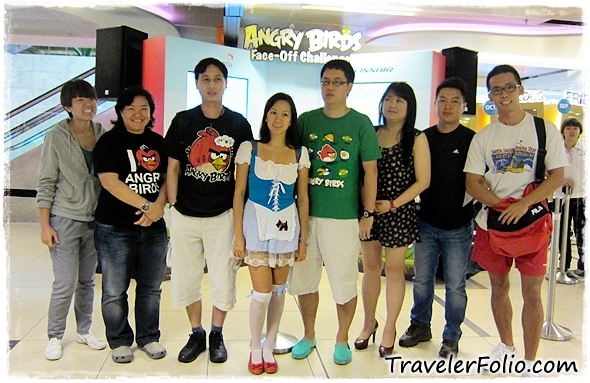 Karen, the winner of the Angry Birds Face-Off Challenge at Changi Airport Terminal 3.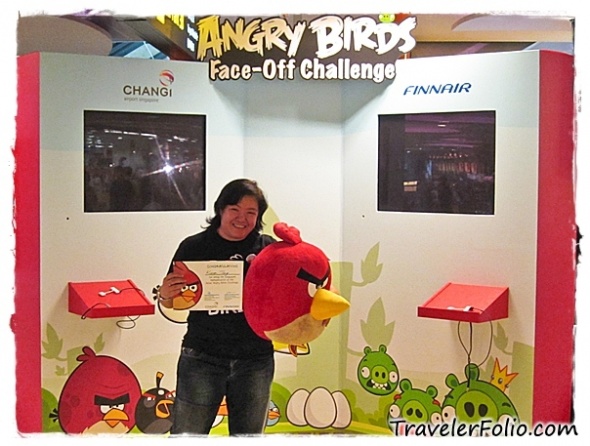 The Finnair Experience
Finnair has just started its daily non-stop service to Helsinki from Singapore since May 2011. The route by Finnair from Singapore to Helsinki takes approximately 12 hours only. In fact, it is the fastest and shortest connecting route to Northern Europe via the Helsinki-Vantaa airport, all because of Helsinki's geographical location in the Northern Europe. Travellers can then transit to other European destinations onwards via Helsinki.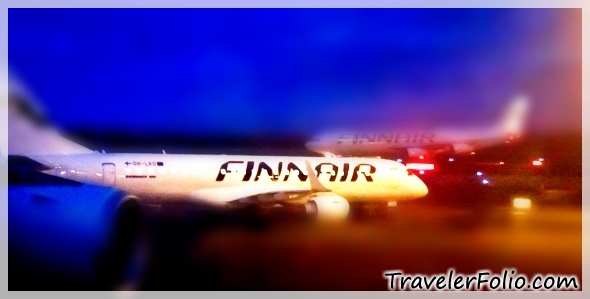 Although the departure time is at 11.30pm in the night, and by the time dinner was served, it was already past midnight. Or should I say it was supper? However, the meal on board was one of the best in-flight meals I have ever had. Dinner served with appetizers, hot & sour chicken soup, steamed snapper, wine of your choice and dessert. The sumptuous meal onboard finished with cappuccino while I watched a movie on the in-flight entertainment system and dozed off eventually…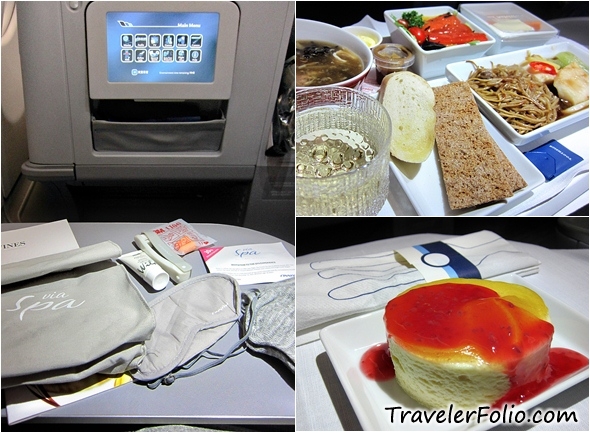 Breakfast: egg frittata with pumpkin, porcini and chicken, veal sausage, Portobello mushroom and yoghurt.


The full-flat seats in the business class ensure that you will have a good night sleep and sweet dream throughout the entire flight. When I woke up, the captain was already announcing that we almost reached Finland. The local time of arrival was 6:30am in the morning, just a perfect timing to start the day exploring Helsinki.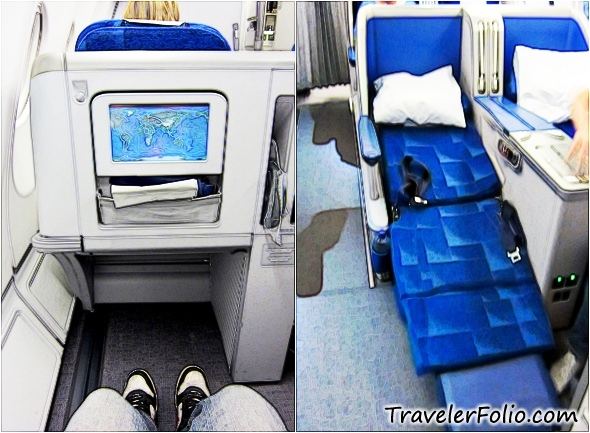 Award winning Finnair Lounge and Spa & Saunas
Do you know that the word 'sauna' is derived from ancient Finnish word referring to the traditional Finnish bath? Almost every household in Finland has at least one sauna right inside the house. The Finns really know how to enjoy life. The sauna culture in Finland has long history and according to Finnish lore, the human body is the most beautiful thirty minutes after a sauna!
If time permits, whether before, after or in-between your connecting/ non-connecting flight, pop in the award-winning Finnair Lounge and Finnair Spa & Saunas (located adjacent to the Lounge). What is a better way to relax after a long flight in the saunas? Better still, after sauna, you will most likely rest better on your next flight. It's totally worth it.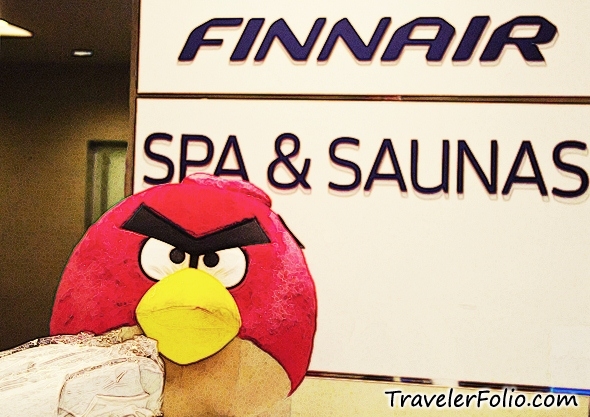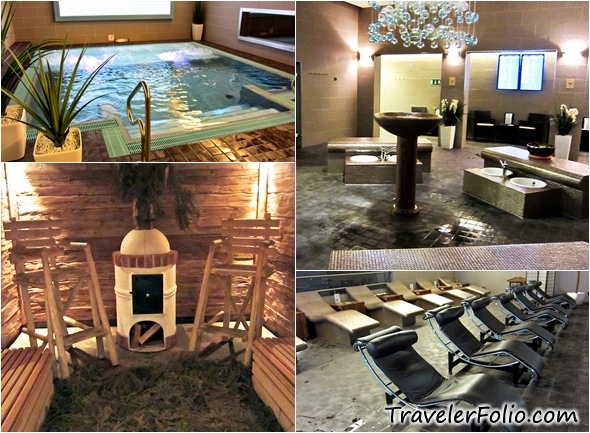 The unique and stylish Finnair Spa & Saunas, occupying 600 square meters, includes a mineral water pool, a cold water paddle pool and 4 different saunas:
Stonebath – hot mineral stones are dipped in a cauldron of water, thereby, billowing steam and filling the sauna room making a pleasant perspiration for skin.
Brechelbath – an old farmer cottage surrounded by cozy heat and breath in the scent of fir trees and mixed herbs.
Finnish Sauna – traditional Finnish sauna, but the heat is higher than normal saunas.
Steam Bath – modern version of genuine eastern steam bath.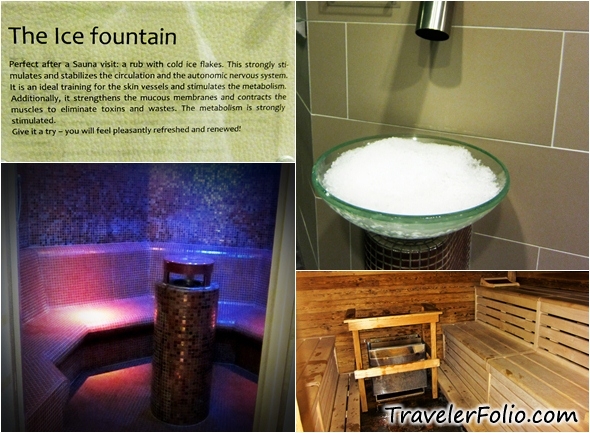 Due to time constraint, I didn't have the chance to try out the comprehensive well-being treatments, I would definitely like to try this out in my next trip.
Notes: Lounge access is free for oneworld Emerald, Finnair Plus Platinum, Finnair Plus Gold and Finnair Plus Silver and Business Class passenger. Access to Spa & Saunas is free for Finnair Plus Platinum members and oneworld Emerald card holders when travelling on a Finnair flight. All other passengers may enter for a fee. All treatments are payable. Swimsuits are available to rent. Please check your eligibility http://finnair.com
Angry Birds Asian Challenge in Helsinki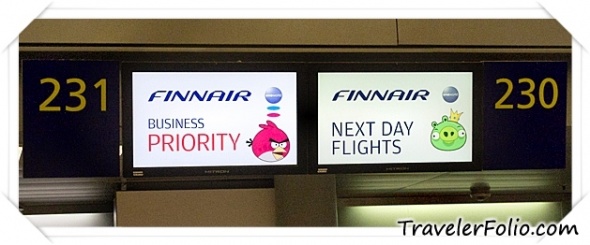 On the night of the Angry Birds Asian Challenge in Helsinki, the Angry Birds fans were all prepped up getting ready for their longest flight. Right from the check-in counter, Angry Birds were on the screen. After the immigration check-in, a live band was playing the Angry Birds theme song. At the Lounge, the Angry Birds gangs were watching out for the Pigs while the Pigs were hiding in almost every other corners. Even serviettes were printed with Angry Birds Asian Challenge (this has become the collectible item for Angry Birds fans). The waitress were dressed in Angry Birds aprons as well.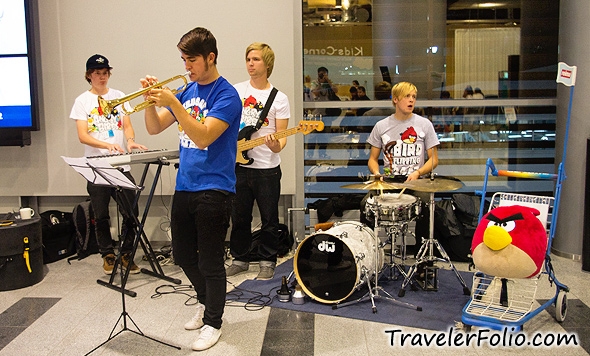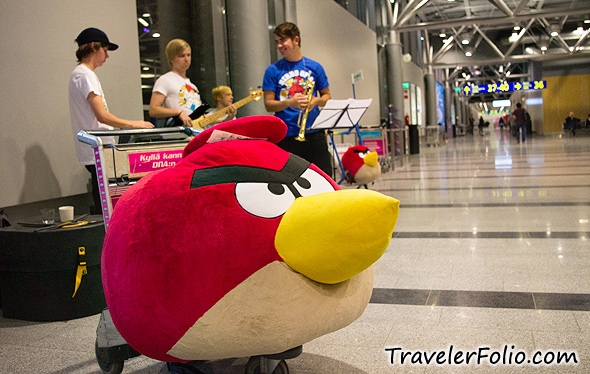 Waitress donned an Angry Birds apron.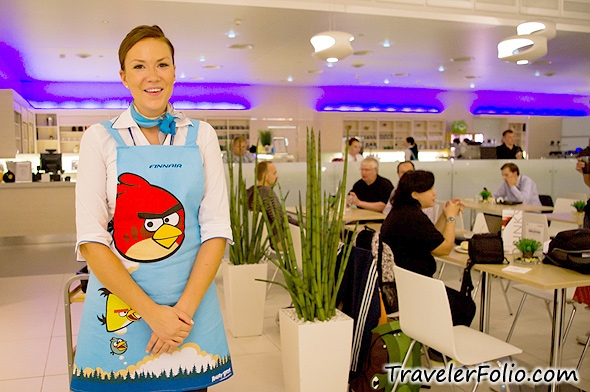 Angry Birds Asian Challenge with Finnair serviettes.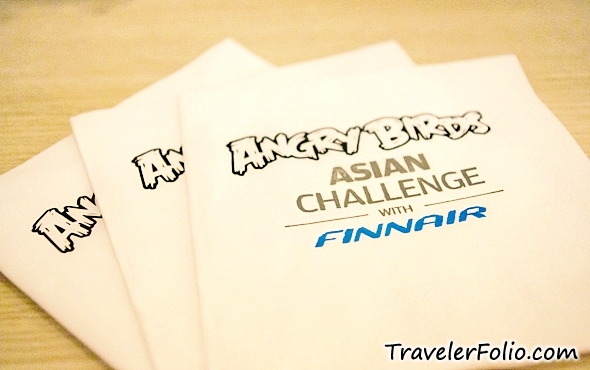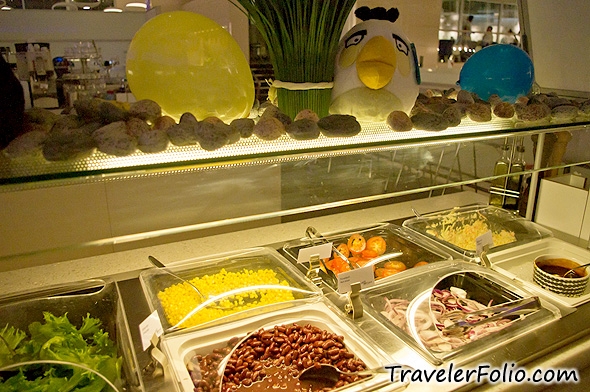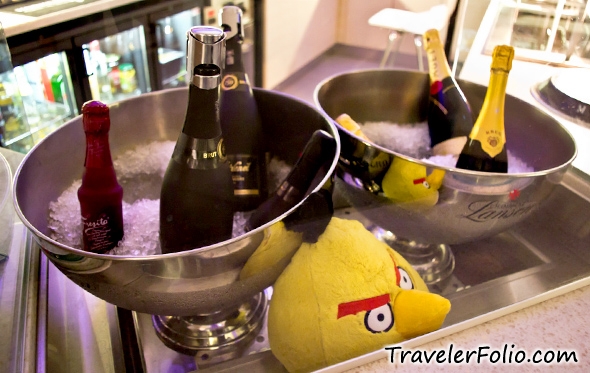 Flight from Helsinki to Singapore
On board, the first thing that got everyone so excited was because there was an Angry Birds plush toy on every seat!! I quickly went to my seat and grab mine – it's a green Boomerang Angry Bird (according to insider news, Boomerang Angry Bird is very difficult to get in the pirated market, so it a rare collectible item! For genuine Angry Birds mechandise, please shop at http://shop.angrybirds.com/)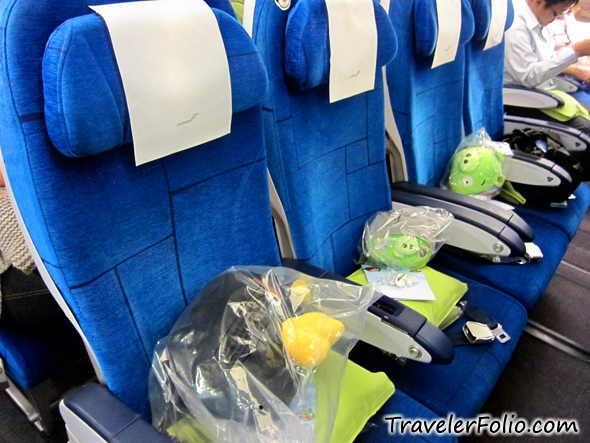 Angry birds nesting in the hair!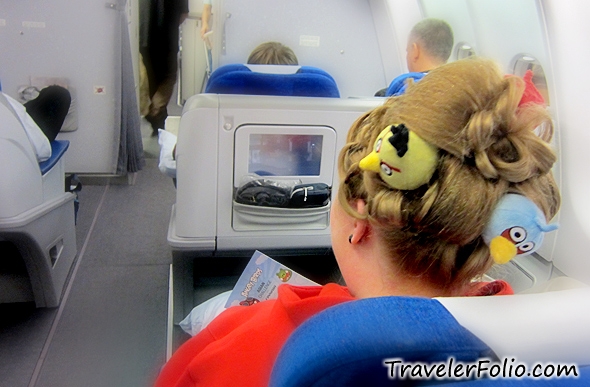 Mr Angry Bird has a seat (or two) on its own.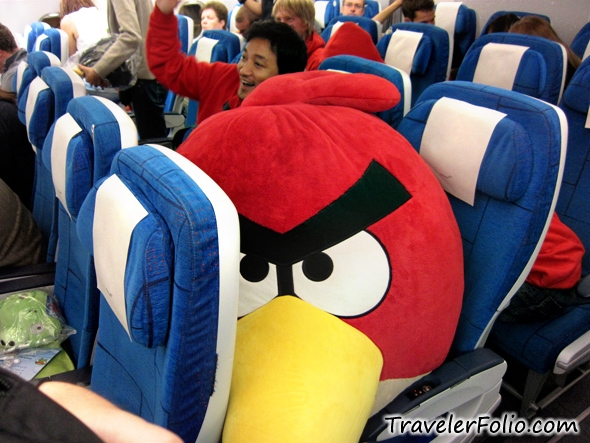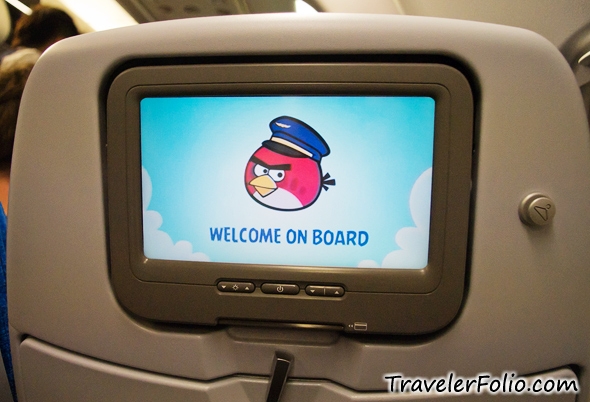 Every passenger on board could take part in the challenge if they choose to. Each was given a Samsung Galaxy S to practice, but they did not know which level of the game that would be challenged. During the actual challenge, they were given only one chance to practice the actual level and another for the actual scoring.
Being an Angry Birds fan, I took up the challenge. Mind you, it was difficult, it's a special level which exists only on Samsung device, and the background is "galaxy". The gravity is much smaller, making it difficult to estimate the distance, amount of strength and the angle! Kudos to the winner of the Challenge, a Finn seated at the last row, and I heard that he has not played the game in the last one year. All in all, it's was fun! The passengers were all very involved and having a great time at the altitude of 10,000 meters!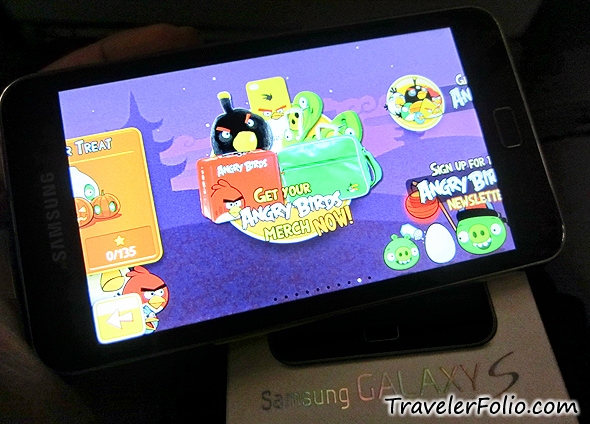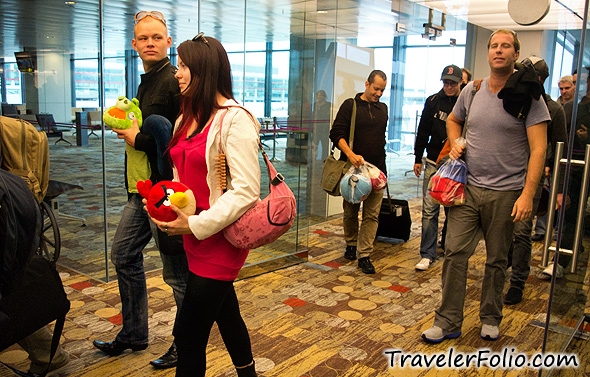 Singapore Changi Airport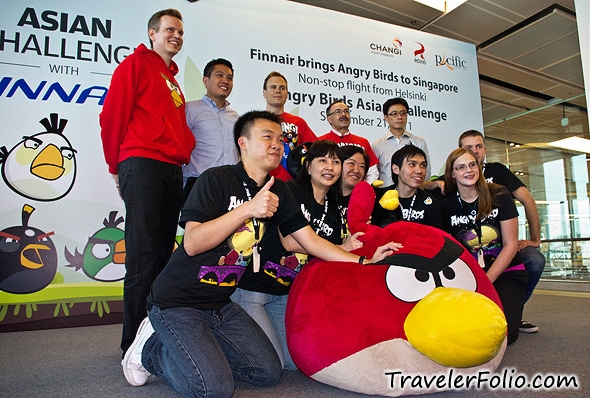 Angry Birds cupcakes @ Changi Airport.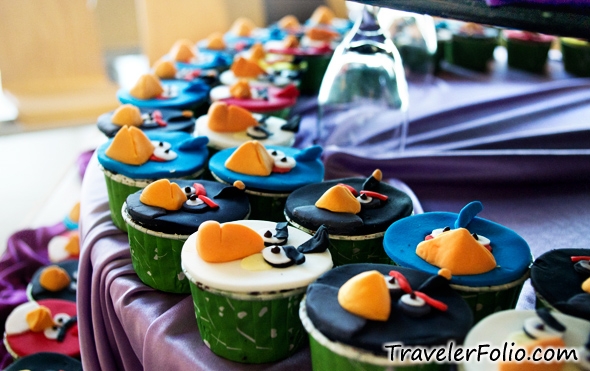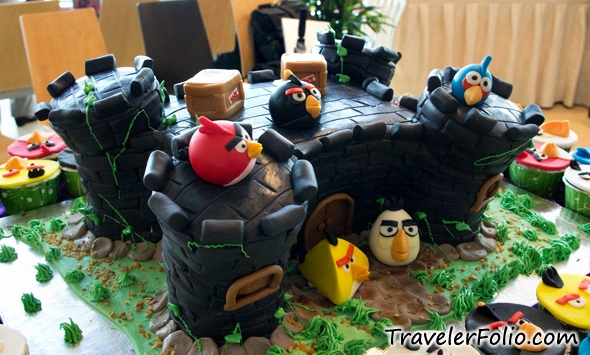 The Angry Birds adventure did not stop here, they are on the way to fly to space soon.
SQUAWK!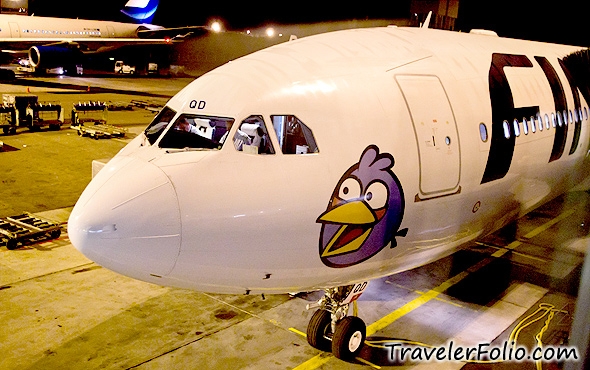 Check out http://www.finnair.com/sg for Finnair promotion airfares.
Read blog on Helsinki Christmas Sightseeing.