Edison Chen did it here. Together with New Zealander AJ Hackett, both the celebrity and the Father of Bungy Jumping broke two Guinness World Records at Macau Tower –"The Highest Bungy Jump from a Building" and "World's Highest Commercial Bungy Jump". In fact, AJ Hackett designed the two record-breaking bungy jumps and other electrifying adventures for Macau Tower.
Soaring 338-metre above the Pearl River Delta into the Macanese sky, Macau Tower is the 10th highest freestanding tower in the world and a member of the World Federation of Great Towers. It's not just a conspicuous tower used for telecommunication and broadcasting but an entertaining urban playground with retail shops, epicurean delights, a movie theatre, and thrilling activities for adrenaline junkies who pilgrimage to conquer Macau's highest summit!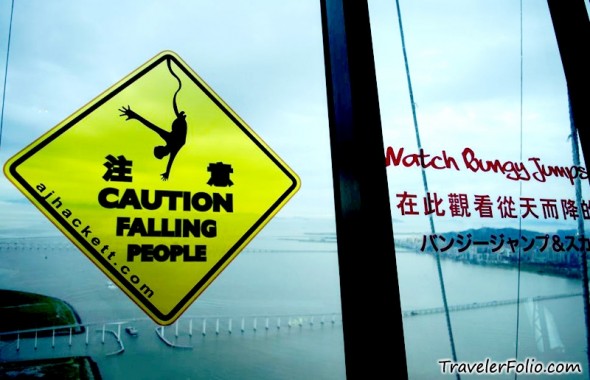 Overcome the fear of heights with Skywalk X if you dare. At 233-metre above ground, it's definitely not for the faint-hearted to catwalk on the metal grid that's just 1.8-metre wide without handrails around the main outer rim of Macau tower!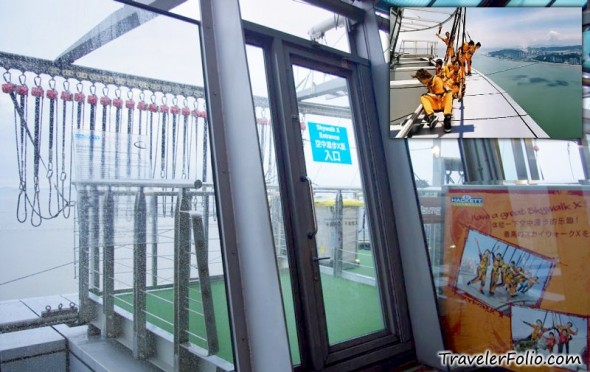 So, are you ready to challenge yourself to the next level? How about climbing another 105-metre up the mast's vertical ladders and strike a victory pose at 338-metre above the city? Macau Tower is the only tower in the world where you can Mast Climb like King Kong atop the Empire State Building in New York!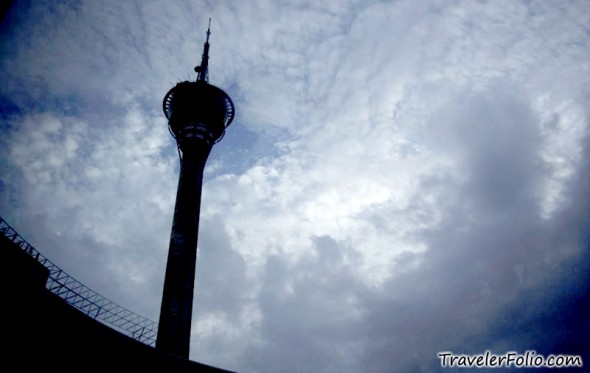 The fastest way to get down Macau Tower is to jump down… safely! Test the gravity. Bungy jump or SkyJump off from the tower's outer rim at 233-metre high and be part of the Guinness World Records too! As the saying goes, "Why live on the edge when you can jump off?"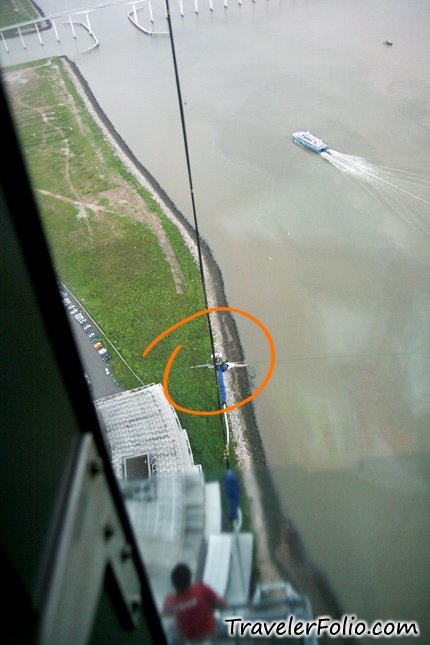 Speaking so much about bungy jumping, I'm the one who chicken out. Well, at least I am "gutsy" enough to step on the glass floor at the Observation Lounge. Yeah BIG deal! Just imagine that you are walking on air untethered at 233-metre above ground! Frankly, it's hair-raising to look down the glass floor from one of the tallest towers in the world.
Top view of the roads leading to different parts of Macau.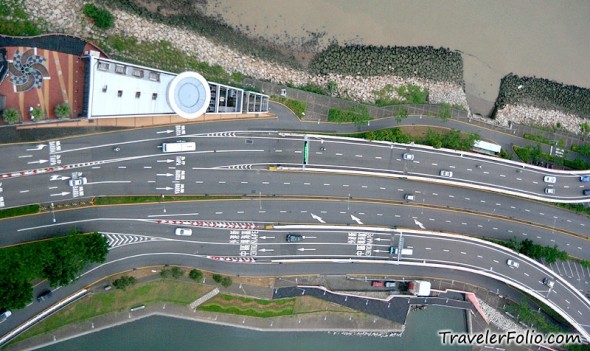 The base of Macau tower as seen from the glass floor at the Observation Lounge.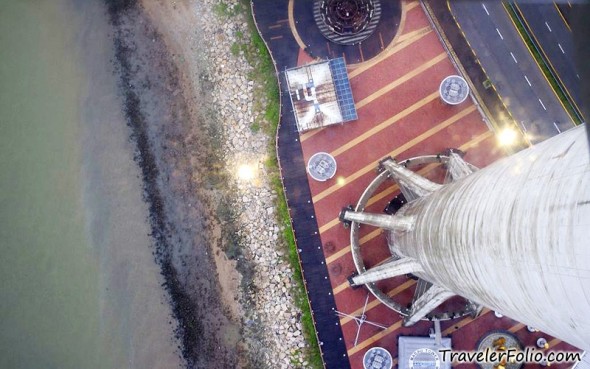 Nothing beats the spectacular panoramic views of Macau from uncommon heights. Look out for the iconic landmarks and historic sites of Macau. On a clear day, you can see 55km away from the highest viewing deck.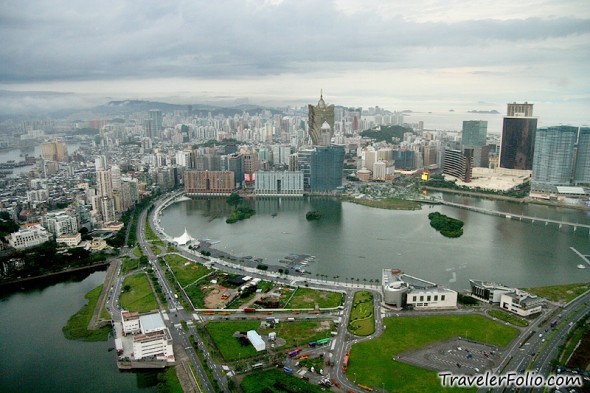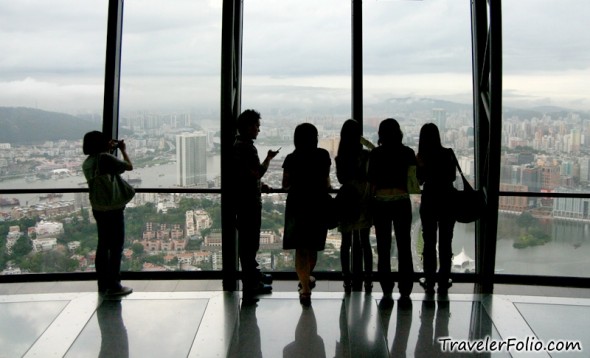 Ponte de Sai Van or Sai Van Bridge – the 2.2km long bridge that connects Taipa island to Macau Peninsula. If the other two Macau-Taipa bridges are closed due to typhoons, the enclosed lower deck at Sai Van Bridge is used.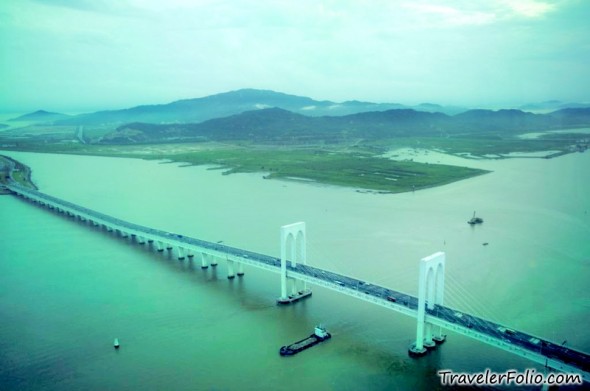 360° Café is the highest revolving restaurant in Macau where you can soak up a full 360-degree scenic view with shimmering lights of casinos and edifices while indulging in a gastronomy of international and local buffet cuisine. This is the best way to end our tower tour!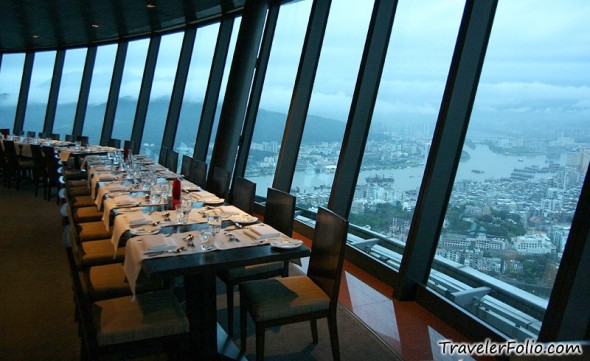 The glitzy night of Macau Peninsula, with Casino Lisboa, Grand Lisboa, Wynn and other famous hotel casinos in the scene. The sky was overcast with occasional rain.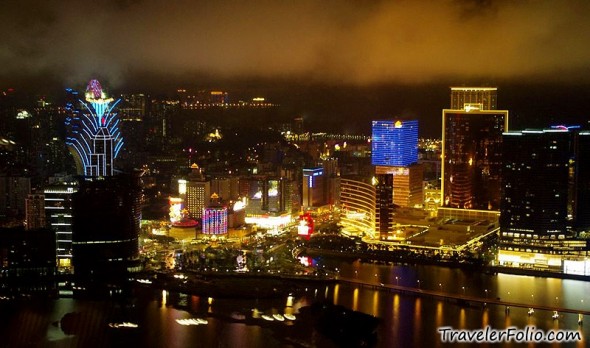 A delightful variety of mouth-watering delicacies to feed the hungry stomachs.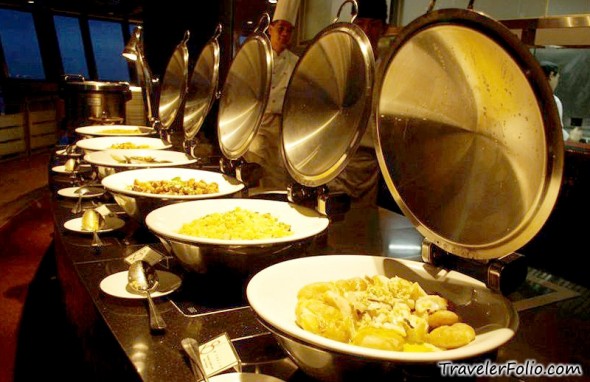 Different kind of seafood to choose from. I love the steam prawns!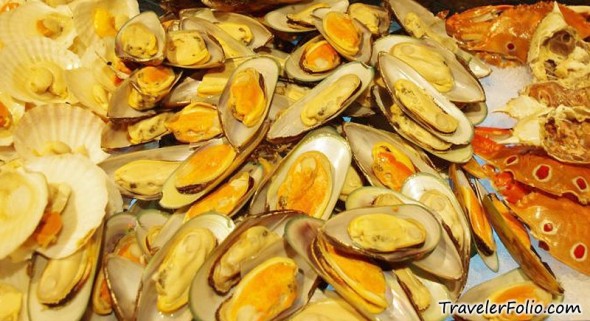 Relish an array of delectable desserts including some flavourful Portuguese pastries. I love their dessert treats!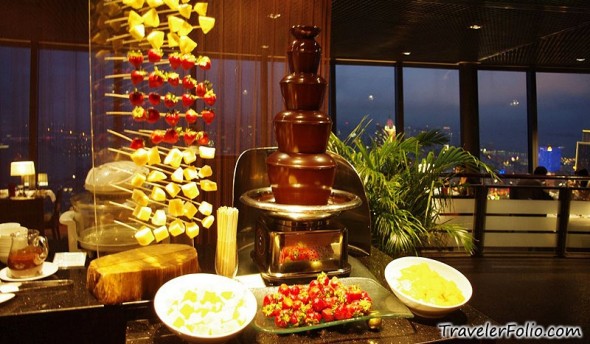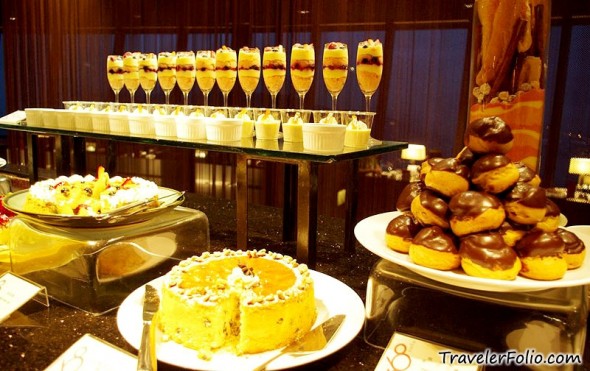 Location of Macau Tower: Largo da Torre de Macau, Macau
Tower opening hours: 10am – 9pm (weekdays) / 9am – 9pm (weekends and public holidays)
Admission fees include entrances to Tower Observation Deck, Observation Lounge(Level 58) and Outdoor Observation Deck(Level 61): Adult – MOP100 / Senior citizen – MOP 50 / Child – MOP 50 / Infant -free.
Next Post: Macau Grand Prix Museum
Read Macao Science Center
Read all posts filed under Macau.