Below are some travel tips and advices given by the locals and experiences gained during my trip in Ho Chi Minh City or HCMC (abbrev.), aka Saigon, in Vietnam. As I did not travel much around HCMC, please feel free to contribute your tips in the comment box here, so that I can add on to benefit everyone who is going there.
1. Crossing the roads with full of motorcars!
HCMC is the capital of motorbikes, with motorists ignoring red lights, not stopping for pedestrians on marked crossings and driving on the foot paths. We hardly saw any traffic lights for pedestrians, so most of the time, we really have to watch out for the traffic and cross carefully.
Ok, how to cross the roads in HCMC? My two-cent worth of advice:
If you are crossing a two-way traffic, look at your left first for any oncoming motorbikes and other motorcars, cross at a normal pace so that the motorists can sense your pace of crossing and usually, they will slow down when they are near you to let you cross the road. Then when you are near the middle of the road, look at your right for the opposite traffic. Similarly, cross steadily at a normal pace, the motorbikes will slow down to let you cross.
However, when a car, bus, or bigger vehicle is going to cross your path, you have to be extra careful. I will only cross the road after such vehicle crosses my path. It's sheer madness, yet if you cross steadily like I mentioned above, rest assured that you will always make it to the opposite side of the road!
2. What to do during your stay in HCMC?
Cu Chi Tunnels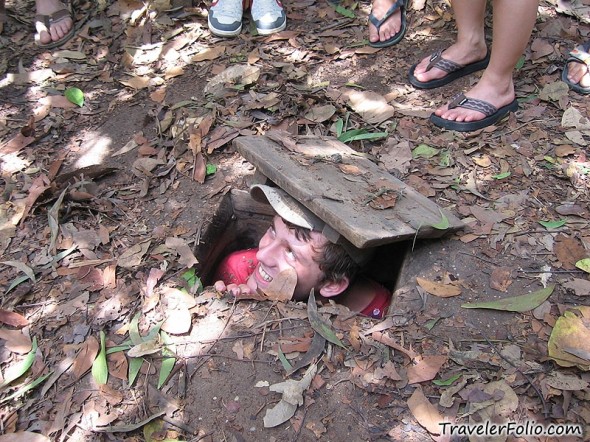 This is a must-see attraction! Cu Chi used to be a bitter battle ground for many years during the Vietnam War. It's an underground village with an intricate network of over 200km of tunnels at Ben Dinh, 50km from HCMC. You will get a chance to crawl in the tunnels! It is recommended to take a bus tour to Cu Chi Tunnels instead of taking boat. Price for a half-day trip to Cu Chi Tunnels: USD 5 per person, inclusive of air-con bus and tour guide; exclusive of Tunnels admission and video session fees at 80,000 VND, which is around USD 5.80. Departs daily. (Read post on Cu Chi Tunnels!)
Full-day Mekong Delta
If you like boat trips, this maybe the right one for you. I have never hopped onto so many boats within a day in my life before! If you don't live in a tropical country, you can opt for the trip with tropical fruits tasting. If you live in a tropical country like me, those fruits are as common as what we always eat. Don't worry, no durians for the faint-hearted! … And I love durians!
Along the Saigon River, you will see typical Saigon houses at the river banks. This trip also includes a cycling session around the village. Again, if you understand the word "kampong", it's just like cycling in a kampong!
Price for a full-day Mekong Delta tour by boat – USD 17. This can be cheaper depending on the mode of transport that you take, eg. by bus. But it's recommended to take the boat trip to enjoy the sceneries. Time: 7.45am to 7.00pm.
City tour
In fact, we did not join any city tour. The main attractions like Reunification Palace, the Notre Dame Cathedral, the Central Post Office, City Hall are easily accessible by taxis within District 1. You may even unknowingly cross the paths of the attractions while doing some shopping and dining in the area.
Price for the full-day City Tour: USD 8 per person, inclusive of air-con bus, tour guide and lunch; exclusive of any entrance fees. Departs daily. Time: 8.30am to 5.00pm.
Prices quoted for the above tours are based on Delta Adventure Tours packages. This tour agency is recommended by the staff at Blue River Hotel as a reliable tour agent. Another popular tour agency is Sinh Cafe. Their prices are similar too. Book the local tour packages when you are in HCMC, you will save a lot more than most online bookings in your own country.
3. Accommodation – Review on Blue River Hotel
I read about reviews on hotels in TripAdvisor and came across Blue River Hotel which is ranked at no. 2 out of 116 hotels (effectively on 28 May '08). So, I picked this hotel and stayed there throughout our Saigon trip. Blue River Hotel is conveniently located in the backpackers' area in Pham Ngu Lao Str. District 1 HCMC.
The backpackers' area, or Western Quarter, has plenty of cheaper eateries, cafes, pubs and travel agencies, all within walking distance. A plus point for budget travelers like us is – a room for two at Blue River Hotel is only USD20 (without window view). Most importantly, the hotel is clean, friendly service, has hot bath, a TV with plenty of channels like Chinese news, English movies and surprisingly, English Premier Leagues. Though it's not the cheapest, I can say that the staffs are some of the friendliest and most helpful people I have ever met. They are just like your helpful friends. Photos of Blue River Hotel.
The famous Ben Thanh Market is about 15 mins of walking distance away from Blue River Hotel. It's easy to get a taxi at the hotel area too. For about USD1, it will bring you around District 1.
4. Taxis in District 1, HCMC
If you are staying in district 1, three types of Taxis that you should look out for at a cheaper rate, are:
• Vinasun Taxi (white) / Tel: 8272727
• Vina Taxi (yellow) / Tel: 8111111
• Mai Ling (green/white) / Tel: 8262626
Once we took a taxi that is not mentioned above, we were charged almost double! The meter was running fast!
5. Bargains at Ben Thanh Market
After visiting a few shopping malls, boutiques and stalls, I would say Ben Thanh Market has better bargains. Some say that Ben Thanh Market is a tourist trap. But if the market is conveniently located to where you stay, I think it's still fine to buy some souvenirs there after bargaining. I may not be a hard bargainer, but I hope the following pointers can help:
If you want to buy coffee powder, you may ask them grind the coffee seeds on the spot. Different coffee packages are priced differently; you just want to make sure that you are buying the "right" coffee. I could get a pack of 1kg of freshly grind Blue Mountain coffee powder at USD 10. Blue Mountain is said to be more expensive than Mocca and Arabica coffee powder. Who knows, you could get it cheaper than me.
If you want to buy souvenirs, bargain for the lowest price at a few stalls. Compare and go back to the one that offers the best price.
For ladies, a pair of handicraft wooden shoes (black with seashells designs) can cost USD 3. That was what I paid for.
For ladies, two hair-bands with diamond crystal designs can cost USD 5. That was the best I could get after much haggling.
A set of Vietnamese traditional costume (top + bottom) for a seven-year-old girl can cost USD 5. No reduction even after much haggling!
A handicraft wooden box with seashell design and 10 pairs of wooden chopsticks can cost USD 5.50 if not lower. I bought the set at USD 6 after much reduction from USD 10, and it was still not the best bargain.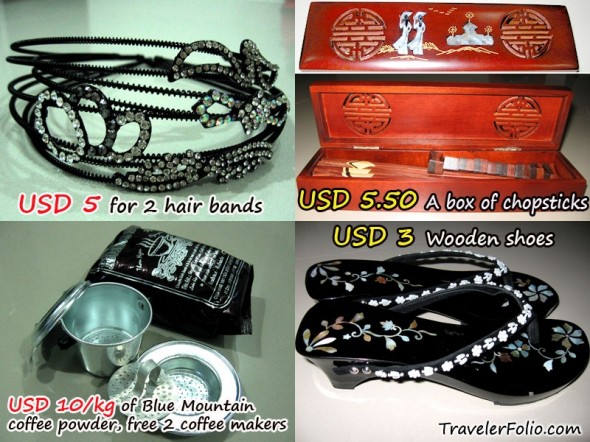 Happy bargaining! Remember to check your goods to make sure that they are in good condition. The sellers are usually very fast in packing your goods even before you could check them for any defects! I had such bad experience with my two pairs of wooden shoes that I had to go back to Ben Thanh market the next morning to fix them.
An additional notes
It can cost as low as 12,000 VND for a 5-litre tub of pure drinking water at the supermarket. We bought an "expensive" 5-litre tub at 20,000 VND at a grocery shop along the night market near Ben Thanh Market. The night market is not as popular as Ben Thanh Market in the day. Ben Thanh Market only opens until around 6pm. Some suggest that An Dong market near Chinatown is better and bigger than Ben Thanh Market, though the latter sells certain things that you probably can't find elsewhere, such as some handicraft souvenirs and lacquer ware.
6. Where to eat?
Just like in any non-English speaking countries, if you see an English menu, be prepared to pay more for the food. We had a meal at Pho 24, a middle-range restaurant with quite good food. One bowl of soup noodle with chicken/beef costs around 38,000 VND. Raw vegetables such as bean sprouts, lime, basil and peppermint leaves are served in a plate. You may add them into your soup.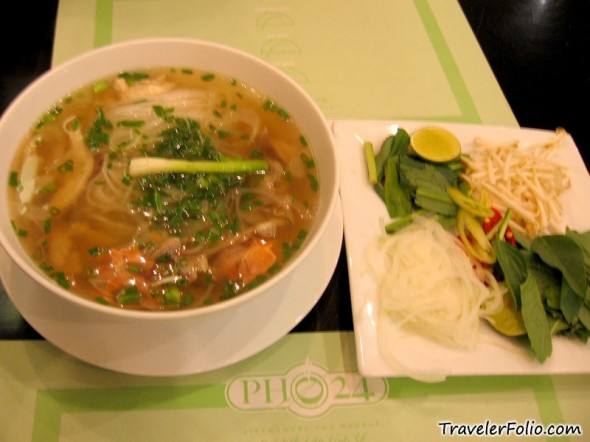 We also had lunch at Quan An Ngon restaurant, which is located somewhere in between Nguyen Du St and Han Thuyen St.. This restaurant is featured in a popular Taiwanese variety show and is a touristy restaurant with a nice ambience. But I find it rather expensive with the Vietnamese food that it offers. The quality of the food is just average; however, you may want to try the food there. You may walk to Notre Dame Cathedral and the Central Post Office nearby.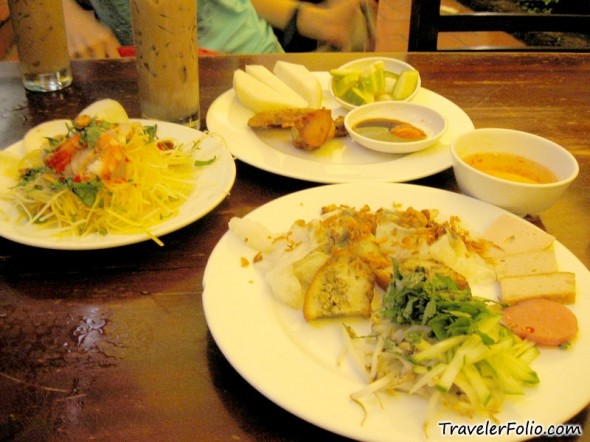 Try the Vietnamese Coffee. It's strong! The downside of it is, after the coffee has finished dripping from the steel container into the glass, the hot coffee turns much cooler…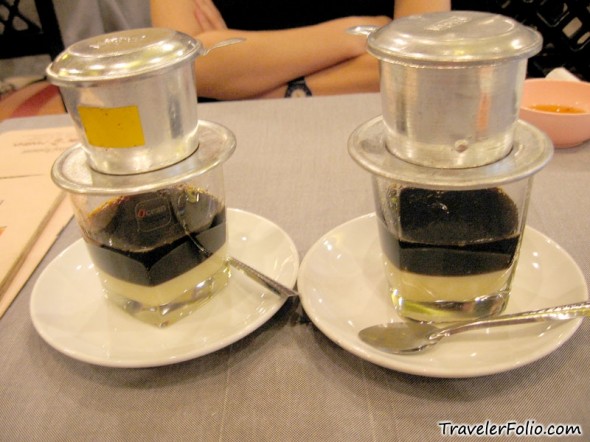 Another popular restaurant to try the authentic French cuisine is Le Caprice, located on the 15th floor of Landmark Building, where you can view the Saigon River. Lunch should be around USD 30 and dinner costs around USD 50 per person. My friend had tried the food and strongly recommends this restaurant. If you are staying in the backpackers' area like us, you can try the food and drinks at La Vang Cafe located at 169 Bui Vien St. Prices on the menu are reasonable, with good service.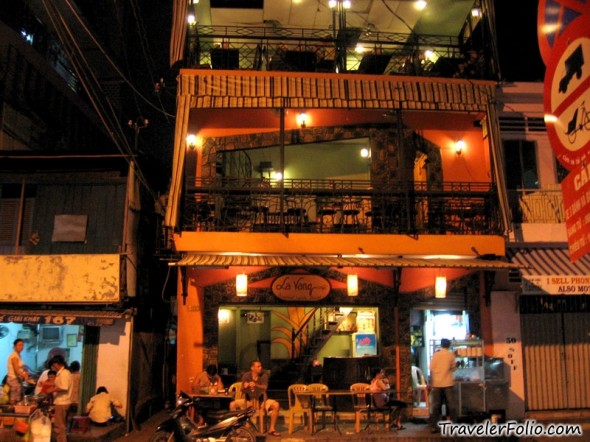 Generally, female travelers like us feel safe walking along the streets in HCMC, especially in District 1. However, just like touring in any countries, using common sense is important. Avoid dark lanes and… watch out for the traffic!
If you have any, please post your suggestions about traveling Vietnam in the comment box below, so as to benefit everyone who is planning to visit Saigon, Vietnam. Thank you!
Also read 15 tips for an overseas trip!