Here is a lengthy food list from our 4-day trip in Macau. My eyes were bigger than my stomach but we still missed out some great food out there. If you've any recommendation for the local food scene, feel free to leave them in the comment box.
1) Wong Chi Kei (黃枝記) – one of the popular names in Senado Square (across MacDonald). The noodle house is famous for hand-making noodles with bamboo stick and one of their signature dishes is shrimp roe noodles (蝦子麵). The noodles are cooked al dente and sprinkled with salty shrimp roe, giving the dish some natural umami flavour. Personally, the noodles are a bit too firm for me.
On the menu, you can also find congee, fried rice, pork chop bun as well as other specialties like deep fried fish balls and deep fried wonton – the biggest wonton I've ever seen in my life!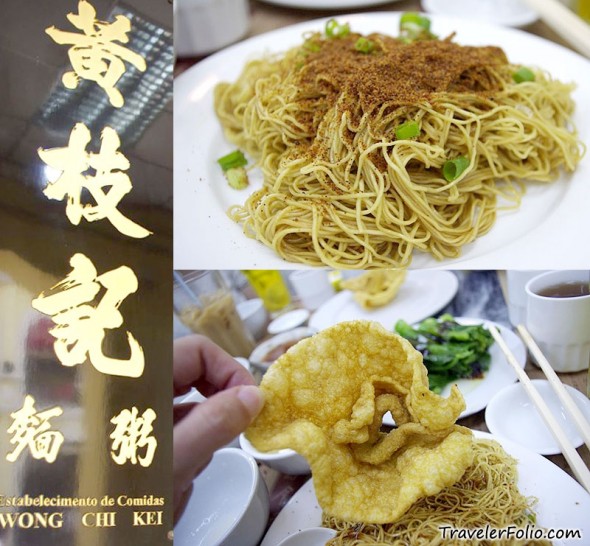 2) One of the highly recommended desserts in Macau is steamed milk pudding from Yee Shun Milk Company. There are a few Yee Shun chain outlets in Macau and the main branch is conveniently located at Senado Square near the fountain. If you can read Chinese, the exact name of this dessert is "shuang pi dun nai" (双皮炖奶) which colloquially means "double skin steamed milk". The "double skin" refers to bean curd sheets.
The steamed milk pudding is served either hot or cold. If you don't like the taste of milk (like me!), try the hot one. The texture of the pudding is satiny smooth and even softer than soya beancurd! Needless to say, other desserts served in the chain look tempting too. I like the cold papaya milk drink.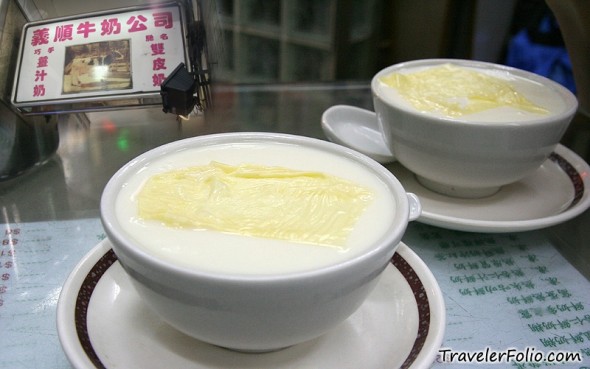 3) Our gastronomy journey through Macau kicked off with some fantastic Portuguese egg tarts at Lord Stow's bakery (安德魯餅店葡塔) on Coloane island. Yes, Lord Stow's bakery is the award winning one that started the Portuguese egg tart warfare in the region. Margaret's Cafe e Nata is also very well known for its Portuguese egg tarts too. In fact, the owner – Margaret – is the Chinese ex-wife of Andrew Stow (dubbed "Lord Stow").
Margaret's Cafe e Nata is centrally located near Senado Square. Some say it's near Grand Lisboa hotel. However, don't worry if you can't find the cafe. Just ask the locals around the area and I believe you will get the right direction to this famous cafe. It closes at 8pm.
Location: G/F, 17A Rua Alm Costa Cabral R/C, Avenida de Almeida Ribeiro, Macau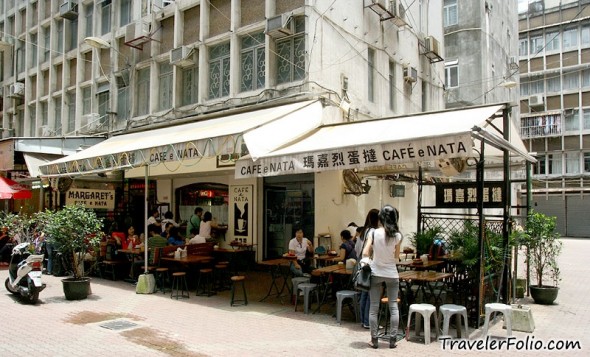 Margaret's Portuguese egg tart is very rich and flavourful with soft caramelized egg custard filled in crisp puff pastry case. Personally, I find the egg custard sweeter and the puff pastry thicker and oilier in comparison with Lord Stow's Portuguese egg tarts. So, I prefer the latter. Check out my post about Lord Stow's Bakery at Coloane island, Macau.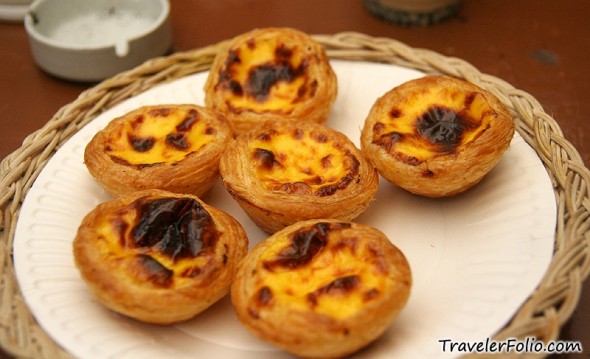 4) Head down to Rua da Felicidade in Macau peninsula for plenty of yummy local food! Also known as Happiness Street (Fu Long Xin Jie), the area was once a red light district many decades ago. Now it's an epicurean paradise booming with food vendors.
It was the first time I heard about shrimp roe noodles and tried the dish at Wong Chi Kei (黃枝記) in Senado Square. Later, we were recommended to taste this local specialty at Cheong Kei Noodle House. People were queuing up at the entrance and the small restaurant was very crowded. Three of us had to share a little table with two other customers.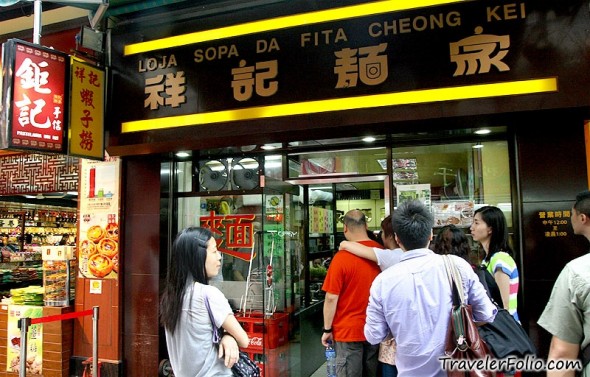 Cheong Kei's shrimp roe noodles have a good savoury taste like Wong Chi Kei's. But I prefer Cheong Kei's shrimp roe noodles as the noodles are springy yet softer, in other words, not as firm as Wong Chi Kei's. What's more? The noodle house is also famous for poached fish skin which, unfortunately, we forgot to order!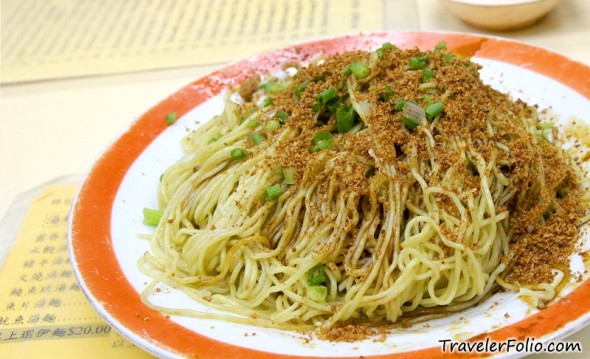 4) We had an insatiable appetite in Macau. Within minutes walk down from Antonio's (Portuguese restaurant) to Rua da Cunha (Souvenir Street; 氹仔官也街), you will step into one of the famous food streets in Taipa ( 氹仔).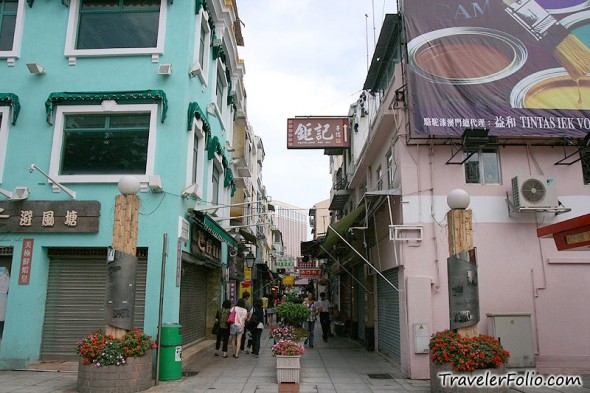 Small and unpretentious at a corner of the street, Gelatina Mok Yi Kei is popular for its desserts like durian ice-cream, puddings and jellies.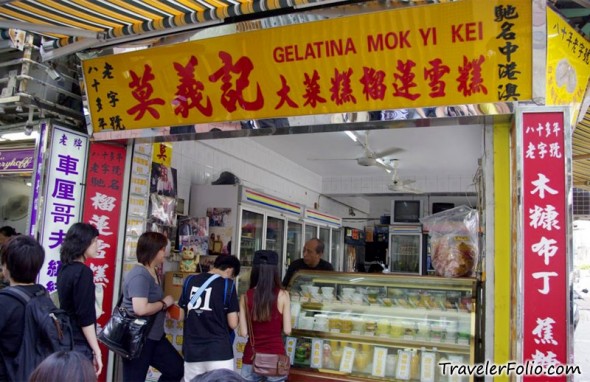 Pastelaria Fong Kei (晃记饼家) – This bakery has been around since 1906 or even earlier! You must try their pastries such as "bridal cakes" (老婆饼), "meat puff pastry" (肉切酥; It's a little hard for me to translate the names!), almond cakes and the list goes on. If you are Chinese illiterate, just pinpoint and pay! I only regretted for not buying more goodies from Fong Kei.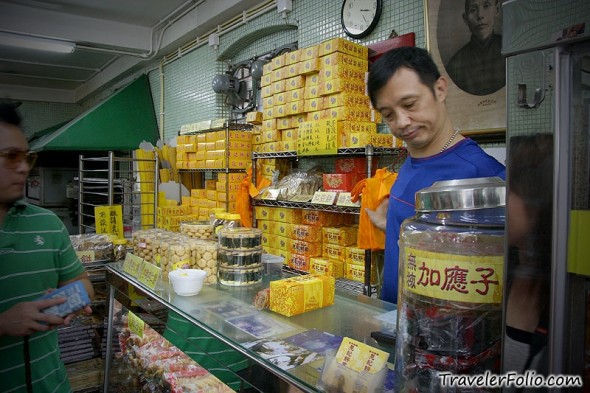 6) You can find Koi Kei Bakery (鉅記手信) at many places in Macau. It seems quite commercialized with tourists flocking to the chain stores and leaving with big bags of goodies! The chain stores are packed with an extensive selection of snacks, cookies, pastries and other confectionery products which you can sample for free.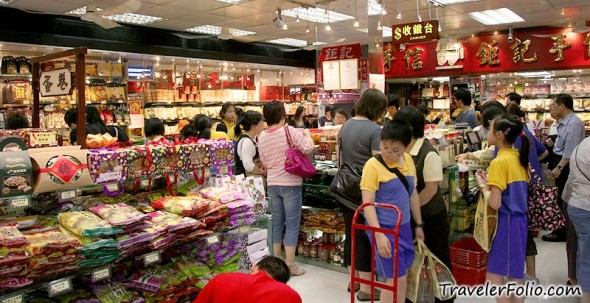 The serious baker in action. The bakery is well-known for its almond cakes and egg rolls.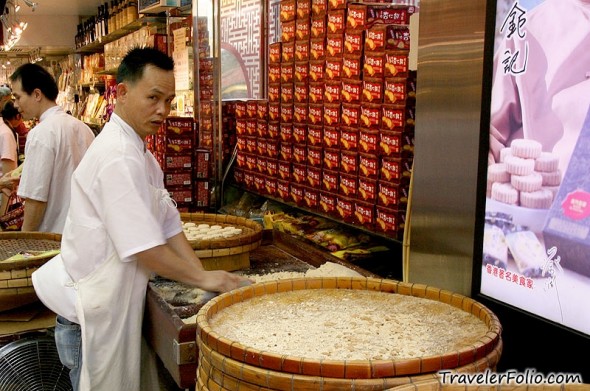 7) Another popular bakery chain is Choi Heong Yuen Bakery (咀香園餅家). Like Koi Kee Bakery, the bakery chain stores can be found all over Macau. Almond cakes, egg rolls and bridal cakes are just a few to name on their shelves.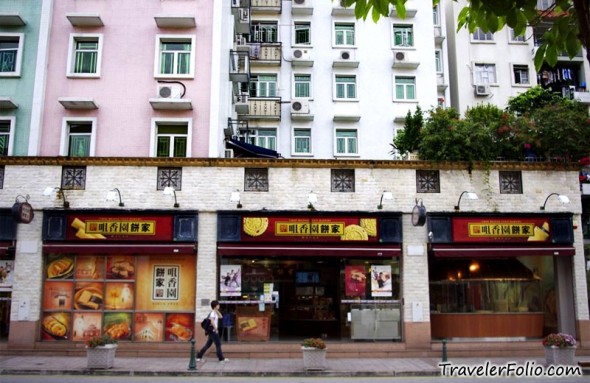 8 ) As you walk towards the direction of Venetian Macao resort hotel from Rua da Cunha, check out San Hou Lei bakery cafe (新好利咖啡饼店) for their bird's nest egg tarts!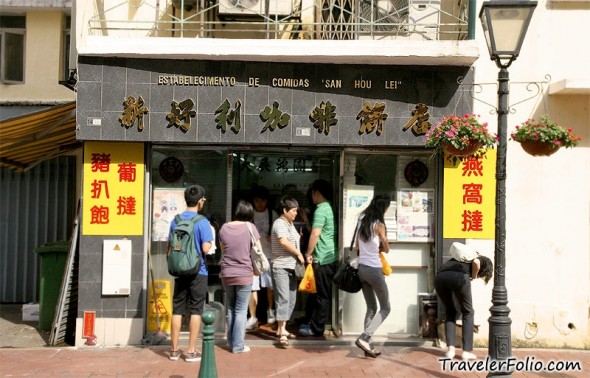 Holy cow! This is the first time I came across bird's nest egg tarts. As you may know, bird's nest is tasteless. Frankly, the bird's nest egg tart is simply egg custard filled with a luxury ingredient – the bird's nest! It's less eggy and less sweeter than Portuguese egg tart but still delectable and definitely worth a try.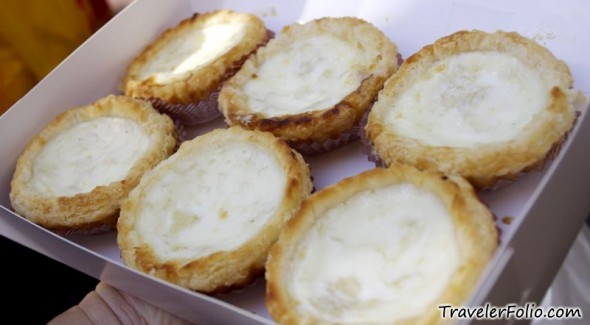 9) Portuguese egg tart and pork chop bun – these are the two famous snacks in Macau, or rather, the two comestibles that are closely associated with Macau's distinctive local flavours.
From Singapore to Macau, we have tried pork chop buns from various eateries. I would say the one we chowed down at Cafe Tai Lei Loi Kei (大利来记咖啡室) was undoubtedly the best pork chop bun we've ever had. The freshly made succulent pork chops sandwiched in between the crisp yet chewy bread are so tender and juicy!
This cafe is very popular among locals and tourist alike. It's located at Rua Direita Carlos Eugenio, Taipa (氹仔巴波沙前地18號), near Venetian Macao resort hotel. The pork chop buns are only available from 3pm onwards until all are sold out.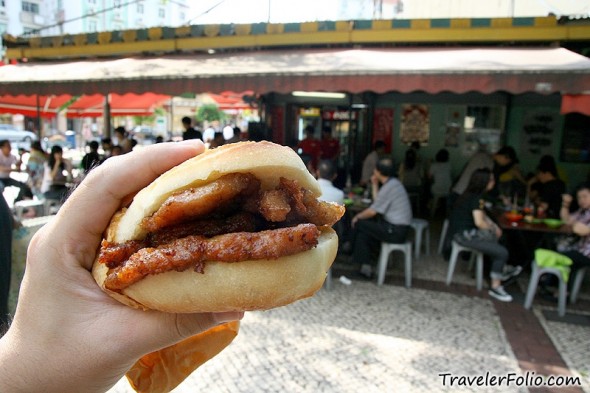 Also, try the hot curry fish balls too. They are bouncy and spicy!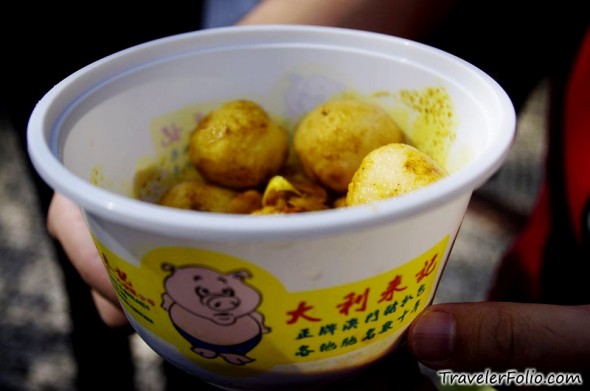 10) Don't leave Macau yet without dim sum! We had a delightful dim sum lunch at Noble House in the downtown area. The Cantonese restaurant is nice and comfortable, and most importantly, the dim sum is freshly prepared and simply dim-sum-licious!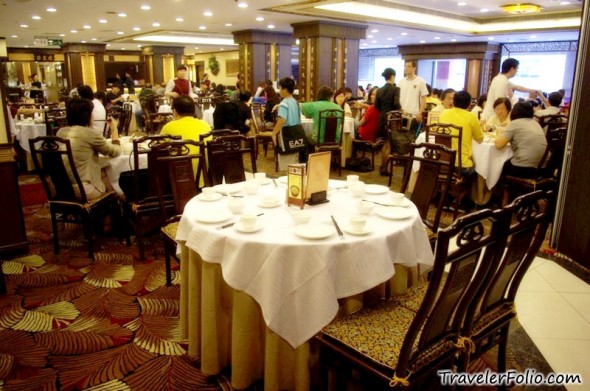 To sum it up, we had "siew mai" (steamed minced pork dumpling), cheese noodles, veggies…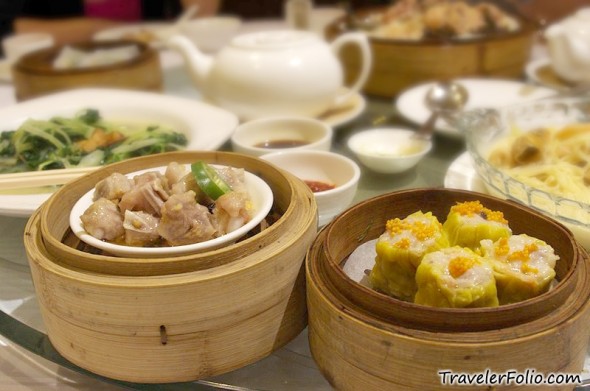 steamed buns, crystal buns…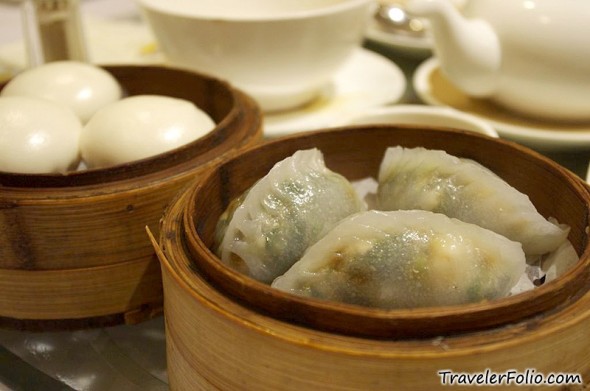 chicken rice with black fungus and a few more heavenly dishes that I didn't mind to wallop them all to put on a few kilos.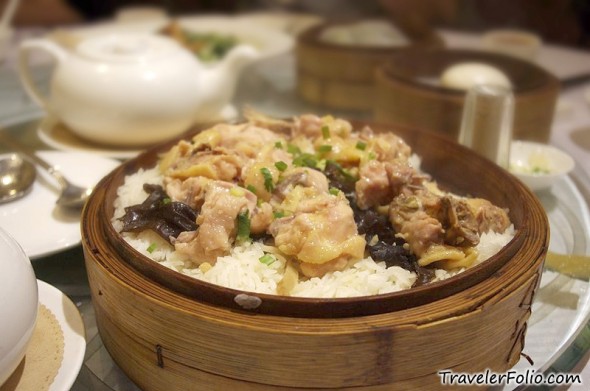 Check out my previous gourmet posts on:
Antonio's – a restaurant that serves Portuguese cuisine in Taipa village.
Macau Wine Museum – Get your quality Port wines at the wine shop in the museum.
Bambu – a cafe in Venetian Macao that serves Asian buffet.
Horizons – a steakhouse and seafood restaurant at Crown Towers, City of Dreams.
360° Café – the highest revolving restaurant in Macau that serves international and local buffet cuisine.
Read all posts filed under Macau.
Please "Like" Travelerfolio Facebook