Continuing from Taiwan Trip 2013 (part 2), here is the itinerary of our 3-day tour in Nantou, a landlocked county of picturesque mountain range and remarkable tourist destinations like Sun Moon Lake, Sitou and Cingjing Farm.
One of the most convenient, comfortable and economical way of travelling around the island is by Taiwan High Speed Rail (HSR). There are a total of 8 HSR stations along the west coast areas, connecting the north with the south by high speed rail service. From the capital of Taipei, Banqiao, Taoyuan, Hsinchu, Taichung to Chiayi, Tainan and the southern city of Kaohsiung, the whole distance of 345km takes as fast as 90 minutes of travelling time, with a top speed of 300km/h.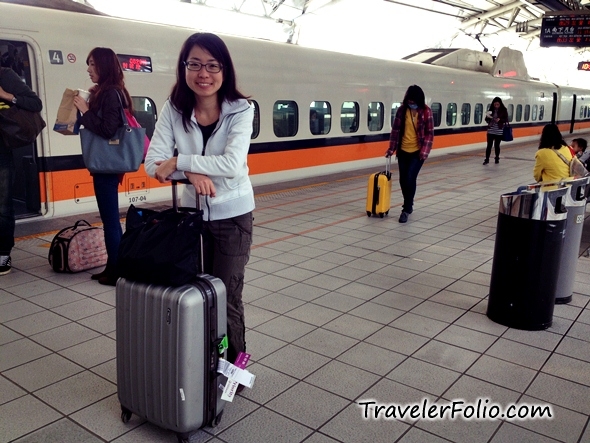 We took the HSR numerous times in Taiwan and our experience with the train service was smooth and pleasant. The seats were cushy, spacious and clean.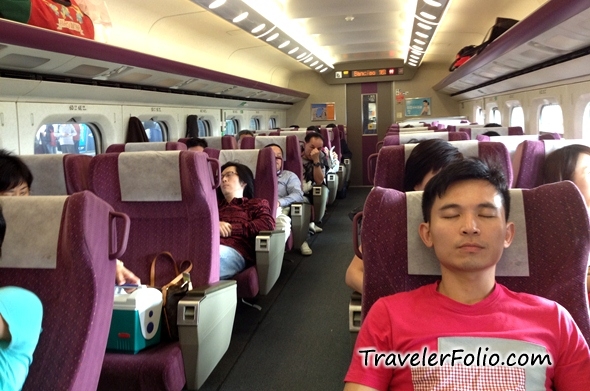 On the second day of our trip, we travelled from Taoyuan to Nantou for Cingjing Farm (清境農場) in the morning. It only takes about 35 minutes by HSR to Taichung station where there are buses to Cingjing Farm. You can buy ticket at the station ticket machine. Trains come frequently but you won't be able to purchase ticket 15 minutes before the next train arrives on schedule.
Ticket cost of HSR from Taoyuan to Taichung: NT$510 per pax
Ticket cost of Cingjing bus from Taichung station: NT$262 per pax.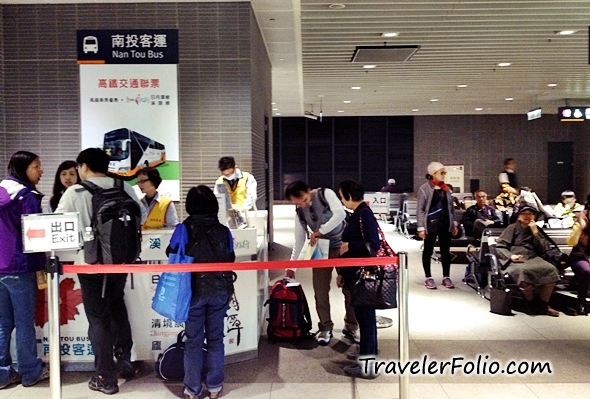 Cingjing Farm
They remember Cingjing Farm fondly as the Switzerland or New Zealand of Taiwan. Blessed with crisp and cool mountain air all year round, lush green rolling hills with sheep grazing under the azure skies, Cingjing is undoubtedly one of the most popular getaway resort destination in central Taiwan. Did you know some Singaporean couples go to Cingjing for bridal photo shoot?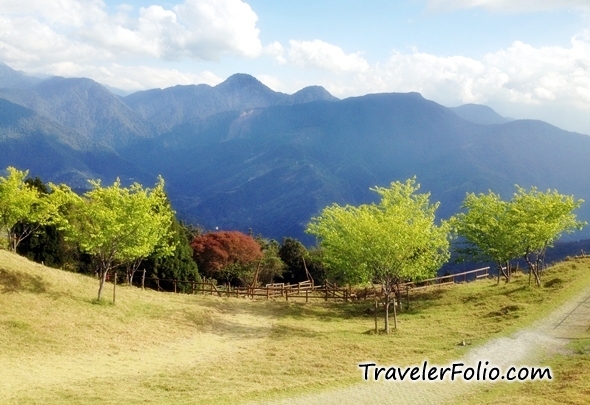 Every season offers a reason to visit Cingjing. In March, you can see apple, pear and peach blossoms; it's time to begin the harvest of spring teas in April; fruits picking and sheep shearing shows from June to August. In Autumn when the maple trees start to bloom, apple and kiwi fruits are in season. In colder months, you get the chance to savour highland vegetables.
The moo-moo windmill at Cingjing.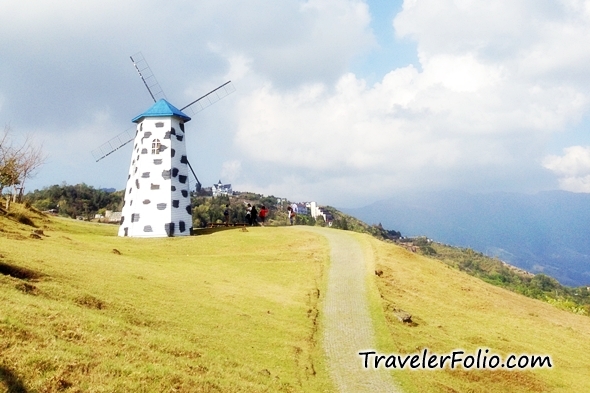 There were more cherry blossoms a week before we arrived.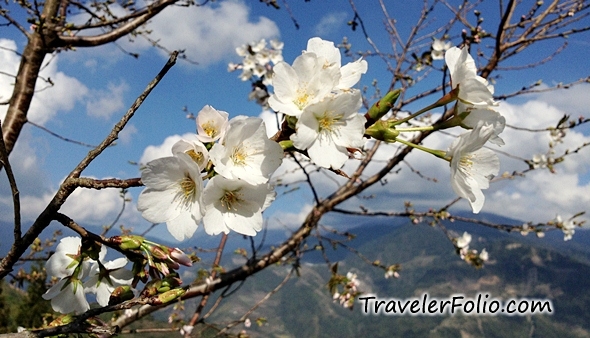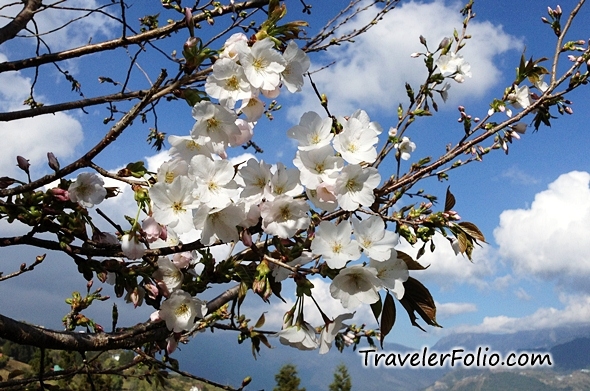 Embrace the picturesque surroundings and immerse yourself in fresh air. We've not seen sheep as friendly as those in Cingjing Farm – they don't shy away from people! You can feed the sheep and take photos with them.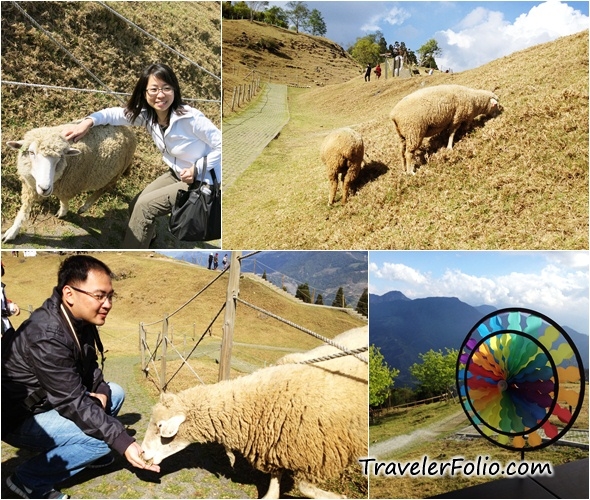 Sheep herding at certain time and day of the week.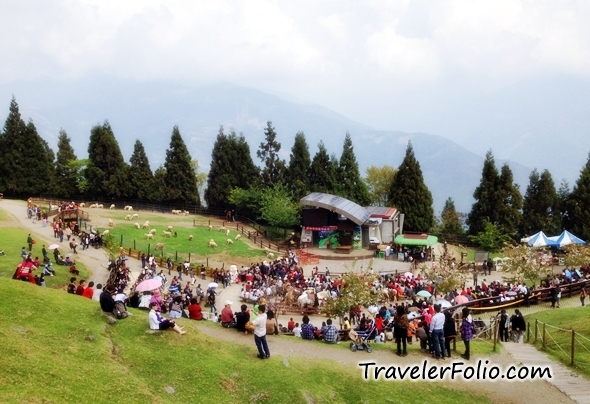 We stayed at Cingjing Guest House for a night. The staff were very friendly and attentive to our needs. The room is very spacious and comes with a balcony overlooking the mountainous area of Cingjing. At night, we snuggled in and enjoyed the fresh cold mountain air.
Room rates start at NT3,000 per night (Deluxe Double), inclusive of breakfast and entrance tickets to the Evergreen Grasslands and Swiss Garden.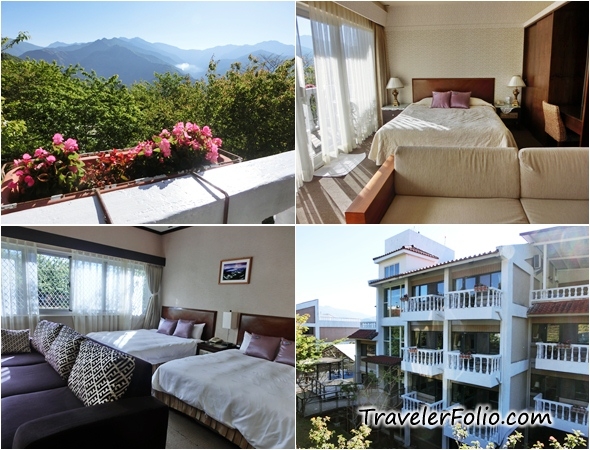 The mountain view from our balcony. Seriously, I really don't mind staying there a few more days just to relax and take in plenty of fresh air!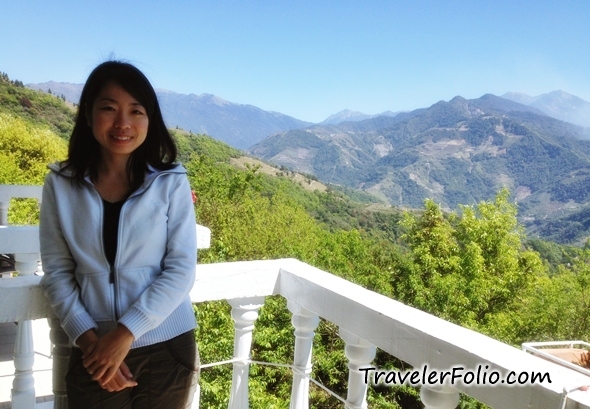 At 1,750 metres above sea level at Cingjing, if you are lucky you may see a sea of clouds in the horizon.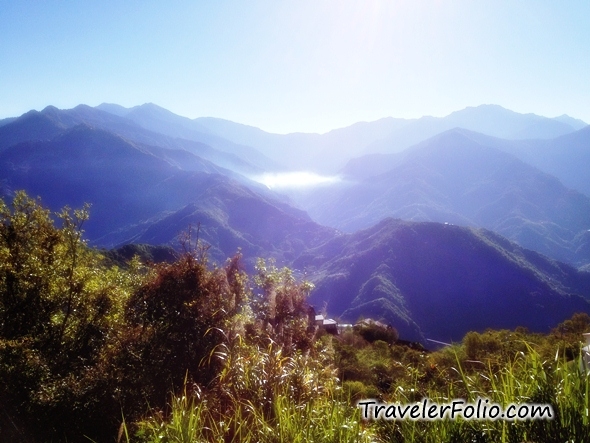 The two restaurants at Cingjing Guest House serve steaks and Yunnan specialty dishes. You may wonder why there is authentic Yunnan cuisine at Cingjing. A little bit of history, there are descendants from Mainland China's Yunnan province and settled in the area long ago.
The local Yunnan dishes served at Cingjing Guest House were very delicious. It's my first time eating worm! ("Accidental eating" is not counted.) I only tried 'half-a-body' worm. It's crispy and hollow inside, quite tasty. Jacky liked the wormy dish so much his bowl of rice was covered with crispy worms. 😛 He said they were just like dried shrimps. Some of the dishes were a little spicy and remind me of Sichuan flavours. You can try the highland vegetables as you won't be able to get them in the city. Have some silky smooth sheep's milk pudding!
The Swiss Garden is just a stone's throw away from Cingjing Guest House. It's a small garden with rows of pretty and colourful flowers arrangement on display to welcome the guests. After dinner, you may want to catch the nightly fountain show at the garden.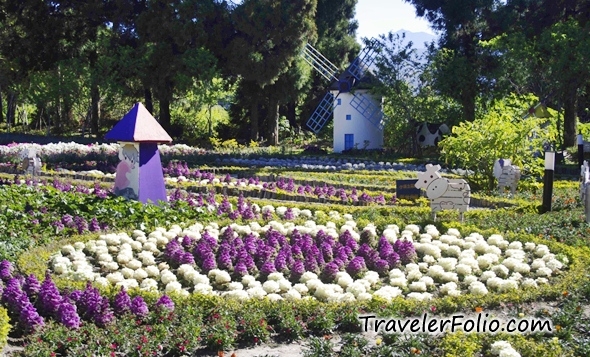 Who would have thought you can enjoy English afternoon tea on the mountain in Cingjing? Head down to the Old England Boutique Hotel and have some scones, macarons, Mont Blanc and pastries in the old English-style restaurant served by wait staff clad smartly in traditional-looking outfit.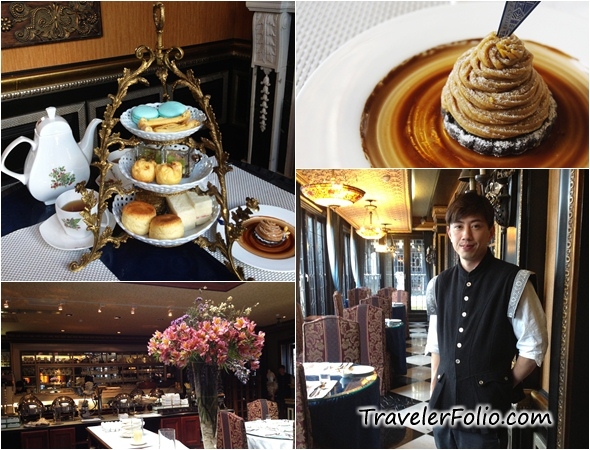 Prominently perched on the hilltop overlooking the mountainous region, the Old England Boutique Hotel gets all the attention from visitors in Cingjing. Many would stopover to pose in front of the Tudor-style architecture for photographs. The hotel is an attraction in its own right. We were invited to walk through the hotel premises and were surprised to see so many beautiful statues and artworks. Mind you, it looks like a European palace and museum! And no one in the public knows the exorbitant amount invested in the collection of artworks, furniture and building the property.
The boutique hotel was actually designed by the Taiwanese owner and built in the recent years. So, it's not as old as it seems; the guest rooms are fresh and clean, each appointed with luxury amenities.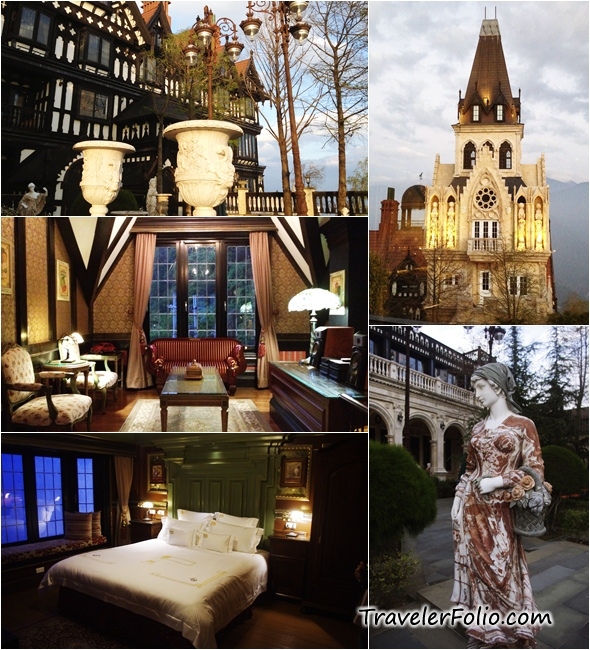 Mei-Feng Farm
The Highland Experimental Farm of National Taiwan University – Mei-Feng Farm (梅峰農場) is one of a kind in the world for providing a state of art facilities and temperate-zone gardens for education and demonstration of tropical highland farming and management . Established in 1937, the farm boasts an extensive diversity of temperate fruit trees, endemic plants, flowers, and an abundant of wildlife.
Mei-Feng Farm is about 30 minutes by car from Cingjing Guest House. Guided ecology tours are available for a group of at least 15 people and reservation is required. So far, it's the most beautiful farm we have visited!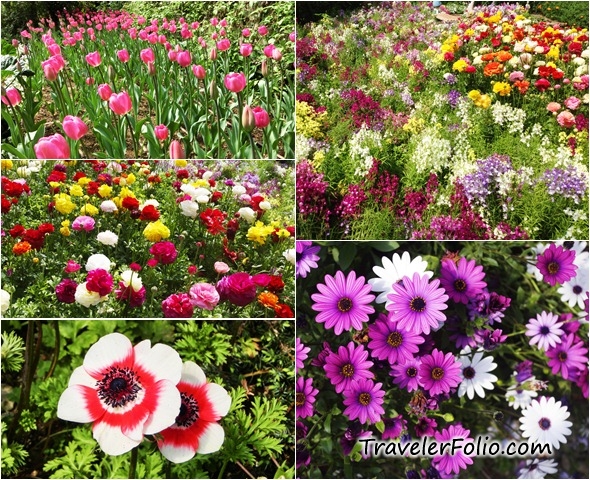 It's flower frenzy at Mei-Feng Farm! We've never seen so many bright and colourful flowers of different varieties at a farm before.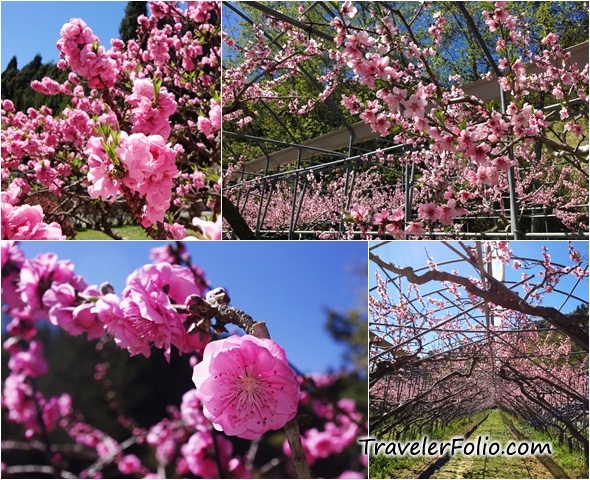 During February and March (depending on climate), one of the highlights at Mei-Feng Farm is to admire plum, cherry and peach blossoms!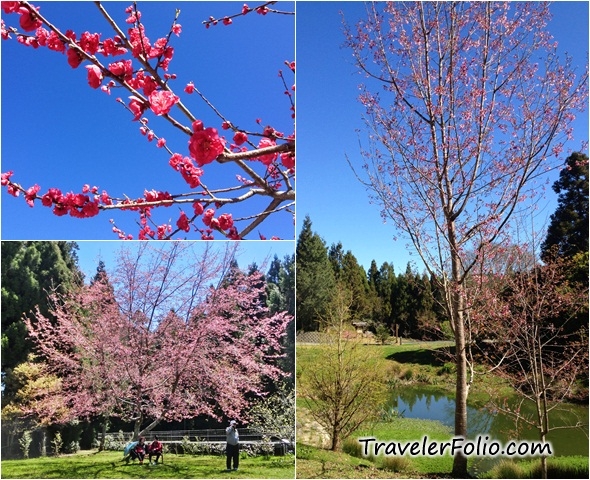 The garden that houses cactuses of all shapes and sizes.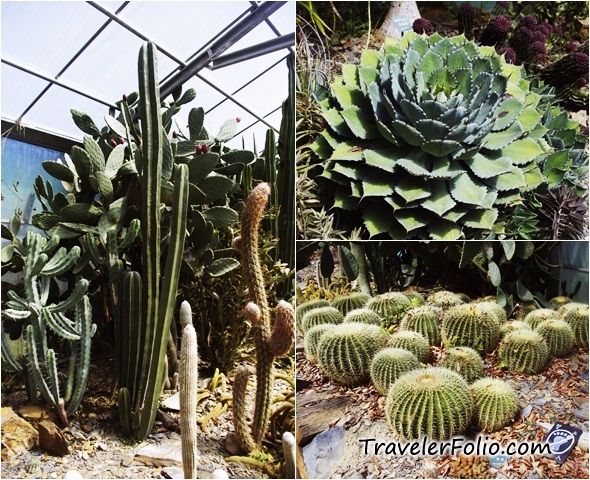 Do these cactus flowers look like candles on a cake?!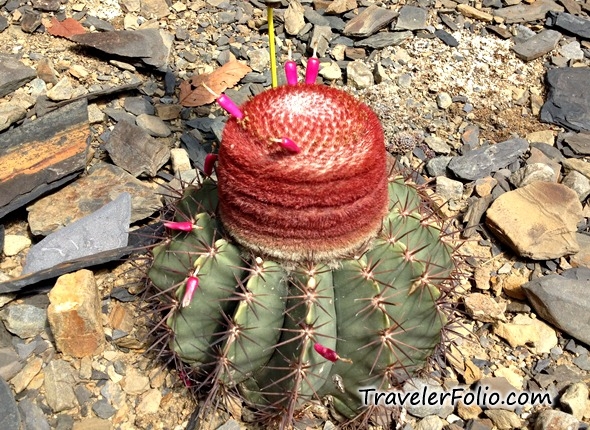 The maze at Mei-Feng Farm.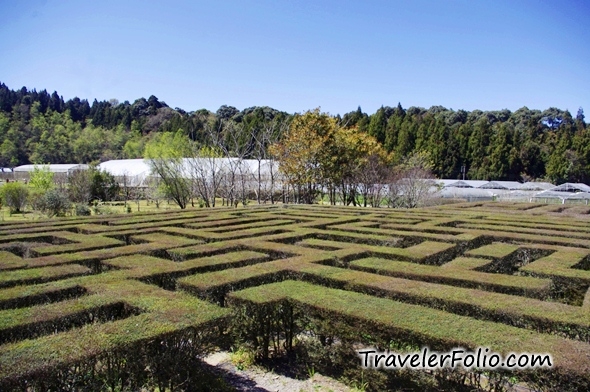 The Monster Village
From Cingjing, we travelled for 2 hours to Xitou for a night's stay at a spooky resort in the woods where monsters prowl… if only your imagination runs wild! The Monster Village (溪頭森林妖怪村) is Japanese-inspired with wooden structures and lanterns, an upcoming tourist attraction for families and friends in Nantou. Charming, whimsical, creative and fun, the village is themed around morbid-looking yet cartoonish monsters, too cute to scare off anyone!
The red statue of the demon Tian Gou has a long nose that resembles Pinocchio's. The Monster Village is filled with shops selling local delights including eye-ball buns (food for monsters!) and souvenirs.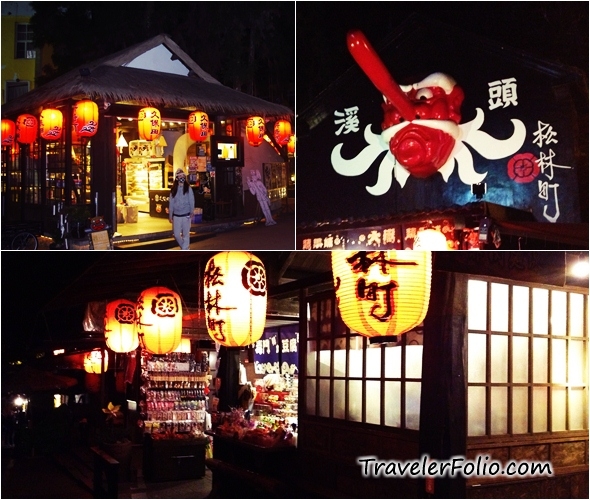 Take your time to walk around, watch out for monsters and props, and be trigger-happy to snap at every corner of the Monster Village.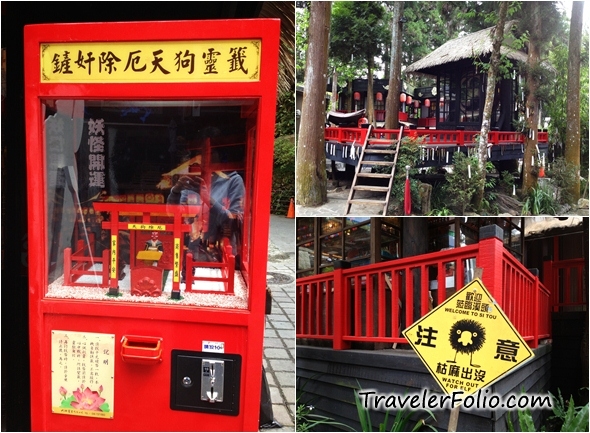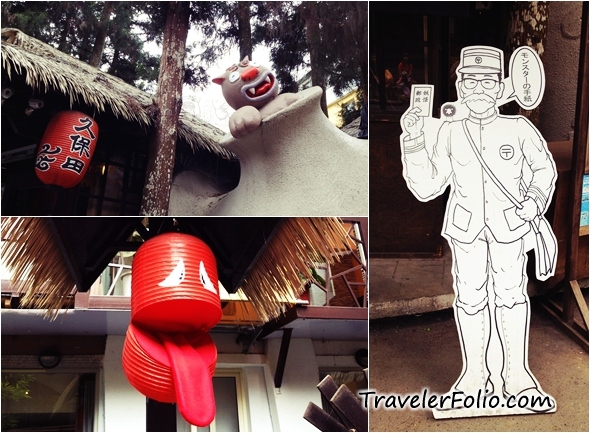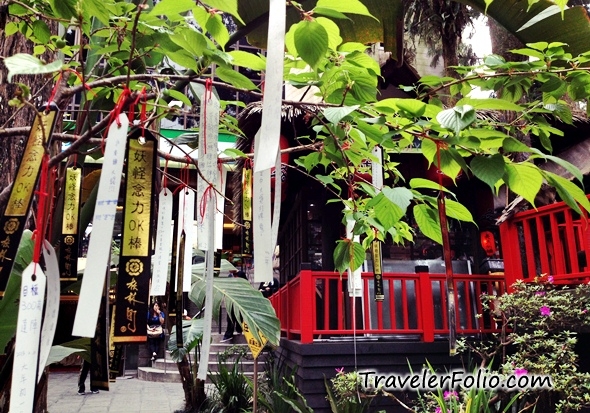 Did you notice something? This bus is driven by a monster, to be exact, the steering wheel is controlled by its thick nose hair!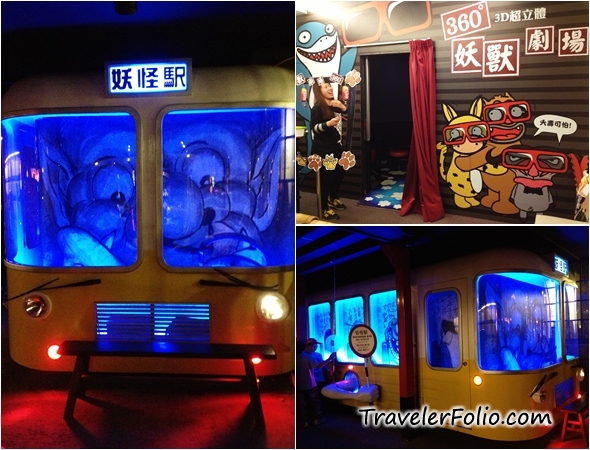 To scare ourselves a little, we watched the 360 degrees 3D haunted show. Only two of us went into the small theatre, putting on the 3D glasses and I thought it was kiddy stuff. OMG! The 3D show has all the headless and bloody zombies floating around, grinning and intimidating us with sharp knives and sudden attacks! When it came to the part with a little girl crying at a haunted hospital, it seemed so real that I finally chickened out and removed my 3D glasses. :S
Anyway, there are many other 3D shows for kids at the Monster Village theatre if you don't wish to watch the haunted show.
Did you see a ghoul on top of the stall? Spooky! Nah, you'll find it cute when you are at the Monster Village. LOL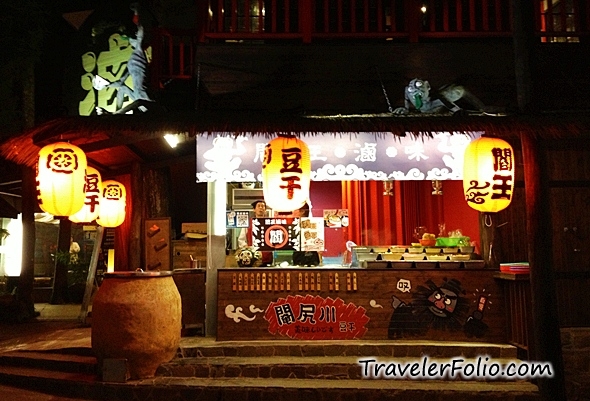 Meet Kumar, one of the favourite mascots of the Monster Village!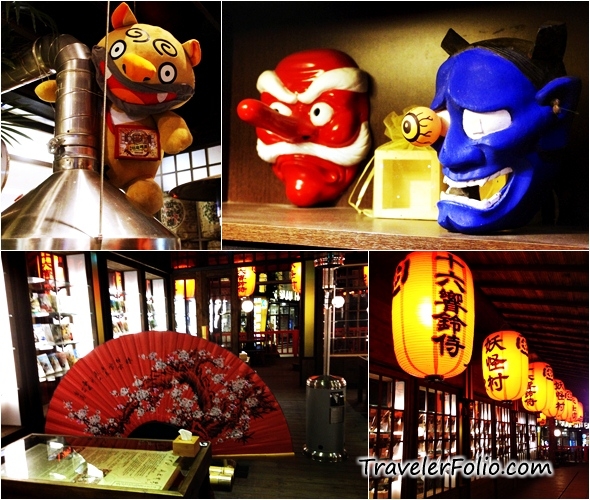 Besides the company of our favourite mascots like Kumar and Ba Dou at the Monster Village, we liked the food! The eateries serve local and Japanese delights such as grilled shitake mushrooms and tofu. And it's my first time chewing on some chicken soft bones coated with tasty seasoning – the texture was a bit chewy yet soft enough to munch on.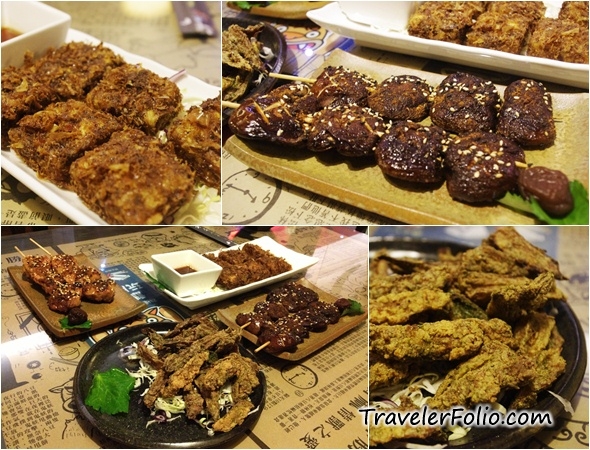 We had Chinese tea at a lovely shop full of character. You can find a good collection of vintage items here and have a nice chat with the friendly lady boss who made tea for us. From her, you can tell that the people working at the Monster Village are like one big family – there is Kampong Spirit! (Really, no pun intended.)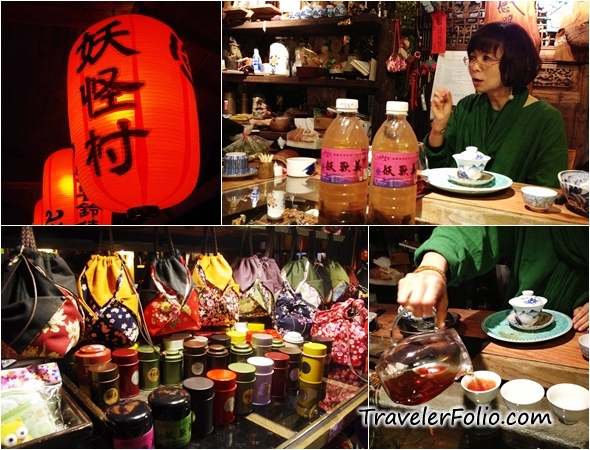 Kumar Taiwan Beer limited edition. There are hundreds of empty beer bottles stacking up like a pyramid at the village.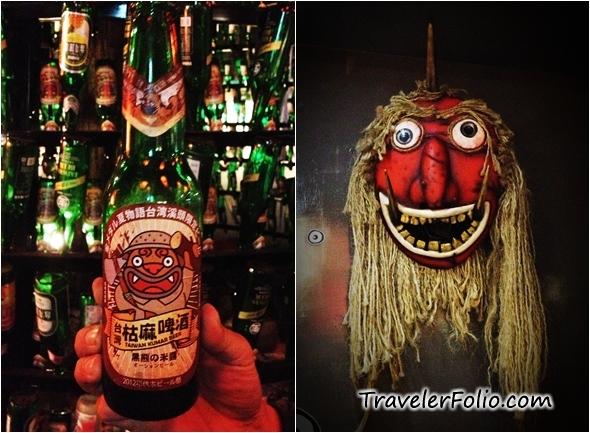 Ming Shan Resort next to the Monster Village provides cosy accommodations for a unique holiday experience in the forest of Nantou. The surrounding is very peaceful and the air is so fresh!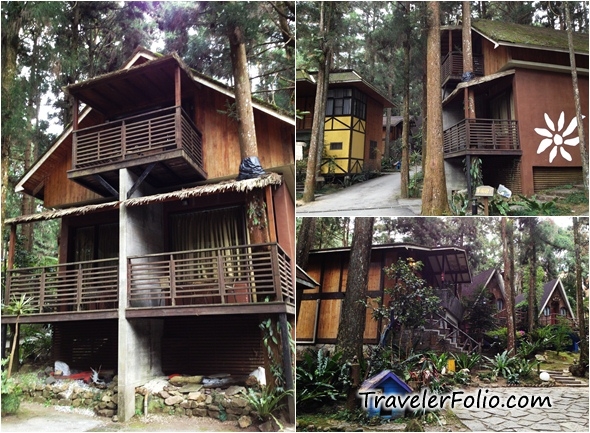 The interior of our wooden lodge is modern, neat and clean. The bathroom is spacious enough to accommodate a huge bathtub and a shower. It was chilly outside but the room was warm to snuggle in for the night.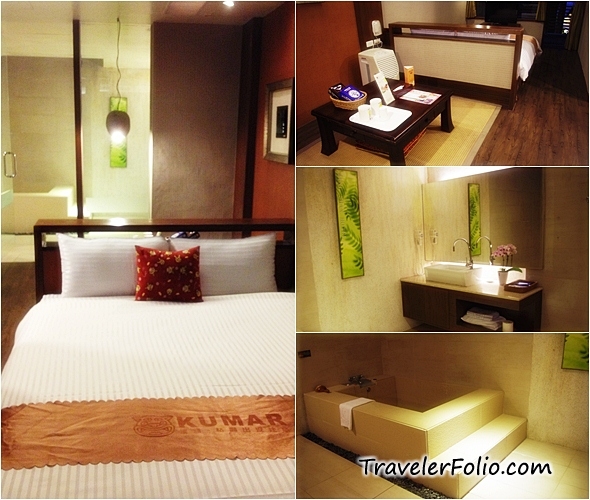 We had mini hot pots serving flavourful beef and chicken for dinner at Ming Shan Resort restaurant, the same place for breakfast. Very yummy and appetizing dishes to indulge the palate after some walk around.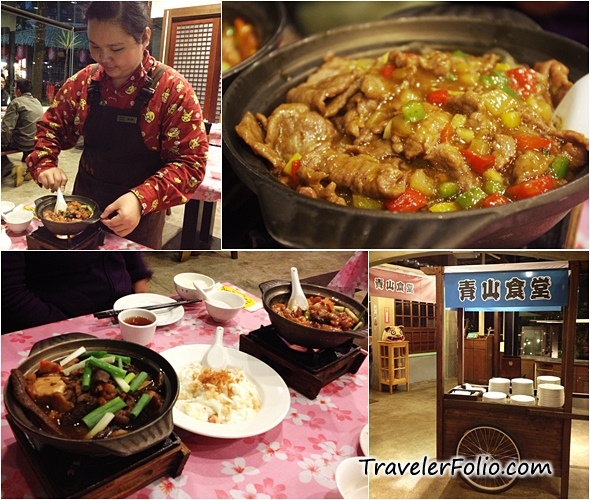 Meet the beloved mascots of the Monster Village – Kumar and Ba Dou.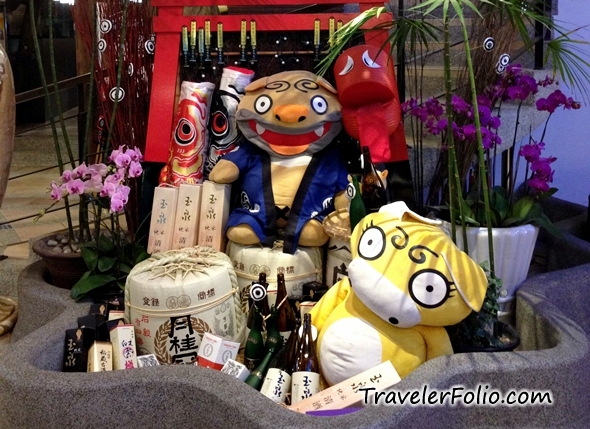 From Ming Shan Resort, we visited two nearby attractions – Sun Link Sea and Sitou Forest Recreation Area that's within a short walking distance from the Monster Village.
Sitou Forest Recreation Area (溪頭自然教育園區) is a great place to breathe deeply and hike among towering trees and in the bamboo forest. It belongs to the National Taiwan University, an experimental forest with a great variety of trees including cedars, red spruces and Phyllostachys edulis. There is the rare plant of redwood, the ~3000 years old divine tree, bird watching footpath, restaurants, camping area, accommodations and Youth's Activity Centre.
On that day, there were many hikers coming together in groups, soaking in the atmosphere of the lushgreen park. Many Sitou visitors come from other parts of Taiwan. To get a closer view of the surrounding trees and canopy, get to the Skywalk. The University Pond offers another picturesque side of Sitou, a nice spot for photos.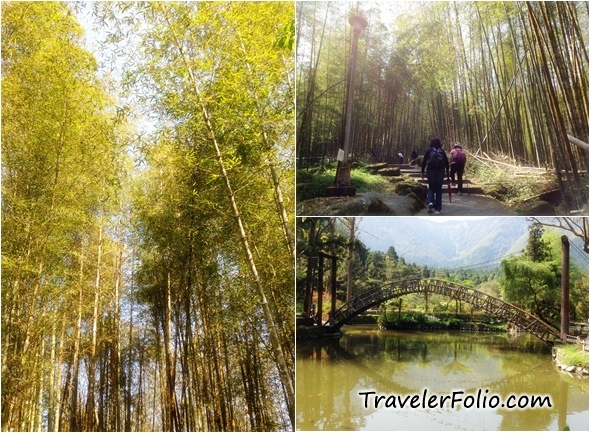 The Skywalk and the bridge across the University Pond.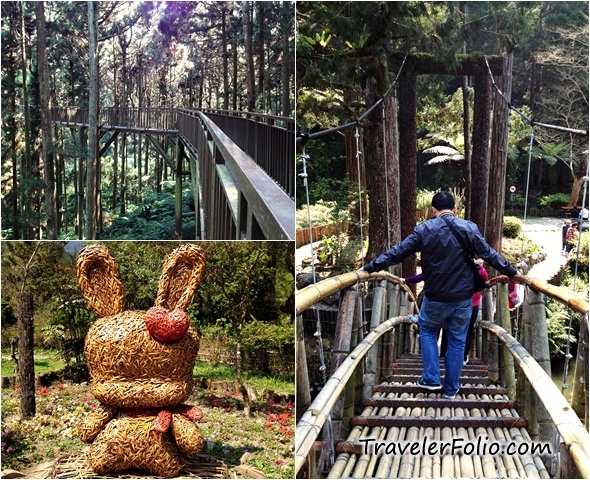 In less than 30 minutes drive from Ming Shan Resort, SunLinkSea (杉林溪森林生態渡假園區), located between Sitou and Alishan, is famous for its breathtaking scenery. Situated at an altitude of 1600 – 1800 metres, the scenic area enjoys a mild temperature all year round.
SunLinkSea is too big for us to explore in just half a day. There are waterfalls, forest trails and valley for hiking at the scenic area. We spent a while at the Herb and Flower Garden, appreciating peonies from China (Luoyang) and Japan. Oh my, I've not seen so many pretty peonies in my life! We learnt that peonies are very difficult to take care, they are very sensitive to changing climate and temperature, you cannot touch and smell them closely! They are just so delicate and beautiful.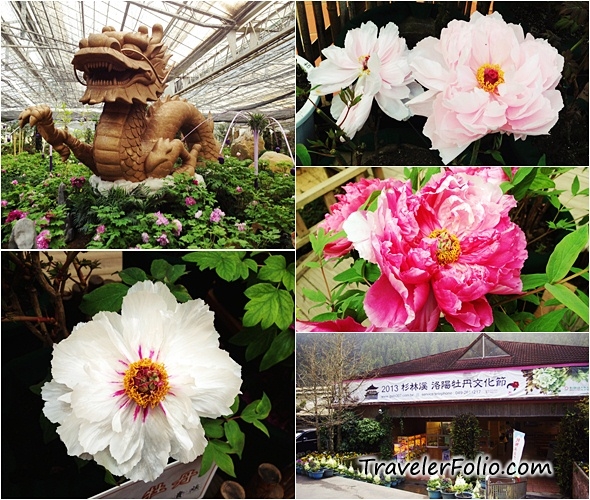 Take a stroll at the garden and immerse yourself in all kind of pretty flowers. Imagine you are in the Netherlands for the tulip season – there are so many freshly bloomed tulips of different colours at the garden. And take in plenty of fresh air!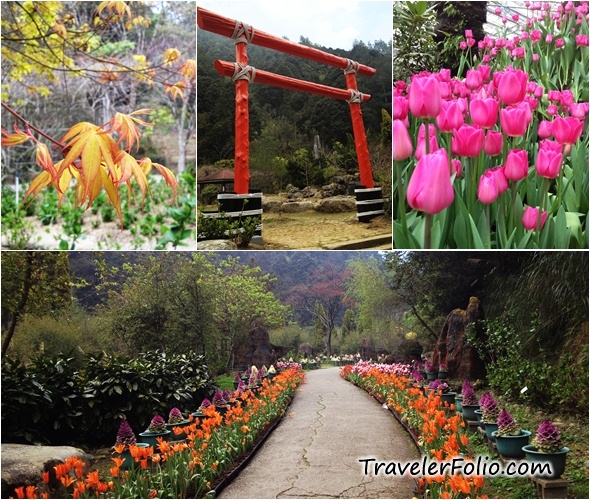 Read Tainan | Taiwan Trip 2013.