How does it feel to get served by celebrities on board the flight?
Last week, we were invited to take a flight to Bangkok with the two celebrity radio DJs Pei Fen and Jia Fa of YES 93.3. Dressed up as flight attendants, the duo were going to serve free inflight meals to all passengers on board AirAsia flying out of Singapore.
The flight took off at 3pm. I know some people don't have a liking for inflight meal but usually I look forward to that on every flight! We ate little at lunch to save room for the feast on board. Yes, delicious, I'm not exaggerating. They tasted even better than those on some full service airlines, especially when they were served by the sweet-smiling Pei Fen and friendly Jia Fa!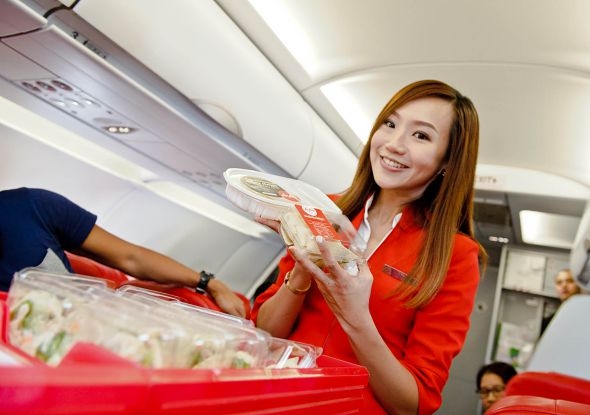 During the flight, DJs Pei Fen and Jia Fa made special announcement like real cabin crew, putting a smile on everyone's face while hyping up the atmosphere, literally, on air. Most of the passengers were pleasantly surprised to get free meals. Many were just excited to pose for photos with the celebrities.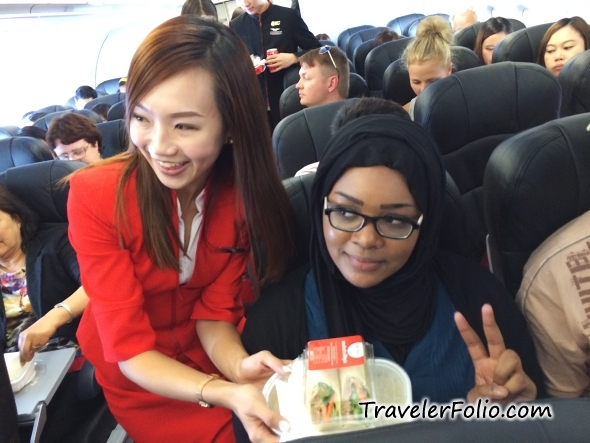 We were offered to taste some of the popular food items on AirAsia inflight meals menu – Green Curry Chicken with Rice, Mango Sticky Rice, Tuna Tortilla Wrap and Thai Basil Chicken Rice. As part of an effort to improve the food quality, each of us received review cards to fill up after food tasting.
I liked the Tuna Tortilla Wrap filled with juicy and flavoursome tuna flakes complemented with shredded cucumber, carrot and lettuce. The tortilla had a soft and tender texture so it was easy to bite through without making a mess. A light and refreshing snack, like having picnic while flying.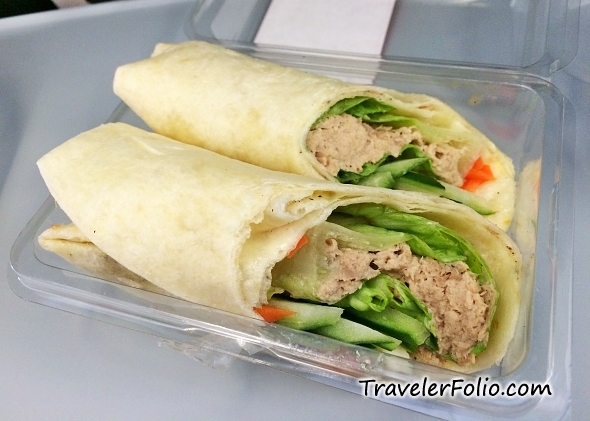 For warm meal, the Green Curry Chicken with soft Jasmine Rice gained huge popularity among the passengers. The food presentation was average but the green curry was awesome. A favourite variety of curry in Thai cuisine, it is fair enough to say this dish is as good as those we tried at authentic Thai restaurants, if not better. The creamy green curry with coconut milk packed a punch of flavours from lemongrass, lime, shrimp paste and green chillies, containing tender chicken thigh meat, egg plant and basil leaves. Just a little spicy, it leaned towards savoury flavour.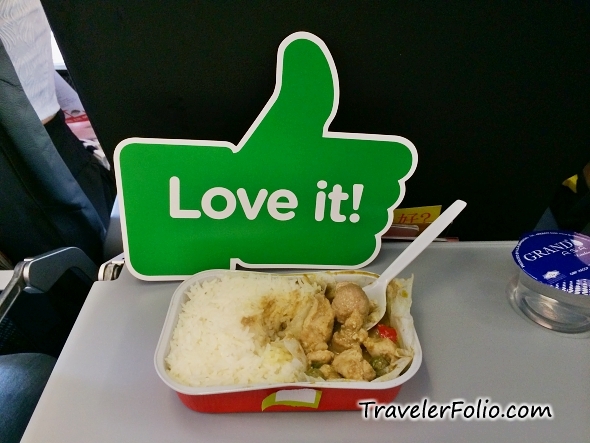 When in Bangkok, must try Mango with Sticky Rice! We had it on board and it seemed to be everyone's favourite. The dessert was neatly packed to retain the freshness of the soft and juicy sweet mango slice. Eat it with the coconut milk-infused sticky rice. This is worth the calories.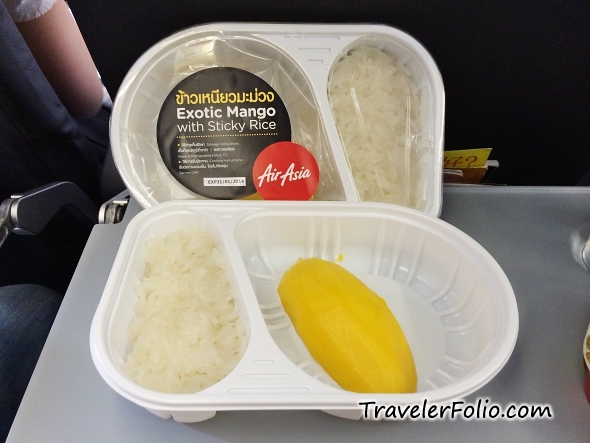 Thumbs up for the Mango with Sticky Rice!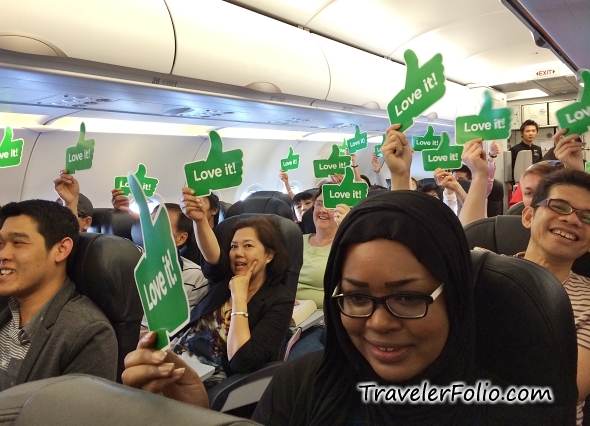 If you love spicy food, try the Thai Basil Chicken with Rice. The chicken dish was really spicy and appetising to go with the soft Jasmine rice.
The fun-loving passengers and DJs showing thumbs up for the mouth-watering food onboard AirAsia. You know what? This special programme ended with everyone singing the Happy Birthday song for a passenger. How I wish every flight would be fun-filled with activities!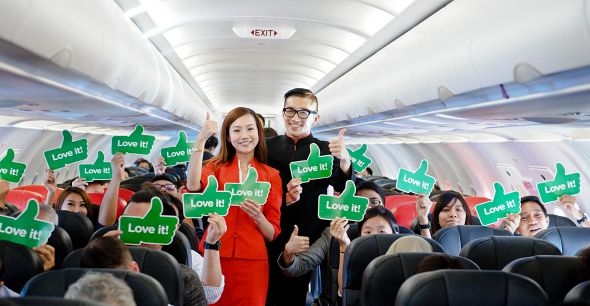 DJs Pei Fen and Jia Fa posing as AirAsia flight attendants in front of the award-winning low-cost carrier.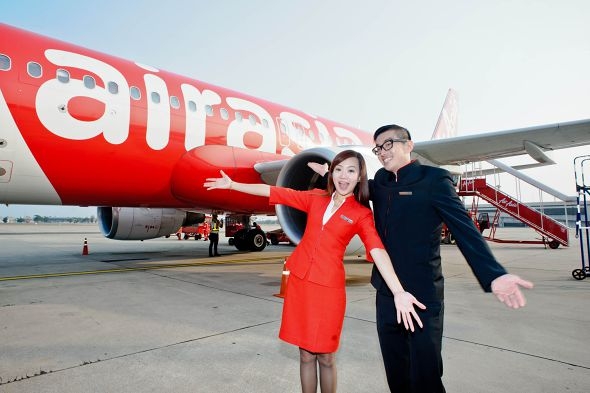 We landed at Don Mueang Airport in Bangkok at 4:25pm Bangkok time (one hour behind Singapore). It's always great to have someone to pick you up at the airport after a flight; thanks to Chatrium Residence Sathon Bangkok for providing airport-hotel transfers, we were swiftly whisked off to the hotel.
We were surprised by the impressive lobby space with modern furnishing as soon as we arrived at the 4 star hotel, a calm oasis amidst the bustling city of Bangkok. The hotel staff welcomed us with delicious fruit punch, a much needed drink after the journey.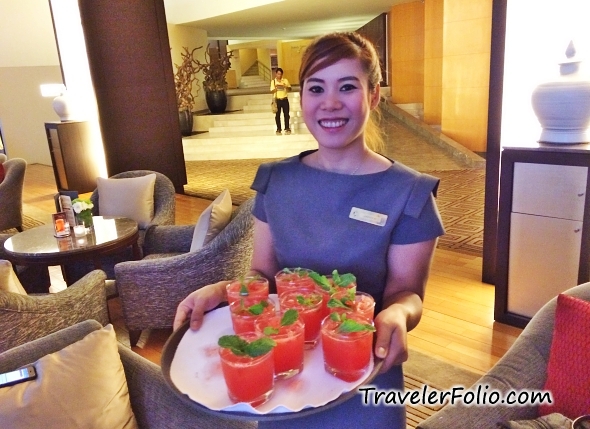 Chatrium Residence is conveniently located in the business district of Bangkok and provides shuttle van services to the nearest BTS Sky Train Station (Chong Non-si) and shopping malls like Central Rama III, Emporium Shopping Mall and Asiatique The River Front. Other nearby shopping attractions include Lalai Sap, a popular shopping area for the lunch crowds; the newly opened City Viva; Silom Complex; and Lumphini Park for greenery and leisure walk.
Our crib for one night in Bangkok – contemporary furnished with a homey touch. It features a well-equipped kitchenette, a dining area, a bathtub with shower and a spacious balcony overlooking the cityscape. Most importantly, we had high-speed WIFI connection in the room!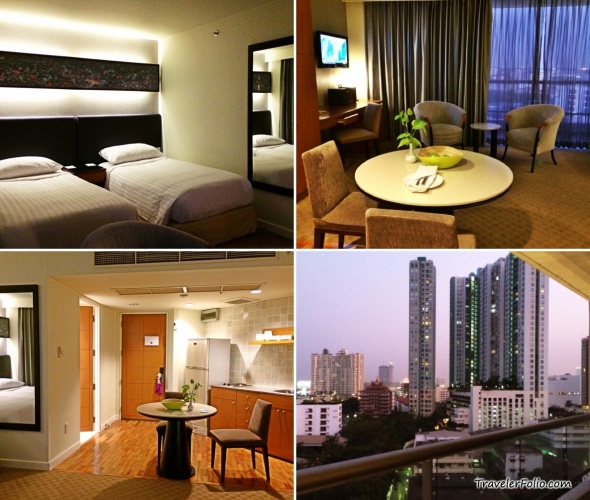 While we enjoyed the great hospitality experience at the hotel, we wish for a longer stay to try out the facilities like the gym, spa, freeform pool and free activity classes ranging from Yoga to Muay Thai to Ballroom Dance.
Boosting 560 rooms comprising of Deluxe, Studio, One-, Two-, and Three-Bedroom Suites, the hotel provides a comfortable stay for both business and leisure travellers as well as families.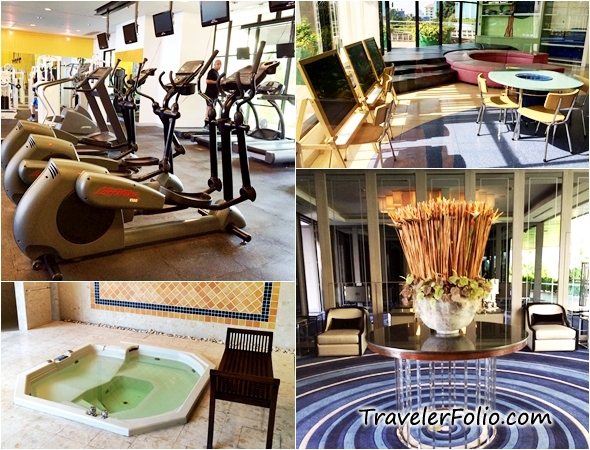 The freeform pool for a cool dip or a lazy soak in the Bangkok heat and humidity. For cooler season, they say the best months to visit Bangkok are December to February.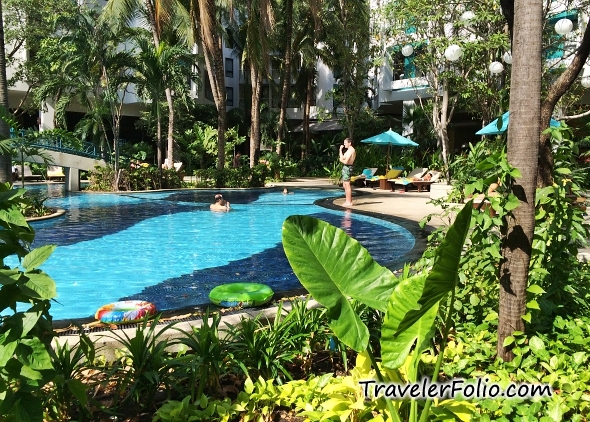 International buffet breakfast is served on level 4 at Albricias. A wide selection of Asian and Western delights are prepared to suit everyone's tastebuds.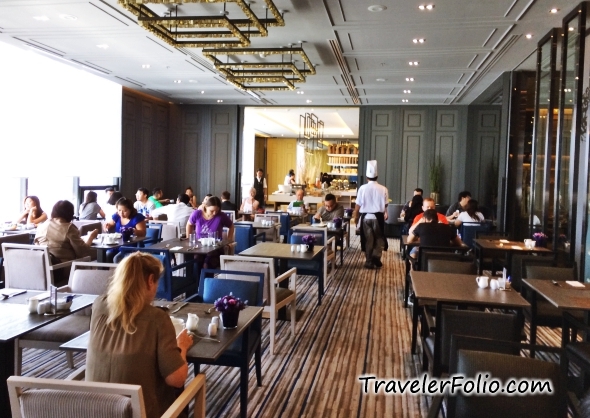 More information of Chatrium Residence Sathon Bangkok on http://chatrium.com/chatrium_residence_sathon/
For hot holiday deals (flight + hotel), check out AirAsiaGo at https://www.airasiago.com/en-sg/
For dinner, we took a short taxi ride to Asiatique The Riverfront for seafood. Asiatique is a big open-air mall (modern night market) by the Chao Phraya river, with individual stores selling fashion accessories and apparels as well as souvenirs, and food establishments.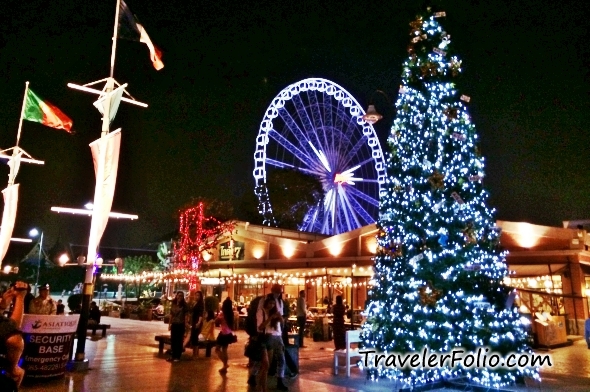 In fact, Jacky and I first visited Asiatique last November for the Loi Krathong Festival. It was thronged with crowds of people! We also tried some seafood dishes at Kodang Talay. On the second trip, we were invited to dine at the restaurant again. It was packed with diners on our first visit; this time round, we went there during off-peak period so there were plenty of seats available to offer a comfortable dining ambience for fresh seafood cooked in Thai-style.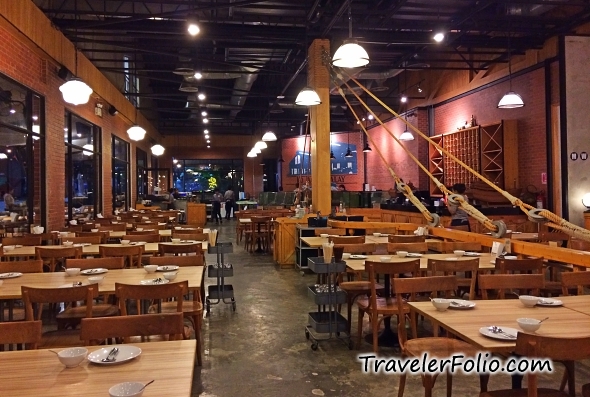 Stir-fried with yellow curry powder, the mud crab dish was a favourite on the table. While Singaporeans are more familiar with chilli crab and black pepper crab, this version offers something different for the tastebuds. It wasn't spicy and we could still taste the natural seafood sweetness of the crab meat. (Price by weight)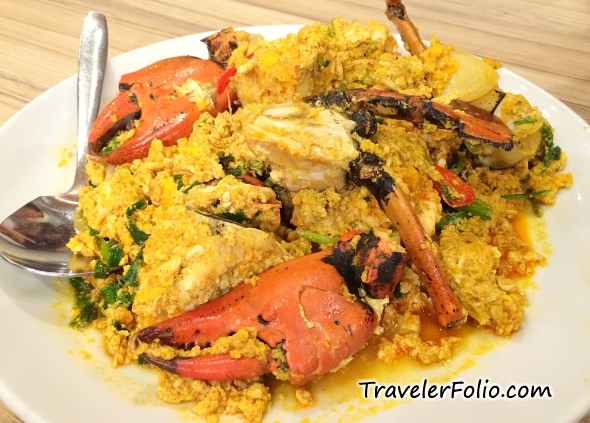 Another recommended dish on the menu is sea prawns fried with tamarind sauce. Succulent, firm and meaty, I like the prawn texture. Every bite packed a punch of seafood goodness. (600 Baht)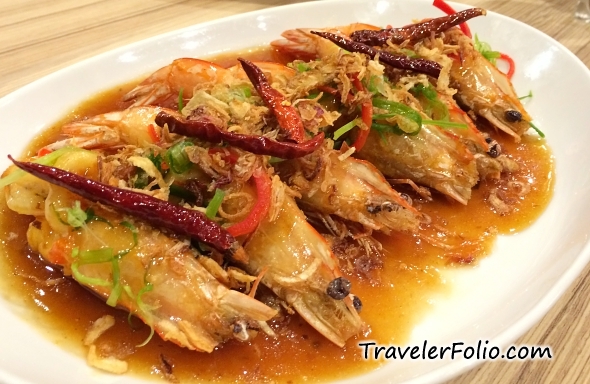 The white sea bass (whole fish) is the signature dish of the restaurant. On our first visit, we ordered this dish when we saw many tables had it! Perfectly fried till crisp golden brown, the chunky meat retained its moistness and best eaten with the specially prepared fish sauce. (550 Baht)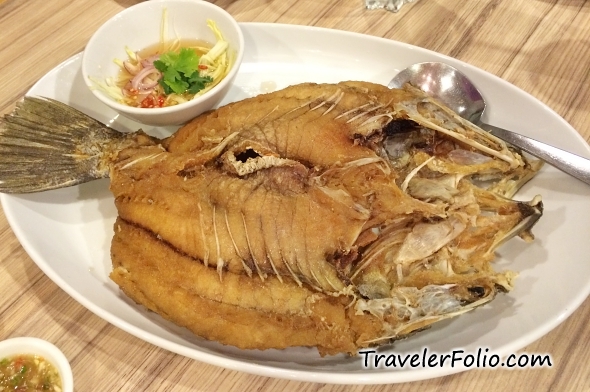 The razor clams stir-fried with spices and Thai herbs were chewy and complemented well with Jasmine rice. (250 Baht)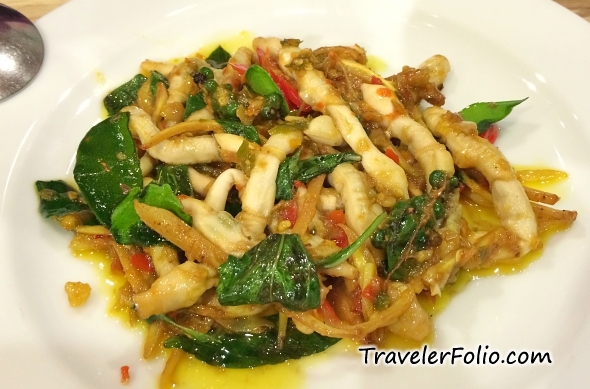 Oh yes, the squid stir-fried with salted egg is also recommended by the staff. Coated with salted egg, the squid was very tender with melt-in-the-mouth texture. We almost licked the plate. (250 Baht)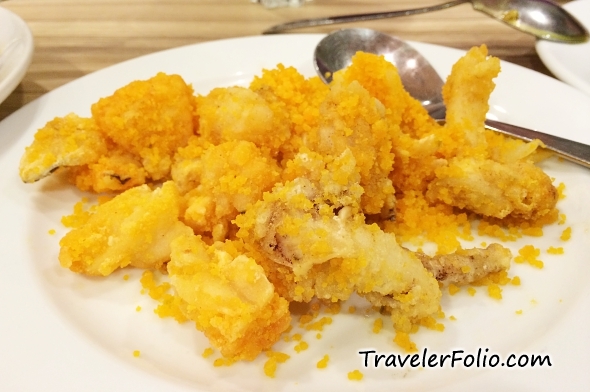 Needless to say, Tom Yam soup is a must-have for spicy food lovers in Thailand! (400 Baht)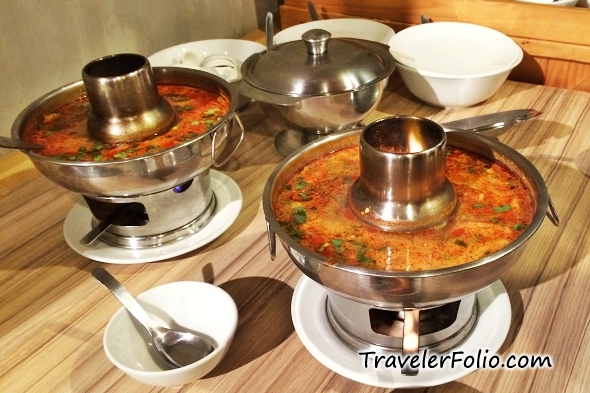 For something refreshing, try the coconut smoothie. Every mouthful was filled with bits of coconut flesh. A truly yummy beverage to wash down the hearty seafood meal.
Kodang Talay & Happy Fish Address: Asiatique The Riverfront, Kodang 7 & 8.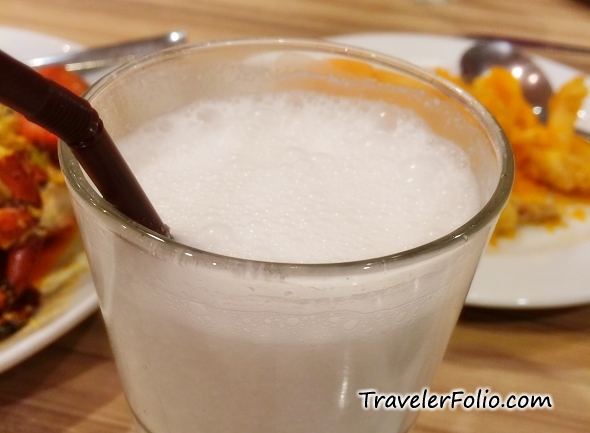 Goodbye, Bangkok! 'Till next time …
**Special thanks to AirAsia, AirAsiaGo and Chatrium Residence Sathon Bangkok for making this trip possible!