Continuing from Gifu Day 3
After staying overnight to experience Gero's onsen at Suimeikan, one of the largest ryokan in the heartland of Japan, we checked out early for a morning jaunt to the nearby attraction that's just 10min away.
Gero
The Gassho Village of Gero Onsen (下呂温泉合掌村) is an open-air museum that mirrors UNSECO World Heritage Site Shirakawa-go. In fact, some of the ten gassho-zukuri houses were moved to the Gassho Village from Shirakawa-go, and no one lives in them. Enter the village to immerse into the lifestyle of the Japanese people from the past 50 years.
In Sharakawa-go, Wada House is the oldest and biggest gassho-zukuri house which is partially open as a museum. Unlike Wada House, the century-old Ohdo House has no occupants. Designated as an important cultural property by the Japanese government, Ohdo House is open to visitors as well.
Irori, a traditional sunken hearth.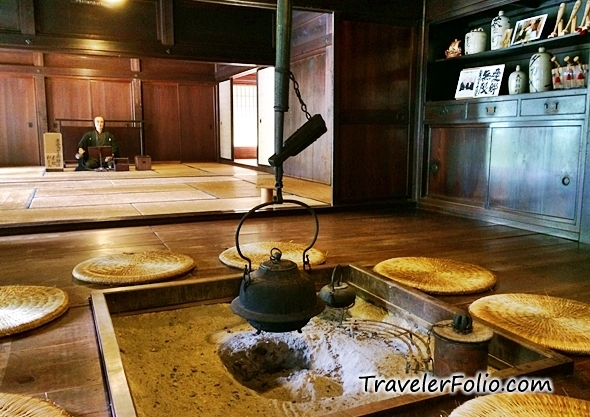 In such a big residence like Ohdo House, have you ever wondered how many people lived together under the same roof? 30 people. As a tradition for gassho-zukuri households, only the eldest son can live together with his wife in the paternal house. On the top level, it was used for breeding silk worms and producing gun power to earn income in the past, just like other families living in gassho-zukuri houses.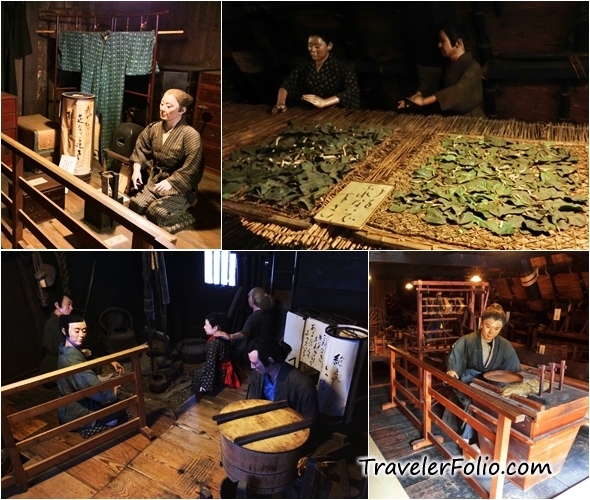 We were surprised to hear that one side of the straw-thatched roofs used to cost as much as 20 million yen! And it would take a month to change the roof. These days, it only requires a day to fix that and costs 10 million yen for a smaller roof.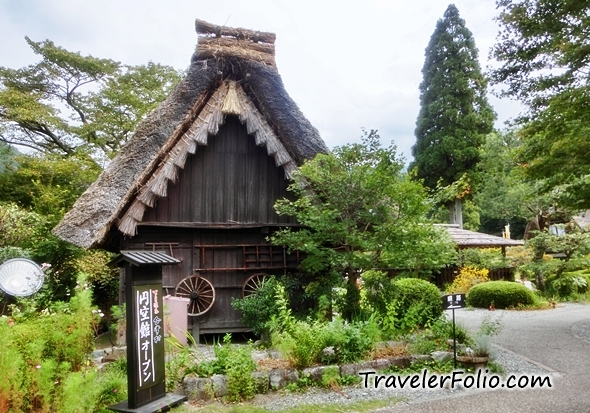 While we have already seen many gassho-zukuri houses in the charming countryside of Shirakawa-go, the main attractions at Gassho Village include the Pottery Corner, Japanese Paper-making Corner and the unique shadow play theatre, Shirasagiza. Here, you can catch a special ancient art of shadow play choreographed with computer animation and sound effects. The lively performance connects with the audience to the discovery of Gero onsen. The shadow play is scheduled twice a day, ¥300 per ticket.

Photo credit: Shirasagiza, Gassho Village.
Pottery Corner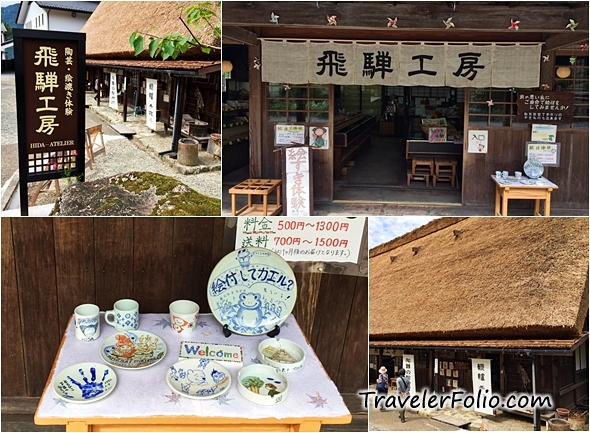 At the Pottery Corner, we tried our hands on ceramic painting. As we only had less than an hour, we didn't get to knead the clay and work on the potter's wheel. Under the guidance of the pottery teacher, I think it will be fun to go through the process of making your own pottery masterpiece and proudly shout-out to friends it is 'made in Japan'. :]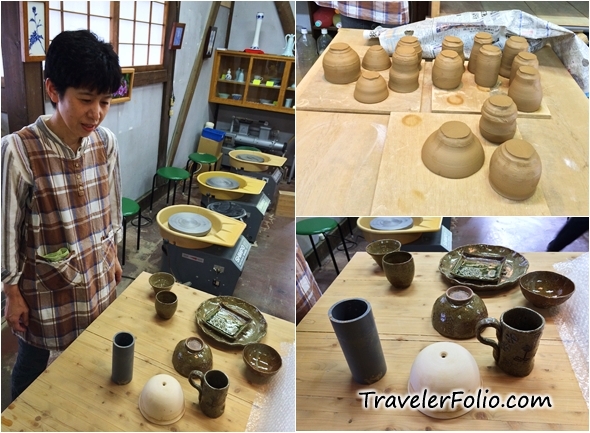 If only I could paint Doraemon …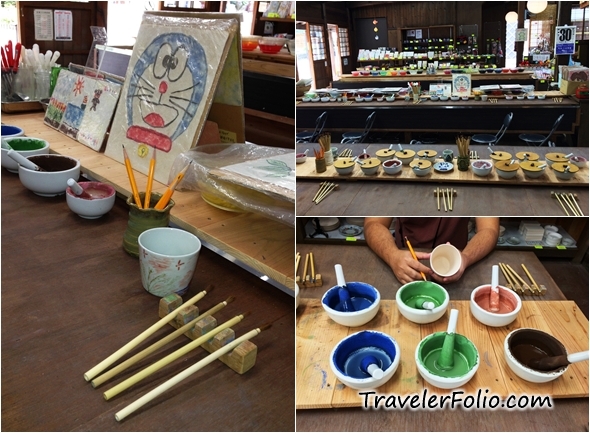 From the shelves, there is a selection of sake cups, coffee cups, mug, bowls, dishes, vases and figurines to choose from. The price tags of the items have already included guidance fees, materials and firing process. I don't have an artistic flair in painting so I picked a cup (¥2000) for more space to doodle. For memory keepsake, we painted Sarubobo 'baby monkey', a popular souvenir in the Hida region of Gifu.
After painting, our cups were sent to bake and graze under high temperature. It takes some time to process the end product. For overseas delivery, it takes about a month and normal postage fee applies.
I know my painting sucks and wrote the wrong word ('岐'阜)! Thanks to the Pottery Corner of Gassho Village, we just received our cups in good condition!

Location of Gassho Village: 2369 Mori, Gero City
How to get there: From Gero Station, take the Nohi Bus on the Gassho Mura Line towards "Gassho Mura" (6min).
Open: 8:30am – 5pm
Admission: ¥800
website: http://gero-gassho.jp/
Magome-juku Post Town
As Gifu (岐阜県) is located in the heartland of the country, it has long served as the crossroads between the east and west through routes like the Nakasendo highway during the Edo period. Sounds like the Silk Road? To tread the path of ancient travellers and get a feel of old-world Japan, take a step back in time at Magome-juku (馬籠宿). The scenic cobbled post town is unique among the rest as it was built on a mountainside along the ancient route connecting Tokyo and Kyoto, offering different sceneries when going uphill towards the direction of Tokyo and the downhill route to Kyoto. In 2009, Magome-juku was rated with one star in the Michelin Green Guide Japan.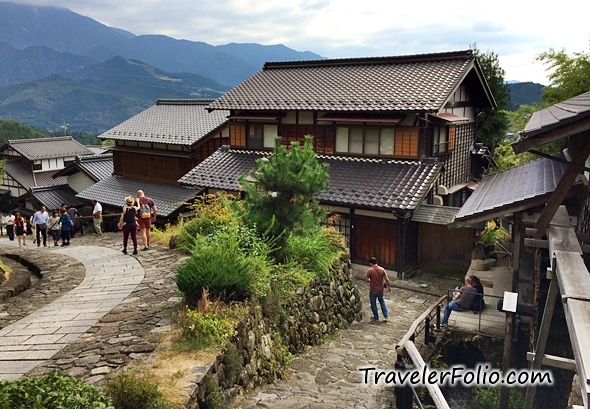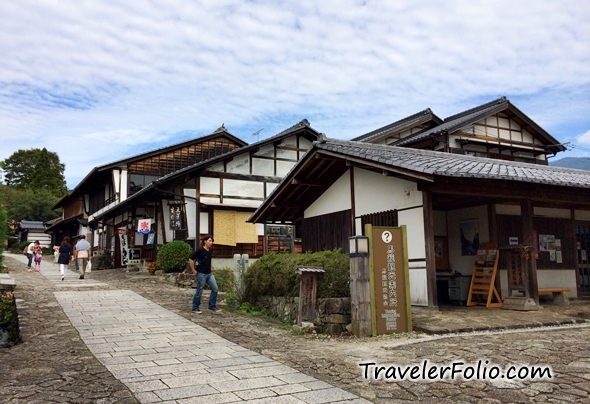 A shop selling kitchenware made of different kind of wood found in the region.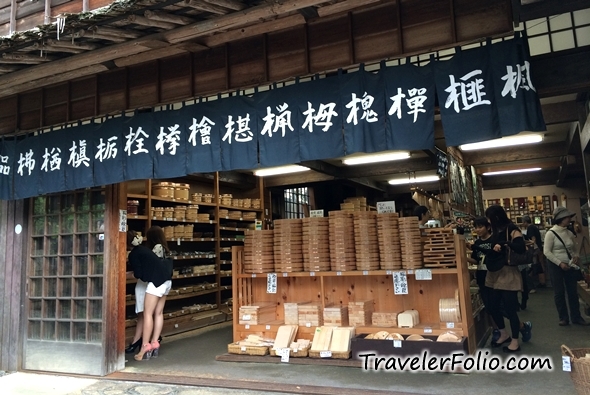 Walking down the slope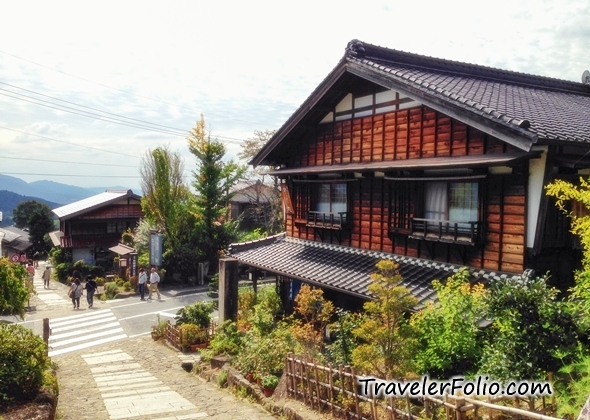 A water feature and old-time fire buckets.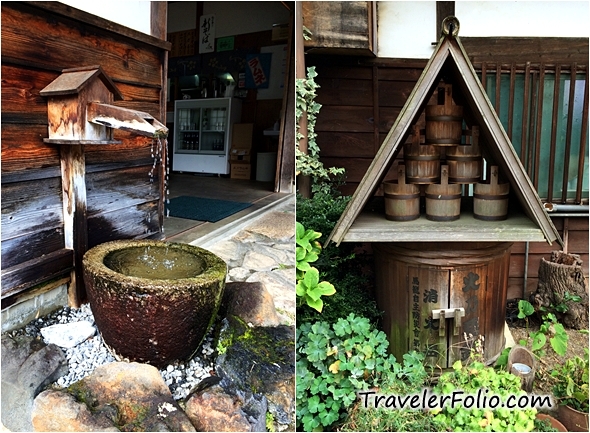 The iconic giant water wheel at Magome-juku.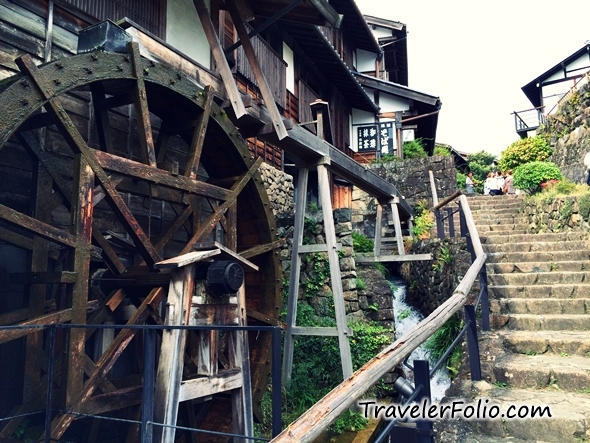 To briefly describe about the historic post town, it is filled with lattice-windowed traditional buildings, tea houses, souvenir shops and confectioneries. If you are there from September to January during the chestnut harvest period, sample some kurikinton.
Originated in Nakatsugawa, kurikinton is recognised as the top 100 local specialities in Japan. The chestnut-based sweet (pastry) is made by boiling high quality chestnuts with sugar before mashing and shaping it like a chestnut. We bought some delicious kurikinton at the post town. Freshly made, the sweet has a fine texture with a delicate flavour of chestnut.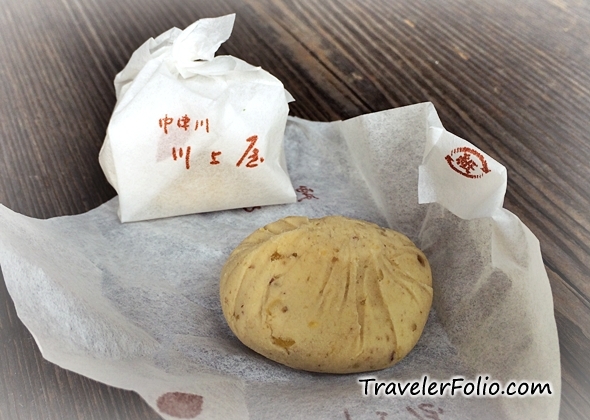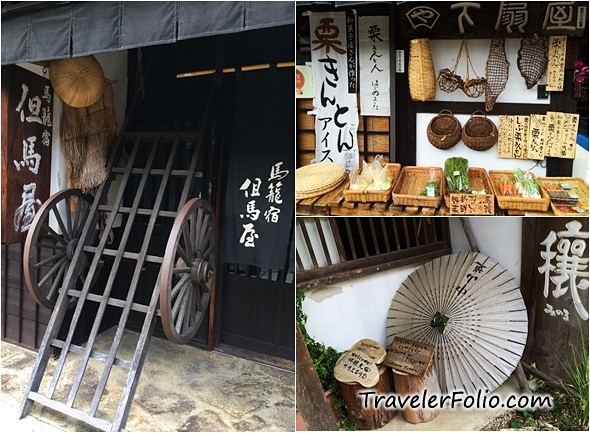 If you are a fan of Japanese literature, you may want to check out the Toson Memorial Museum. It was built to commemorate Shimazaki Toson who was born in Magome-juku. Toson was a representative writer of naturalistic literature in Japan. Some of his famous novels are "Yoake-mae" (Before the Dawn), "Shinsei" (New Life) and "Hakai" (The Broken Commandment).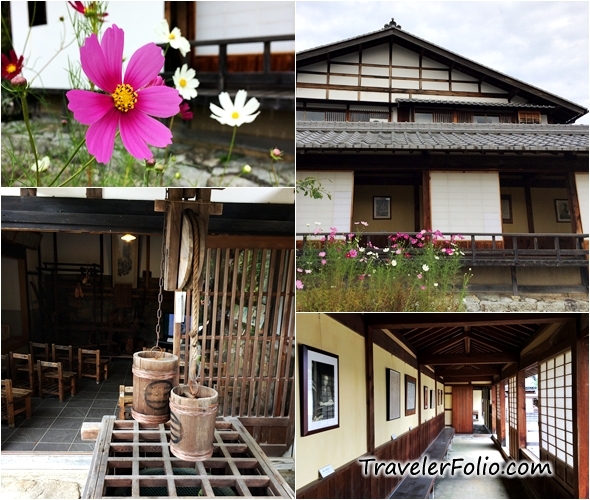 The architectural example of the Toson Memorial Museum follows the Nara period style. The museum comprises of the study room planning and exhibition room, and permanent exhibition room that documents Toson's lifelong activities. There is a yard with the foundation stone, and peonies blooming in May.
We saw a tree full of persimmons.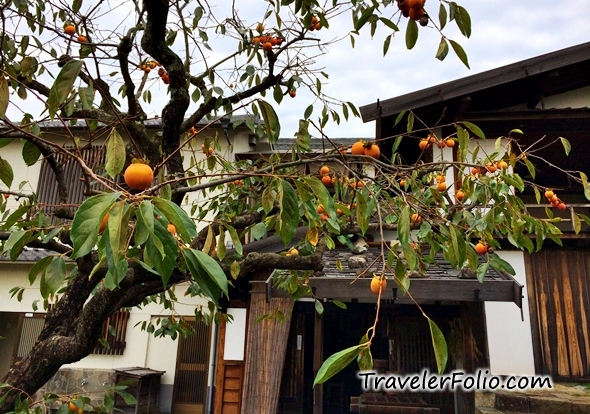 Location of Toson Memorial Museum: Magome 4256-1, Nakatugawa-shi, Gifu-Ken
Admission: ¥500
Continue walking uphill along the main stretch of the post town to the observation point overlooking Mount Ena and the breathtaking surroundings.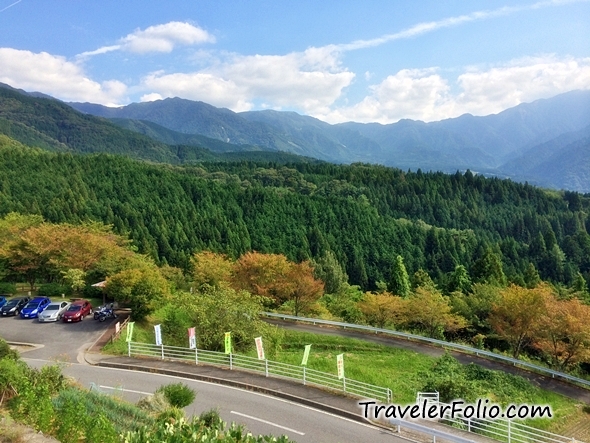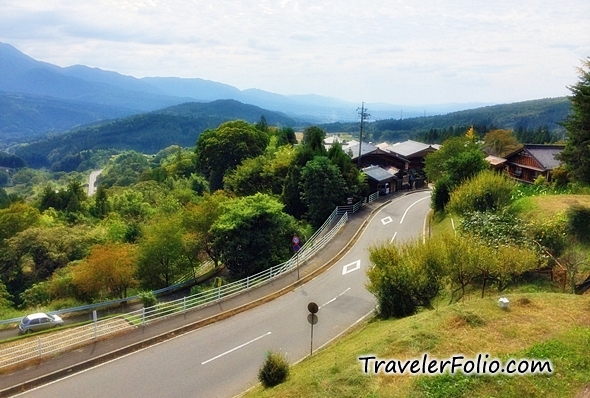 When in Nakatsugawa, have some buckwheat noodles. The area is famous for soba. At Magomeya, we had cold soba for lunch. The noodles are al dente with the right chewy consistency and go very well with shoyu dipping sauce. Since it's the chestnut season, we ordered chestnut steamed rice, something good which I had not tasted before.
Cold soba.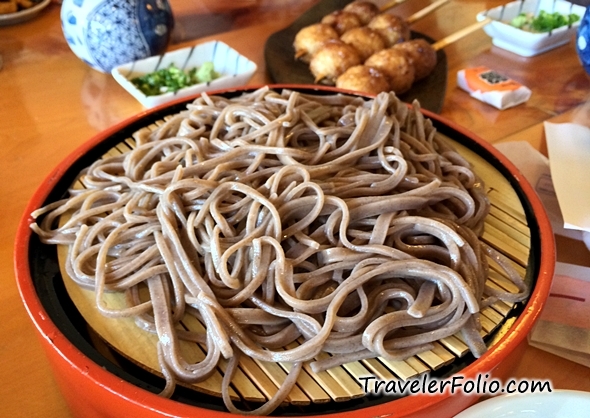 Chestnut rice.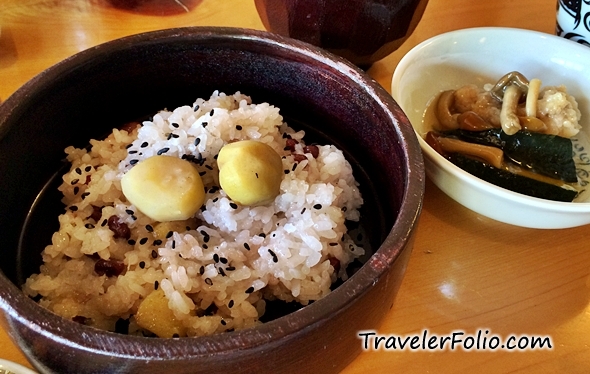 Address of Magomeya: 4571-1 Magome, Nakatsugawa City
How to get there: Magome bus stop (1-minute walk)
Open: 11am – 2:30pm
How to get to Magome-juku:
Stop at Nakatsugawa Station. Take Kita Ena bus on the Magome Line and alight at Magome bus stop (25min / ¥540).
Web: http://n-kanko.jp/
Ena Valley
On the last leg of the trip, we decided to take a sightseeing cruise in Ena Gorge (恵那峡) where the scenic landscape is popular for its intriguing rock formations and glorious colours of the four seasons. From the red and yellow autumn foliage to sakura cherry blossoms in spring to lush green summer and birdwatching in winter, Ena Valley has something to offer for visitors all-year-round.
Bizarre rock formations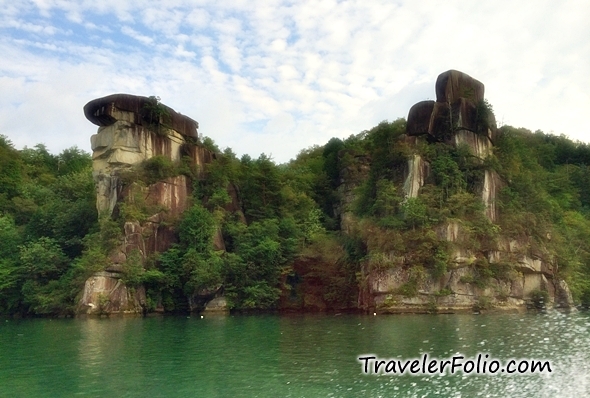 The sightseeing boat tour treated us with panoramic delights of blue waters, bizarre rocks and stones on a 30min round trip at 50km/hour, covering 20km. It's the kind of cruise for those wishing to simply kick back and relax in the idyllic nature park. Look out for the various rock formations and let your imagination run wild.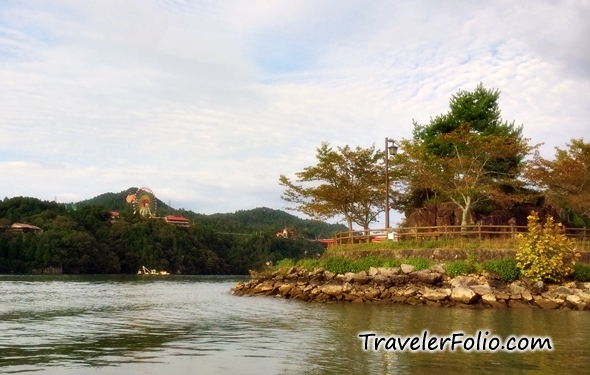 Ena Valley Sightseeing Boats:
2709-104 Oi-cho, Ena City
Admission: ¥1250 (Adult), ¥630 (Child)
How to get there:
At Ena Station, take Tohtetsu Bus on the Ena-kyo Line (14min) to Ena-kyo bus stop and walk 5 to the jetty.
Web: http://tohsyoh.jp/ship/
Finally, it was time for us to depart Gifu prefecture for Chubu Centrair Int'l Airport (www.centrair.jp). We took the train at Ena Station to Nakatsugawa Station, then another train on the Meitetsu Line to the airport (1hr train journey).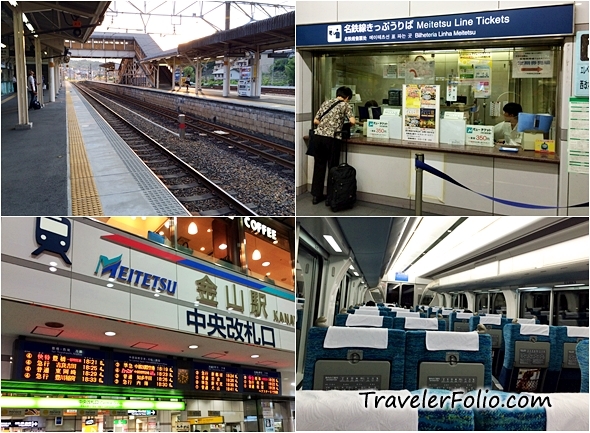 Chubu Centrair
As our SQ flight would depart in the morning, we overnight at Comfort Hotel located just 5min walk across the link bridge from the airport. As the name suggests, the business hotel provides comfort in contemporary style. The guestroom is simple yet spacious and well-equipped with modern amenities including cable TV, tub shower and WiFi.
At the front desk area, there are automatic coffee tea makers and soft drinks for unlimited cups of complimentary beverages.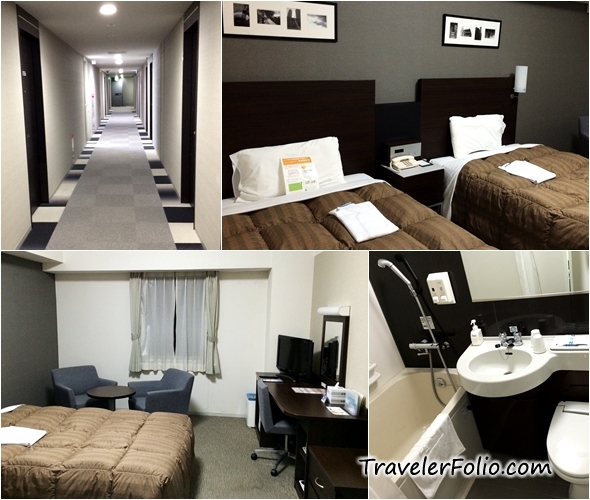 At Chubu Centrair Access Plaza, you can easily spend some time browsing through a huge variety of shops retailing souvenirs and food gifts such as shrimp rice crackers and fish paste products made in the region as well as apparels and fashion accessories including popular ones like Uniqlo and Muji.
Plenty of cafes and food options here for everyone's taste buds, you can find ramen, soba, sushi, Chinese and Korean cuisines, burgers, pasta, steaks and so on.
The Sky Deck for plane watching.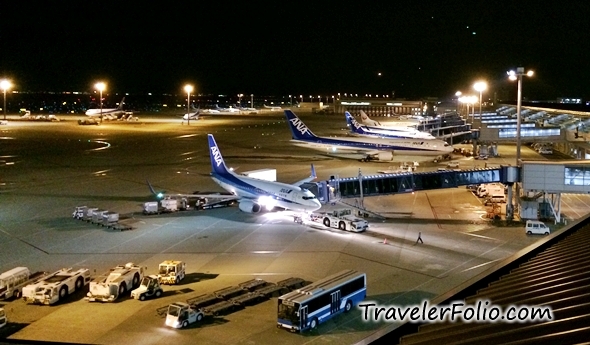 Over the years, Chubu Centrair (中部国際空港) has garnered many accolades, including the 'Best Regional Airport Asia 2013' by Skytrax. For two consecutive years, the airport has been awarded the 'best customer satisfaction for user-friendliness' in its class. The premises are barrier-free and have no steps for easy elderly access and people with disabilities. The airport serves both domestic and international flights. It's the gateway to Shoryudo, comprising of nine prefectures in Chubu and Hokuriku regions.
Do you see Ninjas? Mie prefecture is the birthplace of Ninja.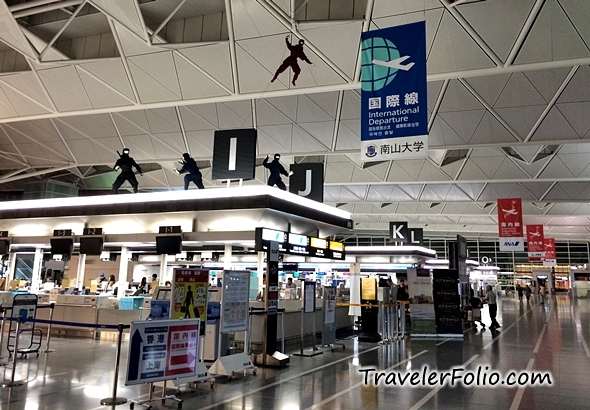 We enjoyed a tantalizing dinner of huge and succulent ebi fry at the ever-popular Maruha Shokudou. The restaurant serves very fresh seafood so we also ordered other seafood dishes – grilled fish and scallops. Oishii!
Ebi fry set meal (¥1280)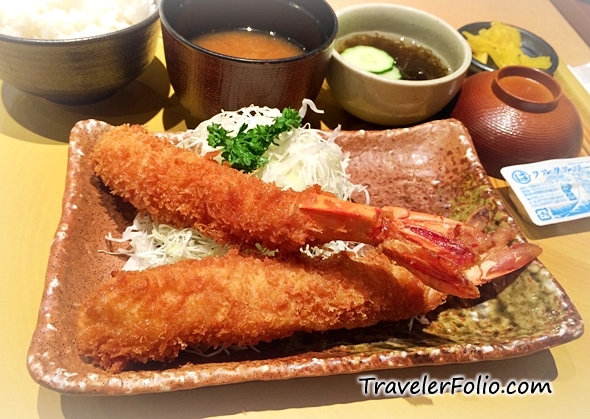 Side orders: grilled scallops and fish.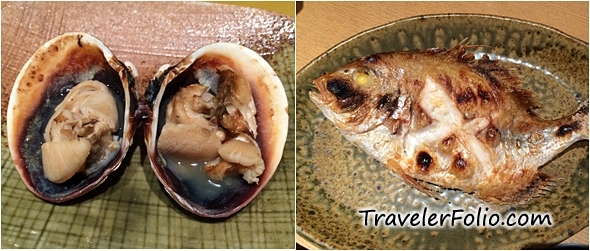 Gifu Free & Easy
The 4-day Gifu Free & Easy trip in the Northern Hida region (飛騨) was nicely paced and well-planned. To wrap it up, our first stop was the cormorant fishing town along Nagara River to learn about the 1300 year-old traditional fishing method, followed by an unforgettable cycling tour in the countryside of Hida Furukawa and an afternoon trip to the nearby Takayama old quarter, dubbed as 'little Kyoto".
On the third day in Okuhida, we ascended Mount Hotaka via Shinhotaka Ropeway double-decker gondola for the best mountain views; then to the UNSECO World Heritage Site Shirakawa-go in the deep mountain area for scenic indulgence. The last day before departure, we visited the Gassho Village in Gero onsen town, Nakasendo's Magome-juku historic post town and finally, a sightseeing cruise in Ena Valley.
And not forgetting the great feasts we had in Gifu everyday! The well-marbled quality Hida beef, Kaiseki-style dinners and sumptuous breakfasts at the ryokan, soba, kurikinton and the list goes on. One day, we will be back in Gifu to explore more places.
Special thanks to the Tourism Division of Gifu Prefectural Government for the invitation to Gifu.
Read all posts on Gifu free & easy.