It's been a while since the UK trip in 2010. Sharon is really nice – she invited us to bunk in at her new apartment in London early this year, so we decided to go Europe for three weeks in April. We've known each other through this blog for years!
Back in 2010, we only had a night in London before touring Stratford-Upon-Avon, York, Oxford City and all the way up north to Hadrian's Wall, Edinburgh and the Scottish Highlands. This time, I just wanted to relax a bit so we had 10 days in London, followed by Paris and Amsterdam for the tulips and windmills!
STA Travel Singapore
STA Travel has been one of our favourite travel planners in Singapore for years. Not gimmicky and no hard-selling, we turn to them for assistance and expertise on how to get around Europe on a shoestring, where to stay and promotional airfares available on certain dates. They are the travel experts and seem to know most part of Europe inside out! They always provide a few options for us to match the itinerary; personalized service is the way to go as everyone has their own style of travel.
STA Travel office in Cambridge, England.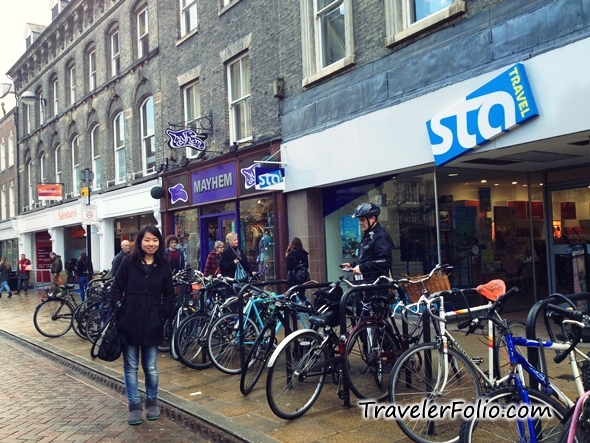 For air travel, the STA Travel staff suggested we could fly into London and return from Amsterdam. It's more convenient to take Eurostar's high-speed train at London St Pancras railway station straight into the city centre of Paris (~2hr). From Paris, take Thalys high-speed train (~4hr) and it will take you to the heart of Amsterdam.
Eurail
Rail travel in Europe is one of the most efficient modes of transport to travel across countries. Forget about massive queues for airport security screening and check-in, hop onto the train and enjoy the passing scenery while relaxing in spacious and comfortable seat, finally to arrive at the city centre of your destination. This saves the time on travelling from the airport to the city, if you take a flight instead.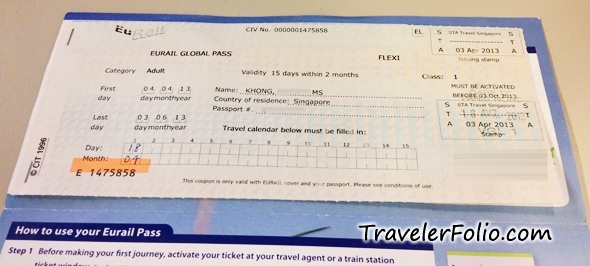 A Eurail Global Pass with a validity of 15 days (non-consecutive) within 2 months. Activate the pass at your travel agent or a train station before using it for your first journey. Remember to fill in the date of travel.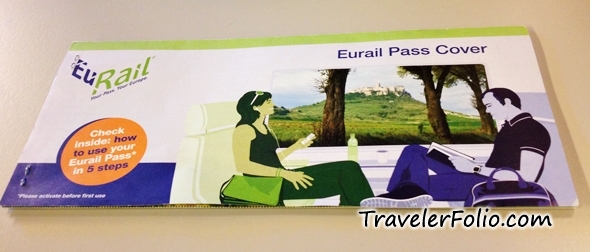 Choose a Eurail pass that fits your travel plan. The Eurail offers a range of rail passes for Youth (age 12-25), Adult 1st/2nd class (age 26 & above) and Family 1st/2nd class (with kids), covering up to 27 European countries by trains run by the national train operators.
The popular Eurail passes include the Global Pass valid in 24 European countries, Select Pass to explore 3, 4 or 5 bordering countries of your choice, Italy Pass and France-Germany Pass. Most of these passes offer flexible travel days within 2 months, starting from the date of validation of your pass.
Thalys high-speed train at Gare du Nord, Paris.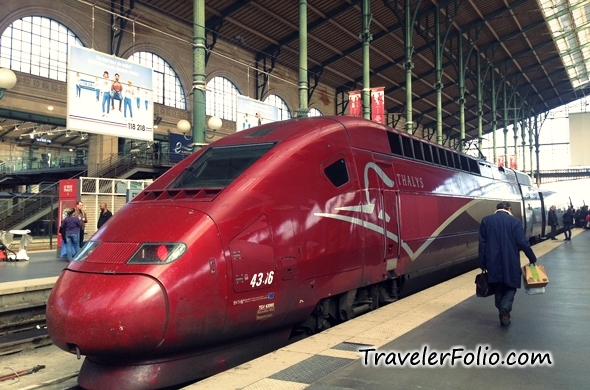 Thereafter, simply show your Eurail pass to the conductor on the train upon request. It also saves the hassle of trying to figure out which point-to-point rail ticket to buy at a busy train station ticketing counter, let alone you don't speak the local language. In addition, discounts and special offers for ferry and bus travel, accommodation and attractions are available in the countries where your Eurail pass is valid.
You can find out more information and get the best recommendation for a Eurail pass that suits your travel plan from STA Travel. (www.statravel.com.sg/eurail)
STA Travel SMU Head Office (Opposite FRANK by OCBC)
SMU Concourse, #B1-46, 70 Stamford Road, Singapore 178901
Phone: +65 6737 7188 | Fax: +65 6737 2591 | Email: sales@statravel.com.sg
Monday – Friday: 10:00 – 19:00 | Saturday: 10:00 – 14:00 | Sunday & P.H.: Closed
STA Travel Bugis Office
534A North Bridge Road (Opposite Bugis Junction's Toast Box), Singapore 188749
Phone: +65 6737 7188 | Fax: +65 6737 2591 | Email: sales@statravel.com.sg
Monday – Friday: 10:00 – 19:00 | Saturday: 09:00 – 17:00 | Sunday & P.H.: Closed
Stay tuned for more updates on our Europe trip soon!