Wanaka
From Te-Anua, we set off to our next destination– a 3 hours drive via Crown Range, which situates between Queenstown and Wanaka on New Zealand's South Island. Our research mentioned that we should travel via Crown Range rather than through Cromwell, as it's shorter and has better scenery. It turns out to be one of the most magnificent drives in this route.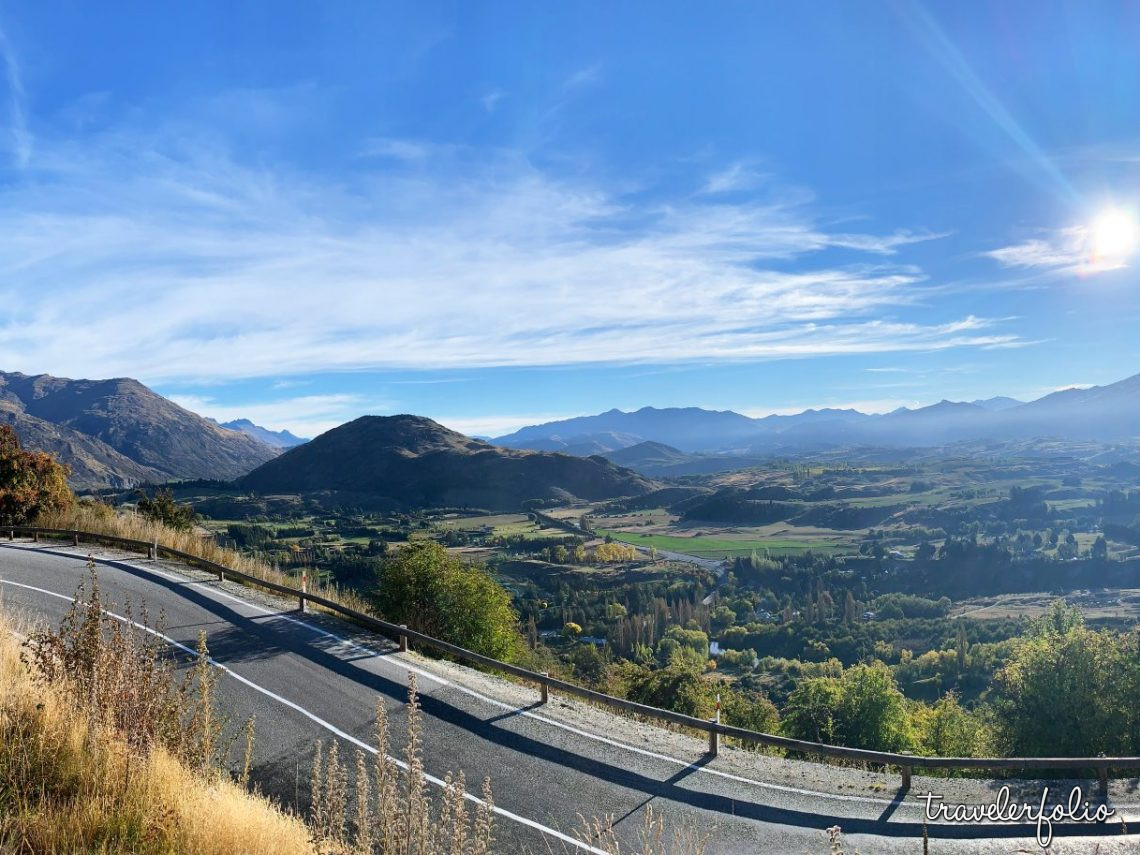 Crown Range Road is the highest main road in New Zealand. It reaches an altitude of 1121 metres.
The mountainous drive was frightening for us, but we were rewarded with sceneries. The route is so picturesque, it should be a point of interest in its own right. We stopped at Wanaka for the highlight of the trip – hiking at Roy's Peak Track.
Roy's Peak
As I was mapping out the South island itinerary, I always came across some keywords too hard to ignore. Tramps, hiking or walking…whatever it is called is basically a must-do activity for visitors.
Pick a good day, pack food and start hiking. New Zealand offers so many hiking options to choose from that it can be overwhelming to decide a suitable one.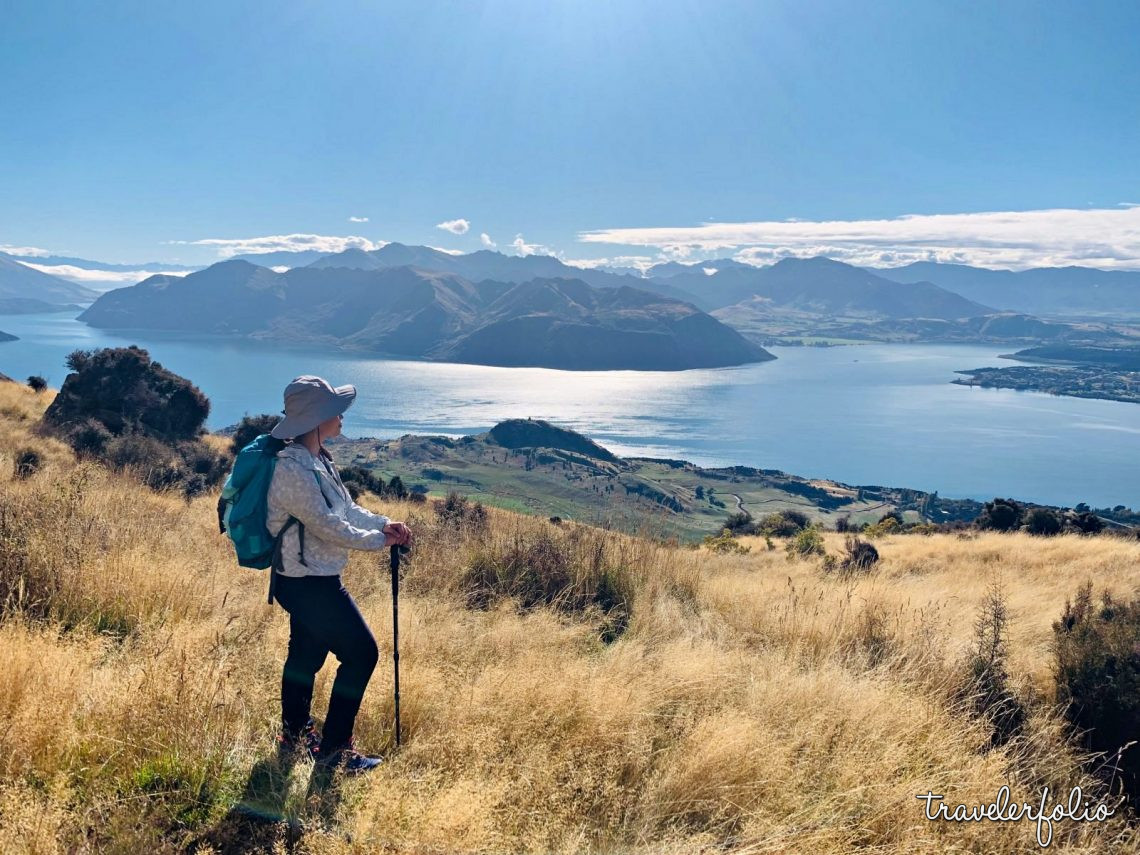 Some basic concepts of hiking trails are – looped, point to point, destination and summit trail.
A loop trail starts and ends at the same point without walking on the same path.
A point-to-point trail starts and ends in different locations, usually is too long to return to the start of the trail.
A destination trail that people will travel to visit the place of interest.
A summit trail takes hikers up to the peak and back down via the same trail or the other side of the slope.
Roy's Peak stands between Wanaka and Glendhu Bay. It is popularly known as one of the best day hike summit trails in New Zealand. A 15 minutes drive away from Wanaka city center will take you the the start of the summit trail. You are looking at ascending an elevation of 1,578m by foot in a single day. That is no easy feat for beginners. Let me share with you how novices like us did it.
Research beforehand is very important. As first timers, we had to equip ourselves physically, mentally and materially to ensure the hike must go on!
Wear comfortably for the weather – wind breaker, hiking shoes, hiking sticks, hats and toe socks… you want to make sure you load your hiking bag just sufficiently and not overpacked (even though it is hard for beginners). For the trigger-happy hikers, a gentle reminder to fully charged your camera batteries and mobile, and leave enough memory space for photos and videos.
Allocate a day just for the hike – we spent 4 hours on the grunting upward hike and knee-tearing 2 hours downhill (read up on how to walk downhill). You may want to enjoy the hike journey and summit as long as you wish and not rush through the experience because you booked a dinner somewhere else.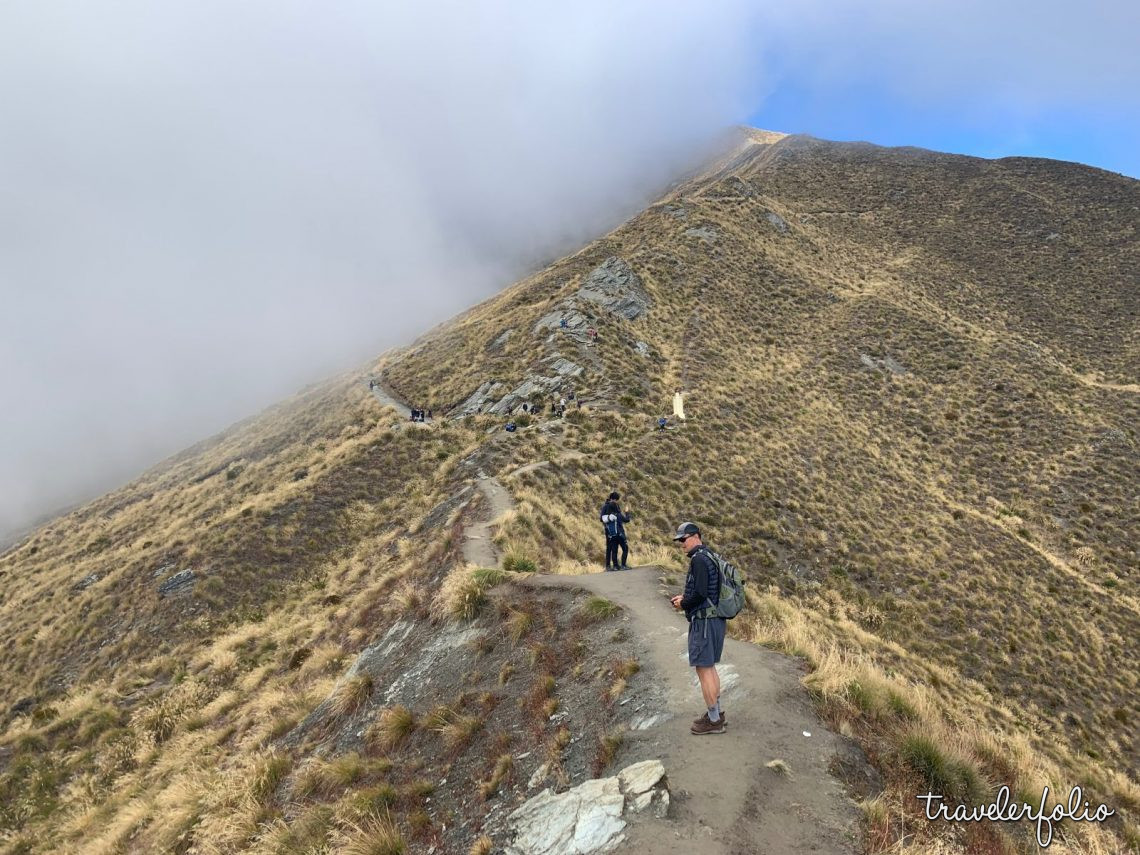 We stocked up food from the New World Wanaka the night before and prepared food for lunch at the summit as there are no cafes or shops 'up there'. Each of us carried about 1.5 litres of water and chocolate/energy bars to replenish energy.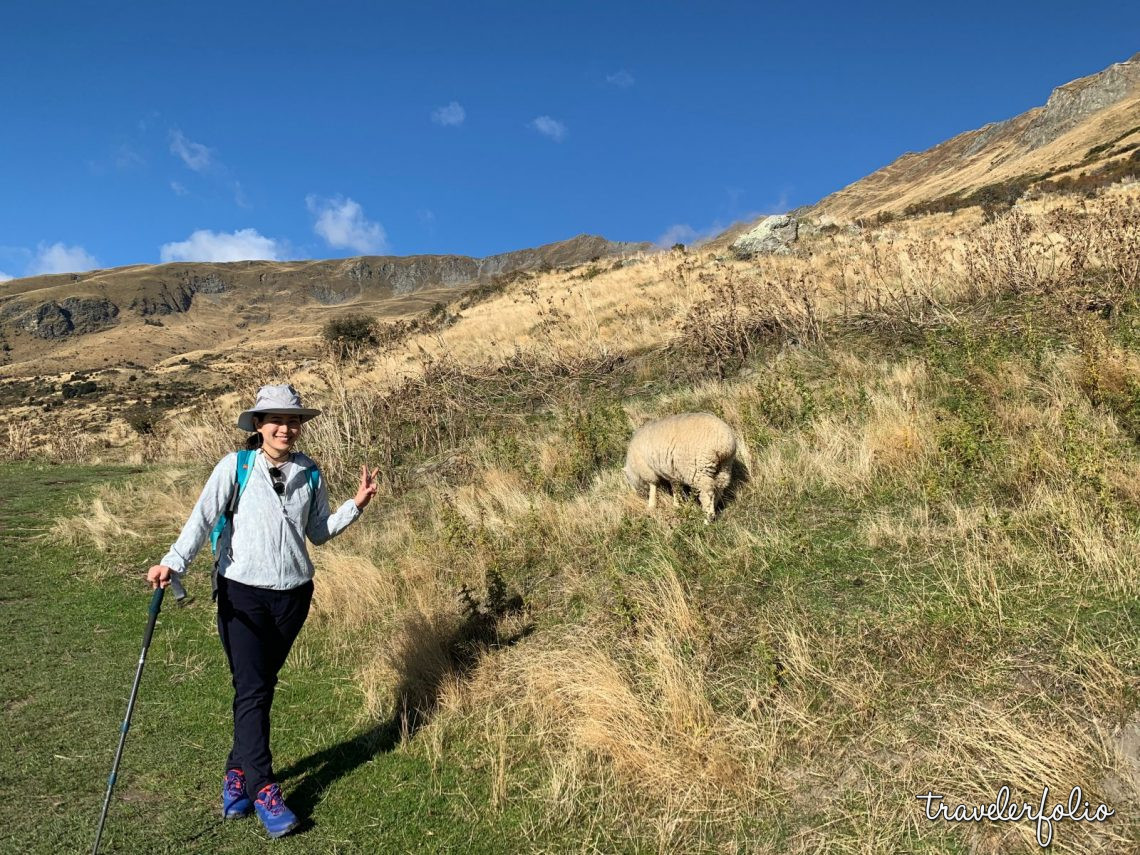 The hike is 100% expose to sun with no shady vegetation, so you should apply sunscreen generously. We did that at every hour of the hike and avoided a serious sunburn.
We set off at 9am and parked the car at the foot of Roy's Peak. The carpark is relatively small, so it is good to go early. The rest of the journey is just…to walk, enjoy the view and connect with the surrounding landscape and people sharing the same path as you.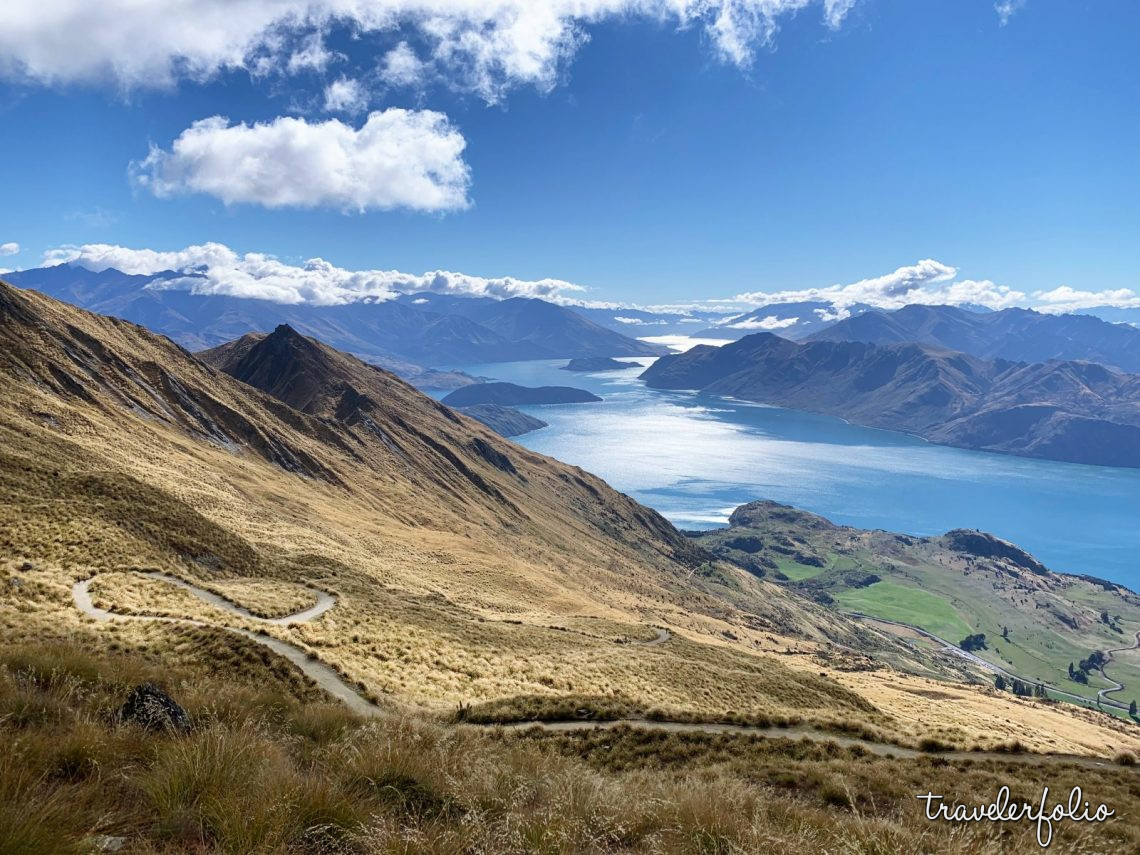 The view on the way up may look like the same after a while, but the summit hike offers big reward; so make sure you endure all the way up and not turn back until you reach the top. Roy's Peak promises new perspective when you hike up to get there.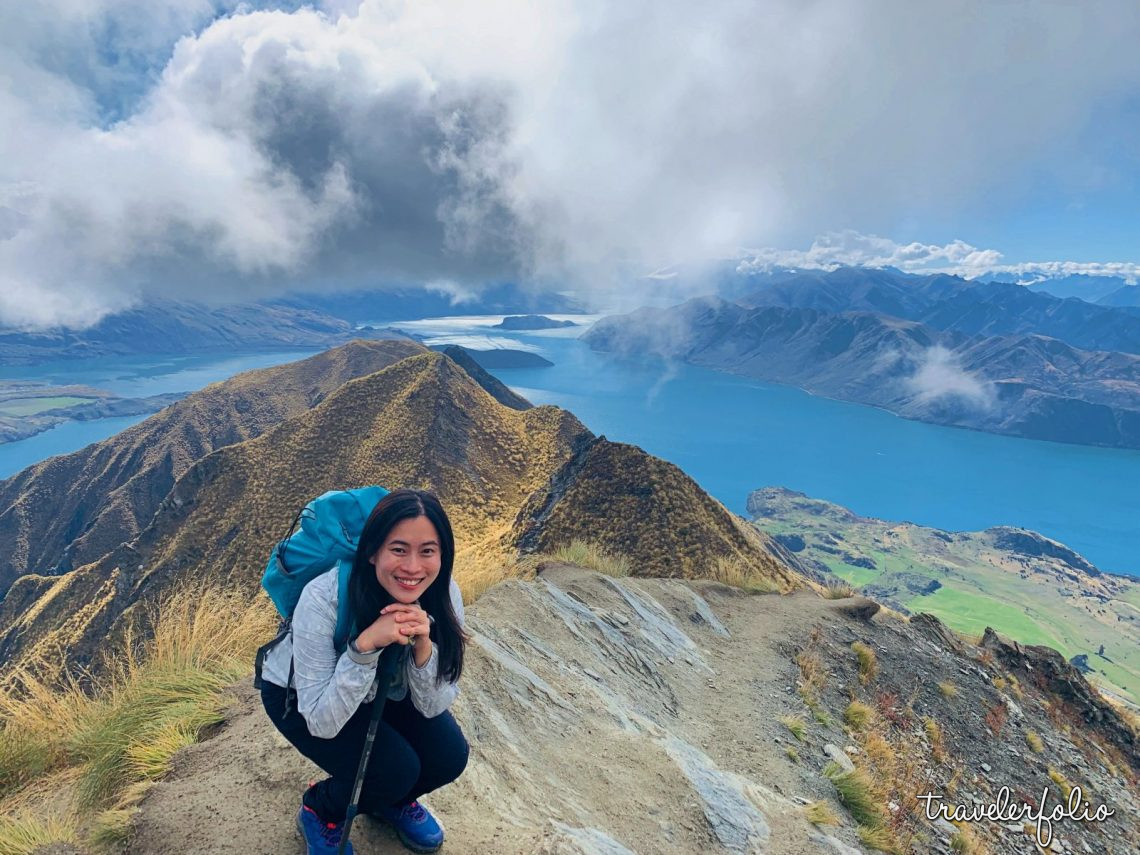 Pure happiness washed us over when we reached the summit! We found a good spot and rested our bodies for lunch. What a million dollar view to soak up.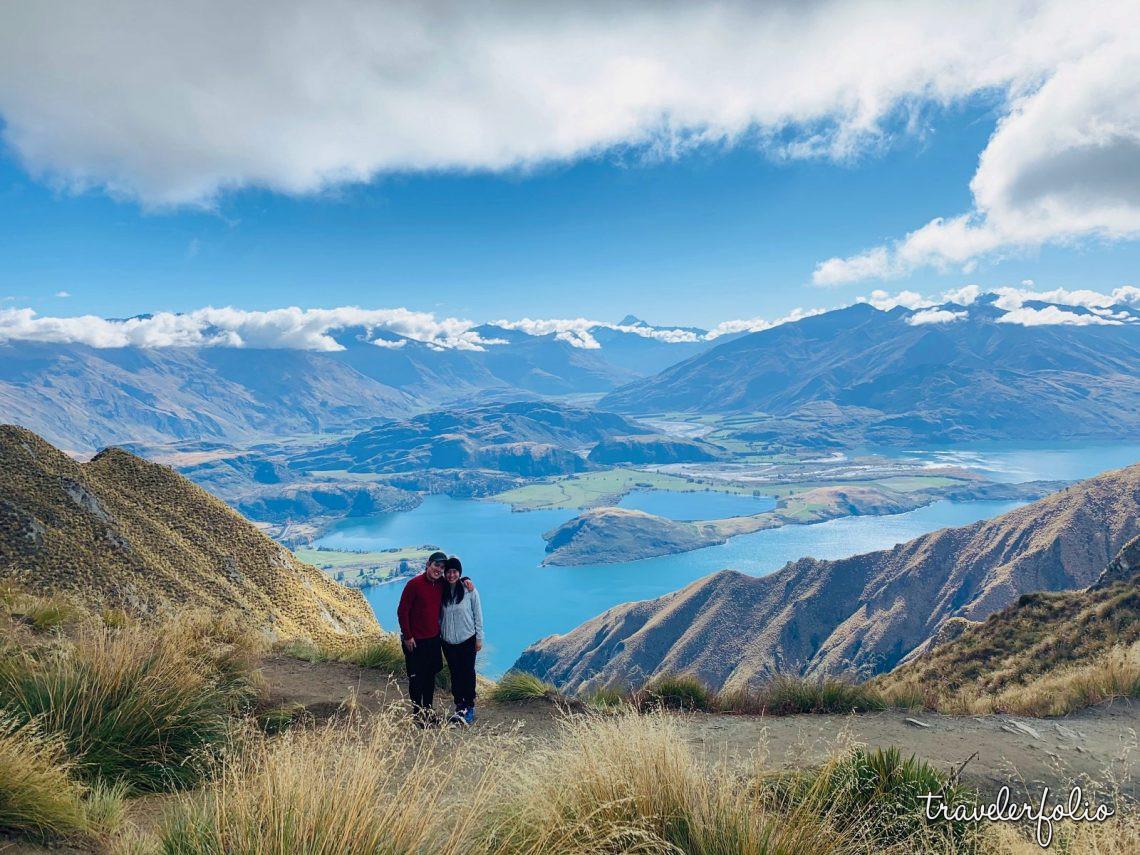 On a clear day, you can see afar.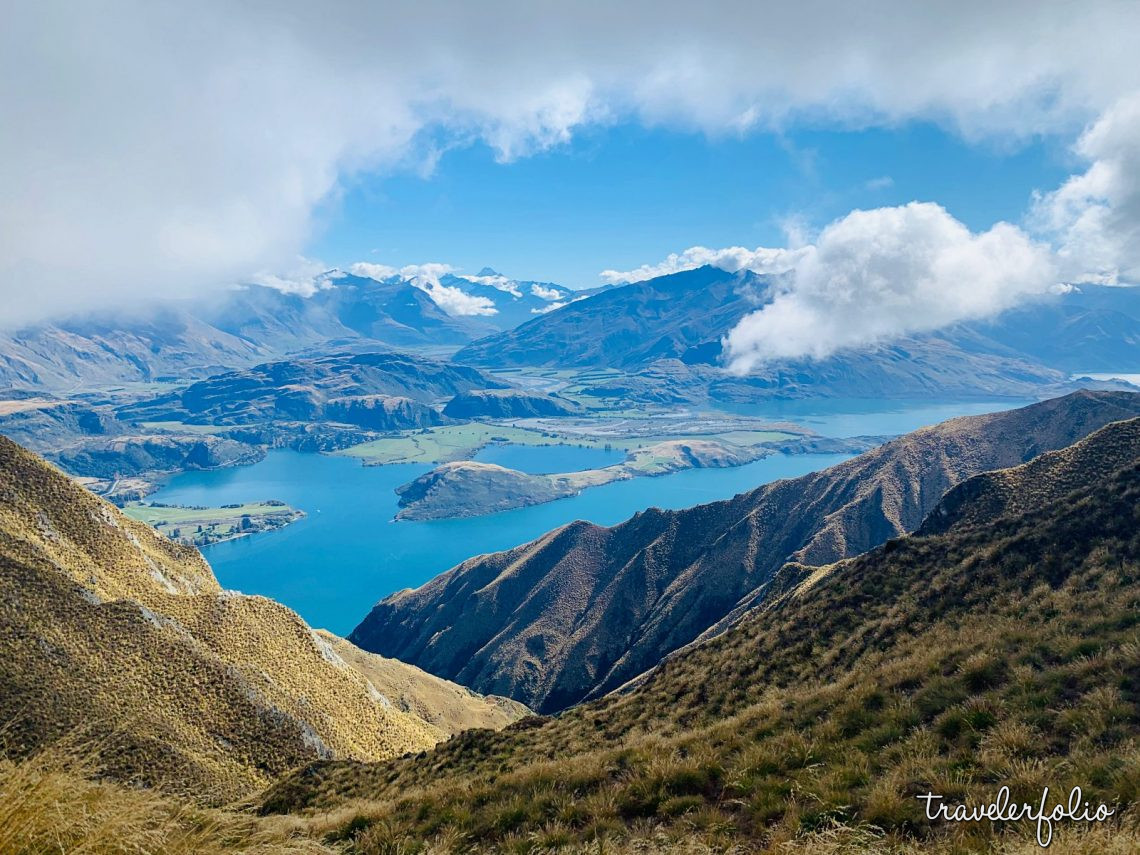 Descending downhill was not at all easy, though it took a shorter time than going uphill. Thanks to the hiking poles, we were able to better balance ourselves.
Some of my two cents' worth on how to hike downhill:
1) Try to slightly bend your knees to reduce the impact during the descend. This will help to minimize stress on the knees.
2) Use hiking pole to anchor forward to reduce the gravity of leaning forward
3) Reduce your bag weight. If you no longer need water, discard it to lighten your load.
By the time we went back down, it was 4pm, which was almost the end of the day in New Zealand. With shaky-tired legs, we headed back to our accommodation feeling exhausted yet fulfilled. I would recommend to anyone with moderate fitness to hike Roy's Peak Track as the route is 'foolproof' with one way up and down, offering tremendous beauty along the way.
Follow us on Facebook and Twitter for updates on New Zealand road trip.
By Kelly