.
Gyeongju
Gyeongju is known as 'the museum without walls'. The capital of the ancient Silla dynasty is home to 4 UNSECO World Heritage Sites – Seokguram Grotto, Bulguksa Temple, Gyeongju Historic Areas and Yangdong Folk Village. Historically rich, it's of little wonder Gyeongju is one of Korea's top tourist destinations.
On the second day with K-Shuttle limousine bus, we checked out Concord Hotel and began our cultural expedition to 2 of the 4 UNESCO sites in Gyeongju. Like many travellers these days, I prefer free and easy tour but I don't always have the luxury of time to research on places to go.
One thing I like about K-Shuttle is that the bus tour does not operate like the conventional kind of group tours. It's tailored for free and independent travellers who want peace of mind and hassle free travel to places that are not so easily accessible by public transport. The foreigner-only tour bus also offers the flexibility for travellers who want to spend more time to explore a city along its routes. Let's say, if you want to spend a few days in Busan, you can choose to extend your stay and perhaps, hop over to Jeju island, then board another K-Shuttle bus on a different day at no additional costs.
K-Shuttle route map (www.k-shuttle.com)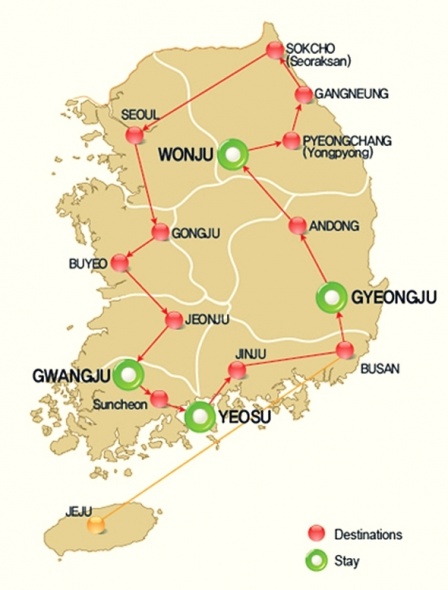 For people like me who don't understand Korean language, it's good that we are accompanied by a professional English-speaking guide during the K-shuttle tour. Unlike many group tours from travel agencies, K-Shuttle tour will not drop you at tourist shops and expect tips.
Along the way, our guide, Mr Kim, tried to break the ice by introducing the travellers on the tour bus. They came from Germany, United States and China; most were travelling with families while some were couples and friends. K-Shuttle departs from Seoul and travels to Gongju, Buyeo, Jeonju, Gwangju, Suncheon, Yeosu, and Jinju, before arriving at Busan where we embarked and continued to tour the eastern part of the peninsula and back to Seoul.
Mr Kim shared about the heritage sites that we would be visiting before arriving at the destination. The K-Shuttle tour gives travellers the freedom to explore the attraction at own pace. Mr Kim would let us know the meeting point and time before we proceed.
Operating daily, K-Shuttle luxury limousine bus can accommodate up to 36 passengers with its spacious seats and leg room.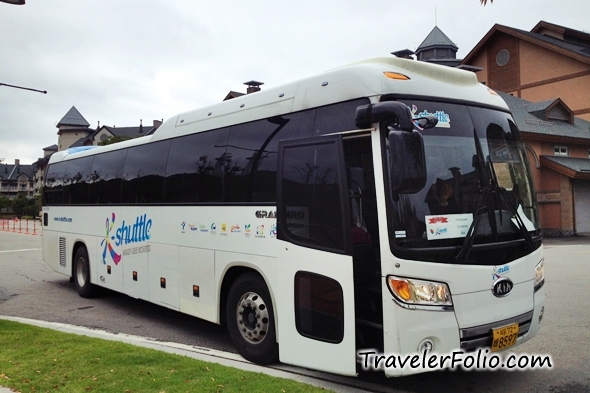 We took a short walk along the path surrounded by lush green vegetation to Seokguram Grotto. The cave temple on the hillside is believed to be built in 751. There, a majestic Buddha was carved in granite. The Seokguram Grotto has been listed on the UNESCO's World Heritage Site list since 1995. The historic treasure trove reflects the artistic skills of the Silla dynasty and is reputed as one of best Buddhist shrines in the world. An admission ticket costs ₩4,000.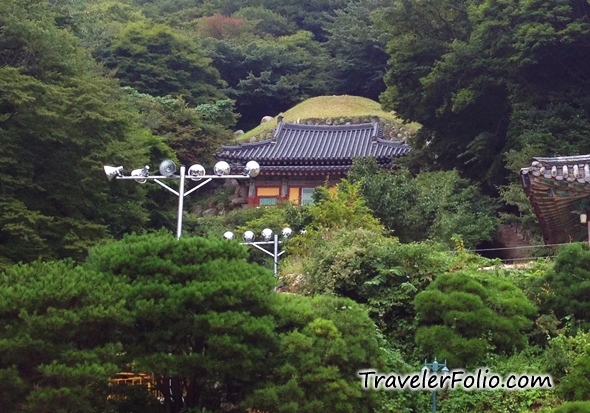 Unfortunately, photography is not allowed at the cave temple. Nevertheless, it was a lovely stroll around the site in crisp, fresh mountain air.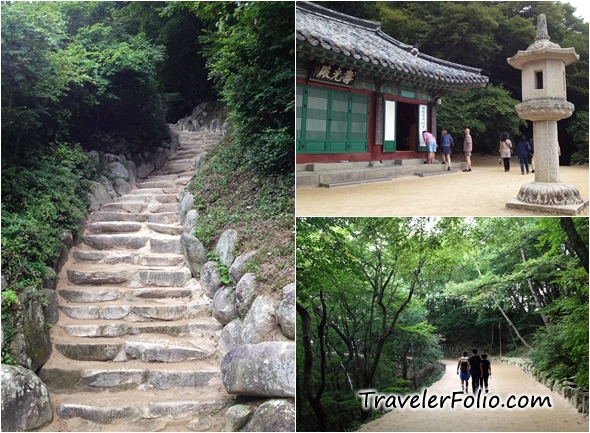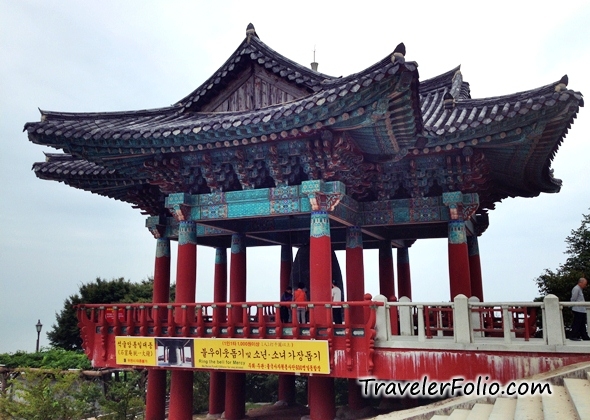 In just a couple of minutes bus ride from Seokguram Grotto, we reached Bulguksa Temple, a UNESCO's World Heritage Site listed in 1995. The Buddhist temple is one of the best known in Korea, a representative relic of Gyeongju that is an extraordinary example of architectural wisdom from the Silla dynasty.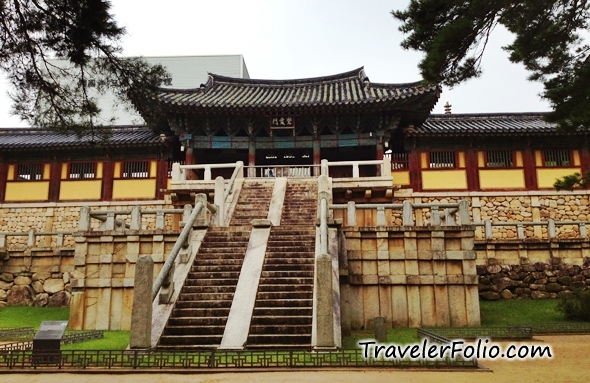 As you enter Bulguksa Temple, you will come across a stone pagoda, another one is currently kept in a building and undergoing restoration. The two pagodas are the most valuable in Korea. Look at this precious stone pagoda; the blocks are stacked together without any fasteners!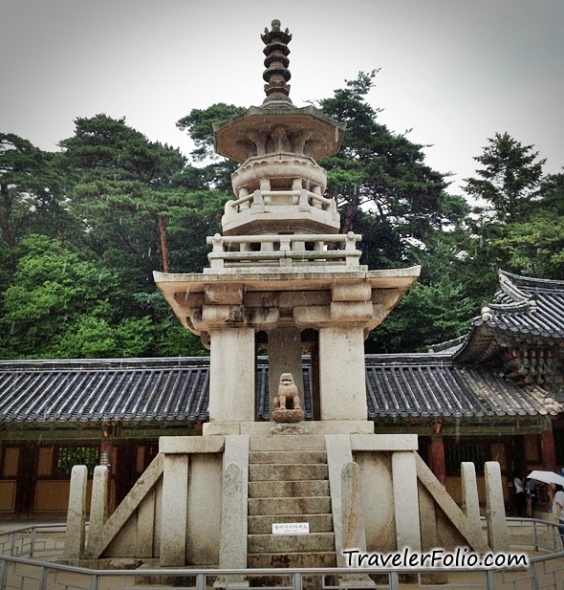 We were given ample time at the beautiful temple to take photographs of the colourfully painted corridors and wooden buildings.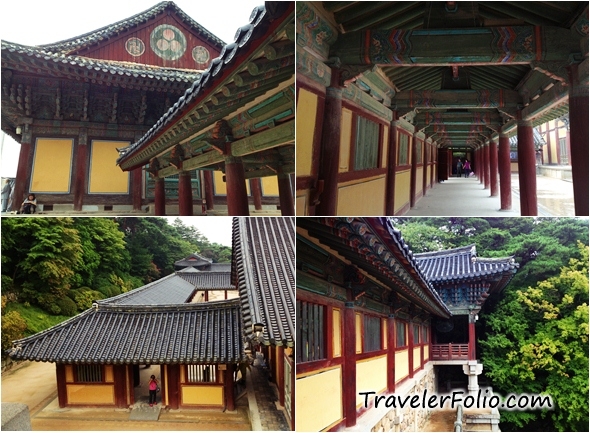 A prayer hall.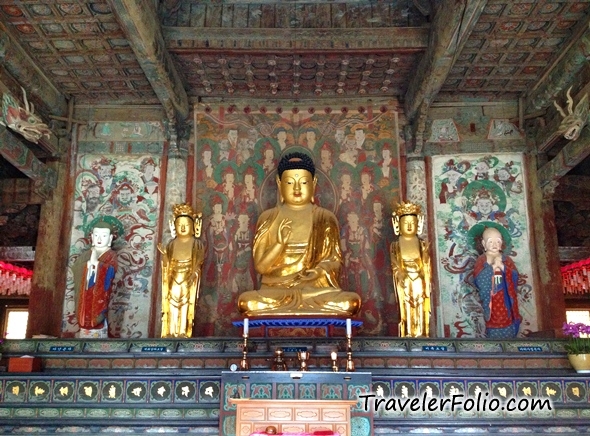 This temple is so huge it definitely requires sometime to walk around.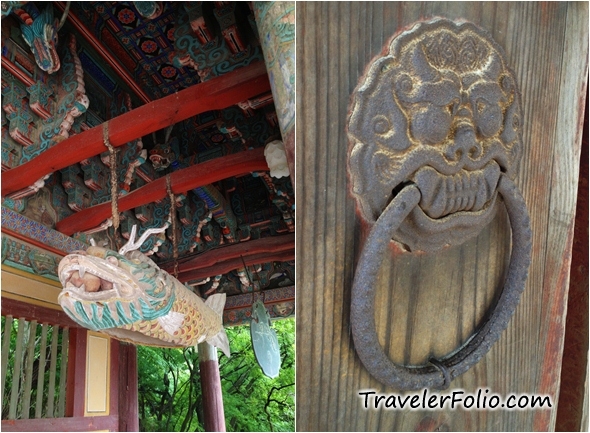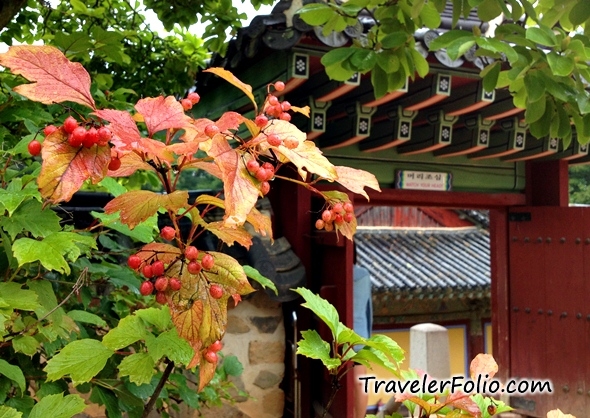 Everyone looked forward to meal breaks as K-Shuttle would take us to traditional Korean restaurants that serve very good food. With the bus tour, you can order according to your preference at affordable price at the restaurants. This is what I like about K-Shuttle – I don't have to settle for any food that is pre-ordered by the conventional tour group package.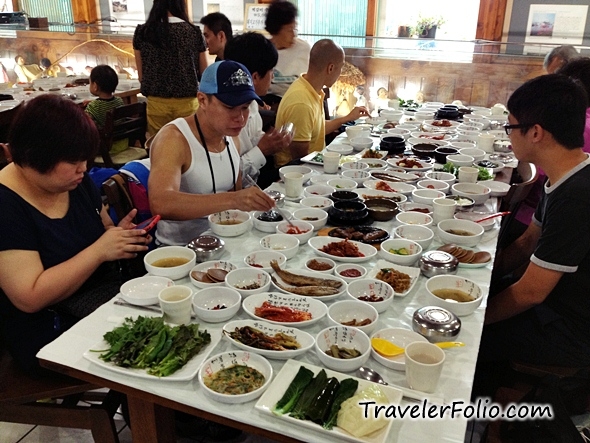 They say when in Korea, we have to try Hanjeongsik. It's a full course Korean meal that comes with a spread of tasty banchan (side dishes) and main dishes like beef, pork and fish. A very hearty meal that set us back ₩10,000 per person.
Andong
K-Shuttle took us for a 2-hour ride to the scenic destination of Andong – another UNESCO's World Heritage Site of the day – Hahoe Village. Then we need to change to another bus to take us to the village.
Hahoe Village got its name from the Nakdong River that flows around village.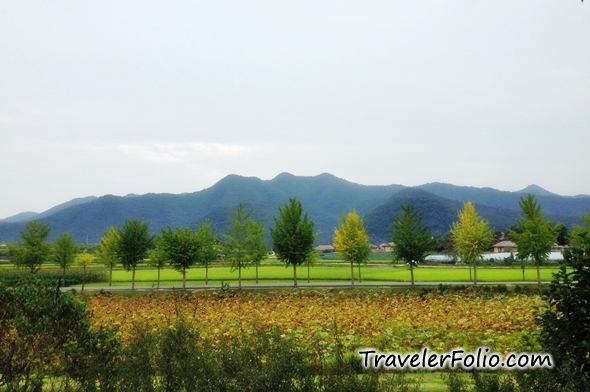 Hahoe Village is filled with well-preserved tile-roofed and straw-roofed traditional houses where people still reside. The picturesque village is backdropped by the magnificent Buyongdae Cliff and golden paddy fields.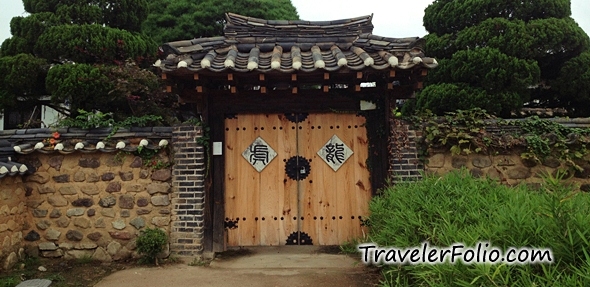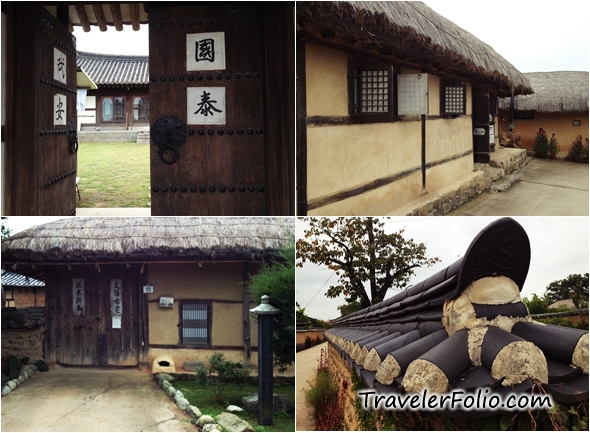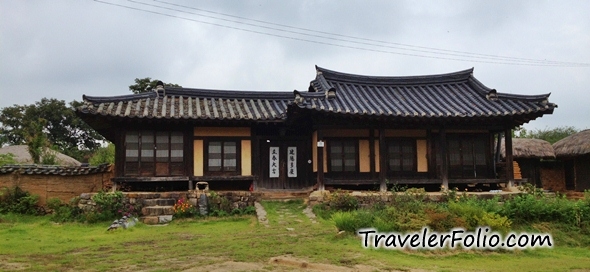 The interesting totem poles we usually see in Korea are the village guardians – jangseung or beoksu.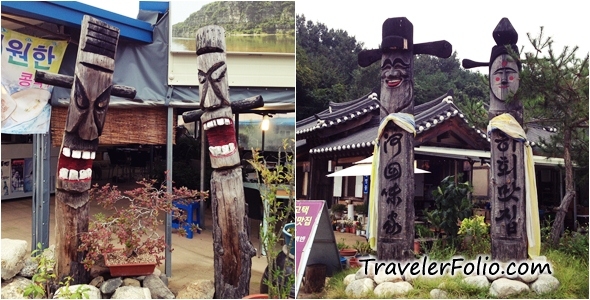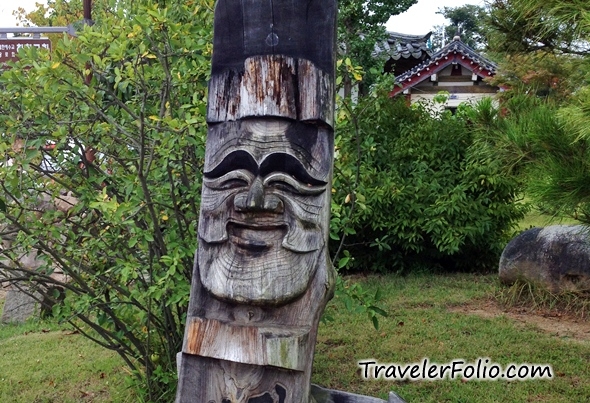 Hahoe Village is also well known for its Hahoe masks.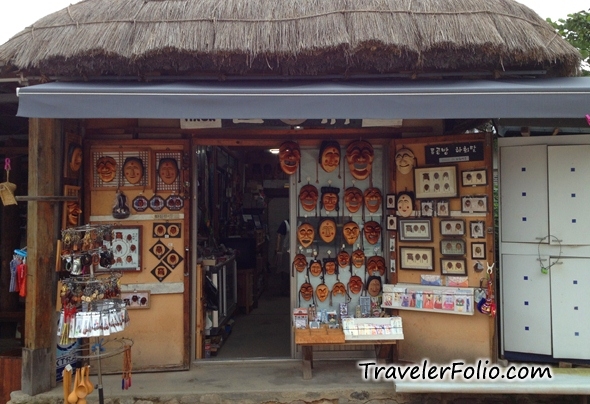 No tour bus is allowed. So visitors have to take the Hahoe Village shuttle bus into the village.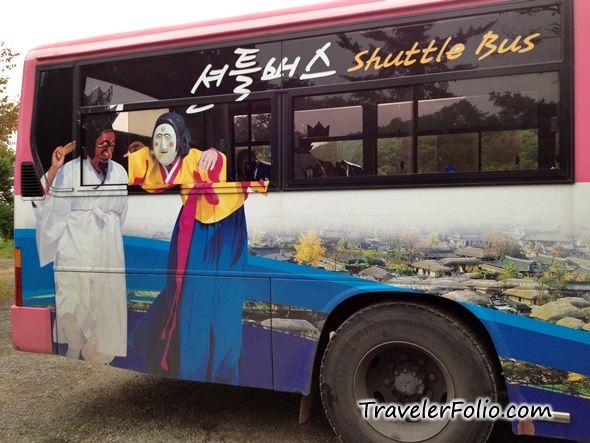 What did we have for dinner in Andong? Andong is famous for braised chicken. The local specialty, Andong Jjimdak, is served in different levels of spiciness. We had it spicy, of course! This Andong braised chicken was so delish we almost licked the plate! The flavourful dish appeals much to our Singaporean tastebuds!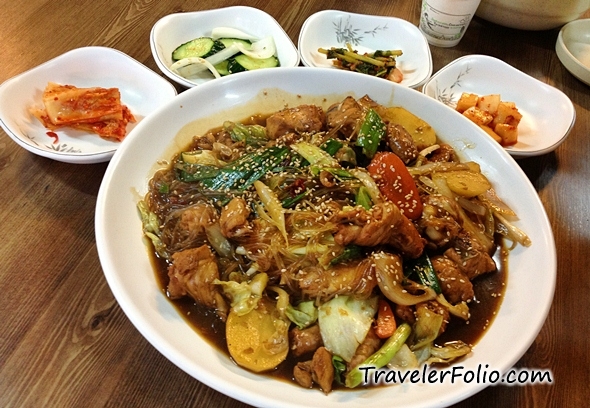 We left Andong after dinner for Wonju, a city in the mountainous region of Gangwon province. We only spent a night in Wonju and stayed at Interburgo Hotel. The following day, we visited Alpensia Resort, the venue of Pyeongchang 2013 Winter Olympics and Mount Seorak, one of the most stunning mountains in Korea.
Stay tuned for more updates on Korea!
Read Korea Free & Easy: Busan (part 2) and all posts on Korea Free & Easy
*Special thanks to Korea Tourism Organization Singapore for making this trip possible.