[Updated on 12 May 2019]
Keukenhof
The Keukenhof theme for 2019 is Flower Power, inspired by the early 70s vibes of vibrant colours, hippies, peace and music to celebrate the 70th anniversary of Keukenhof. The park is open from 21 March – 19 May 2019.
Here are some of the photos taken by fun-loving folks who just visited Keukenhof in May.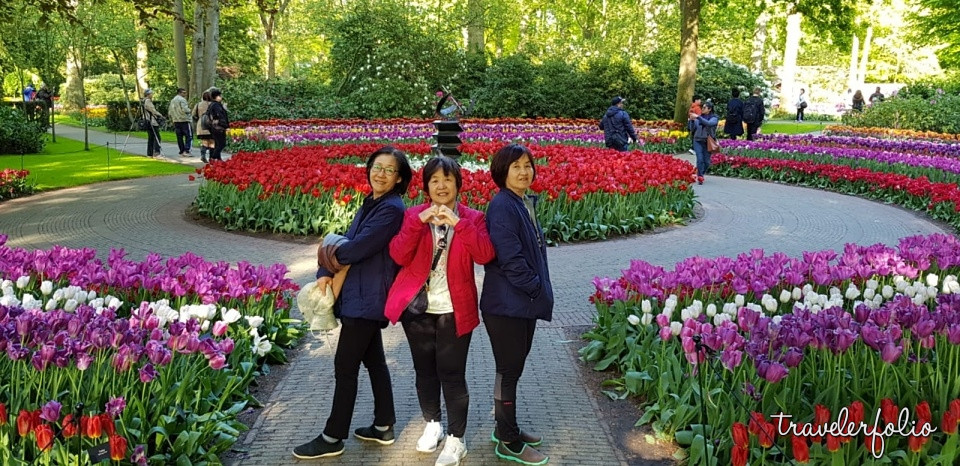 How to get to Keukenhof Gardens
By Public Transport
There are different departure locations to take the direct bus to Keukenhof Gardens. You can purchase the combi entrance + return bus ticket.
Adult combi entrance + return bus ticket from Haarlem, Hoofddorp, Schiphol or Leiden: € 25,00
Adult combi entrance + return bus ticket from Amsterdam: € 30,00
Child entrance + return bus ticket from Amsterdam, Schiphol, Leiden, Haarlem, Hoofddorp: € 13,50
(More information on Keukenhof Gardens https://keukenhof.nl/en/)
By Car
Keukenhof is located between Amsterdam and The Hague and is easily accessible via motorways A4 (exit Nieuw-Vennep) and A44 (exit 3, Lisse).
The park opening hours are from 08:00 to 19:30. The ticket office is open from 08:00 to 18:00. Adult ticket: € 17,00 Child (4-17 yr old): € 8,00
It is our first visit to the Netherlands and what struck us most were the picturesque canal houses, windmills and tulip fields that you shouldn't miss while touring that part of Europe in April/May.
On the 3-week Europe trip, we travelled from London to Paris by Eurostar, Paris to Amsterdam by Thalys high-speed train with my Eurail pass from STA Travel. The whole journey only takes about 4-hour from Paris Gare du Nord to Amsterdam Centraal, the main railway station at the bustling city centre of Amsterdam.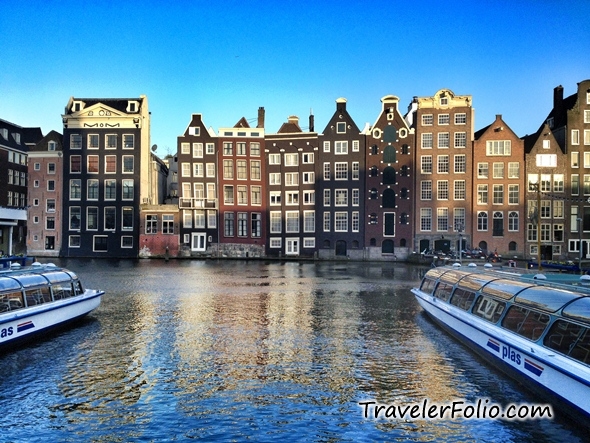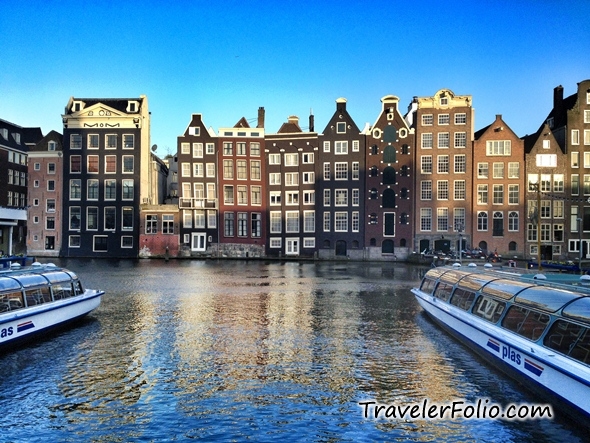 Amsterdam is very tourist-friendly – you can easily find information counters at the train station and the nearby tourist information centre. The English-speaking staffs were helpful and we got all the information we needed to go to Keukenhof, the world's largest flower garden, Zaanse Schans for the windmills and where to take the tram to Hans Brinker, our accommodation for three nights in the the city.
To Zaanse Schans: Take a short train ride (4 stops) to Koog Zaandyu station and a 10-minute walk to the windmill tourist attraction.
To Keukenhof gardens: You can buy the Keukenhof Combi ticket at the tourist information centre. It only costs €22.50 that includes the return bus trip and admission to the gardens. Take the Keukenhof bus at Schiphol airport train station, Leiden or Haarlem. We took a train to Schiphol (I could use my Eurail pass for this trip), then for the Keukenhof bus. It's easy to get there on your own; save the money for expensive tours to Keukenhof.
Honestly, the main highlight of the trip is not Keukenhof but the blooming tulip fields near Keukenhof. You can rent a bicycle (€10 till 8pm) near the entrance/exit of Keukenhof. The bicycle rental shop will provide you a map with easy cycling routes to see the tulip fields, the round trip can be done in 45-minute.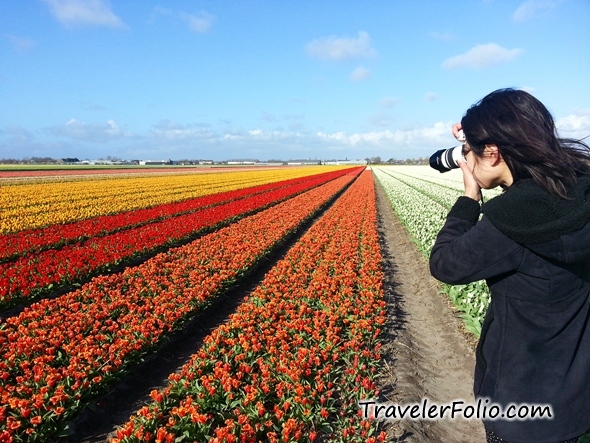 Hans Brinker
As arranged by STA Travel, Hans Brinker (www.hansbrinker.com) is conveniently located at a trendy shopping area amidst picturesque historic buildings and canals. From Amsterdam Centraal, there are three tram lines (no. 1,2,5) that can take us (~10-minute) to the nearest station from Hans Brinker. A 1-day (24-hour) tram ticket costs €7.50; €2.80 for 1-hour (unlimited rides). A slow leisure walk from Hans Brinker to the city centre can be done within 30-minute. And we always did that to burn away the extra calories.
Hans Brinker is a budget hotel accommodating travellers from all over the world. Especially if you are a party goer, the hotel has an Underground Bar, happy hour daily. A very happening hotel that aptly reflects Amsterdam's reputation as a party heaven. Apparently the hotel has high occupancy rate, yet it's well maintained by a team of cleaners who carry out housekeeping duties diligently in the morning.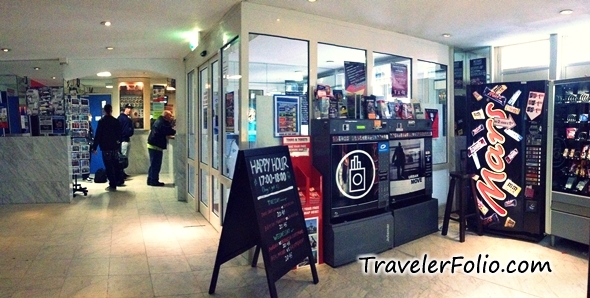 The main lobby at the hotel. Free WiFi is available on the ground level.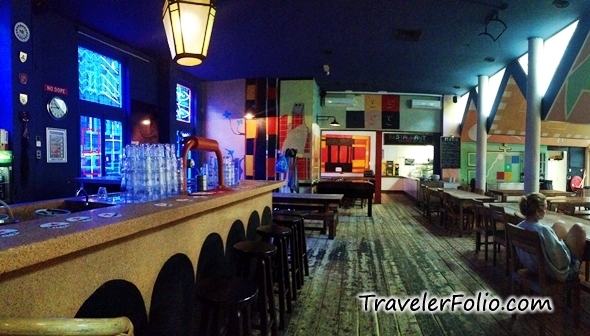 The dining area and bar counter on the ground level. Here you go – the Underground Bar!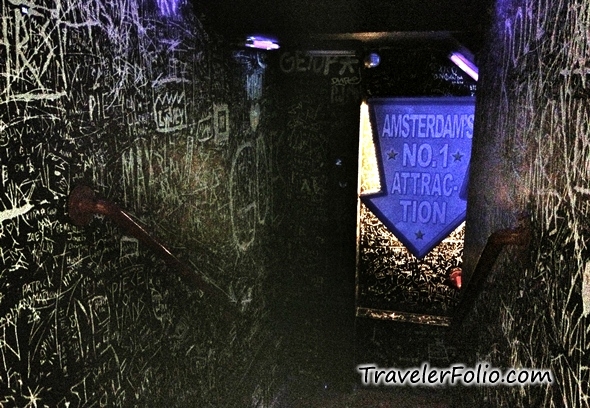 The canal view near Hans Brinker.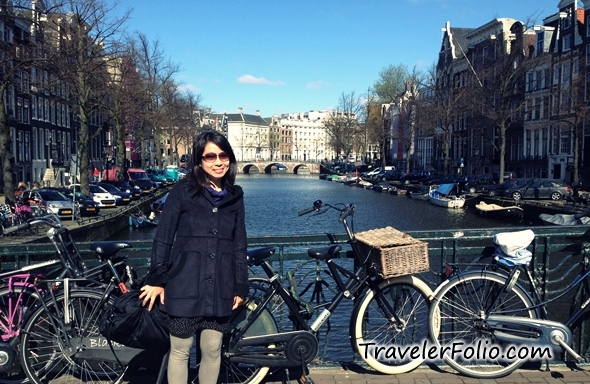 So, we spent three nights in Amsterdam – a day out in Keukenhof, another day in Zaanse Schans and the rest of the trip exploring Amsterdam city centre on foot. Pretty straightforward, it's easy to navigate around the city.
Amsterdam City Centre
Very hungry and we were attracted to a giant cone of fries they say it's the best in Amsterdam. Many were queuing at 'Manneken Pis', most of them looked like tourists. We bought a cone of fries, nothing to shout about, it was hot and very filling for €3+.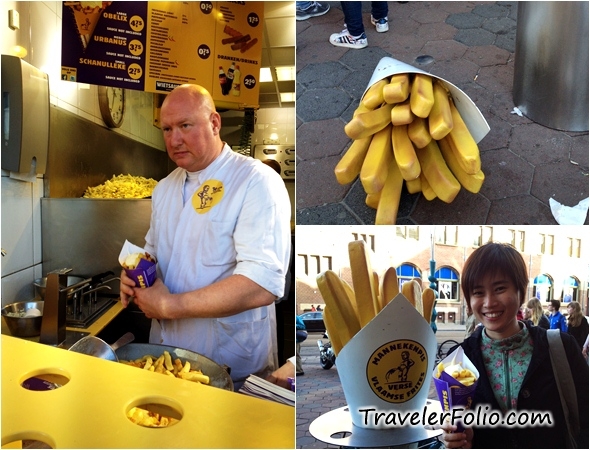 Police on patrol at the centre.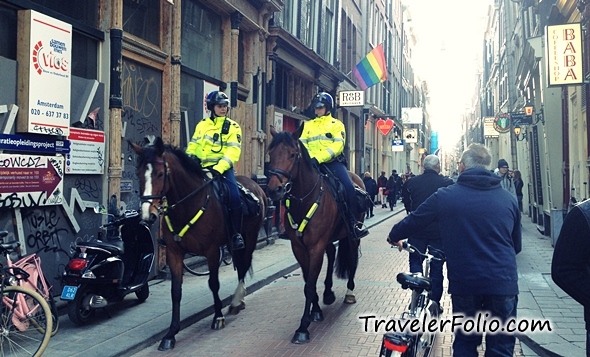 Like any other city, you can find many restaurants, bars, chain stores and souvenir shops here. Van Gogh museum is also located at the city centre. We went to the Sex Museum instead (for free WiFi :P). Admission is €4, quite an eye-opener but some are just disgusting to look at so we didn't spend too much time in the museum LOL
Instead, we ventured further into the famous red light district where it showcases skimpily clad girls flaunting behind the glass windows. Don't worry much as it's a tourist attraction with many curious tourists. We two girls followed behind some decent-looking tourists to walk around the area. Hmm… sometimes we purposely walked behind the men as the sexy girls would try to seduce them while we watched. 😛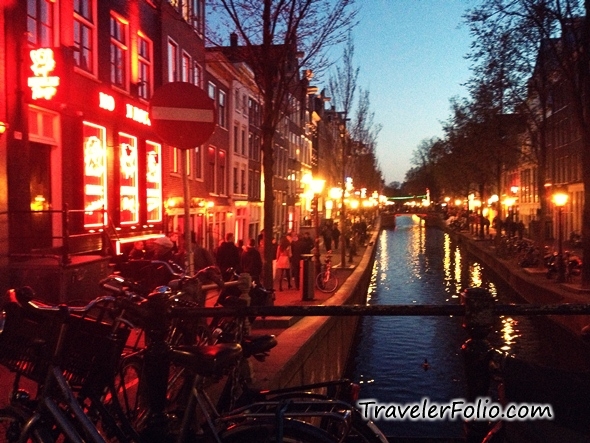 The picturesque canal view of Amsterdam at night.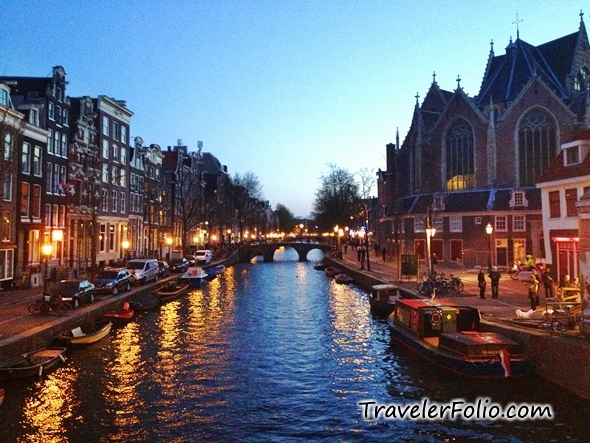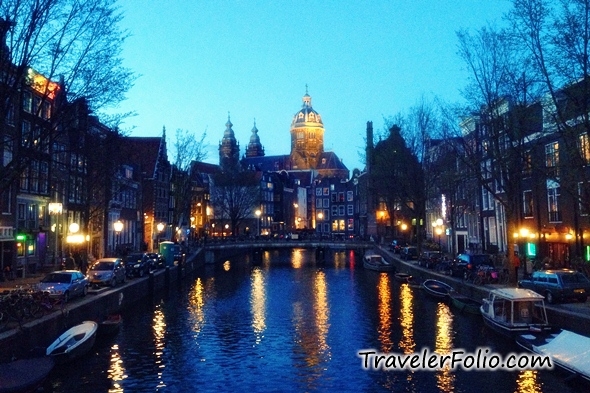 Keukenhof
Keukenhof is the world's largest flower garden. Before the trip to Europe, friends who have been there highly recommended me to visit the gardens. In fact, we planned to include Amsterdam for the tulips in season. It was long winter this year so the tulips were not in full bloom when we visited on the third week of April. BUT it was an amazing experience when we cycled around the tulip fields near Keukenhof.
When in the Netherlands, wear the big wooden clogs!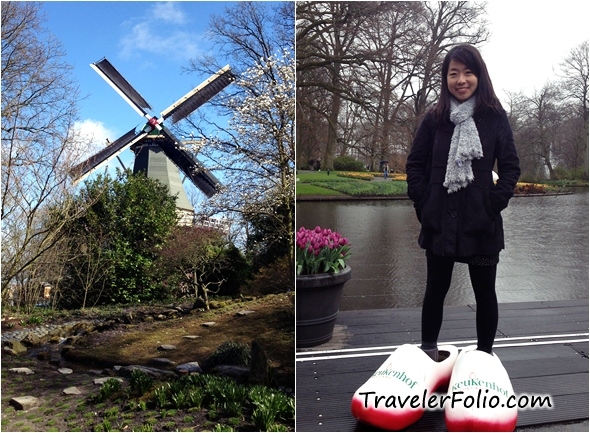 How many varieties of tulips can be found at the Keukenhof gardens? They all look so healthy and beautiful in a kaleidoscope of colours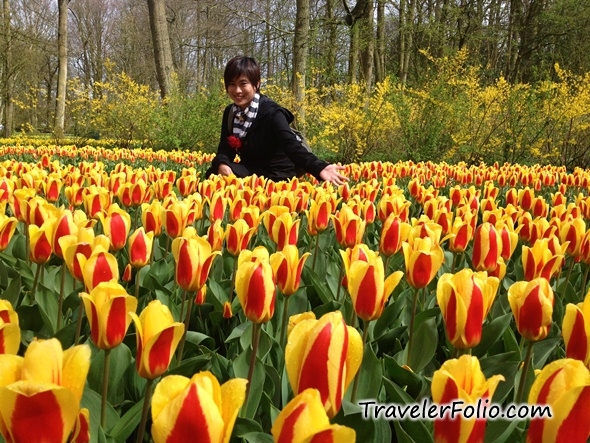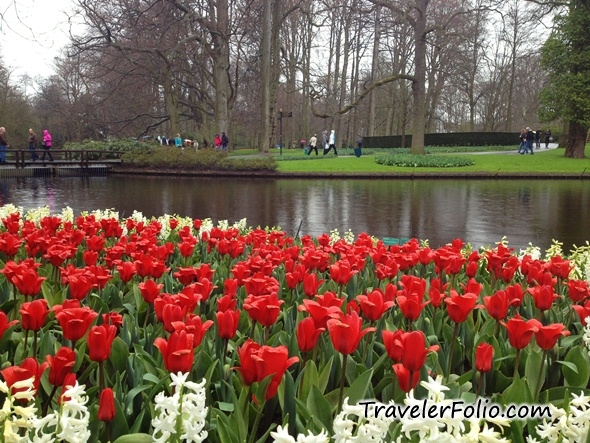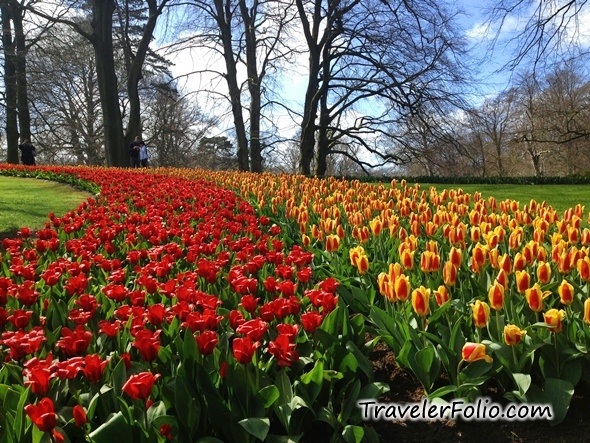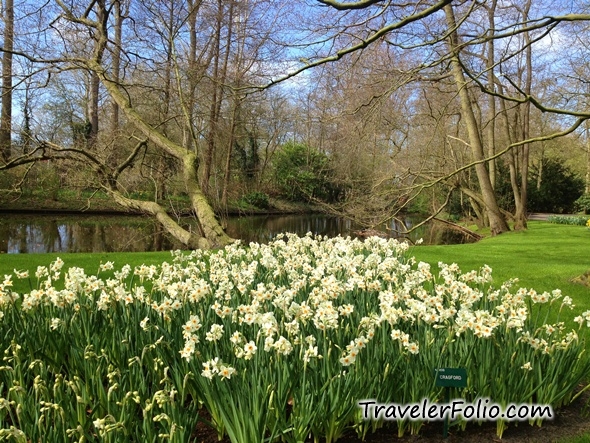 One of my favourite tulips.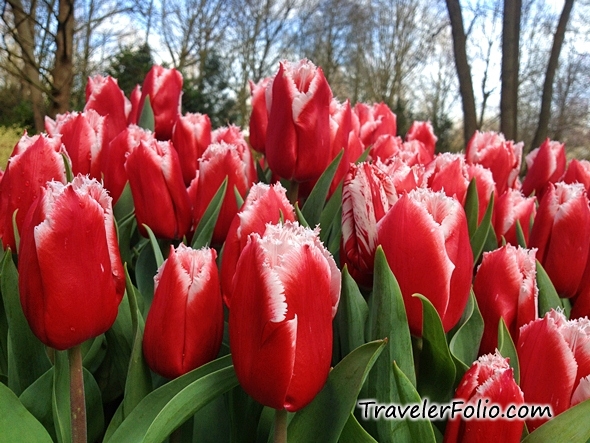 White tulips!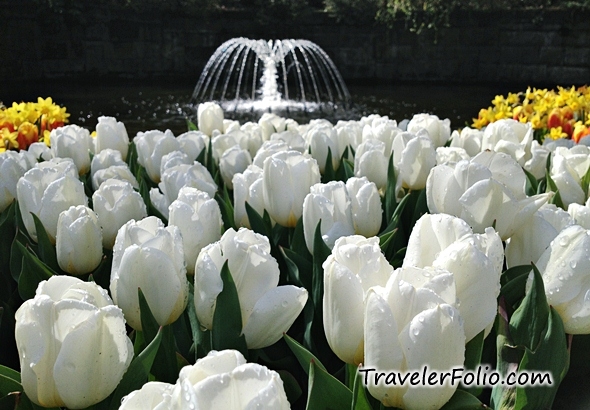 Tulips and flowers kept in the dome garden.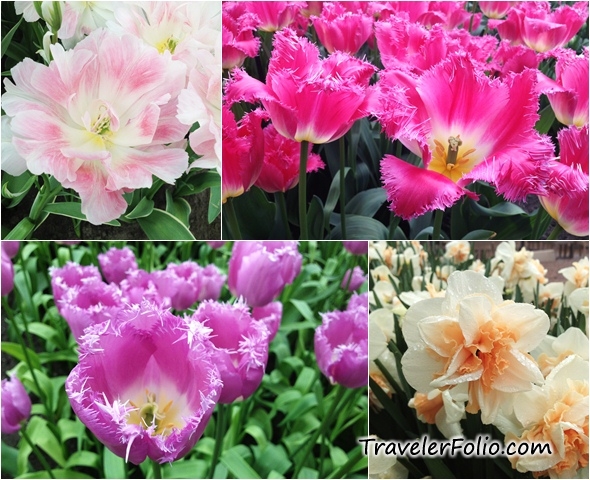 Tulips have such attractive colours – some are so vivid amongst the soft and mellow.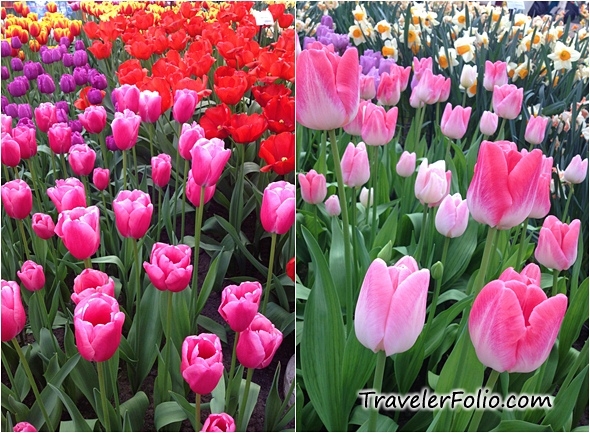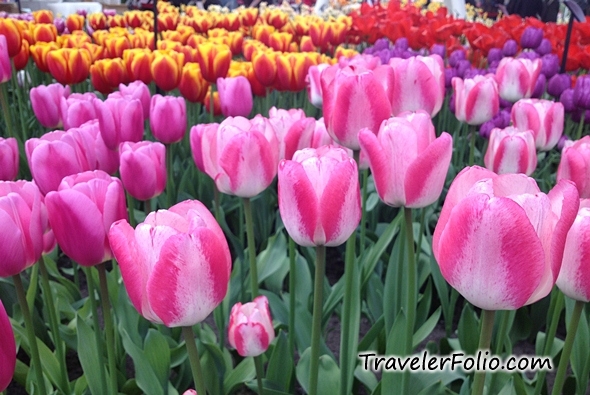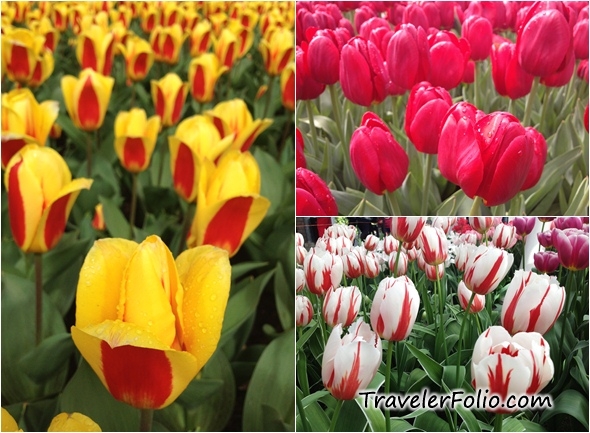 The highlight of the trip was cycling around the tulip fields near Keukenhof! It was what I always wanted to see – colourful bands of tulips. You can't see this in Keukenhof. Remember, you have to rent a bicycle at the entrance/exit of Keukenhof gardens to see the tulip fields. Many were disappointed when they only visited Keukenhof – it's just a big garden. The last bus leaves Keukenhof at around 7:45pm so you just make sure you are back before that to return the bicycle to the rental shop.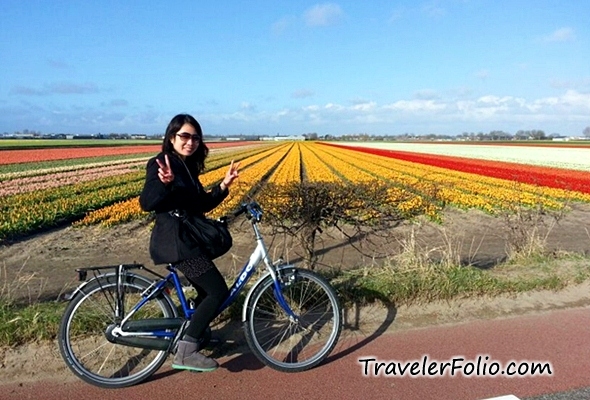 We were very excited and awe-struck to see the tulip fields. We didn't see tour groups here.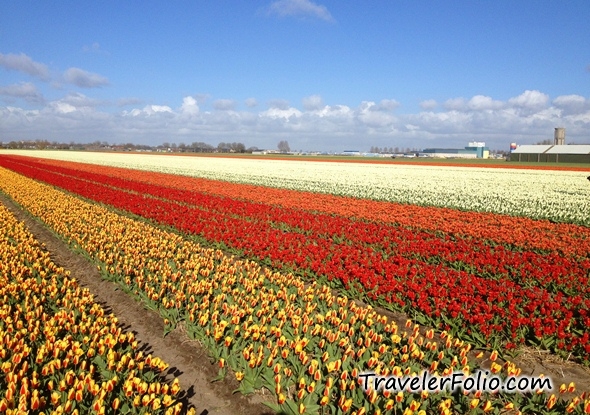 My favourite moment.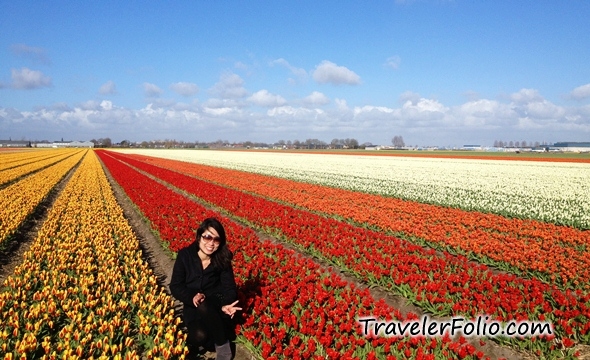 Amazing, isn't it? It's like a wallpaper.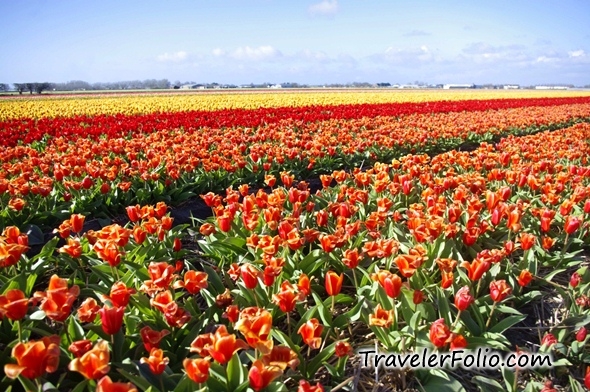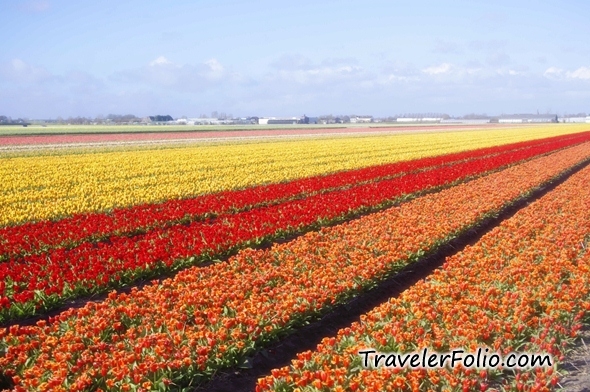 We spent a lot of time taking photos at the fields.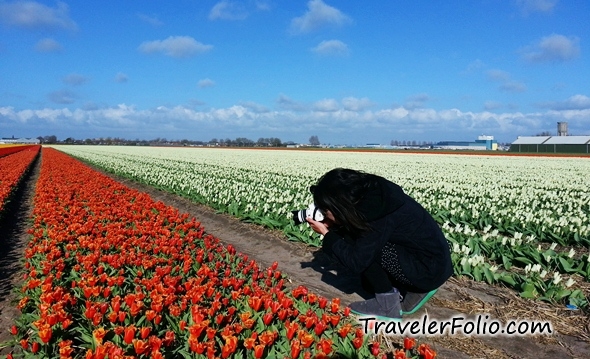 Daffodils in full bloom!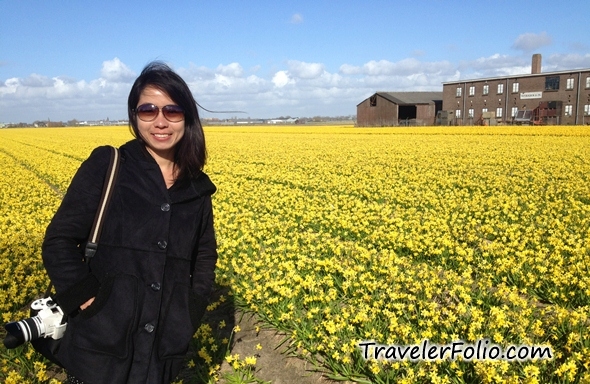 Red tulip field!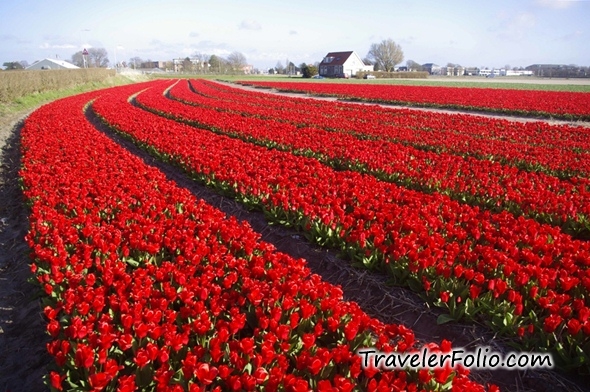 It's so romantically red.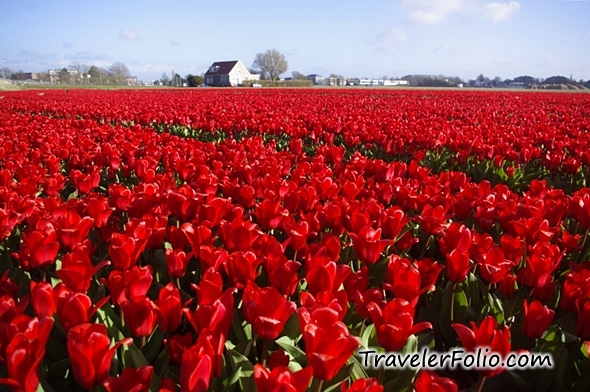 Zaanse Schans
We hardly did any research for our 3-week Europe trip. Some last minute googling brought us to Zaanse Schans, a charming, picture perfect scenic attraction to see windmills and pretty wooden houses along the rivers. Zaanse Schans is only 4 train stops away from Amsterdam Centraal. I could use my Eurail pass for this train ride as well.
You can get a free map when you get out of the train station. It's about 10-minute walk to Zaanse Schans. There are clear signs along the way, you won't get lost.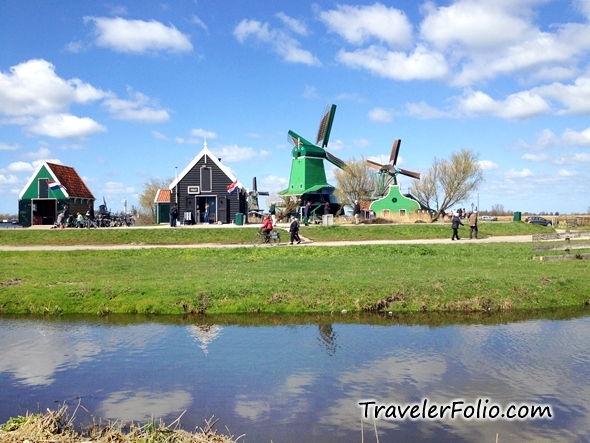 Love the blue skies with little fluffy clouds and reflection on calm waters.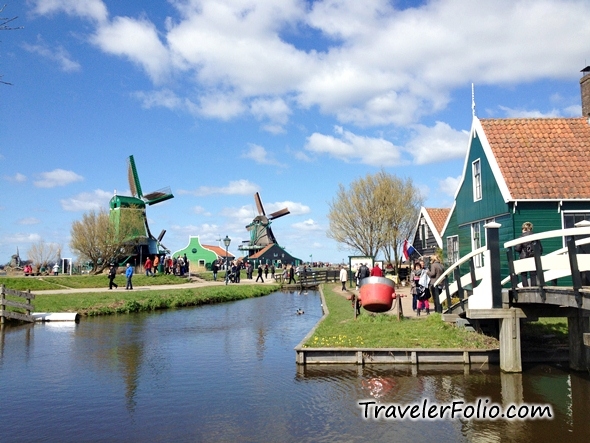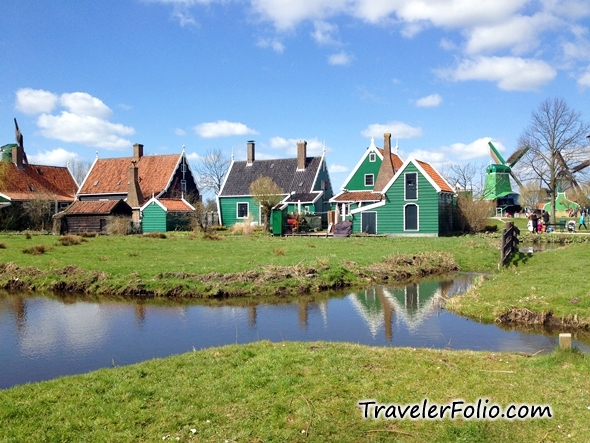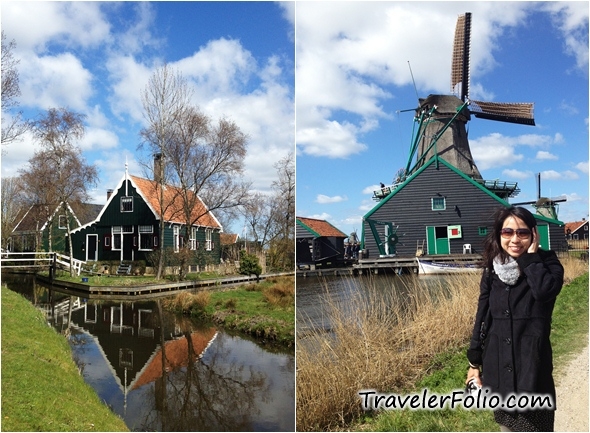 Stroll leisurely around the little scenic town. There are a few restaurants and souvenir shops.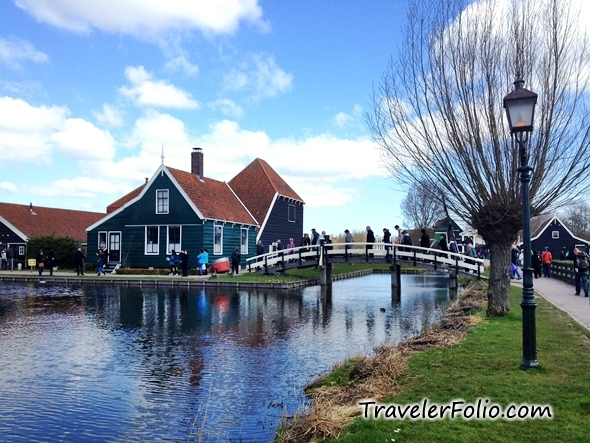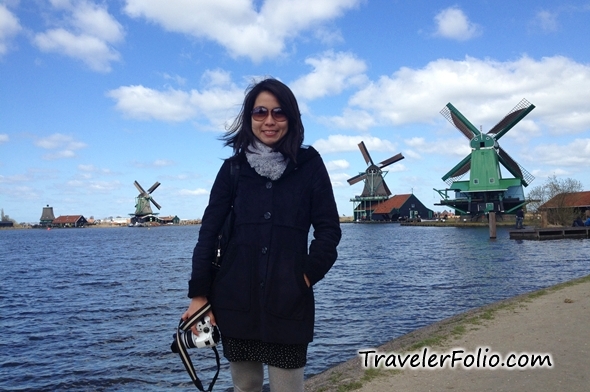 An ice cream cart.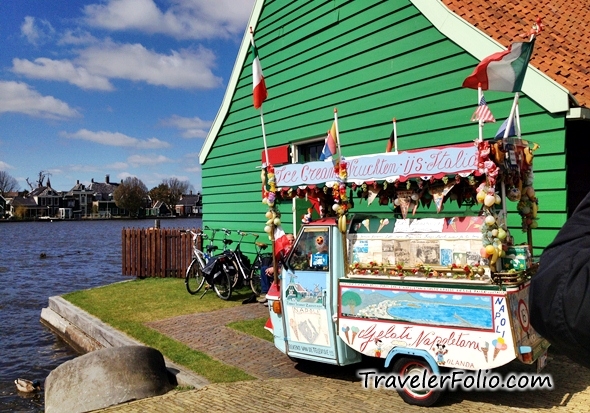 There was a canoeing event going on that day.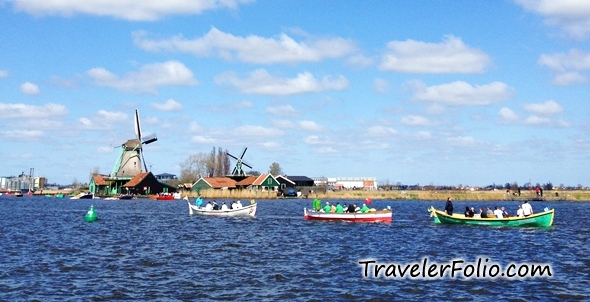 Spotted a huge windmill along the way before Zaanse Schans. Remember to bring enough warm clothes as it can get very windy, that's where windmills are!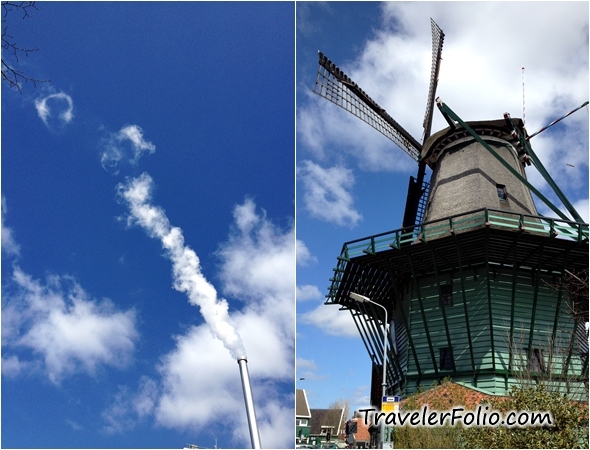 We called it a day and went back to Amsterdam city centre for some last minute shopping. Surprise, surprise! Walked into a shopping mall and there was 20% discount storewide, plus another 10% VAT refund for tourists. Managed to grab some good deals for our folks back home. Phew!
Read all posts on Europe.