This is the kind of cozy and homey Portuguese restaurant where the chef becomes your friend. Tucked away in one of the quaint alleys in the heart of Taipa village, António is indeed a Portuguese culinary paradise in Macau.
Chef António Coelho, a 60-ish Portuguese with extensive culinary experience who has been cooking authentic Portuguese cuisine in his private kitchen since 2008, spearheads the award-winning restaurant. On his voluminous menus, you can find Antonio's signature dishes including gratinated goat's cheese with olive oil and honey, "Pata Negra" Portuguese smoked ham, lobster bisque, Portuguese duck rice, African chicken as well as delicious desserts for the sweet tooth. What's more? Don't miss the long wine list!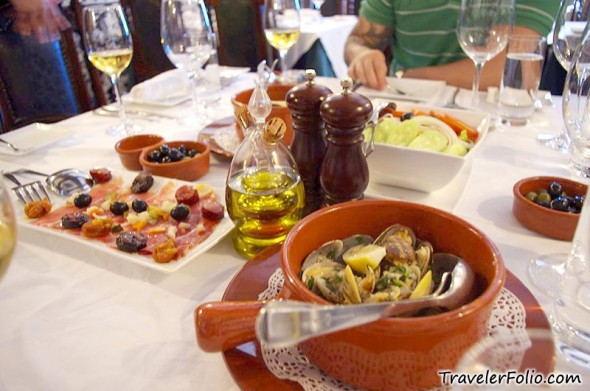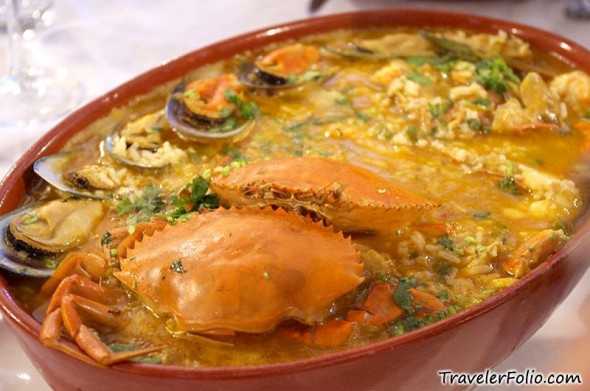 Coelho not only whips up a tantalizing array of scrumptious dishes to satisfy our taste buds; the prodigious chef cooks in style to stimulate our five senses! In fact, he is known as a cooking celebrity in Macau who performs the art of culinary in front of his diners.
When a big marbled leg of Portuguese smoked ham is being displayed in the dining scene and Antonio starts donning his metallic glove, get ready to watch how he "surgically" carves out precious slices of Pata Negra – specially prepared smoked ham- with his sharp knife. Feel free to snap as many photos as you like, just don't get too near to the "killer" knife!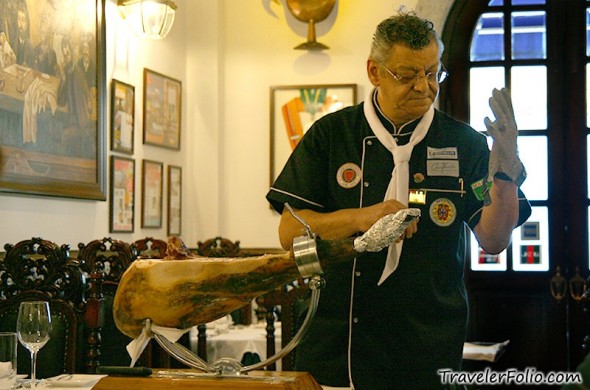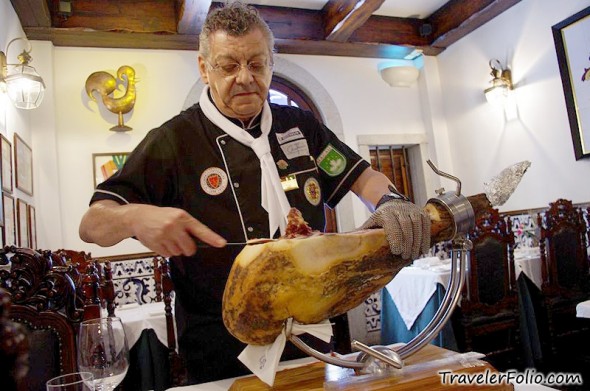 Pata Negra – Portuguese smoked ham.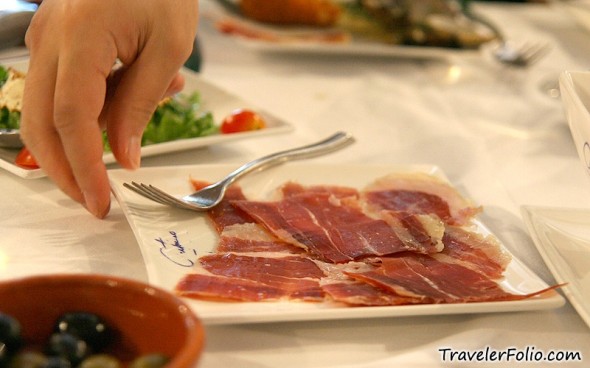 It was pretty cool to see someone set my crepes on fire! Coelho generously poured lot of liqueur over Crêpe Suzette to flambé it. The end result: an unforgettable dessert of warm, lip-smacking, melt-in-your-mouth crêpes with a tangy sweetness that still lingers in my olfactory memory.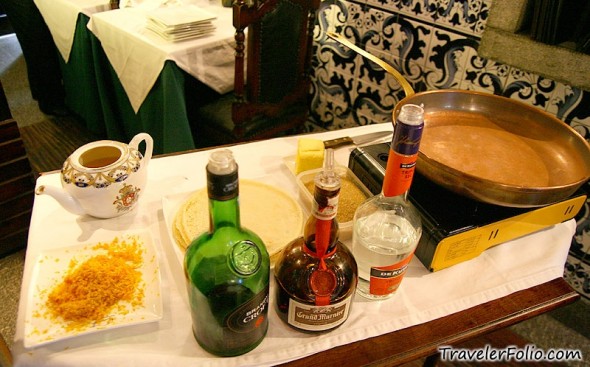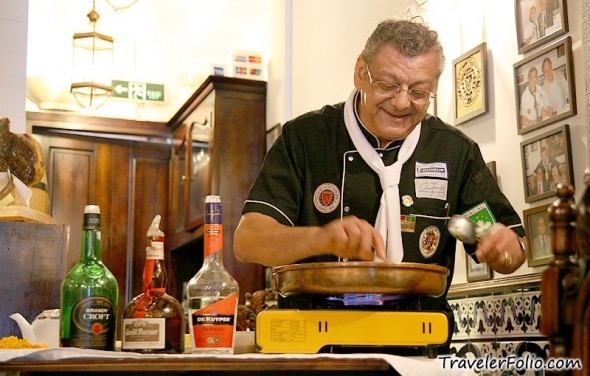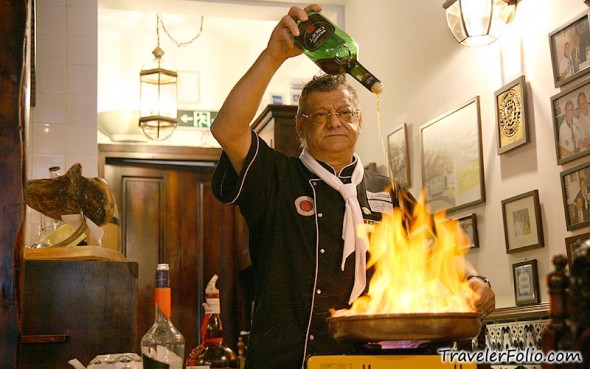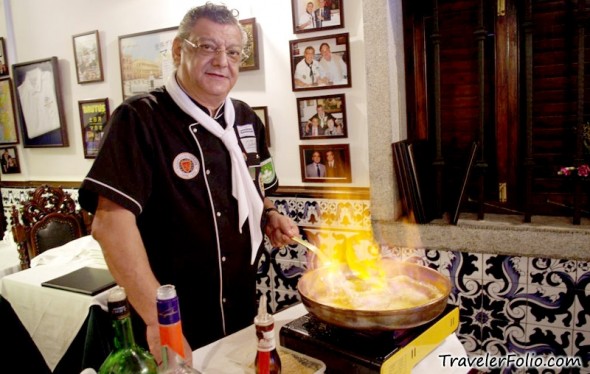 Crêpe Suzette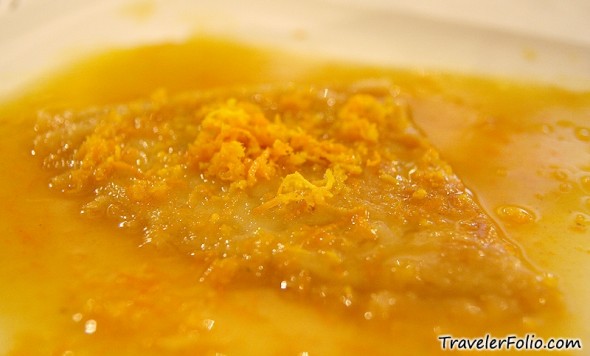 Our entertaining dining experience culminated when Chef António knocked the cork out of our wine bottle with a knife… no, it's a sword!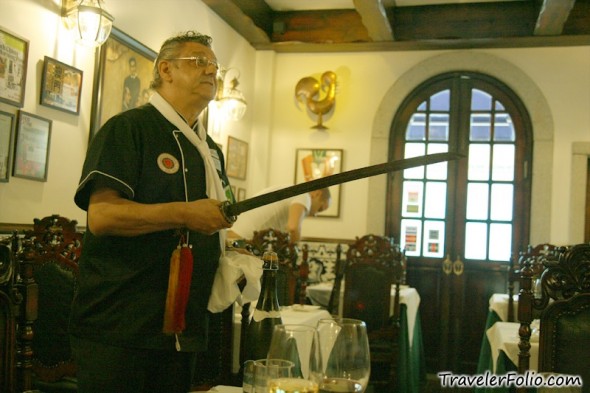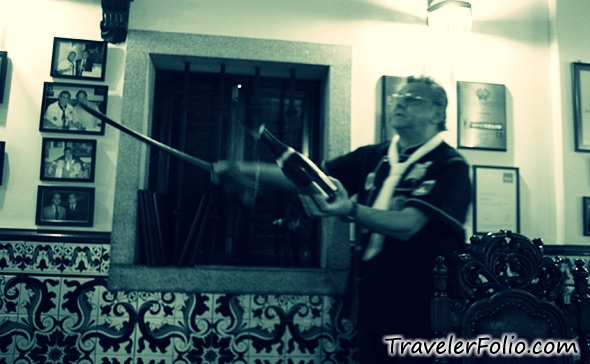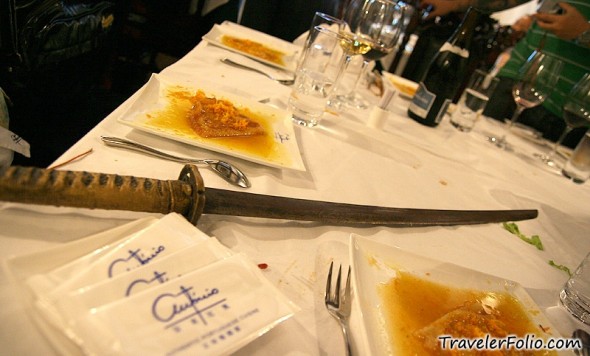 And I am still keeping the cork that is attached to part of the broken wine bottle neck…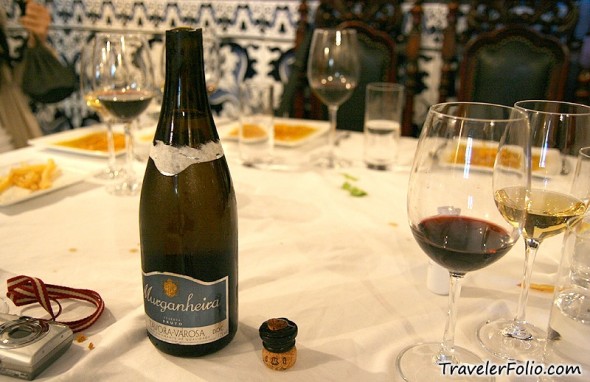 Antonio's address: Rua dos Clerigos No. 7, Old Taipa Village, Taipa, Macau (antoniomacau.com)
Nearby attractions: Taipa House Museum, Pak Tai Temple, art galleries and colonial churches.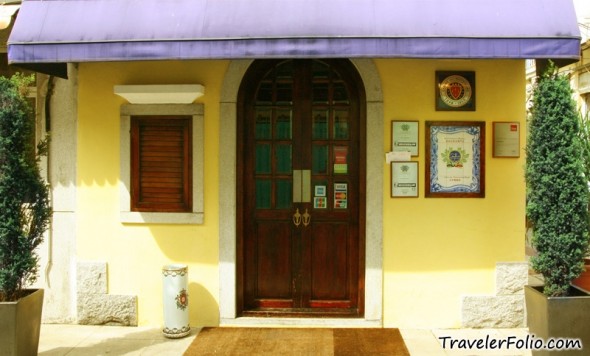 More updates on Macau coming your way!
Read previous post: Macau Wine Museum.
Read all posts filed under Macau.
Win $1000 Travel Voucher to Macau! Follow this link and join the contest now ->

Marvelous Macau Contest