Lying on the path of the Roaring Forties in the Southern Ocean, the pristine natural environment of Tasmania is endowed with some of the cleanest air and water in the world. The island to the south of mainland Australia has four distinct seasons; thanks to its varied microclimates and unpolluted sources, we can indulge in fresh produce, premium wines, artisan products and glorious seafood such as Atlantic salmon, ocean trout, oysters, abalone and crayfish. The gourmet highlight of our self-drive trip was to meet the local producers and sample their unique products directly from the farms!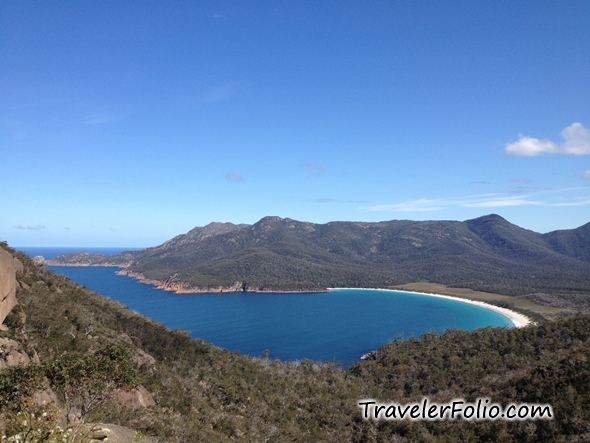 Just 10-minute drive from Hobart Airport, Tas Live Abalone is especially popular among Asian tourists seeking after the prized delicacy. At 42nd parallel south, live abalone are nurtured in the crystalline waters surrounding the coastline of Tasmania, a similar climate to Oma, Japan. Here, you can find live, frozen, dried and canned abalone, including Blacklip and Greenlip abalone.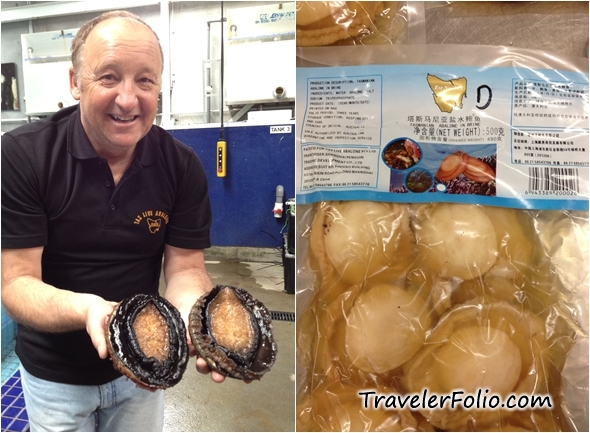 We had the chance to hold and feel these huge molluscs, even tasted them. The tender chunks of meat are cooked in the simplest fashion, sealing all the juices inside to tantalize the taste buds. If you'd like to purchase some, the abalone is neatly packed to maintain freshness for return air travel at wholesale prices.
(17 McIntyre street, Mornington, TAS 7018
 / Book in advance for factory tour (A$5 per entry, minimum 5 adults / Opening hours: Monday to Friday, 9am to 4pm / www.tasliveabalone.com)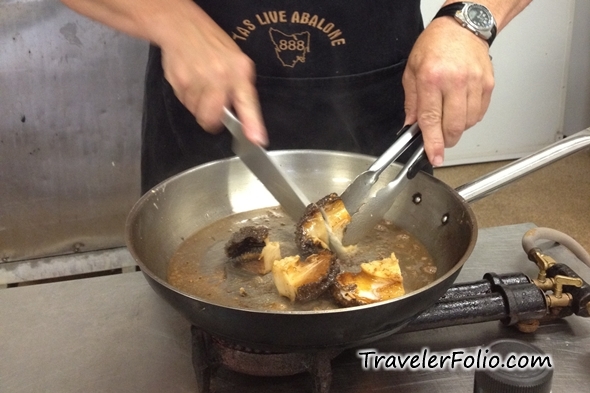 Want some juicy fare? Head to the Sorell Fruit Farm to taste the sweetness of fruit in season, freshly picked from the vine at the peak of ripeness. From Richmond, a quaint village of convict-hewn sandstone buildings and eateries, it takes about 15-minute drive to the farm.
Sorell has the widest range of temperate fruits in Tasmania, some of which are not commonly found at our local supermarkets, such as tayberries, boysenberries, loganberries and silvanberries. Buy a container available in different sizes at the retail shop and fill it up with fruits that you pick at the farm: strawberries, raspberries, black currants, cherries, apricots, apples, nashi pears, and the sweetest peaches I have tasted in my life!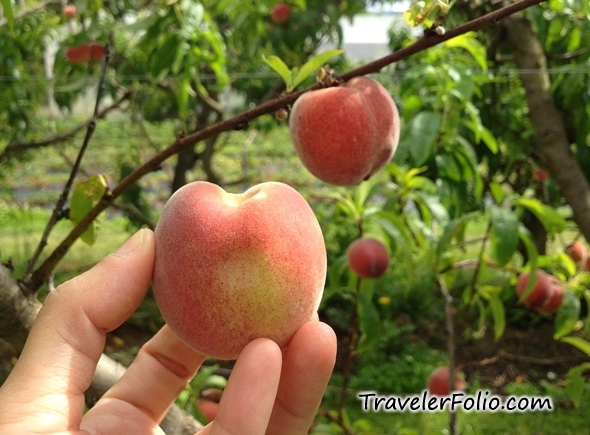 Strawberry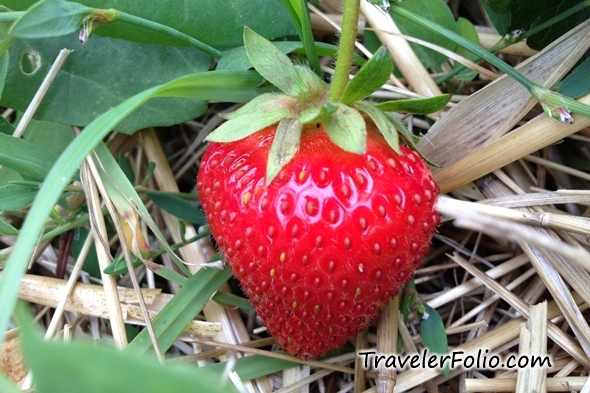 Sweet and juicy raspberries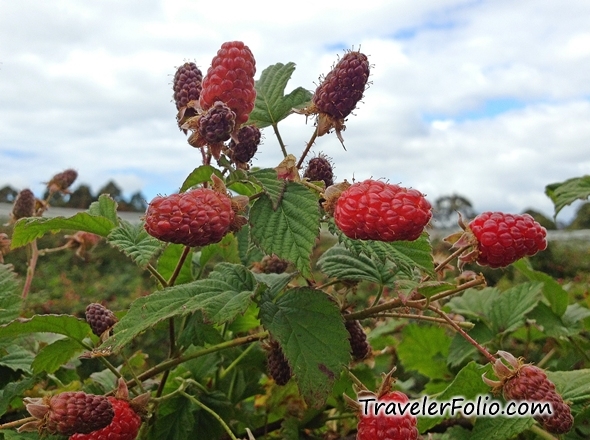 Cherries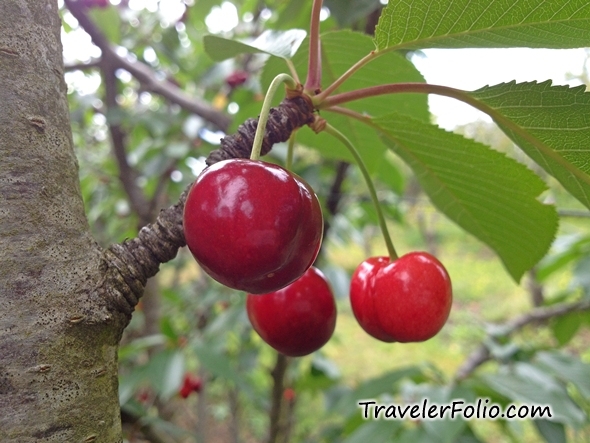 The trees are pruned in a way so that we can pick the fruits from the ground easily. At the retail showroom, a selection of fruit jams and gourmet sauces along with fruit wines and liqueurs make the perfect Tasmanian gifts to bring home.
(180 Pawleena Road, Sorell, TAS 7172 /
 www.sorellfruitfarm.com)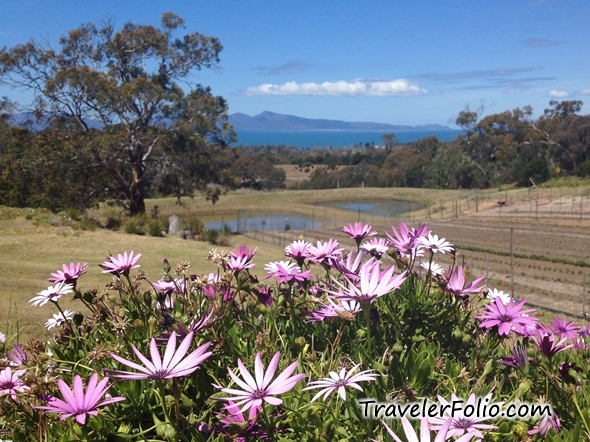 On the way to Freycinet National Park (40-minute drive) where the iconic Wineglass Bay forms part of the picture-perfect view of the east coast, we made a pit stop at Kate's Berry Farm to indulge the sweet tooth.
Overlooking the picturesque Great Oyster Bay, the farm grows high quality berries and produces a unique range of fruit jams, sauces and dessert wines. We had some delicious Humbleberry Pie and Raspberry Pie, both filled with berries in season, and Belgium Waffles served warm with berry jams.
Chocolate lovers can sample a variety of handmade Belgium chocolates containing freshly roasted nuts and different flavours at the retail shop. The homemade ice cream is a must-try. Made from real milk cream, Kate's customers often drop by just for the ice cream!
(12 Addison Street, Swansea, TAS 7190 / www.katesberryfarm.com)
Belgium Waffles served warm with berry jams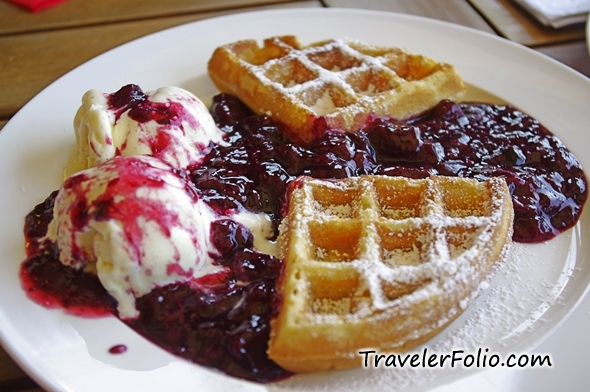 Humbleberry Pie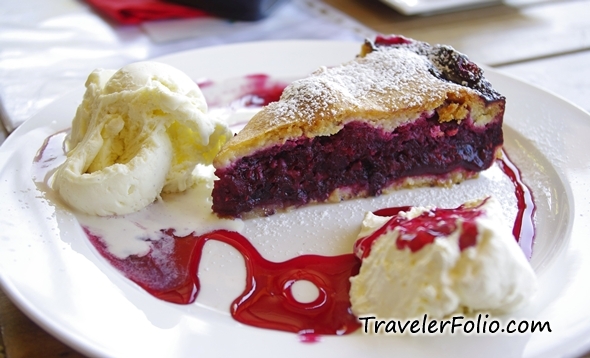 Heads up, foodies! Make a trip to the Tasmanian Gourmet Sauce Company for complimentary tastings of berry jams, spicy mustards, savoury sauces, chutneys and relishes. Unlike many brands, Tasmanian Gourmet Sauce mustard products contain full flavoured whole seed mustard blended with herbs and spices to create a range of distinctive flavours, including Hot Whisky Mustard, Pepperberry Mustard and Honey Mustard.
The leading sauce maker only uses local fresh produce and the gourmet products are made in Tasmania. An attraction in its own right, the property has a beautiful garden of vegetables, edible flowers and fruit trees as well as a topiary nursery that houses over 40 species of plants.
For a fun-filled visit, join the tour: cooking demonstrations (A$7 / person, minimum 20 people); garden tour ($6 / person); gourmet BBQ lunch (adult: A$35, child: A$15); morning/afternoon tea (adult: A$10.50, child: A$6).
(174 Leighlands Rd, Evandale, TAS 7212 / www.gourmetsauce.com.au)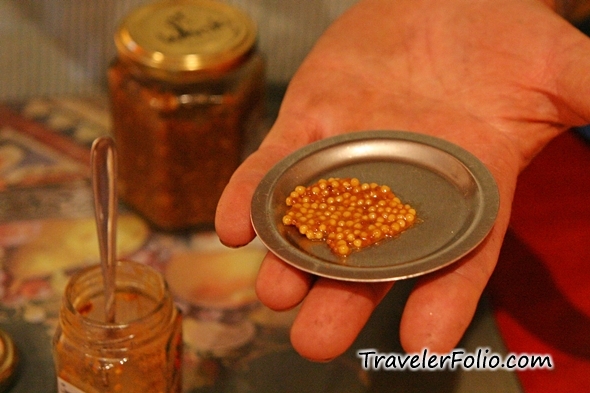 Did you know that Bridestowe Lavender Estate is the largest lavender farm in the southern hemisphere? Dubbed as the little Provence of Tasmania, it produces true French lavender in the heart of Tamar Valley Wine Route on northeast part of the island that has a similar climate, red soil and altitude to that of southern France.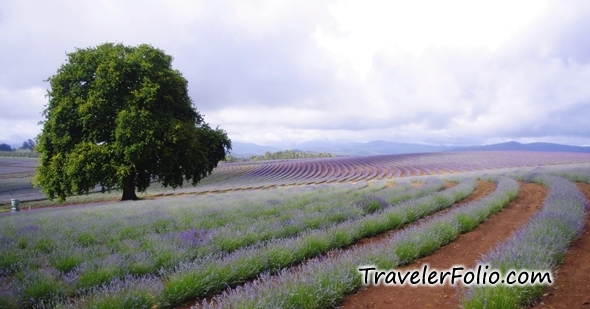 At the distillery, visitors can observe how the true French lavender is processed into lavender oil that is highly demanded by perfumery houses, cosmetic and aromatherapy users. The Visitor Centre is stocked with a wide array of locally made crafts and lavender products, from massage oil to shower gel to gourmet delights such as relishes, jams and jellies made with lavender. Perhaps, the most eye-catching items are the plush purple teddy bears scented with Bridestowe lavender, one of which I bought as a memorable keepsake from Tasmania.
For refreshments, Woodcroft Café serves mouth-watering lavender and blueberry ripple ice cream, pancakes drizzled with lavender flower honey, lavender muffins and more. Enjoy some coffee or gourmet tea while taking in the expansive view of the lavender fields.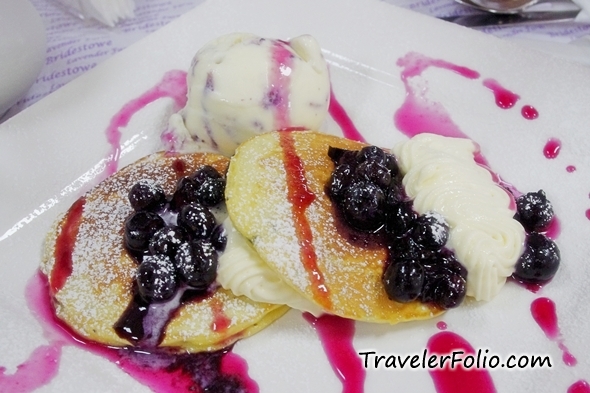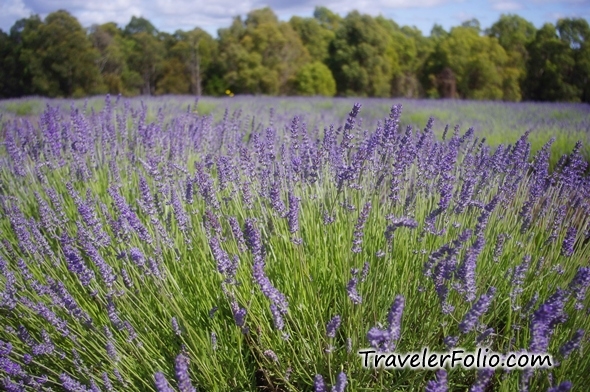 Visually stunning all year round, the best time to visit Bridestowe Lavender Estate is December and January during the peak bloom.
(296 Gillespies Rd, Nabowla, TAS 7260 / 45-minute drive from Launceston / bridestowelavender.com.au)
Celebrating Australian food with Tourism Australia! To find out more, check out the

Best of Australian road trips.

This article is also published on https://sg.news.yahoo.com/finding-culinary-perfection-in-tasmania-074142632.html

Read all posts on Tasmania