On the second day in Tassie, we left Hobart and drove up north to discover the rugged beauty of the east coast.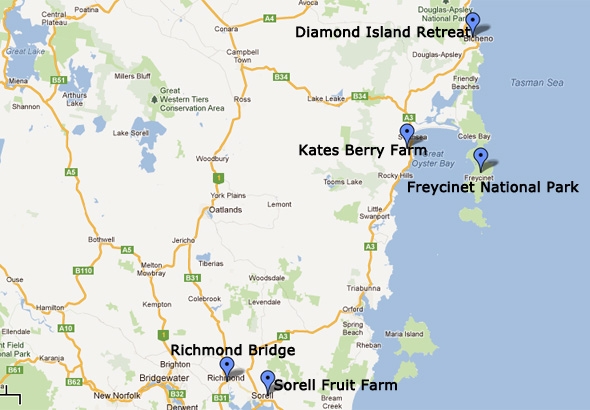 *extracted from maps.google.com
Richmond
In less than 30 mins drive from Hobart, we arrived in Richmond to admire the oldest bridge in Australia. Constructed by convicts from 1823 to 1825 during the penal settlement period, Richmond Bridge is currently still in use. It was inscribed on the Australian National Heritage List.
Richmond is a quaint little village with many beautiful convict-hewn sandstone buildings that are now art and craft galleries, restaurants, cafes and shops popular among tourists.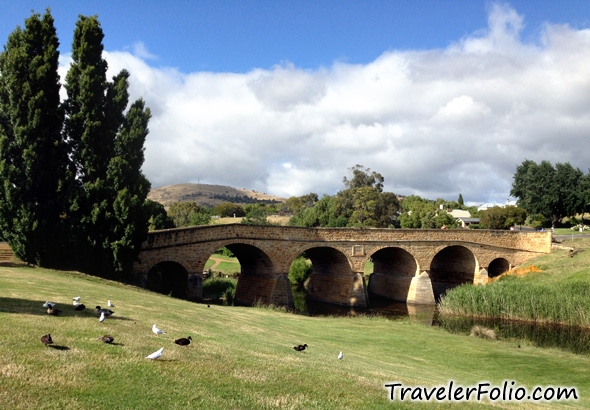 Within a stone's throw away from Richmond Bridge lies the St. John Catholic Church that was built in 1836.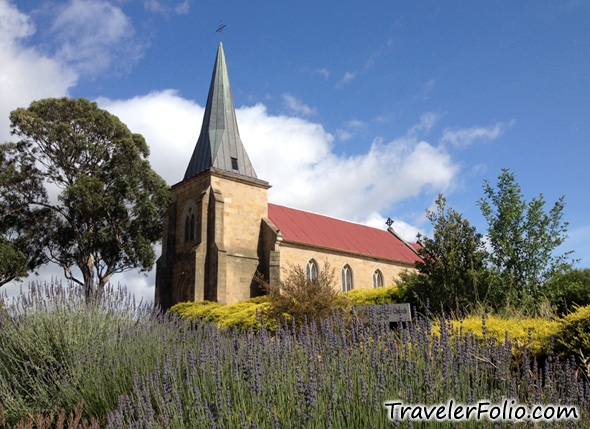 Sorell Fruit Farm
Pick your own fruits straight from the farm for a healthy dose of Vitamin C! Get a container from the retail shop, walk through the fruit farm and fill it up with fruits in season.
Sorell Fruit Farm has the widest range of temperate fruits in Tasmania, some of which I've not seen in our local supermarkets, such as tayberries, boysenberries, loganberries and silvanberries. Mr Bob Hardy, the owner of the fruit farm showed us around and shared with us which are the ripe ones to pick.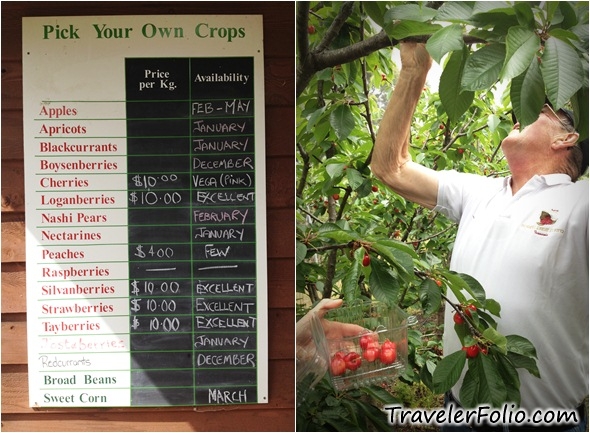 I've tasted the sweetest peach in my life at the farm! Nothing can beat the fresh, juicy peach straight from the tree. Look at the juice dripping from the fruit.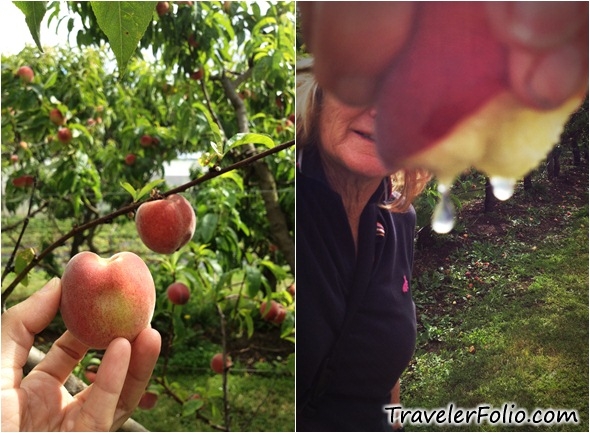 Pretty strawberry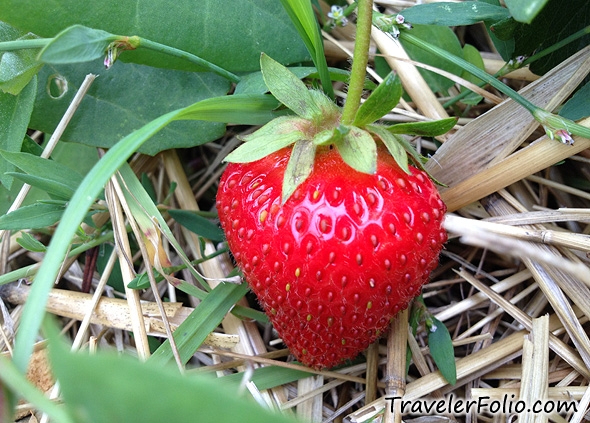 These raspberries are big, sweet and juicy, anytime better than the expensive ones we can get from the supermarket!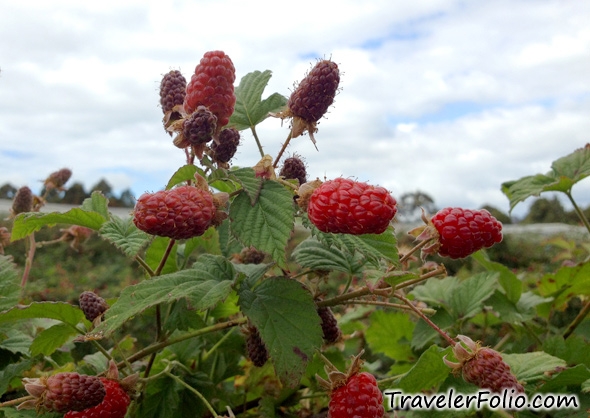 The taste of these sweet cherries still lingers in my memory!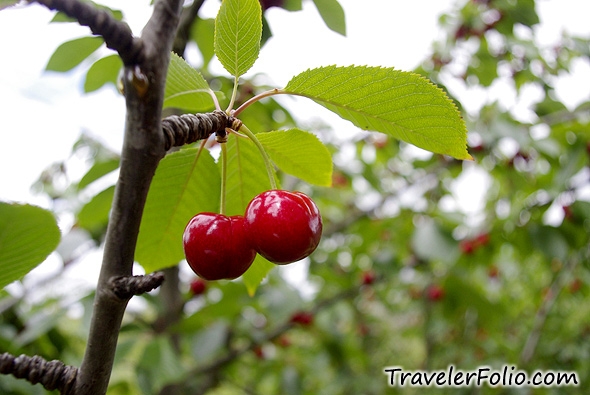 A handful of goodness from Sorell Fruit Farm.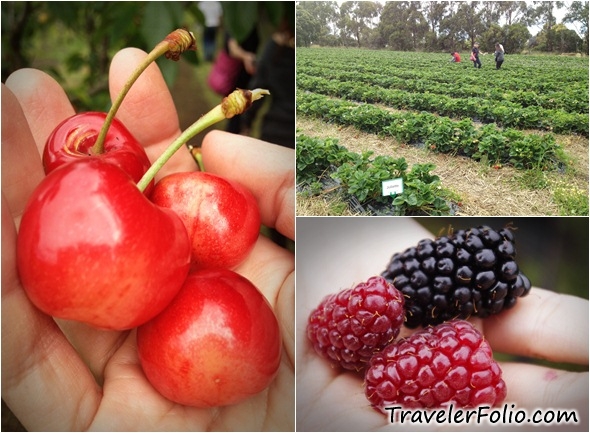 The award-winning Sorell Fruit Farm is famous for its liqueurs, fruit wines as well as homemade fruit jams and gourmet sauces! These are goodies, fresh Tasmanian produce that you can pack home for your loved ones.
Sorell Fruit Farm
Address: 180 Pawleena Road, Sorell, TAS 7172.
Web: www.sorellfruitfarm.com
Kates Berry Farm
Enroute to Freycinet National Park, we dropped in at Kates Berry Farm, an attraction of its own with breathtaking views of the east coast. The farm grows high quality berries that contain no harmful chemicals and only organic foliar fertilisers are used.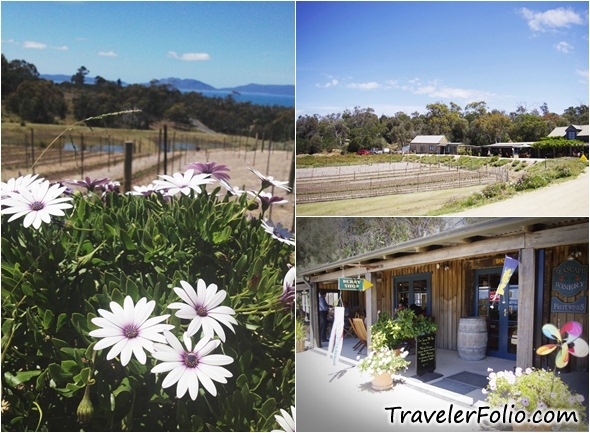 And we were at Kates Berry for her delightful desserts! We had Kate's delicious fruit pies: the Humbleberry Pie and Raspberry Pie that are filled with berries in season. The Belgium Waffles are served hot and crisp, accompanied by generous serving of berry jams. You have to try the rich and creamy homemade ice cream made from real milk cream. It's really famous and travellers go all the way to Kates Berry Farm just to have some ice cream!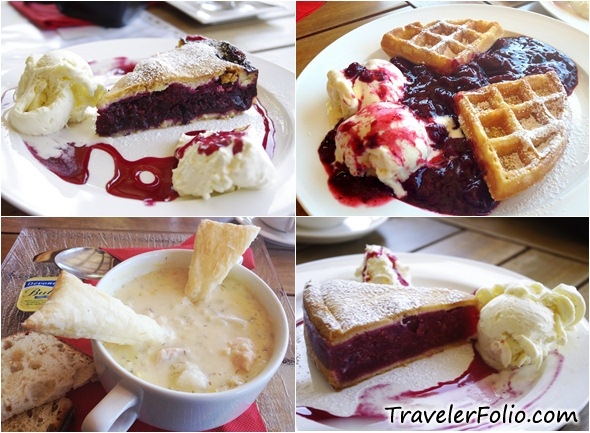 At the retail shop, a wide selection of seasonal Tasmanian products produced by Kate's kitchens can be found on the shelves. Chutneys, fruit jams, dessert wines made from Kate's berries and relishes are some of the popular items to pack home. You can even find a variety quality handmade Belgium chocolates that contain freshly roasted nuts and other flavours.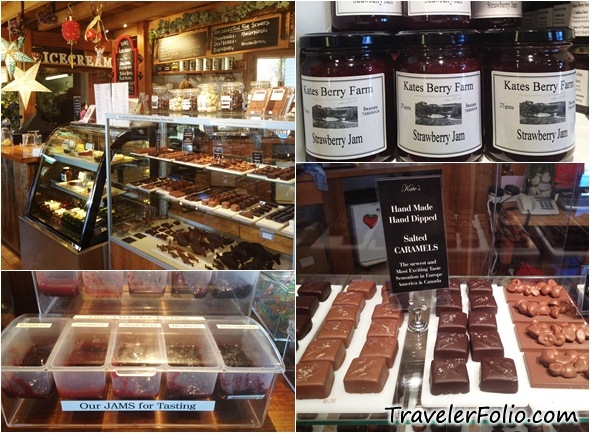 Kates Berry Farm overlooking the picturesque east coast of Tasmania.
Kates Berry Farm
Address: 12 Addison StreetSwansea, Tasmania
Website: http://www.katesberryfarm.com/
Freycinet National Park
One of the best ways to discover the stunning coastal scenery is to go for a hike at the Freycinet National Park. No worries, it's an easy hike on the beaten path, at the same time, soaking in the expansive view of the glistening blue sea and mountain range.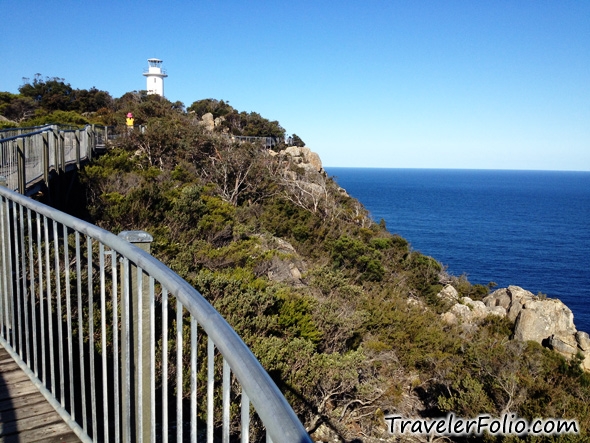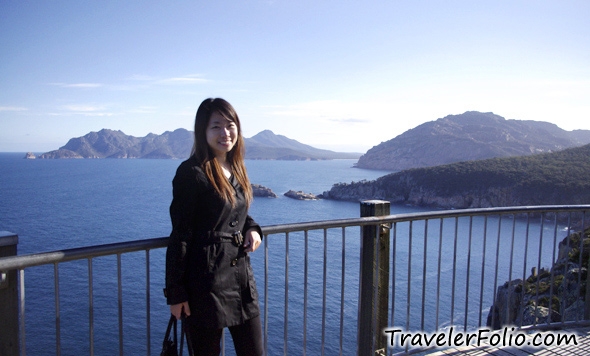 Freycinet National Park is one of the most popular attractions on the east coast of Tasmania. Signboards are clearly shown in the park to provide information for hikers. Look, we were using our 'wonder woman' strength to support the huge rock!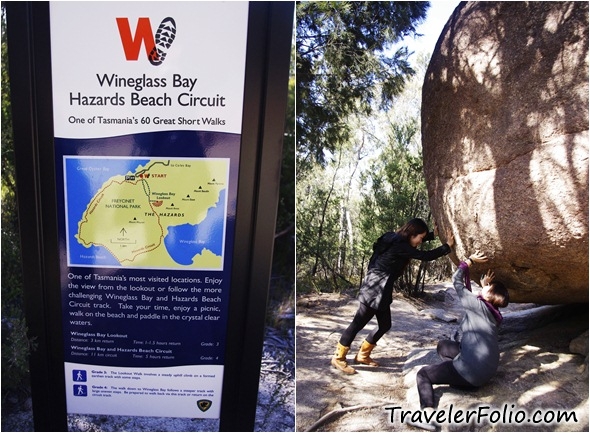 A postcard-esque view of the iconic Wineglass Bay. I've always wanted to see it since I missed this park on my first trip in Tasmania.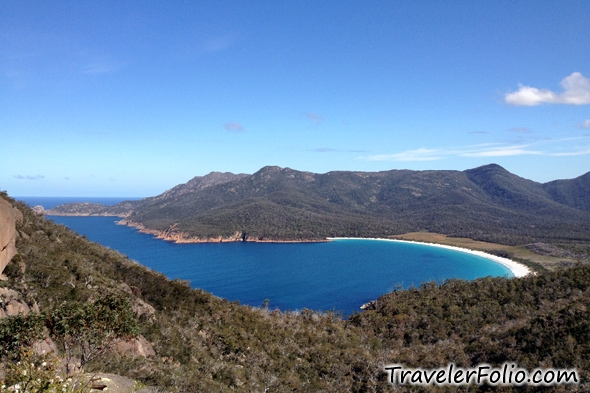 Apparently, this is a result of people feeding wildlife. The wallaby was roaming around the carpark. It wasn't afraid of people at all and seemed to be waiting for anyone to feed it.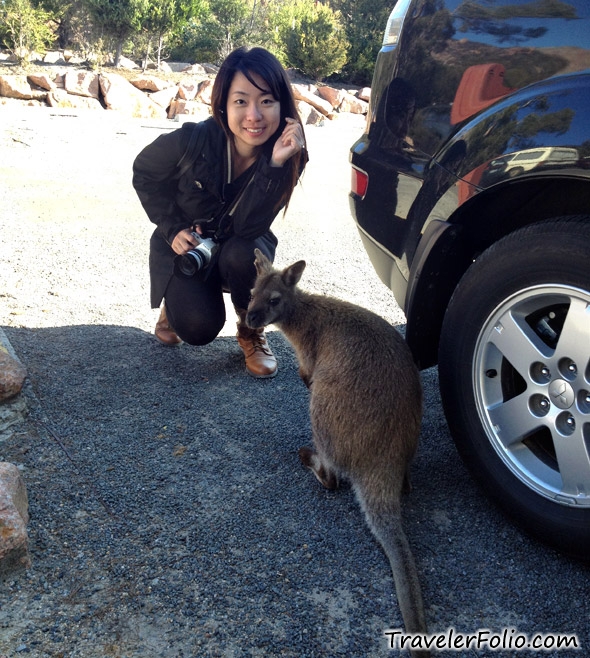 Freycinet National Park website http://www.parks.tas.gov.au
Random shot at the east coast of Tasmania.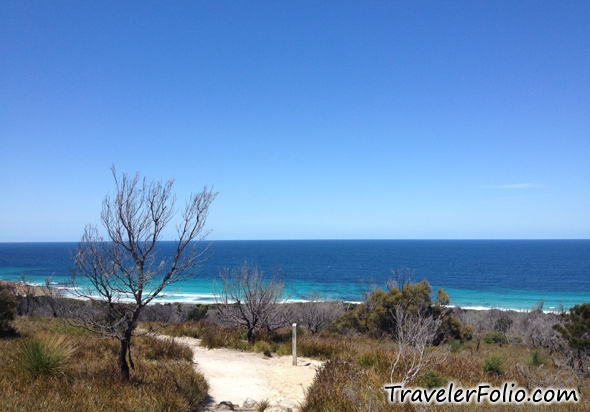 Diamond Island Resort
You ain't dreaming if you see little penguins waddling outside your accommodation. This is one of the best holiday destinations in Bicheno to get so close to these wildlife and be surrounded by them at night while they make their way back to the burrows.
Join the free nightly guided tour at the resort to watch the little penguins emerge from the sea and parade right in front of you!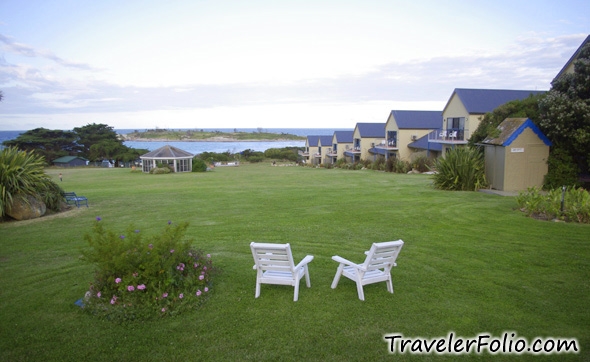 We stayed here for a night and saw little penguins waddling past our accommodation! Don't freak out if you hear strange noises outside the door at night. They are the penguins!
The resort allows torch with red cellophane over white light as penguins do not see red light. You are allowed to photograph and take video of the penguins. BUT, do not use your camera flash on the penguins!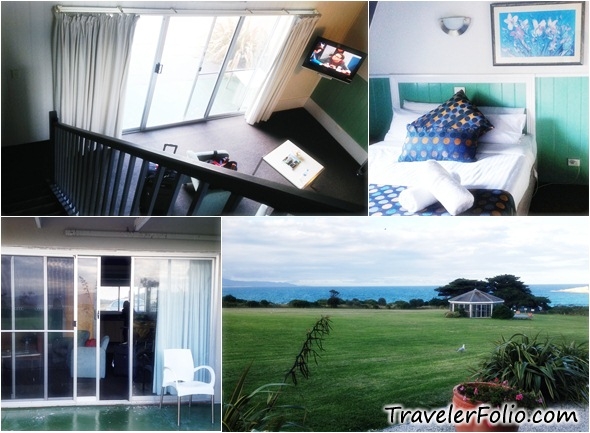 The restaurant of Diamond Island Resort that serves breakfast and meals.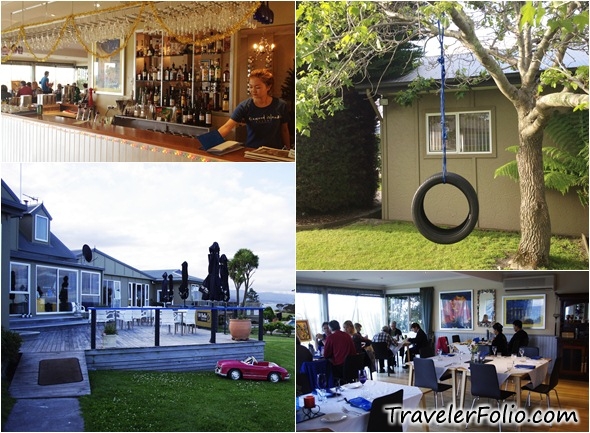 We had a sumptuous seafood platter each at the FACETS, the restaurant at the resort. It's all about quality seafood and local produce in Tasmania! Not only that, you can find an extensive wine list of Tasmanian or mainland wine to pair with the food. Cheers!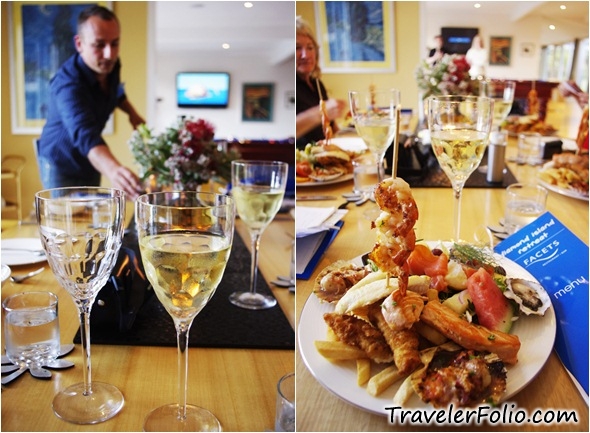 Diamond Island Resort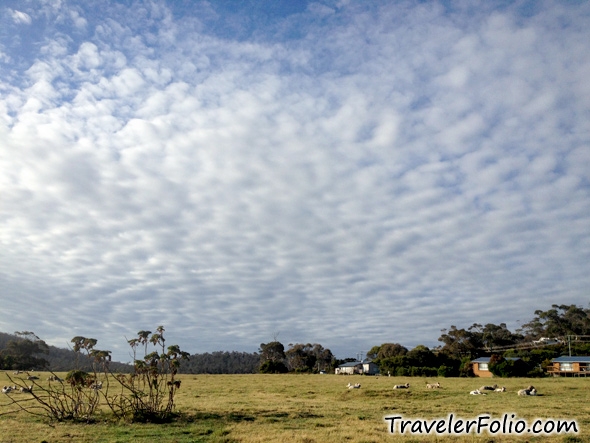 Diamond Island Resort
Address: 69 Tasman Highway, Bicheno Tasmania 7215, Australia
Website: http://www.diamondisland.com.au/
Follow us through the '8 Days Tasmania Self Drive Convoy with Chan Brothers Travel'. Stay tuned for Tasmania Day 3!
Read Tasmania Day 1 | All posts on Tasmania travel blog | Queenstown New Zealand