Darwin is a multicultural, tropical cosmopolitan in the Top End, and it celebrates its diversity through food! With a population from over 60 nationalities and 70 different ethnicities including the Larrakia Aboriginal people, the capital city of the Northern Territory has brought together a plethora of culinary choices, offering a gastronomic experience influenced by international flavours alongside local fare, from mud crab to barramundi to crocodile.
For a glimpse into the local lifestyle, meander through markets and soak up the vibes of the community, something I enjoy doing while travelling overseas. Breathtakingly set against Arafura Sea, the famous Mindil Beach Sunset Market attracts large crowds of locals and tourists to grab a take-away dinner and picnic at the beach. It is a must-visit in Darwin, especially so when the market only operates throughout the dry season, from April to October on every Thursday and Sunday evening.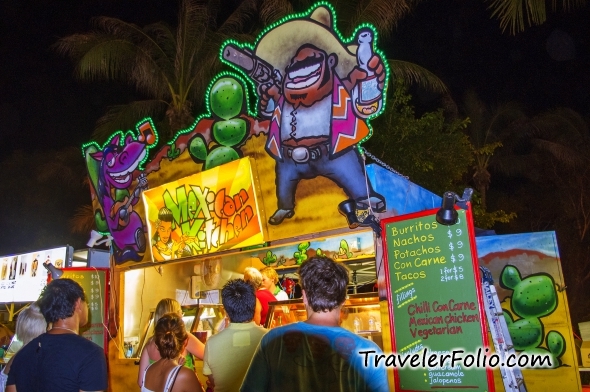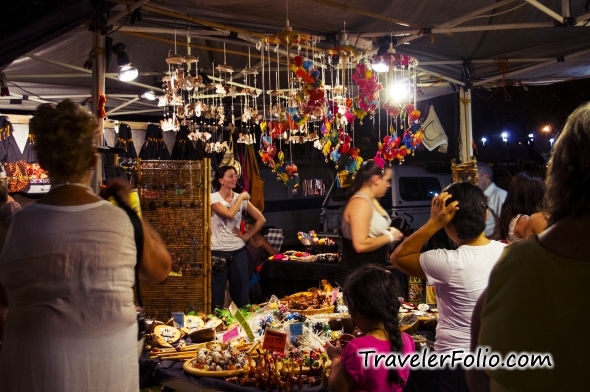 After the day trip out in the Outback, we headed back to Darwin city centre for the Mindil Beach Sunset Market to fix the hunger pangs. The award-winning market supports over 300 small local businesses and boasts 60 food stalls featuring cuisines from all over the world, including Greece, Mexico, Turkey, Portuguese, Italian, Sri Lanka, India, Japan and South East Asia countries. Spoilt for choice, the wide selection of food is catered to every palate. Aussie burgers, BBQ seafood, pizza, paella, sushi, noodles … the list is endless. Not forgetting a host of delights such as the luscious crepes, freshly baked pastries and seasonal fruits.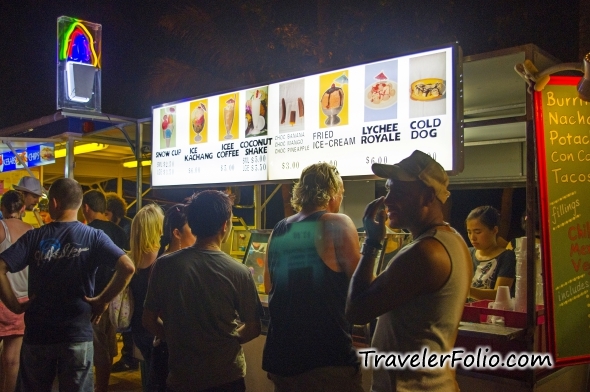 If you like retail therapy, there are vendors selling handicrafts, apparels, leather goods, paintings, handmade jewellery and other trinkets; or get an airbrush tattoo and a massage to rejuvenate. While browsing, groove to the live music and catch the buskers in action. Take note of the time – don't miss the magnificent sunset! The location has some of the most stunning sunset views I have ever seen in all my travels.(http://www.mindil.com.au/)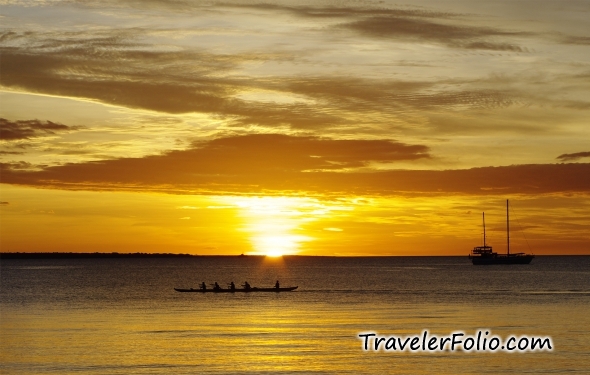 For weekend markets in Darwin, check out the Parap and Nightcliff markets. Located in a trendy suburb, close to the heart of the city, the Parap Village Market draws locals and tourists alike with its melting pot of authentic flavours from Thailand, China, Vietnam, Lebanon, Indonesia and Australia, among others. Try the famous Laksa, satay and crepes, sip an aromatic cup of freshly grounded coffee to invigorate the senses! Open 8am to 2pm, the Saturday market has a wide selection of seasonal fresh produce including honey, vegetables and exotic fruits, as well as specialty shops selling local handicrafts. A vibrant meeting place accompanied with live entertainment. (http://parapvillage.com.au/)
Get your Sunday morning filled of mouthwatering curries, sushi, burgers and healthy doses of locally grown fresh fruits and greens at the Nightcliff Markets – a popular community market sets in the Nightcliff Shopping Centre, north of the city. This is where we can find designer clothing, collectables, secondhand items and unique gifts to bring back home for loved ones. (http://www.nightcliffmarkets.com.au/)
Together with a group of friends, we headed down to Mitchell Street at the CBD for a casually sophisticated dining experience at the Hanuman Restaurant. Highly rated, the stylish restaurant offers Thai, Indian and Nonya cuisines, as well as an extensive wine list to complement the menu. As recommended, we placed the order for the signature Trumpet Mushrooms (A$18.50) and the much raved about Hanuman Oysters (A$19.50).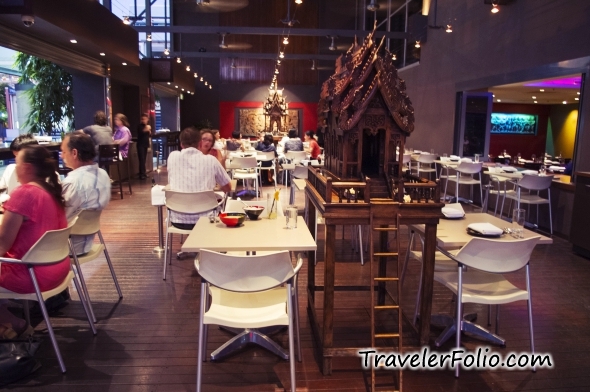 Served in an earthernware dish, each trumpet mushroom is topped with finely minced pork, prawn and spices with coconut cream sauce. A little spicy but not too much to handle. The Hanuman Oysters are delicately contained in pockets of tajine inspired platter. The liberal use of lemongrass, sweet basil and fresh coriander add a touch of Thai into the seafood delicacy, just hit the right note to send the taste buds dancing.
To bask in the warmth of curries, we had the slow-cooked Beef Vindaloo (A$27.50) infused with a mellow sweetness of spices and the robustly flavoured Chicken Chettinad (A$26) in a fennel and mustard seed masala. The naans went very well with the appetizing spicy dishes. Indulge the sweet tooth with Black Rice Brulee (A$13) infused with pandan and coconut flavours, and the gluten free Chocolate Water Chestnut Cake (A$13) with green tea anglaise and ice cream. (http://www.hanuman.com.au)
Darwin may be the smallest regional centres in Australia, it has attracted an influx of migrants from different ethnicities. As they brought their food culture with them, the city is literally a gourmet paradise filled with varied dining options.
Celebrating Australian food with Tourism Australia! To find out more, check out the

Best of Australian road trips.

This article is also published on https://sg.news.yahoo.com/darwin-s-vibrant-night-markets-053656654.html