The scent of fruit is in the air. Nothing can beat the freshness of the glossy fruits picked straight from the orchard. This afternoon, we had a juicy time at Sorell Fruit Farm, Tasmania's premier pick-your-own fruit farm and restaurant. The tourism award winning farm is located just 15 mins from Richmond and 15 mins from Hobart Airport.
The ingenious owner, Mr Bob Hardy, graciously showed us around his beautiful farm. The range of berries is astounding, many of which I've not heard before, such as the superbly flavoured tayberries, boysenberries, loganberries and silvanberries, apart from strawberries, raspberries and black currants.
Cherries are not the only fruits for pick at the farm, there are also apples, apricots, nashi pears, nectarines and peaches. Did I mention that Sorell Fruit Farm has the widest variety of temperate fruits in Tasmania?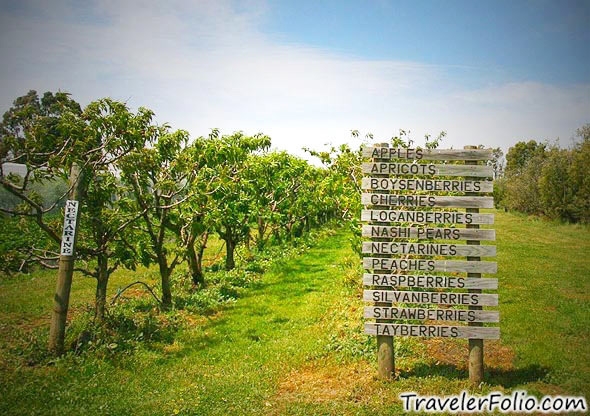 You can buy a container available in different sizes and fill it up with the fruits that you pick or join one of their informative tours in the farm.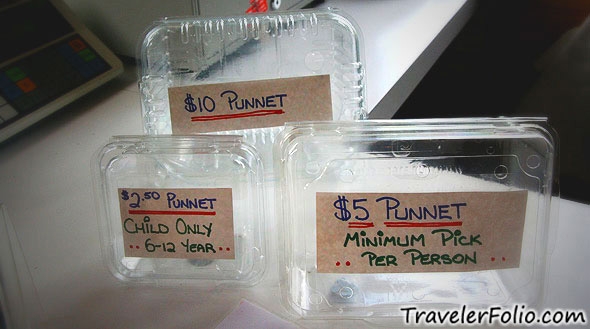 A handful of freshly picked BIG and JUICY berries ready to be eaten straightaway!

Raspberries and my favourite cherries! Lovely, aren't they?
Trees growing with lot of apples and peaches, all waiting to be harvested soon. The trees are pruned in a way that customers can pick the fruits from the ground easily.

My bowl of richly filled vitamin C.

Sorell Fruit Farm has won many awards for its liqueurs and fruit wines. At the retail showroom, there is a wide range of jams and sauces along with other top quality Tasmanian products.
And we were pretty surprised to see this bottle of Laksa paste, one of our favourite hawker food back home. Pls read the fine line at the bottom of the label. It's a product of Tasmania!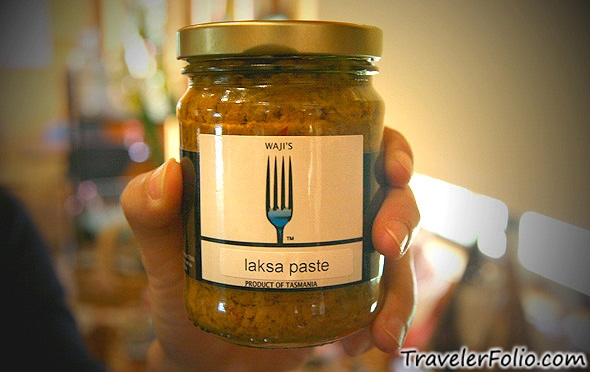 Address of Sorell Fruit Farm: 180 Pawleena Road, Sorell, TAS 7172.
Web: www.sorellfruitfarm.com
If you are a fan of oysters, head down to the pristinely beautiful Barilla Bay Oysters Farm, one of the largest producers of live oysters in Tasmania and mainland Australia.
The Forrest family has been growing oysters in the cold clean Southern Ocean waters of South East Tasmania since 1980 and harvesting daily for restaurants and fishmongers throughout Australia.
You can join the 45-min shore based oyster farm tour that concludes with fresh oyster tasting. Do call in advance to make reservation.

Barilla Bay Oyster Farm is located just 2 minutes from Hobart Airport. The fresh oysters and other gourmet products can be packed for airline travel. The retail shop opens 7 days a week, from 8:30am to 6:00pm. What a great way to treat your family and friends back home with Barilla Bay fresh produce!

If you want to savour Tasmanian cuisine in a restaurant that overlooks the mesmerizing scenery of Barilla Bay and the expansive views of the oyster farm, Barilla Bay restaurant it is.
Address: 1388 Tasman Highway Cambridge
Web: http://www.barillabay.com.au/
Attention, Abalone Lovers! Tas Live Abalone is just 10 minutes' drive away from Hobart airport. The company has been involved in the Tasmanian abalone industry since 1988, offering top quality live, frozen, dried and canned abalone.

At 42 degree latitude, the live abalone are nurtured in the clean cold waters of the Southern Ocean and grow in a similar climate to Japan's famous Oma. In fact, Tas Live Abalone is one of the biggest quota holders in Tasmania and Tasmania provides about 25% of the abalone harvest to the world every year.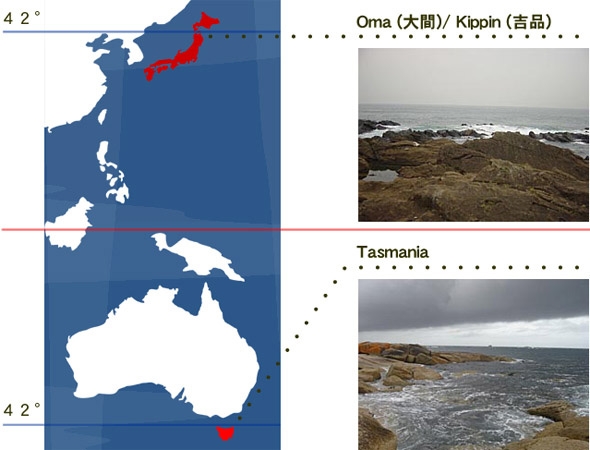 The production factory is equipped with state-of-art-technologies to keep the live abalone in an optimal environment before processing or shipping. Its dry abalone is one of the finest products.
Address: 17 McIntyre street, Mornington,Tasmania 7018
Opening hours: Mon – Fri (Booking is essential)
Web: http://www.tasliveabalone.com/
While driving around the city area in Hobart, we stopped by Wrest Point at Sandy Bay for a picturesque shot of Derwent River. Scroll left-right to view the panoramic photo.

We drove to the nearby Battery Point for a coffee break in the late afternoon. Battery Point has many beautiful historic cottages dating from the first European settlement in Hobart. And lots of pretty flowers blooming in the gardens of the cottages.
The locals recommended us to try the pastries at the popular Jackman & McRoss Bakery. Their bread and pastries are largely organic and freshly baked. I tried the Frittata and jam tarts. Thumbs Up!

You can stroll down to the public jetty at Battery Point for a relaxing evening.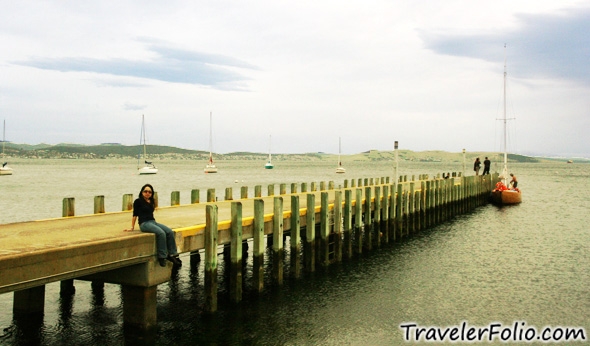 We can conveniently walk down the Kelly's Steps that connect Battery Point to Salamanca Place that consists of sandstone buildings built by convicts in 1843. Each brick on the sandstone buildings appears differently as they were hand-hewn by the convicts during the penal settlement period, echoing stories of the past.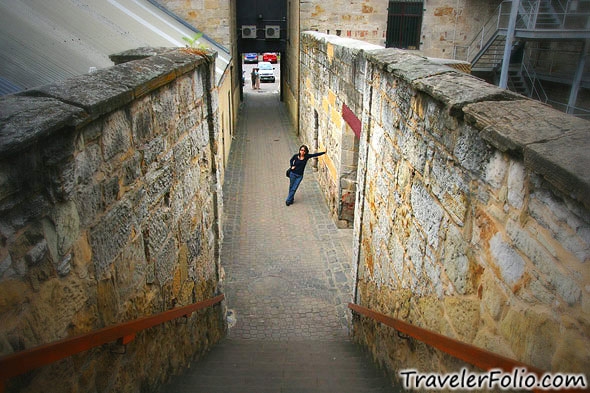 The sandstone buildings at Salamanca Place used to be warehouses for the port of Hobart town. Now, the buildings are converted into restaurants, craft shops, galleries, pubs and offices. The place becomes crowded with pub-goers on weekend nights.
Every Saturday, Salamanca Place comes alive with the popular Salamanca Market selling anything and everything. We are going to the Salamanca Market the very next morning!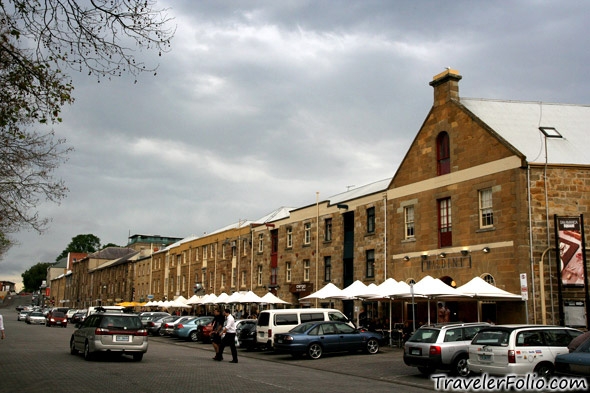 But for now, it's dinning time at Mures!
At Mures Upper Deck, we had a pretty view of the historic Victoria and Constitution Docks facing the Sullivans Cove while tucking in our tantalizing dinner.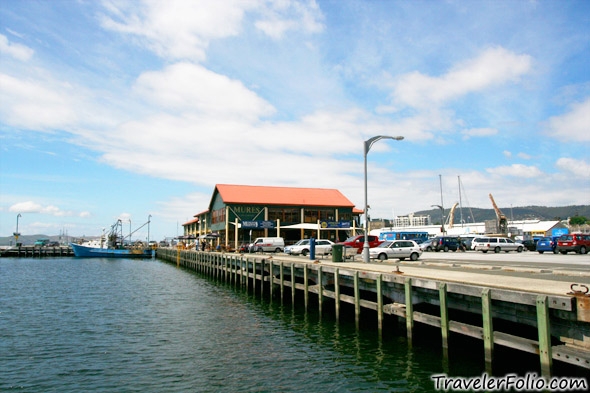 The Upper Deck serves very fresh Tasmanian seafood, much of which are caught by the restaurant's very own fishing vessel.
I had Asian food – wok fried big and succulent black tiger prawns with gai lan (veg), spring onions, lotus roots, lime and jasmine rice. Price: A$18.50. Good.
Jacky had Fish & Chips – you can choose the way you want the fresh fish to be prepared. Eg. Crumbed, beer battered, grilled or pan fried. Price: A$32.90 Thumbs up!

Address: Victoria Dock, Hobart, TAS 7000
Web: www.mures.com.au
The next morning, we will be heading out of Hobart. Where to? Check out TravelerFolio again tomorrow for my Tassie updates!
Read previous post: Day 3 – Meet the Devils!