Sometimes, photos and words really can't do justice to this little slice of incredible Gondwana. From heavenly Hobart to craggy Cradle, rolling past enchanting ancient forests and lush green fields to face the mighty Roaring Forties at the Edge of the World, it's almost time to bid farewell to the gloriously unspoilt Tasmania.
And I couldn't bear to leave the luxurious beachfront accommodation at Beachside Retreat West Inlet!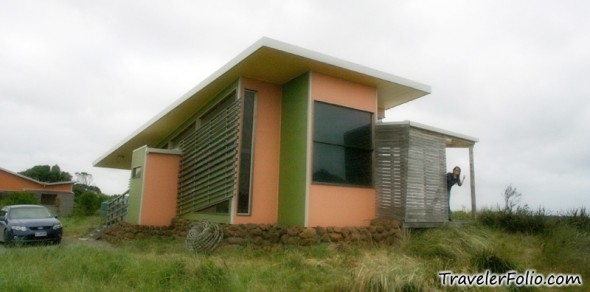 Launceston is the final leg of our Tassie journey. We would depart from Launceston Airport back to Singapore. Driving from Stanley to Launceston takes about 3 hrs; unless you are rushing for the flight, there are many lovely sights and attractions worth visiting along the way.
While driving through Burnie, we met some interesting paper people. Yes, life-sized paper mache people sculptures at Creative Paper Tasmania!
Pop by the beautiful gift shop full of quality paper products that are not commonly found at your regular scrapbooking shop, such as recycled papers made from fresh Tasmanian apples, fresh lavender, white cotton thread and denim jeans… Apparently, you can't bring back the native stringy bark, but you can bring back the paper made from the aged fibers from the forest floor… Wait! The creative paper makers also use kangaroo and wombat poo fibres to make papers. They don't stink, however!

The Creative Paper Tasmania holds regular art exhibitions at the gallery. You can also join their paper making tour about techniques used to create eco friendly Tasmanian papers. The building is located in East Mill, Old Surrey Road, Burnie 7320, Tasmania. For more info, visit http://www.creativepapertas.com.au
Do you know that the oldest lavender farm in Tasmania is also the largest in the Southern Hemisphere? Located in the heart of the Tamar Valley Wine Route, Bridestowe Lavender Estate cultivates true French lavender in this area of Tasmania that has similar climate, red soil and altitude to that of southeastern France. The 120 acres picture-perfect lavender landscape is literally the little Provence in Tasmania.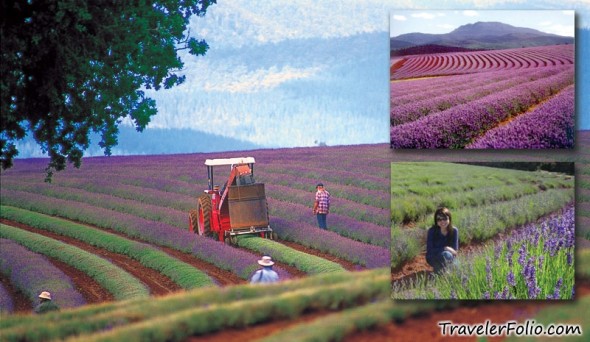 At the distillery, visitors can observe how the true French lavender is processed into camphor-free Bridestowe Lavender Oil that has a variety of uses and is highly demanded by perfumery houses, cosmetic and aromatherapy users.

The Woodcroft café at the lavender estate is a dining haven for the true lavender lovers! Indulge in a lavender feast with the new Lavender and Blueberry Ripple Ice Cream or pancakes with Lavender Flower Honey, Lavender Muffins and other "Bridestowe Cuisine" in a place surrounded with fields and fields of lavender!

Retail therapy? The Visitor Centre next to the café is stocked with a great range of unique Bridestowe products – from lavender aromatherapy to beauty products, lavender fudge to lavender flower honey, and the most eye-catching one? Cuddly purple lavender bears stuffed with Australian hard wheat and lavender! I got one for myself!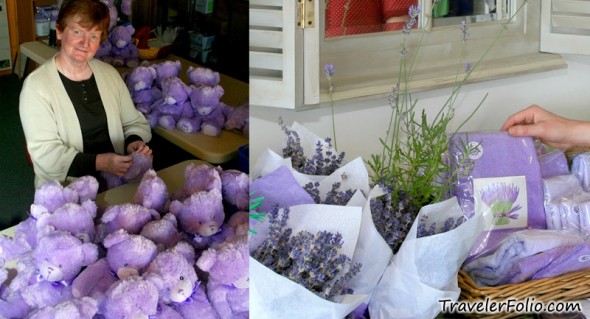 Photo taken with Robert Ravens, the owner of Bridestowe Lavender Estate.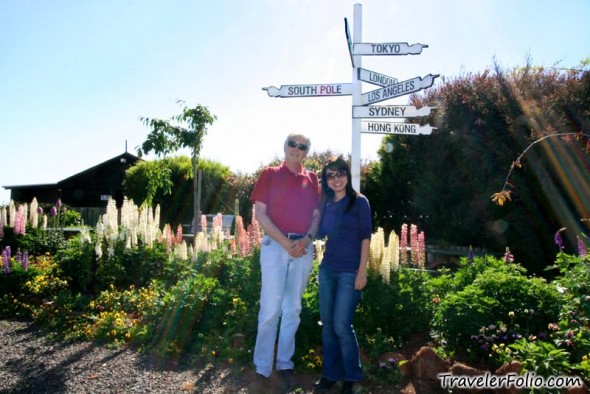 When is the best time to visit Bridestowe Lavender Estate? The lavender landscape is visually stunning all year round. To experience the expanse of lavender haze, it is December and January.
Address of Bridestowe Lavender Estate: 296 Gillespies Road, Nabowla, Tasmania 7260.Web: bridestowelavender.com.au/
Tasmanian Gourmet Sauce – I guess you'd probably find this brand familiar at NTUC Fairprice Finest supermarkets in Singapore. However, it's not just a brand on the shelves. The Tasmania's leading sauce maker is the Australian Small Business Champion Award winner in 2007 and their products are multi-award winning. Now, let's meet the famous sauce maker!
Unexpectedly, it wasn't just about visiting a typical food production factory. Tim Barbour, the owner of Tasmanian Gourmet Sauce, enthusiastically showed us around his prized garden and topiary nursery, the largest of its kind in Tasmania that houses 40 over species of plants. The humble entrepreneur is not just a successful sauce maker; he has been designing gardens and his masterpieces are seen in many famous historical homes.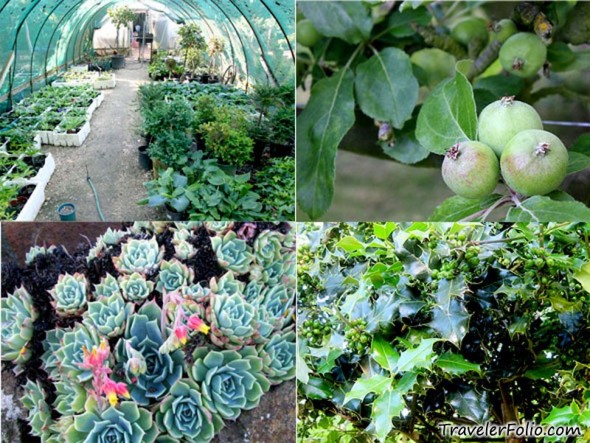 Photo with Tim Barbour, the owner of Tasmanian Gourmet Sauce Co.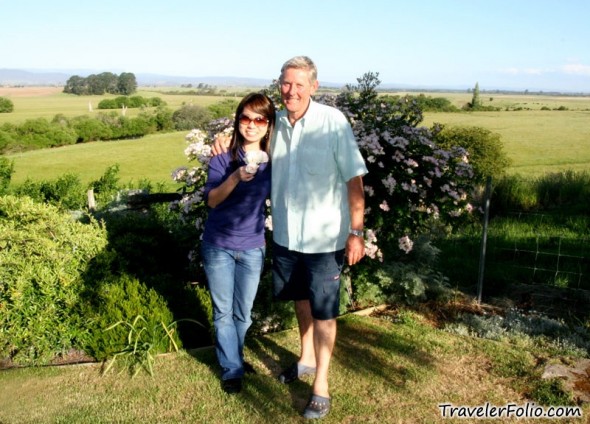 I've never added so much "spice" to my life before! Tim introduced a wide range of gourmet products and we sampled the delicious berry jams, dessert sauces, savoury sauces and spicy mustards. Unlike many other brands, Tasmanian Gourmet Sauce mustards contain full flavoured wholeseed mustard blended with herbs and spices to create the unique flavours for mustard lovers. Spicy? That's satisfying and I'm loving it! They even have Chilli Jam!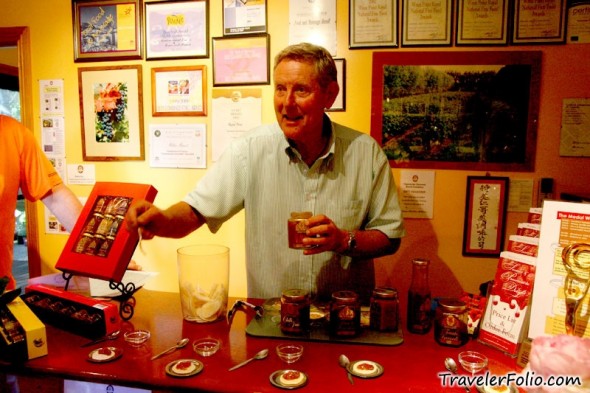 You can also find their pasta sauces and flavoursome chutneys and relishes on the shelves. The sauce maker only uses Tasmanian fresh produce and the products are made in Tasmania.
Address of Tasmanian Gourmet Sauce Company: 174 Leighlands Rd, Evandale, Tasmania Australia 7212. Web: http://www.gourmetsauce.com.au
Read the last post of our 8-day Tasmania trip – Ta Ta Tassie!