I made it to Tasmania again in two years. It's one of those paradise places on earth where you won't get tired of visiting and I love her even more! Thanks to Tourism Tasmania and Chan Brothers Travel, I was part of the '8 Days Devilishly Tasmania Self-Drive Convoy'.
They say Tasmania is a photographer's paradise. I say a point-and-shoot camera will give you breathtaking shots anytime anywhere even if you are on the move in a car on the Apple Isle!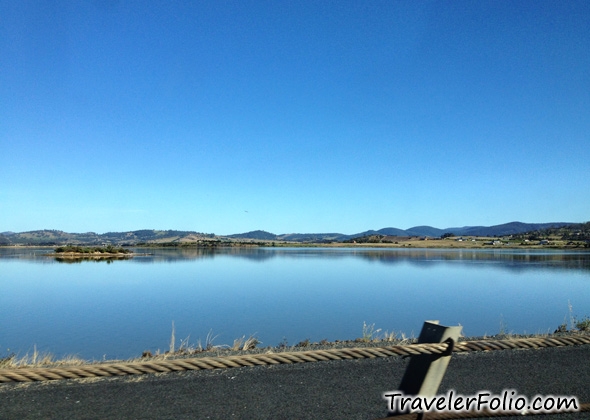 After an overnight flight from Singapore, we transited at Melbourne International Airport in the morning for the domestic flight that takes 1 hour to arrive in Hobart, the state capital of Tasmania.
The best way to travel around Tasmania is to rent a car and self-drive. Conveniently located just across the road from the domestic terminal, information desks for car rental services are available and you can rent a car on the spot.
Within a short wait, we rented one from Hertz and embarked on our first leg to Tas Live Abalone!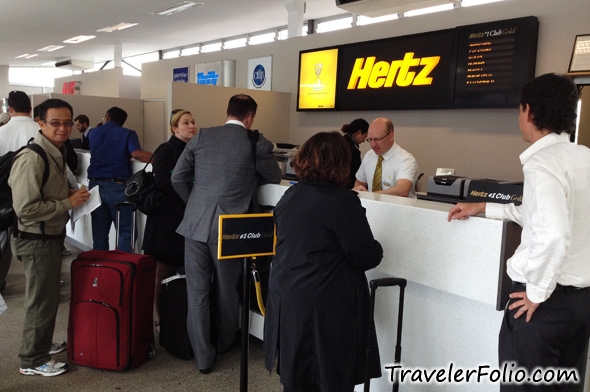 Tas Live Abalone
Tas Live Abalone is really popular among Asians, especially Chinese who love abalone! As it's located just 10 minutes drive away from Hobart Airport, many tourists would stop by and buy the high quality abalone nicely packed for air travel.
At 42 degree latitude, live abalone are nurtured in the pristine waters surrounding the coastline of Tasmania and grow in a similar climate to Oma, Japan. Tas Live Abalone has developed the technology to 'dry' abalone to attain the kind of quality that you can find in the legendary kipping product from Japan.
Here you can find live, frozen, dried and canned abalone. We got the chance to hold and feel these huge abalone, and even taste them! Meaty chunks of abalone were cooked in the simplest fashion, sealing all the juices inside the meat. The texture was chewy yet tender!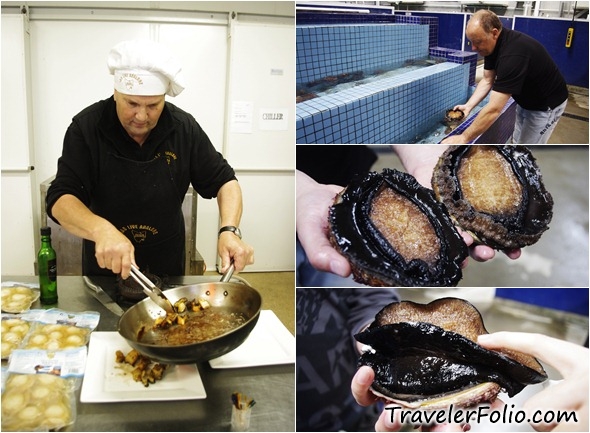 A variety of dried abalone and neatly packed ones that include Blacklip and Greenlip abalone.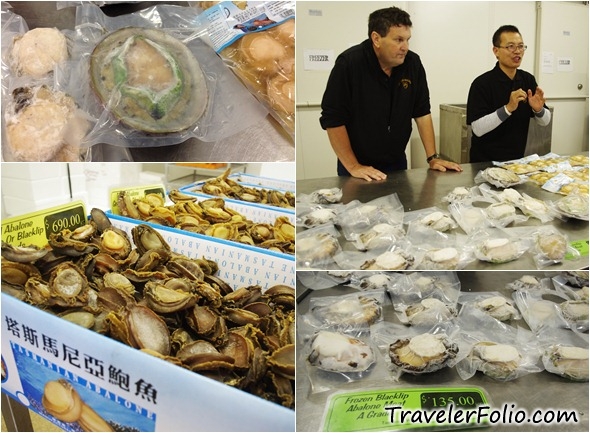 Tas Live Abalone
Address: 17 McIntyre street, Mornington,Tasmania 7018
Opening hours: Mon – Fri (Booking is essential)
Web: http://www.tasliveabalone.com/
Barilla Bay Oysters Farm
Oyster lovers don't miss this! Barilla Oyster Farm is located merely 2 minutes from Hobart Airport. We headed to Barilla Bay for lunch after visiting Tas Live Abalone.
Barilla Bay Oysters Farm is one of the largest producers of live oysters in Tasmania. The oysters are grown in the pristine Southern Ocean waters of South East Tasmania since 1980. At the restaurant that overlooks the picturesque scenery of Barilla Bay, you can savour Tasmanian cuisine and slurp freshly shucked oyster straight from the shell.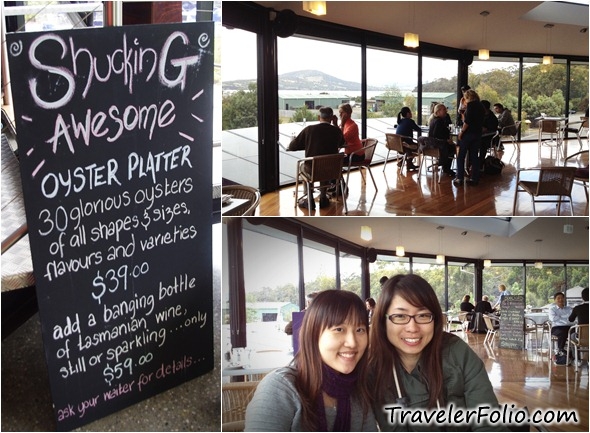 For those like me who usually don't take raw meat, the mouthwatering pan fried scallops and fish fillet surely satiate your appetite! And I do like cheese-baked oysters.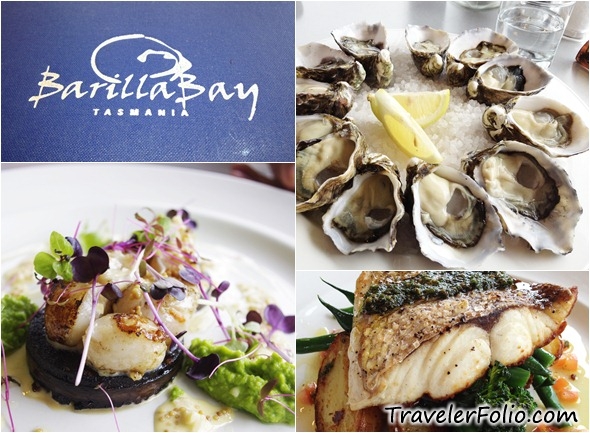 Barilla Bay Oysters
Address: 1388 Tasman Highway Cambridge
Web: http://www.barillabay.com.au
Curringa Farm
After lunch, we drove for about an hour from Hobart to Curringa Farm in Hamilton. The 750 acre, award-winning farm organises farm tours that include sheep shearing and wool production, working sheep dogs, nature walk and cropping activities as well as BBQ lunch.
My first time to be surrounded by so many cute looking sheep!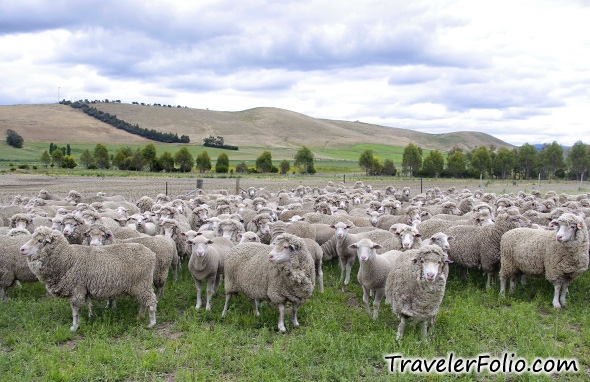 Watch how the flock of sheep are rounded up by two working farm dogs while we were sheepishly standing in the middle of the flock!
One of the working farm dogs at Curringa Farm.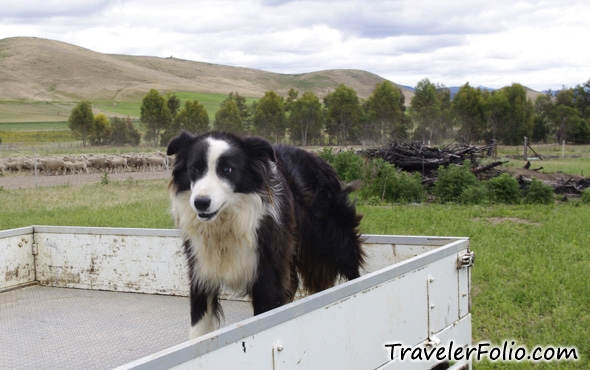 Photo with Tim, the sixth generation Tasmanian farmer, and his sheep with a coat of premium wool! I was trying to support the sheep to take photo together, yet at the same time worried of hurting it, as if I would accidentally twist its back! But Tim reassured that this would not cause any distress to the sheep. I guess so, 'cos the sheep didn't struggle and it seemed so relax!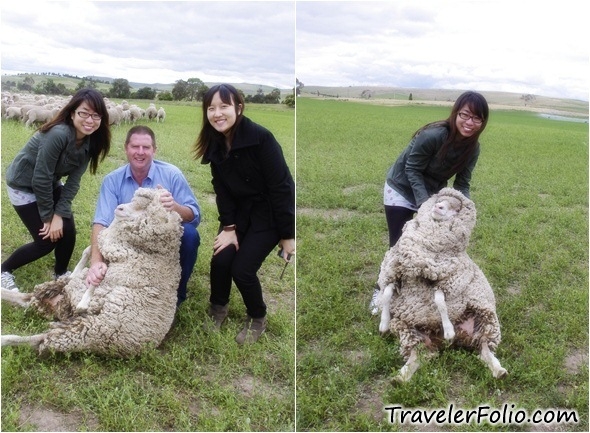 Tim demonstrated sheep shearing.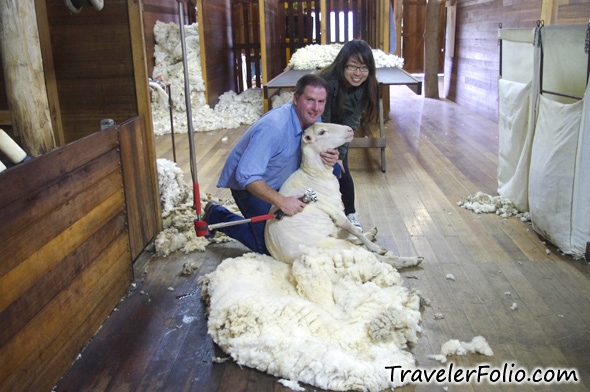 Crops of poppies at Curringa Farm.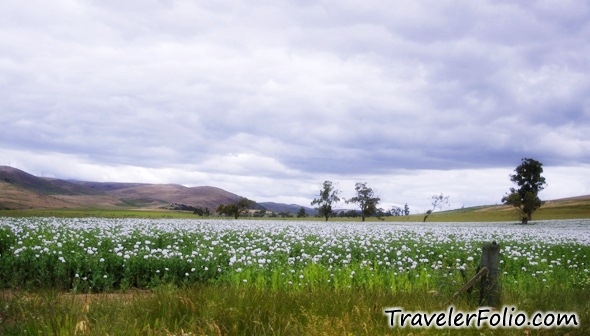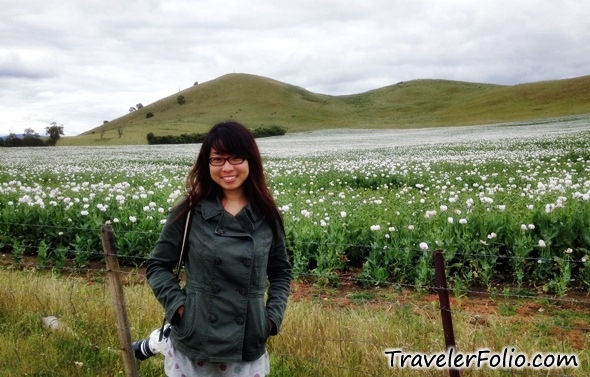 Curringa Farm has three self-contained spa cottages overlooking the picturesque Lake Meadowbank. An ideal retreat for honeymooners and families in idyllic setting of verdant green Derwent Valley.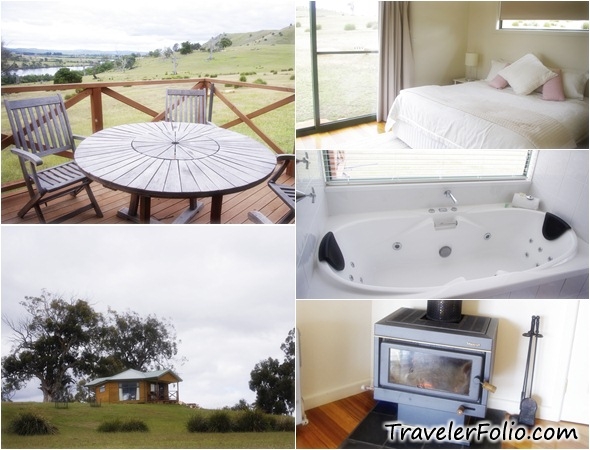 Lake Meadowbank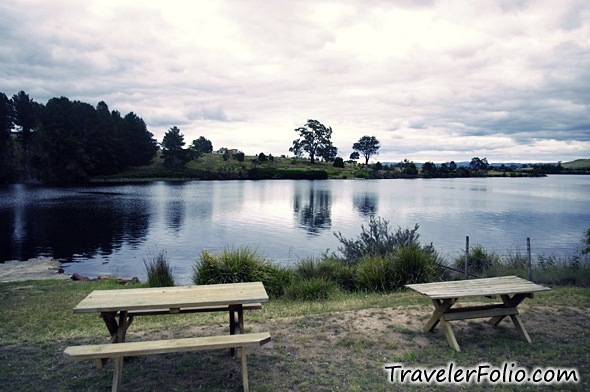 Tim even showed us his backyard where he rears chickens and collects fresh eggs!

Enjoy some tea and cakes at the Hamilton Sheep Centre. You have to try the Royal Danish Sweetheart Cake that Jane prepares. It's Tim's wife's delicious creation that was selected from three Tasmanian nominations by Conditori La Glace, the oldest bakery in Denmark.
The freshly baked cake is filled with delicious walnut and cinnamon flavours. The scones are so soft yet not crumby, they go well with the homemade jam.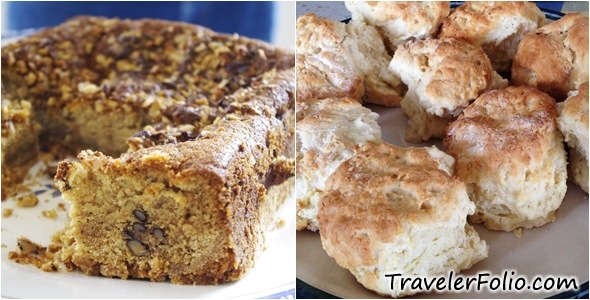 Meet the wonderful hosts, Tim and Jane Parsons at the Curringa Farm!
Address: 5831 Lyell Highway, Hamilton TAS 7140, Australia
Web: http://curringafarm.com.au/
Tasman Island Cruises
Tasmania is so compact that you can be easily overwhelmed by its natural beauty all in a day!
Next, we got out of the rented car and hopped onto a 3 hour eco-adventure cruise operated by Tasman Island Cruises. The boat tour travels along the breathtaking coastline of the Tasman National Park between Port Arthur and Eaglehawk Neck in Southern Tasmania.
Tips: It can be freezing cold out in the sea, so put on the jumpsuit provided by the cruise operator. If you can get seasick easily, take the ginger pill offered by the guide on the cruise.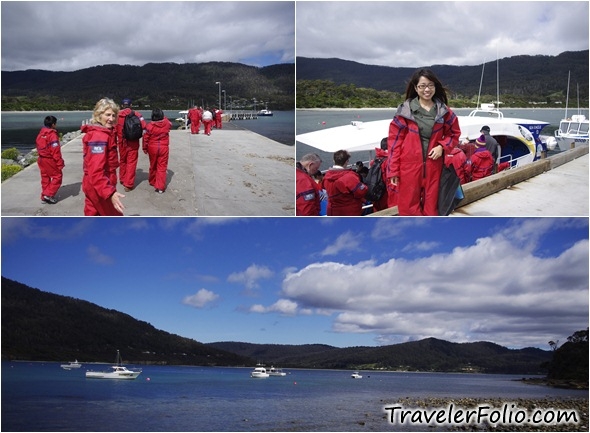 Experience the ever-changing landscapes, magnificent sea cliffs and waterfalls while cruising along the dramatic coastline and get up close and personal with colonies of seals, birds and coastal wildlife. The skilful coxswain even took us into sea caves while we looked in awe at the towering cliff faces.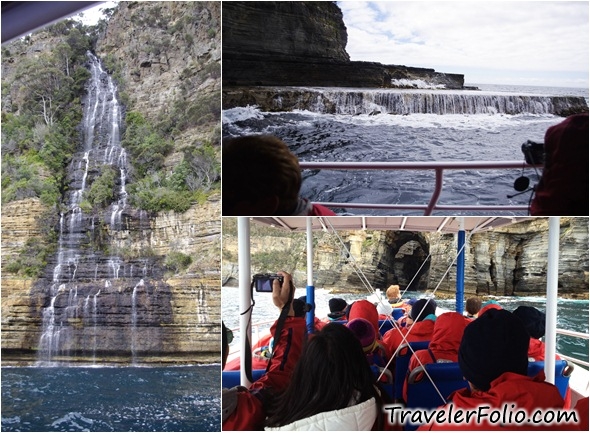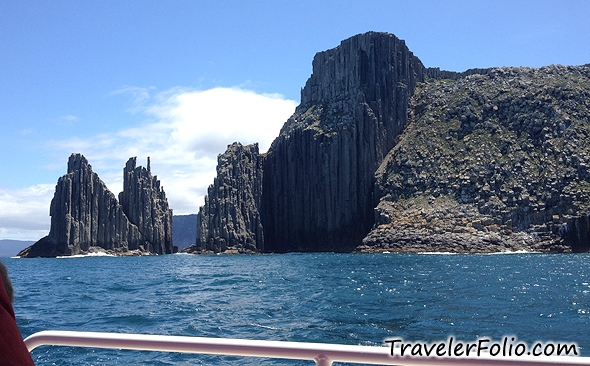 Spot the birds? At a glance, they look like little penguins!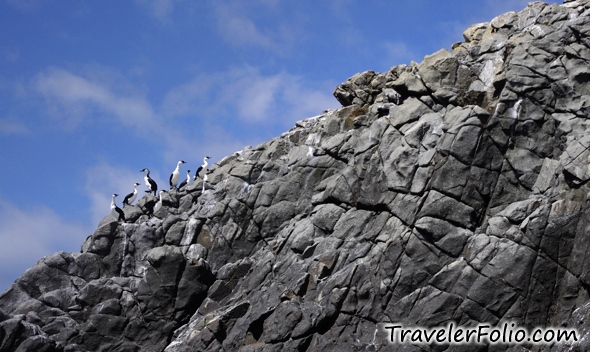 Another boat like the one we were in operated by Tasman Island Cruises.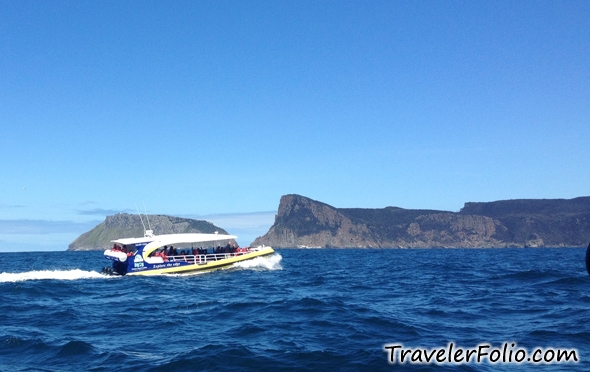 Seals were frolicking under the sun while I was all wrapped up in jumpsuit and bracing the cold winds!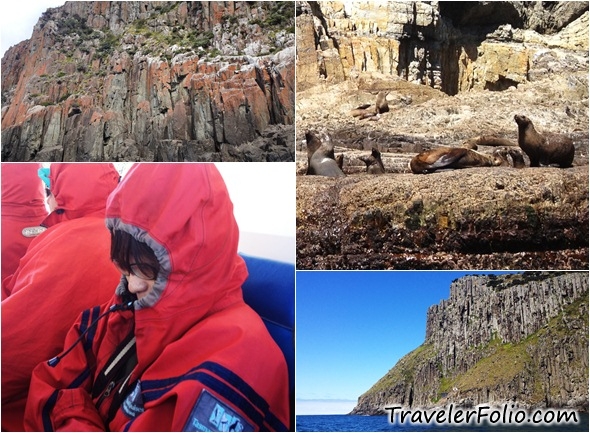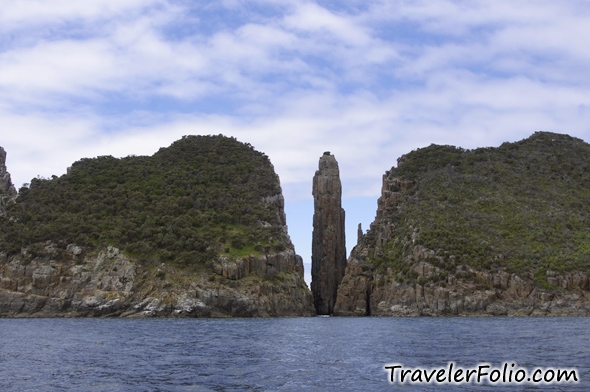 View of Tasman Island.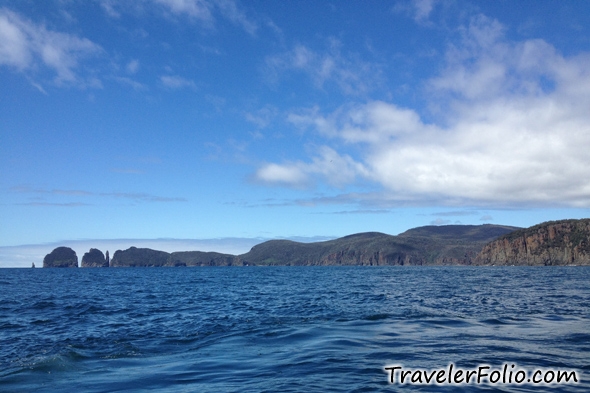 See the white lighthouse? Perched on the highest point of Tasman Island, it's an iconic landmark of the Southern Ocean.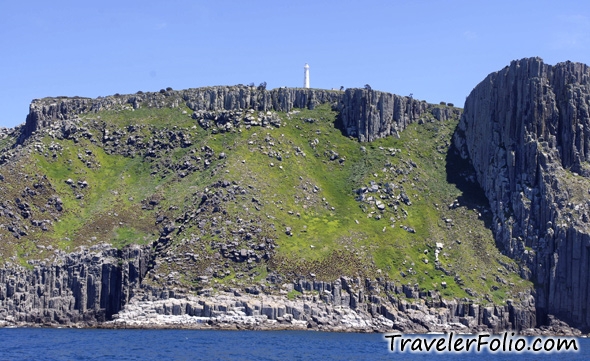 Tasman Island Cruises
Port Arthur Booking Centre address: 6961 Arthur Highway, Port Arthur TAS 7182
Hobart Booking Centre address: Dock Head Building, Franklin Wharf, Hobart TAS 7000
Website: http://www.tasmancruises.com.au/
Port Arthur Historic Site
To understand more of Australia and Australians, Port Arthur is the place to visit. It was a penal settlement from 1830 to 1877 and the historic site is the best preserved convict site in Australia.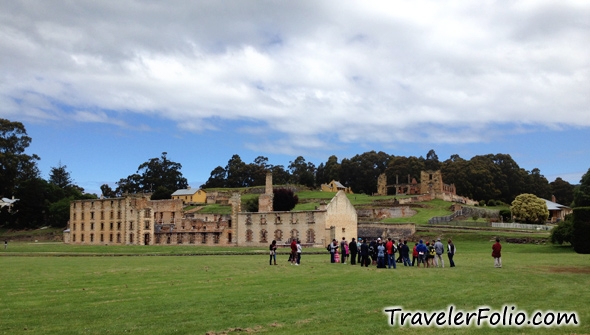 When I thought the convict site was created to house the worst criminals so that they couldn't escape from the remote island, it changed my mind after visiting the Museum. Often, poor and young people and even children who committed petty crime were sent to the Van Diemen's Land from Britain during colonial times.
The convicts were punished harshly by doing laborious works like timber-getting that was the most profitable.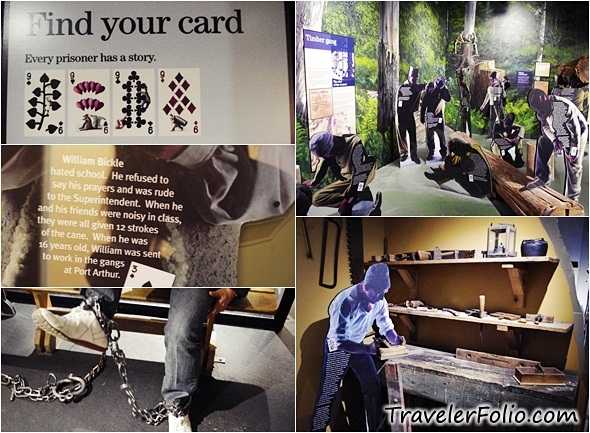 The chilling prison cell rooms.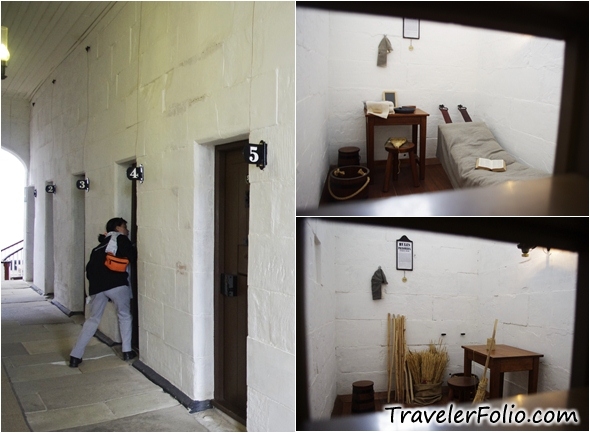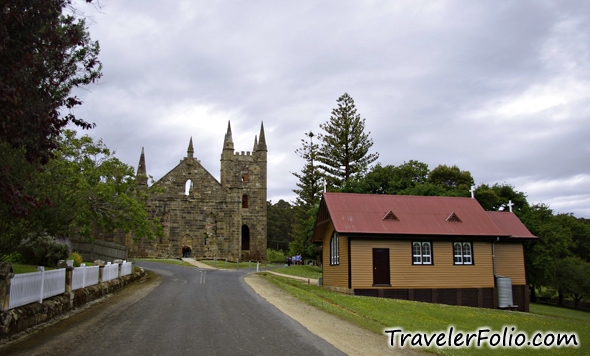 The Church was built by convicts at Port Arthur.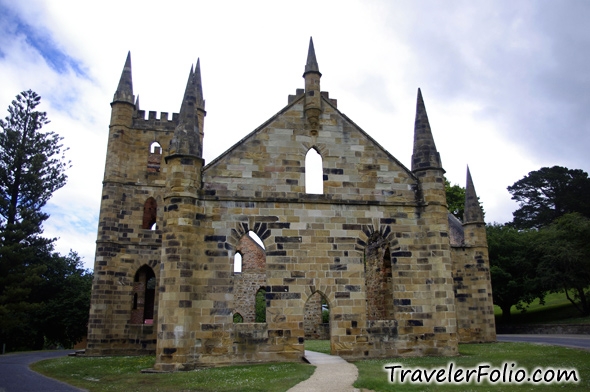 We took a short cruise around Port Arthur to understand a bit of the history.
Top left photo: Can you imagine that on such a small land area on The Isle of the Dead, it's the burial ground for around a thousand dead people between 1833 and 1877? We also learnt that the historic convict settlement was not only for the convicts but a community of free settlers and military personnel.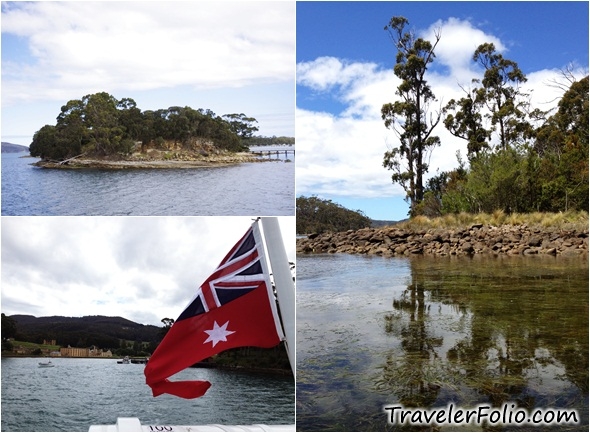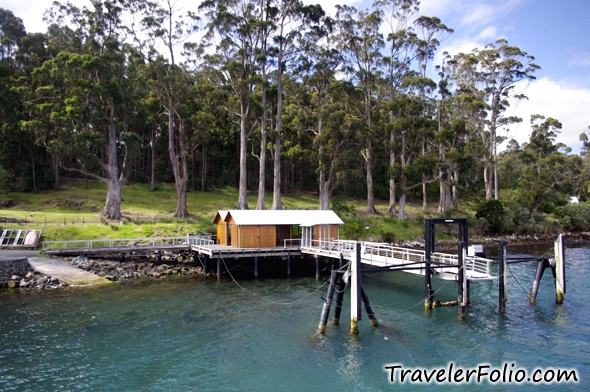 Port Arthur penitentiary.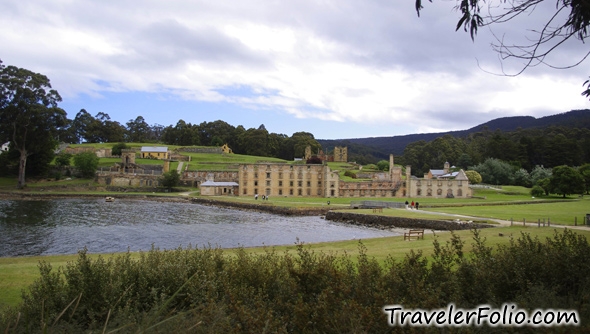 All is not grim! There are lovely little flowers at Port Arthur convict site. LOL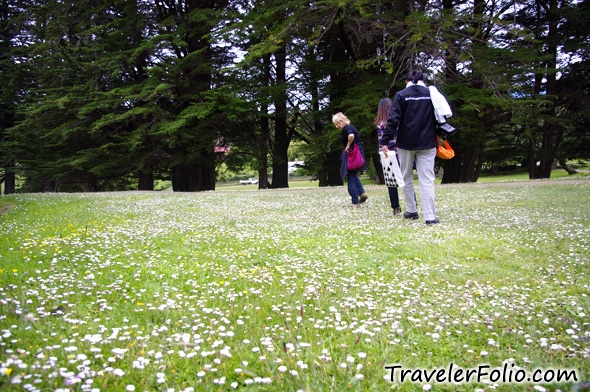 Tasmanian Devil Conservation Park
Now let's meet the REAL devils! My first encounter with Tasmanian Devils in Tasmania was at Bonorong Wildlife Centre. You can click on the above link to read more about Tasmanian Devils.
The Tasmanian Devil is the world's largest living marsupial carnivore that is only found in Tasmania. Sadly, the species is now facing extinction due to Devil Facial Tumour Disease, the world's first contagious cancer that affects the Tasmanian Devils.
If you are in Tasmania, please visit the Tasmanian Devil Conservation Park to understand more about this endangered species. They are not as scary as they appear to be, with big red jaw wide open, screeching and making lot of noises. In fact, the Devils are very shy and gentle animals in the wild.
Check out the feeding time to catching these amazing creatures fighting for food but not really attacking each other.
The Devil has an excellent sense of smell.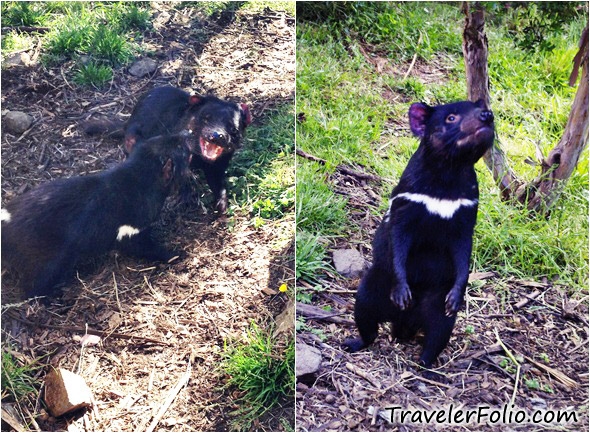 You will also find other indigenous wildlife in the park. The Eastern Quoll is carnivorous and only found in Tasmania. These creatures are so actively running around that it's pretty hard to get this shot!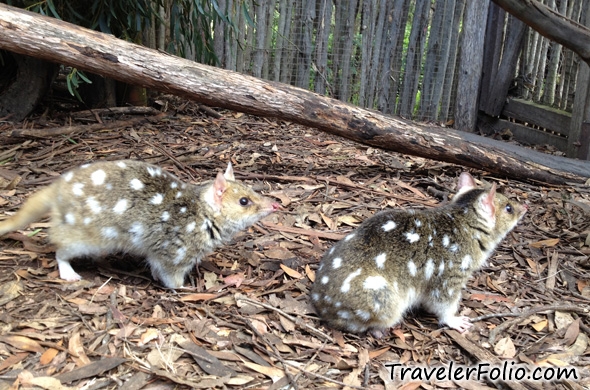 The noisy parrot, Tasmanian Green Rosella, is commonly found in Tasmania, only in Tasmania.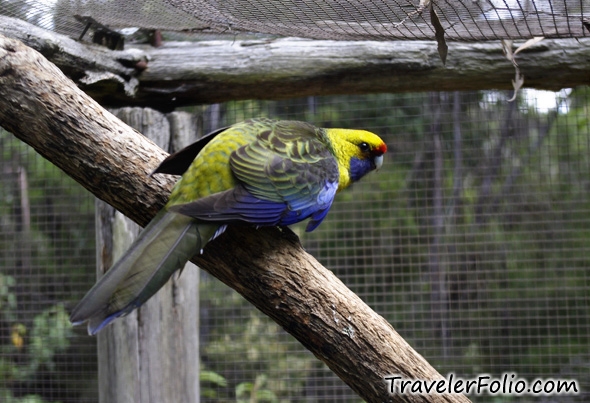 There are plenty of kangaroos hopping around you at the park too!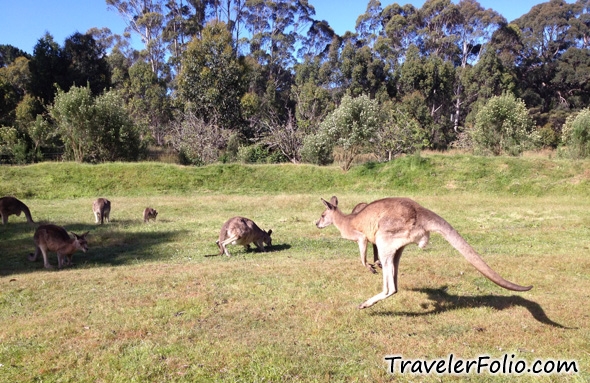 Tasmanian Devil Conservation Park is located on the main highway to Port Arthur, about an hour from Hobart.
Address: 5990 Port Arthur Highway, Taranna, Tasman Peninsula, Tasmania, Australia. 7180.
Website: http://www.tasmaniandevilpark.com/index.html
Highly Recommended! We had dinner at Me Wah Restaurant and we think it's one of the best Chinese Restaurants in Australia! I bet you food critics would give high ratings for the divine dishes. Now, I could almost taste the braised abalone… great food experience will etch in memory!
Not only you taste high quality Chinese cuisine here, the restaurant is elegantly decorated in a modern and plush setting to suit all dining occasions.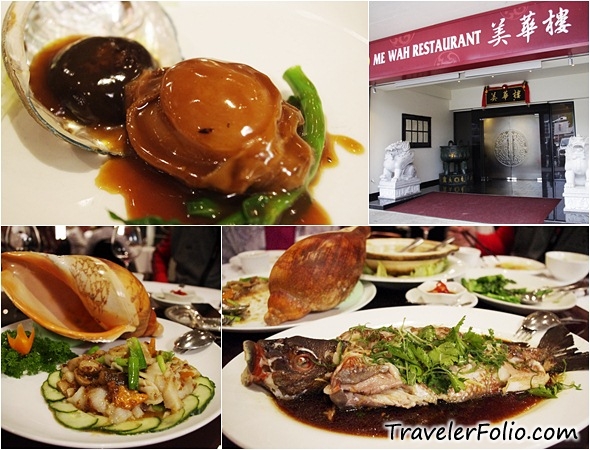 Me Wah Restaurant
Address: Suite 16 Magnet Court, Sandy Bay Road, Hobart Tas 7005
Website: http://www.mewah.com.au/
Old Woolstore Apartment Hotel
This was my second stay at Old Woolstore Apartment Hotel and it's as good as before. At first, one of our travelling friends thought it was a place selling wool!
The apartment has a spacious living room, a pantry, a bedroom with comfortable bedding to snuggle in, a toilet and a bathroom that includes a washing machine. The hotel is conveniently located in the city centre and within walking distance to Hobart's picturesque waterfront, restaurants and Hobart CBD where the malls are located as well as Salamanca Place and the famous Salamanca Market that takes place every Saturday.
Old Woolstore Apartment Hotel is one of the Innkeepers chain properties that include a range of accommodation from wilderness lodges, self-contained apartments to quality hotels to suit everyone's budget. Browse through the extensive list of accommodations that Innkeepers has to offer for your entire stay. innkeeper.com.au
Old Woolstore Apartment Hotel website: oldwoolstore.com.au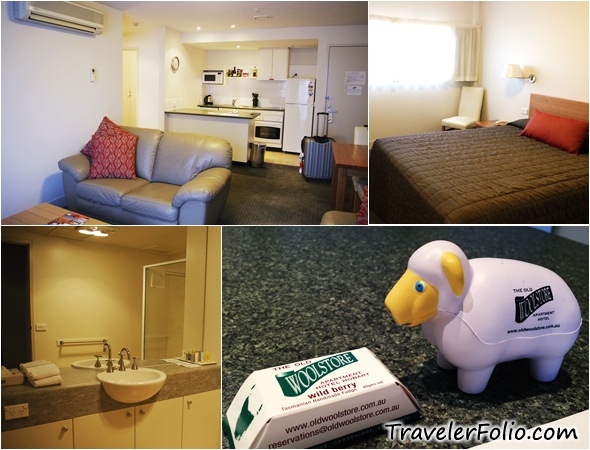 Read Day 2: Tasmania East Coast Attractions
Read all posts on Tasmania.