Taipei (台北市) is the capital of Taiwan. It's easy to travel around Taipei city. We toured around the city by taxi most of the time as it's convenient and reasonably cheap. In the past, I only heard Singapore National Service men going to Taiwan for army training. In the recent years, more and more Singaporeans like to visit Taiwan. Perhaps we have been watching a lot of Taiwanese entertainment shows and inspired to see the island?
Simply Irresistible.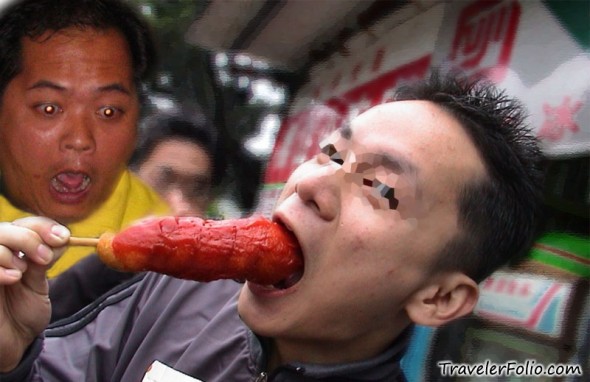 Shilin Night Market is the largest and most famous night market in Taipei city. There are two sectors: one is a food court and the other one has specialty shops. At Shilin Night Market Food Court, the Taiwanese sell all kind of innovative foods such as (大餅包小餅) a small bun wrapped in a big bun.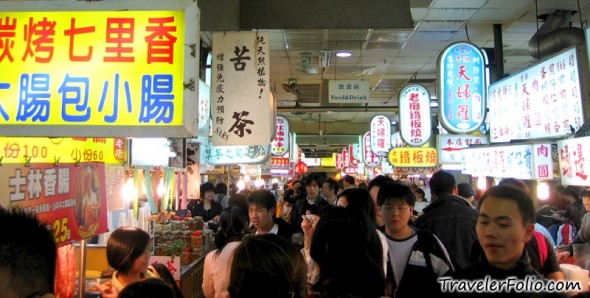 Every stall has attractive glowing sign boards to entice customers.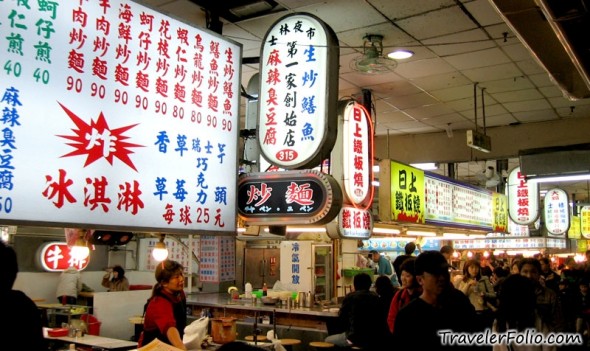 Speaking of stinky tofu, I still prefer those from Hong Kong. The stinkier the better! My nose would follow the stink to find that stinky tofu stall! But if you ever see a raw stinky tofu, you may not want to try one anymore, cos you will see blue/black moulds on it! Haha! Well, take it as blue cheese then. XD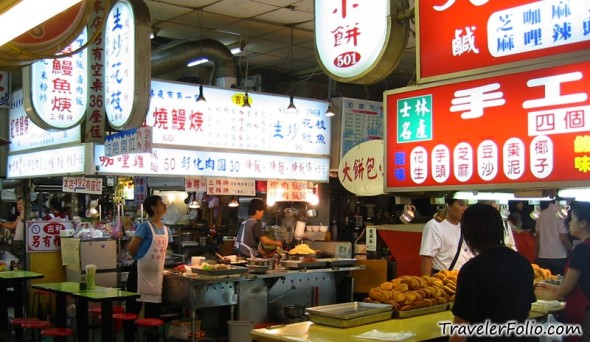 Quite amused to see a roll of wiping paper (or toilet paper?) suspended from the ceiling. It has a height limit for any users! If you can't reach the roll, you are just too short. =P
Snow Flakes Crushed Ice (雪花冰), as the name suggests, is a dessert with layers of ice that looks like snow flake. It's a mixture of flavours of milk, peanuts, jellies etc that not only pleases the eyes but tasty!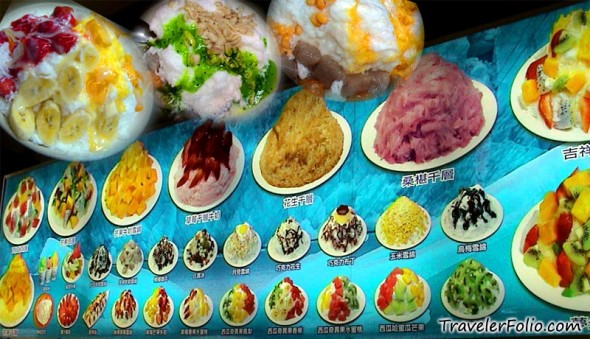 Taiwanese jumbo sausages are seen everywhere. They are really jumbo size as compared to those being sold in Singapore! In case some of you have not tasted one before, it's meaty and sweet, and can be oily too, but I like!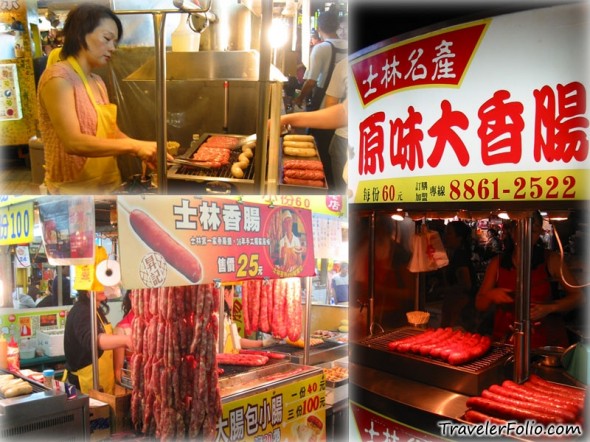 These are candied haws (冰糖葫芦) on sticks. They are made of hawthorns or other fruits with hardened sugar coating. The history of these candies can be dated back to as early as the Song Dynasty (960-1279). Try one, taste quite good.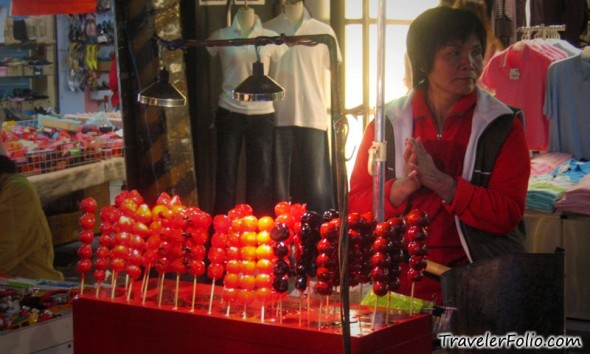 This fried chicken snack in Taipei is one of my favourites! In fact, this is one of Taipei's famous street foods. The fried chicken are soaked in special sauce before frying and taste very different from the Western style fried chicken. The chicken is crispy and juicy! Must try!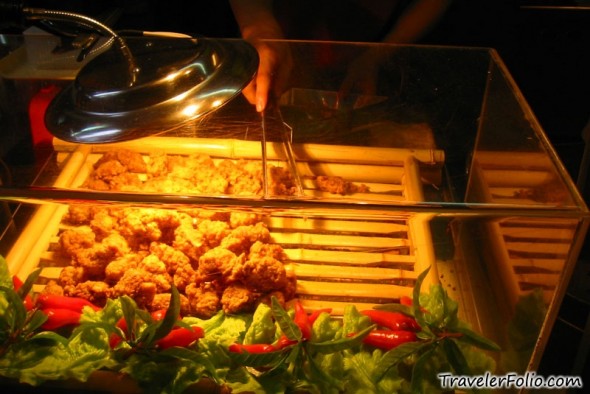 Grilling sticks of yummies.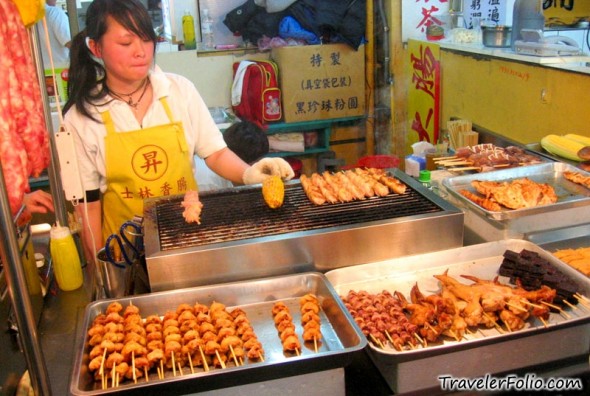 Shilin Night Market is always crowded with people. There are plenty of neon sign boards everywhere in the district.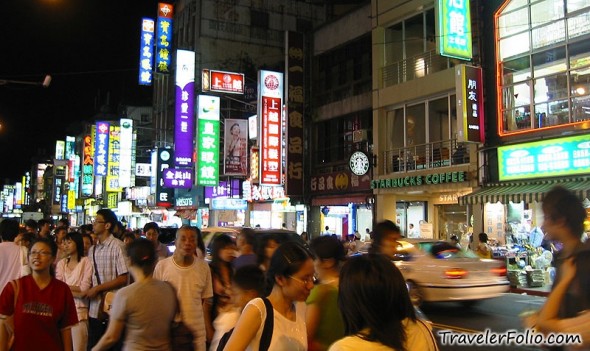 Some eye candies for you again, my virtual treat with chicken, salad prawns, fried sandwich… just close your eyes and imagine!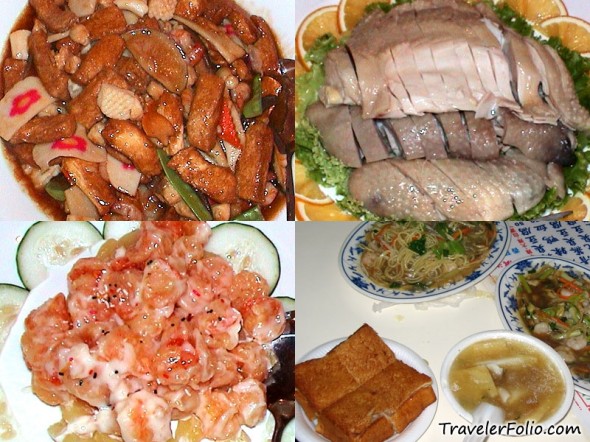 All about food and suddenly puppies? I couldn't remember what this was about. Don't worry, I think 99% for sure that it was pets for sale.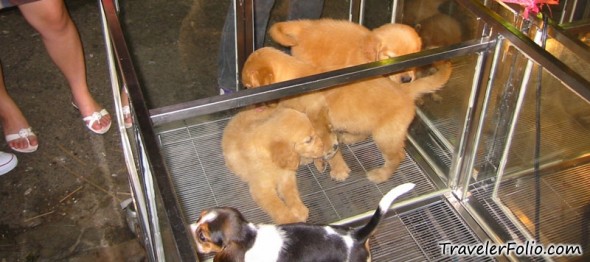 I just learnt from someone in the States that they think Singaporeans eat dog meat. No wonder when we were in Germany, someone asked if we eat dogs too!
"Singaporean" dogs are either pets, stray or abandoned only, not eaten! And I think it's illegal to eat man's best friend in Singapore. But I hope those dogs from Vietnam are not for the dining table. Photos taken from Ho Chi Minh City.
Read posts on Taiwan Hot Spring & Spa | Taipei 101