Tonight, the moon is at its fullest and brightest for 2008. It's Mid-Autumn Festival (中秋节), a day that falls on the 15th of the 8th Chinese lunar month for celebration of togetherness and abundance. The festival is also known as Lantern or Mooncake festival as you will see beautifully lit lanterns everywhere, and Chinese families and friends eating mooncakes (月饼) together while appreciating the bright full moon.
Oh man, these are really fierce "Power Rangers" lanterns with vampire fangs! The Ultraman lanterns are cuter!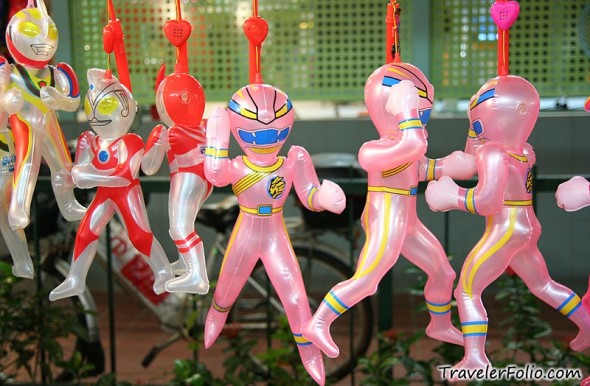 Traditionally, Chinese lanterns are made of paper and lit by candle light. When we were young, we loved to play with fire, lighting many candles along the pathways. Due to fire safety reason, nowadays, children usually carry battery operated lanterns for fun during the Mid-Autumn Festival. Many battery operated lanterns play music too!
Can you spot the "Powerpuff girls" and "Stitch" lanterns?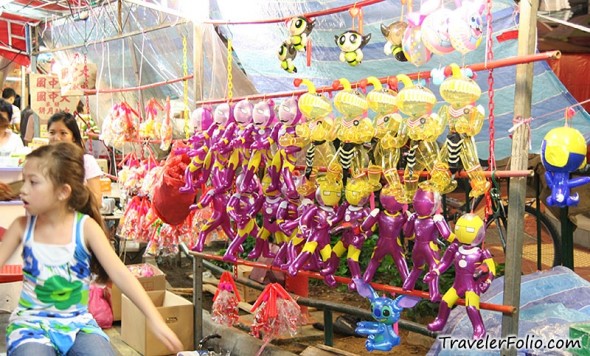 This roaster design lantern is one that is lit by candle light. I like this kind of translucent plastic material for lanterns.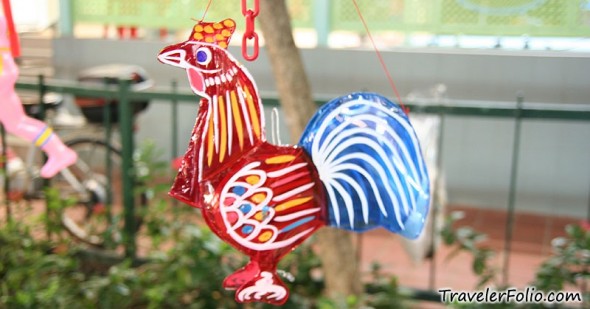 Pomelos are also eaten on this day. And mini yams too!

The mooncake market is fiercely competitive; bakers always come up with new mooncake receipes. There are ice-cream mooncakes, jelly mooncakes, mooncakes filled with champagne, etc. These pictures were taken from the mooncake bazaar at Vivo City.

Not only the mooncakes should taste good, they should be packaged nicely like a gift box too. While these lovely mooncake boxes are good for your eyes, you pay alot extra for that.


Sale of mooncakes packaged with Chinese teapots and tea leaves.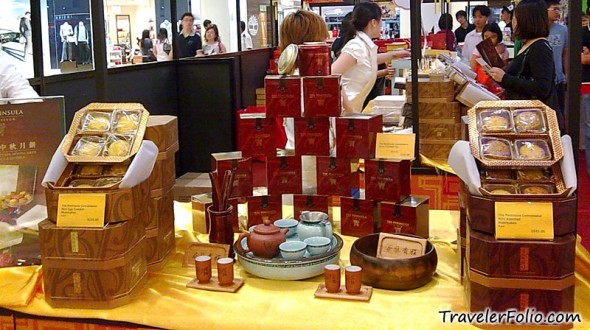 A mooncake is usually round or rectangular with thick filling of lotus seed paste surrounded by a thin soft crust. Some may contain salted duck eggs, just like those shown below. The green mooncake is one with snow skin (unbaked skin) and like the name suggests, it needs to be kept refrigerated!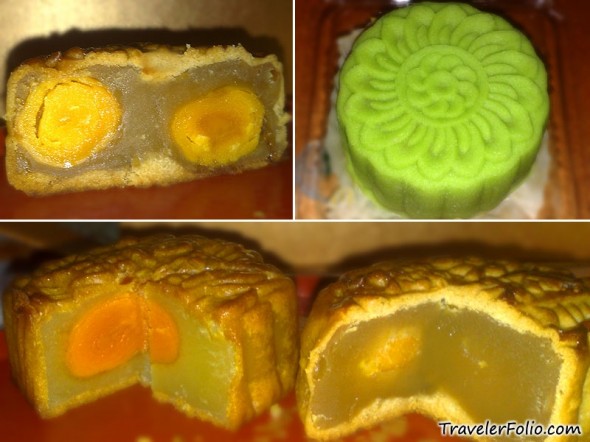 Mooncakes come in different shapes, sizes, colours, fillings and flavours. Some non-traditional mooncakes (or are they really called mooncakes?) are agar agar filled with custard (just like the big round purple "mooncake"). These mooncakes are baked by my auntie. I've almost finished them while blogging, can't resist the temptation while snapping this shot! My cholesterol level has skyrocketed!!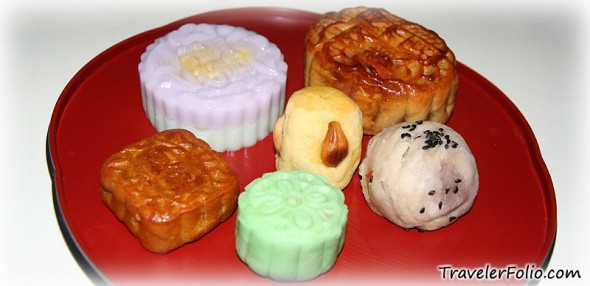 The traditional Chinese pastries below are for the celebration of Mid-Autumn Festival…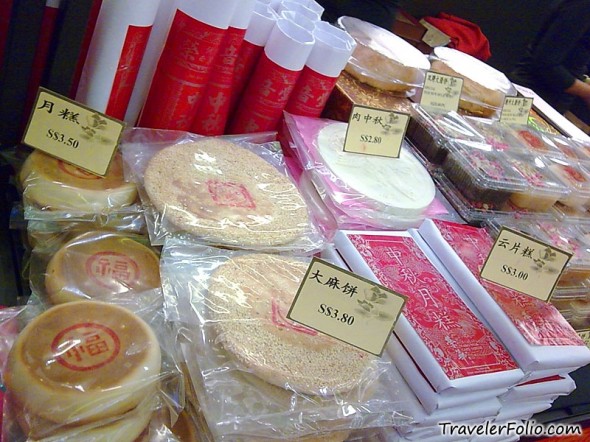 Beautifully hand painted lanterns by children.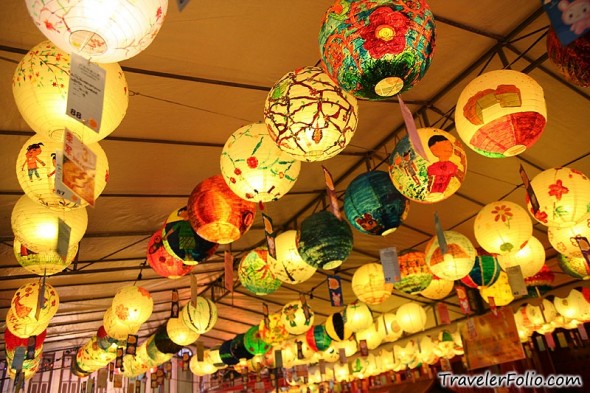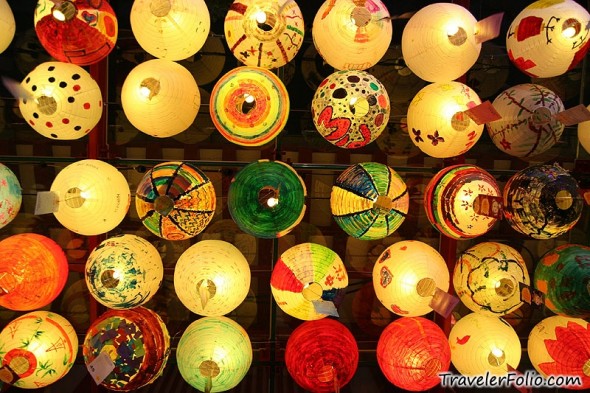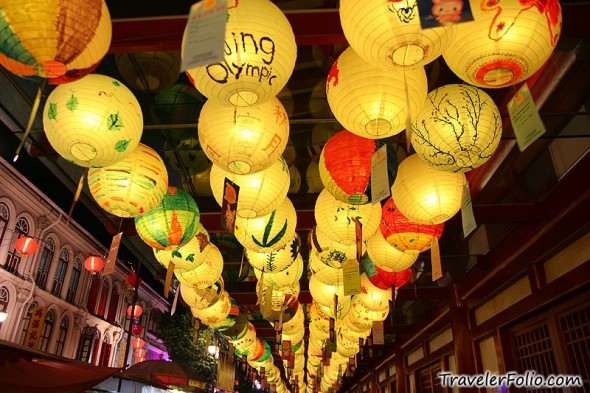 Beijing Olympic mascot – FUWA!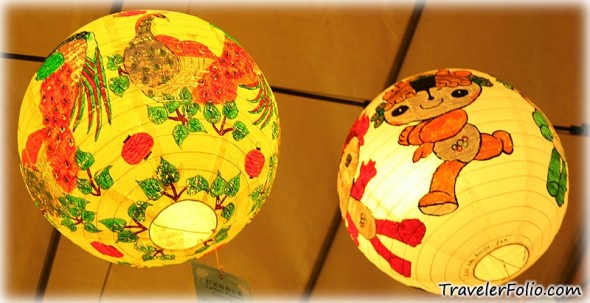 Rows of lovely hand-painted lanterns hanging around the Buddha Tooth Relic Temple at Chinatown.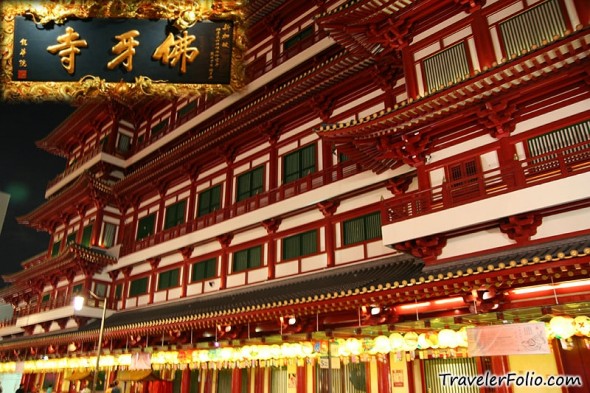 Oh ya! All of the above photos are taken from Singapore, mostly from Chinatown. Read Mid-Autumn Festival Part 2.
Read posts on Singapore Attractions | Chinatown.