Sentosa island is not a theme park and is no where near Disneyland; but most tourists visit this key tourist spot of Singapore. One even told me you have not seen Singapore if you have not been to Sentosa!! Ok ok! Sentosa is a relaxing place to go to, but be prepared to pay entrance fees for most of the major tourist attractions. =P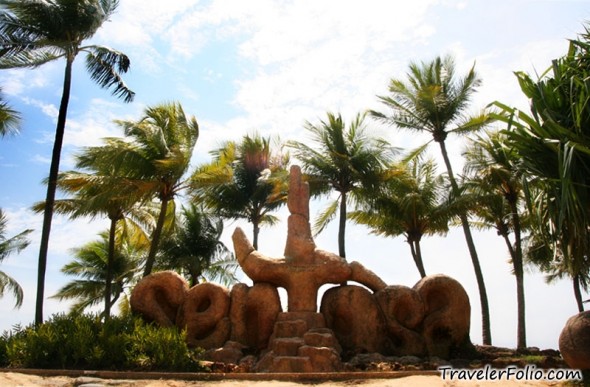 Recently my buddy gave me free tickets to see this island again. So I went with her. Sounds cheapo right? That's right! LOL! Perhaps because it's not the first time I went Sentosa…
Anyway, after looking at our photos from Sentosa, who knows? You may want to see Sentosa yourself too!
How to go Sentosa?
We took Sentosa Express monorail at VivoCity shopping mall on the mainland. Fyi, the nearest MRT to VivoCity is HarbourFront MRT Station. The monorail ride only takes around 4 mins.

You can also reach the island via a short causeway from Singapore mainland. If you drive, park at Cable Car Station Car Park or Beach Car Park. If you take a taxi, drop off at Taxi Drop off point just before the Cable Car Bus Stop.
Photo taken from the monorail while crossing to Sentosa. Look at the gigantic Christmas tree at VivoCity. You know Christmas is around the corner!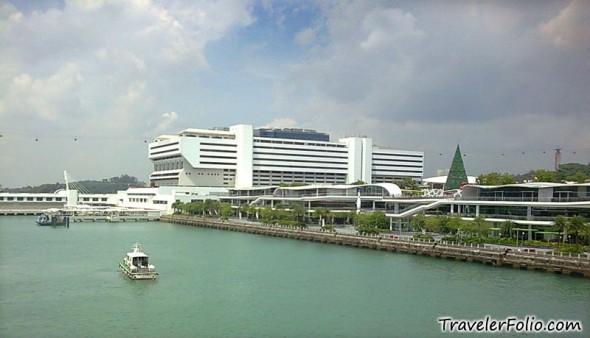 If you want to enjoy the view from a higher ground, board the cable car at Mount Faber / HarbourFront Centre to Sentosa. Do you also see cable cars in the picture above?
Sentosa means peace and transquility in Malay. It only has an area of 5km². Do you know that it was named Pulau Blakang Mati, which means "Island ('Pulau') of Death ('Mati') from Behind ('Blakang')"? So as to speak, it was called the island of the dead. One account claims that it was due to an outbreak of disease that almost wiped out the settlers of the island. Anyway, now the island is "growing" due to land reclamation. =D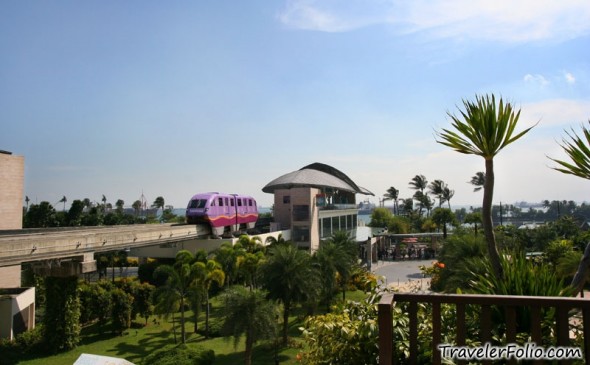 It's easy to tour around the island by Sentosa Bus, Sentosa Express and Beach Trams. We headed to Palawan Beach and crossed a suspension bridge to an islet which is the Southernmost Point of Continental Asia. Sounds exciting right? I still don't know why it's called that way. Isn't that point located in Indonesia? Please enlighten me!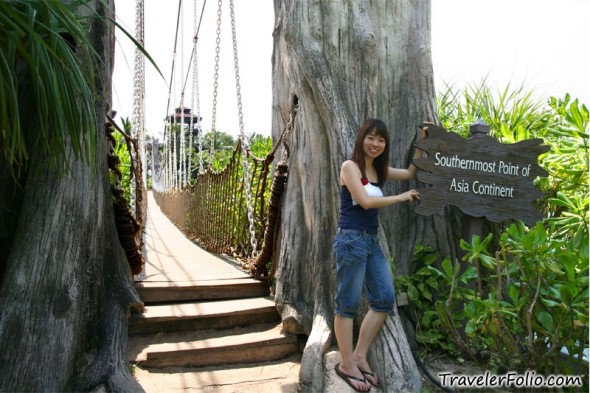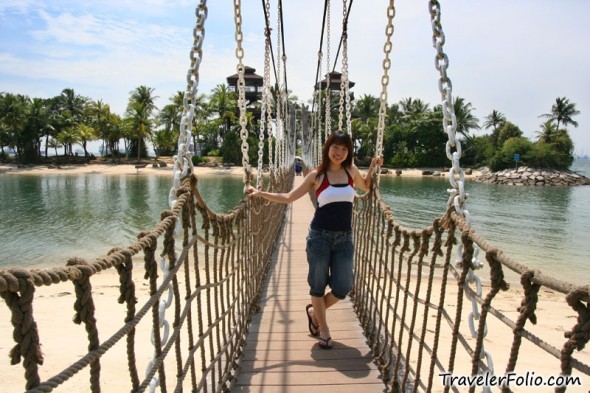 Now we are looking from the observation deck on the islet, the Southernmost Point of Continent Asia! Still wondering why it's the Southermost point of Asia…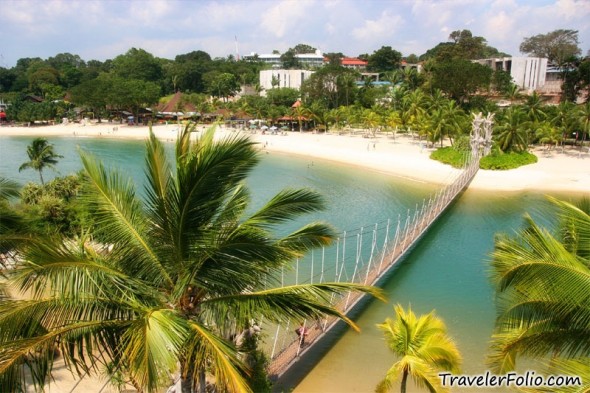 Located at the Imbiah Lookout zone, the Tiger Sky Tower was previously called The Calsberg Sky Tower. Both are beer companies. =D At a height of 110m (~ 50 storeys), it is the tallest free-standing observation tower in Asia! You will enjoy a panoramic view of Sentosa, Singapore, the Southern islands and even Malaysia and Indonesia on a clear day.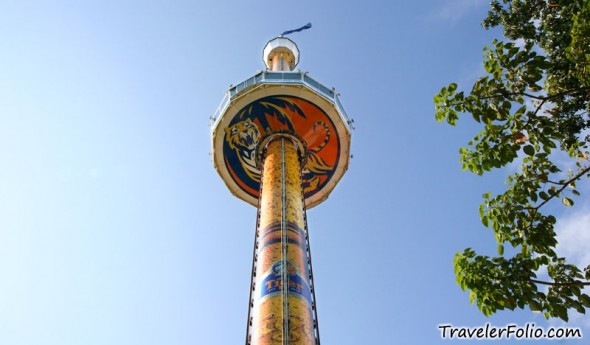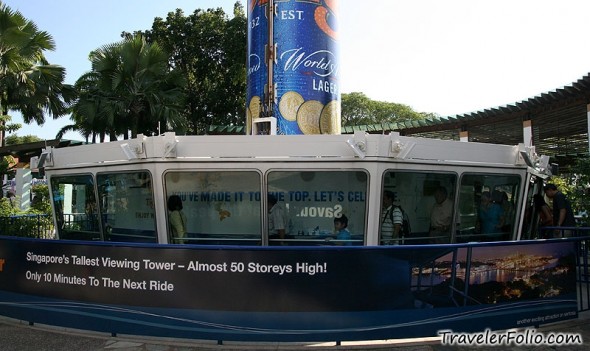 The Sentosa Luge & Skyride. The Luge is a non-motorised self-steering, gravity-driven three-wheel cart that allows rider to speed down a hill over short distance of 650 m ending at the Siloso Beach.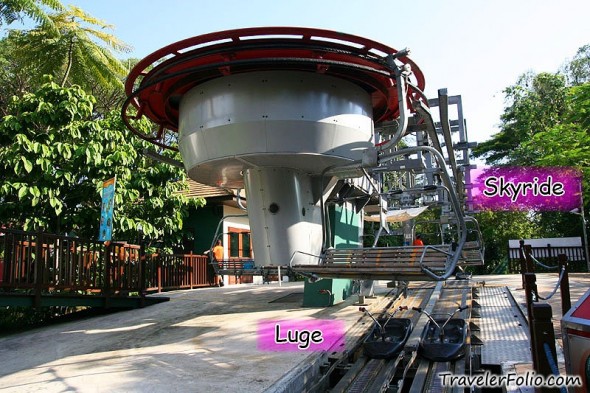 Hmm, we took the Luge to travel to Silsolo Beach. Nothing exciting about it, but kids may like the gentle ride down the slope.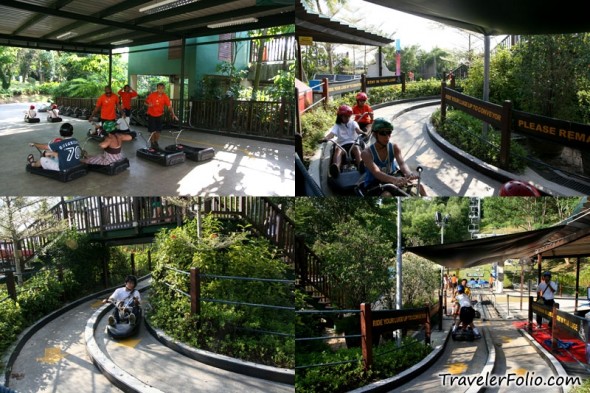 One of the Sentosa trams that ferries visitors around the island. It's free ride (or probably already included in your ticket. XD).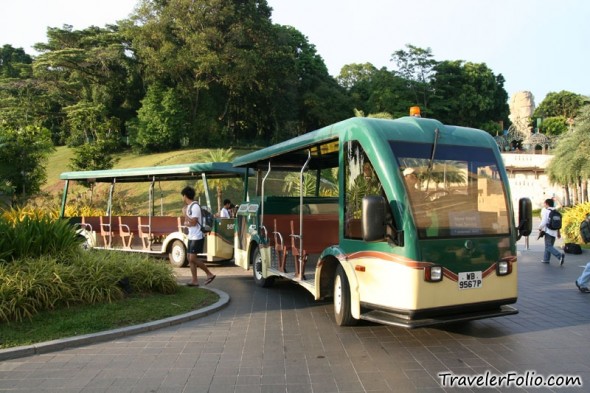 Read posts on Sentosa (Part 1/4) | Merlion @Sentosa (Part 2/4) | Sentosa Beaches (Part 3/4) | Songs of the Sea (Part 4/4) and explore Underwater World Singapore.