After a fantastic day out snorkeling in Pulau Sapi and Pulau Manukan, we just wandered around the waterfront area, trying to sniff out any surprises along the way. At the roundabout near the Central Market in Jalan Tun Fuad Stephen, a giant marlin seems to have leapt out of South China Sea and stays inland timelessly, with Pulau Gaya in the background.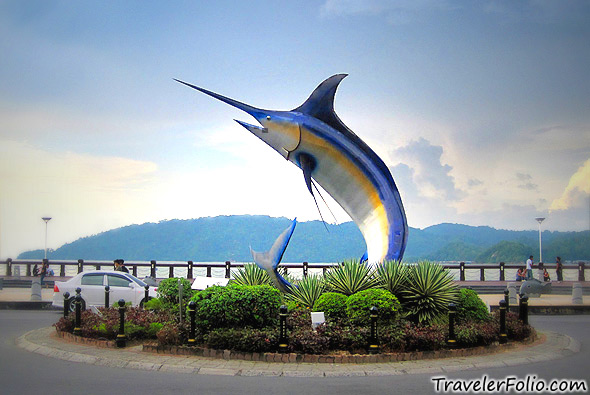 More fish statues adorning the waterfront.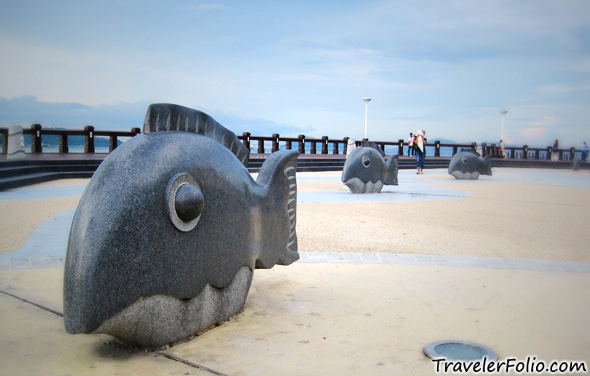 Further down, many fishing boats are docked near the central fish market. The boatmen can balance themselves really well, carrying loads while crossing on such narrow wooden plankway.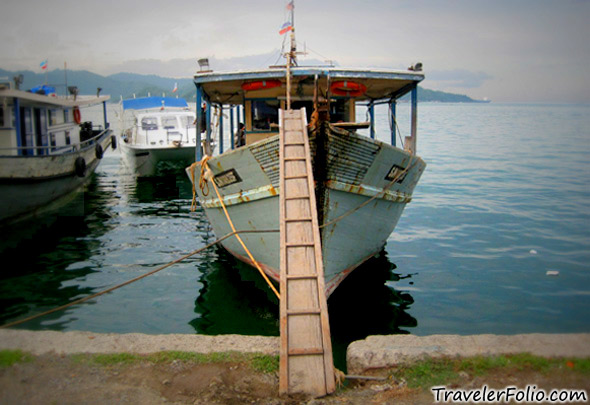 There are plenty of local food stalls all over the waterfront area.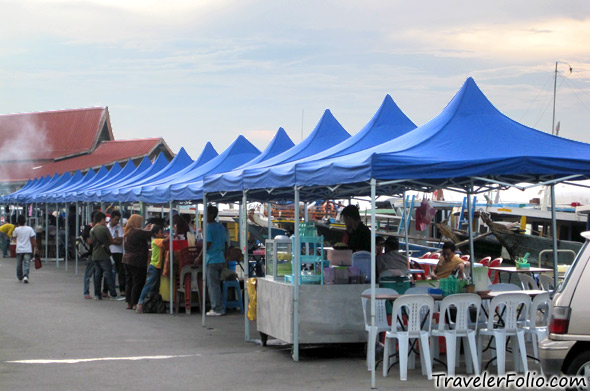 I'm a great durian lover but have never seen anything like this before: the thorns are longer and sharper, and the shape of the fruit resembles durian. Yes, it's durian. The Malay seller told us. She expressed that this kind of durian is not tasty at all and suggested we buy the "regular" durians. While staring at those alien fruits, the lady opened up one of them to eat. The flesh is red!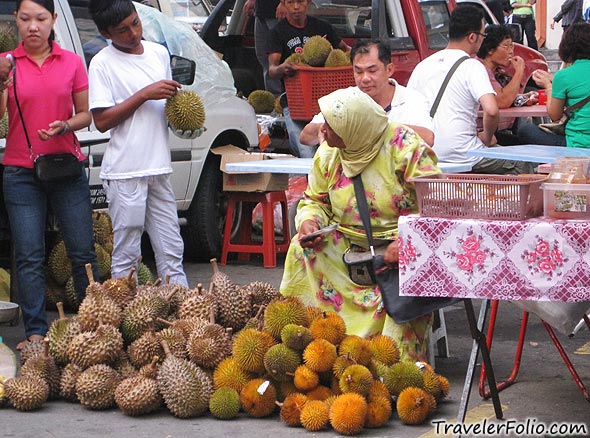 I was really curious about the taste of red-fleshed durian. We chose the SMALLEST one since the seller said they are not nice to eat, and bought one at RM 3 (RM 6/KG) and another yellow-fleshed durian.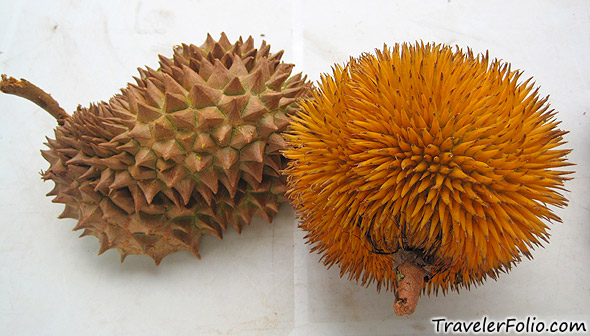 Say "WOW!" after me. The flesh is gorgeously red! Very eager to try it. Then another surprise. After taking one bite of the red flesh, I wanted to spit it out. Is this durian? It's almost tasteless! I can tell you that I have tasted the worst durian of my life!
Any idea if this red durian is only found in Borneo, or just Sabah? Can I call it Sabah durian? @_@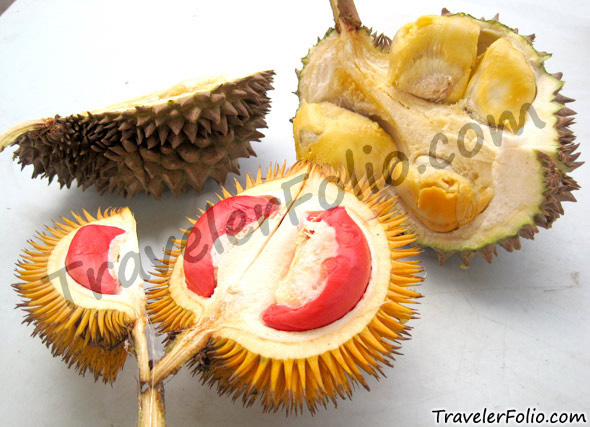 Maybe NON-DURIAN Lovers will like this kind of red durian since it's almost tasteless. To me, it has a very slight taste of avocado. Let me know how you find the taste if you ever tried some before!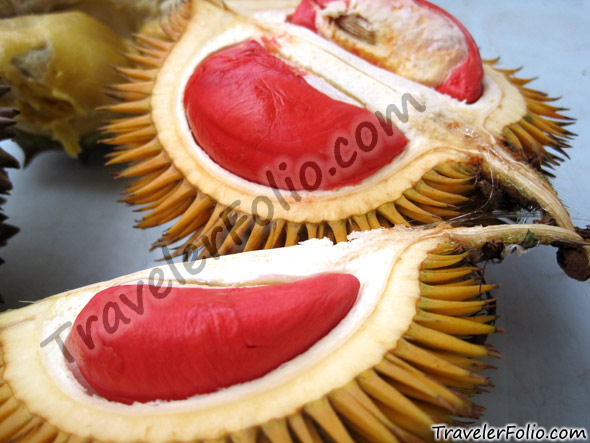 While in a cab along Jalan Tun Fuad Stephen to 1Borneo Hypermall, we saw this magnificent mosque near the sea. It is Kota Kinabalu City Mosque, the biggest mosque in KK that can accommodate 9,000 – 12,000 people.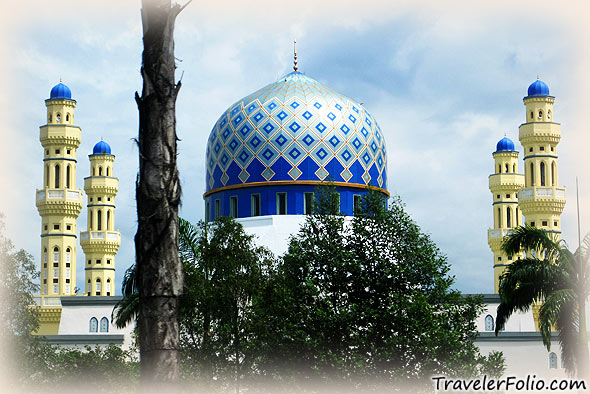 From our hotel (King Park Hotel) at the city centre, it costs us RM 30/way to get to 1Borneo HyperMall, the first and largest lifestyle mall in East Malaysia. About the mall, if you need retail therapy, it is the place.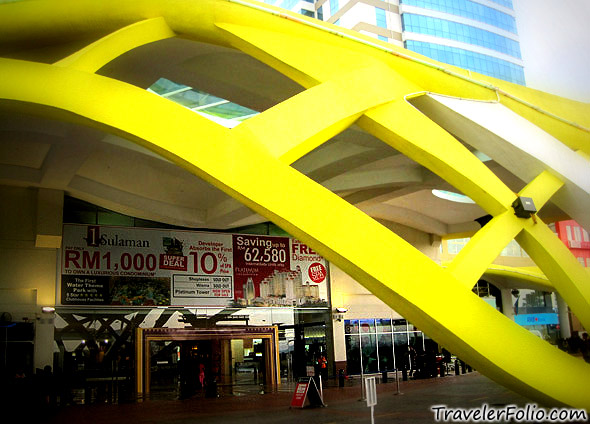 We dropped by a coffee cafe called Borneo 1945 Museum Kopitiam which is located on the ground floor of Borneo Backpackers. It's run by a friendly Chinese couple. We asked the boss why it's called Museum Kopitiam. He explained that the cafe does not have a museum in the precinct, it's just that the location used to be a campsite for the Australian army during World War II.
There are articles and photos displayed on the wall, depicting the early days of Jesselton which is now known as Kota Kinabalu. The capital is also affectionately known as Api Api by the locals.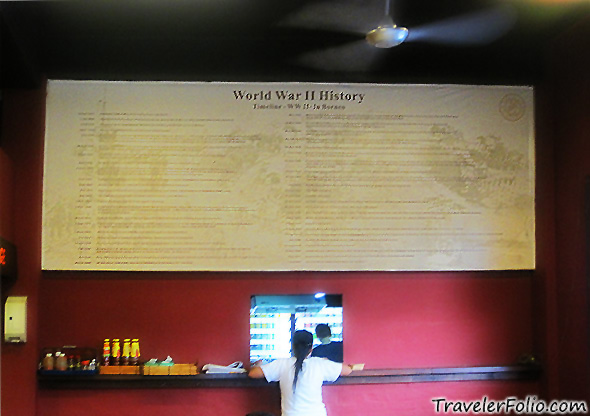 It's quite interesting to see antique furniture, old artefacts, and even an old bicycle and a sewing machine displayed at one corner in the cafe.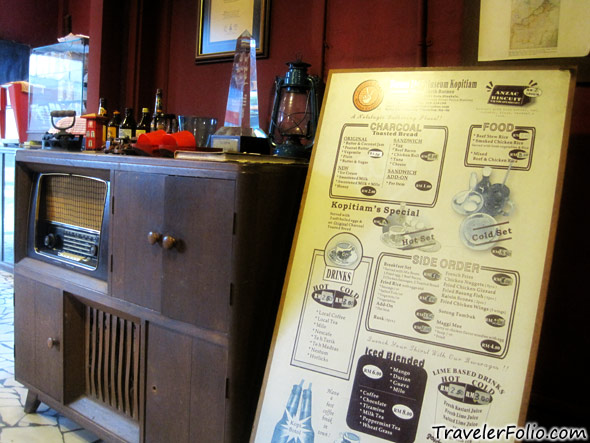 The boss recommended us hot and cold Borneo White Coffee. They serve good traditional charcoal toasted bread too. A great place to sip in your coffee and relax in this rustic cafe that opens till late night.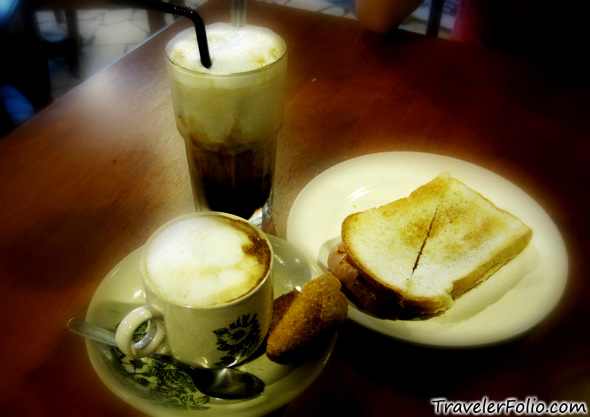 *Borneo 1945*Museum Kopitiam.
Great sunset view over the sea. It's only 6pm!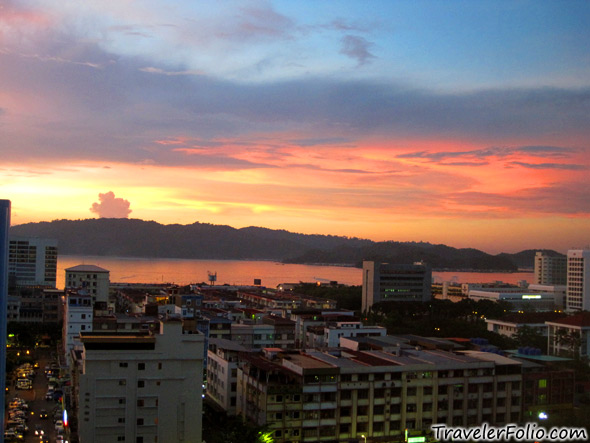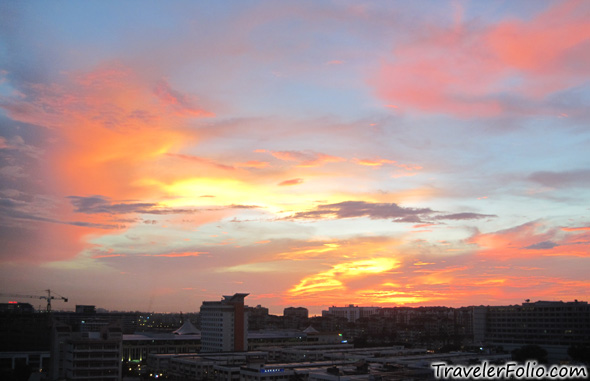 On the 4th day, we flew back Singapore by Malaysia Airlines. If you are planning for holidays now and searching for good airfare deals, check out MAS website for their special rates.
An aerial photo of Singapore on a cloudy day, unfortunately, else the view could be a lot nicer with tall buildings like paper model buildings all over the tiny island. It's monsoon season now with frequent afternoon showers.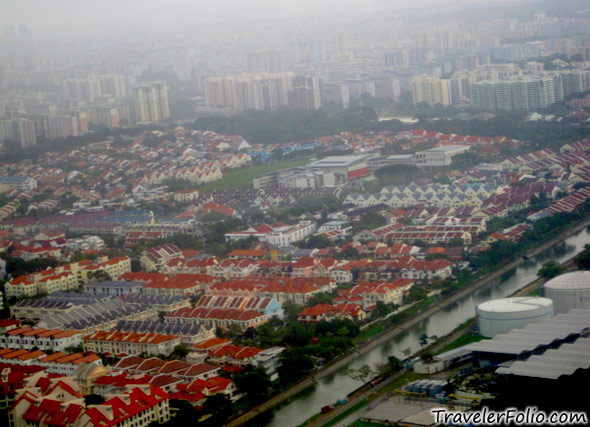 Read related posts: My first trip to Borneo | Filipino Night Market | Sapi island | Manukan island