The next morning, following the visit at the Filipino Night Market, we were fully-charged for island-hopping at Tunku Abdul Rahman marine park which consists of five idyllic islands – Sulug, Gaya, Manukan, Mamutik and Sapi. It's merely a 5-min ride by taxi from King Park Hotel (where we stayed) to Kota Kinabalu Ferry Terminal at Jesselton Point, and that cost us a standard rate of RM 10.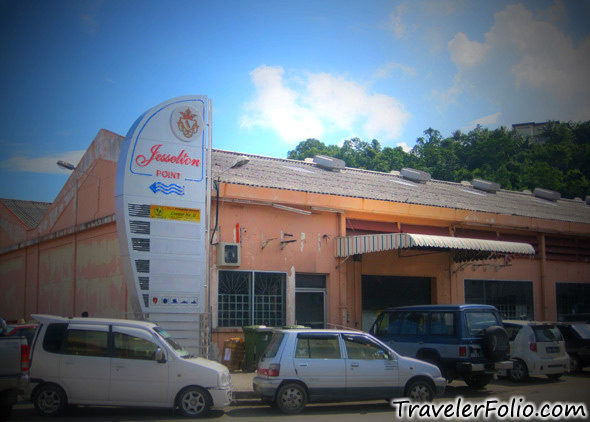 At Jesselton Point, there are different tour operators providing ferry and motorboat services to the nearby islands. We didn't bother to compare the rates offered by each operator as we guess it's pretty straightforward since we just wanted to do a day of island-hopping. Anyway it was already 10 0'clock in the morning at Jesselton Point. Do check out the time for the next departure since you won't want long waiting time for your boat transfer to the island.
Note: Pulau = island (Malay -> English)
We were pretty comfortable with the boat operator at the first counter near the entrance. The friendly staff recommended us to go Mamutik island as it has nice house reef and fewer people. But we decided to go Pulau Sapi and Pulau Manukan partly because our dear blogger from Sabah, Henry from Clevermunkey has been to Pulau Sapi before and posted some lovely photos of Pulau Sapi at his blog.
According to the boat operator, Sapi island is smaller and we can stay there for an hour. Then the boat will come and fetch us around noon time to Manukan island which is bigger and we can have our lunch there.
How much does it cost for the boat transfers?
It costs us RM 54 per pax which includes a life jacket, snorkel mask and boat transfers to the two islands and back to the passenger ferry terminal at Jesselton point. (as on Nov '09).
Tips for snorkeler:
Rent the life jacket and snorkel mask from the boat operator if you plan to visit more than one island so that you just need to return the gears when you return to Jesselton Point. If not, you have to rent the gears on each island and that will cost you more.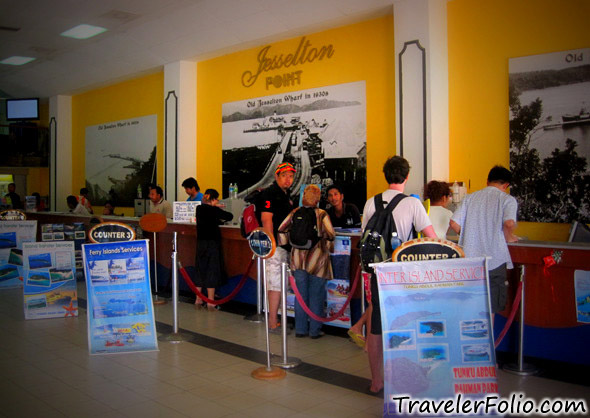 We went island-hopping on a fine beautiful Tuesday. The crowd was small, probably 'cos it was a weekday. I think most of them were tourists from some Western countries and also Malaysians from other states.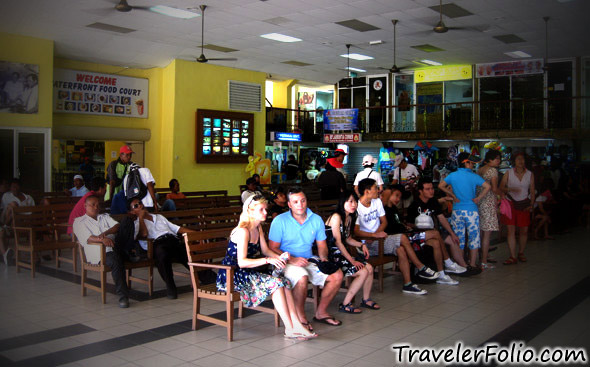 Ferry and motorboats at the passenger ferry terminal.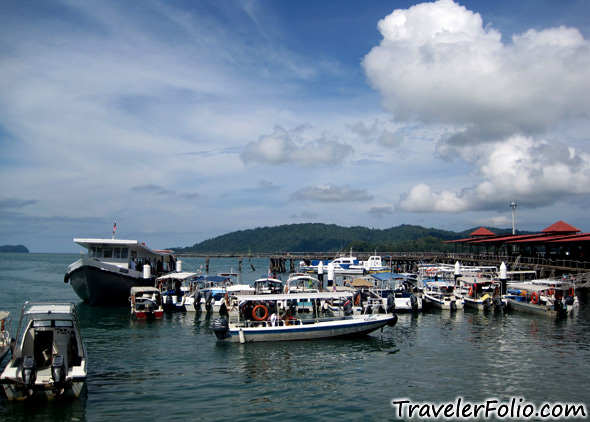 There came our motorboat. It takes roughly about 20-min short and breezy "roller-coaster" ride to Pulau Sapi. How lucky the people are in Kota Kinabalu. It doesn't cost much and at such short distances away, you can get on to the sun-kissed beaches with crystal-clear waters, beautiful corals and exotic marine life.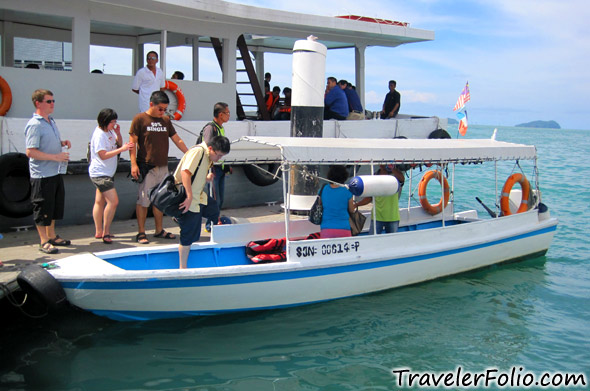 It's exciting to see such lovely blue tones of the sea just after a short boat ride from the mainland. Nature's colours can blend in so well.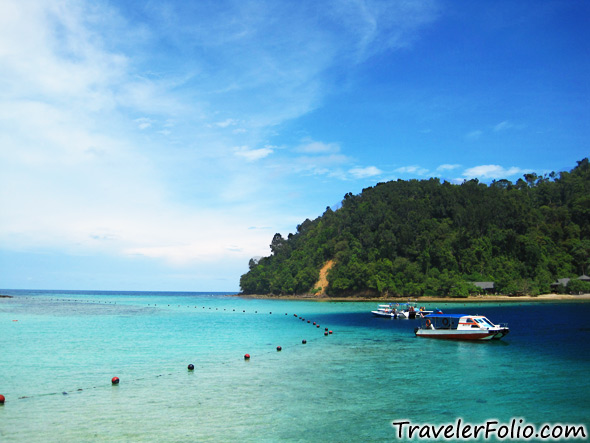 Unlike the resort that we stayed on Pulau Redang where we had to jump into the water and lift our bags above our heads and literally walked up to the shore, this one has a dock for goodness sake.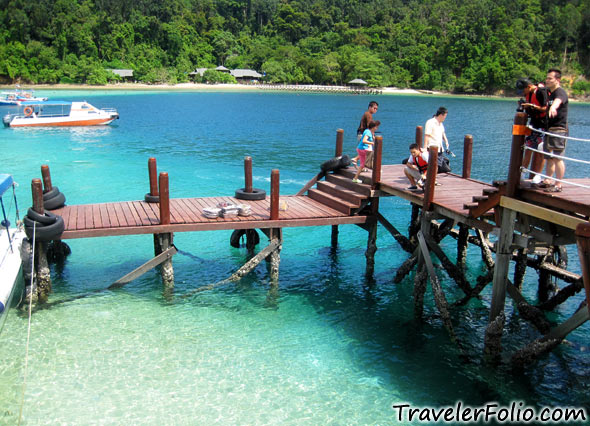 Lovely, isn't it? We were on Sapi island.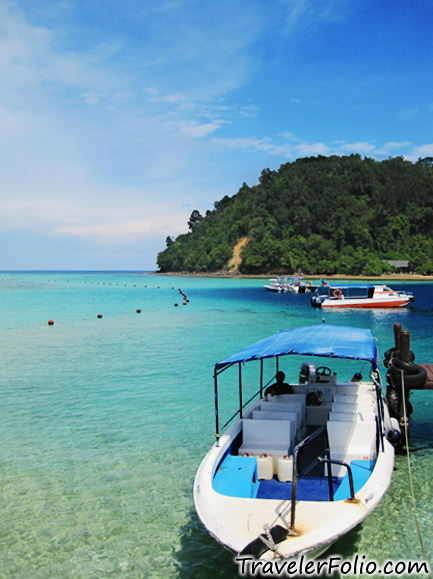 Waters that seem to be tainted with different shades of blue.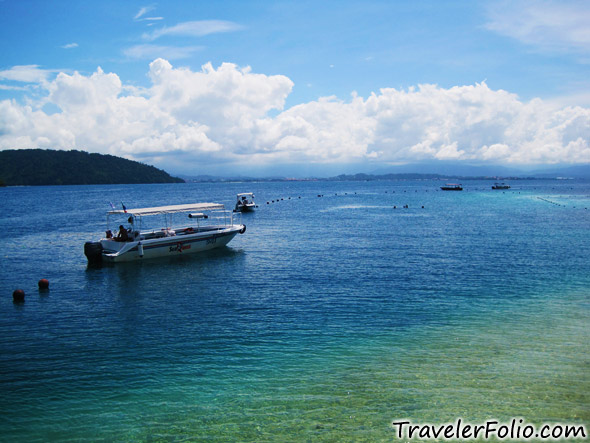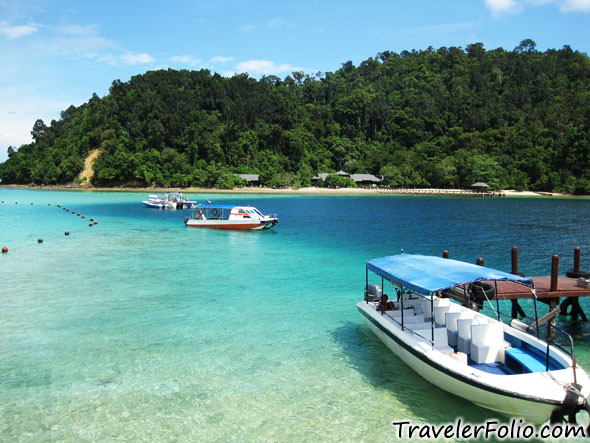 The entrance to Pulau Sapi.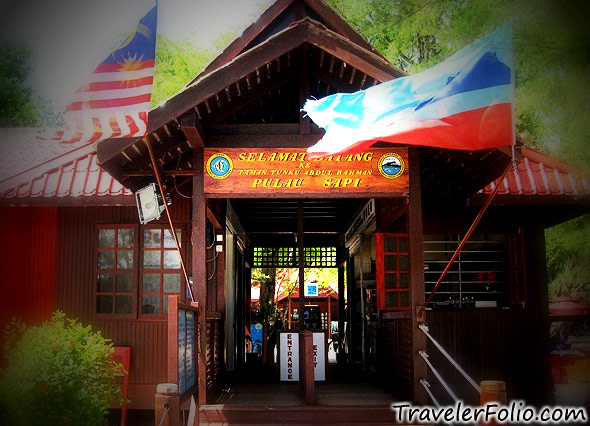 We just need to pay once for the conservation fee for all the five islands in Tunku Abdul Rahman marine park. For non-Malaysian of 18 yrs and above, it's RM10; for those below 18 yrs old, it's RM 6. If you dive, that's RM 50 for non-Malaysian. You pay at the entrance of the island.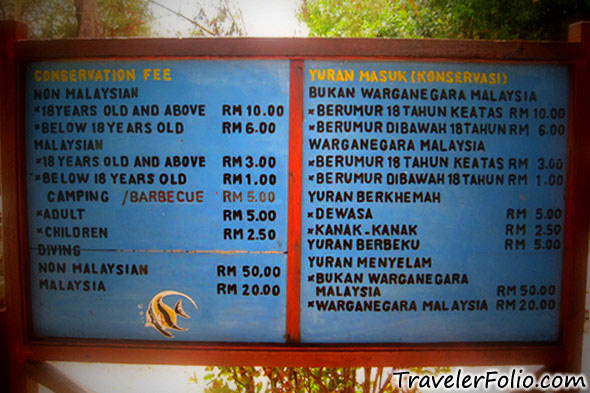 I love Sapi island for its clear water and white powdery beach. Also spotted some Anemonefish which we like to call them NEMO affectionately, colourful parrot fish, bat fish and the list goes on… er-hem excuse me but I'm not good in naming marine creatures!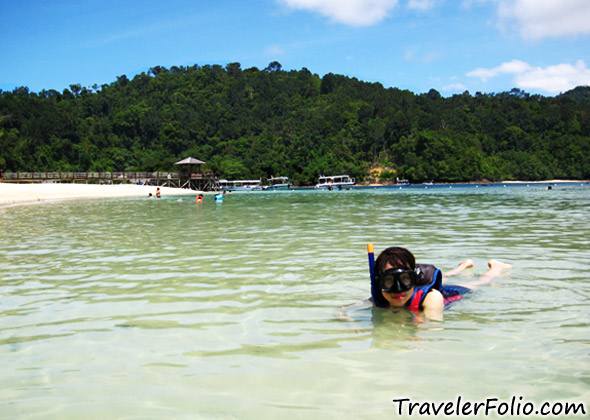 Alright, as the signboard shows, swim at your own risk. Personally, I think it's pretty safe to swim near the shore as the water is shallow. I always wear a life jacket even though I can swim pretty well (I guess!). You can't underestimate the underlying water current even though the sea may look calm. Just don't swim over the designated area that's bounded by the ropes.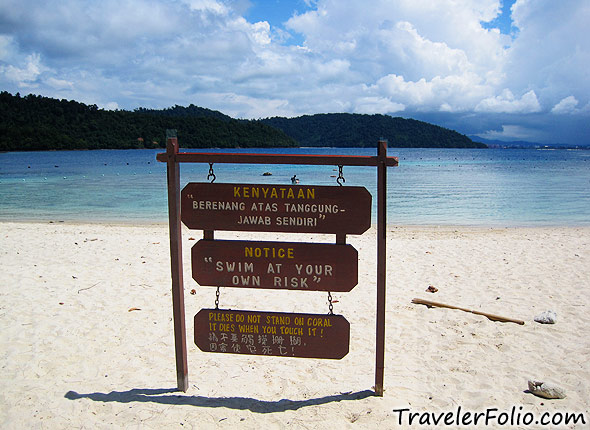 You can go monitor-lizard "hunting" (notice the double quotes here!) on the island. We saw a few big ones! Those critters are ferocious and they can move very quickly. Be careful. Don't stand too near them.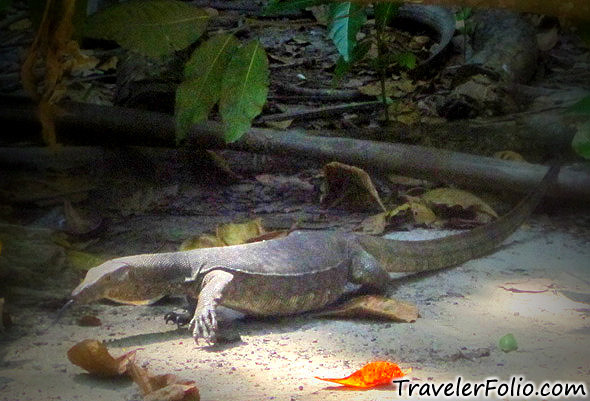 Around 12pm+, our boat came to fetch us to another island – Manukan, the most visited island in the marine park.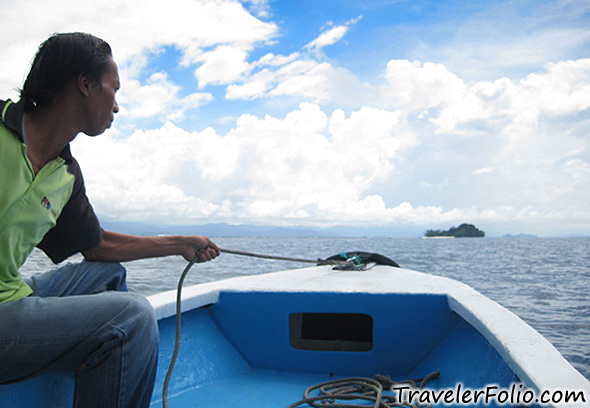 Next, join me on Pulau Manukan!
Read my previous posts about Kota Kinabalu, Sabah-Malaysia on My First Trip to Borneo | Filipino Night Market