Sabah is known as "the land below the winds" as it is located below the typhoon-prone region around the Philippines. Many tourists visit Sabah for Mount Kinabalu, a World Heritage Site since year 2000 and its exotic islands can be visited all year round.
The boat operator fetched us from Sapi island to the nearby Manukan island, the second largest and most popular island in Tunku Abdul Rahman National Park (TAR Park) with developed tourist facilities and hiking trails. Besides, there is a resort on the island called Manukan Island Resort with chalets overlooking the South China Sea.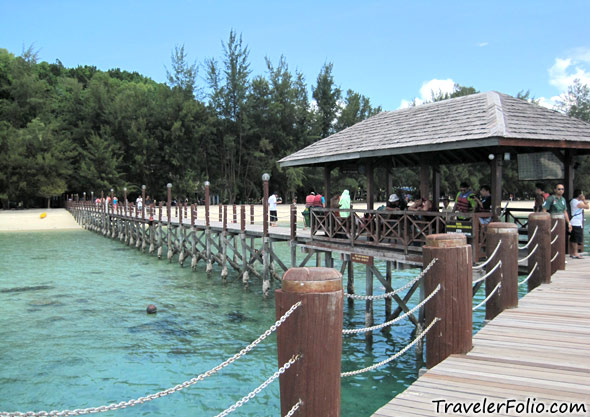 The entrance to Pulau Manukan. You do not need to pay the conservation fee again if you've already paid that on another island.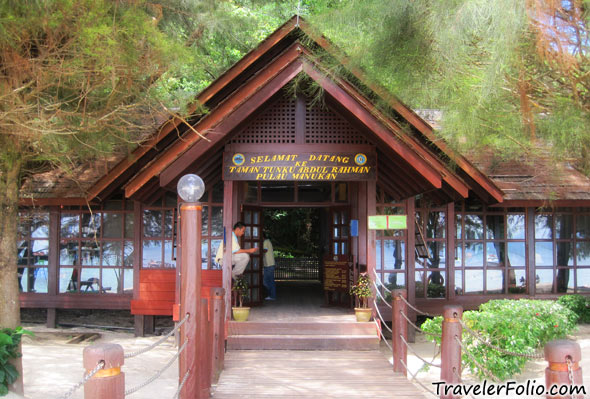 That's a way to lure many fish swarm around you for a photogenic moment. The man was joyfully feeding the fish with some bread which you can buy from the nearby stall. Once a friend didn't get hold of his bread and it floated to his face. You can guess what happened next. He was fish-kissed.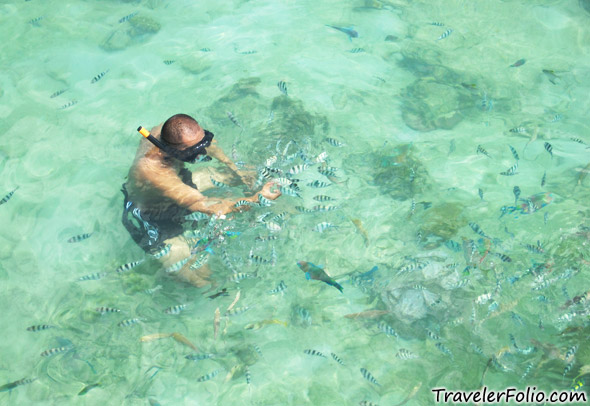 I guess we will see more visitors on weekends. It was a Tuesday afternoon without many beach-goers. You can have the beach to yourself!
I think there are NO public lockers on the islands. So, it's advisable not to bring valuables along. Our most expensive belongings at that time was the digital camera. We were told to cover our bag with a towel ("security"!) as we left the bag on the bench near the shore. Fortunately, a lady who took the same boat with us preferred to stay in the shade so she looked after our belongings and we could have a peace of mind even though the place looked pretty safe.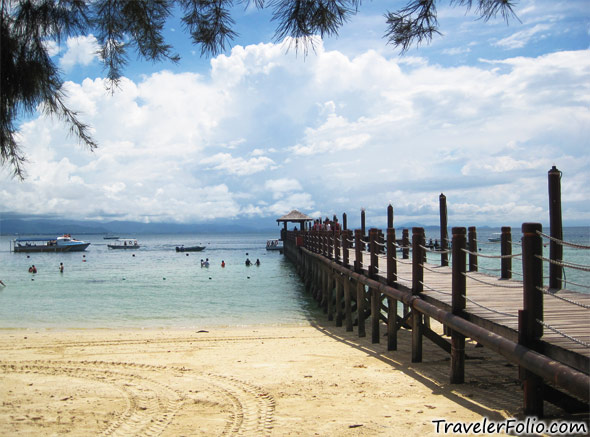 There aren't many eateries in Manukan. Food is a lot more expensive on the island – a normal buffet (not very appealing) can cost you RM100++! No wonder we saw many island hoppers bring their own lunch.
Still, we had to feed our rumbling stomachs. We had lunch at Prahu Restaurant that's run by Manukan Island Resort- Sutera Sanctuary Lodges. Anyway, it's the only restaurant on the island.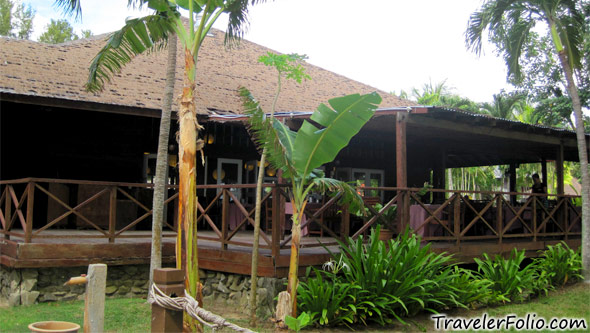 We ordered a plate of Yang Chow fried rice that costs RM 18 and six sticks of chicken satay at RM 9. Well, you can say that the dishes cost more on the island. However, we enjoyed our meals at this restaurant.
The sunny sky turned overcast.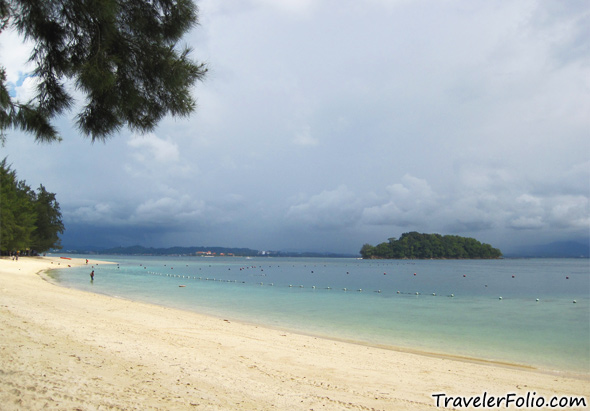 And there were even fewer swimmers around. The water became murky and it was quite unpleasant when the water visibility was so low that I couldn't see what was around me in the sea. Some of the tourists that came with us had already left the island as they said the mainland was raining heavily. We stayed on for our boat to pick us up at 4pm.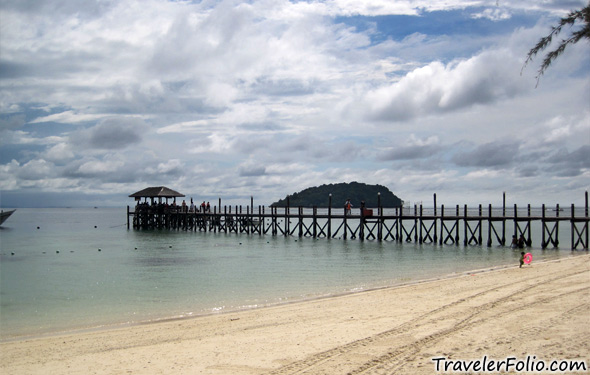 See? I was swimming in my very big private pool! From afar, dark gloomy clouds were looming over the mainland.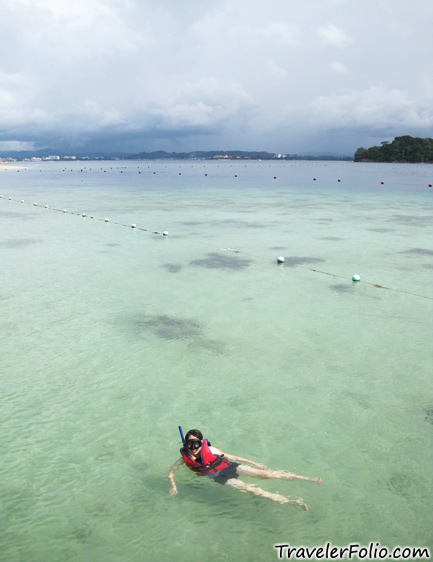 Gosh, it was pouring when we left the island. While on the way back on a bumpy boat ride, the raindrops hit us really hard like sharp needles. Our clothes were all wet. Now I know why many left the island before us when they thought there was a storm in the mainland.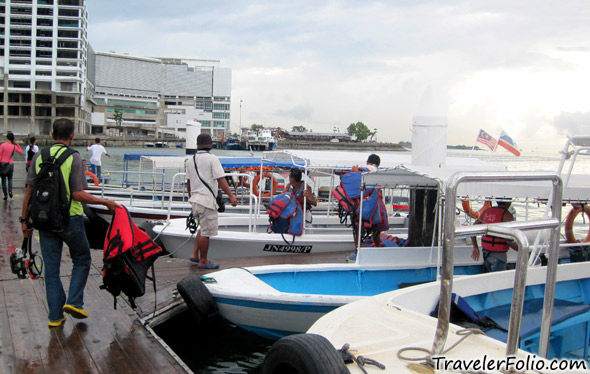 Back to Jesselton Point, we came across an indoor soccer centre surrounded with net.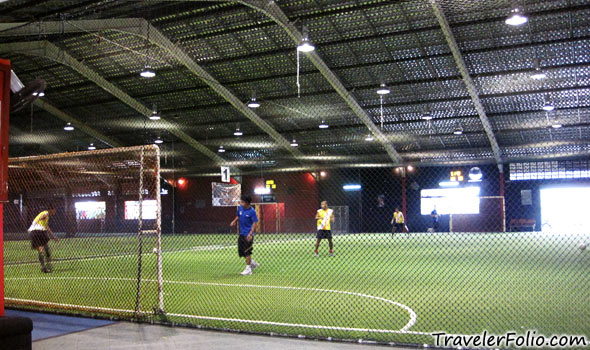 Here is another night market just a stone's throw away from our hotel (King Park hotel) – Kampung Air Night Market which opens from 5.30pm to 11pm. There are stalls selling clothes, accessories, bags, souvenirs, etc.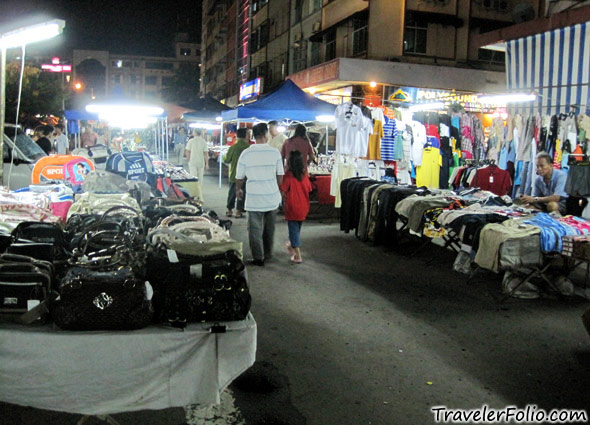 Look at my skin. I didn't re-apply sunscreen while island-hopping, perhaps that's why I was miserably suffering from a first degree sunburn. Somehow, Jacky did not get sunburn even though he also didn't re-apply sunscreen. I should have applied more sunscreen, at least every two hours, according to the doctor. I was in pain for days! And now, I'm left with some unsightly sunburn marks on my arms and legs. But I think the recovery cream prescribed by the doctor helps a lot. Remember to buy Travel Insurance! I made a medical claim for that!
Sigh… the only way to get rid of the ugly patches is to let time heal.
Time flies! It's December! The festive seasons are around the corner. Do you have any holiday plans? I'm definitely going somewhere soon! If you are looking for good deals on airfares, check out Malaysia Airlines. They have great bargains now.
Next, more about Kota Kinabalu, Sabah, Malaysia.
Read Pulau Sapi | Filipino Night Market | My first trip to Borneo