It takes about 1hr 15mins flight from Singapore Changi Airport over the South China Sea to Kuching Airport in Sarawak; another 1hr 20mins (approx.) from Kuching to Kota Kinabalu (KK) Airport in Sabah, an almost-3-hr pleasant journey on Malaysia Airlines to reach the northwest coast of Borneo, the world's third largest island.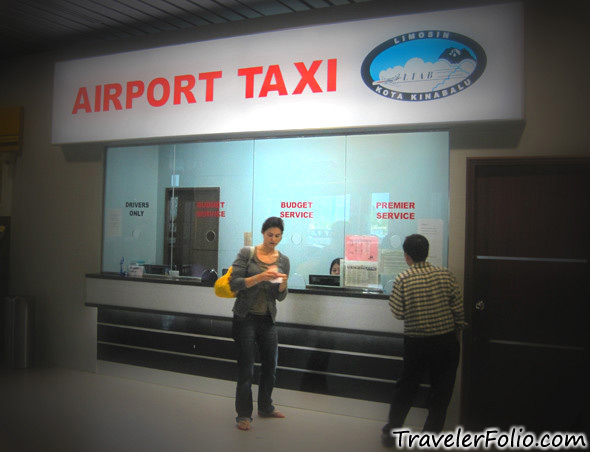 At KK airport, in order to take a taxi, you have to buy a ticket from the taxi counter. The good thing is, there is no taxi touting. Everything seems to be well in order for tourists.
We bought a ticket to King Park Hotel which is just 15mins away at the old town city centre. That ticket costs RM 30.
As a budget traveller, I like to source for reasonably good and affordable hotels near/at city centres for convenience sake. Since we are out most of the time, we can do away with the facilities of a 4/5-star hotel and get a decent hotel, with or without any star rating. This time, I chose to stay in the 3-star King Park Hotel cos of its good location at the city centre, plus it's much cheaper than many hotels in that area due to the good location.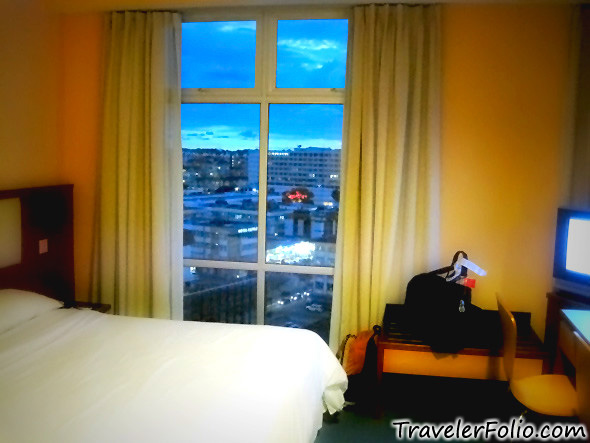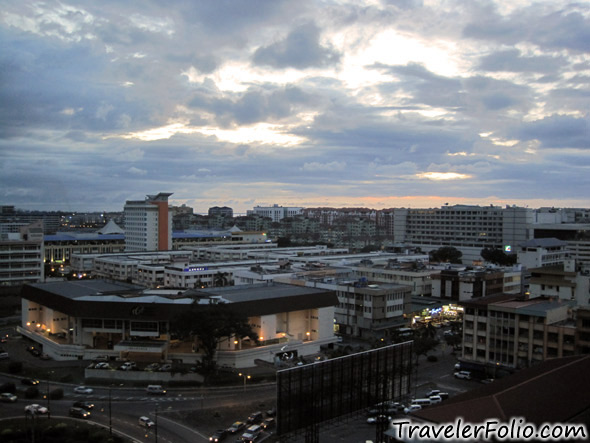 It cost us RM 148 per night inclusive of daily buffet breakfast for a high floor superior room that overseas the city and the sea. Of cos, there are also good but more expensive hotels recommended by others, like Le Meridien and Shangri-La hotel nearby. Anyway, it's a sponsored trip by Malaysia Airlines so we should enjoy ourselves! Remember to check out MAS promotional airfares!
A nice view of the sea on the 12th floor of King Park Hotel.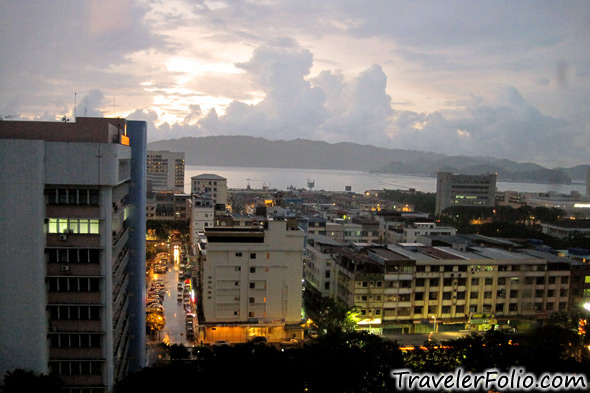 Time for dinner! We wandered aimless at the city centre near our hotel to look for food and were pretty surprised to come across a big market without knowing that it's the popular Filipino Night Market that is facing the waterfront.
Rows of stalls are selling fresh poultry and fishes. I always thought people like to visit the market in the morning for fresh meats and vegetables. Surprisingly, there were many customers buying fresh produce in the market at night.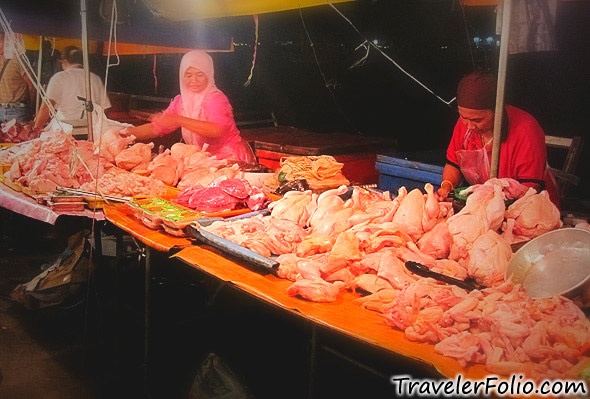 So many different types of fresh fish at the market. Walk on if you don't mind the fishy smell and wet ground.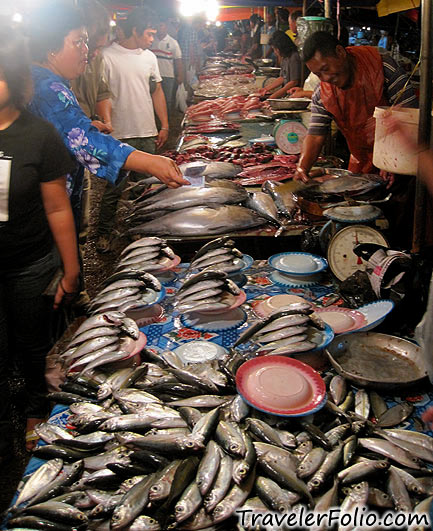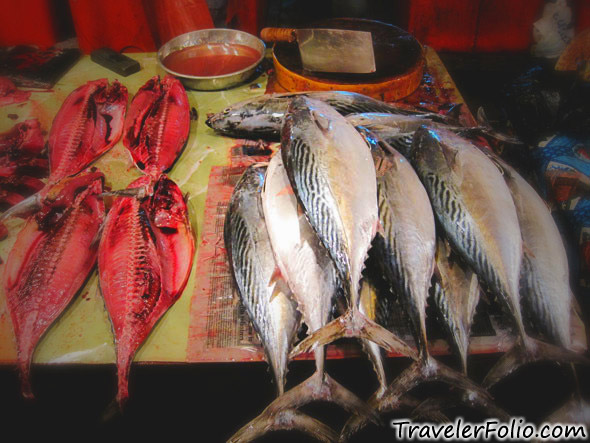 Another area in the Night Market selling vegetables, fruits, spices and other ingredients.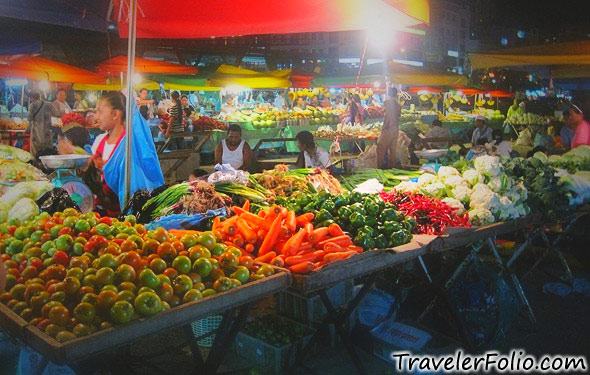 See the brown fruits covered with soft spines? They are tarap fruits. In fact, at first I thought those were another type of durian. Really funny-looking fruit with skin like the bristles of a brush. I forgot to try it. But I did try some red coloured Sabah durian! Will blog about it later.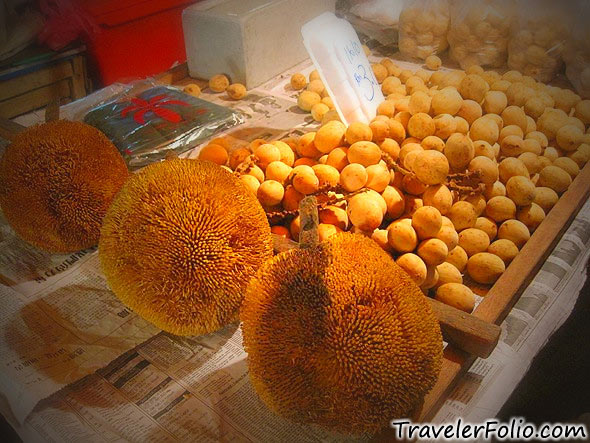 As we meandered past rows and rows of stalls, we came to the dining area where there are stalls selling local delicacies. We were tempted to try the BBQ seafood. There are different types of seafood: big tiger prawns, different kind of fish, squids, crabs and even lobster.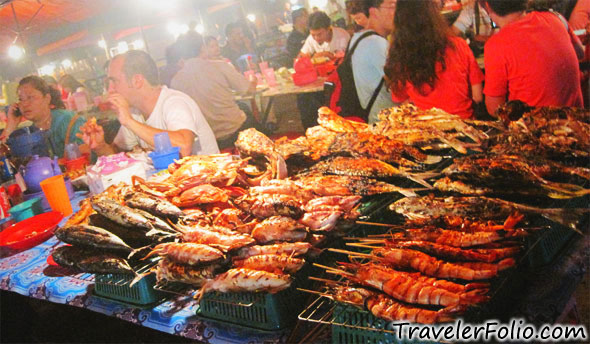 This lobster costs RM 100. I wonder if it has been eaten yet cos we still saw it (if it's the same lobster) in the same position two days later.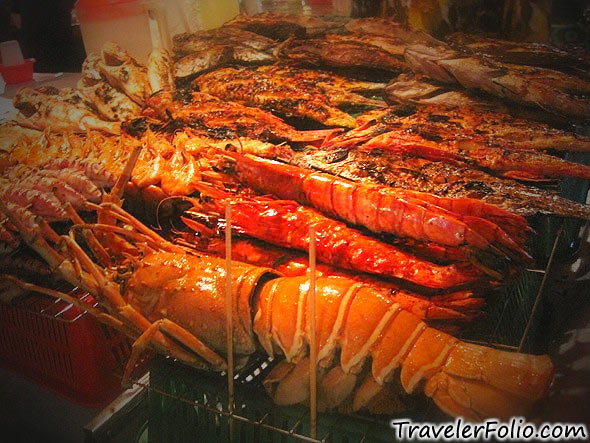 The BBQ seafood was quite good. Try the BBQ if you have a good stomach (you may not like the way they handle food). The succulent tiger prawns and fish were fresh but they were not warm. One such tiger prawn costs RM 8 and the red grilled fish is around RM 10. You may want to bargain for better price if you order a lot. Anyway, all the BBQ stalls are pretty much the same. We tried two stalls on different nights and they charged the same price for the same quality of seafood.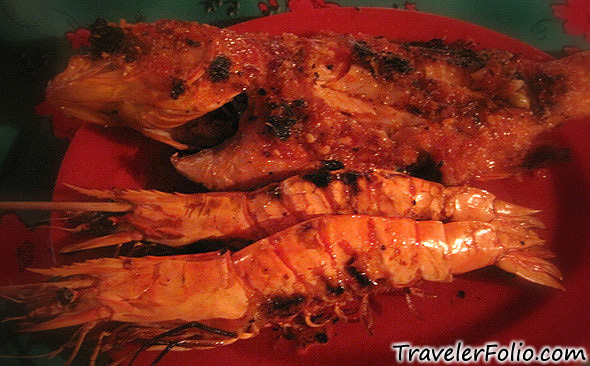 For the first time we came across such funny looking food that like fish eggs to me. Frankly, we didn't know what it was. We tried some and it's quite nice, a bit salty. The local mixed them with chilli sauce and some lime juice. These are fresh lato, a type of seaweed with green coloured little bulbs filled with juice.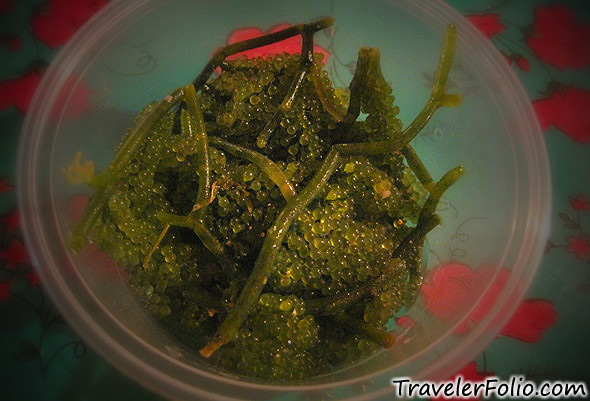 Corals on sale. I was really surprised to see that. I thought coral shouldn't be removed from reefs as they will affect the reef ecosystem?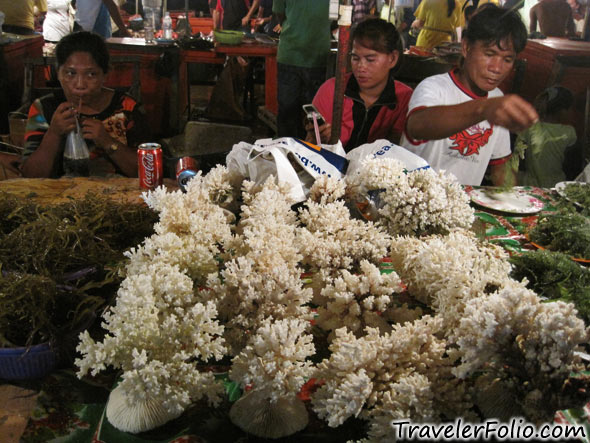 They sell sea shells by the sea shore.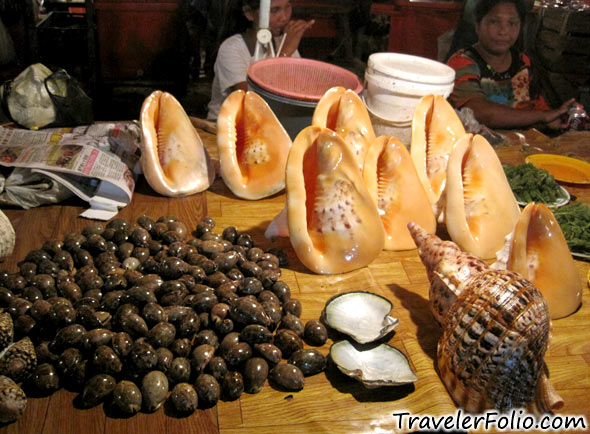 This Night Market seems to have everything under the sky. There are even some men stitching clothes with traditional kind of sewing machines.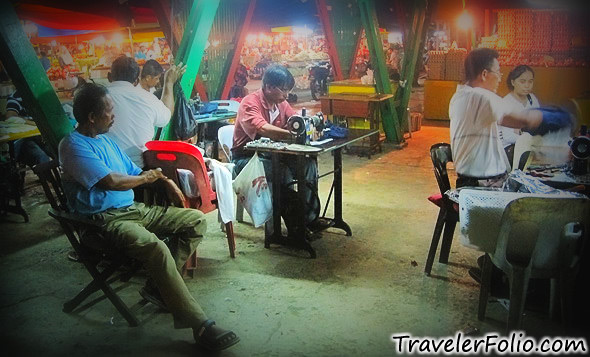 Ha! For the first time, we had macaroni in "Ice Kacang" (shaved ice dessert).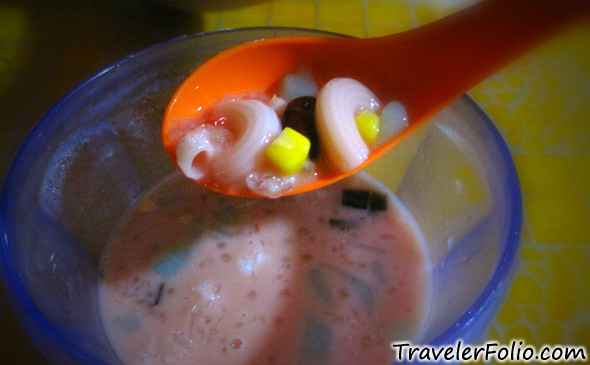 Time seemed to pass by really slowly. Later then we realised the sky above Sabah had already turned dark at 6pm! So when we thought it was getting late, our watch showed that it was only 8pm (same as Singapore time).
Next, island-hopping in Pulau Sapi and Pulau Manuka.
Read My first trip to Borneo.