Imagine a vast landscape of undulating lowland plains, dramatic escarpments and trails leading to ancient Aboriginal rock art sites, picturesque wetlands thriving with wildlife, and the Nat Geo moment of crocodiles with wide gaping jaws – you are beginning to get the picture of the Northern Territory. A short 4.5-hour flight from Singapore, Darwin serves as a gateway to the Top End, the northernmost part of the Northern Territory.
The Northern Territory is one of the last strongholds of the Saltwater and Freshwater crocodiles. To get up close and personal at a safe distance, we boarded the Spectacular Jumping Crocodile Cruise on the Adelaide River, the natural habitat for over 1,600-strong congregation of crocodiles! The crew uses a long stick with bait tied at the end to lure these cold-blooded predators. Keep your eyes peeled and get your camera ready as the crew lowers the line. A huge crocodile may launch out of water suddenly to dislodge the bait aggressively with all mighty strength.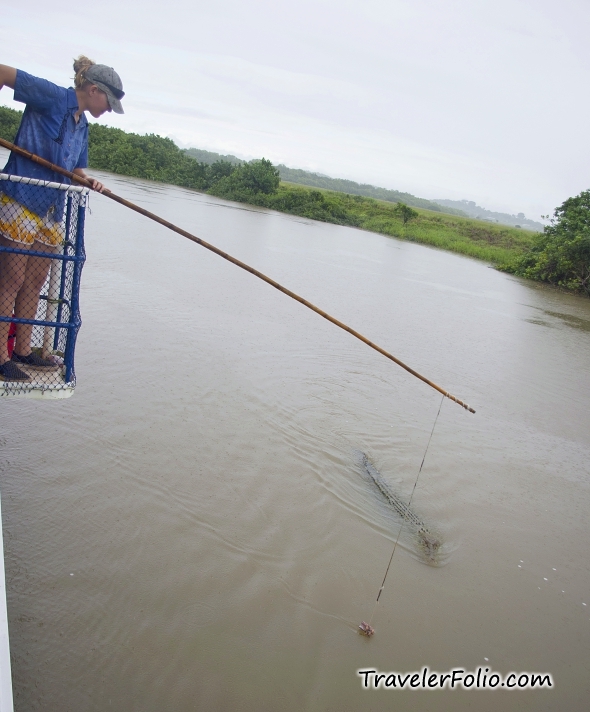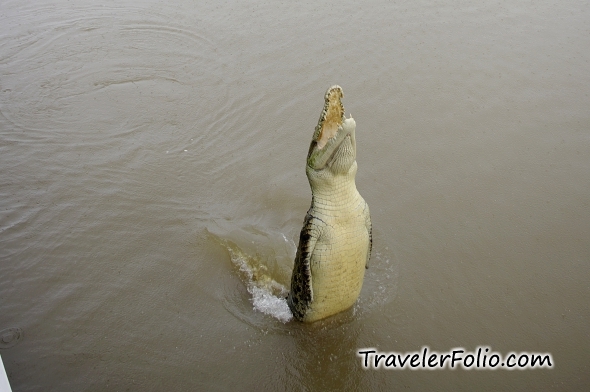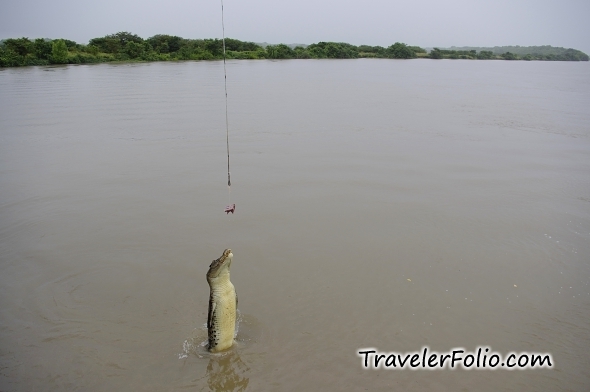 We were lucky to see many crocodiles of all shapes and sizes. Some are centenarians! It was absolutely spine-chilling to get near these killing machines as they were jumping alongside the boat, wiggling their scaly bodies like an aspiring belly dancer and intimidating us with the signature 'death roll' as they snapped the bait. An amazing cruise experience: you don't always come across a river infested with crocodiles!
(Adult: A$35, Child: A$20 | Cruise: 1-hour | www.jumpingcrocodile.com.au)
From Darwin's CBD, the road trip takes about 75-minute to arrive at the Spectacular Jumping Crocodile Cruise; another 2-hour drive on the Arnhem Highway to Kakadu, Australia's largest national park. On the way, we stopped for lunch at Bark Hut Inn in Annaburroo. The timber barn-style roadhouse features a fun and quirky interior, aptly reflecting the outback character with buffalo heads, skulls, and a life-size crocodile on top of the food display case! The restaurant serves mixed grills, burgers, fish and chips, plus other tasty fare infused with a local twist. An attraction in its own right, the historic venue was once a buffalo and crocodile hunter camp! (www.barkhutinn.com.au/)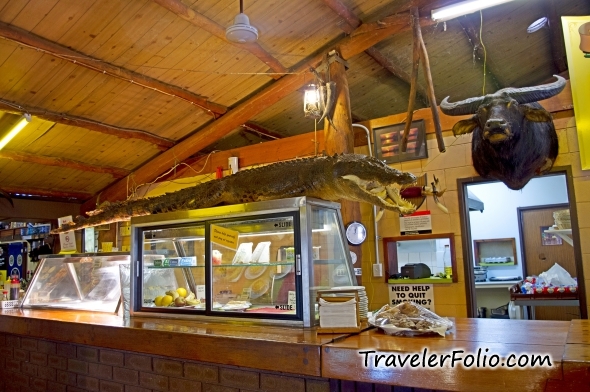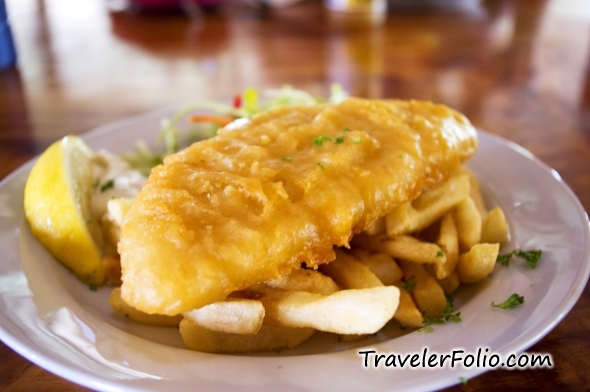 Kakadu National Park
Step back in time as you enter Aboriginal rock shelters and rock art galleries in the Nourlangie region of Kakadu National Park. We were awestruck by Aboriginal rock drawings as we hiked along a 1.5-km circular walk around the art sites. Drawings on rocks were used as a form of communication to convey instructions and consequences of broken rules. This attraction is open for visitors to learn about their ancestors' lives dating back to 40,000 years.
We took a moderately steep climb up to Gunwarrdehwarrde Lookout for a mesmerizing view of Kakadu's escarpment and on across the vastness of Nourlangie. Be carried away to some 50,000 years ago.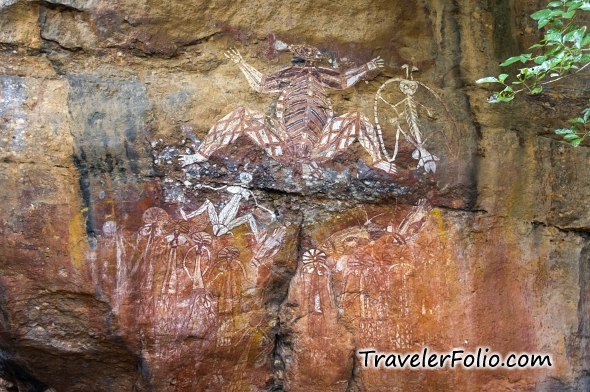 The most prominent rock art at the Anbangbang Gallery depicts Namanjolg (the largest figure in the centre) and Namarrgon (on the right of Namondjok).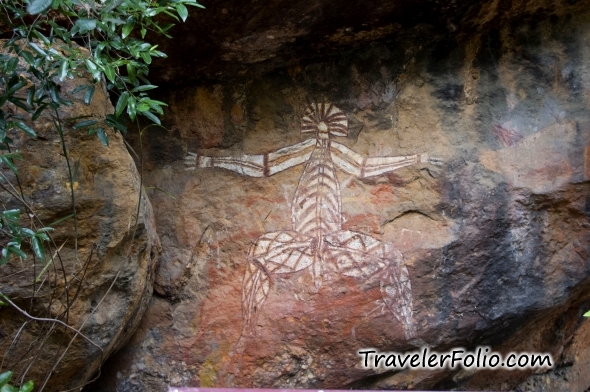 Rock painting of the dangerous spirit called Nabulwinjbulwinj (pronounced as "Nar-bull-win-bull-win") who eats females after striking them with a yam. It is said to serve as a warning to females not to wander around that area.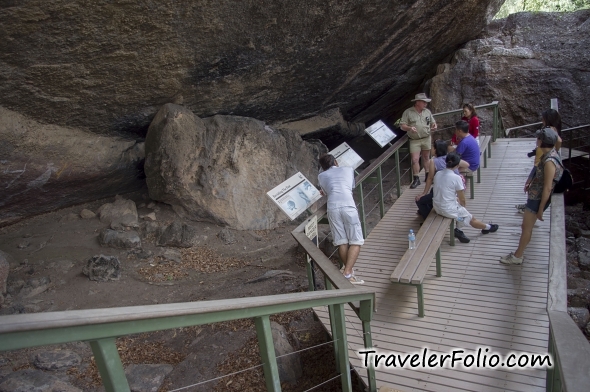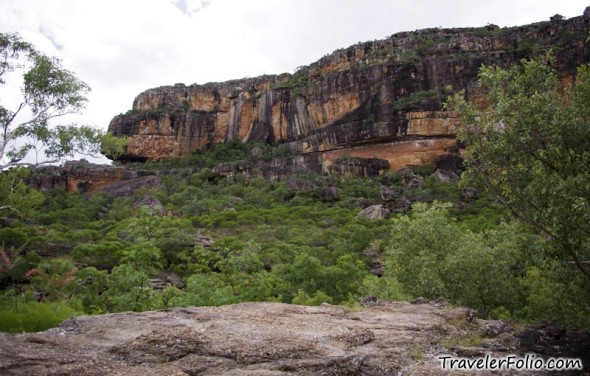 While the naturalistic and abstract Aboriginal drawings just blown my mind away, the rocks have a story to tell. The Nourlangie Rock is the legendary site where Namanjolg, the Creation Ancestor, was punished for breaking the incest law: it serves to educate about wrongdoings. At the end of the hike, I was overwhelmed with captivating stories and ancient wisdom!
(Park Pass: A$25/person, valid for 14 days | www.parksaustralia.gov.au/kakadu)
An amazing way to soak in nature's bounty at the world famous Yellow Water Billabong in Kakadu, venture out into the wetlands with Yellow Water Cruises. The boat ramp is merely a few minutes walk from where we stayed at Cooinda Lodge. The indigenous owned Yellow Water Cruises will take you on a 2-hour ride to a whole new world into the aviary kingdom where huge nests, parrots, kingfishers, hawks, egrets and other migratory birds prevail with nature at its best. Spot saltwater crocodiles as you glide along!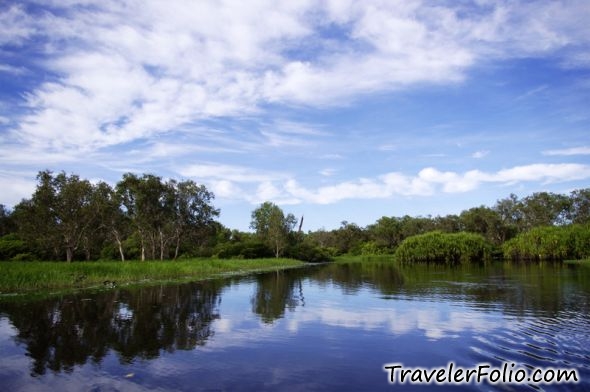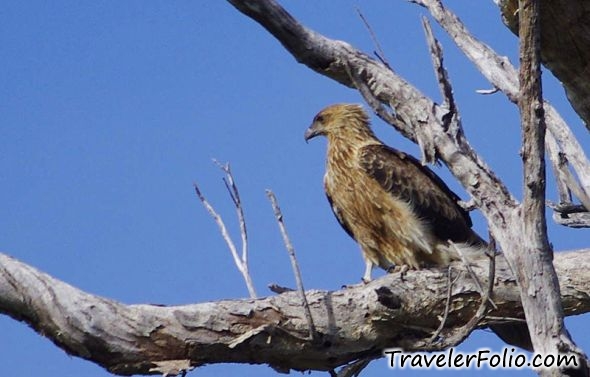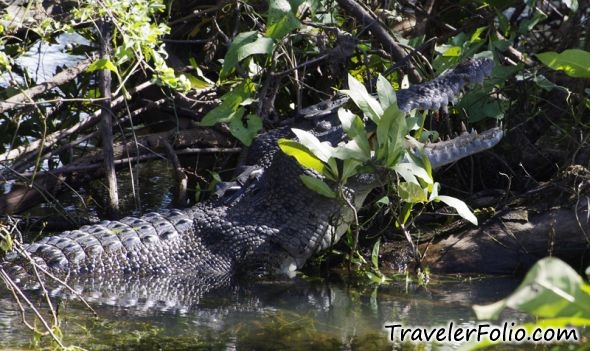 Whether you are looking for an easy hike with great views of waterfalls or fun-filled water activities at swimming holes, Litchfield National Park has it all. Just a 90-minute drive from Darwin's CBD, some of the key attractions include the Tolmer Falls cascading from the top of two towering escarpments, Florence Falls (popular among cliff divers) and the Buley Rockhole, another swimming hole amidst the lush surroundings.
(Free park entry | www.parksandwildlife.nt.gov.au/parks/find/litchfield)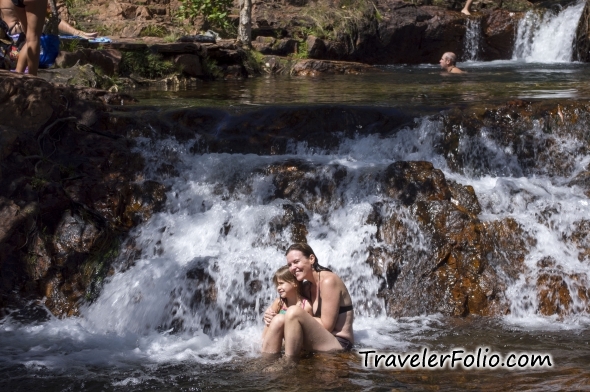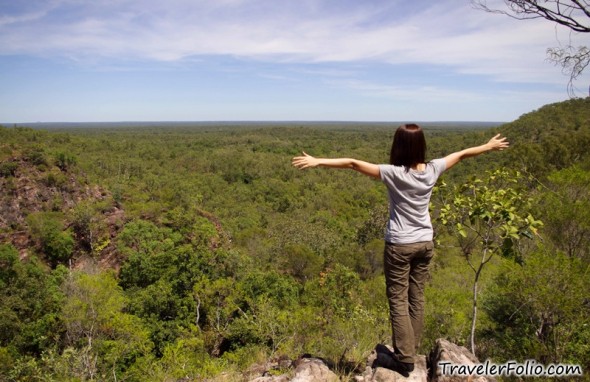 Be Croc-Wise. Many waterways may contain large and potentially dangerous crocodiles. If a waterway is not designated safe for swimming, it may be a crocodile habitat. Stick to this rule: No Sign, No Swim.
For perfect way to unwind after a busy day in the field, head back to the culinary city of Northern Territory, where mud crabs, barramundi, squid and prawns prepared with a fusion of Thai, Greek, Indian, Malaysian and local ingredients are common on the menu. The Darwin's Waterfront is lined with lagoons, retail outlets and dining options, and is a popular hub for both locals and tourists to enjoy the balmy weather and tropical lifestyle. Over at Stoke Hill Wharf, grab a take-away dinner and indulge in beer battered barramundi, calamari and seafood platter while watching the mesmerizing sunset over the horizon.
From braving hundreds of crocodiles on the jumping crocodile cruise to dipping into swimming holes fed by cascading waterfalls and marvelling at the intriguing Aboriginal rock arts at Kakadu National Park, the Top End outback trip has left me with lasting memories and eye-opening experiences.
Celebrating Australian food with Tourism Australia! To find out more, check out the Best of Australian road trips.
This article is published on http://sg.sports.yahoo.com/news/best-northern-territory-road-trips-for-foodies-110048048.html
Read all posts on the Northern Territory.