Tasmania is both a nature lover's and photographer's paradise. The island is so compact with not-to-be-missed attractions in close proximity, that it is never boring. A self-drive tour is perfect for uncovering the gloriously untouched beauty, and just across the road from the domestic terminal car rental services are available.
For a unique close-up experience to take in the magnificent sceneries of the Tasman National Park, we hopped onto a 3-hour eco-adventure cruise operated by Tasman Island Cruises.
As the skillful coxswain cruised along the ever-changing coastline and maneuvered into deep sea caves, we were awestruck by towering cliff faces and pillars. Seals, sea birds and coastal wildlife greeted us as we rocked near their resting grounds.
Cruises depart daily from Port Arthur, which is 1.5-hour drive from Hobart.
(http://www.tasmancruises.com.au | 3-hour Wilderness Cruise: A$125)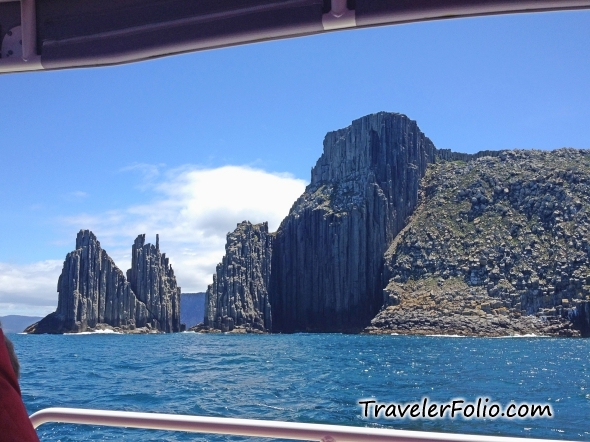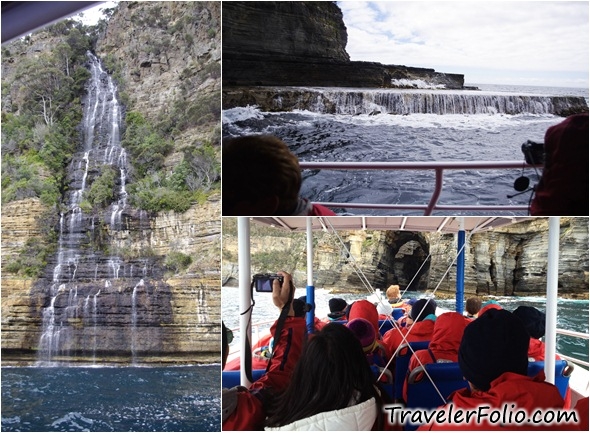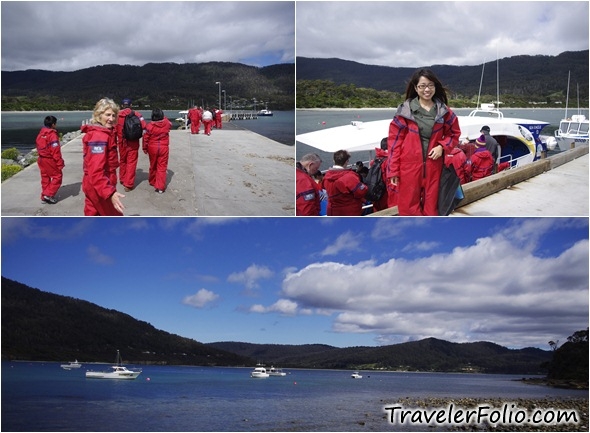 For history buffs, Port Arthur is the place to visit. The penal settlement from the 19th century is the best preserved convict site in Australia. When I thought Port Arthur was built to keep the worst criminals, it changed my mind after the tour.
Often, poor people and children committed petty crimes in Britain were sent to the Van Diemen's Land during colonial times. They were punished by hard labour like timber-getting that was the most profitable.
We took the short cruise around The Isle of the Dead – the burial ground for a thousand dead people. Quite a scenic experience of morbid interest! Port Arthur was also a community of free settlers and military personnel. Today, tourists flock to the historic site, some for paranormal investigations! (www.portarthur.org.au/)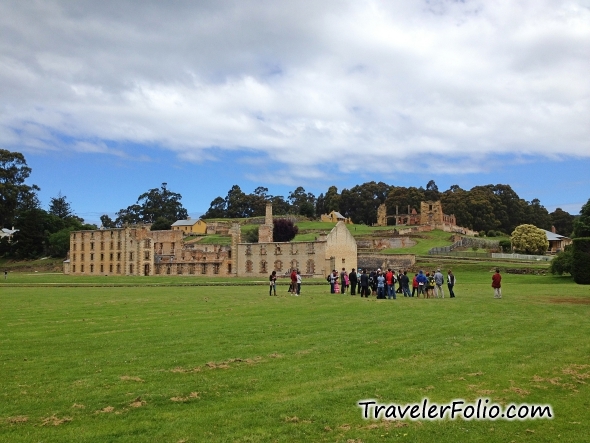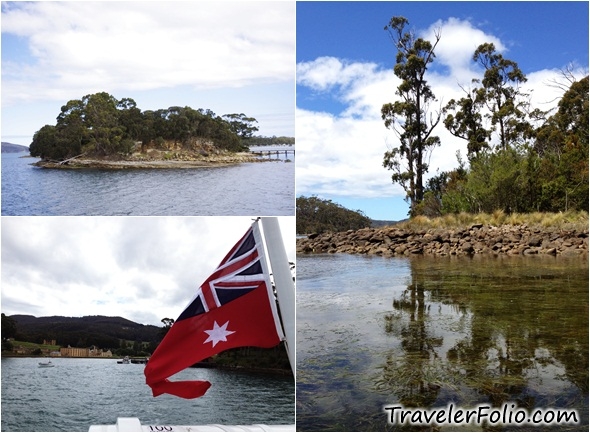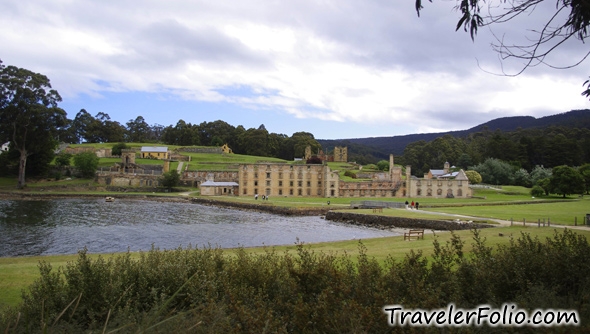 Think of Looney Tunes Taz spinning in whirlwind flurries. To see the real devil, make a trip to the Tasmanian Devil Conservation Park just 10-minute drive off the main highway to Port Arthur. The endangered native species is facing extinction due to cancerous disease.
My favourite part of the visit was the devils feeding time. Strong jaws wide open, screeching and growling, these mean little devils make a lot of noises to intimidate their kind.
In addition, the park keeps native animals such as the Eastern Quoll and Tasmanian Green Rosella. Don't be surprised to cross path with free roaming kangaroos!
(5990 Port Arthur Highway, Taranna, Tasman Peninsula | www.tasmaniandevilpark.com)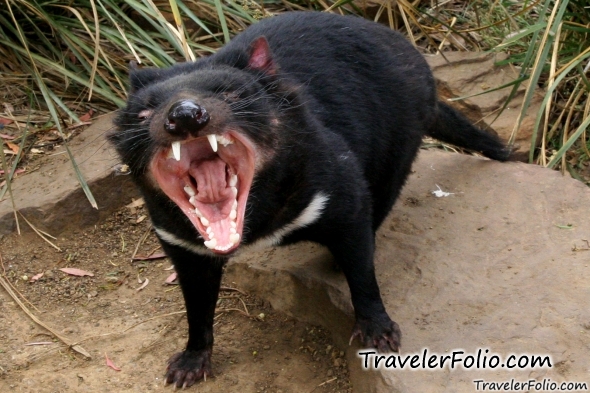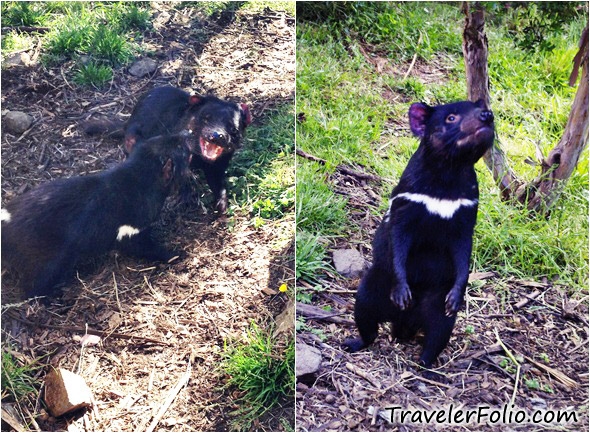 Oyster lovers don't miss this! Less than an hour's drive from Tasmanian Devil Conservation Park, Barilla Bay Oysters Farm is one of the largest live oyster producers in Tasmania. Slurp freshly shucked oysters while soaking in the scenic surroundings of Barilla Bay. Mouthwatering seared scallops, fish fillet and other local delights are sure to please seafood palates.
(http://www.barillabay.com.au/)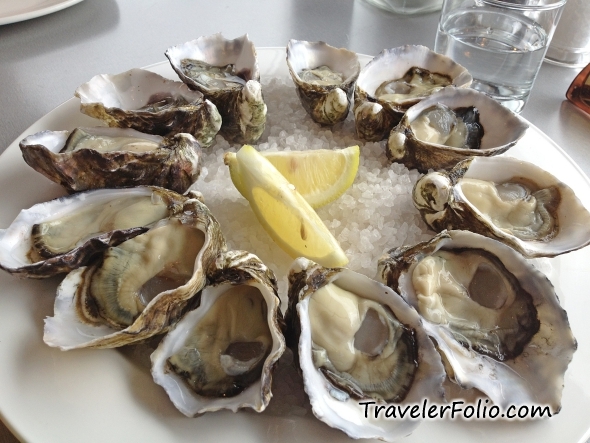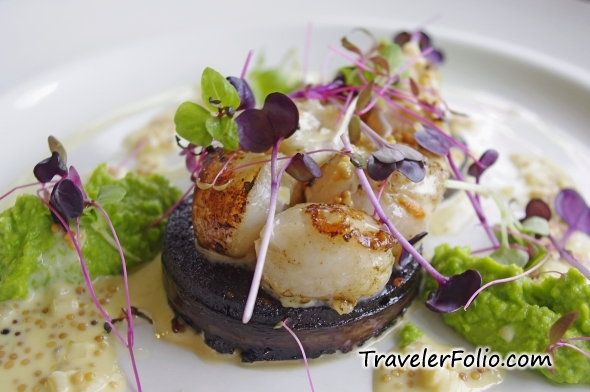 The pristine environment of Tasmania produces premium honeys, such as Tasmanian Leatherwood from leatherwood trees in the wilderness heritage areas.
Less than an hour's drive west of Launceston, The Honey Farm in Chudleigh manufactures and retails an extensive selection of honeybee products and gift sets, from skincare, beeswax candles to royal jelly and bee pollen.
The shop offers free tasting for a variety of honeys, including those of fruity flavours and spicy types like the red chilli honey. Don't leave without a cone of refreshing honey ice cream! (www.thehoneyfarm.com.au)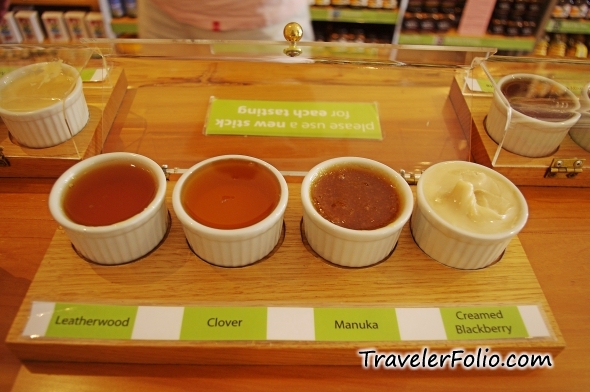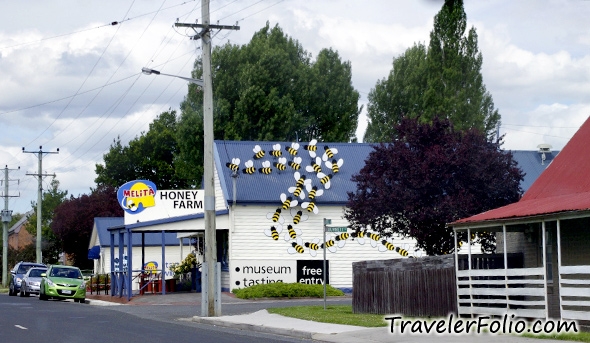 Just 15-minute from The Honey Farm, 41º south Salmon Farm welcomes visitors with free tasting of hot and cold smoked salmons specially concocted according to an old European recipe.
For return air travel, the salmons are vacuum-packed to maintain freshness. Interestingly, the farm also cultivates ginseng; so you can purchase Tasmanian Ginseng Spice and Leatherwood Ginseng Honey as well. (www.41southtasmania.com)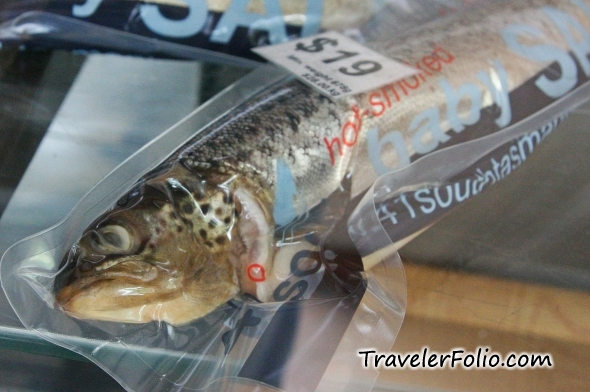 Our ultimate destination of the self-drive tour was Cradle Mountain. Along the way, we ventured northwest to Stanley, a picturesque tourist town that serves as a base to visit Tarkine, Tasmania's largest tract of wilderness and The Nut, an old volcanic plug.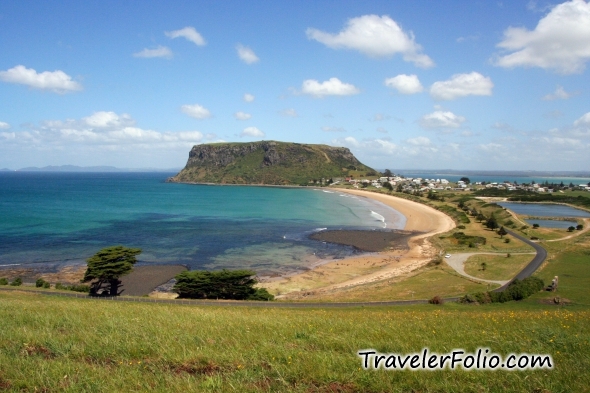 The 2.5-hour drive from Stanley to Cradle Mountain is pleasant and easy to navigate. Drop by the Cradle Mountain Visitor Information Centre to get park passes. (Adult: A$16.50 / Child: A$8.25)
Cradle Mountain is Tasmania's natural icon, and we were lucky to catch a glimpse of the full craggy profile of the landmark in fine weather. The national park is covered with an abundance of wildlife, rare vegetation and glacial lakes, accompanied by trails to help you appreciate the wilderness beauty.
Some of my favourite trails are the Weindorfers Forest Walk and Enchanted Forest Walk. These short trails evoke fairy-tale euphoria – it just felt like entering a colourful storybook with lush meadows, cascading waterfalls and critters scrambling along the meandering creeks. Keep your eyes peeled for wombats, wallabies, burrows and poops!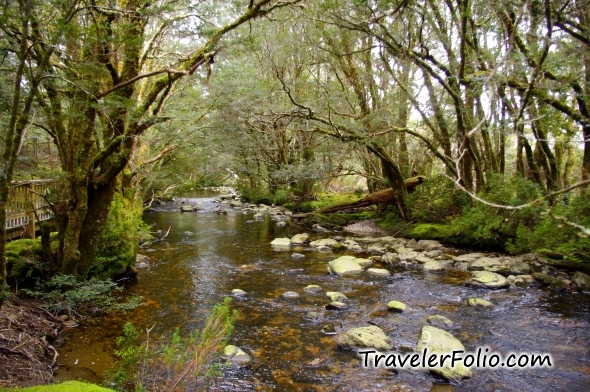 One of the world's last true wilderness regions, Tasmania harbours unique landscapes, native wildlife and ancient forests. Photos and words can't do justice to this little slice of Gondwana. Besides, you have to be there yourself to breathe in some of the cleanest air in the world!
Did you know that Tasmania lies at similar latitudes (42nd parallel south) to the South Island of New Zealand?
This article is published on https://sg.sports.yahoo.com/news/tasmania-s-roads-less-travelled-145902300.html
Read all posts on Tasmania