Things to do on the way to Kakadu
You don't always come across a river infested with crocodiles do you? Let alone to mention one that leaps high out of water. Home to over 1,600-strong congregation of crocs, the thought of cruising along the Adelaide River had struck me uneven for sometime before I decided to take on the Spectacular Jumping Crocodile Cruise!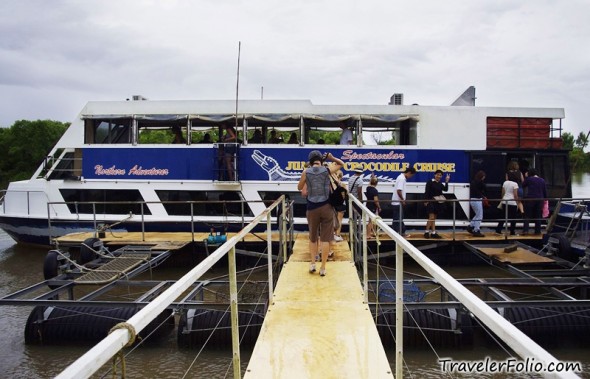 While on the way to Kakadu National Park, a mere 60-km from Darwin, stop over Adelaide River to join the exciting cruise for an amazing experience watching crocodiles launch out of water as they try to dislodge the baits from the crew member's line.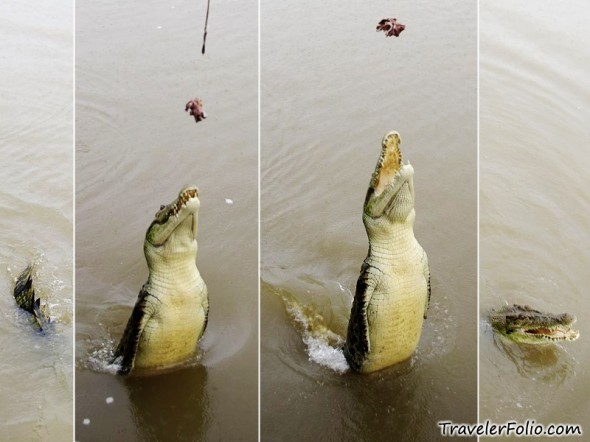 The crew member uses a long stick with a bait tied at the end to lure the wild crocodiles. Apparently, only a crocodile swims near whenever a bait is lowered. Keep your eyes peeled when a crocodile swims by. It can jump up high enough to expose its entire scaly body to grab the bait.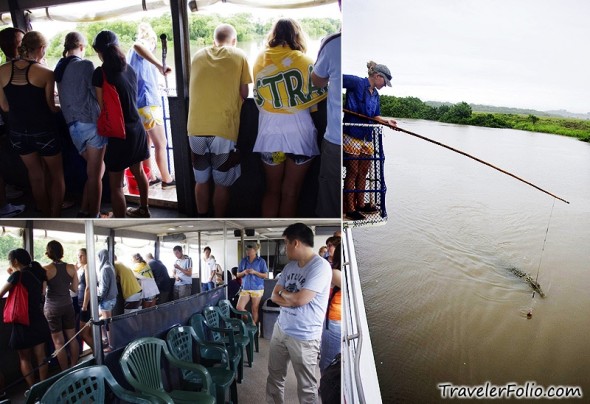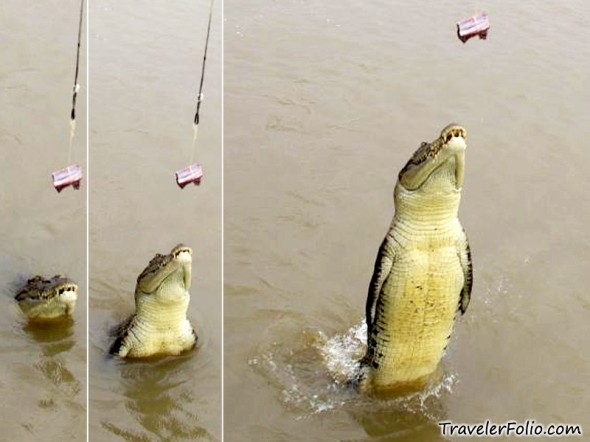 The girl was teasing the crocodile with the bait.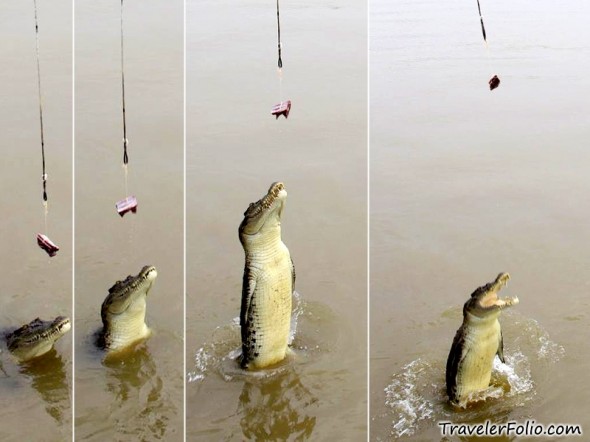 Another huge and old crocodile came along for its share.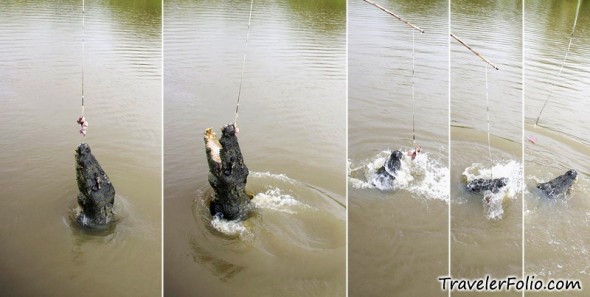 Be Croc-wise!
Northern Territory is one of the last strongholds of the Saltwater and Freshwater crocs; both protected species have drawn a multitude of the Top End visitors every year. Be croc-wise when you are in the Top End. Many waterways may contain large and potentially dangerous crocodiles. If a waterway is not designated "safe for swimming", it may be another crocodile habitat. Stick to this rule: No Sign, No Swim.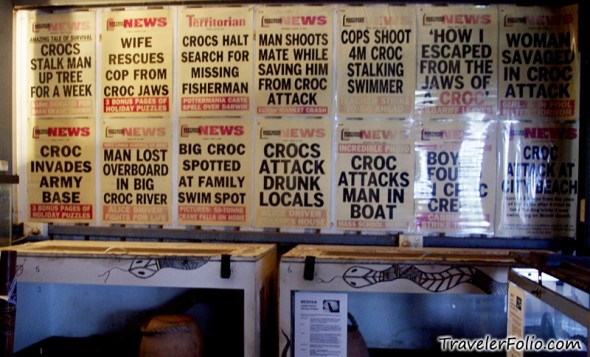 Visitor info on Spectacular Jumping Crocodile Cruises
Address: Winnellie NT 0821
Cruise times: 9am – 11am / 1pm – 3pm
If you are not driving, Crocodile Express departs Darwin daily starting at 1pm from the Transit Centre, Mitchell Street with pick-up points outside the CBD. Bookings essential.
Website: jumpingcrocodile.com.au
Within a 15-min journey from the cruise centre, drop by Windows on the Wetlands Visitor Centre at Beatrice Hill to learn more about the northern coastal wetlands, from the ecological processes, seasonal changes to the problems of wildlife and weeds.

Don't miss the top level of the Centre that is the highest point on the lower Adelaide River floodplain for magnificent views across the horizon, especially during sunrise or sunset. In fact, Adelaide River is one of the eight rivers with large floodplains that create a vast expanse of coastal wetlands.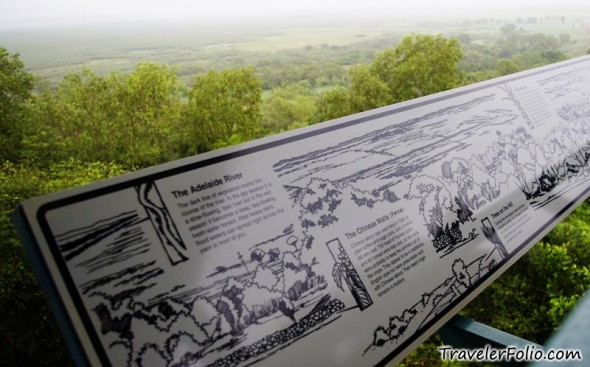 Where to Eat
Your eyes will be busy gazing at buffalo heads, large horns and skulls adorned on the walls, a life-size crocodile laying on top of the food display case, vintage items including a jukebox and other fascinating craftworks as you enter Bark Hut Inn. Built along Arnhem Highway in Annaburroo, the Aussie roadhouse serves decent lunch and I had a generous portion of tasty Fish & Chips.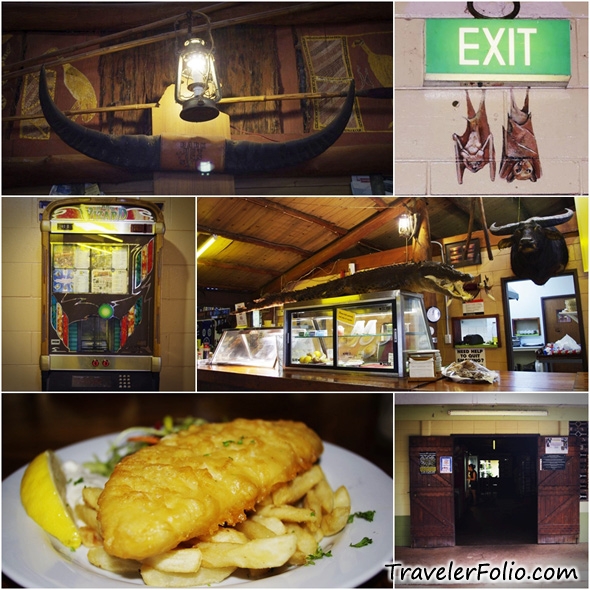 Where is Bark Hut Inn?
Address: Arnhem Hwy, Annaburroo
Our Top End tour bus from Intrepid Connections.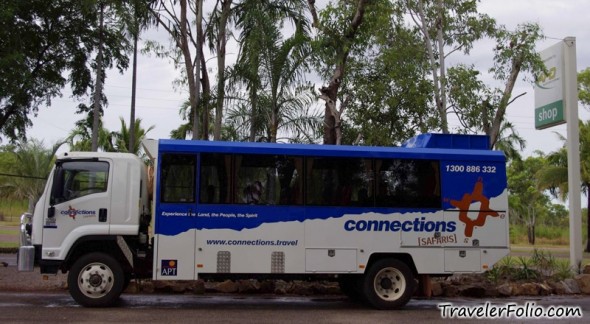 Stay tuned for the updates as we entered Kakadu National Park, Australia's largest national park that has been inscribed on the UNESCO World Heritage List.
Please "Like" to follow Travelerfolio Facebook