Step back in time as you enter Aboriginal rock shelters and rock art galleries in the Nourlangie region of Kakadu National Park. Be awestruck with stunning Aboriginal rock drawings as you hike along a 1.5-km circular walk around the ancient art sites. History is literally at your feet.
The Aboriginal people still live in Kakadu continuously for at least 40,000 years and this place is open for visitors to learn something about their ancestors' lives.
What to See
1. Take an easy walk to Anbangbang Gallery and the Shelter to see rock art painted by the Aboriginal people in the past.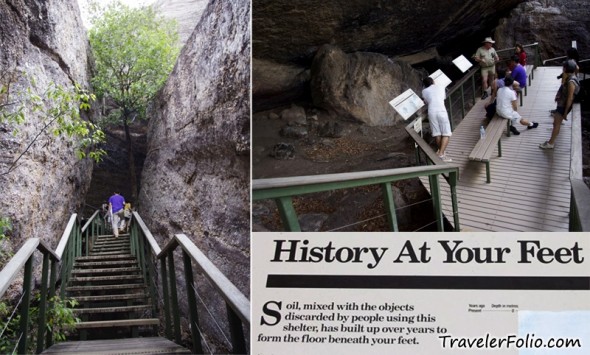 Rock art depicts the history and culture of the Aboriginal people. They painted on the walls of the shelters where they resided. Drawings on rocks were effectively used as a form of communication to bring across instructions as well as consequences of broken rules. Different ochres are used as painting pigments in rock art.
A kangaroo painted on the rock wall.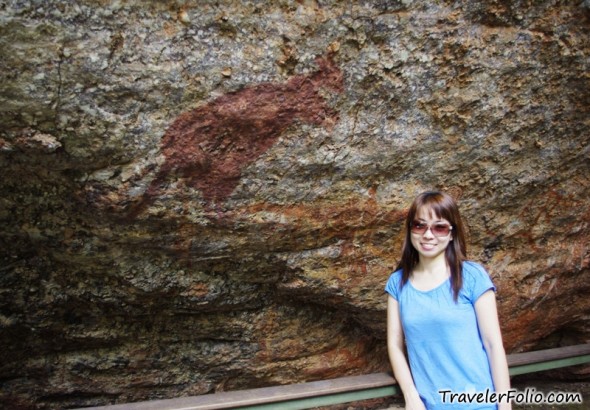 The most prominent rock art at the Anbangbang Gallery depicts Namanjolg (the largest figure in the centre) and Namarrgon (on the right of Namondjok). Namanjolg is the Creation Ancestor who broke the incest laws with his sister. Namarrgon is the lightning man capable of splitting the dark clouds and striking lightning and thunder.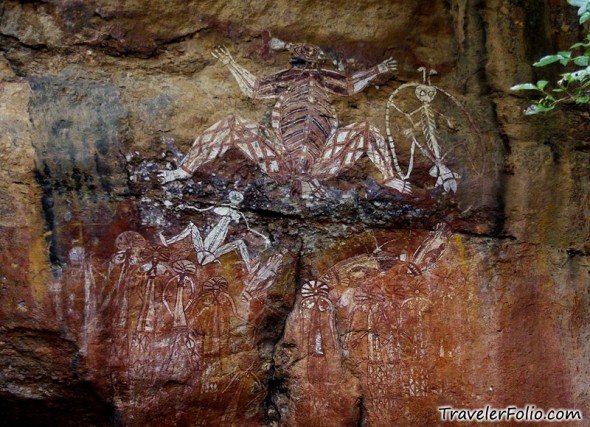 This rock art illustrates a woman who caught a kangaroo and hunting another. Auspiciously, the purpose of drawing animals was to increase abundance and the human was included to be in touch with the animal spirit to ensure a successful hunt.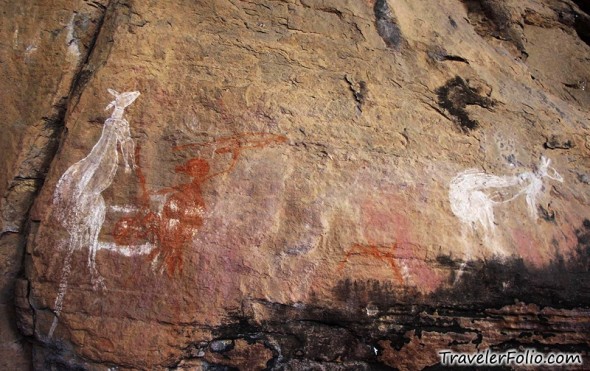 Rock painting of the dangerous spirit called Nabulwinjbulwinj (pronounced as "Nar-bull-win-bull-win") who eats females after striking them with a yam. It is said to serve as a warning to females not to wander around that area.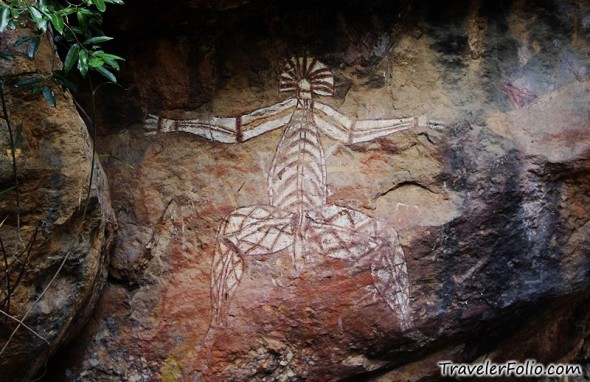 More rock paintings on the wall. The paintings are commonly superimposed and this enables different painting styles to be dated.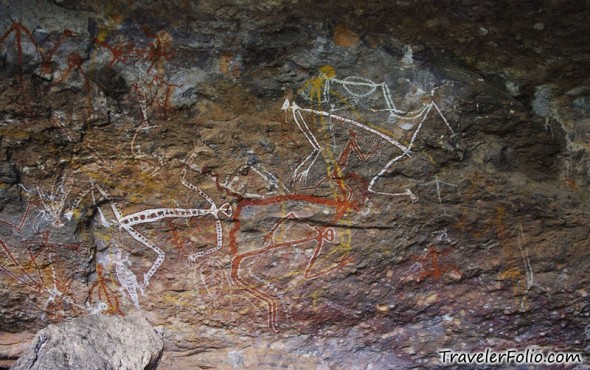 Rock Art: Hand stencils.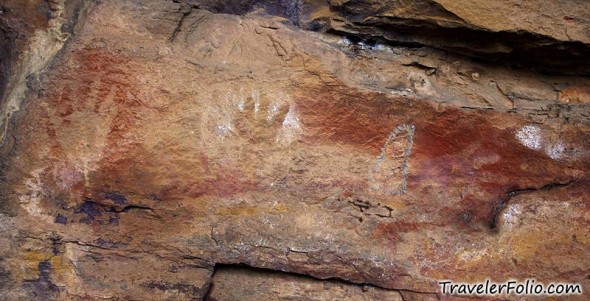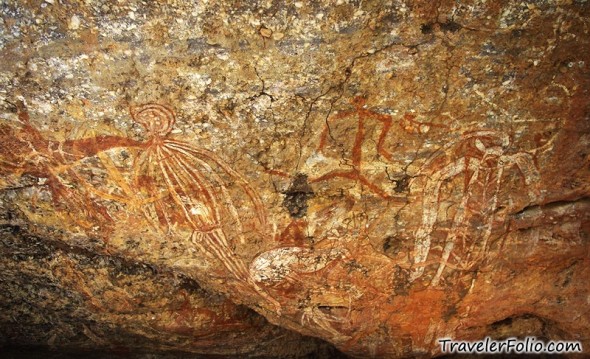 Drawings on the rock.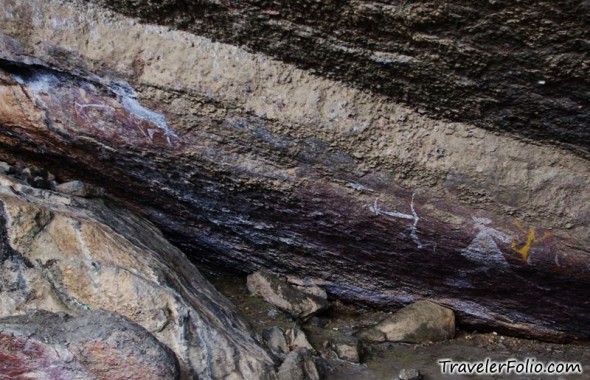 2. Take a moderately steep climb up to Gunwarrdehwarrde Lookout for a mesmerizing spectacle of Kakadu's escarpment and gaze across the vastness of Nourlangie. Be carried away to some 50,000 years ago.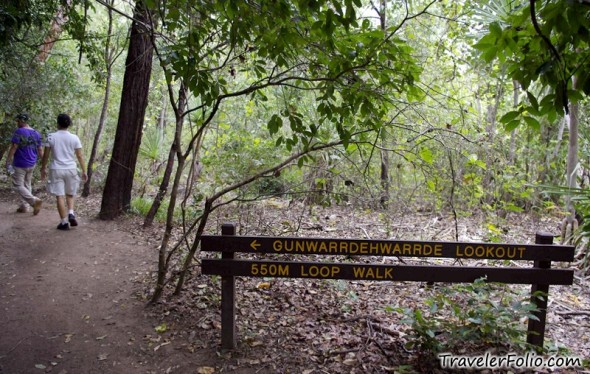 Aboriginal Folklore
To the Aboriginal people, this rock formation is not any ordinary rock but a site that represents the incest law that was broken by Namanjolg and his sister. To punish Namanjolg, the family sought out for him and found him dancing around a fire on top of this Feather Rock. He was pushed into the fire. Covered with ash, Namanjolg plunged into a billabong and became a crocodile.
The Feather Rock is an example to convey a message to educate the Aboriginal people that it is wrong to involve in incestuous relationship.
Namanjolg's Feather – Daberrg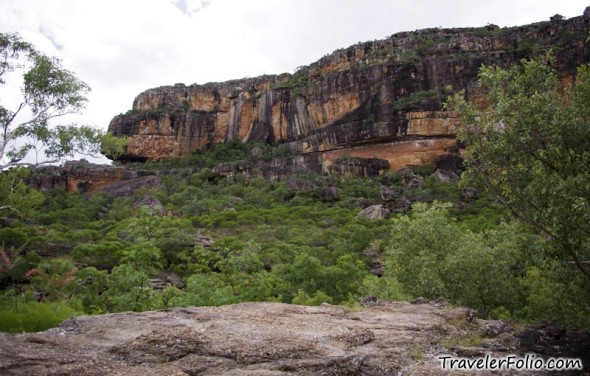 Lightning Dreaming – Namarrgon Djadjam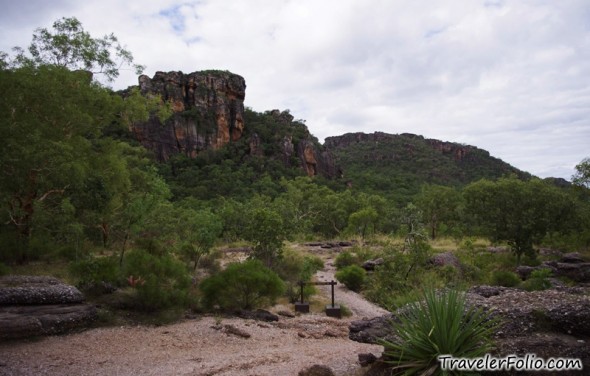 Flowers in Nourlangie.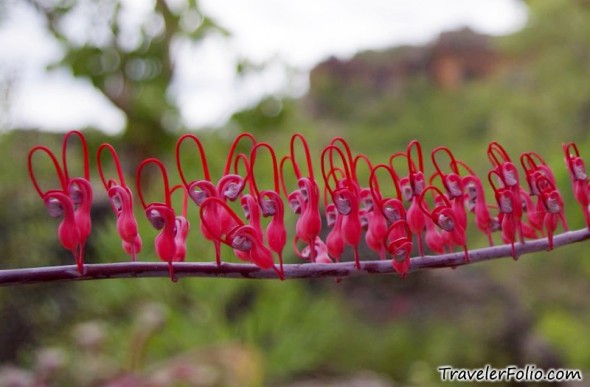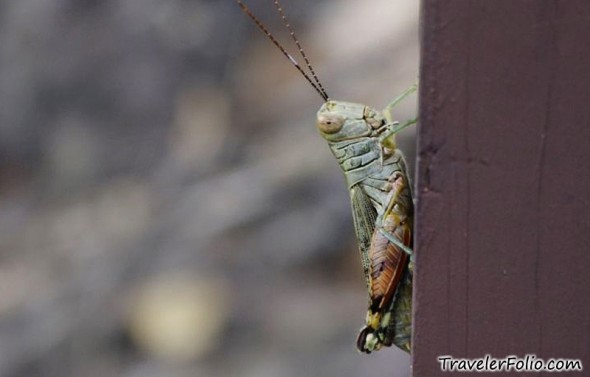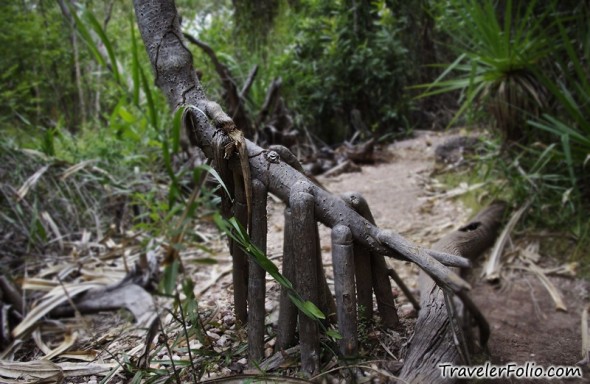 Paperbark tree.
Quote: "We speak in our own language so we can say what we mean." In Singapore, we have Singlish though it's often frowned upon.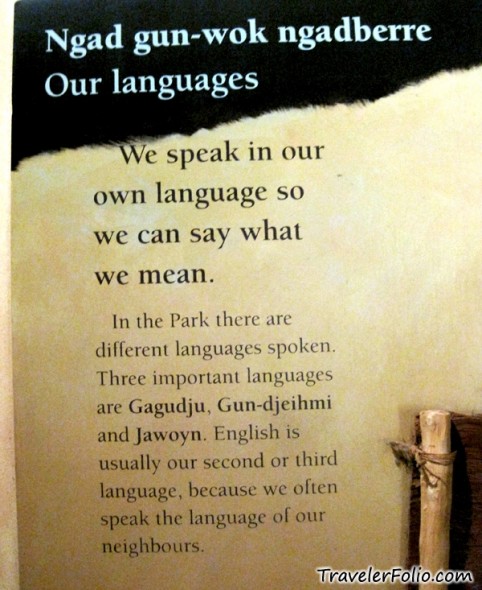 3. If time permits, you can go for the 12 km Barrk walk to see the sandstone vegetation on top of Burrunggui and soak in the panoramic views. Some parts are steep and it takes 5 to 6 hours. Moderate fitness is required.
Visitor information
Hours: Open 8:00 am until sunset.
For more info, click to Australia's Outback, Northern Territory official website.
Please "Like" to follow Travelerfolio Facebook
Upcoming: Gorgeous sunset and fireworks at Mindil Beach Sunset Market in Darwin.