Want to understand the process of how Cadbury chocolates are made? Let's pop by Cadbury Visitors Centre at Claremont, north Hobart. The Cadbury factory at Claremont has a long history in Tasmania – it was established in 1921.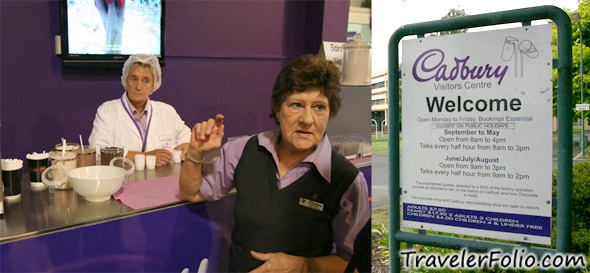 Do you know that the production of Cadbury start at the Singapore cocoa factory? I just knew that even though Cadbury is a familiar brand since childhood! In Singapore, the top quality cocoa beans are processed to produce the cocoa mass, that's the basis for all chocolate products. The cocoa mass goes straight to the Cadbury factories in Victoria (mainland Australia) or Tasmania to undergo further production stages to produce the famous Cadbury chocolates.

Besides learning the process of how those delicious bars of Cadbury are produced, visitors can sample the chocolates and buy the high quality Cadbury chocolates at special prices at the retail shop. "Wouldn't it be NICE?"
Location of Cadbury Visitor Centre: Cadbury Road, Claremont, Hobart, Tasmania.
They say "Hello" with their jaws wide open. They lock jaws with each other like having a handshake. They snarl, grunt, screech, growl, sneeze and are reputed for being mean and incredibly fierce. They are hungry little scavengers that chomp up anything laying around, reducing it to nothing.
These are the devils of Tasmania – the Tasmanian Devils.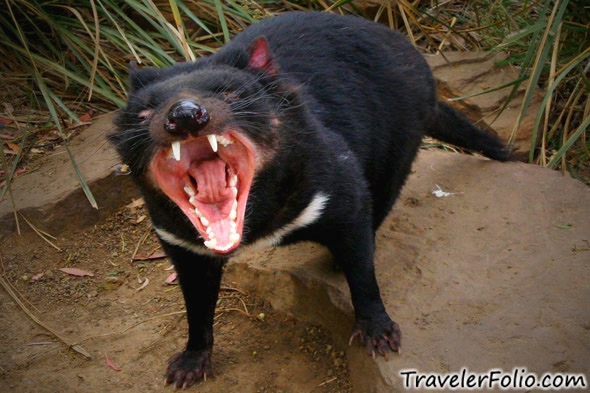 Bonorong Wildlife Centre is located just about 20 minutes' drive from Hobart. The centre is specialized in Tasmanian wildlife education and very committed into the conservation of the threatened species of Tasmania.
We had a lovely morning jaunt around Bonorong Park for an up-close and personal encounter with the native wildlife of Tasmania with Bianca, the caring keeper in the park.

Do you know that the Tasmanian Devil is the world's largest living marsupial carnivore and is only found in the wild of Tasmania?
Do you know that the iconic species of Tasmania has suffered a major decline over the last decade and is now facing EXTINCTION?
The survival of the devils is threatened by the world's first contagious cancer known as Devil Facial Tumour Disease (DFTD). The deadly disease is passed through bites and is only transmitted between devils. When the devil is infected, the large tumour growths around its mouth and neck make it impossible for the devil to eat and eventually, it will die from starvation.
Do you notice the devil seem to be always frowning?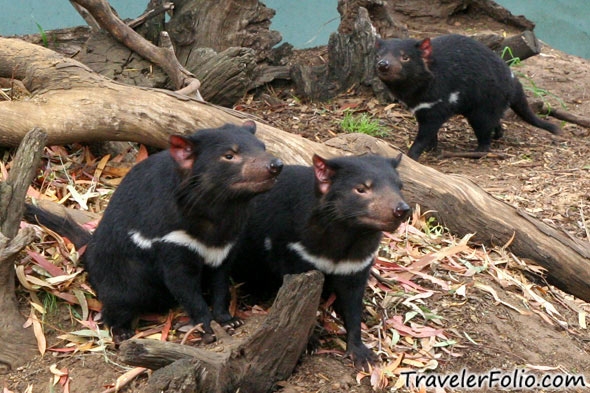 There are over 60% of DFTD confirmed cases across Tasmania and in some locations; it's up to an alarming 95% declination in population. Right now, research is being carried out and racing against the clock to find a cure for DFTD. If there is still no known cure, current estimates suggest that the Tasmanian devils in the wild will be extinct within 20 years and at least 77 other species in the wild could be put at risk due to ecosystem imbalance.
Bianca was carrying a two years old hand-raised female devil. I was very amazed that she could cuddle a devil in her arms like a baby! That's not the ferocious devil that I knew of!
The truth is devils are very shy animals in the wild. They are very gentle animals. Gentle?! Yeah, it's just that they make a lot of noises to scare other devils off. They are not aggressive, just noisy!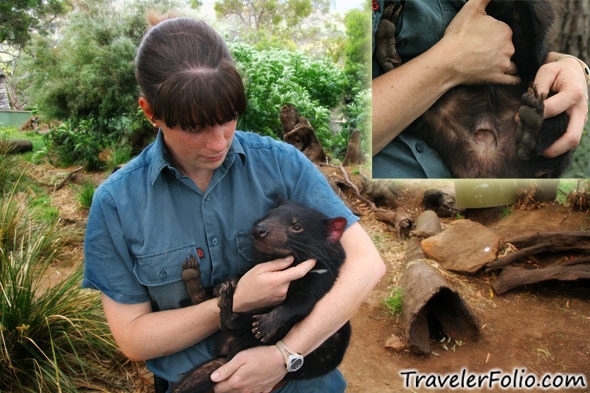 A female devil can give birth to a lot of joeys at one time. The joeys are very very tiny like the size of a grain of rice. The hard life of a devil starts at newborn: the joeys have to compete to get to the pouch near the rear. As a female devil only has four nipples, at most, it can only nurse four joeys. So, one has to be very LUCKY to be a DEVIL!
Another devil seemed to be jealous of Bianco for giving too much attention on the one she was carrying. Bianco said, "When the mum goes, they don't want to get left behind."
I wonder what brand of jeans Bianca is wearing, so tough that I didn't see any damage done by the devils gnawing on it!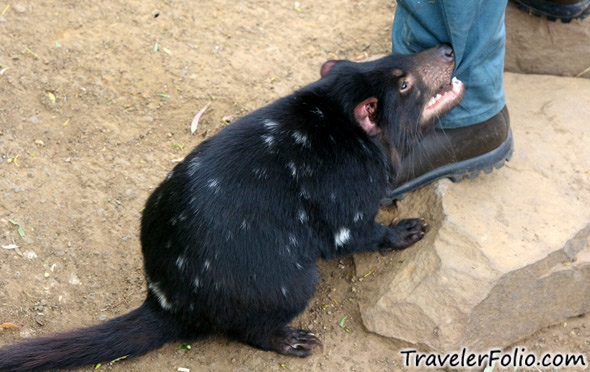 The devils have very strong jaws and can do a lot of damages to people if they are at the wrong place at the wrong time. However, Bianca expressed that probably the most dangerous devil is the one being hand-raised and breed in captivity because it is not afraid of humans. Basically, the way a devil communicates is the same as any Tassie devil does in the wild.
The devils are not very good hunters. They have very poor eyesight and they can only see about a foot. They use their long whiskers to search for prey in the dark and have an excellent sense of smell. When we were standing near their enclosure, they started to sniff the air and moved to our direction.
So you see, you can easily get this classical pose of a devil looking at you face to face!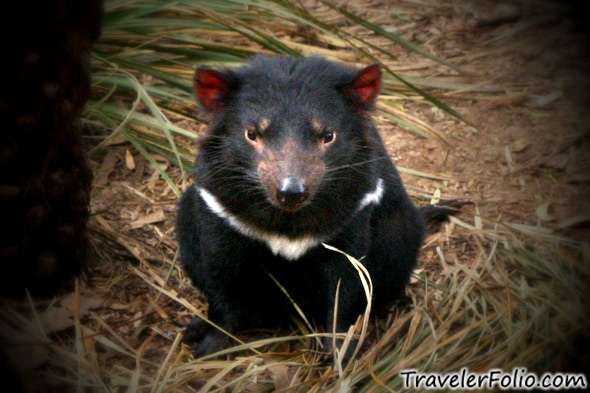 The male devil has a bigger head and stronger jaws than the female, but the female is the boss.
The devils open their jaws wide, making lot of loud noises to scare each other off. It may look threatening, but usually it's a bluff and one will eventually walk away. The last thing they will do is locking their jaws with each other like a handshake and the one with the stronger jaw wins.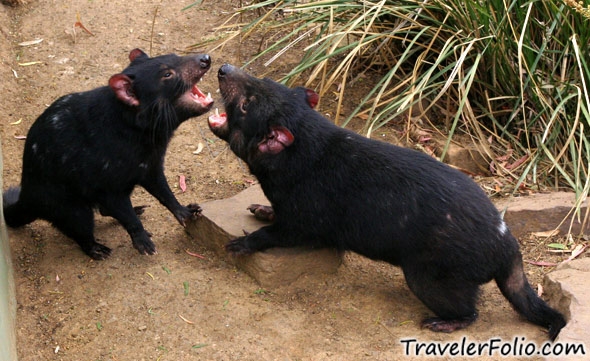 So much about the noisy Tasmanian devils, let's spend some quiet time with this strikingly cute little baby koala. You don't get many chances like this one at Bonorong wildlife park to be able to get so close with the koala and feel it!
Gotcha big head photo!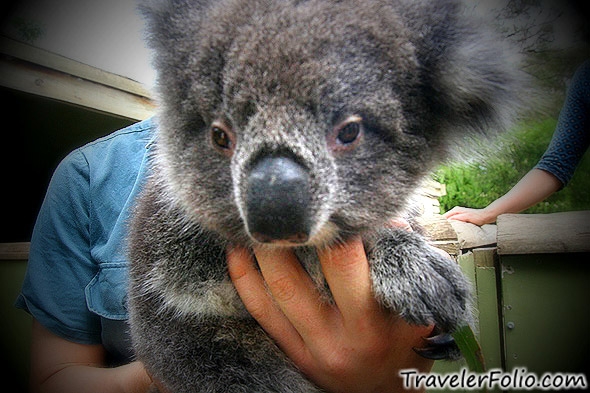 The koalas have poor eyesight but great senses of smell and hearing. They are fussy eaters and mainly feed on eucalypt leaves. This fluffy one was still holding on to a leaf.
The baby koala looks just like a plush toy! However, visitors are not allowed to carry the koala in the park. I must say, "Bianca, you've got one of the best jobs in the world!"

This baby wombat lost her mother and is now rehabilitated in the wildlife park. I always thought that a wombat was a tame herbivorous marsupial but Bianca explained that when the wombat is more than two years old, it will turn aggressive and can run and attack. Till then, the park will release the wombat back into the wild.
A wombat has rodent-like front teeth and strong claws for burrowing holes. So it's not suitable to be kept as a pet!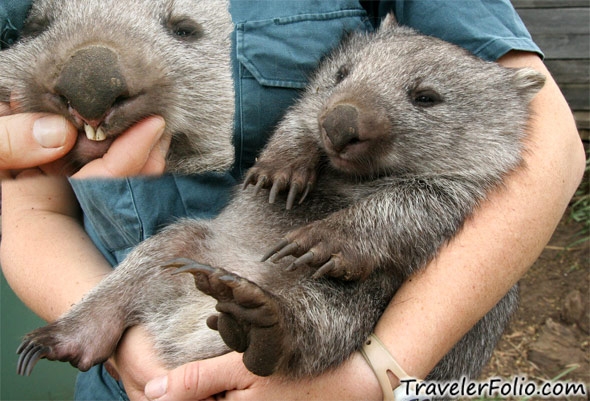 The escaping kangaroo!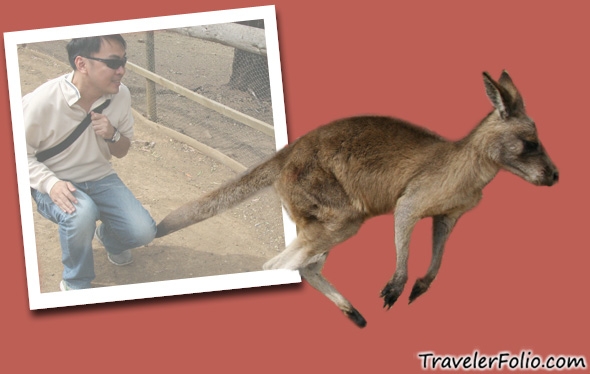 The spiny anteaters or echidnas with their long beaks to help them forage for ants and termites. The platypus and the echidna are the only egg-laying mammals in the world.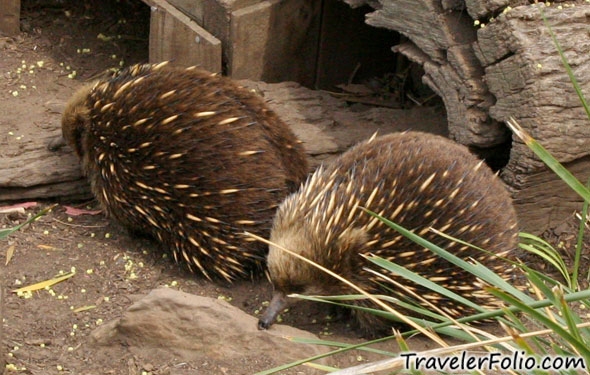 Pay a visit to the residents at this wildlife park when you are in Tasmania!
Address: Briggs Road, Brighton, TAS 7030
Web: www.bonorong.com.au
In less than 30 mins drive from the city of Hobart, Richmond – the best-preserved Georgian village in Australia – will bring you back to Van Diemens Land. The famous model village is on Tasmania's Convict Trail and was once a key military post and convict station located between Hobart and the infamous Port Arthur penal settlement.
The Richmond Bridge is the oldest bridge in Australia. The heritage listed arch bridge over the calm waters of the Coal River was constructed by convicts from 1823 to 1825 during the penal settlement period and is still in use today.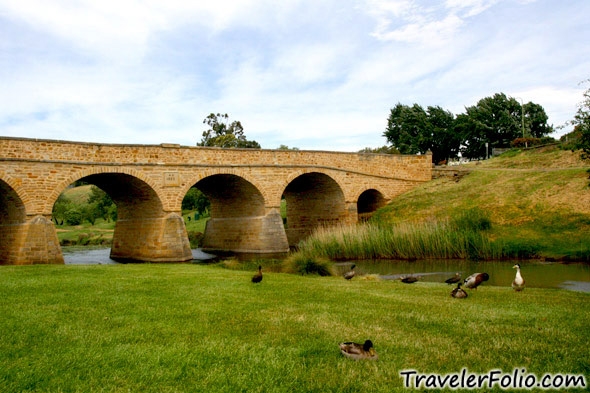 Many beautiful convict-hewn sandstone buildings in Richmond have been restored and are now art and craft galleries, restaurants and shops. It's an old-world quaint little village featuring early Australian buildings.
We had a good lunch at Ma Foosies, a country-style café restaurant located in an 1831 heritage building along the main road. It's open for light snacks, lunches, coffees, teas and I was having a tall glass of delicious smoothie. The café serves delectable Ploughman's lunches, soups, seafood dishes and other home-made delights.

Address of Ma Foosies: 46 Bridge St, Richmond, Tasmania.
Opening hours: 8.30am daily. Closed Dec 25th, 26th and Good Friday.
Read next post: Day 3 – Gourmet Time!