For many business and leisure travellers, Hilton is a hotel of choice. The brand is synonymous with modern luxury and impeccable service. Last October, I experienced a wonderful stay at Hilton Sydney hotel. As a frequent traveller, it gives a peace of mind to check in at a familiar property for expected comfort and quality.
We had not been to Shanghai for many years so we extended the trip from Ningbo, a lovely seaport city that's just two hours of high-speed rail ride away. (Tigerair now operates direct flights between Singapore and Ningbo. I'll update about Ningbo later.)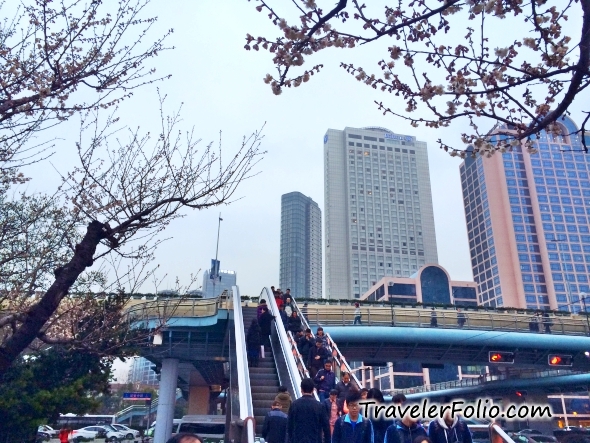 Hilton Shanghai is conveniently located right smack in the prime area of the city, within walking distance to upmarket shopping malls and Jing'an Temple Metro Station. The hotel oversees the city's former French Concession, a designated area of distinct character with tree-lined avenues and mansions for the French from the 19th till early 20th century.
View of the former French Concession from the Hilton Deluxe Panorama Room on the 16th floor.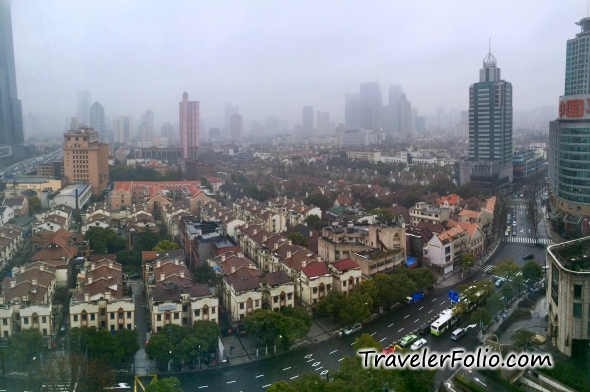 Hilton Shanghai hotel lobby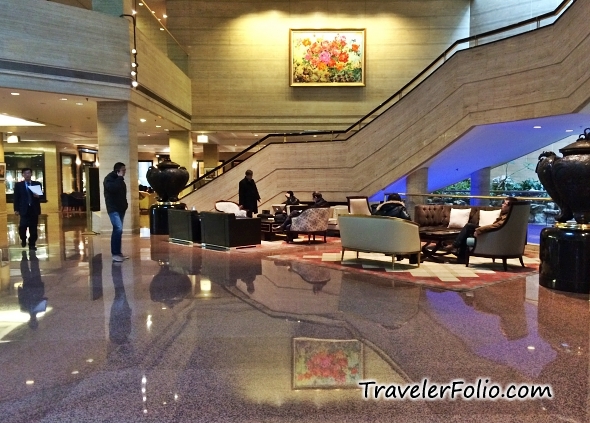 Pretty blossoms at the lobby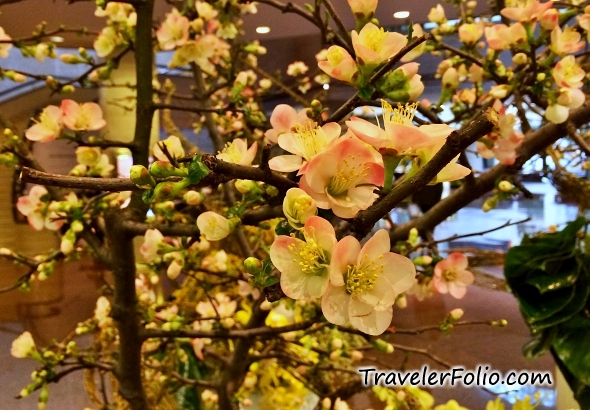 While at Hilton Sydney, I was impressed by the informative hotel concierge who provides useful tips like places to go, where to eat and transport to take. Here at Hilton Shanghai, the concierge desk is very helpful – staff assist guests with the booking and collection of train and air tickets. And I bought my China 3G SIM card at the concierge. They even helped me make a few calls to the telco to make sure the plan was activated; subsequently, made two trips to top up the value for me. The great services rendered had saved us a lot of time and hassle.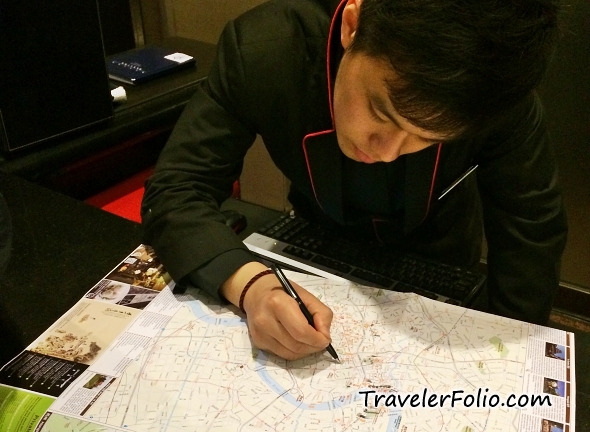 The first foreign-owned hotel in Shanghai, Hilton Shanghai boasts 714 rooms with large windows, spacious work area and modern furnishings. The 40-storey hotel have recently undergone contemporary renovations.
Our cosy crib features a pano window that showcases a breathtaking skyline view of the cosmopolitan city and the former French Concession. The spacious deluxe room is equipped with a sofa, 42-inch LED TV, desk, comfy king bed and marble bathroom. We stayed here for four nights – a comfortable room with a homey feel.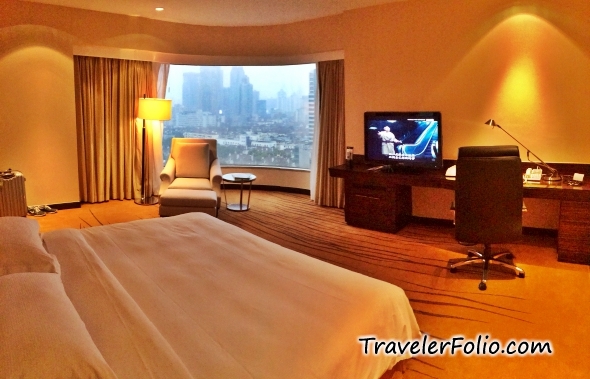 At the hotel, there are eight restaurants, cafes and bars where the discerning palates can enjoy Sichuan delicacies, Ningbo seafood, afternoon tea, award-winning Italian specialities and international cuisine.
The Atrium Cafe serves a la carte, Champagne Sunday brunch and a delectable spread of breakfast buffet as well. My favourites at the breakfast buffet are the freshly made 'tauhuey' (soya beancurd), black glutinous rice porridge and the 'homemade' yoghurt.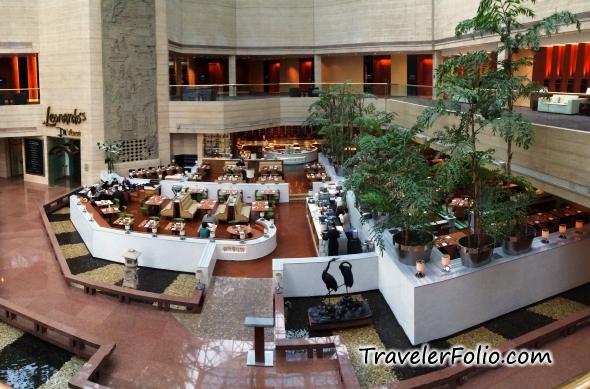 If you want to try Ningbonese-style seafood, go for People On The Water. You know, before we came to Shanghai, we spent almost a week in Ningbo and had enjoyed Ningbo cuisine very much! Ningbo has an abundant of seafood from the east ocean, which is famous for fish and crustaceans so naturally sweet that they can be eaten raw, steamed or braised with simple sauces to bring out the flavours. In fact, Ningbo seafood is highly sought after in the region.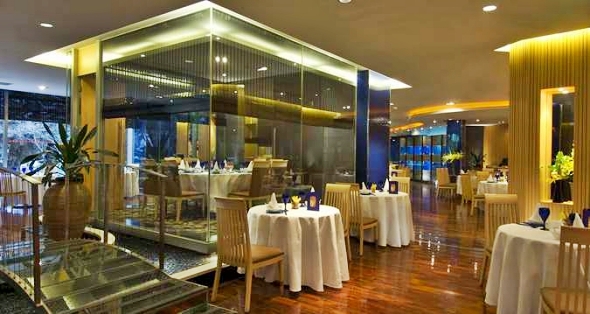 The steamed fish is simple and unpretentious yet the meat is soft and sweet. A healthy dish!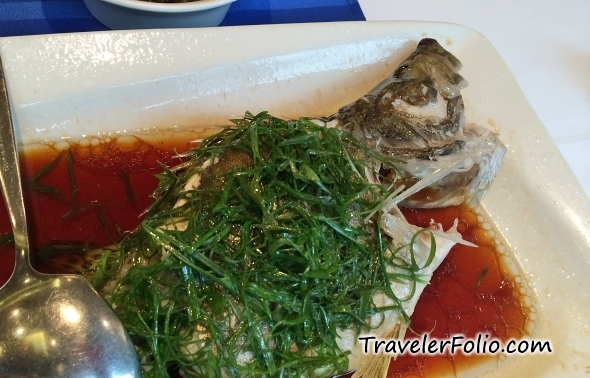 When in Ningbo, I enjoyed the savoury pork broth with yam. Here at People On Water, I had two bowls (on separate visits!) that were cooked to perfection with melt-in-the-mouth yam. Will miss this!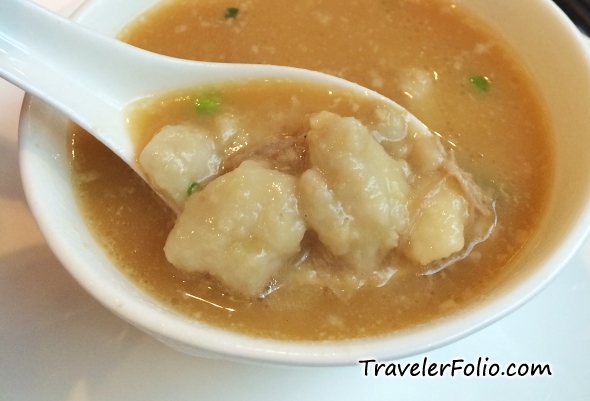 Do you like stinky tofu? At People On Water, you don't have to hold your nose to try it. So far, it's the best stinky tofu I've ever had. Lightly crisp on the outside and smooth tofu texture inside, the cube-like snack packs a punch!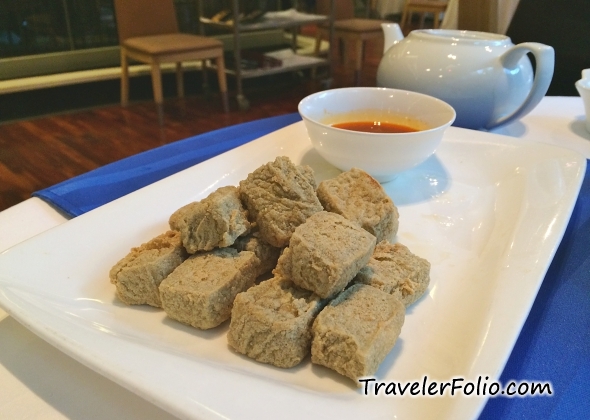 The hotel facilities include a fitness centre, tennis and squash, spa and an indoor swimming pool.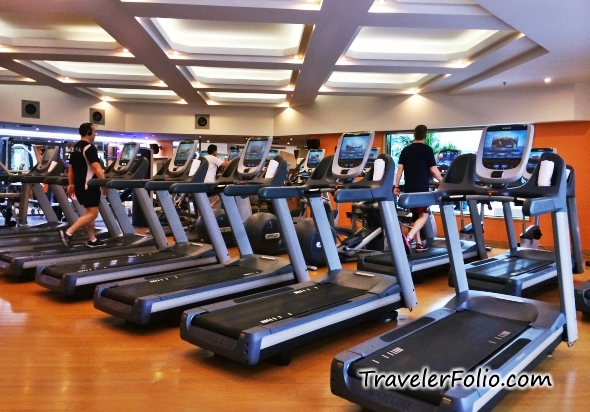 The glass-topped indoor swimming pool maintains a constant water temperature for comfortable swim all year round.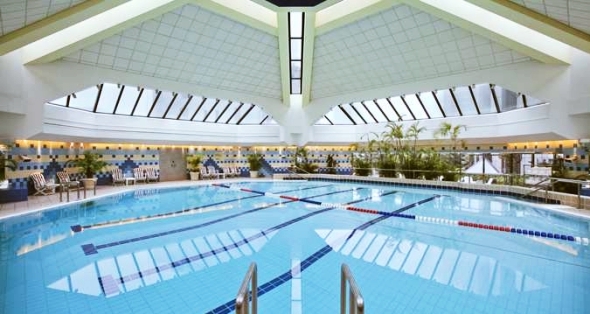 Shanghai city is easy to move around by metro and taxi (at a decent price). The nearest metro station is Jing'An Temple, which is just a few minutes walk from Hilton Shanghai. If it's your first time to Shanghai, below are some popular places to visit in the city.
Chenghuang Miao (The City God Temple) – Besides the temple and Yuyuan garden, the vicinity is a touristy shopping area with Chinese ancient style buildings that house shops, teahouses and restaurants.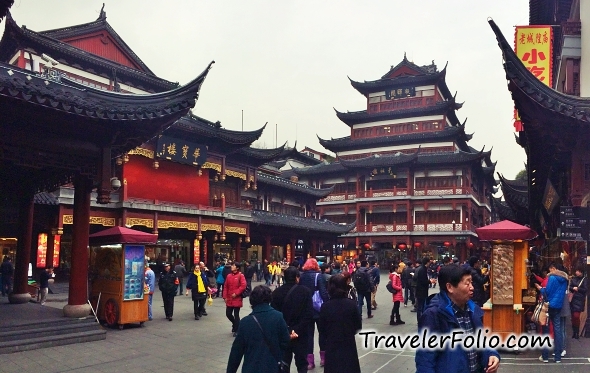 We were not keen shoppers so we just walked around the area for a while and came across this. It's quite interesting to see the young and adult peeping through holes to watch an old time puppet show narrated by a man sporting a fake pigtail and traditional costume.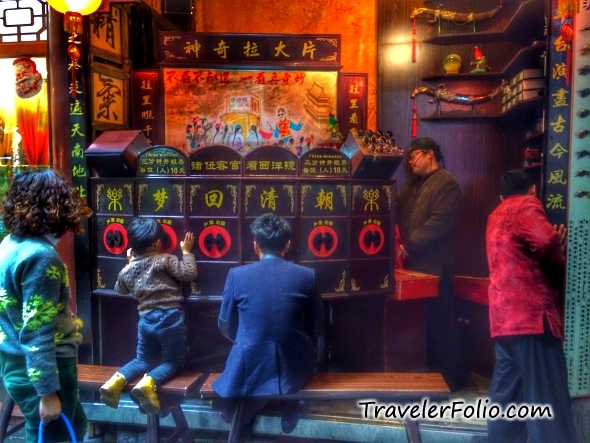 When in Shanghai, one can think of the famous xiaolongbao for sure. Many tourists would join the super long queues outside the xiaolongbao restaurant at Chenghuang Miao shopping area.
Our Shanghainese friend recommended us to go for the xiaolongbao at Jiajia (佳家汤包黄河店) located at 90 Huanghe Rd, Huangpu (黄河路90号, 黄浦区 / 近凤阳路) which she claims is better than those at Chenghuang Miao.
It's a small restaurant well patronised by locals. We ordered some freshly steamed xiaolongbao that contained crab meat. They were very yummy! The dumpling skin is thin yet does not break easily. Each steaming hot dumpling is filled with mouth-watering soup and tasty filling. And it's cheap! One bamboo basket serves 12 xiaolongbao; price from RMB25. When we wanted to order more, they were sold out! (Opening hours: 7am-7:30pm)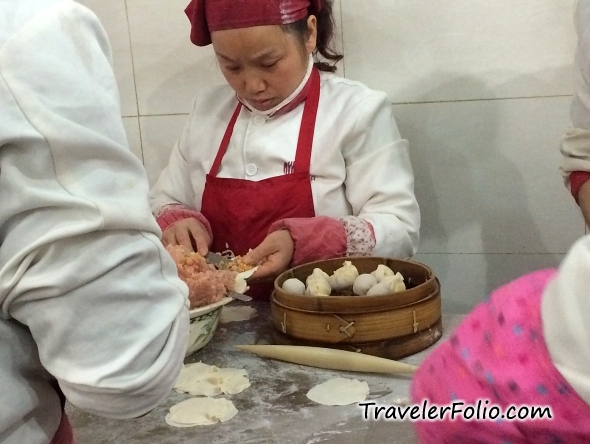 Hold the xiaolongbao properly before it breaks in your mouth! A common way to eat the soup dumpling is to carefully pick it up from the steamed basket, dip it in vinegar with shredded ginger, then suck up the soup in the dumpling. Warning: hot liquid inside!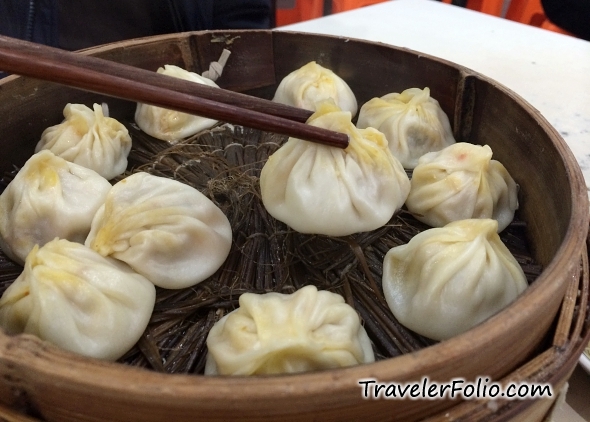 Tianzifang (田子坊) – Once a French Concession area, the artsy enclave houses an eclectic mix of small craft shops, cafes, bars and eateries along the quaint alleyways. Quite an interesting place to explore on foot, especially if you like taking photos.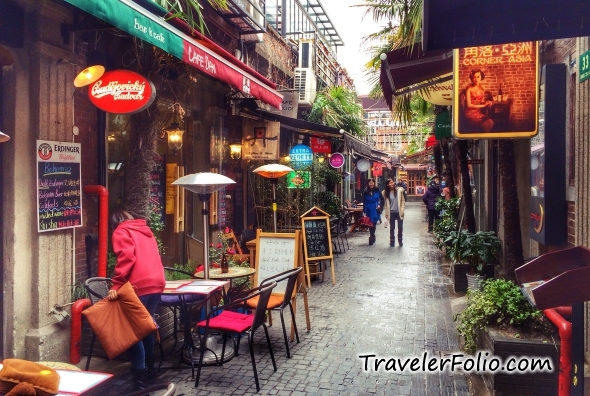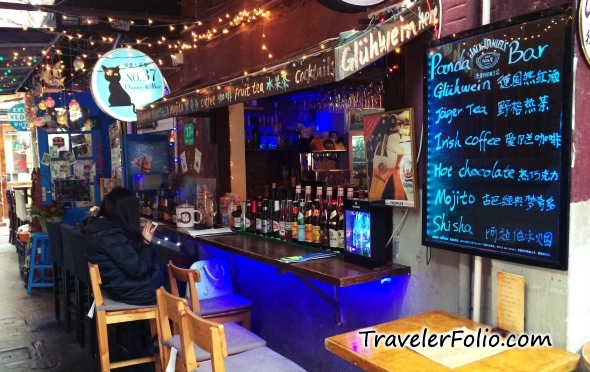 Pretty wisteria on the overhangs.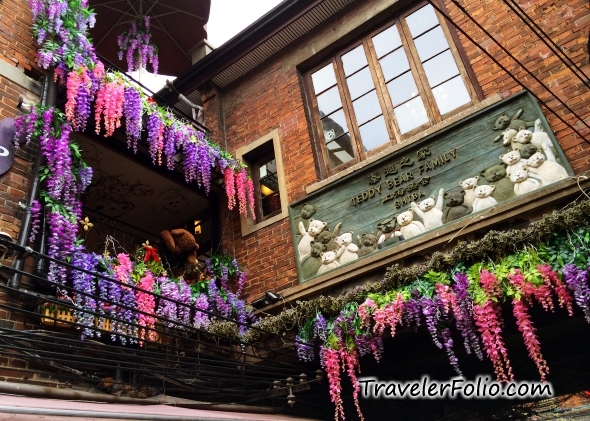 Colourful letterboxes outside a craft shop.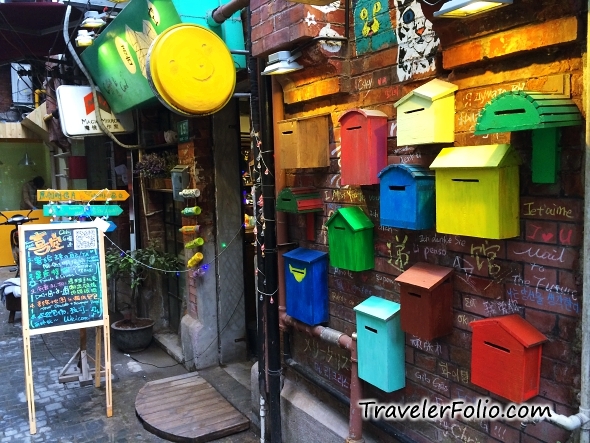 Xintiandi (新天地) – This shopping and entertainment district is near Tianzifang and popular for nightlife as there are many bars and restaurants around. A pretty nice area to walk around the tree-lined avenues and Tudor mansions built from the French Concession era.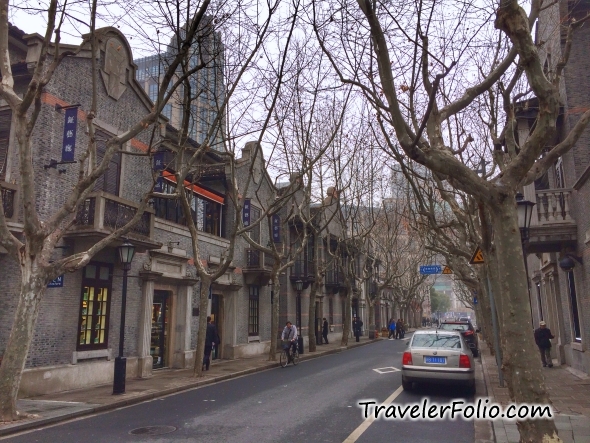 For history buffs, head for Shanghai Museum which houses a huge collection of more than 120,000 ancient items related to bronze, ceramics, jades, paintings, sculptures, ceramics among other masterpieces. It's Free admission!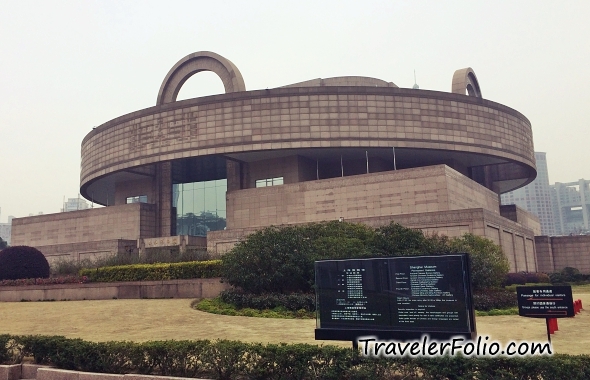 Then there's the Bund and East Nanjing Road pedestrian shopping street to do the touristy stuff. The area is always thronged with visitors from all over the world!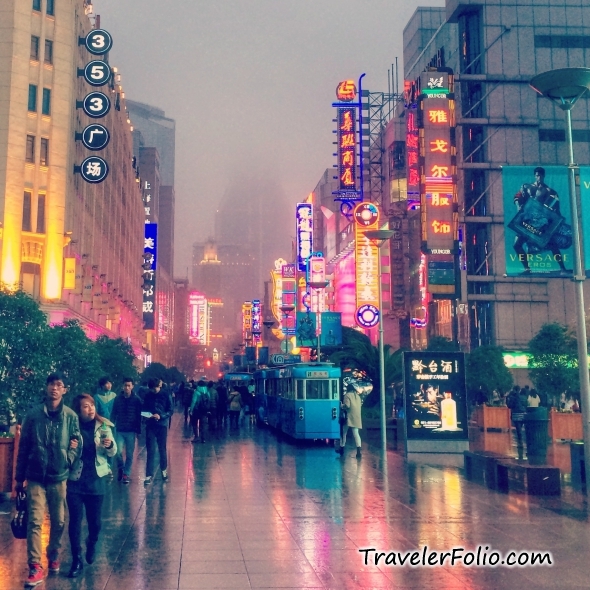 Enjoy Shanghai!