Hello, Sydney. Long time no see! It's been a while since we last met two years ago. Hilton says we should hang out together this summer for some serious #foodporn and #instatravel. Where shall we go? Any recommendations on places to eat? Things to do …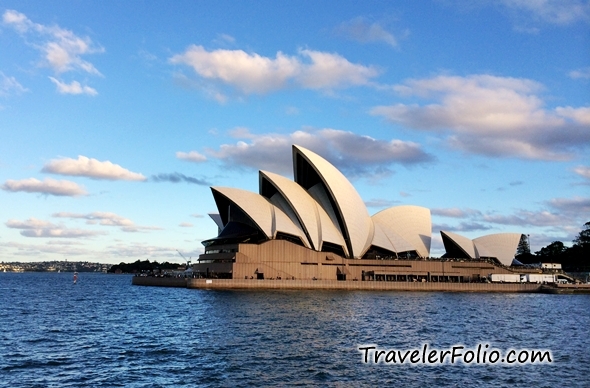 We took the 8-hr night flight and arrived in Sydney at 7 in the morning. It takes 30-min from the airport to Hilton by taxi. I was quite groggy while on the way there, only to get lifted as we passed by shopping streets, restaurants, historic landmarks and Christmas decorations just before arriving the hotel.
Sydney Harbour Bridge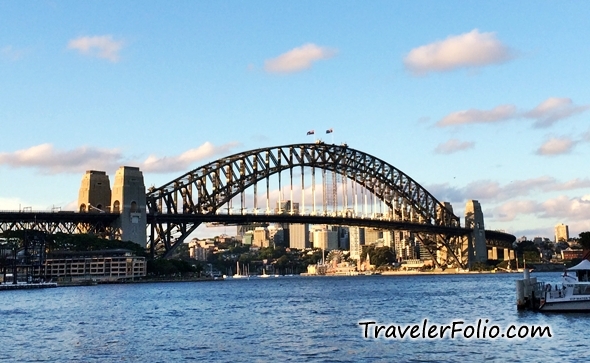 Our crib for 3 nights is right smack at the city centre, within 10-min walk to Darling Harbour and Circular Quay for the ferries; 20-min to The Rocks area where you come closer to the iconic Sydney Harbour Bridge; and the world famous Sydney Opera House. The hotel is located just opposite Queen Victoria building on George Street, the city's main north-south thoroughfare, and the streets run on grid pattern so it's pedestrian friendly and easy to navigate even for someone like me who can't read the map very well. Other attractions in close proximity include Chinatown, Hyde Park and the Royal Botanic Gardens.
While waiting for check-in, we were welcomed to have breakfast at the Executive Lounge on the 36th floor. A refreshing start to the day, sipping cappuccino while taking in the city view. There are computers for use and free WIFI as well. When our rooms were ready, the receptionist promptly informed us at the lounge and provided room card keys.
Hilton Executive Room offers guests access to the Executive Lounge for complimentary breakfast, afternoon tea and evening drinks and canapés. My room is located on 31st floor with a city view to boot.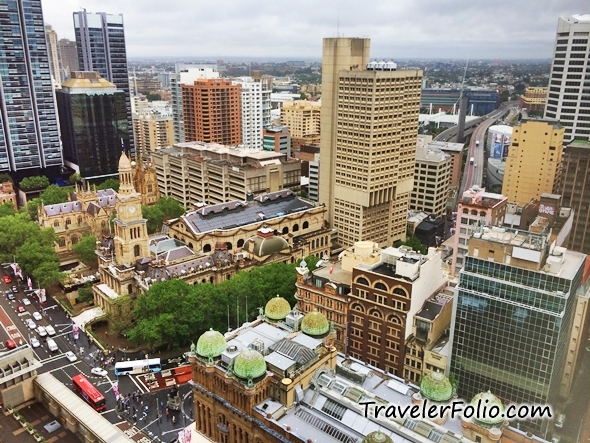 I liked the welcome fruit basket and cheese board with a wedge of Brie, macadamia nuts, crackers and yummy macarons!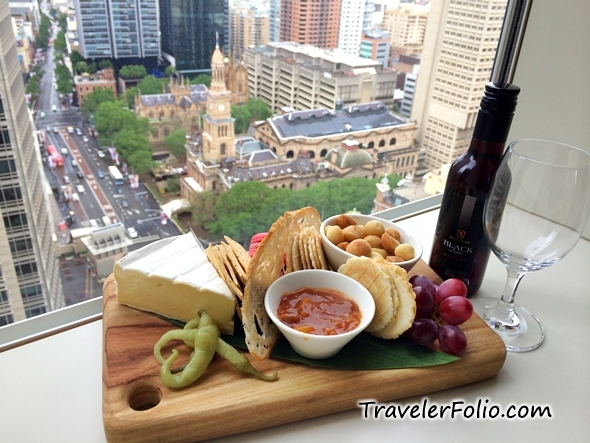 It's my kind of accommodation with a contemporary interior that's bright and cheery, appointed with modern amenities and a comfy bed to snuggle in. It's also furnished with a work desk and ergonomic chair. WIFI is provided.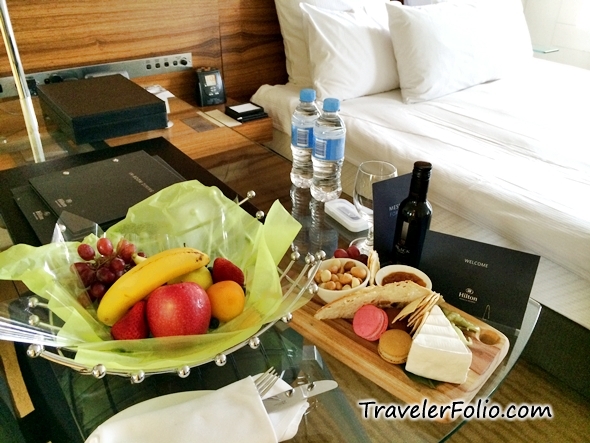 Sydney's food culture is so vibrant and diverse, the main highlight of the trip is the culinary experience! Here is a list of eateries and things to do for a relaxing 3-day getaway in Sydney.
Glass Brasserie
For a perfect start to the gastronomic journey on day 1, we had dinner at Glass Brasserie in the hotel. I would say the highly rated restaurant is my favourite dining experience in Sydney. Spearheaded by celebrity chef Luke Mangan, Glass offers a memorable culinary experience to delight the discerning palates with quality fusion dishes and sensational desserts we couldn't resist! It's also where most hotel guests have breakfast.
Interiors by the illustrious New York designer, Tony Chi, the 240-seat restaurant is nothing short of amazing – it features lofty wine towers storing 1000 bottles at each tower and a 13-metre floor-to-ceiling glass wall, captivating diners with the view of Queen Victoria Building against the changing colours at sunset. There is a theatrical open kitchen where diners can peep into the busy kitchen and see how the food is prepared and served.
Queen Victoria Building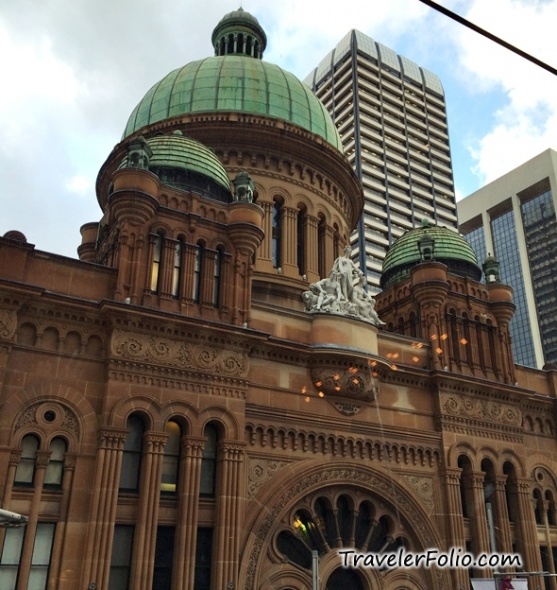 In a while, our table was spread with food that made us drool and busy taking photos of everyone's order!
Wagyu of the day: Rangers Valley sirloin with mushroom puree, golden beets, zucchini and blackberry jus. (AU$72)
Roasted whole flounder, wilted spinach, prawn and speck a la Meuniere. (AU$49)
Snapper fillet, tempura prawns, Thai salad in spicy broth. (AU$47)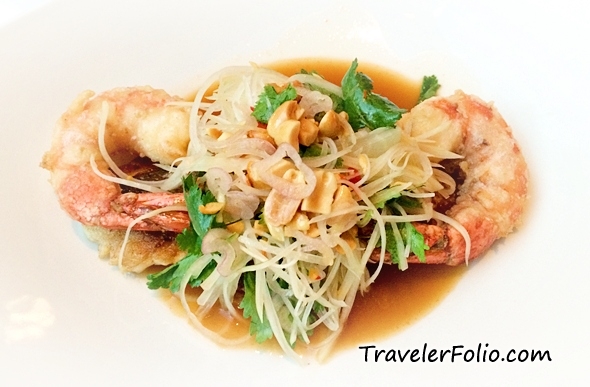 And tapas to go! Crisp zucchini flower stuffed with goat's cheese, corn, preserved lemon and salsa verde (AU$8 pp).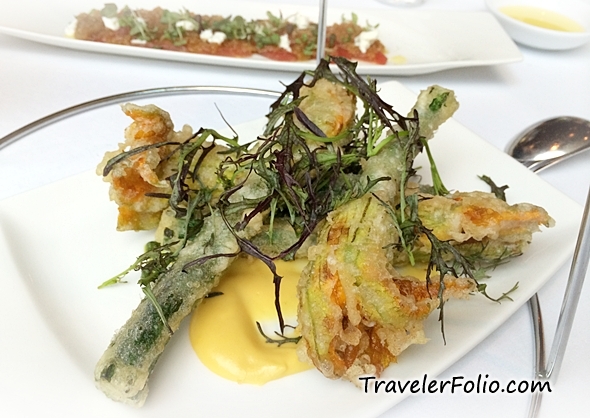 Seared scallops topped with bacon, leek and horseradish (AU$8 pp)
Parmesan and truffle French fries (AU$13) and truffle mash (AU$13) are simply irresistible, the must-order sides!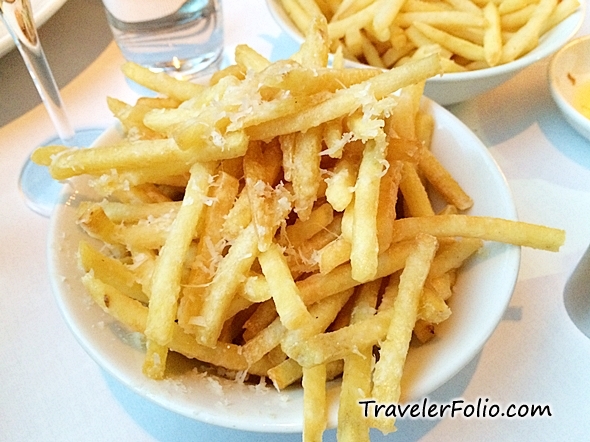 Desserts for the sweet tooth, yet not too sweet and entirely refreshing. (Right pic) My favourite is the Toffee soufflé with pecan butter ice-cream ($22). Recommended desserts include Sheep's yoghurt cheesecake with macerated melons ($20), pistachio olive oil cake, fig & thyme cream, white chocolate ice cream ($19), affogato with hazelnut macaron and ice-cream ($14), pistachio olive oil cake, fig & thyme cream, white chocolate ice cream ($19), vanilla creme brulee ($17).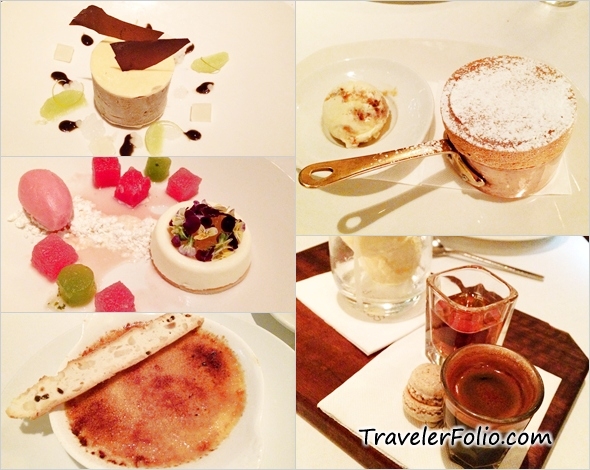 More information on Glass Brasserie at www.glassbrasserie.com.au
Eveleigh Market
One of the best ways to take a deeper look at the local food culture is to visit the markets. I always take the opportunity to pop by any fresh food market while overseas to immerse into the local lifestyle. We started the second day tour with a morning jaunt to Eveleigh Market – a farmers' market of strong community spirit with over 70 local farmers from New South Wales, some have to travel as long as 5-hr to the market to sell their produce in the heart of Sydney.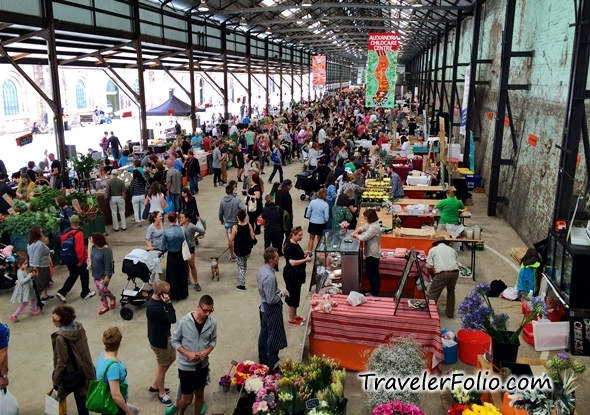 Held every Saturday from 8am to 1pm, Eveleigh Market is filled with stalls selling a variety of delicatessen, charcuterie, wine and fresh produce including seasonal fruits, organic vegetables and meats. I bought a pack of crunchy homemade granola from Farmer Jo.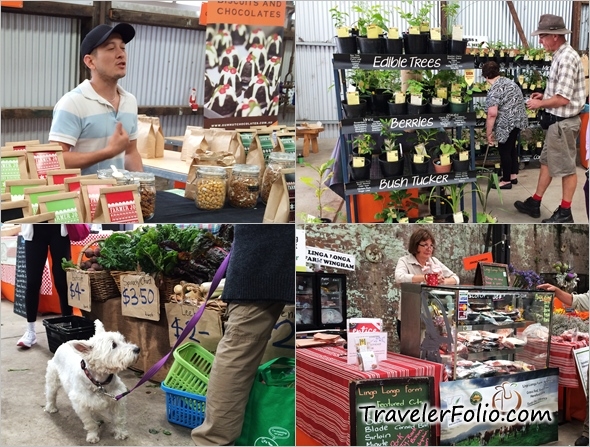 As we walked past Billy Kwong that serves Asian food, we couldn't believe our eyes the cook was none other than internationally acclaimed TV personality and celebrity chef Kylie Kwong. There were many people queuing up at the stall while Kylie Kwong was busy preparing for the orders.
We stood in front of her for a while, and someone popped this question: "Are you Kylie's sister?" "No, I'm Kylie." Immediately, we triggered the cameras.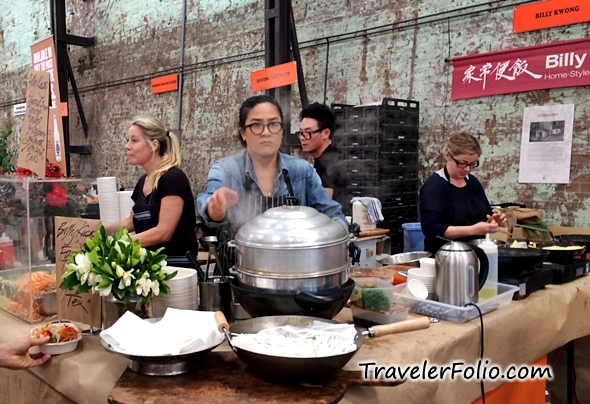 More information on Eveleigh Market at www.eveleighmarket.com.au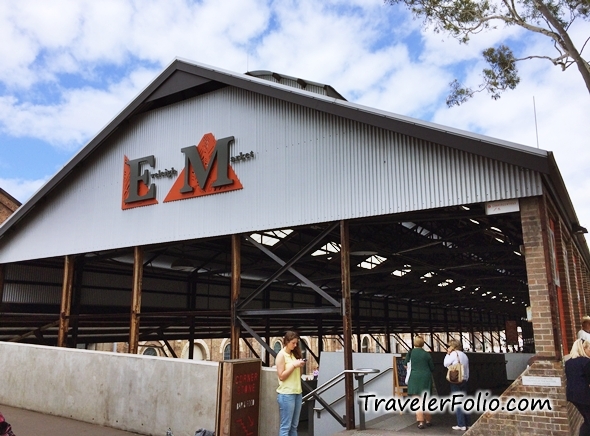 After visiting the farmers' market, we headed to Paddington Markets located at Oxford Street. Opens every Saturday from 10am, the community-based market has over 200 stalls selling Australian designed fashion and handmade accessories, handicrafts such as pottery and paintings. This is the kind of local market where you can shop for indigenous products you can't find outside Australia. Besides, Oxford Street is lined with boutiques and grocery shops so you can continue shopping after Paddington.
More information at www.paddingtonmarkets.com.au
Darling Harbour
The skyline of Darling Harbour. Walk toward Sydney Tower and you can find Hilton Sydney easily! Do you see a row of Santa floating on water?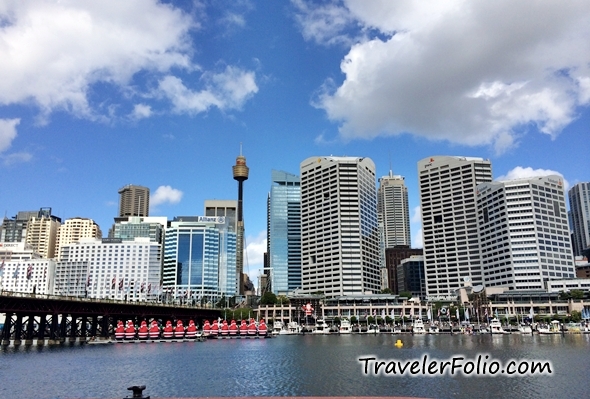 Santa Claus can float.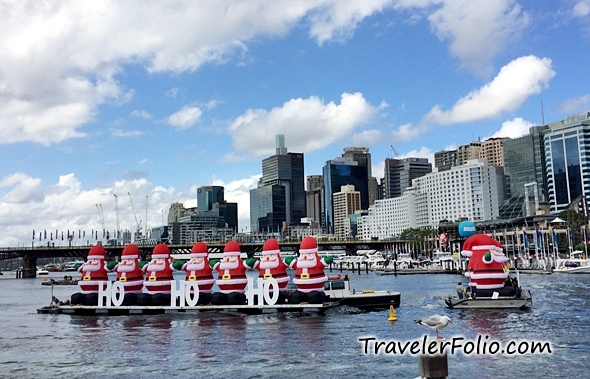 All the shopping was done. It was time to feed the hungry stomachs! Thanks to the good recommendation by Hilton Concierge, we had a scrumptious seafood lunch at Nick's Seafood Restaurant, Darling Harbour.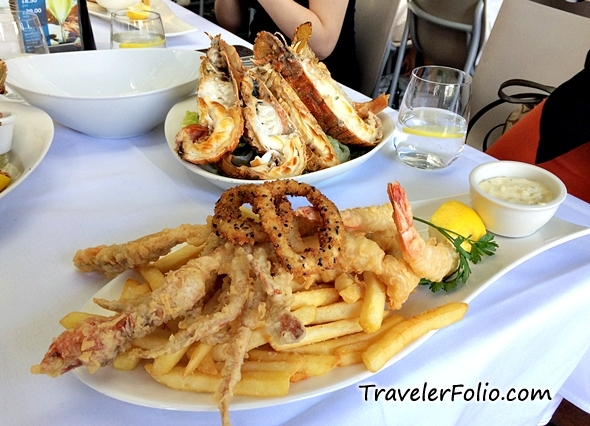 I like a variety of taste and texture so I ordered Nick's Fisherman's Basket (AU$38) that comes with my all-time favourite battered fish, golden tempura king prawns, tempura soft shell crab, panko crumbed calamari rings and chips, and homemade tartar sauce as the perfect dip.
My favourite seafood dish on the table was the Moreton Bay bugs (slipper lobster). The succulent meat was firm and grilled to perfection while retaining moisture and seafood sweetness.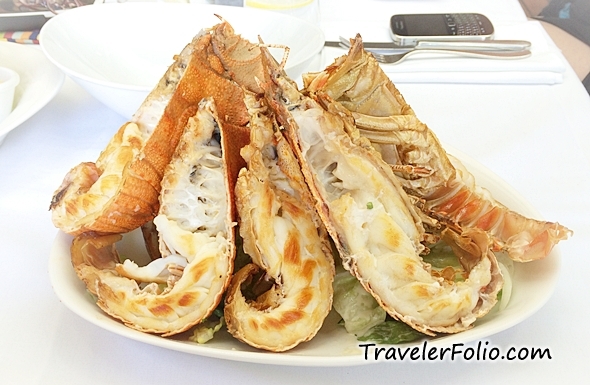 Remember to get the privilege card from the concierge as Hilton guests get a complimentary dessert worth $14 and above with every order of a main course. The desserts here not only look awesome, they are simply delish.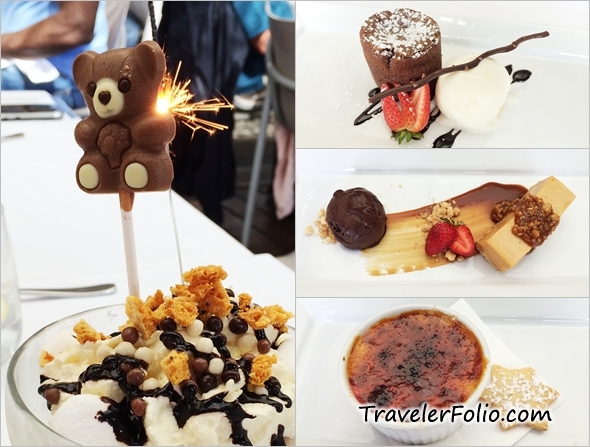 More information on Nick's Restaurant at www.nicks-seafood.com.au/NicksSeafoodRestaurant.htm
We were just in time to feel the Christmas spirit in Sydney! Christmas decorations and many huge Santa were seen around Darling Harbour. There was street performance by Aborigines playing didgeridoo and boomerangs on sale.
Street Eats
How about some appetising street eats? Within a short walk from Hilton Sydney, you will come across Harry's Café de Wheels, humble-looking yet popular for its range of freshly baked pies and pasties. For over 70 years, this food establishment has been using the original ingredients to maintain the quality and flavour of its pies.
I like peas and mashed potato so I ordered the signature Harry's Tiger. The fresh, warm pie is filled with chunky lean beef, topped with a generous serving of mushy peas, mash and gravy. Comforting food. Also try the hotdog served on soft bread roll.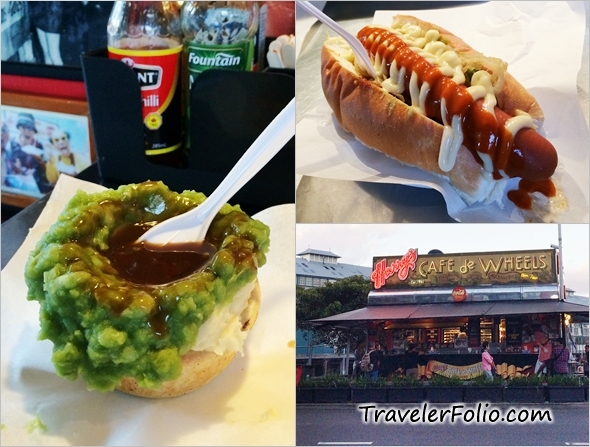 More information on Harry's Café de Wheels at www.harryscafedewheels.com.au
The night was still young and we were craving for more FOOD. Pancakes On The Rocks is often recommended as the place to go for a variety of pancakes and crepes. To be honest, the pancakes are just average. I prefer the crepe. The casual dining restaurant is open 24-hour so don't be surprised to see a queue outside its entrance. Nonetheless, it offers friends and families an option to hangout in a comfortable dining ambience.
Strawberry crepe sided with vanilla ice cream.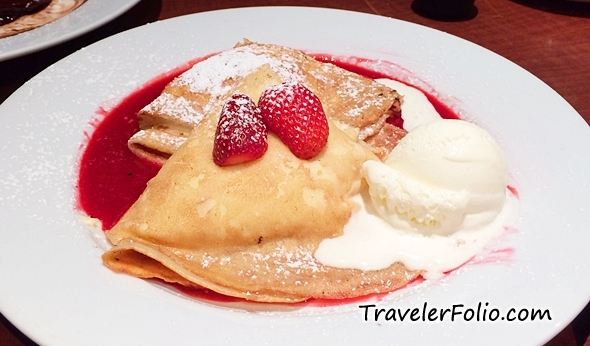 Macadamia Madness is nothing short of roasted macadamia nuts! The pancakes are served with maple syrup and vanilla ice cream. (AU$11.95)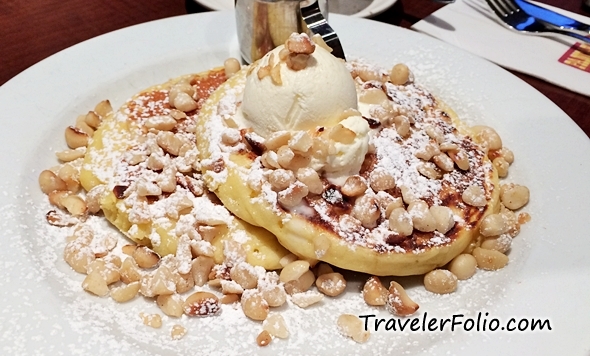 More information on Pancakes On The Rocks at www.pancakesontherocks.com.au
Sydney Seafood School
Who would have thought I would end up in a cooking class in Sydney? I think this is my first proper cooking class since home economics at school! On the third day, we attended the class in the morning at Sydney Seafood School which is located at the Sydney Fish Market, the world's second largest seafood market. My first thought: fresh seafood after class!
It was something new for me to participate while overseas, so I tried to focus during class given my short attention span. Recipes and booklets were given to us for reference. At the auditorium, the chef clearly demonstrated on how to cut and debone the fish and squid, the right way to devein the shrimp and peel off the shell, marinate and grill the meats. She also shared important tips like how to identify fresh seafood. Many students were keen to learn how to whip up the best Christmas dishes.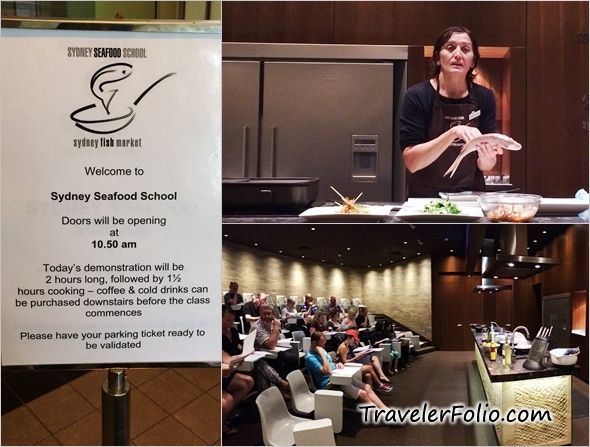 Next, we proceeded to the kitchen with a wow factor – there are custom-made, stainless steel cooking islands fitted with Fisher & Paykel appliances. In groups of 5, we chose our cooking island and started preparing our own seafood lunch. Yes, you eat what you cook at the end of the class!
Under the guidance from the chef and her assistants, we managed to complete five dishes including grilled shrimps, mussels, salmon and BBQ squid. The best part of the cooking session was, of course, tasting the delicious 'homecooked' dishes. The recipes are good! I like the flavourful marinate.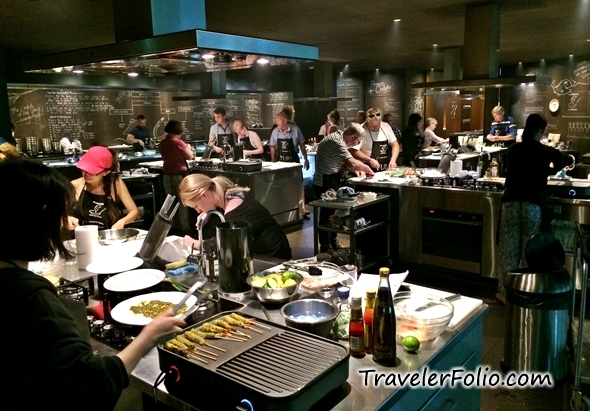 Marinating the squid before barbecuing.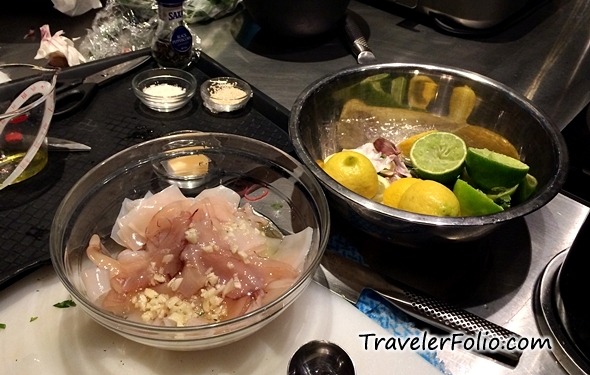 Marinating the shrimps before grilling.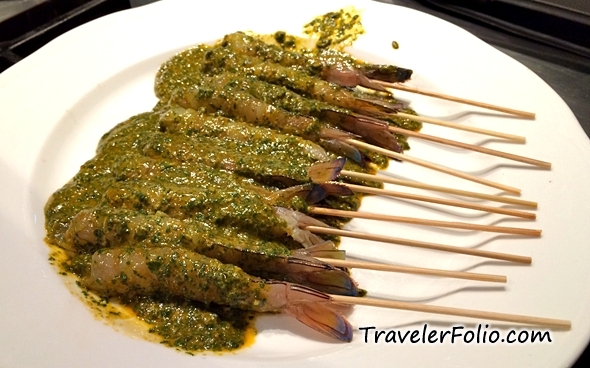 Members from other groups busy grilling the squids.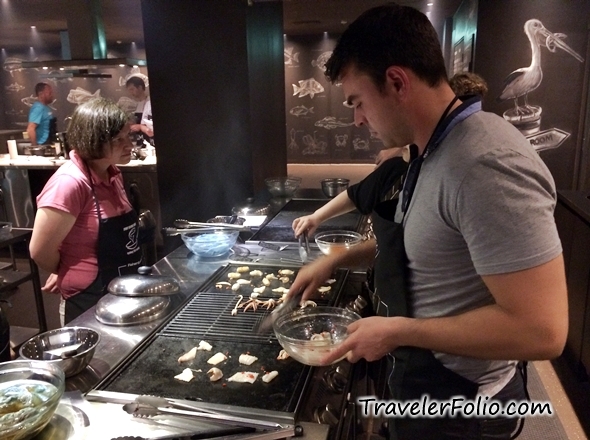 Our creations!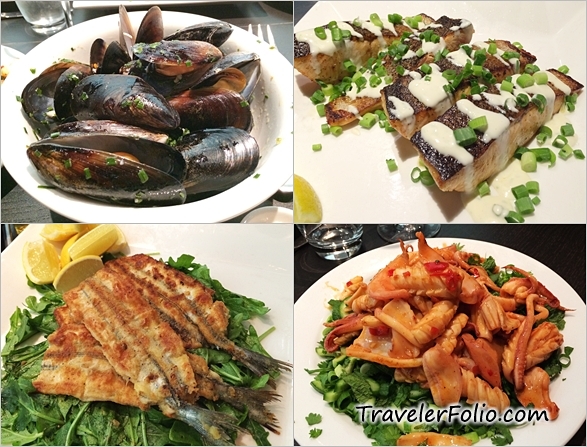 At the cosy dining room where we enjoyed our food with complimentary wine and beverages.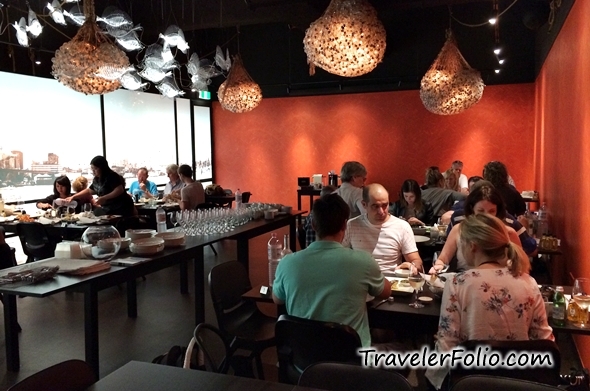 More information on Sydney Seafood School at www.sydneyfishmarket.com.au/SeafoodSchool/AboutSSS/tabid/82/Default.aspx
German Fare
For a dramatic change of ambience, probably to get a feel of dining out in Germany, let's head to Lowenbrau Keller at The Rocks area. The authentic Munich-style restaurant is very popular in Sydney, also quite a place for tourists. It offers imported biers and German fare that typically comes in big portions, with fun lively entertainment to energize the vibe of the precinct.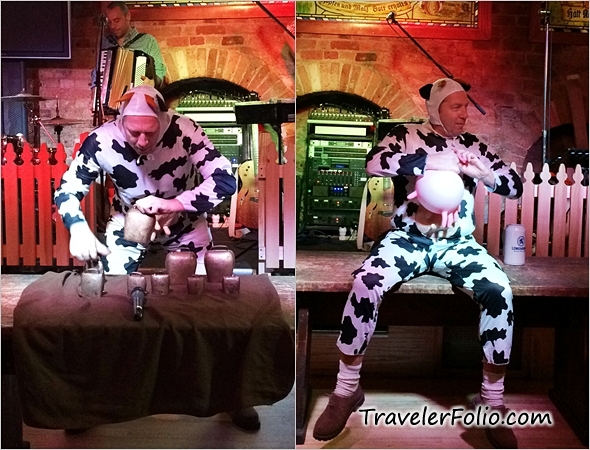 I was greedy to go for the oven roasted pork knuckle (AU$36). Oh man, it was huge! The crackling crispy skin was highly addictive. Beneath the nice golden-brown crust, the tender meat was oozing with flavoursome juices; just a bit salty at certain bites.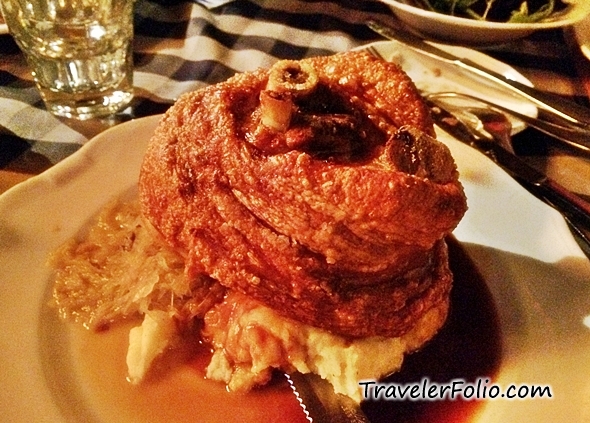 You can't miss the haus-made sausages at a German food establishment. We ordered Lowenbrau's Brauteller (AU$30) consisting of veal sausage, thuringer, frankfurter, cheese kransky, numberger sausage, sauerkraut and mashed potato.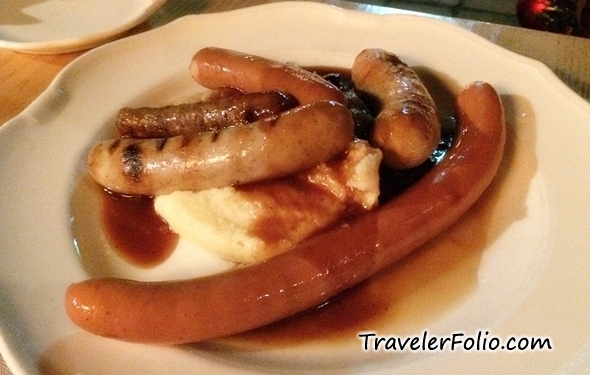 More information on Lowenbrau Keller at www.lowenbrau.com.au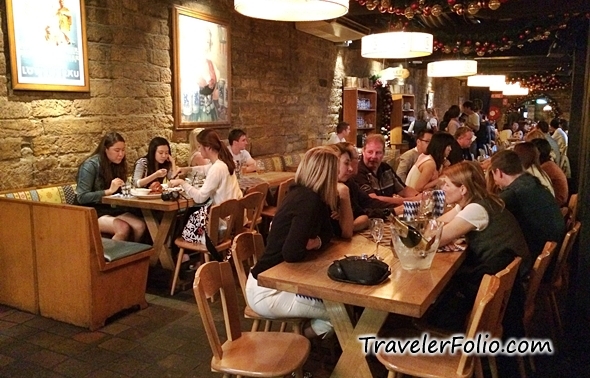 To venture out further, Melissa and I took a 30-min ferry at Circular Quay to Manly Beach for the sun and sea. There are many restaurants and retail outlets at the touristy area. The other girls headed to Bondi Beach by taking the bus near Hilton Sydney. Guests can check with the Hilton Concierge on places to go and recommended restaurants. The staffs are always very helpful to pinpoint list of places on the map and what transport to take.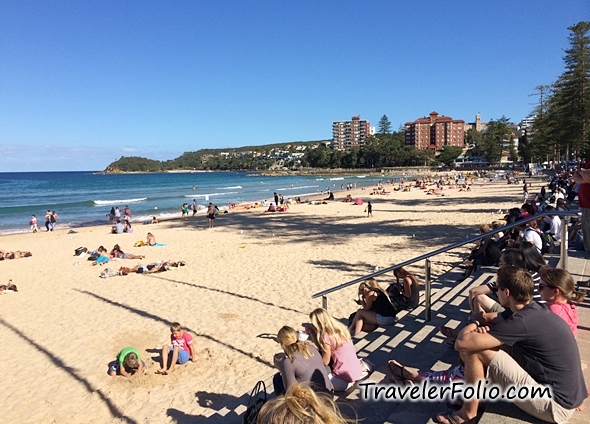 Take a ferry out from Circular Quay to soak in the mesmerising views of the city and its surroundings.
I feel like I was having a staycation at Hilton Sydney, given its excellent location to explore the nearby attractions, shopping streets and plenty of interesting dining options, all within short walks. It wasn't hectic this way as we could always head back to the hotel for a short break to rejuvenate before continuing to venture out for the rest of the day.
Hilton Sydney
488 George Street, Sydney, Australia NSW 2000
Hiltonsydney.com.au