This year's post on Mid-Autumn Festival: No more pictures of moon cakes; I grew tired of them. They are high calorie, high sugar, unhealthy, and don't come cheap! At least I save some calories for other sinful food. 😀
OK! Brought back some pics and a video clip from Mersing as we spent the occasion over the weekend in Malaysia. You know, Mersing is a very small coastal town and it's popularly known as the gateway to Tioman island and other exotic islands off the east shore of West Malaysia.
Here is a short video clip of families and friends walking in the lantern parade together with some performers on decorated vehicles. The lantern parade was privately organised by an established temple in Mersing.
Nowadays, at least in Singapore, most kids carry different shapes and sizes of lanterns that are battery operated. So it's really nice to see traditional kind of paper lanterns lit with candles. As a kid, I like lanterns with candles 'cos I like to play with fire. -_-||| And it hurt when hot wax dripped on my hands… And disappointments over burnt lanterns…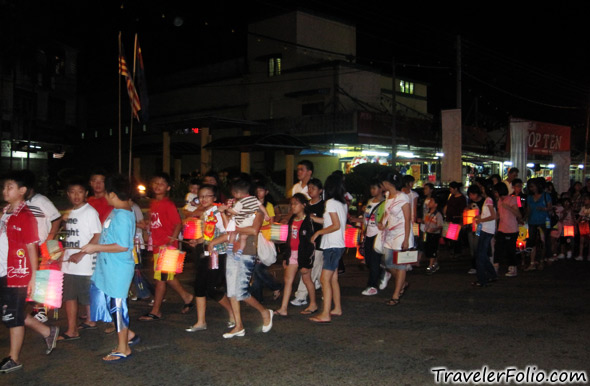 The legendary Chang'e and her companions on the Moon – the jade rabbit that manufactured elixirs and the woodcutter Wu Gang who was banished to the Moon.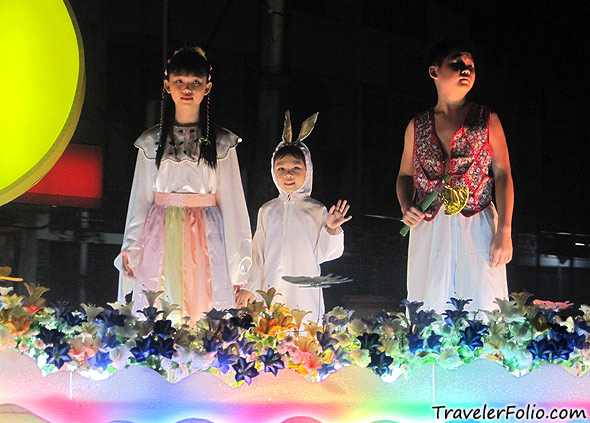 Little Chang'e scattering flower petals down the road during the parade.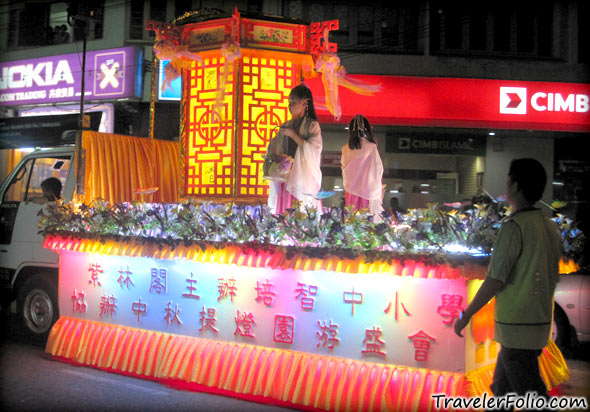 On the same night as the Mid-Autumn Festival 中秋节 (aka Moon Festival or Lantern Festival or Mooncake Festival..phew!), the folks were also celebrating "Tua Pek Kong 大伯公" God Festival. You will see this old yet colourful Chinese temple known as Hock Soon Temple at the entrance of Mersing town.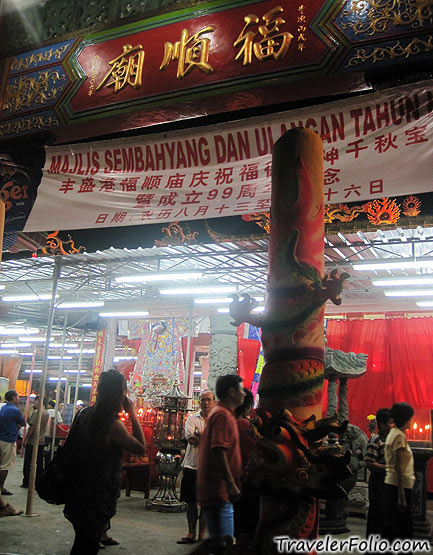 A life-size paper boat that, I supposed, would be burnt as an offering for prayer. Typically, you'll see lucky numbers on offerings during such an occasion… 6618, huat ah! LOL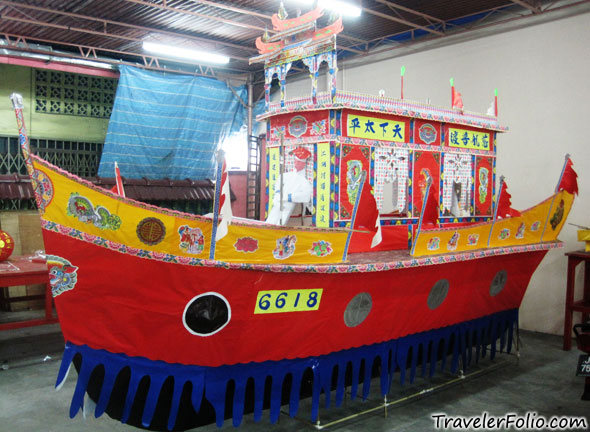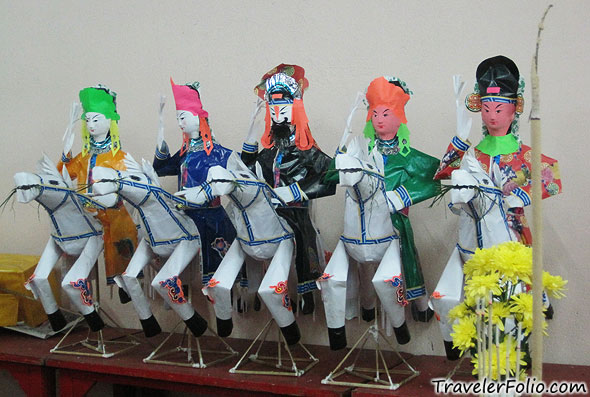 The man was cutting up a big roasted pig and later distributed the meat and other food to the devotees. Mind you, each kind of food on the table has prosperous meaning to the Chinese OK! As usual… 😉
Ceremonial food offerings laid out on the altars.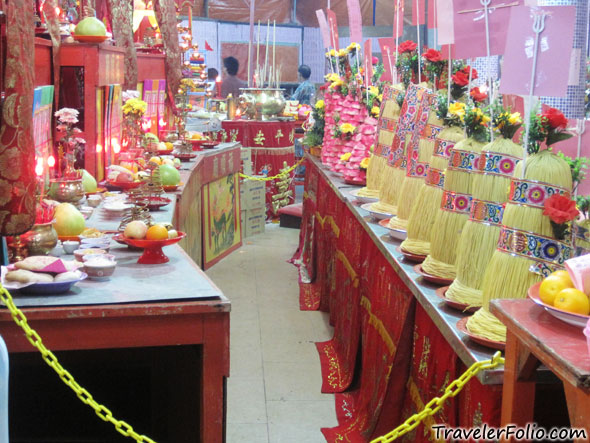 Next, we adjourned to a hall next to the temple for a singing concert. Don't expect it to be like the F1 Rocks Concert! Nevertheless, it was good entertainment on the Lantern Festival night in this quaint little town. BUT! Jacky suddenly popped out a question,"The Hungry Ghost month is over, isn't it?" During the Hungry Ghost month, there are "Getai" (make-shift stage built for performances) everywhere and it's a tradition that the front rows are reserved for the spirits… eeee… so do you see that the front rows were empty below? No, I didn't sit on the reserved seat!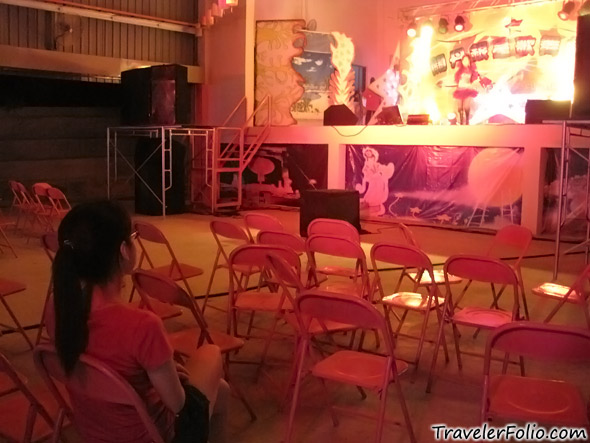 One of the singers with a sexy fancy outfit.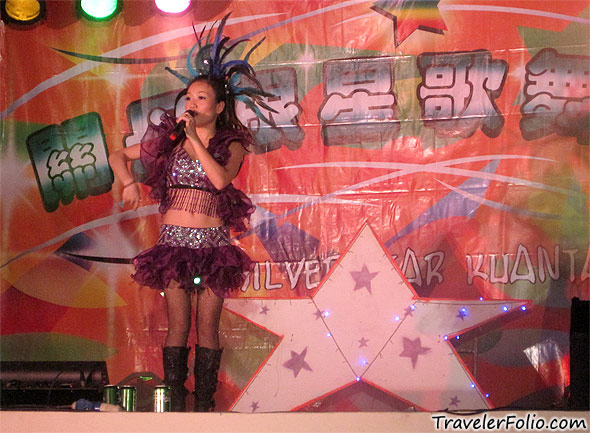 A typical scene of the rustic fishing town, with many fishing boats lining along the river under the blue sky. Unfortunately, trash is also floating around the river. Spot the largest trash. It's fuming!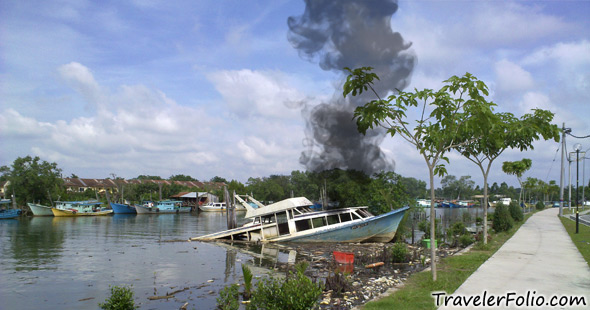 Picturesque. If only I could paint.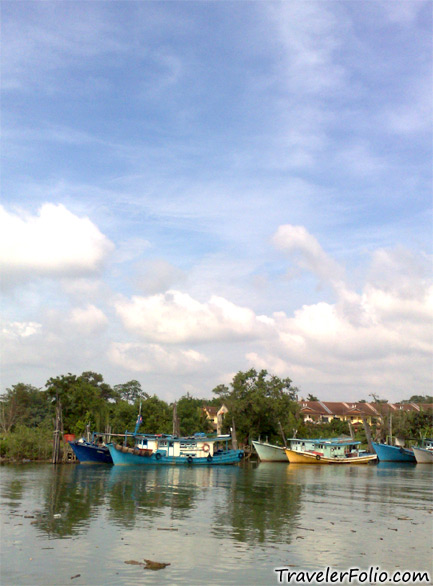 There are many pondok (Malay word for such a structure) along the roadside. Btw, these photos were taken from Pasaraya Kini (supermarket) near the bus terminal in Mersing town.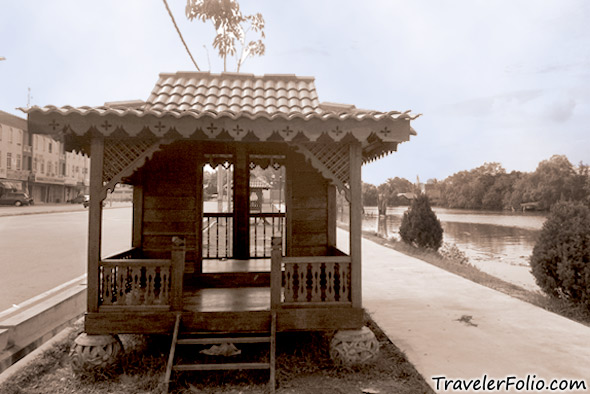 Where to eat in Mersing?
We always go to this coffee shop "Restoran Al Hamid" for the Cendol, which is a shaved ice dessert with coconut milk, green starch noodles with pandan leaf flavour, soft red beans and palm sugar. It's said to have the best Cendol in town. Also, you can try their Roti Canai (aka Roti Prata in Singapore). The Roti Canai is not oily at all yet it's crisp on the outside. Usually, I will ask for fish curry as it's less oily. This coffee shop is located along Jalan Dato Mohd Ali, opposite the yellow/orange Mersing Hotel.
Public buses at the terminal. Many years ago, I ever boarded a similar non air-con public bus and stood all the way for 2hrs to Mersing. Not a comfortable ride as some inconsiderate passengers were smoking on board. :S Hopefully things get better now. Anyway there was free flow of music as some youngsters were playing guitars on the bus.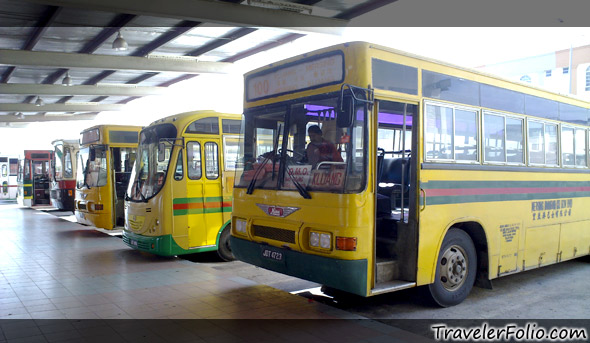 That's a sumptuous home cooked meal!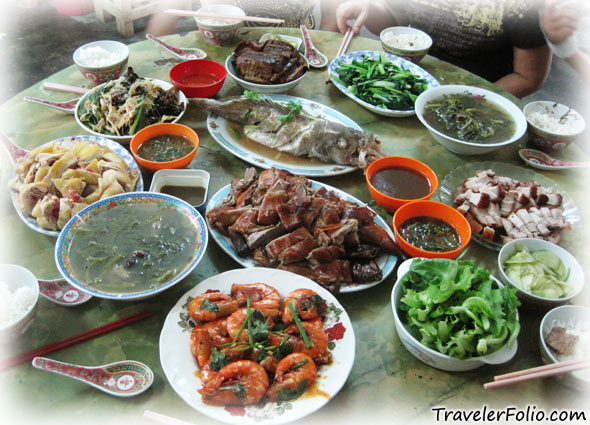 You may be interested to visit Mid-Autumn Festival in Singapore 2008