Picture this: Luxury hotel stay + World class culinary experiences. Mouth-watering food prepared at the Celebrity Chef Restaurants.
How about a peek behind the scenes and meet the chef for an insightful tour at the kitchen?
One of the interesting highlights of the Asia's Dining Destination package is the Kitchen Tour of the Celebrity Chef Restaurants and the chance to interact with the chefs and learn about food preparations at Santi, Guy Savoy and Waku Ghin.
And we even had the rare opportunity to tour the hotel main kitchen, Heart-of-House-Tour, at the basement. The Executive Chef of Marina Bay Sands, Chef Christopher, warmly welcomed us into the hotel kitchen and show us around the work areas. This section of the hotel is really huge with a large workforce of employees busy working around the clock to give the best service they can to hotel guests.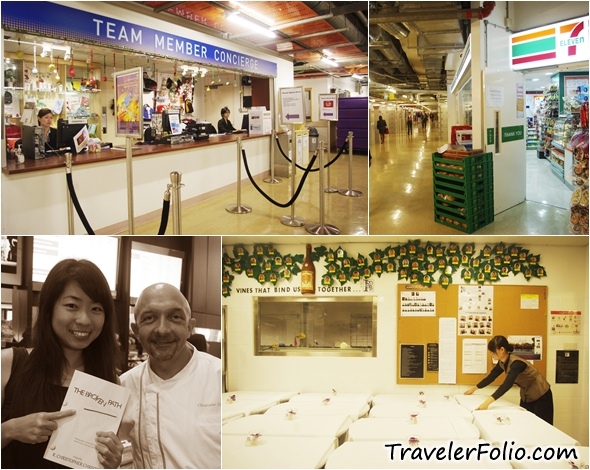 The kitchen areas are well-organised and tip top clean! We visited the baking section and I drooled at the desserts and pastries! The dynamic work environment boosts positive vibes with neatly dressed cooks and chefs all friendly to visitors.
And we were surprised to see a 7-11 convenient store at the Heart-of-House area to serve the hotel staff.
Celebrity Chef Restaurants
Marina Bay Sands offers epicureans a diverse selection of gourmet pleasures that include fine-dining experiences spearheaded by renowned celebrity chefs from around the world.
Santi
I was particularly excited to visit this restaurant that day because both Jacky and I were flying off to Barcelona the very next day after our staycation at Marina Bay Sands! Plus, my food blogger friend has been telling me Spanish cuisine is one of the best in the world.
I could feel the Mediterranean ambience as soon as we entered that huge wooden door of Santi. The celebrity chef restaurant exudes warm welcome and homely charm that makes one feel so relaxed to dine in.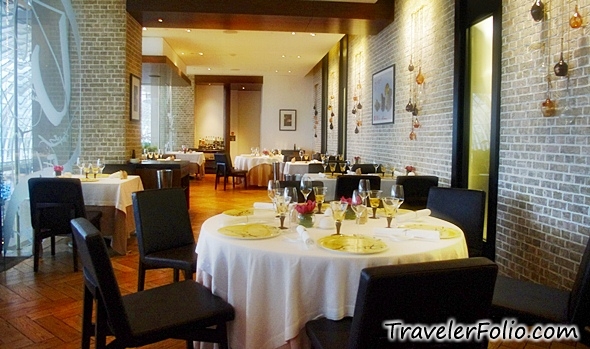 Here you can see how the food is prepared in the kitchen through the glass panel. This is no Hell's Kitchen and you would be disappointed with no angry Chef Gordon Ramsay yelling at the cooks. We entered the kitchen only to be lured in by a whiff of aromas.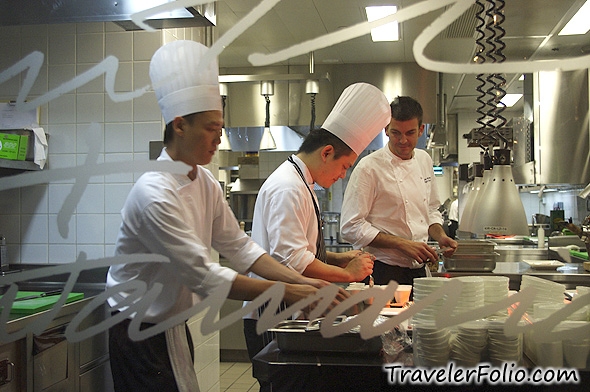 At the kitchen, the chefs were meticulously preparing the ingredients at their work stations. They use fresh, seasonal ingredients to serve the taste of the season.
Meet the friendly Executive Chef Daniel Chavez. He walked us around the kitchen and we past by pots of pipping hot stew that triggered hungry pangs.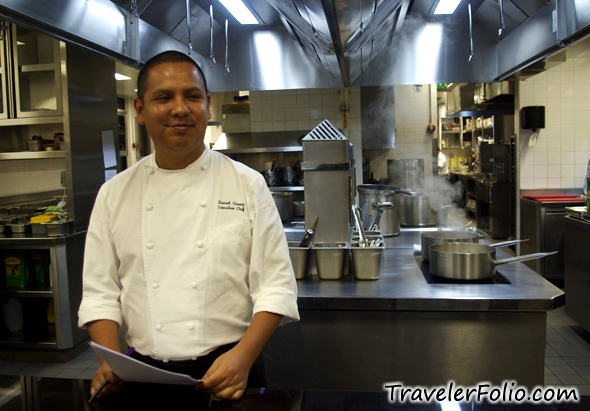 Executive Chef Daniel shared that Santi uses quality ingredients. He even showed us to a special compartment where chickens are hung for dry aging. Fellow food blogger Keropokman of singapuradailyphoto.blogspot.com wants to try doing this at home. I wish him success!!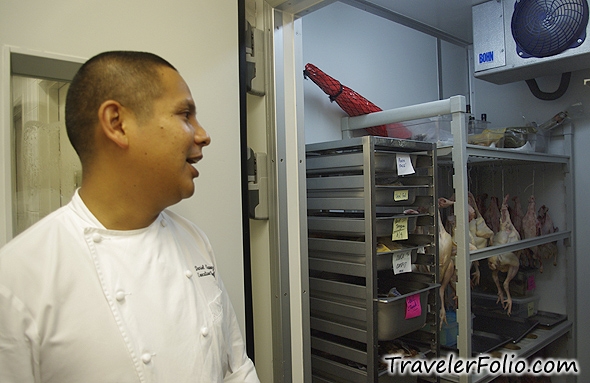 At the end of the tour, we were treated with the signature Joselito Iberic cured ham with tomato bread toast and Gazpacho Andaluz vegetable soup, a good starter to whet your appetite before dinner.
The type of cuisine at Santi is more Mediterranean-influenced, as compared to the usual Spanish food. At the dining table, we couldn't wait any longer to savour divine delicacies. In Barcelona, we tried some local delicacies at the recommended restaurants, and I can't agree more that Santi is still my favourite! So now you know you can get a taste of Spain at Marina Bay Sands.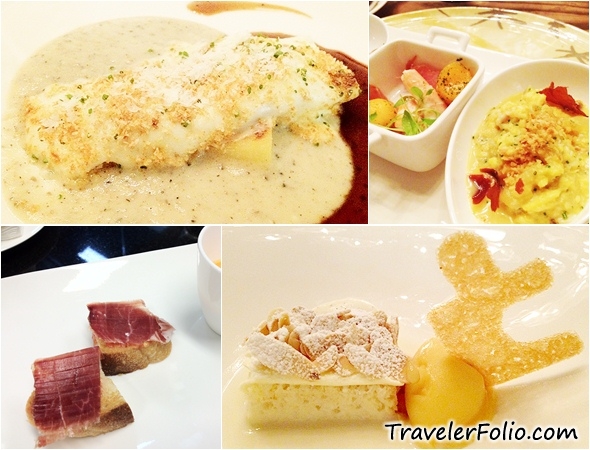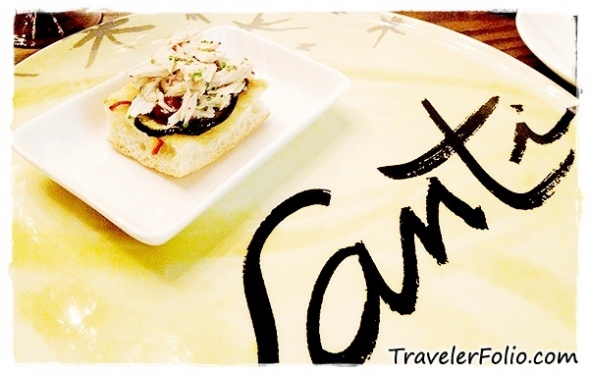 Our Santi's menu: Baby Calamari "A La Plancha" with sofrito and chimichurri sauce, Prawn and Melon Salad with lomo iberico, paprika oil and apple puree, Sri Lankan Crab with potato and scrambled eggs, Mushrooms Al Ajillo with Swiss chard, Pinchos Morunos with artichokes deep friend, Traditional Catalan Caneloni with black truffle sauce and Tarta Sara traditional Catalan almond cake.
SANTI
Location: Casino level 2. Access via The Shoppes at Marina Bay Sands.
Website: www.marinabaysands.com/Singapore-Restaurants/Fine-Dining/Santi/
Waku Ghin
Waku Ghin at Marina Bay Sands is Tetsuya Wakuda's only outpost of his reputable restaurant in Sydney, Australia. I've long heard about this first-class restaurant that serves a degustation menu based on high quality seasonal produce. Here you can sample small portions of European-Japanese fusion dishes while watching the chef prepare and cook right in front of you.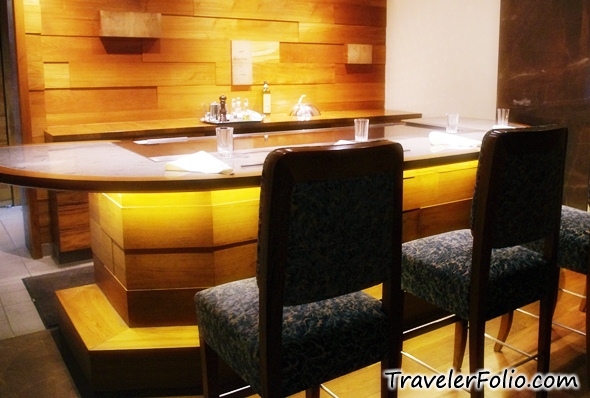 We were ushered into a chic, contemporary room where the Sous Chef Cory Soo Thoo was waiting for us at the immaculate countertop bar. What caught my attention was the box of fresh seafood containing sea urchins, lobsters, fish and prawns. Some were still alive.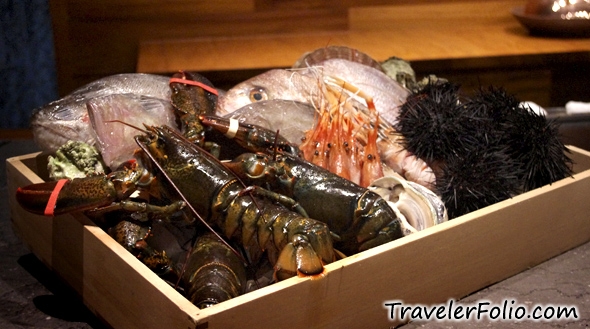 Oh, the room must be smoky and everyone would smell like food afterwards. Nothing of that sort. There was no noisy clanking and hot oil splatters at the countertop bar. The chef was 'gentle' with his cooking and often wiping clean the countertop.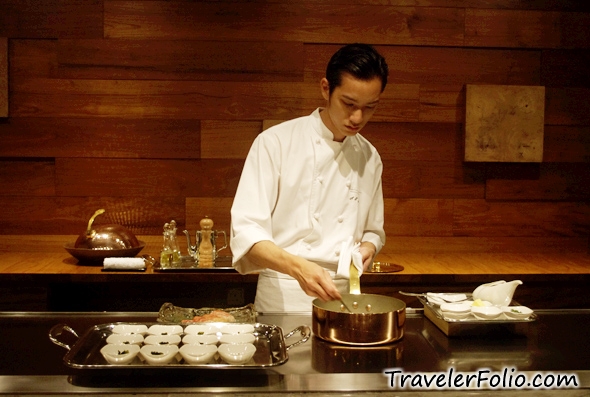 Sous Chef Cory adding the broth on each serving.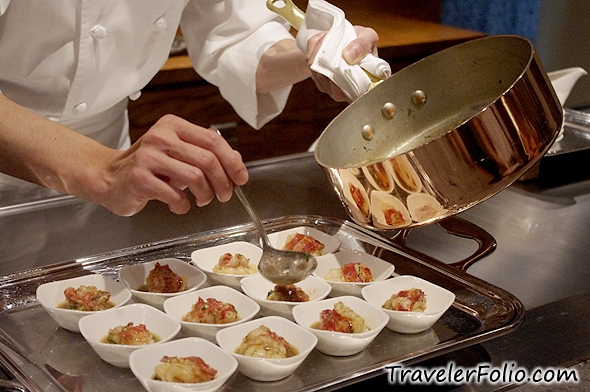 So what did we get to taste? Braised lobster! I had a chunk of succulent lobster meat with a delicately firm texture and a burst of seafood sweetness. It's highly addictive!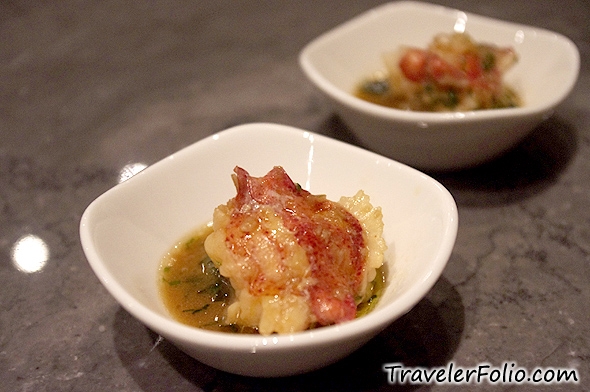 Waku Ghin
Location: Casino level 2. Access via The Shoppes at Marina Bay Sands.
Website: www.marinabaysands.com/Singapore-Restaurants/Fine-Dining/Waku-Ghin/
Guy Savoy
This exquisite venue at Marina Bay Sands offers French cuisine aficionados the ultimate gastronomic experience of dining at a restaurant that is hailed from the three Michelin stars Guy Savoy in Paris.
We met Chef Charles-Benoit Lacour, Chef de Cuisine chez Guy Savoy at Marina Bay Sands. He had a stint at Guy Savoy Paris before coming to Singapore.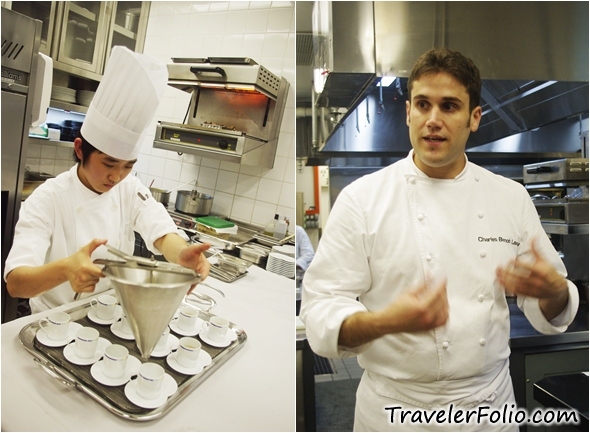 During the kitchen tour at Guy Savoy, the Chef and the manager were generously feeding us French macaroons and super delicious chocolates! A sucker for dessert, I felt like I was in heaven. Crisp outer layer and chewy in the centre, the freshly made macaroons are the best that I've ever tasted! The signature 'Artichoke and Black Truffle Soup' with toasted mushroom brioche complete the savoury taste bud attack.

Guy Savoy uses the finest ingredients from France, Europe and all over the world. To ensure freshness at its best, food preparation is done at the kitchen here.
Our sensory gastronomic experience at Guy Savoy did not stop at the kitchen tour. We had an intimate food affair of 'Bites and Bubbles' at the lounge area. A popular concept from Guy Savoy Paris, the 'Bites and Bubbles' menu serves small portions of signature delicacies so that you can taste more of each affordably.
The Small Bites
2 Course – S$40++
3 Course – S$50++
4 Course – S$60++
Together with Glenn of HungryEpicurean, Amanda and Jacky, we seated comfortably at the lounge area like having a nice and cosy gathering, chatting about our travel and foodielicious experiences while waiting to be served with the finest food from the kitchen.
What was in store for us? Oyster! The highly-prized seafood has always been the emphasis of fine cuisine. Sorry, I'm not a fan of raw oyster. But according to Jacky, he tasted the utmost freshness of the Brittany oyster with a burst of natural seafood sweetness in ice gelée.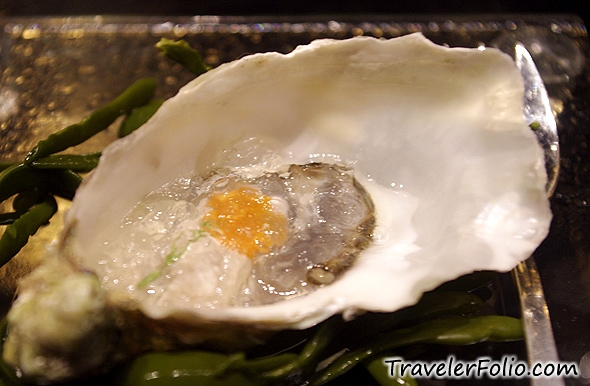 I love this crunchy and succulent New Zealand scampi the best! It's drenched in light mushroom jus and laced with avocado and chanterelles for that refreshing taste.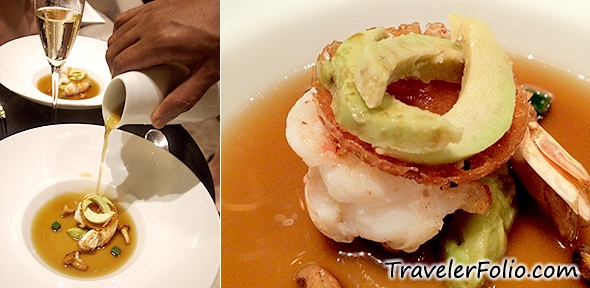 Probably not used to eating raw minced meat, I couldn't bring myself to finish the beef tartare. But Jacky cleared the whole plate! I mixed the raw egg yolk with the tartare and nibbled some of it. The beef tartare is very soft and tender. It tastes pretty well with the egg yolk and melts in the mouth. I really like the hot and crisp 'pommes dauphines' potato puffs. They make such a great snack.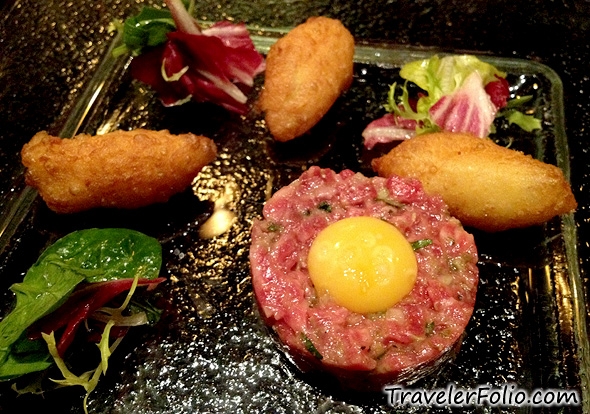 The little pot of the day – chocolate mousse and vanilla ice pudding. As a chocolate lover, I aimed for the chocolate mousse. No sense of guilt at all, you know, it's worth the calories!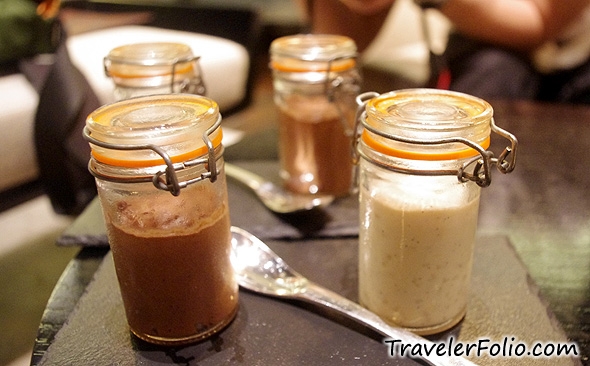 The modernist dining room at Guy Savoy @ Marina Bay Sands.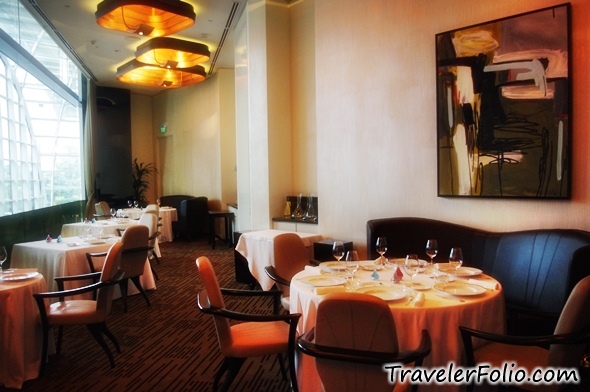 Guy Savoy
The 'Bites and Bubbles' menu is available from 6:00pm – 10:30pm every day.
Location: Casino level 2. Access via The Shoppes at Marina Bay Sands.
Website: www.marinabaysands.com/Singapore-Restaurants/Fine-Dining/Guy-Savoy/
Taking a break from food porn: water reflection on the pond near Pita Pan bistro and the ArtScience Museum.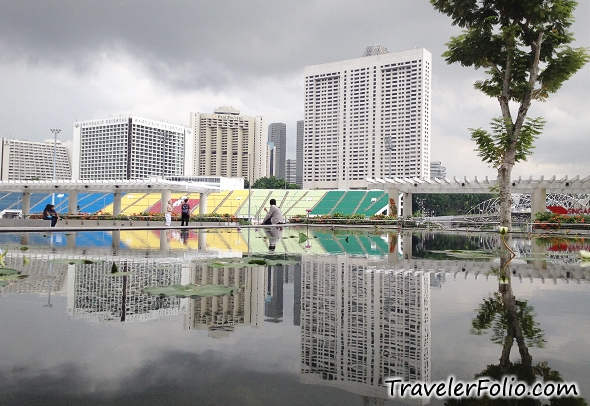 Pita Pan
Pita Pan brings the exotic cuisine of the Mediterranean to Singapore and offers a fully vegetarian menu for healthy eating. Diners can indulge in traditional cuisine honed from generations-old recipes that's popular in the Middle East.
I was surprised and extremely delighted to see my favourite dishes I had in Israel at Pita Pan! The red Shakshuka can top the list anytime. Served in a hot pan, the rich spicy sauce of tomatoes, peppers and onions topped with two poached eggs look simple yet very appetizing. And the white Shakshuka comes with feta cheese, without eggs.
To get a taste of different food items, we had the Mediterranean platter filled with hummus, falafel, babaganoush, dolma, mixed salad of olives and chillies, and served with pita bread. The unforgettable tastes of what I had in Israel, not forgetting the delicious couscous & soup!
Now I know where to get my fix for my all-time favourite Shakshuka!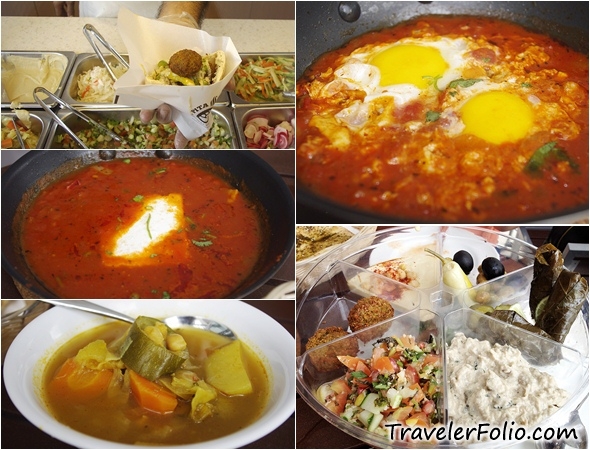 At Pita Pan, we can make our own Pita Pocket. I filled the pita bread with hot and crispy falafel balls and it's one of our favourite food during the Once in a Lifetime 2.0 Israel trip!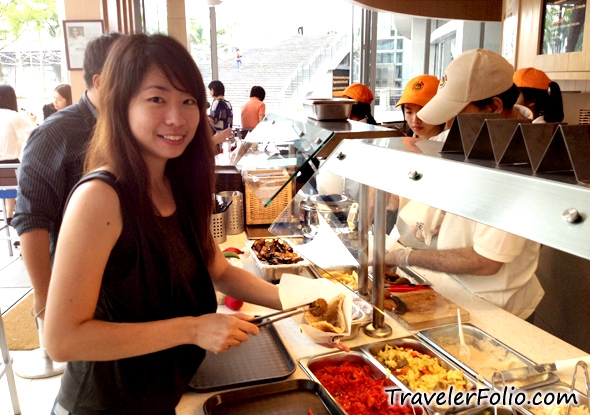 Pita Pan
Location: Bay Level, #01-87, The Shoppes at Marina Bay Sands (in front of ArtScience Museum)
Website: www.marinabaysands.com/Singapore-Restaurants/Casual-Dining/Pita-Pan/
Rise
Rise and shine! I really enjoyed the breakfast buffet at this open-concept restaurant that's located in the hotel lobby. A wide array of international delights is available for a sumptuous breakfast to start the day. There's dim sum, congees, local favourites like roti prata and Western favourites like omelettes, smoked salmon, pastries among other yummilicious food.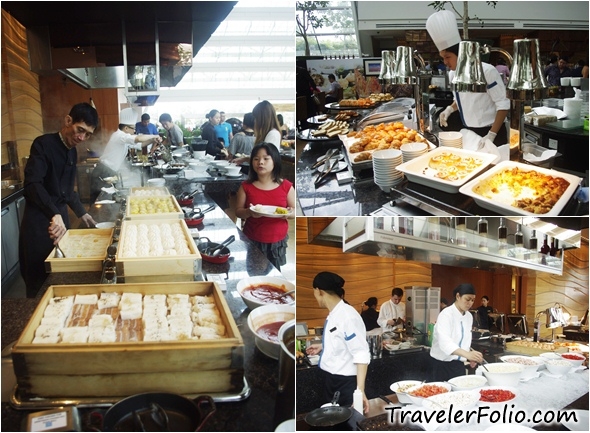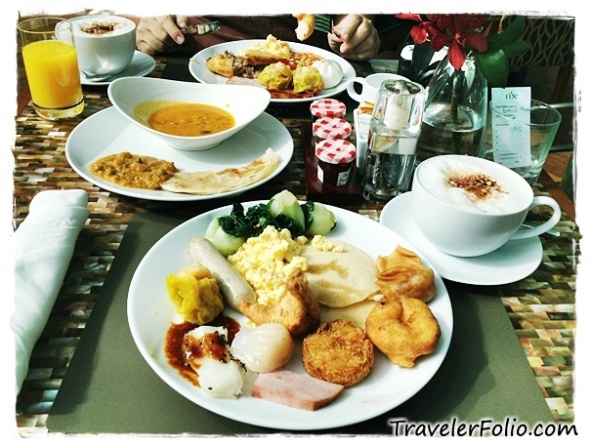 Look at my power breakfast!
The Rise breakfast buffet is only catered for hotel guests.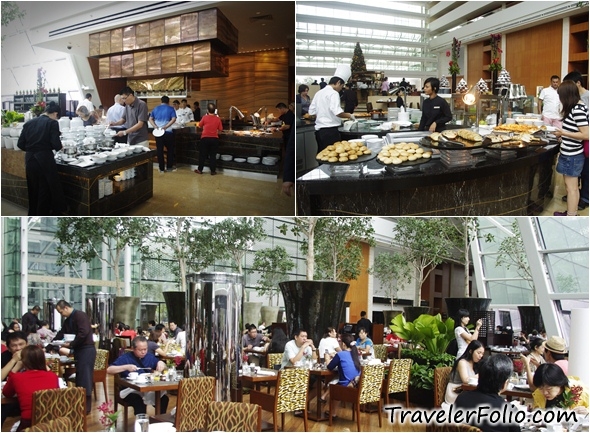 Carnivore Brazilian Churrascaria
Attention Meat Lovers!!! This is your dining destination to savour an array of quality meats from skewer; from beef hump, rib, rump, lamb leg to chicken thigh, chicken heart and more tender marinated meats which are rotisserie-cooked over open fire to perfection, sealing in the juice.
It was fun dining at the Carnivore. Friendly knife-wielding passadors (meat waiters) moved around our table, skilfully carving grilled meats from long skewers right in front of us.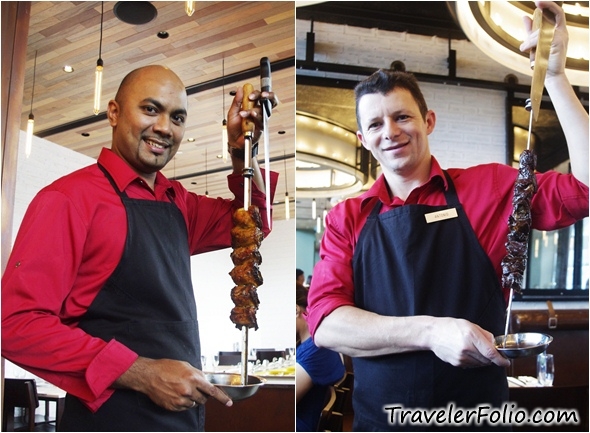 We were trigger happy and couldn't wait for the entertaining passadors to serve us so that we could snapshot their knife-wielding action! Diners are given a green disc to signal to the passadors for more meats, and the red disc is to stop the service.
The well marinated grilled meats still retained the moist and natural sweetness. Tender and tasty. The grilled pineapple was juicy and so refreshing it was a good complement to the meats.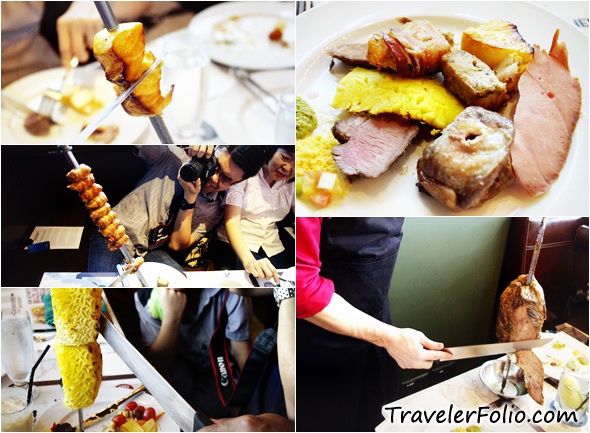 The crust of the grilled meat seals in the flavourful juices and retains the moistness.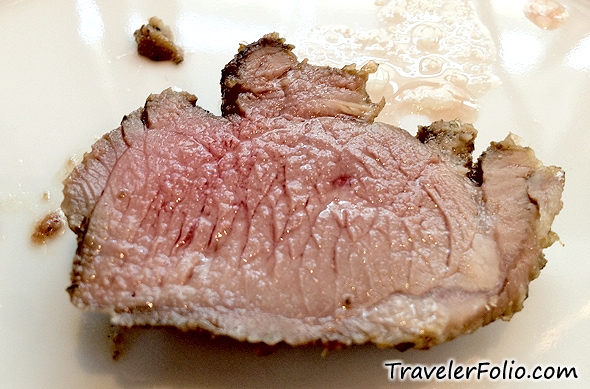 Carnivore is a dessert paradise as well! We were served with lip-smacking good strawberry shortcakes, churros and ice cream. What a toothsome way to end the meaty affair!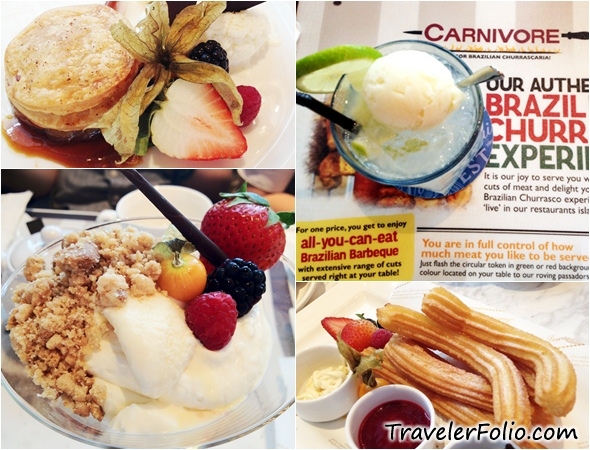 Carnivore Brazilian Churrascaria
Location: Bay level, L1-80, South wing of The Shoppes at Marina Bay Sands.
Website: www.marinabaysands.com/Singapore-Restaurants/Casual-Dining/Carnivore-Brazilian-Churrascaria/
The Asia's Dining Destination Package is currently available for booking through the Marina Bay Sands Call Center at +65 6688 8888. As the rates of the package varies based on the daily rates, guests are recommended to call in to check on the rates prior to booking.

Find out more on Marina Bay Sands Asia's Dining Destination.
Read the first part of Marina Bay Sands Asia's Dining Destination featuring The Club Room, The Club restaurant, Sands Skypark and db Bistro Moderne.