This is our second staycation and we are back for an epicurean journey at Marina Bay Sands – Asia's Dining Destination!
The view from The Club Room on the 48th floor leads to a modern cityscape of Singapore with skyscrapers and iconic landmarks like the durian-shaped Esplanade, the Marina Bay Floating Platform, the world's largest floating stage, and the lotus-shaped ArtScience Museum, the first of its kind in the world.
Previously, we stayed at the Orchid Suite on the 57th floor that is facing the gorgeous city view as well. It's absolutely therapeutic to simply relax and soak in the mesmerizing panorama from the full length windows of the guest room at MBS, a tranquil retreat from the hustle and bustle, yet so close to our home.
Who says we need to get out of Singapore for a well-deserved holiday?
I was so taken by the surroundings that I unleashed the Picasso in me and painted this … if you believe!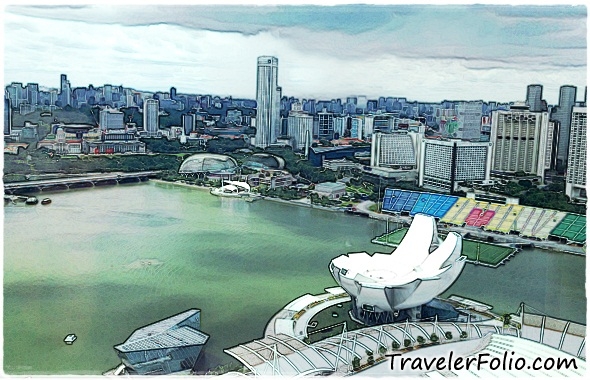 The Club Room @ Marina Bay Sands
The Club Room that was our home away from home for two nights at Marina Bay Sands, Singapore hotel accommodations. The 62-square metre space that lets in ample natural light makes for an extravagant stay with a King bed, a cosy sofa area and an executive work desk. The spacious luxury appointed bathroom integrated a freestanding bathtub, a walk-in shower and two basins save the queue for washup!
To stay connected and entertained, the Club Room is equipped with high-speed internet access, iPod/iPhone docking station and a 42″ interactive flat-screen television with Cable TV and Movies On Demand. Make coffee like a barista with the Nespresso machine at the mini bar and chill… The daily turndown service just enhances the hospitality experience.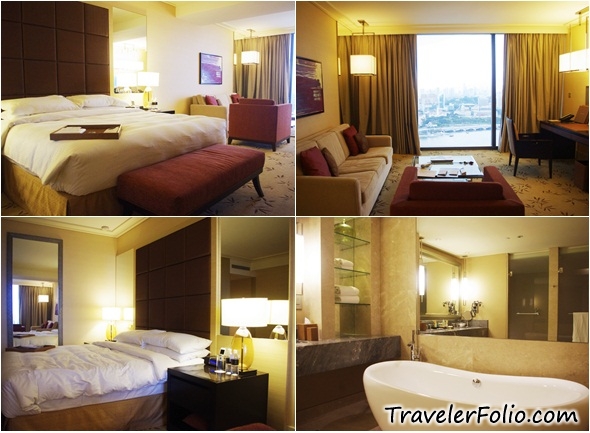 Foodies like us will be delighted to enjoy the exclusive privileges of The Club Room: Breakfast, Afternoon Tea, Evening Cocktail & Canapé Hour and all-day non-alcoholic beverages are complimentary at The Club on the 57 floor at the Sands SkyPark.
What I like most about The Club is relishing mouth-watering food while soaking in the sea view from 57 floor.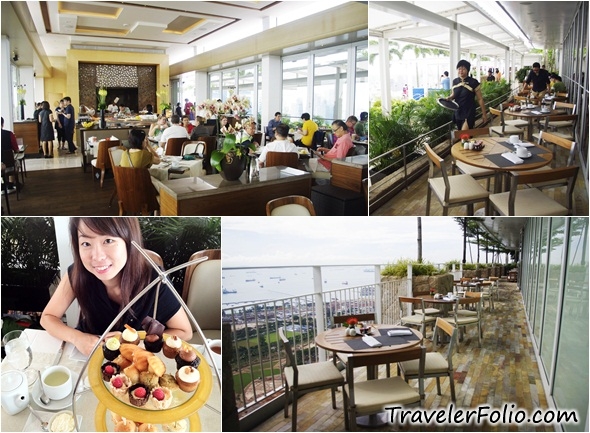 The Club High Tea with a delicious spread of pastries, sandwiches, cakes, hams, other appetizing snacks and beverages like mocktails.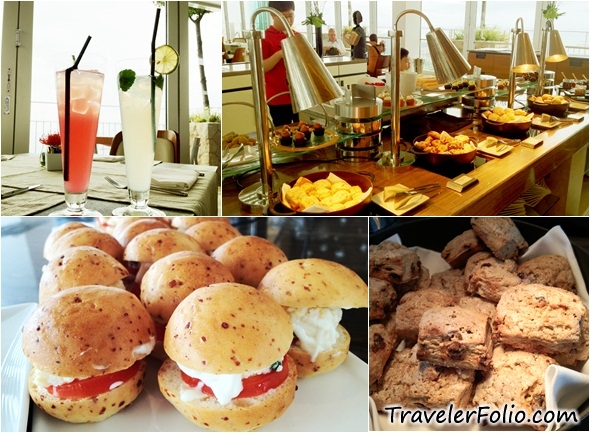 I like the savoury sandwiches.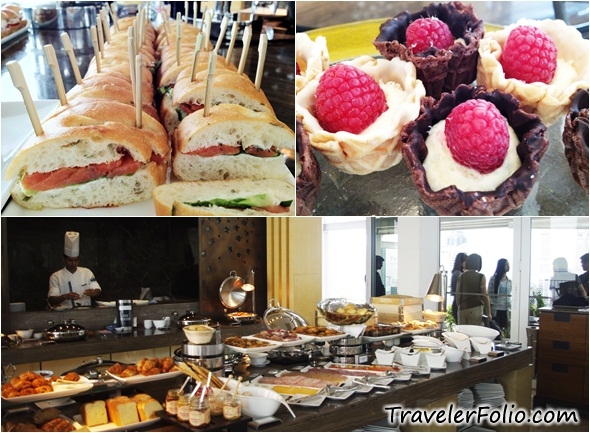 Sands Skypark
With complimentary access for hotel room guests to Sands SkyPark, you can go for a dip at the ever popular infinity pool overlooking the breathtaking skyline of Singapore, in the day and during sunset for different views. The Club Room guest has the exclusive entry to Banyan Tree Fitness Club for some serious work out!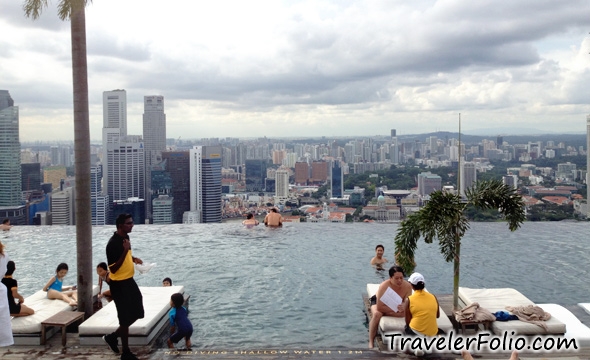 The Sands Skypark Observation Deck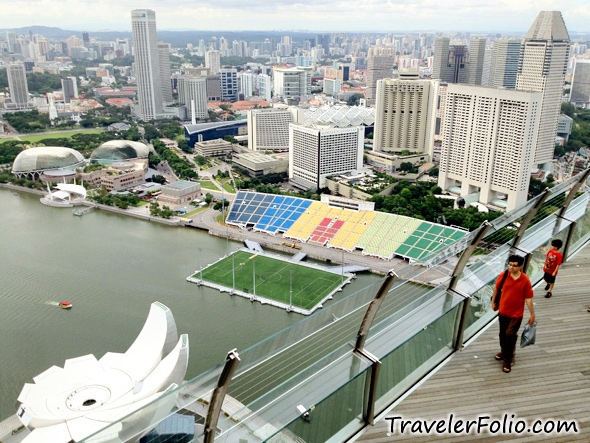 The Marina Bay Floating Platform, the world's largest floating stage. It hosts events like the National Day Parade and New Year's Eve Countdown.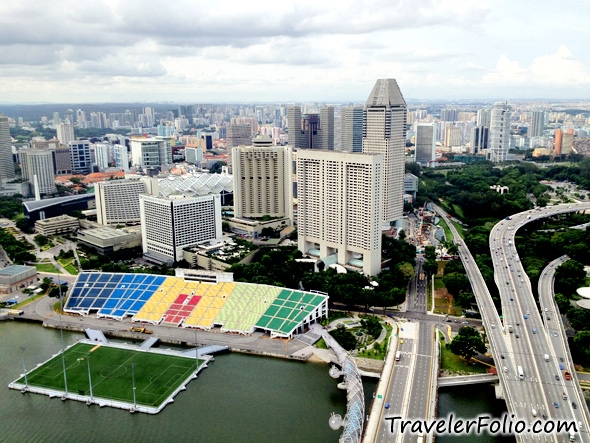 The area with rows of shophouses facing the Singapore River is Boat Quay. Marina Bay Sands is centrally located to major tourist hotspots as well as local hangouts in the citystate.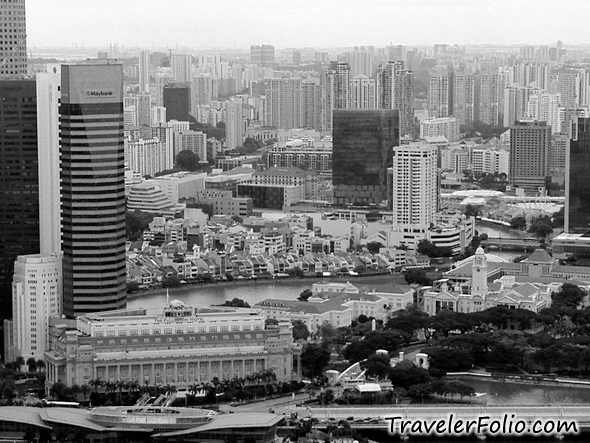 db Bistro Moderne
One of our favourite dining experiences is at db Bistro Moderne. Located at the Shoppes, db Bistro Moderne is well-patronized and many are repeat customers. The elegant yet relaxed dining scene offers a seasonal menu of traditional French cuisine fused with American flavours.
The multi-award winning French Chef Daniel Boulud, an author of six books who has a successful television series, spearheaded one of the 10 best restaurants in the world and was given an honorable title "Chevalier de la Legion d'Honneur" by the French government for his contribution to elevate the French culinary culture. He brings the signature db Bistro Moderne, one of his five New York restaurants, to Marina Bay Sands.
The Executive Chef of db Bistro Moderne at Marina Bay Sands – Stephane Istel is very chatty and passionate about his food. While he shares a lot about the extensive menu at db Bistro Moderne, Chef Stephane values customer feedback seriously. Once before we even realised it, the Chef noticed that Jacky's dish didn't have enough sauce so he scurried back to the kitchen and returned with more sauce.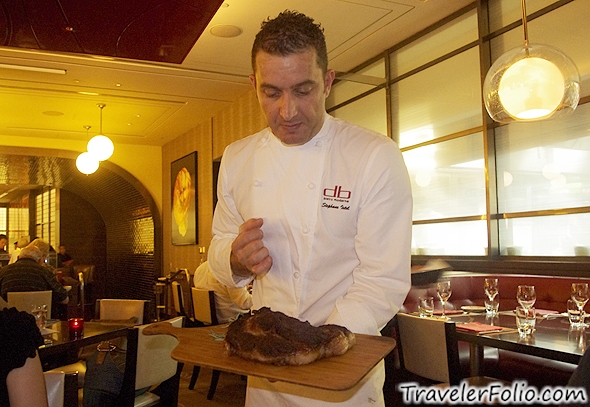 The Chef showing us the Japanese Kagoshima Ribeye A3 before it's ready to serve. This is great stuff! The outer layer is charred to perfection. So tender and juicy, so soft it melted in the mouth with a burst of natural sweetness and roasted meat flavour. Even for someone like me who is not into beef, I cleared the whole dish and it just set the bar high.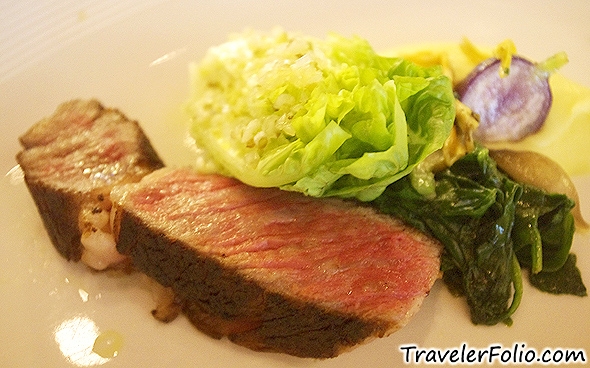 Now you know it's a 'challenge' for me to chow on raw meat. I'm doing this quite often nowadays, yet still squeamish about fresh oysters… that slimy and metallic taste. Glenn, the food blogger behind HungryEpicurean.com, looked at me and said "You've missed out a lot".
Fine. I would do it again with another oyster… to take a photo of it. It's photogenic you see! The Gillardeau Oyster is topped with caviar and drenched in lemongrass coulis. Now everyone has already slurped down an oyster. I knew I could do it, just don't think too much!
Frankly, I would love to have another Gillardeau Oyster at db Bistro Moderne. Glenn, Amanda and Jacky can vouch for that! After downing the freshly shucked oyster, I could only taste the bracing freshness of oyster with the hint of salty sea water. If you can't get over raw oyster, you have to try this!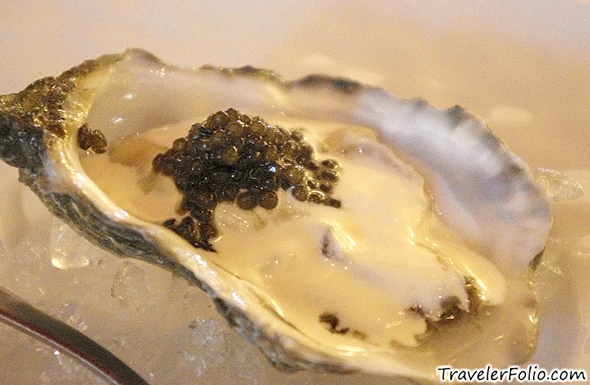 It's beef this time. Hey! It's Japanese Kagoshima Beef Carpaccio accompanied with capers, mizuna, aged parmesan, extra virgin tuscan olive oil. The thinly sliced Carpaccio is lean and goes well with bread. Yes, another raw dish. But I liked it!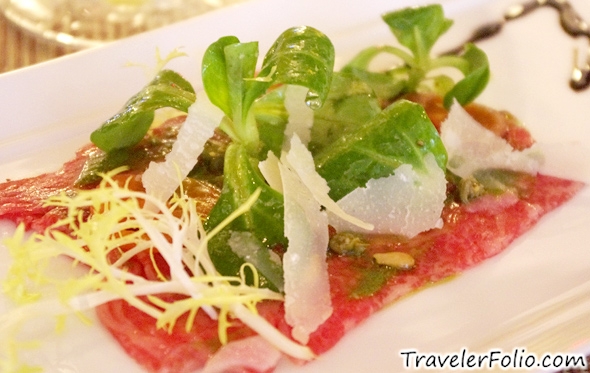 Roasted John Dory with truffle risotto, glazed salsify, turnips and chicken jus. Light and tasty. The roasted dory is crisp on the outside, soft on the inside. I'm a fish lover.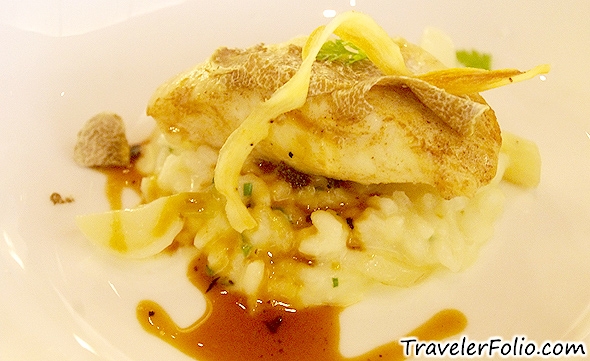 Braised Beef Cheek Ravioli drenched in aged gruyere fondue and green pepper jus and garnished with yellow foot chanterelles and shaved brussel sprouts. It's the "atas" version of "wanton" filled with tasty minced beef cheek. Lip-smacking.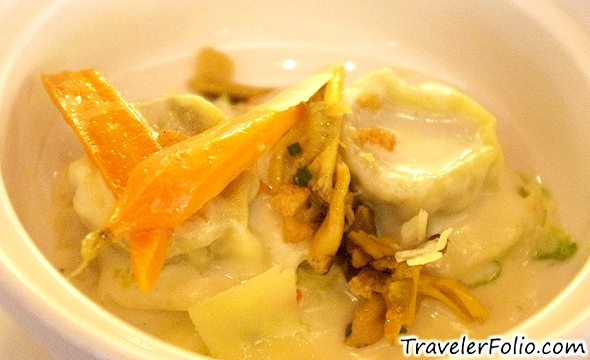 Alsatian Flat Bread with Fromage Blanc, Bacon and Onion.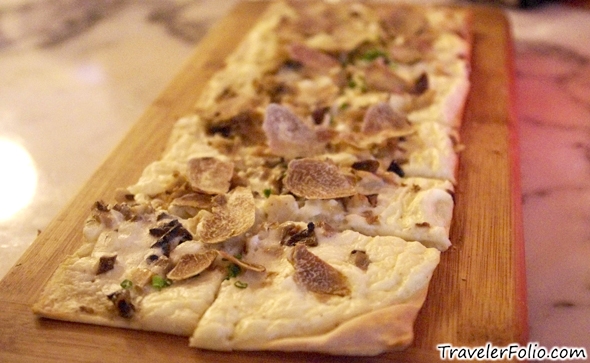 By the time desserts were served, I was already well-fed. However, that annoying "Dessert Syndrome" resurfaced and I greedily gobbled the White Truffle Clementine and Dark Chocolate & Peanut Butter Souffle without difficulty.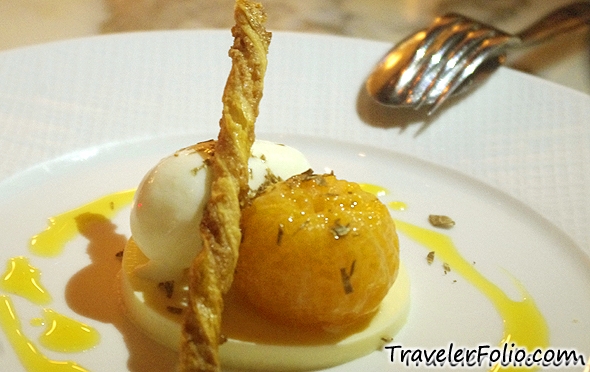 Dark Chocolate & Peanut Butter Souffle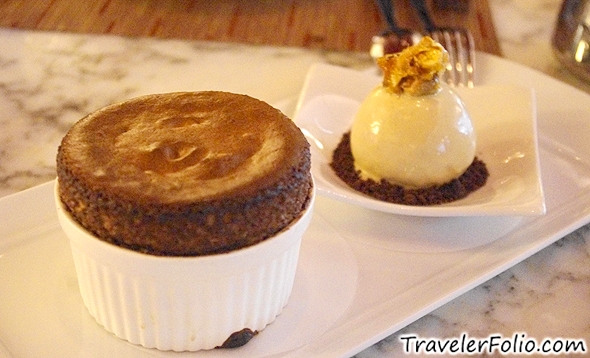 db Bistro Moderne @ Marina Bay Sands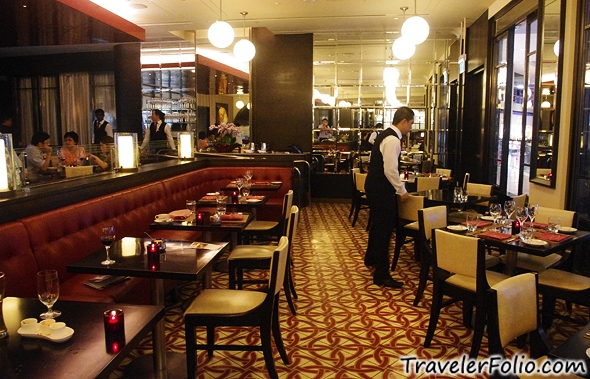 A photo with the Executive Chef of db Bistro Moderne @ Marina Bay Sands.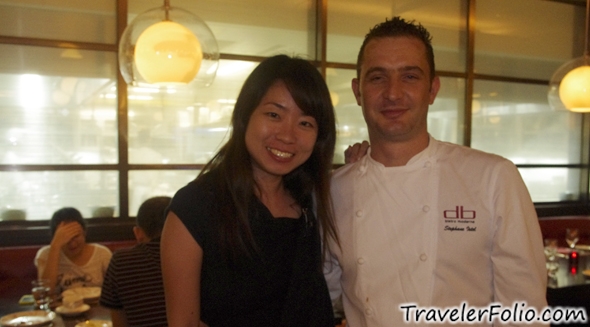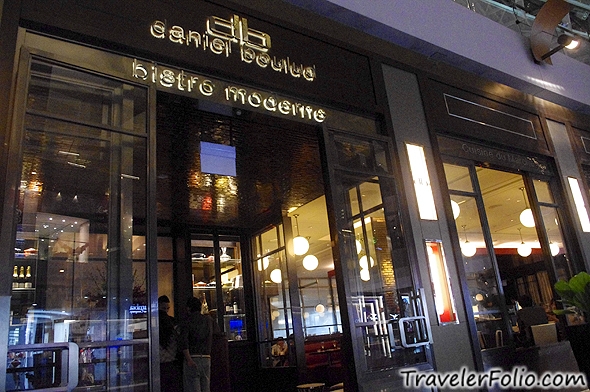 db Bistro Moderne
Location:
B1-48, Galleria Level, The Shoppes at Marina Bay Sands
Telephone:
+65 6688 8525
The Asia's Dining Destination Package is currently available for booking through the Marina Bay Sands Call Center at +65 6688 8888. As the rates of the package varies based on the daily rates, guests are recommended to call in to check on the rates prior to booking.

Find out more on Marina Bay Sands Asia's Dining Destination.
Read the second part of Asia's Dining Destination – Marina Bay Sands food reviews.