"As a part of this project, I would like to offer a once in a life time opportunity for famous bloggers and influential media people, like yourself, to experience the real Israel in a ten day trip that would take place on September 11th, 2011 to the Holy Land! All expenses paid! Our Visitors will experience the reality of being an Israeli, whether it's through cultural diversity, exquisite food, technology and progress, security and the holy sites that only Israel can offer."
My first thought: Spam mail. Why would someone from Israel want to invite a travel blogger like me? You know, my first impression of Israel was all about serious security issues and a very protective country.
StandWithUs – Once in a Lifetime 2.0
After Googling to find out more about StandWithUs Fellowship and Once In a Lifetime project which had previously brought bloggers from China, Britain and the U.S to Jerusalem in 2010, I got very excited! So it IsRael! I was invited as one of the five international bloggers to embark on a 10-day Once in a Lifetime 2.0 trip to Israel.
The Once in a Lifetime 2.0 project was organised by a group of students from the Technion and Haifa University taking part in the StandWithUs Fellowship, a public diplomacy leadership program that trains selected students to advocate Israel to new media leaders by exposing them to the real Israel, their homeland that they think is often portrayed in a negative and misleading light.
The 10-day Israel trip emphasized on the three aspects:
Diversity – expose to different religions, cultures, lifestyles and people from all walks of life that coexist in Israel.
Security – learn about the conflict on the ground and complex security challenges in Israel.
Innovation – a glimpse into the Israeli cutting-edge high-tech world.
I don't have many friends who have been to Israel before; only two who went there for pilgrimage and work. Frankly, I heard more about Israel for the conflicts in the Middle East through the news. And the holy Jerusalem. And the Dead Sea where people can float on it. I could remember that during my childhood, my passport stated that Singapore citizens were restricted to enter Israel. Thankfully, now Singaporeans can visit Israel even without applying for a visa.
Given this opportunity to be part of the Once in a Lifetime 2.0 project to see the real Israel myself, by all means I would go, even it would take me a total of 21-hour journey from Melbourne, Australia and by transit from Hong Kong to Israel, with 8-hr jet lag on September 11, a date I thought airport security would be heightened.
Airport security
When I arrived at Hong Kong International Airport, I only had less than an hour to catch the next flight to Israel. Thankfully, a ground staff was there to assist the passengers going to Israel via El Al Israel airlines. The security procedures to go through before boarding the Israeli airline wasn't as stringent as I thought. The security officers were friendly and I just had to be cooperative and answer their questions accordingly and show them any supporting documents about my purpose of visit. The guys are just doing their job well to make sure it's a safe flight. In fact, El Al Israel airlines is one of the world's most secure airlines.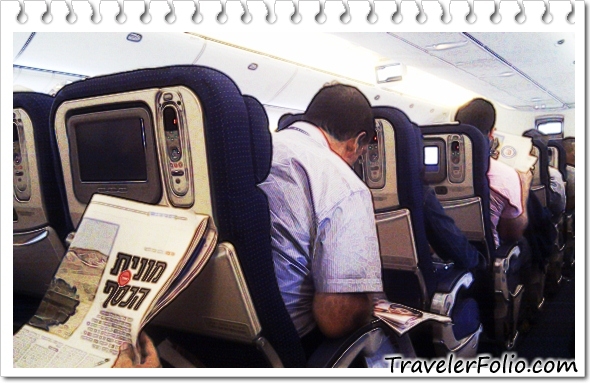 You might think that it was just another trip for me, but from the moment I arrived at Ben Gurion International Airport in Tel Aviv, I was really happy that I finally made it to Israel just before mid-night on September 11. I was the last blogger to meet the Once in a Lifetime 2.0 group. They already had dinner together on that day. Ephi, a fellow from StandWithUs organisation, had been waiting for me at the airport for more than an hour due to my luggage delay. I felt quite bad 'cos he had to drive me for 1.5 hour to Haifa from Tel Aviv in the middle of the night; after that it would take him another 1.5 hour to get home. Thank you, Ephi!
Israel – a leader in world technology
A young nation that is lack of natural resources and faces unfavourable conditions, Israel overcomes the odds by investing more than any other country in the world in its GDP in research and development. In less than 60 years, Israel has become a world leader in biomedical and cutting-edge technologies. The world's second Silicon Valley has more engineers and scientists per capita than any other country and more Nasdaq-listed comnpanies than Europe.
Some Israeli inventions:
– Instant messaging and chat room technology, ie. ICQ.
– the first fully computurized, no-radiation, diagnostic instrumentation for breast cancer
– BabySense monitor which prevents Sudden Infant Death Syndrome
– the algorithm which enabled NASA to transmit images from Mars
– the first ingestible miniature video camera to fit inside a pill, helping doctors visualize the small intestine noninvasively.
– genetically modified fruit flies that help farmers to decrease pest population.
Technion
We visited one of the top universities in Israel – Technion, Israel Institute of Technology that was founded in 1912 and is now located in Technion City, Haifa. The institution is notable for creating the latest technologies and ground breaking innovations in the field of Medicine, Energy, Robotics and Life Sciences. Over 70% of the nation's founders and managers of high-tech industries are Technion graduates as well as 80% of Israeli NASDAQ companies are led by the graduates from Technion. Prof. Albert Einstein was the President of the first Technion Society.
The highlight of our visit at the Technion was to meet Nobel Prize winner Prof. Aaron Ciechanover who was awarded the Nobel Prize in Chemistry in 2004 together with Avram Hershko and Irwin Rose for the discovery of ubiquitin-mediated protein degradation. Their discovery led to a breakthrough in cancer research and Nero-degenerative diseases.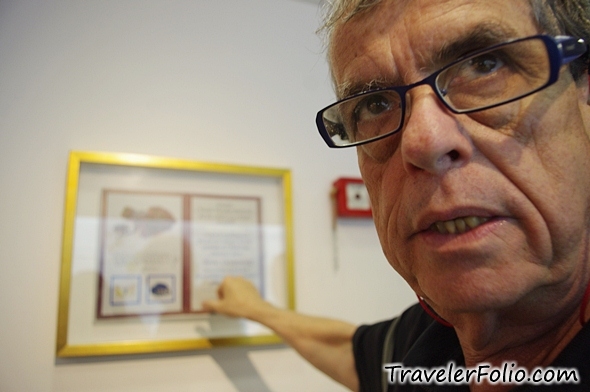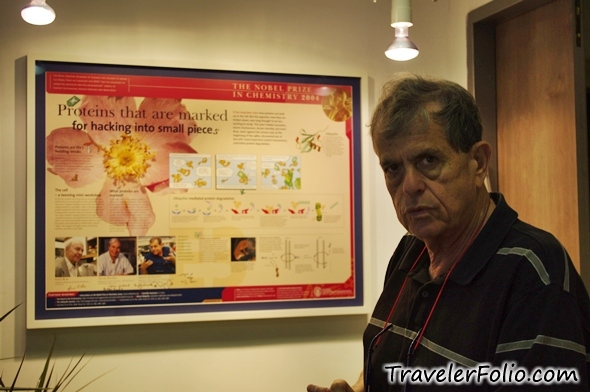 A very ordinary person who didn't do well academically, it's my honour to stand side by side with Prof. Aaron Ciechanover for a small chat and photo shoot at his office! He told me he is a good friend of our newly elected President Dr Tony Tan!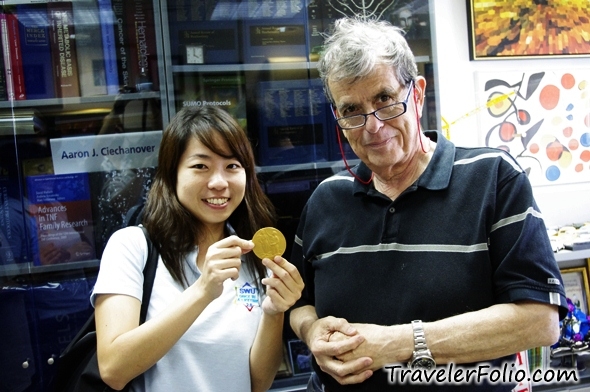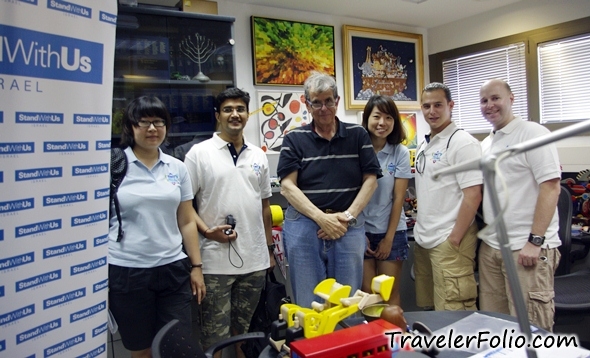 The replica of Nobel Prize Medal that's awarded to Prof. Ciechanover, a research professor in the faculty for Medicine in the Technion.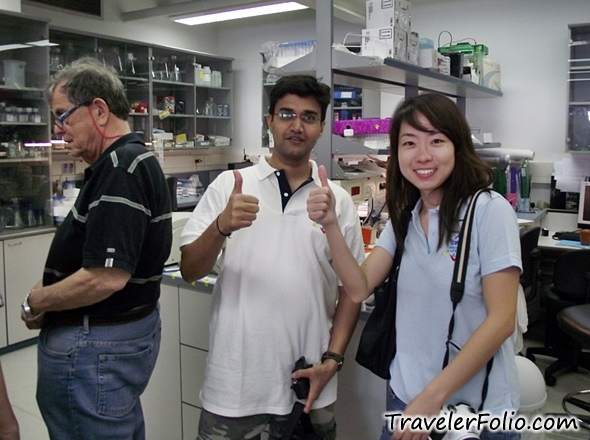 A view of the Mediterranean Sea from Technion – a sight to behold.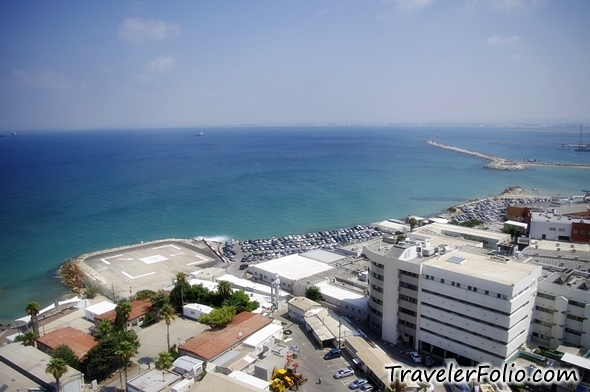 Technion, Israel Institute of Technology.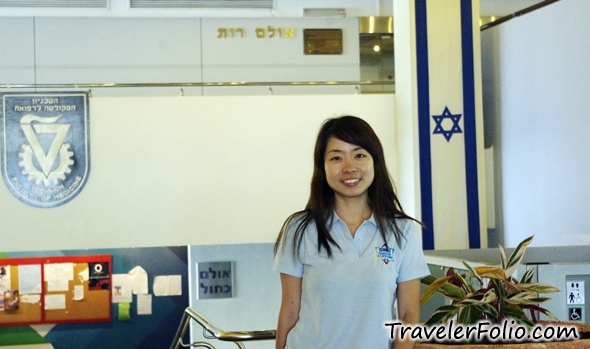 Group photo at Technion. From right: Feng Yimeng aka Joyce (journalist from Beijing), More (StandWithUs), Kaustubh Katdare aka Big K (India), Keren (StandWithUs), Chris Richardson (Australia), Marcello Arrambide (Venezuela), Eunice Khong (Singapore) and Dov (StandWithUs). ~ <3 Love you guys!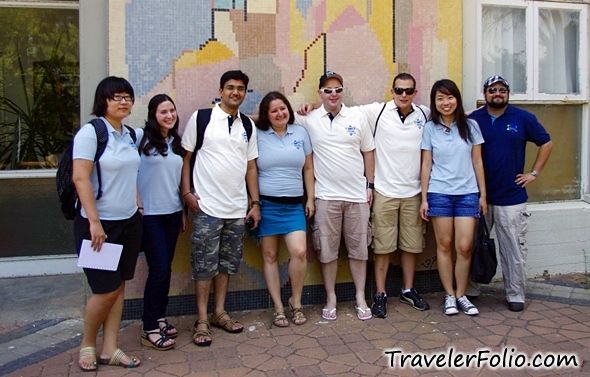 Hanamal 24 fine dining @ Haifa
We had lunch at Hanamal 24, my first taste of fine dining in Haifa, Israel. The restaurant exudes a rustic charm comprised of design items such as taps from ancient castles, window-frames from old cottages and cowshed floors all imported from Italy.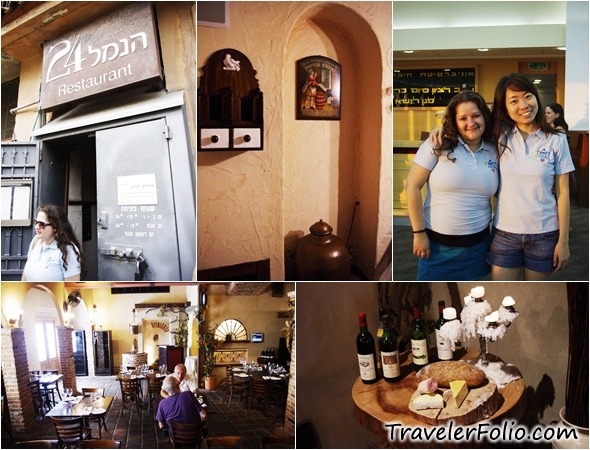 Hanamal 24 serves delectable gourmet food influenced by French cuisine, with a fusion of Italian and Mediterranean cuisines, and the chef has a stint at a two Michelin-star establishment in Cannes on the French Riviera. My sumptuous 3-course only cost around USD 30. Great value for quality food at a cosy ambience. Website: http://namal24.rest-e.co.il/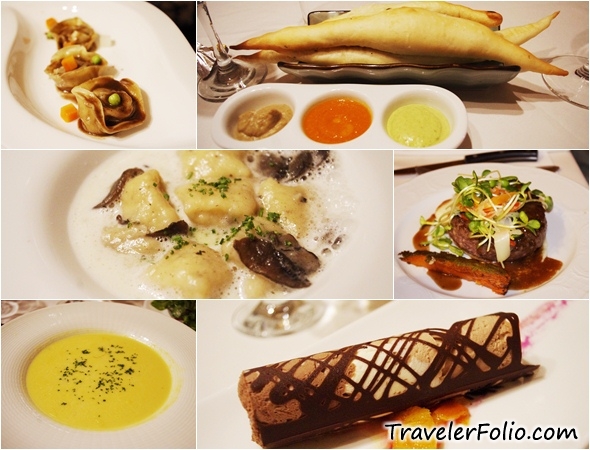 The Once in a Lifetime 2.0 bloggers and fellows from StandWithUs – Dov, Omry, Ori, Maxim, David and Keren.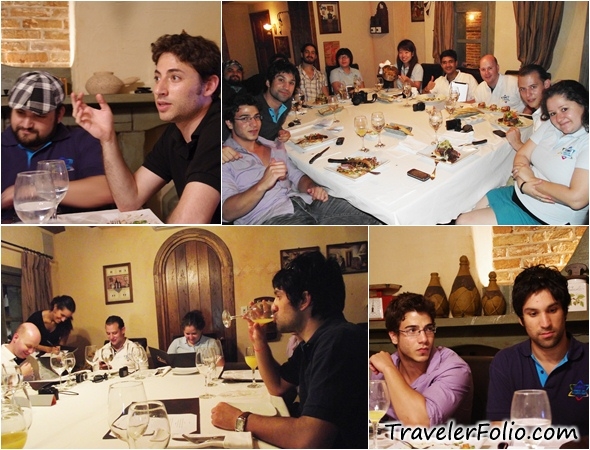 Haifa University
Situated along the Carmel Mountain ridge surrounded by the Carmel National Park, Haifa University offers a breathtaking spectacle of the city of Haifa.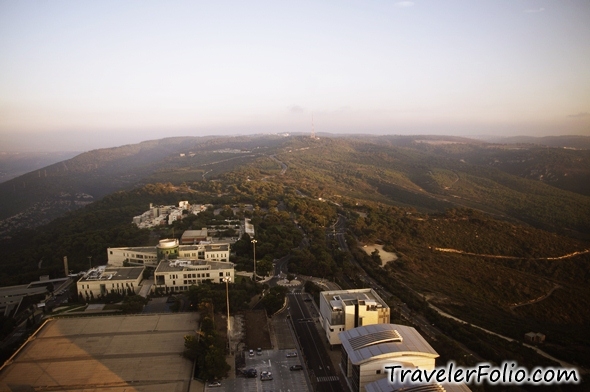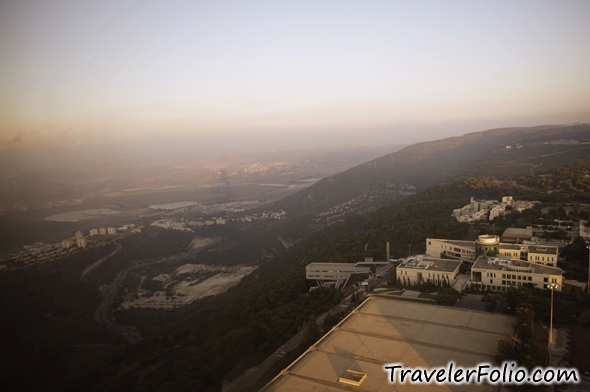 The gorgeous sunset view of Haifa city from Haifa University.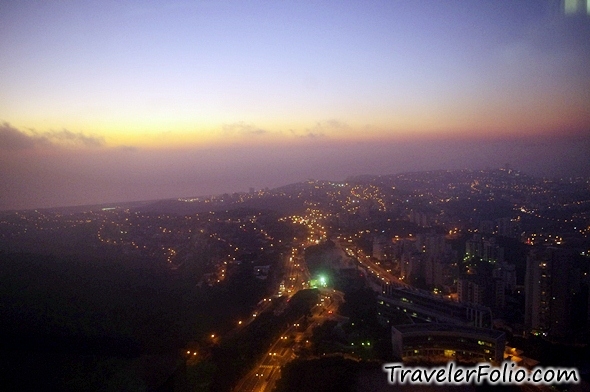 We were at the campus to watch the Academy award winning documentary "Strangers no more" about a special school in Tel Aviv, the second most populated city located in the Mediterranean coastline of Israel, that provides a conducive learning environment for children of different backgrounds from all over the world to help them recover from their past struggles and create a better life in their new home in Israel. The documentary will make its television debut on HBO in November 2011. Check out the website: http://www.strangersnomoremovie.com/
I was giving a speech at Haifa University… if you believe it.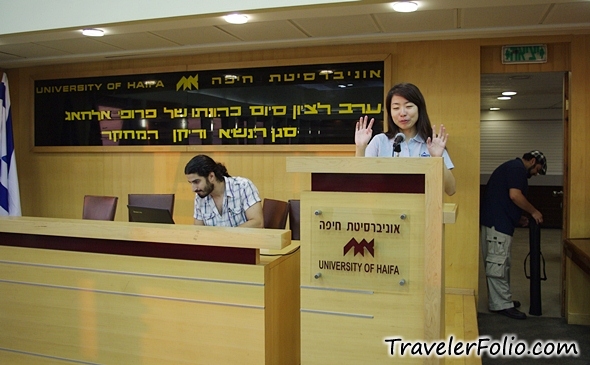 Dinner at the CoHaV (Coalition of Hasbara Volunteers) community with a group of Israeli advocacy volunteers who shared with us about the past and present of Israel. The country consists of Jewish people from all over the world including Ethiopia, the former Soviet Union and Arab countries; non-Jews that make up of Arab Muslims, Christians, Druze, Bedouins (Arab nomadic people) and many other minorities. Israelis can speak good English and they are very hospitable. We felt welcome.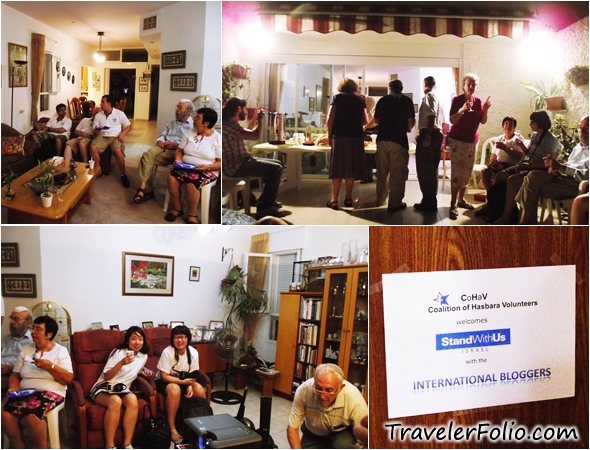 Mosh Ben Ari
We had a night out at the Hamartef pub where we had a glimpse of the Israeli music scene with the famous Israeli singer and songwriter Mosh Ben Ari whose music and performances are influenced by his Yemenite Iraqi background, blending Rock, Soul, Reggae and World Music. He co-founded the World ensemble 'Sheva' consisting of Jews and Muslims.
Given his fame and recognition, Mosh Ben Ari is very friendly. No air at all.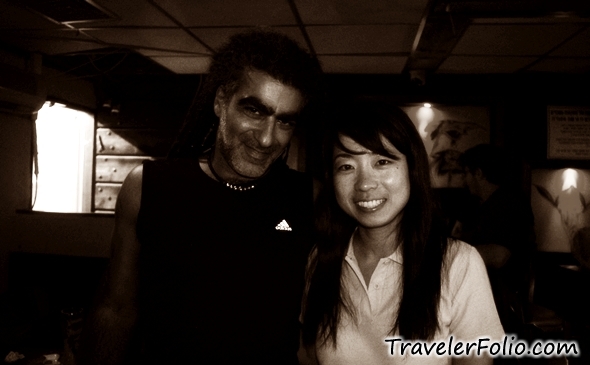 My first taste of Goldstar – Israel's beer. It's smooth and easy to drink for someone like me who doesn't like strong and bitter beer.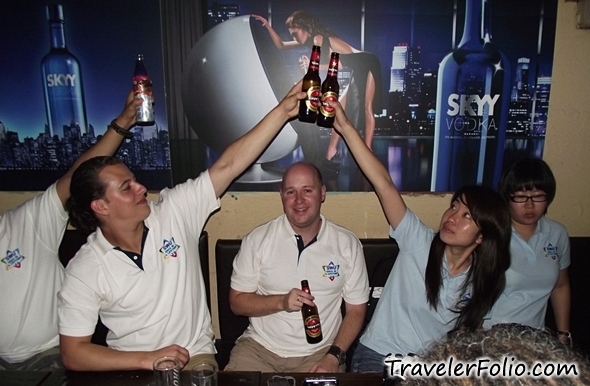 For four nights, we stayed at Port Inn, a hospitable, family-run inn recommended for families, couples and budget travellers in Haifa for over ten years. It's conveniently located in downtown Haifa. Transport wise, the inn is merely a few minutes away from the Haifa Port passenger terminal, Haifa Merkaz-Hasmona train station and the Carmelit. The nearby attractions include the Baha'i Gardens, a world heritage site, and the German Colony lined with restaurants. Website: http://www.portinn.co.il/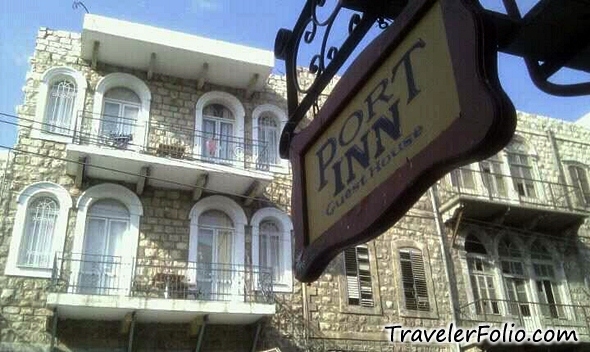 Stay tuned for more updates on Israel as we departed to Tel Aviv to visit "Save a child's heart" children's home, Baha'i Gardens, the Druze village and welcome party for the "Once in a Lifetime 2.0" project!
Read all posts on Israel.
View more photos on Facebook